This is a sponsored conversation written by me on behalf of Ortega. The opinions and text are all mine.
Mexican Shredded Chicken Tacos: Filled with a versatile, flavorful, and easy to prepare chicken, perfect for feeding a crowd on game day! Both instructions for slow cooker and pressure cooker included.
This slow cooker Shredded Chicken is a simple and delicious meal. Easy enough to save for a quick snack, but delicious enough to carry itself as a full meal. You won't want to miss out on this Shredded Chicken or these tacos.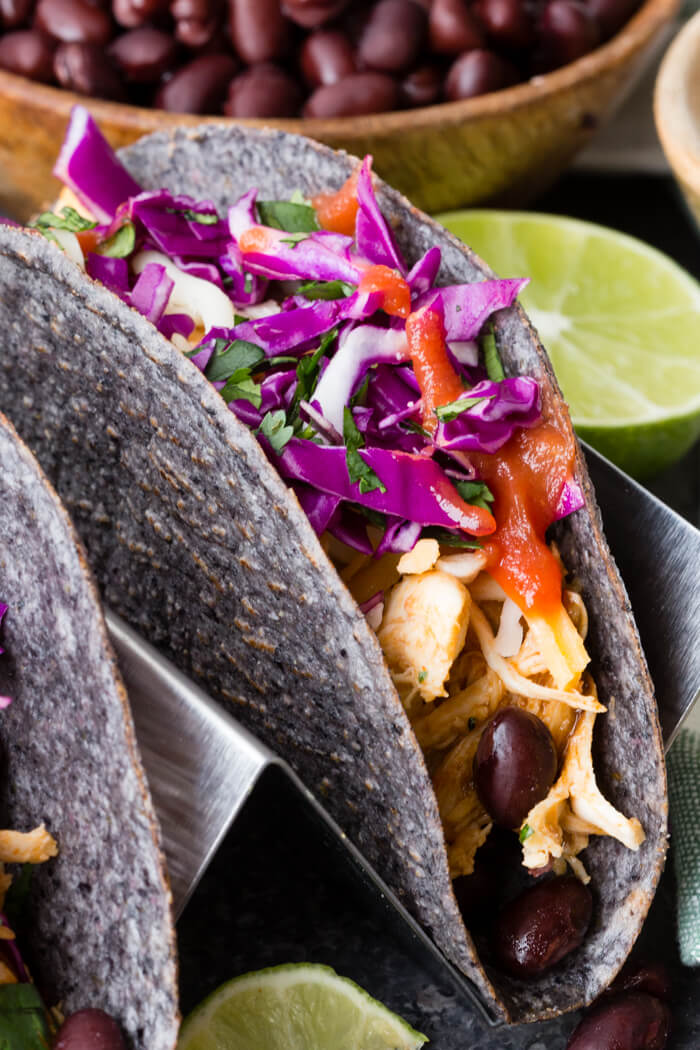 The secret to a great taco
We love Taco Tuesday, and Wednesday, and Thursday… haha, really any day. But for me, the key to a good taco starts with the shell, and moves up from bottom to top. This is why I love Ortega products. Ortega offers surprisingly simple ideas that make "taco night" and other Mexican meal occasions better.

MY LATEST RECIPES
So what makes up this taco?
Good Grains Blue Corn Taco Shells: I love a great flour tortilla taco as well, but for these awesome tacos, I love the blue corn in these Good Grains Blue Corn Taco Shells! It is crunchy, flavorful, and oh so delicious.
Ortega Black Beans: These beans are firm, delicious, and don't need anything extra or special added in. I love that I can just drain and rinse and serve. Or heat them up and toss in a few spices! Either way, they are delicious. I like to leave them whole for texture, but my husband likes to mash a few of them up. What is your preference?
Mexican Shredded Chicken (recipe and info below): This is SUPER flavorful chicken, cooked with Ortega Mild Green Taco Sauce, Thick and Chunky Mild Salsa, Diced Green Chiles, Taco Seasoning, and additional spices. It is cooked in a slow cooker or pressure cooker. It comes out bursting with flavor, tender, and easily shreddable, making it great for tacos.
Ortega Mild Green Taco Sauce: I don't only use it in the chicken, but on the tacos too! I love the authentic flavor it adds, and the extra little kick of heat. Did I mention Ortega has America's #1 Taco Sauce!?
Shredded Purple Cabbage: Texture, crunch, color, and a little freshness, I love adding cabbage to my tacos.
Mexican Blend Cheese Shreds: A little cheese goes a long way!
Thick and Chunky Mild Salsa: Again, this is an Ortega product. It has such a nice texture and flavor, and is so ezpz! The perfect way to top the taco.
Obviously, you can see what a great addition the Ortega line of products is. I really do love them, as they are high quality and delicious. For more than 100 years, Ortega has been committed to family mealtime, providing a wide range of authentic products that make Taco Tuesday or any Mexican inspired meal at home easier and more delicious.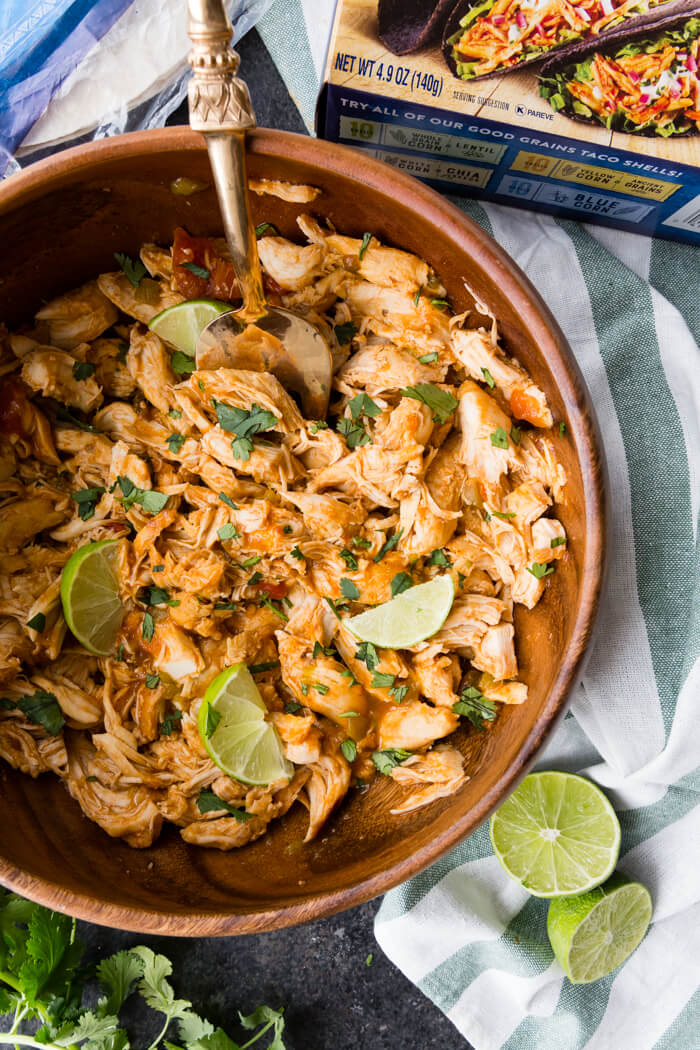 The Best Mexican Shredded Chicken
The real star of these particular tacos is the insanely good Mexican Shredded Chicken! If you are looking for an all-purpose chicken, with loads of flavor, that is super easy to make, and perfect for feeding a crowd on game day, then look no further. This chicken is it! It quite literally checks all the boxes:
All purpose- Such a great flavor, great for whatever you want to make (tacos, nachos, burritos, etc.), and even better for a make-what-you-want bar! Imagine game day with all the fixings for tacos, burritos, nachos, quesadillas, etc. and everyone can make whatever they want. And you just have to make this ONE big pot of Mexican shredded chicken. So good. Of course, my vote is make TACOS!!!
Loads of Flavor- This chicken is definitely not lacking in flavor. It is cooked in a combination of spices, and seasonings to infuse it with loads of flavor. In fact, it uses Ortega Diced Green Chiles, Ortega Mild Green Taco Sauce, Ortega Taco Seasoning Mix, and Ortega Thick and Chunky Mild Salsa. It is awesome, and not too spicy for kids, which makes it even better for your tacos!
Easy to make- You just dump everything into your crock pot or pressure cooker pot (I like the DUO60 or the LUX60V3), and let it cook, then you shred. It is the ultimate dump and forget recipe. Which when you are talking about game day, is perfect, because who wants to be working on a meal when you could be watching the game? Then set out all the fixings and you have a perfect taco bar, with that awesome flavor Ortega brings to the table. Ortega helps transform the ordinary taco bar meal into a festive, fun and memorable occasion!
Great for feeding a crowd- This is a recipe that scales easily. Need more? Double the recipe! You will end up with extra sauce at the end, so you could also simply add more chicken with the same amount of sauce.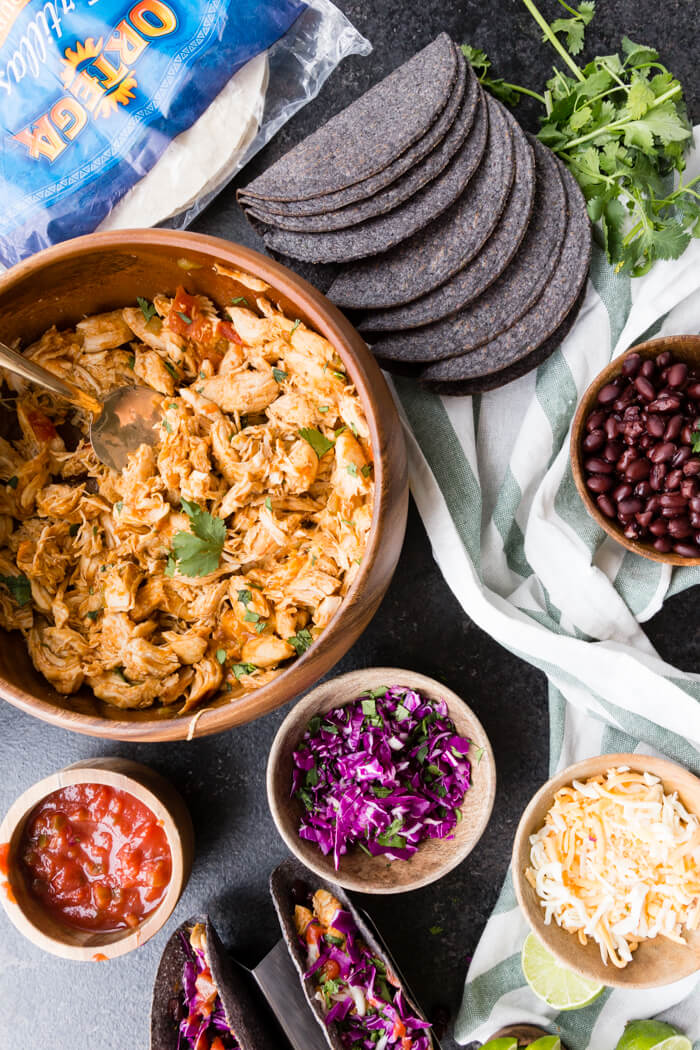 An Easy Shredded Chicken Taco Bar
Now that you know all the amazing things about this chicken, let's talk about how to use it for a taco bar, with all the fixings. You could use Ortega Flour Tortillas, we loved the Good Grains Blue Corn Taco Shells from Ortega. Ortega's complete range of innovative shells, taco sauces, seasonings, and even black beans made our taco bar flavorful and easy! We loved it.
But don't limit yourself to just tacos. This easy Mexican shredded chicken is great in big old salads with cilantro lime rice and black beans. It is killer in burritos. On top of nachos. You get the idea. It is great. And because it is so easy to make it is the perfect game day solution. Simply toss everything together in either the pressure cooker or the slow cooker, and let it do its thing. You will get bold flavors, and an all purpose protein for all your game day needs:
Tacos
Burritos
Salads
Taquitos
Nachos
Quesadillas
The possibilities are endless, I even threw it in an awesome taco chicken soup! Yum!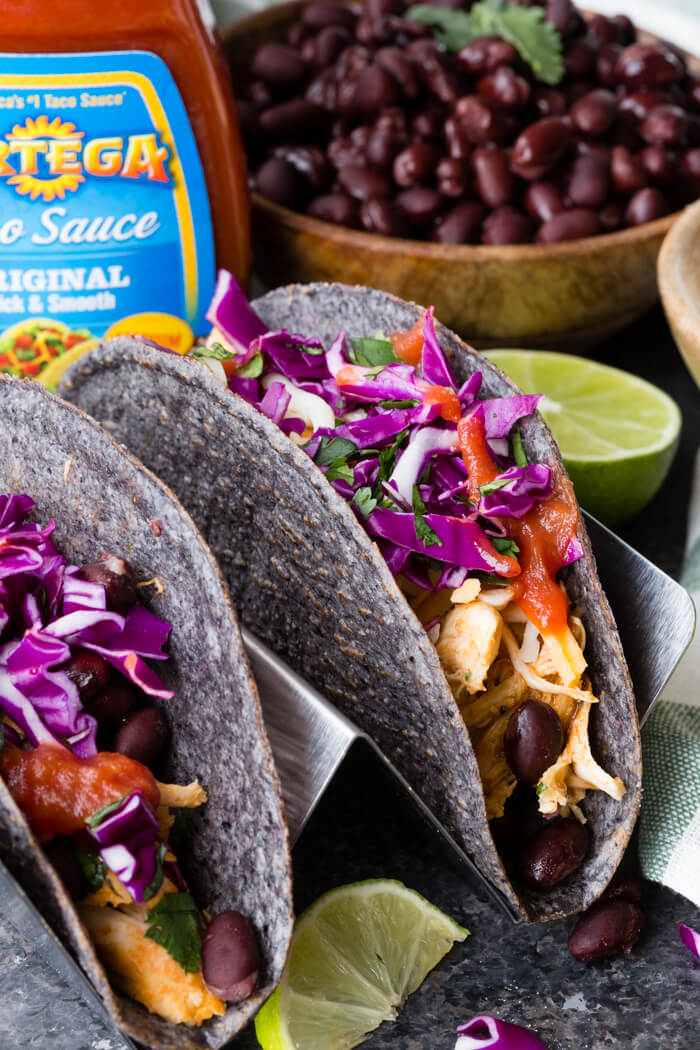 Mexican Shredded Chicken Cooking Methods
Let's talk about the two different cooking methods mentioned.
Slow Cooker: If you have time, and defrosted chicken, you can simply put everything in the slow cooker and let it cook. The chicken will cook and get tender, and you will get a nice melding of all the spices and flavors. Just be sure you keep an eye on it so you do not overcook. The time it takes will depend a lot on how big/thick your chicken is.
Pressure Cooker: Using my pressure cooker has become one of my new favorite ways to cook. One of the big perks is cooking from frozen. So if on game day you are like me, and got everything ready, but forgot to pull the chicken out of the freezer, don't stress, this method works with frozen chicken. Throw everything in the pot, let it come to pressure, then cook for 10 minutes. And shred!
Either way this chicken is going to be great!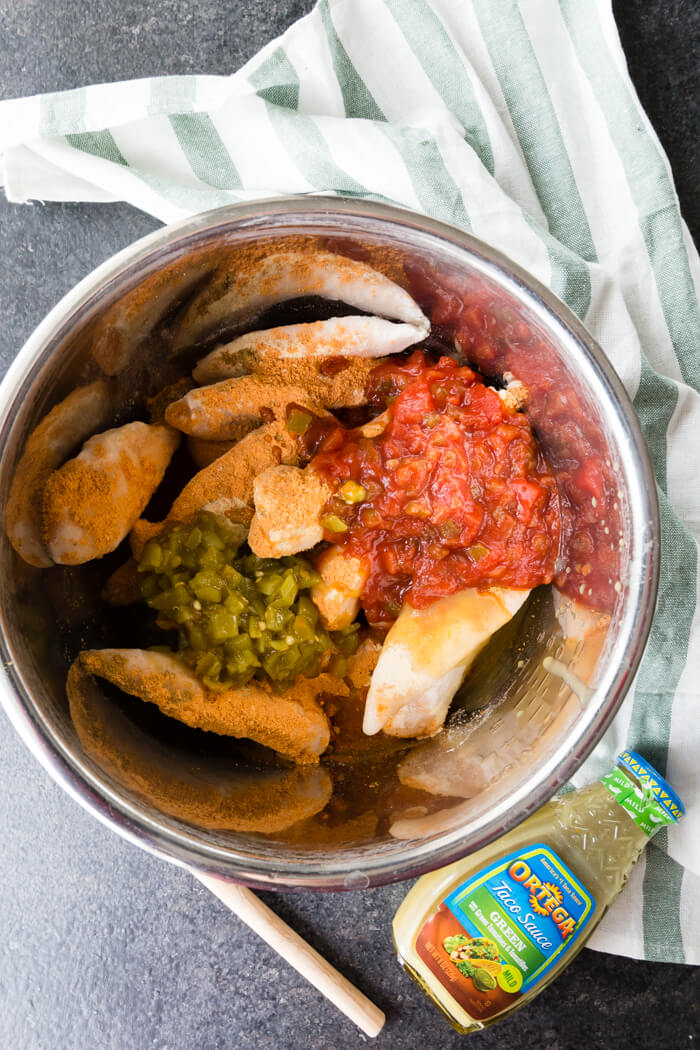 How to Make Mexican Shredded Chicken Super Flavorful
You know it is easy, you know it is versatile, but did I mention how flavorful this chicken is? The key to the flavor is a line up of Ortega products and some additional spices.
Ortega has a full line of high quality, great tasting Mexican food products, and I used several to make this chicken. It made everything so simple for our taco bar night! And we even used the tortillas, taco shells, and black beans too!
We love Ortega products. I trust them, and know they are quality, with those great Mexican flavors I expect. They are designed to create an eating experience the whole family can enjoy together, making it fun and memorable, while helping you make things both quick and tasty!  The vast line of products bring unique, unexpected Mexican flavor to many recipes, and help you cut out a bunch of the work! I call that a win.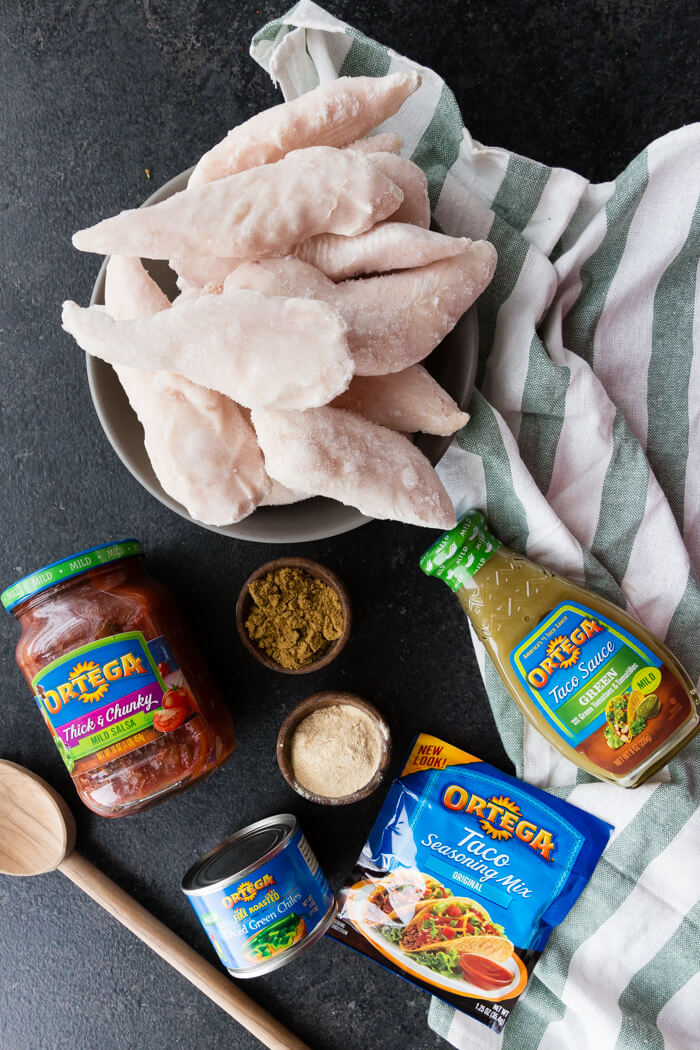 Make Mexican Shredded Chicken for any occasion
If you are feeding a huge crowd, or just hanging out with family for the Big Game, make this Mexican Shredded Chicken part of your game day festivities. It is loaded with flavor, and so easy to make. And the versatility of it, for tacos, burritos, nachos, quesadillas, etc. make it the ideal way to please everyone at the table!
Other Dished you might like:
Rachael Yerkes
Mexican Shredded Chicken Tacos
15 minPrep Time
2 hrCook Time
2 hr, 15 Total Time
Ingredients
Tacos

12 Ortega Good Grains Blue Corn Taco Shells or Ortega Flour Tortillas
1 can Ortega Black Beans
1 cup Mexican shredded cheese
1/2 cup Ortega Thick & Chunky Mild Salsa
1 cup shredded purple cabbage

Mexican Shredded Chicken

1.5 pounds chicken breasts or tenderloins
1 tablespoon olive oil
1 cup Ortega Thick & Chunky Mild Salsa
1 4 oz. can ORTEGA Fire Roasted Mild Diced Green Chiles
1 package (1.25 ounces) ORTEGA Taco Seasoning Mix
1 Tbs cumin
1 Tbs garlic powder
¼ cup ORTEGA Green Taco Sauce
½ cup chicken stock

Garnish

Cilantro
Lime wedges
Instructions
Chicken Instant pot Instructions

Put oil in the bottom of the pot
Add chicken tenders/breast meat (frozen is fine)
Add seasonings, salsa, diced green chilies, and green taco sauce
Put lid on pot, and lock it in, set valve to sealing.
Cook on manual high for 12 minutes
Natural pressure release 5 minutes, then quick release additional pressure
Remove chicken from pot, and shred chicken, scoop 1 cup of the sauce out of the pot, and pour it over the chicken and toss it all together.
Garnish with fresh cilantro and limes

Chicken Slow Cooker Instructions

Defrost chicken
Rub chicken breasts with oil and place in the bottom of your slow cooker.
Add all of the remaining ingredients.
Cook on high for 2-4 hours or on low for 6-7 hours or until chicken is tender enough to shred.
Remove chicken from slow cooker and let sit for 5 minutes.
Shred chicken, then toss with 3/4 cup of the sauce from the crock pot.

Taco Assembly

Drain and rinse black beans
Put 2 Tbs Mexican Shredded Chicken in a Ortega Flour Tortilla or Good Grains Blue Corn Taco Shells
Add Ortega Black Beans, Ortega Thick & Chunky Mild Salsa, shredded cabbage, cilantro, and cheese!
Notes
Serving Suggestions: Awesome for tacos: Soft or hard. We love the ORTEGA Blue Corn hard taco shells Great on salads or burritos as well.
7.8.1.2
1083
https://www.eazypeazymealz.com/mexican-shredded-chicken-pressure-cooker-slow-cooker/
Pin to your GAME DAY GRUB board on Pinterest:

This is a sponsored conversation written by me on behalf of Ortega. The opinions and text are all mine.
Get EZPZ Updates In Your Inbox!