This post is sponsored by BYUtv, all opinions are my own. #relativerace
Parmesan Pesto Steelhead and Roasted Potatoes all cooked on a single sheet pan for maximum flavor and minimum mess. Flaky, tender, delicious fish that is oh so flavorful, this is sure to be your favorite meal, along with tender potatoes baked to perfection in a basil pesto and parmesan. Delicious.  Steelhead is a trout that looks and tastes like salmon. They are in the same family, but steelhead has a stronger, richer flavor! You are going to love it.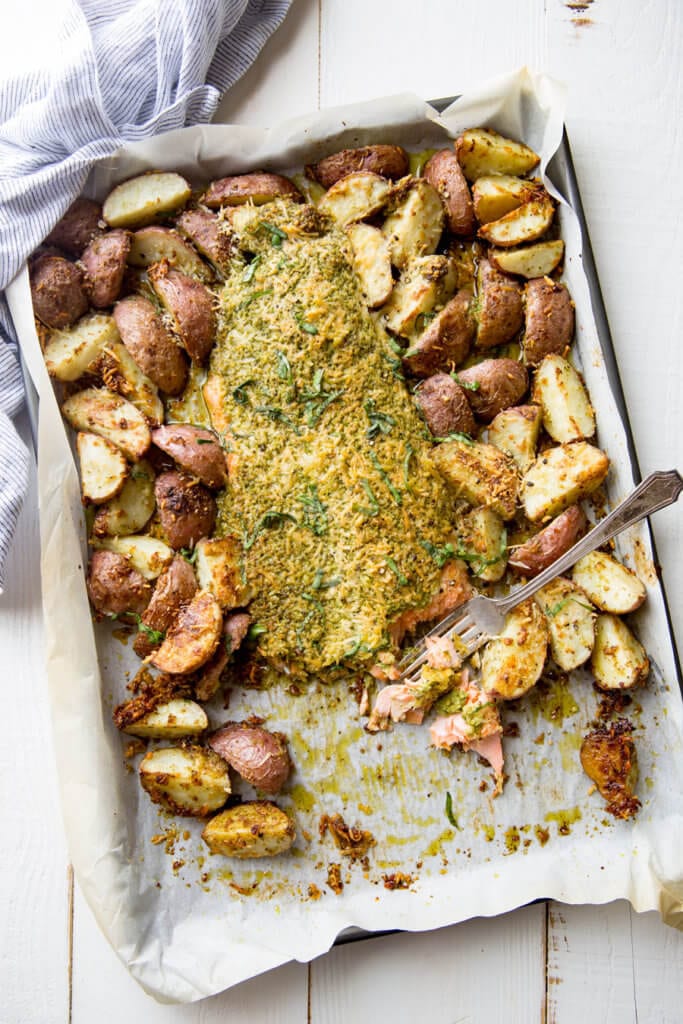 Steelhead is something I grew up eating. And to this day, one of my favorite fish to prepare. It holds significant family memories and a special place in my heart. This is a recipe I am so excited to share because it makes me think of my family. Of my Grandpa, and my own dad.
One of my fondest memories from growing up was spending summers in a little town in Idaho on the Salmon river. My grandparents lived there, and my dad grew up there, and it is the kind of place that holds magic. Despite having traveled much of the world, this tiny town with a population of 3000 people, holds a huge piece of my heart.
My grandpa was the small town doctor, and the whole community loved him. I was blessed genetically to strongly resemble my dad's side of the family, so never fail when I would visit, people from the town would recognize me as a relative of Doc Simmons. As a small child this always made me feel like a celebrity.
Doc Simmons, or Grandpa Simmons, as I knew him, was quite the outdoors man. He worked hard. Very hard, with long clinic hours and hospital hours, and middle of the night calls to deliver babies, or help the sick or injured. But one thing he was always good at was playing hard too. He knew just how to enjoy life, and spent a good part of it on the river. He had this great raft, and we would raft. And fish.
This is a photo of him with my dad and uncle, enjoying the river! It always brings a smile to my face, and a tiny tear to my eyes. You guys, when it comes to my Grandpa I am a sentimental fool.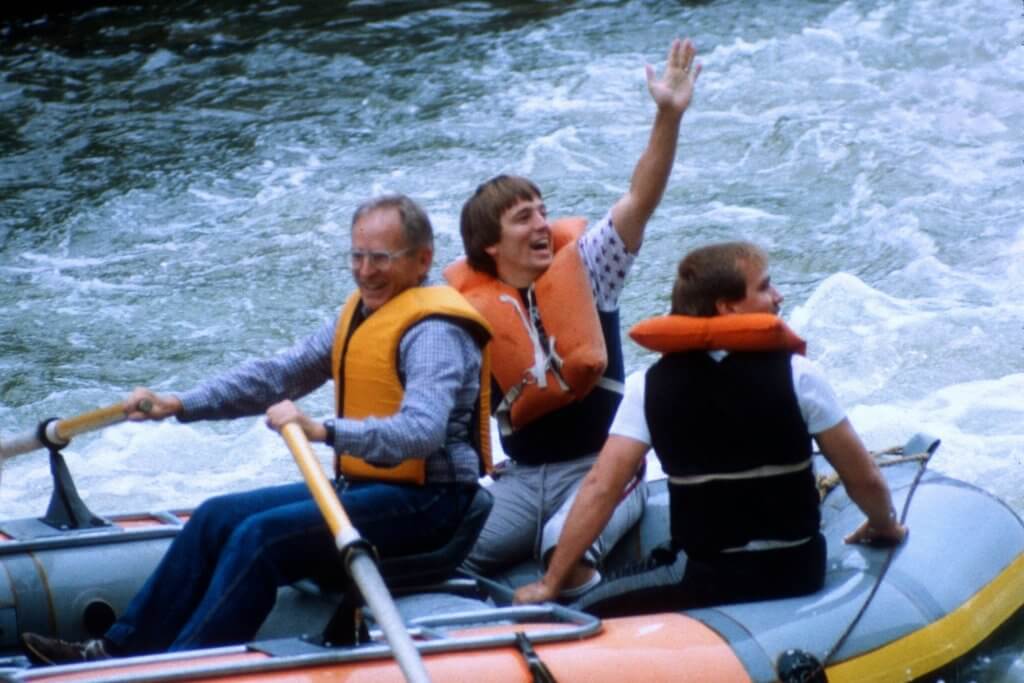 Just look at the smile on his face! Anyway, he enjoyed taking us fishing. This was a man with endless patience. I never could understand how to just sit still and wait for the fish to bite. But I loved spending time with my grandpa. So I fished. And one of the neat things about this river is that you can catch salmon in it, but you can also catch steelhead.
So today, I wanted to share this amazing, mouthwateringly delicious steelhead recipe, share a little about my family, and my family history, and share a fun new show that is airing on BYUtv on March 5th, Relative Race. PLUS A GIVEAWAY!!!! All of which I am super stoked about. So let's talk about the recipe first!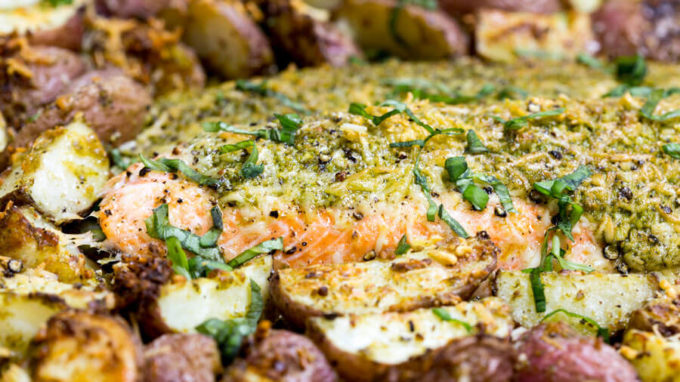 This recipe for steelhead is inspired by my experiencing growing up, the beautiful town my grandparents lived in, and the fact that my parents now live in the same town, on the same river. And I am carrying on the tradition of taking my kids to the Salmon River during the warmer months. And floating the river, and fishing it, and hiking, and playing.
This recipe is the easiest recipe you will ever make! It is like 3 ingredients, but tastes like something you would get in a fancy restaurant. It is amazing. The potatoes are flavorful and delicious with a basil pesto sauce and parmesan cheese, and the fish is flaky, tender, not super fishy, and the pesto and parmesan are the ideal flavor compliment. Yum!
Steelhead Recipe Need to Know:
Where to get Steelhead: Pick up Steelhead at Costco or your local seafood counter.
Substitutions: Feel free to replace with Salmon filet if you can't find Steelhead. It is similar and both are delicious. Steelhead is a trout, but it is part of the same fish family as Salmon, resembles it but has a richer flavor and color.
Cooking Perfectly: Baking time should be adjusted for the thickness of the filet, and preferred doneness. If it flakes easily, it is done.
Ease: This is a one sheet pan meal, which means easy clean up! Enjoy the lack of mess to clean up by spending time having fun conversation with your family.
Tips: I used a premade basil pesto that I picked up at Costco when I bought the Steelhead, and it was excellent. You could do the same, or make your own.
Relative Race Need To Know:
I partnered with BYUtv and Relative Race to bring you this awesome recipe. Relative Race is a reality television show/competition all about family. Four teams race to a final destination on a 10 day road trip, competing in challenges along the way, navigating without GPS (paper maps only), and as they go, they discover unknown relatives. During these discoveries, they often share a meal with their new-found family, and connect over dinner. Which is awesome. At the end of the show, one team wins $50,000 but I think connecting with unknown family members makes them all winners, don't you? 
Check out the show here. You can watch it on the BYUtv apps on Roku, Android, iOS, Apple TV, etc.
Food has a way of creating memories. Just like I can't eat steelhead without thinking of my Grandpa and time spent on the Salmon river, we often associate foods with holidays, tradition, and family. And so, in the spirit of this, Relative Race and I have teamed up to share my family recipe, and to give you guys the chance to win some pretty awesome kitchen stuff that I love and helps me spend more time with my family.
You can Enter for a Chance to Win: An Instant Pot pressure cooker, 10-piece stainless steel measuring cups & spoons, and a Cuisinart food processor (total approx. value of kitchen items, $200). These are some of my favorite kitchen tools for keeping things quick and easy!  But in addition to these you can also win a  Relative Race travel kit including an Instax camera, road trip handbook, water bottle, t-shirt, Visa $25 gift card, and more.
Week 1 Giveaway ends on Sunday, March 5. One winner will be selected. More giveaways coming in future weeks.
Don't forget to watch the new season of Relative Race, Sundays at 7 PM MT on BYUtv.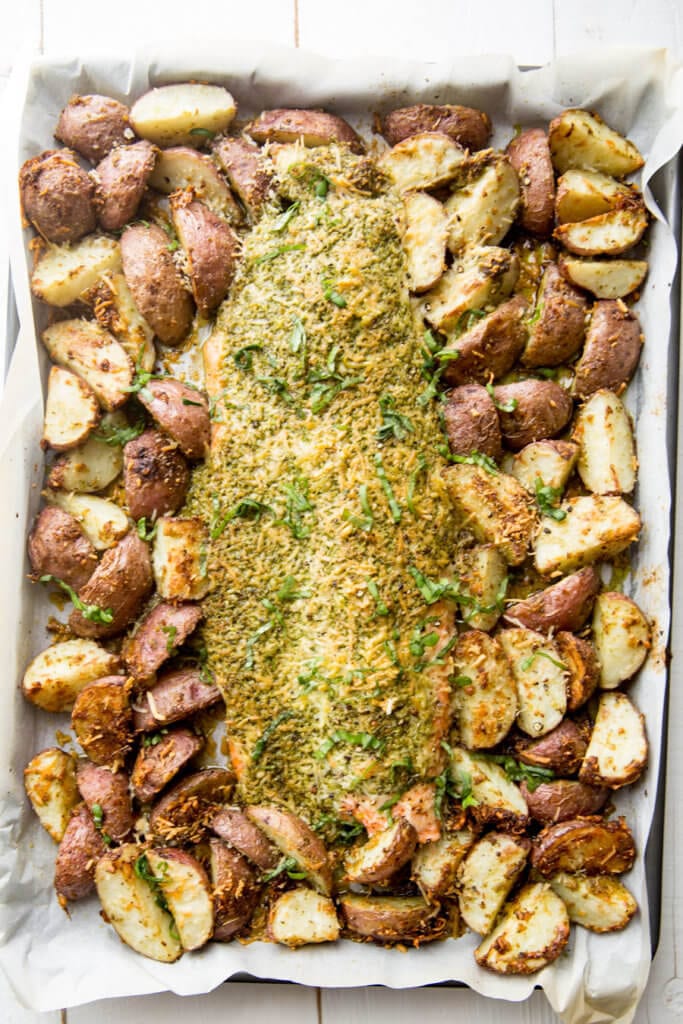 Anyway, I hope you enjoy this recipe as much as we do. My 4 year old loves it, like loves it. And my oldest asked if I could teach him how to cook Steelhead, so he made dinner on Sunday, and cooked a beautiful filet. We are already making our plans for going Steelhead fishing, which happens to take place during the cold winter months. Check out this fun picture of my Uncle with his Steelhead catch!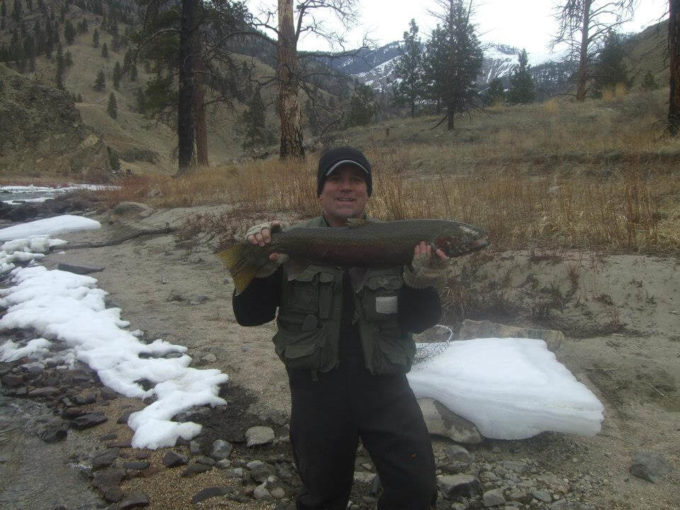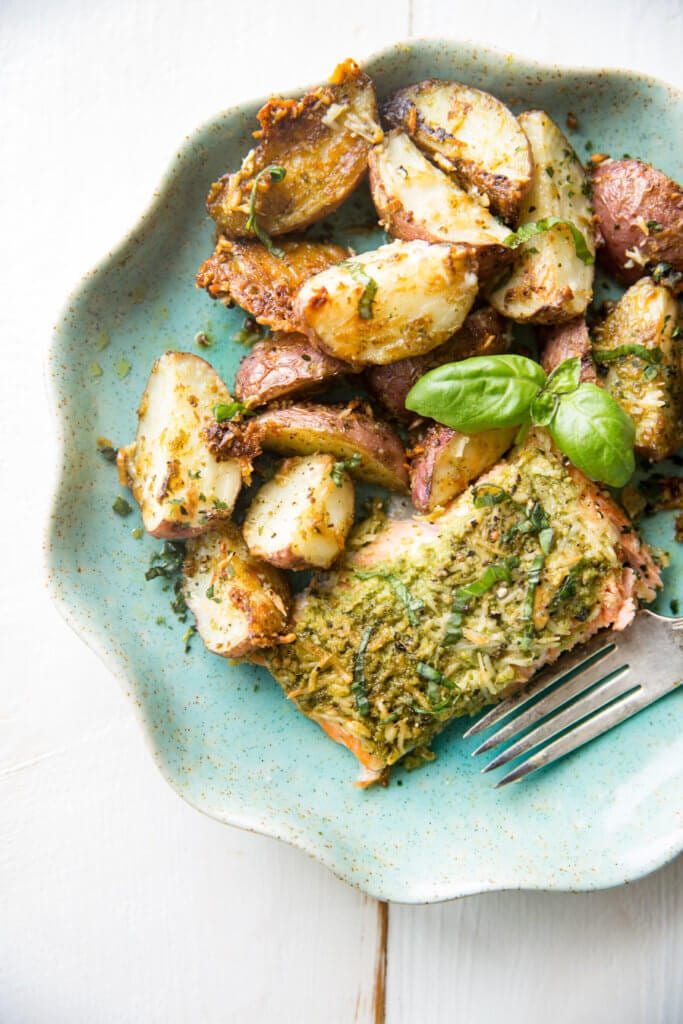 Enjoy!
Parmesan Pesto Steelhead with Roasted Potatoes
Ingredients
Roasted Potatoes

2 lbs red potatoes, quartered
1/2 cup basil pesto
1/2 cup parmesan cheese
Salt and pepper

Steelhead

1 filet steelhead trout
1 cup basil pesto
1/2 cup parmesan cheese
Salt and pepper
Instructions
Preheat oven to 400 degrees
Quarter potatoes and mix with 1/2 cup prepared basil pesto, and 1/2 cup parmesan cheese, salt and pepper. Lay onto a sheet pan in a single layer with room between the potatoes.
Bake potatoes for 40 minutes
After 40 minutes, remove from oven, and place the steel head filet, skin side down in the center of the pan, pour a cup of prepared basil pesto over the filet, and sprinkle parmesan cheese over
Return steelhead and potatoes to the oven and bake additional 15 minutes.
Broil 1-2 minutes to crisp top, then sprinkle with fresh basil and serve.
7.6.4
948
https://www.eazypeazymealz.com/parmesan-pesto-steelhead-roasted-potatoes/
Pin to your Dinner board on Pinterest:

Get EZPZ Updates In Your Inbox!