This post has been sponsored by Betty Crocker. I received product and compensation, but all opinions are my own.
Rainbow Chip Mug Treat!
No need to turn on your oven for delicious, easy to make, super quick mug treats from Betty Crocker! This rainbow chip cake is cooked in the microwave in about a minute, and even comes with a rainbow mix frosting. No work. No mess. All enjoyment!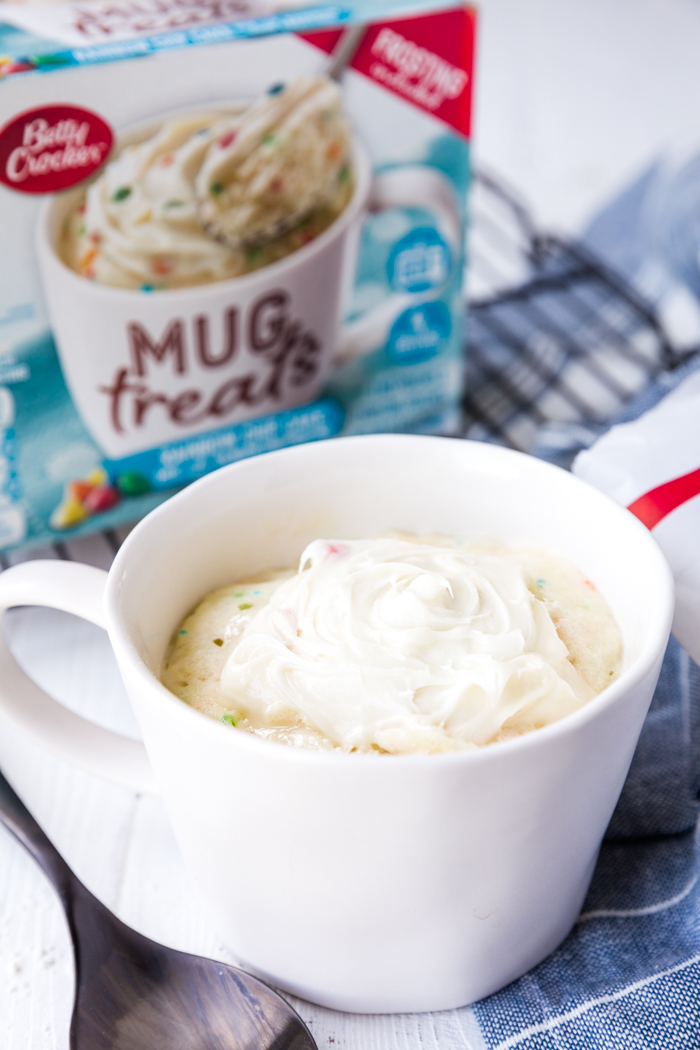 For all you mug cake lovers out there, I have to share this new product from Betty Crocker. Betty Crocker Mug Treats. 
What are Betty Crocker Mug Treats? 
Betty Crocker has been America's source for modern cooking instruction, trusted baking mixes, and fool-proof recipe development for nearly a century. And they have done it again with these mug treats!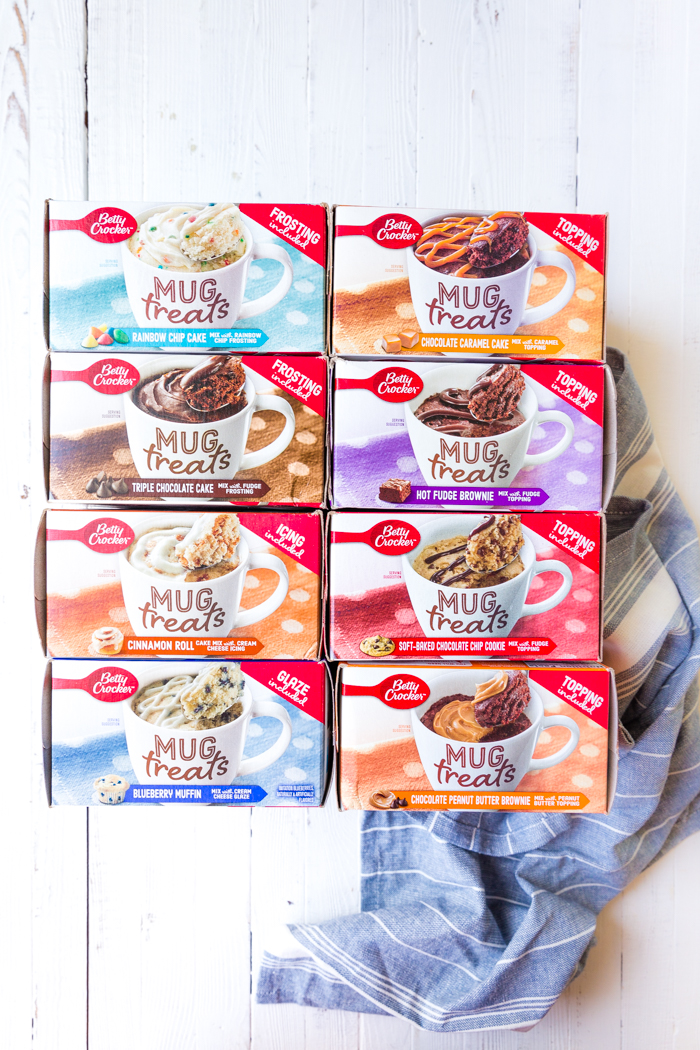 You know when you use a Betty Crocker mix it is going to turn out. Which is why they make sure a great short cut for baking, and are such a fun base for delicious creations. Well these mug treats are no different, but they come with everything you need for the perfect treat. 
Betty Crocker Mug Treats are perfectly portioned for one, baking mixes, that can be whipped up in a mug, in your microwave, in just a minute! And these delicious treats also come with fun toppings! 
Which means, you get everything you need for the perfect treat, done in under 5 minutes from start to finish. The end result is a fantastic warm, delicious snack, perfect for when that craving hits, or you want a sweet indulgence. 
And it is super low mess with only a mug and a spoon to clean. No making pans needed.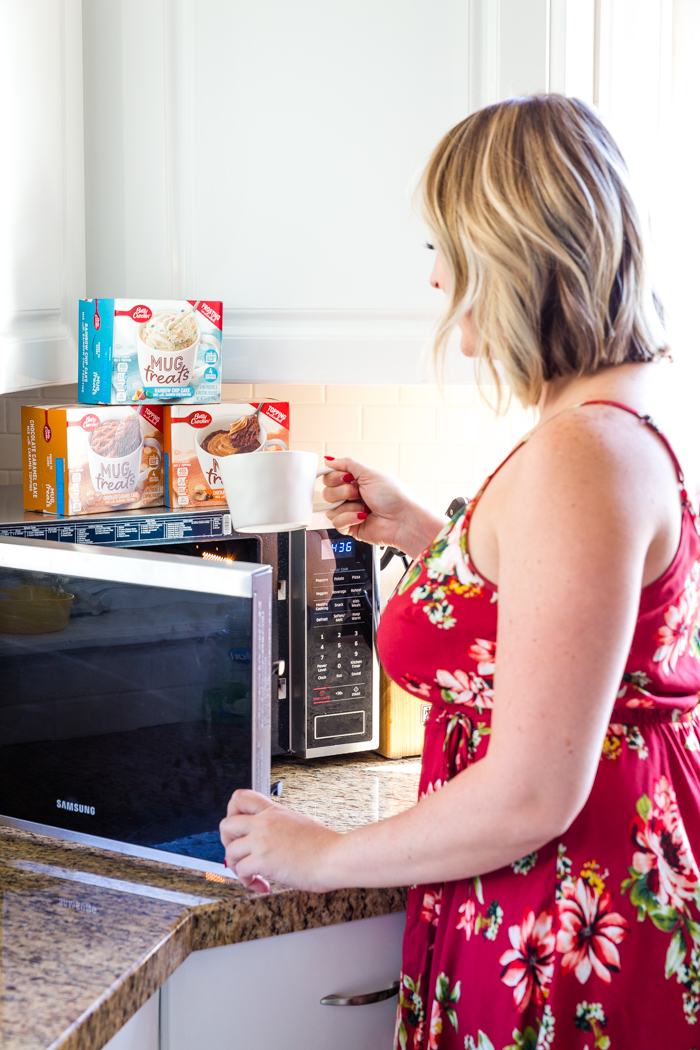 How Do You Make Betty Crocker Mug Treats?
Betty Crocker Mug Treats are microwavable. And only require a handful of things to be made:
Just grab your favorite 8 to 10 ounce-size mug. Don't worry when making the treat if it looks like your mug is too big, the treat will puff up when it cooks, so stick to the 8-10 ounce sizing.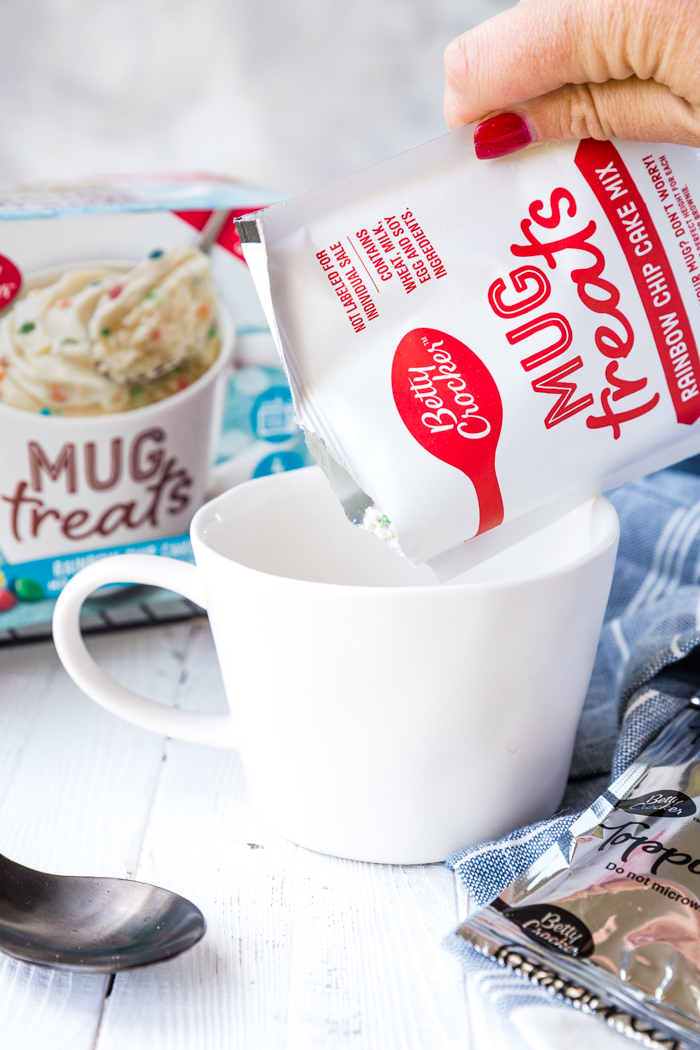 Empty the cake mix envelope into the mug.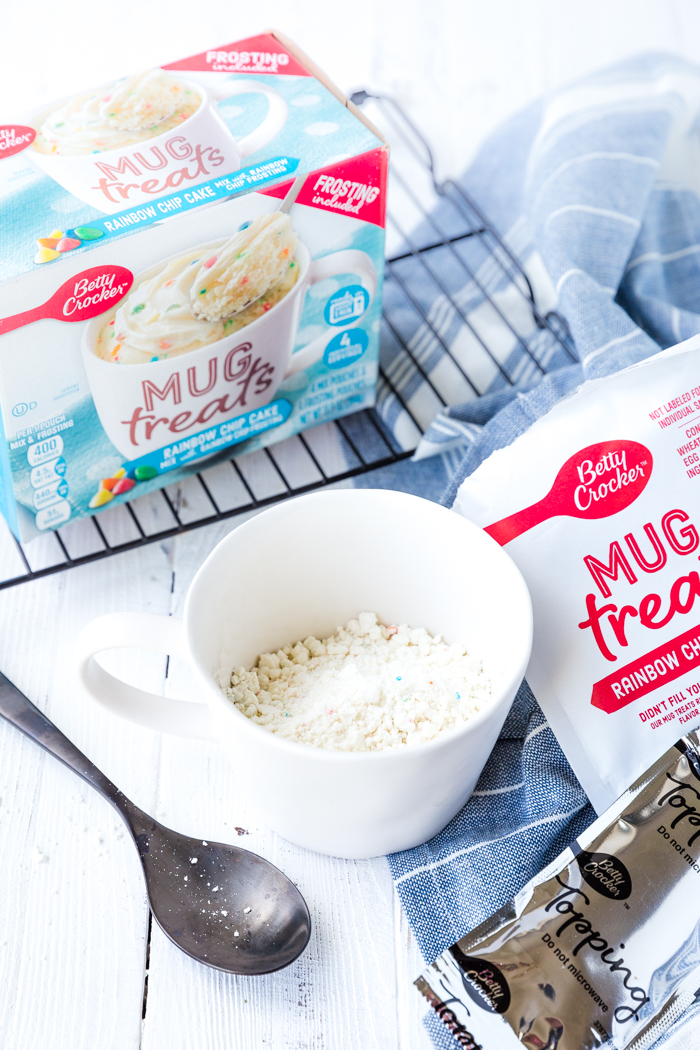 Add milk or water. What you add depends on the mix.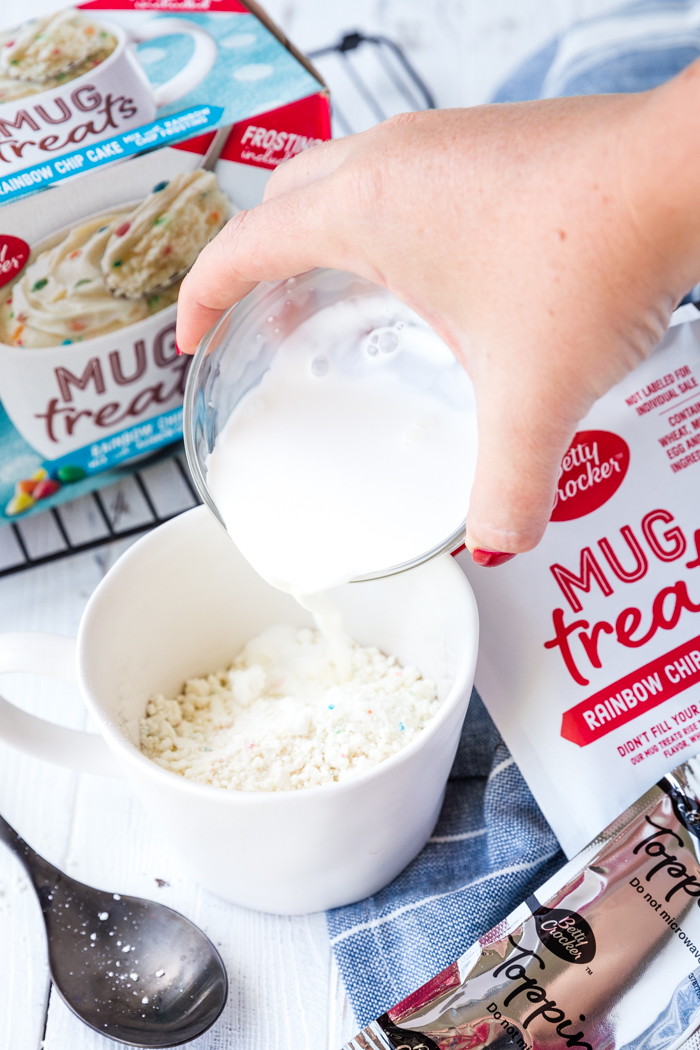 Mix until well blended.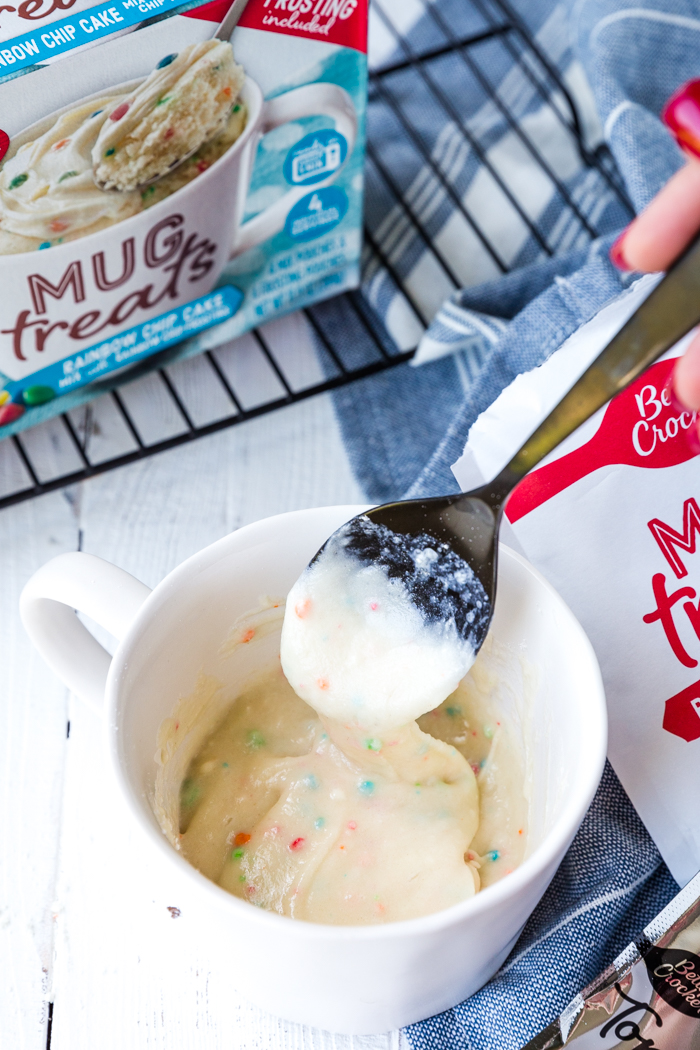 Microwave uncovered on high for about a minute until the top is dry.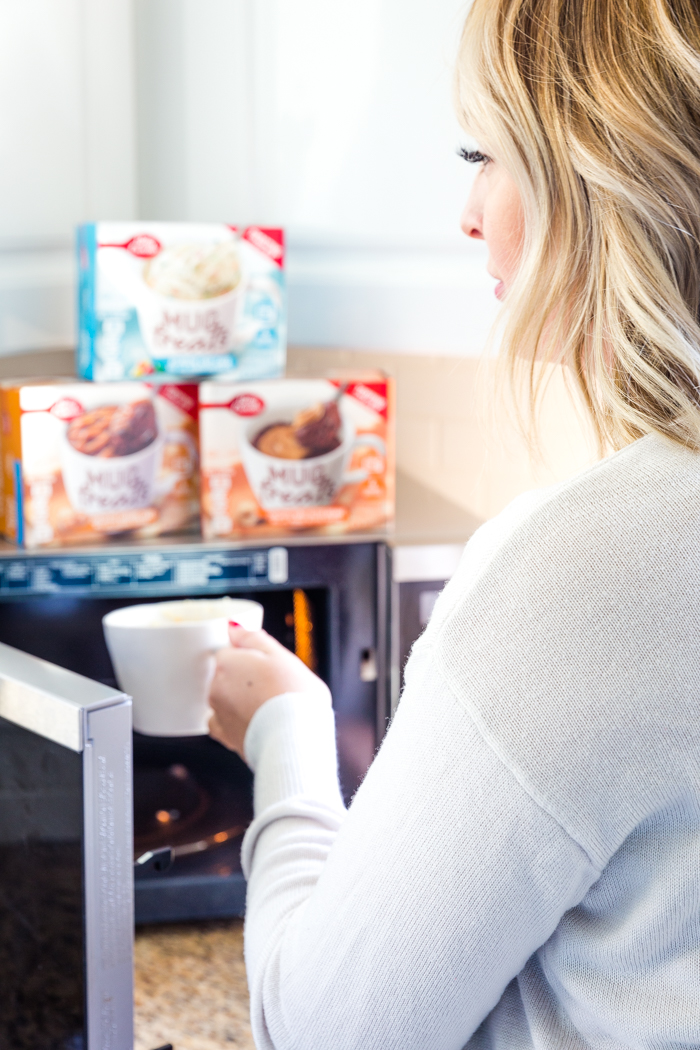 Finishing touch: Squeeze the topping over the cake. Because Betty Crocker Mug Treats even come with a topping, you don't need to purchase extra toppings to create the treat that's just right for you.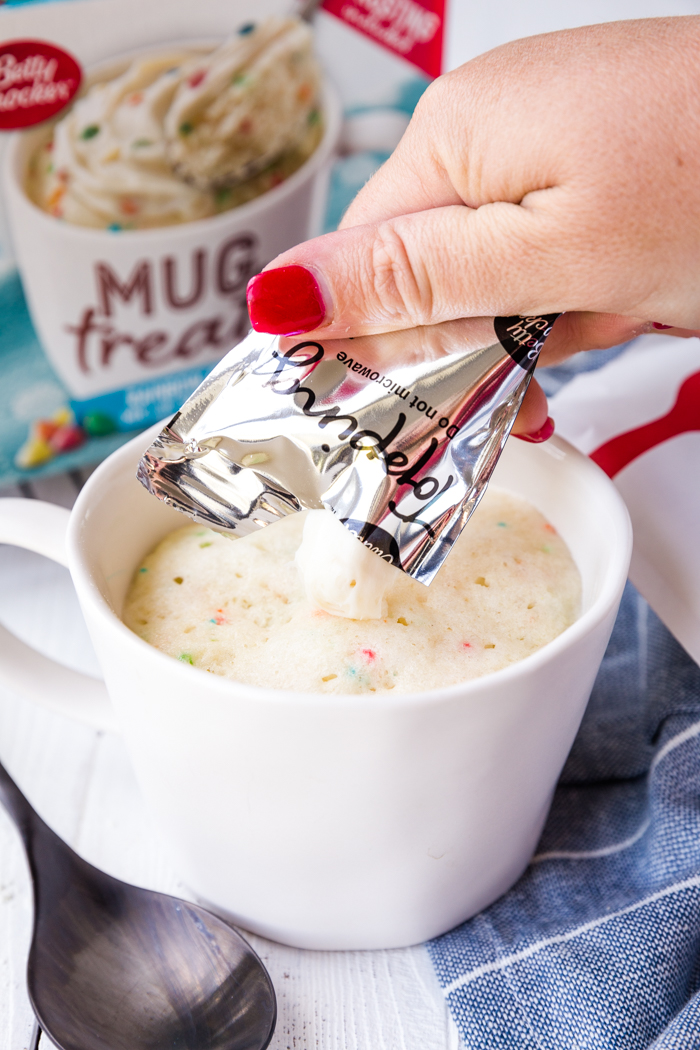 Let it stand for two minutes to finish cooking and then enjoy! (But if you dig in a little sooner, I won't tell.)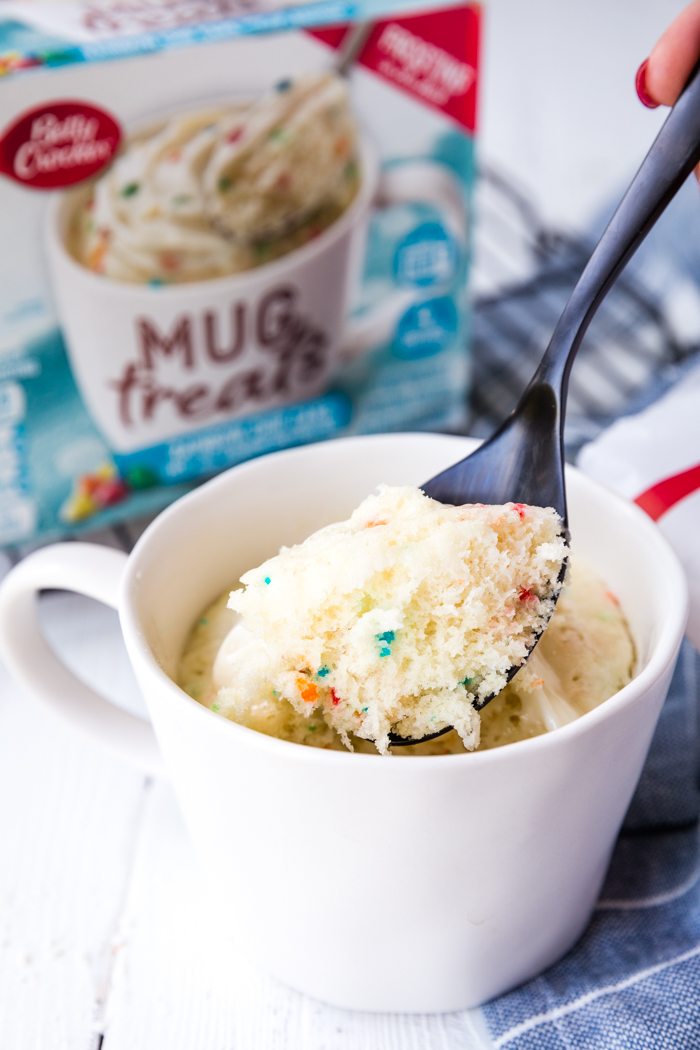 Betty Crocker believes that when you make it yourself, you make it special, and I couldn't agree more!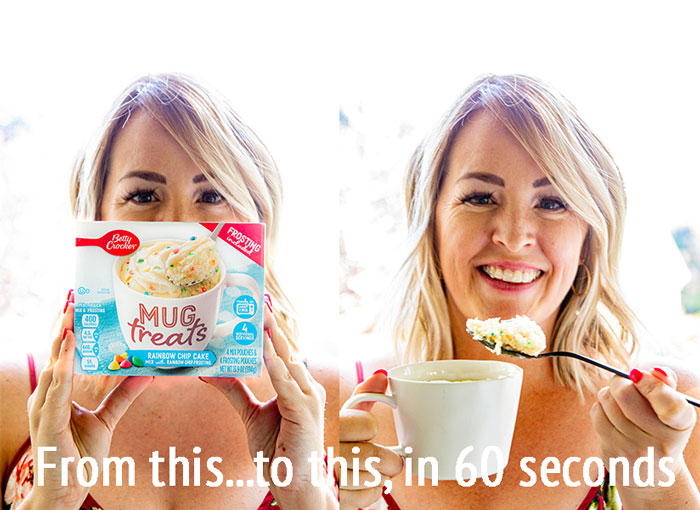 What Flavors are Available? 
There is something for everyone with the Betty Crocker Mug Treats, and I can't even decide which flavor is my favorite. 
My kids love the Rainbow Chip Cake with Rainbow Mix Frosting. It is so fun! 
I lean toward the chocolate and peanut butter, but honestly, it just depends on my mood. Which is why I love how many fun flavors there are to choose from. There are 8! 
Which flavor do you think you would like best? 
Hot Fudge Brownie with Fudge Topping

Triple Chocolate Cake with Fudge Frosting

Cinnamon Roll Cake with Cream Cheese Icing

Rainbow Chip Cake with Rainbow Mix Frosting

Chocolate Peanut Butter Cake with Peanut Butter Topping

Soft-Baked Chocolate Chip Cookie with Fudge Topping

Chocolate Caramel Cake with Caramel Topping

Blueberry Muffin with Cream Cheese Glaze

I guess you better try them all. 
Each Betty Crocker Mug Treats come in a box with four mixes and four topping packs.
And they are super reasonably priced at  a suggested manufacturer's retail price of $2.99 – or just about 75 cents a treat!
Where can you get them? Betty Crocker Mug Treats are currently available in the baking aisle at Walmart stores nationwide. 
When to Enjoy Betty Crocker Mug Treats:
Honestly, because the Betty Crocker Mug Treats are so convenient, and easy to make, you can enjoy them anytime without hassle. 
Need a minute to yourself? Betty Crocker Mug Treats
Have a sweet tooth? Betty Crocker Mug Treats
Dessert for a small group? Betty Crocker Mug Treats
I even keep a few in a drawer at the office so I can carve out a little time for myself with a quick and easy treat, and I won't have an entire cake pan sitting around to tempt me. 
I love when I find new products that make my life sweet and easy, and that is definitely the case with Betty Crocker Mug Treats. 
Other Recipes: