Instant Pot Lava Cake:
The best ever lava cake recipe, offering a decadent chocolate cake dessert with a surprise center of warm, melted chocolatey goodness, or peanut butter, or caramel, or Nutella. Yep, you read that right, four different options for a hot gooey, lava center. 
Molten lava cake puts all other cakes to shame.  The best news is this crave worthy, rich chocolate lava cake can be made quick and easily right in your Instant Pot. This is a dangerous tool to have, as once you realize how eazy peazy it is to make moltens, you may find yourself eating them far too often. 
New to the Instant Pot? Before to check out this Instant Pot Guide before you make these.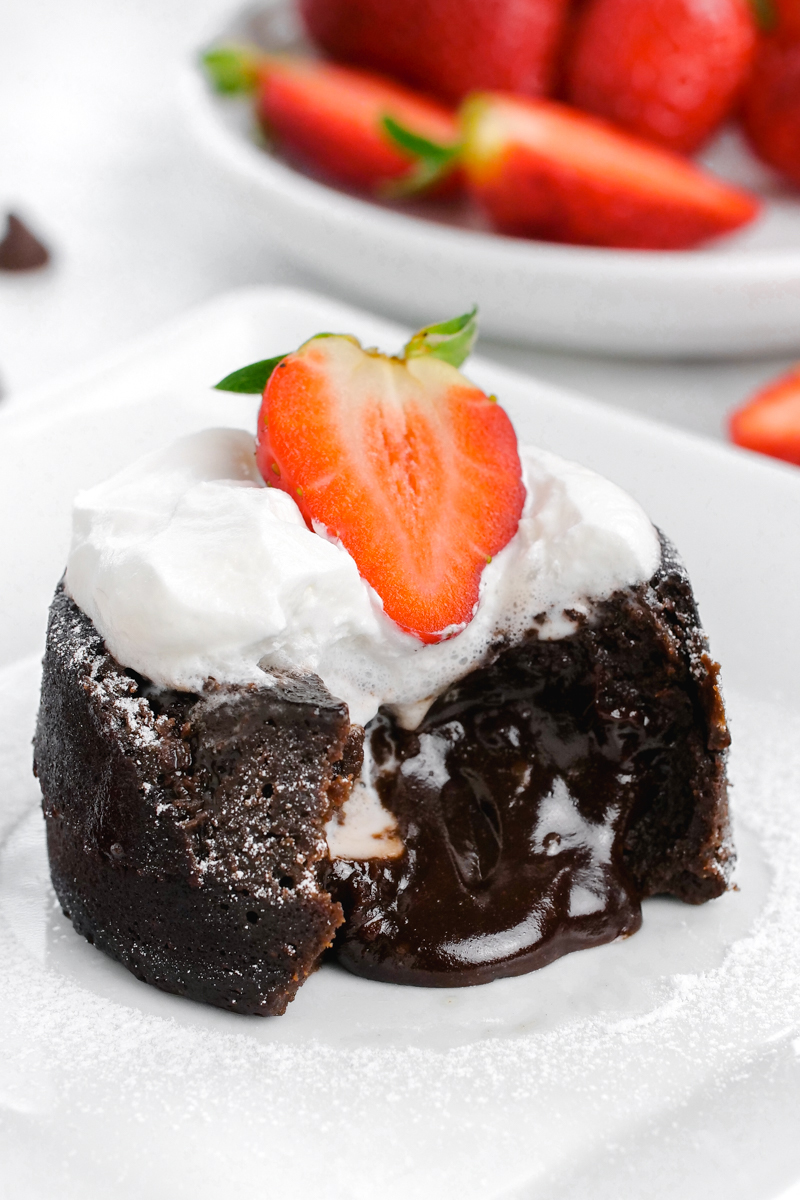 Instant Pot Lava Cake is the perfect dessert to make when you are in the mood for a chocolate treasure that will satisfy the ultimate sweet tooth craving.  Don't miss out on this chocolate lover's dream dessert, the chocolate lava cake!
Molten Lava Cake- What You Should Know
Lava cakes are easy. They aren't any harder to make than a regular cake, really.  There are obviously some variations, but there are also some similarities too.
Just like with a regular cake, in a molten lava cake or chocolate lava cake recipe you need the staple ingredients like eggs, butter, flour, sugar, vanilla, and salt.
However in a lava cake you typically don't use baking powder, like with other traditional cakes.
Also, in a lava cake you use an egg yolk in addition to the eggs, and of course with this type of cake you need the ever so important ingredient, the chocolate chips.
Chocolate chips are what really sets the lava cake apart from other cakes.  Those chocolate chips are melted with butter providing the lava cake a chocolatey delicious interior that is the signature component of the molten lava cake.
Once you have these basic ingredients you are halfway there to this delicious dessert.
Whether you are using an Instant Pot or oven, there are some basic preparations that need to happen before cooking the lava cake.
How To Make This Lava Cake Recipe:
In a large bowl melt butter and chocolate chips in the microwave.

Add sugar to the chocolate mixture and mix until smooth.

Add 3 eggs plus 1 egg yolk, mixing until well-combined.

Mix in flour, vanilla, and salt until well incorporated into the egg mixture.

Prep for baking or cooking in the instant pot pressure cooker.
Note:  When melting chocolate and butter, make sure to cook these ingredients in the microwave in 30 second intervals, stirring in between each interval until melted.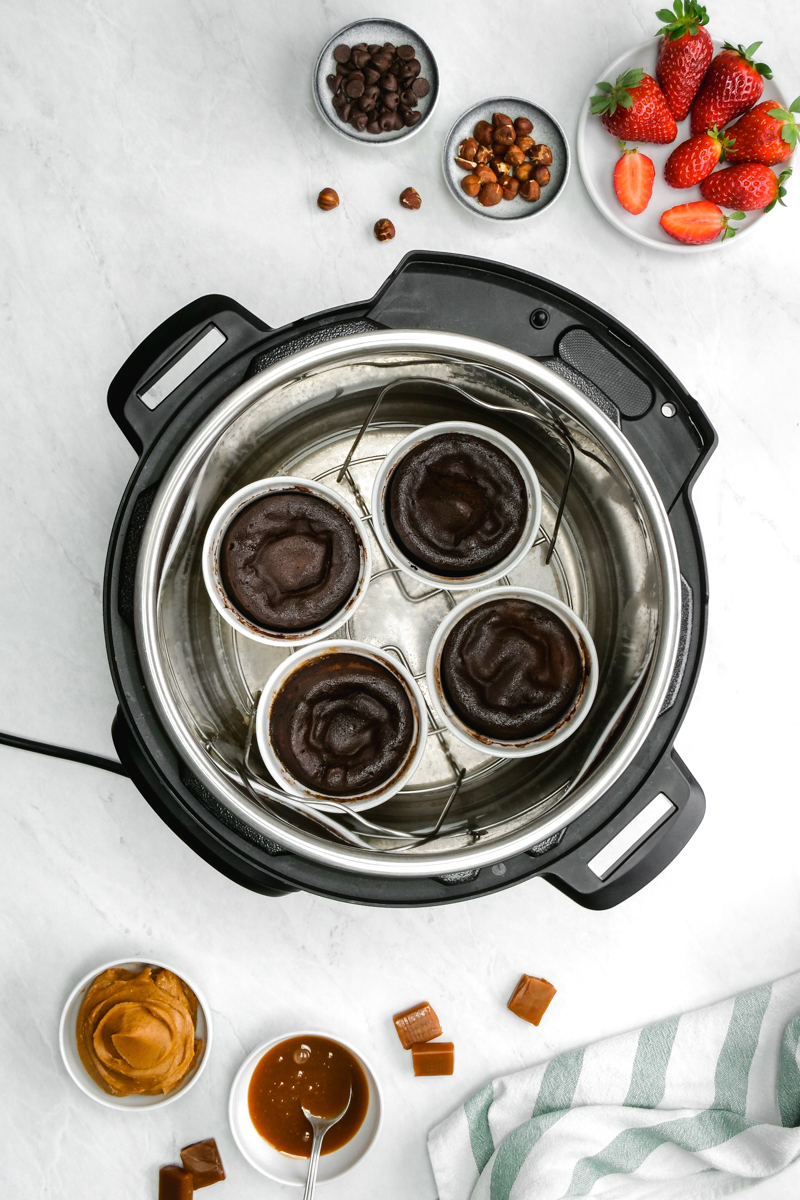 How Do You Make Lava Cake In An Instant Pot?
Once the lava cake batter is mixed together, the lava cake is ready to be baked/pressure cooked.  Yay!
I love to make lava cake in the Instant Pot.  It's quick and easy.
Here we go:
Add 1 cup of water to Instant Pot to help it pressurize.

Spray each ramekin with cooking spray and pour batter up to the top of each. If you are changing the lava center you would fill the ramekin half way, add the new center filling and then top with more batter. 

Place trivet in Instant Pot and add 1 cup of water.

Place ramekins on trivet so they fit with space in between.

Put lid on Instant Pot, lock into place, and put valve to "sealing".

Set pot to 9 minutes on manual high pressure. You may have to adjust this time based on your altitude to get the perfect lava center. Play around until you find the time that is perfect for you. 

When time is up quick release pressure.

Remove lava cakes from Instant Pot, place upside down on plate, and garnish with favorite toppings.
I know it seems like a lot of steps, but it's really not, considering each step is really fast and easy to do.

Molten Lava Cake Filling Options:
I am a huge fan of a classic molten lava cake, but sometimes I want something a little different from the rich, oozing, chocolate center. And so for this recipe I have created 4 options for you:
Chocolate
Peanut Butter
Caramel
Nutella
Each of these 4 options will give you a gooey, oozing, molten lava center, and each will be delicious. And the fun part is they all use the same base recipe, so if you are really feeling adventurous you could make all 4 in one go. Then you would get the best of all four worlds.
The chocolate center just requires the basic lava batter. But for the other three flavors, you will mix up a separate filling mixture. Then, when filling the ramekins, you will start with the batter. Fill the ramekin half way, then add the alternative center filling (aka peanut butter mixture, caramel mixture, or nutella mixture), and then continue to fill the ramekin the rest of the way up with the original chocolate batter.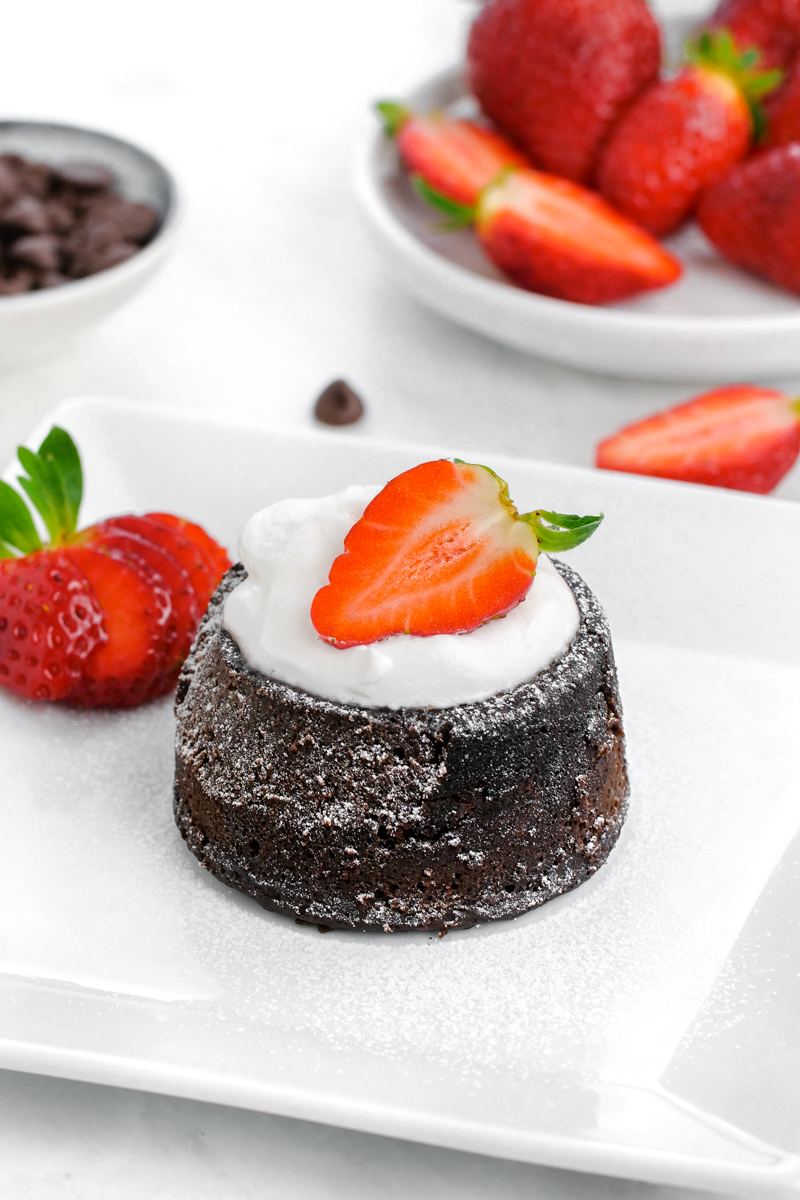 Tips For Making Instant Pot Lava Cake:
Cooking times may vary depending on the Instant Pot model.
There are different Instant Pot models as well as other factors, like altitude, that could impact cooking time.  Depending on the model cooking times may vary slightly.  If you are unsure or doing this for the first time, set Instant Pot for 7 minutes instead of 9.  
Check lava cake and if it is underdone after 7 minutes, then pressure cook for another 1-2 minutes.
The beautiful thing is, it doesn't take long to whip up a batch, so make a few and play with your pot to get the desired outcome. Once you figure out timing for your altitude and pot they will be perfect every time!
Larger Instant Pots can fit more ramekins in a single layer.
If you are working with a larger Instant Pot, then you may be able to fit all 4 ramekins in one layer.
If not, then you can do 3 and then carefully stack the 4th on top of the other 3, just be careful when removing them so you don't end up with a molten lava cake mess.
For this recipe, 6 oz ramekins and a 6 quart or 8 qt Instant Pot Duo is used.
It is okay if you have a different Instant Pot model or don't have 6 oz ramekins.  You can use a different size ramekin and a different Instant Pot model. You may just need to adjust cooking times. Test different times with your pot to figure out YOUR preference. 
When I was developing this recipe I used a 6 qt and 8 qt pot, and both worked really well. You will love making this lava cake recipe in the Instant Pot.  It comes out perfect and this lava cake will make you happy!
Plus once you make one dessert in the Instant Pot, you will want to do another and another and another because it is so easy. 
Does High Altitude Effect Cooking Time In The Instant Pot?
High altitude actually can impact the cooking times in the Instant Pot.  So, if you live in a higher altitude climate, no biggie you just may have to adjust cooking times slightly.
Why Do Higher Altitudes Effect Cooking Time In The Instant Pot?  
Basically, the higher the altitude is, the less pressure there is in the pressure cooker, resulting in the need for longer cooking times.
When a climate is located at a higher altitude there is actually lower air pressure, resulting in the water boiling point to be lower.  So water boils at a lower temperature. Why does this matter? Low temperatures require longer cooking times to get the same amount of doneness. 
Because pressure is built in the pressure cooker by boiling water, and the boiling point is just under 1 degree lower per every 500 feet of higher elevation. The higher the elevation, the lower the temp when water boils, and thus the longer you have to cook to make up for the temperature difference. 
With this in mind, when cooking lava cakes at higher altitudes, plan on a longer cook time to get the same results.
How Do You Adjust Cooking Times In The Instant Pot For Higher Altitudes?
The answer is simple.  Just increase the cook time by 5% for every 1000 feet if you are above an elevation of 2000 feet. So if the normal time is 7 minutes, and you live at 4000 feet, add 10% time to your cook time. So, 7 minutes and 42 seconds of cook time. ( 7 x 60 = 420 seconds, 10% of that is 42 seconds, so 7 minutes, 42 seconds)
If math isn't your friend, the easiest solution is to just play around, test, and see what works! That is the best way to figure out the Instant Pot.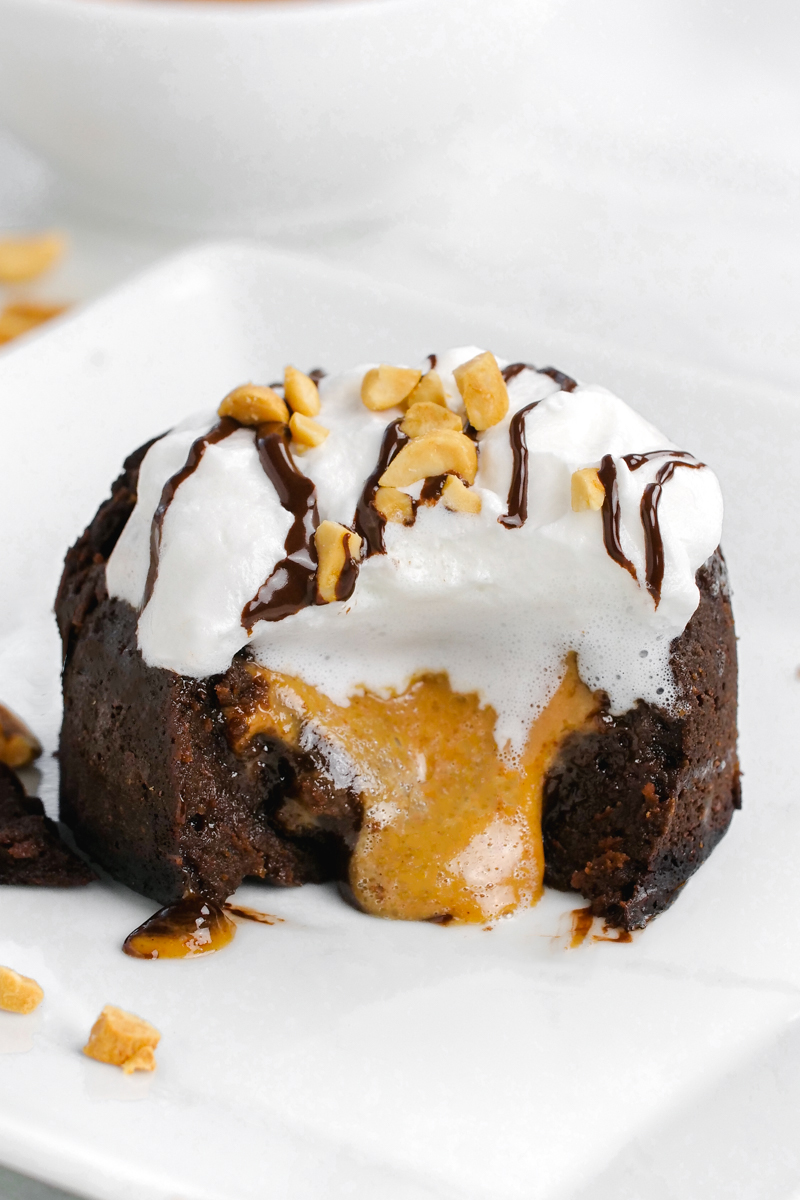 How Long Do Lava Cakes Last?
This dessert is such a dream of deliciousness that it does not last very long in our house.  We eat the lava cake after dinner and we are lucky if there are ever any leftovers. 
It is just that good.
However, I realize there are people who may have the ability to exercise some restraint.  So, for those people rest assured that you can save your lava cake for leftovers. However, it won't be very lava-y if you save it. This is the kind of dessert that should be eaten right away. 
You can make the batter ahead, but you want to cook it just before you eat it, and eat it warm!
However, if you want to save it, place it in an airtight container, and the molten lava cake can last for a couple of days. When you want to eat some more just put the cake in the microwave for about 10-20 seconds to reheat it.
Can I Make Lava Cake Batter Ahead Of Time?
The answer is yes, you can make lava cake batter a head of time.
Simply refrigerate the batter in a container with plastic wrap covering the top.
If you need to plan ahead, It is better to make the batter ahead than to try and cook the cakes ahead. Reheating will continue to cook the cakes and leave you without the lava center. 
You can leave the batter in the refrigerator for up to 2 days. After that it may be unsafe due to the raw egg yolk in the batter. 
Trust me though, the chances of it lasting 2 days are slim as once you make the batter, you will be dying to bake it in your Instant Pot immediately.

Is The Center Safe To Eat?  Isn't It Raw?
I know as you are enjoying this delicious melted goodness in the center, it may cross your mind to think this is so good, but what am I eating exactly?   
Is this chocolatey sauce raw batter?
The chocolatey sauce is fine to eat. The center part that seems raw is not.  Phew!
Remember the chocolatey sauce that you created prior to baking?  That's what you are eating.
You are eating the chocolate and melted butter mixture you made in the microwave.  I have tested the temps over and over, and it is NOT unsafe to eat. How do I know? 
Why is raw batter unsafe?
Although I like to lick the spoon from time to time after making a cake, the reason why it is not a recommended practice is because usually raw batter contains raw eggs, which is not something you want to eat.
Raw eggs may contain a pathogenic bacteria called Salmonella, which can cause food poisoning. No one wants salmonella poisoning.  However, the USDA has told us that the chances of this happening with pasteurized eggs are slim. 
Here is the thing though, even if you are still skeptical about the filling, even if it was raw batter, salmonella dies once you hit 150 degrees.  
These lava cakes are cooked at a far higher temperature. So it might feel like raw batter,  but it is raw batter that has been heated in the pressure cooker to a safe to eat temp, killing anything that could cause harm. When testing this recipe I used an instant read thermometer to make sure the center was above 150 degrees. It was! 
Does that make you feel better?
If you are still worried, use pasteurized eggs, and an instant read thermometer to make sure your center is above 150 degrees F. 
Hopefully now that we have addressed these concerns, you will be able to dig in and enjoy that melted chocolate sauce, as it oozes out of the freshly cut molten lava cake.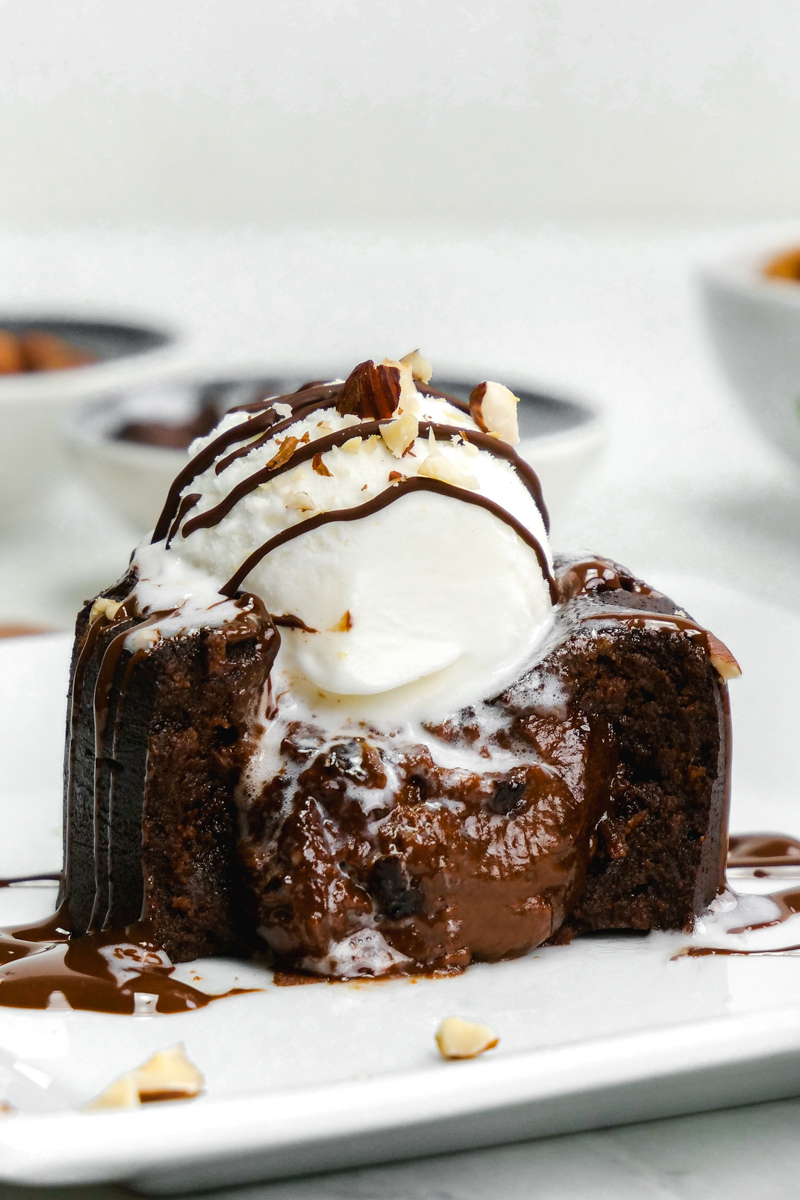 Wait No Longer To Make The Best Chocolate Dessert Ever!
Instant Pot Lava Cake is a dream come true with the fluffy cake and the rich chocolate molten center. But if you are looking for other fun  chocolate inspired favorites to try.
Try Texas Sheet Cake or Chocolate Pie. Both are worthy desserts to satisfy your chocolate cravings.
Love Using your Instant Pot for Eazy Mealz and Desserts? Try These Recipes!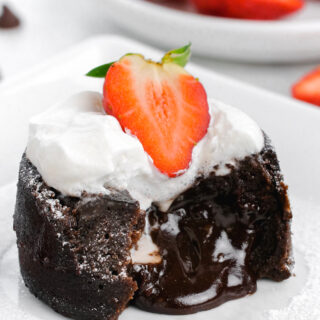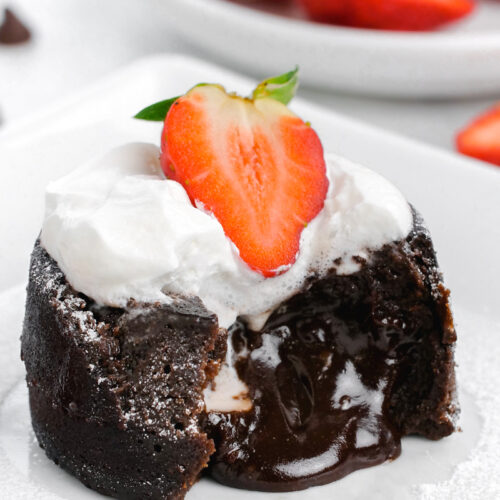 Instant Pot Lava Cakes
Instant Pot Lava Cakes: A chocolate molten lava cake and 4 filling options, chocolate, peanut butter, caramel, and nutella! This cake is a dream as it is made in the instant pot for almost instant satisfaction.
Print
Pin
Rate
Ingredients
Base/Chocolate Lava Cake
½

cup

butter

8 Tbs

3

whole eggs

1

egg yolk

1

cup

semi-sweet chocolate chips

1

tsp

vanilla extract

¼

tsp

salt

6

Tbs

all-purpose flour

3/4

cup

confectioner's sugar

1

Tbs

cocoa powder

for dusting the ramekins --optional
Caramel Lava Cake:
8

Caramel squares

cut into small pieces

½

tsp

salt
Peanut Butter Lava Cake:
4

Tbs

Peanut Butter

1

Tbs

butter

2

Tbs

powdered sugar
For Nutella Lava Cake:
4

Tbs

Nutella

or chocolate hazelnut spread

1

Tbs

butter

2

Tbs

powdered sugar
Chocolate:
Powdered sugar

Berries

Whipped cream
Peanut butter:
Whipped cream

chopped peanut butter cups
Caramel:
Whipped cream or vanilla ice cream

Caramel drizzle
Nutella:
Vanilla ice cream

Nutella drizzle

Chopped hazelnuts
Need:
4, 6

ounce

ramekins

Cooking spray

6

QT

or larger Instant pot

Trivet

1

cup

of water to help instant pot come to pressure

1.5 cup if using an 8 Qt pressure cooker
Instructions
Base Mixture
In a large bowl, add chocolate chips and butter

Microwave in 30 second intervals, stirring between each, until melted and combined (about 1 ½- 2 minutes).

Add confectioner's sugar to the chocolate mixture, and mix until smooth.

Add 3 full eggs and 1 egg yolk and mix until well combined.

Add vanilla, salt, and flour and mix until combined.

Spray each 6 ounce ramekin with cooking spray, and sprinkle with sugar.
For Chocolate Lava Cake:
Pour batter into each ramekin, dividing batter evenly between the 4.
For Peanut butter Lava Cake:
Mix together 4 tbs peanut butter, 1 tbs butter, 2 tbs powdered sugar.

Pour batter half way in each cup

Place Peanut butter mixture in the center.

Cover with more chocolate batter.
For Caramel Lava Cake:
Cut up the caramel squares so they are smaller and have a chance to melt.

Pour batter half way in each cup and place caramel squares in the center and sprinkle with salt.

Cover with more chocolate batter.
For Nutella Lava Cake:
Mix together 4 tbs nutella, 1 tbs butter, 2 tbs powdered sugar.

Pour batter half way in each ramekin and spoon nutella mixture in the center.

Cover with more chocolate batter.
Cook
Place the trivet into your instant pot and add one cup of water.

Place your ramekins on the trivet so they fit, with some space between. You may need to put 3 on the bottom, and one balanced on top of the other 3.

Place lid on instant pot, and lock into place. Set valve to "sealing."

If using a 6 Qt pot, set pot to 9 minutes on Manual High Pressure. If you are using an 8Qt pot, set time to 7 minutes on manual high pressure.

When time is up, quick release pressure by carefully turning the valve to "venting".

Remove from the Instant Pot and rest for 3 minutes, then turn upside down on a plate, and remove ramekin.

Top with a sprinkle of powdered sugar, and desired toppings (whipped cream and strawberries for the plain chocolate one. Whipped cream and chopped up peanut butter cups for the peanut butter one, A drizzle of caramel for the caramel one, a drizzle of nutella and some chopped hazelnuts for the nutella one.

Serve immediately or the inside will no longer be lava.
Nutrition
Calories:
660
kcal
|
Carbohydrates:
55
g
|
Protein:
9
g
|
Fat:
44
g
|
Saturated Fat:
26
g
|
Cholesterol:
235
mg
|
Sodium:
402
mg
|
Potassium:
333
mg
|
Fiber:
4
g
|
Sugar:
38
g
|
Vitamin A:
975
IU
|
Calcium:
59
mg
|
Iron:
4.2
mg
Our recipe card software calculates these nutrition facts based on averages for the above ingredients, different brands, and quality of produce/meats may have different nutritional information, always calculate your own based on the specific products you use in order to achieve accurate macros for this recipe.
Want to use this recipe in a meal plan?
Try PrePear, my FREE Meal Planning App that allows you to save your recipes, plan meals, shop for groceries, and cook simply in one place. Join Here!