Red Velvet Cupcakes
Red Velvet Cupcakes:  Rich velvety smooth, decadent cupcakes topped with white, luscious cream cheese frosting, these Red Velvet Cupcakes are the perfect dessert when you want that sweet tooth craving to be fully satisfied. 
Red Velvet Cupcakes are the perfect combination of moist, cake with a subtle hint of chocolate accompanied with the best ever sweet, cream cheese frosting.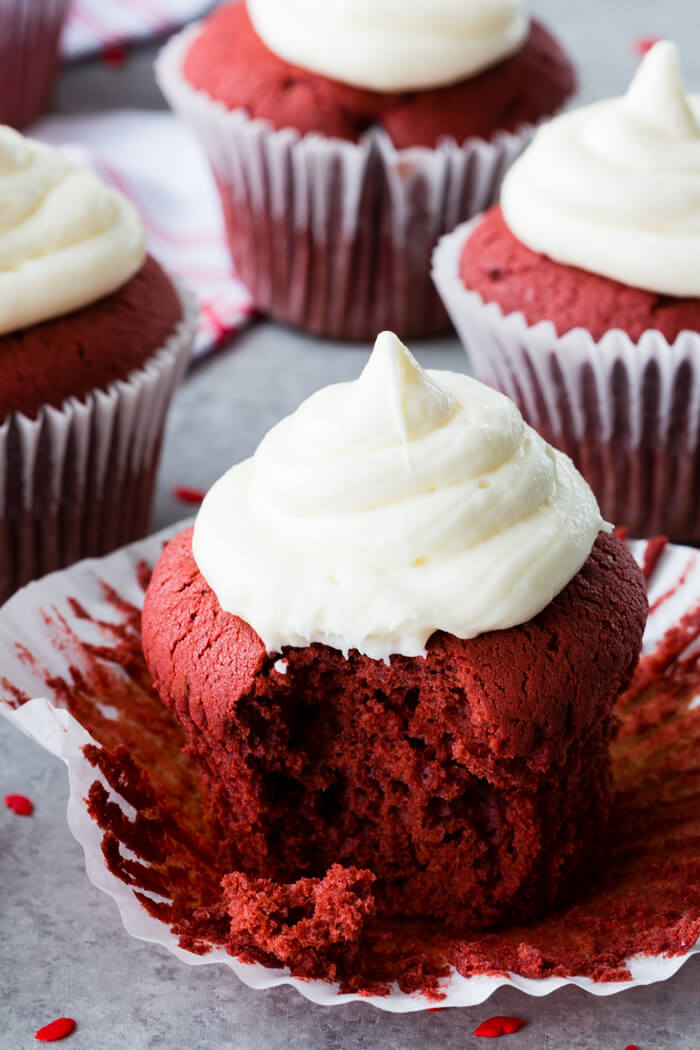 I am obsessed with cream cheese frosting. I always swear that cream cheese frosting is what makes these 1 hr Cinnamon Rolls so divine.
So of course topping these Red Velvet Cupcakes makes them all the more amazing. They are a real crowd pleaser. 
Red Velvet Cupcakes are a classic favorite that you can make in no time at all in your kitchen. Wait no longer to bring this classic treat into your home.
I love, love, love, Red Velvet Cupcakes.  This festive treat kicks it up a notch from just a basic cupcake. 
The vibrant red coloring accompanied with the white cream cheese frosting makes it not only delicious, but so beautiful to the eye.  I love to make this cupcake recipe all year long, but I especially think it's fun to incorporate Red Velvet Cupcakes into the holidays like Christmas, Valentine's Day, and the Fourth of July.
Is Red Velvet Cake Just A Chocolate Cake?
Okay let's clear something up right from the beginning, Red Velvet Cupcakes or red velvet cake is not just a chocolate cake. 
Better yet, is red velvet cake a chocolate cake with food coloring?  
Red velvet cake is not a chocolate cake with a mistaken identity, parading itself around as a red cake with all the other ingredients the same as a chocolate cake.   It is not just a chocolate cake that is red.
Yes red velvet cake has red food coloring in it, but the red food coloring just further enhances the red hue it already had.  Plus, red velvet cake, although could be argued similar in taste to a chocolate cake, has a definite difference in taste.
Both red velvet cake and chocolate cake have some similarities in their ingredients, but they also have differences. 
I can see where there would be confusion though.
What Is The Difference Between Chocolate Cake And Red Velvet Cake?
While chocolate cake and red velvet cake both use cocoa powder, they use different amounts of it. 
What Exactly Is Red Velvet?
Red velvet cake, in addition to cocoa powder has the key ingredients of buttermilk and vinegar.
While red velvet cake has a slight hint of chocolate flavor, the buttermilk and vinegar contribute to the taste. Although red velvet cake has cocoa powder like chocolate cake, it uses less chocolate and with the accompaniment of buttermilk and vinegar, its overall flavor profile is different than a chocolate cake.
Plus, red velvet cake dessert is quite different to a chocolate cake dish due to its signature companion, the cream cheese frosting.
Unlike chocolate cake, red velvet cake has a faithful companion, cream cheese frosting.  On the other hand chocolate cake is partnered with a variety of different flavored frostings.
Key Differences Between Red Velvet Cake and Chocolate Cake:
The amount of cocoa powder used in both cakes is typically different

The use of buttermilk and vinegar in red velvet cake that is not present in chocolate cake

The variety of frostings that are partnered with chocolate cake opposed to cream cheese frosting always being used with red velvet cake.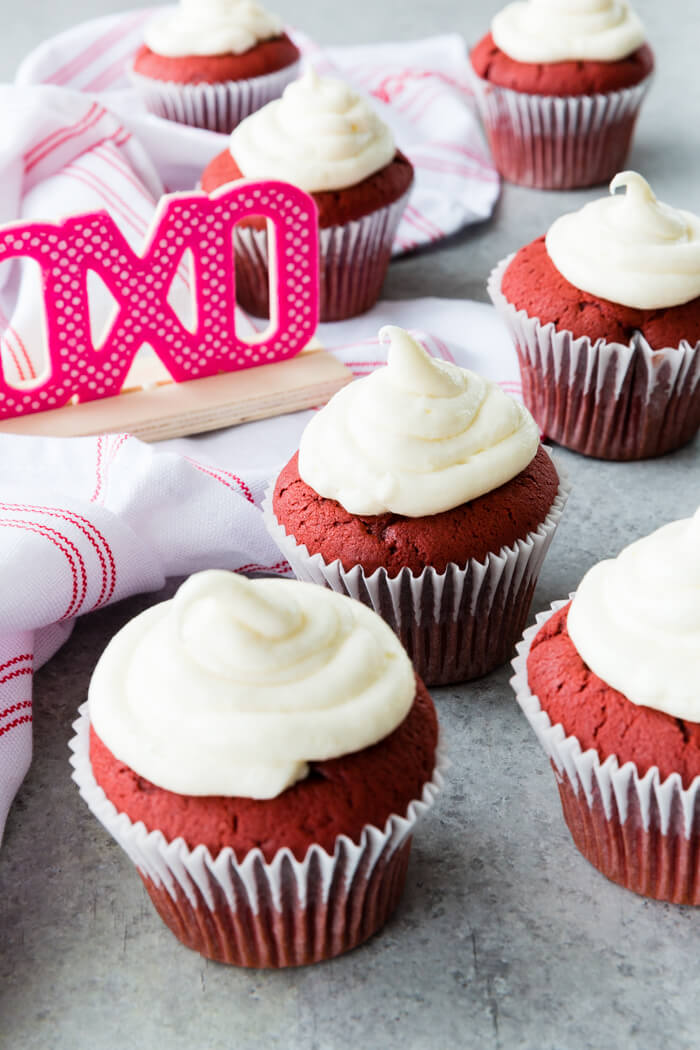 What Do Red Velvet Cupcakes Taste Like?
Umm, they are AMAZING?!  Moist cake with a hint of chocolate flavor accompanied with the bold and beautiful cream cheese frosting, makes Red Velvet Cupcakes amazingly delicious.  The flavor has a slight acidic element that partners well with the overall taste of the cake.
Don't get me wrong, chocolate cake has its place, but so does the red velvet cake.
The two hopefully will never be mixed up again.
Do not hesitate to make these Red Velvet Cupcakes.  They are so, so, so, good. So, don't make the mistake in thinking that just a regular chocolate cake will offer the same impression as the popular red velvet cake.
Why Is Red Velvet Cake So Popular?
Once you try these Red Velvet Cupcakes you will understand what all the fuss is about.  Red Velvet Cupcakes is a dessert with the perfect marriage of flavor.
The bold, fluffy cream cheese frosting, partnered with a cake with a subtle hint of chocolate and a little pizzazz from the vinegar and buttermilk, makes this flavor combo unforgettable.
Plus, doesn't the color just make this cake stand out from the rest?  Doesn't bright vivid red cake contrasted with the crisp white tone of the cream cheese frosting offer such an aesthetically pleasing picture?  It almost looks too pretty to eat, but don't you worry everyone will.
What I love about these Red Velvet Cupcakes is that instead of having to cut out a cake, this dessert is already pre portioned out for everybody.  
What Makes Red Velvet Cake Or Cupcakes So Popular:
Festive red color, great for holidays, as well as any day

Cream cheese frosting partnered with the cake makes a dynamic duo

Fantastic flavor profile
Does A Red Velvet Cake Need To Be Refrigerated?
While a red velvet cake or Red Velvet Cupcakes should be in fact refrigerated, they don't need to be refrigerated immediately.
You can leave these Red Velvet Cupcakes out at room temperature for up to 2 hours.
Here is the thing, as a general rule of thumb, cream cheese frosting needs to be refrigerated.  Does that mean that people always do this? No.
The cake itself does not need to be refrigerated. Just the frosting. So if wait to frost until ready to serve you can leave the cake parts out.
I know that I have left out cookies with cream cheese frosting for more than a couple hours, in fact probably for more than 24 hours.  I am sure other people have too, but it is advised that cream cheese frosting does not stay out at room temperature for longer than 2 hours.
With the exception of buttercream frosting though, usually dairy that has not been baked into the dessert should be refrigerated.   So, things like whipped cream and cream cheese frosting should be refrigerated.
I actually really like these cupcakes chilled though so that does not bother me at all.
However, if you prefer eating Red Velvet Cupcakes warm or at room temperature, either take them out of the fridge and let them sit a little bit before eating them, or simply don't make them hours ahead of time.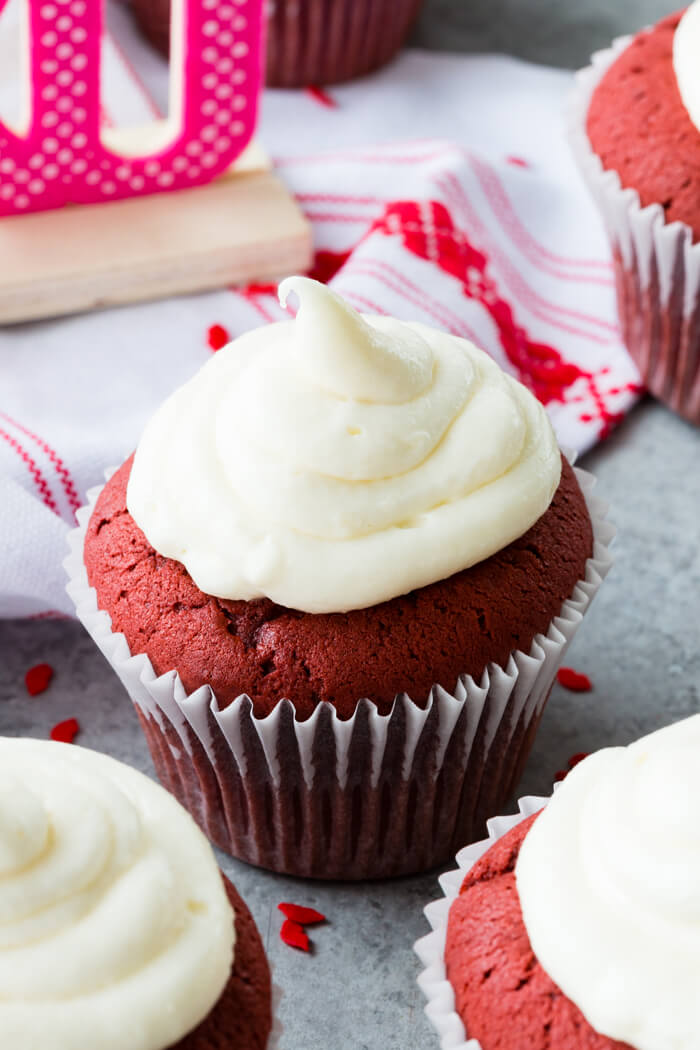 Serving Suggestions:
I prefer to serve Red Velvet Cupcakes either chilled from the refrigerator or at room temp, opposed to warm.  
Here is why. One of the classic elements to this cupcake is the delicious frosting and if you try to frost the cupcakes while still warm so you can eat them warm, some of the frosting will start to melt. It will still be good, but I personally would rather my frosting not to be melting as I serve the cupcakes.
Also, because these cupcakes are so decadent, a nice cold glass of milk makes a great combo.  
If you want something a little lighter though than milk, I suggest a Make Your Own Nut Milk option.  Almond milk offers a great alternative to traditional milk and will wash those Red Velvet Cupcakes right down.
Red Velvet Cupcakes Are A Must!
You will love these Red Velvet Cupcakes.  They truly are so delectable and because they are cupcakes they provide an easy no utensils needed dessert for a party.
Treat yourself this week to these rich, decadent, irresistible Red Velvet Cupcakes.
Plus, red velvet is such a fun flavor to work with so why stop at these amazing cupcakes.
Try some other red velvet goodies.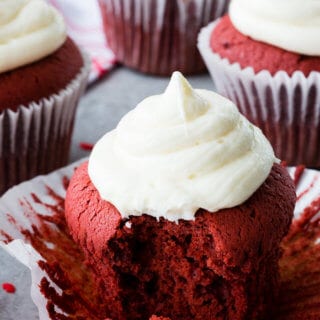 Red Velvet Cupcakes
These delicious Red Velvet Cupcakes will leave your taste buds begging for more after the first bite. With just the right amount of creamy and sweet, this dessert is worth the half an hour of baking time.
Print
Pin
Rate
Ingredients
2 1/2

cups

flour

1/2

cup

unsweetened cocoa powder

1

teaspoon

baking soda

1/2

teaspoon

salt

1

cup

butter softened

1 3/4

cups

sugar

4

large eggs

1

cup

sour cream

1/2

cup

milk

1

tsp

white vinegar

1

ounce

red food coloring

2

tsps

vanilla extract
Cream Cheese Icing
8

ounces

cream cheese

1/4

tsp

salt

2-3

cups

powdered sugar add until you reach desired thickness/consistency

1

Tbs

heavy whipping cream or milk

1

tsp

vanilla
Instructions
Preheat oven to 350 degrees F.

In a large bowl, sift together flour, cocoa powder, baking soda and salt. Set aside.

In a separate large bowl, use a hand mixer to beat softened butter and sugar together on medium speed for 5 minutes or until light and fluffy.

Once light and fluffy, beat in eggs, one at a time.

Use a rubber spatula to mix in sour cream, milk, white vinegar, red food coloring and vanilla.

Gradually stir in flour mixture or use a hand mixer to beat it in on low speed until just blended. Do not overbeat or your cupcakes will be tough.

Let batter rest on the counter for 10 minutes.

Spoon batter into 24 cupcake liners inside muffin tins, filling each cup 2/3 full. I used larger paper liners, if using smaller you may get as many as 30 cupcakes.

Bake 22-25 minutes or until toothpick inserted into cupcake comes out clean. If the toothpick does not come out clean, continue cooking or center will fall.

Cool in pans on wire rack 5 minutes. Remove from pans; cool completely.

While cupcakes cook, mix together all ingredients with hand beaters in a large bowl, then pipe onto cupcakes before serving. Adjust amount of powdered sugar added to fit preference of consistency/thickness.
Nutrition
Calories:
244
kcal
|
Carbohydrates:
27
g
|
Protein:
4
g
|
Fat:
14
g
|
Saturated Fat:
8
g
|
Cholesterol:
64
mg
|
Sodium:
237
mg
|
Potassium:
87
mg
|
Fiber:
1
g
|
Sugar:
16
g
|
Vitamin A:
480
IU
|
Vitamin C:
1
mg
|
Calcium:
36
mg
|
Iron:
1
mg
Our recipe card software calculates these nutrition facts based on averages for the above ingredients, different brands, and quality of produce/meats may have different nutritional information, always calculate your own based on the specific products you use in order to achieve accurate macros for this recipe.
Want to use this recipe in a meal plan?
Try PrePear, my FREE Meal Planning App that allows you to save your recipes, plan meals, shop for groceries, and cook simply in one place. Join Here!
Pin to your Dessert board: