Post sponsored by Mirum. Opinions are 100% my own.
Slow Cooker Pulled Beef Sandwiches: 
These delicious pulled beef sandwiches are loaded with flavor thanks to Hellmann's® products and are the perfect food for tailgating. 
They are easy to make. 

They feed a crowd.

They can be customized by each person individually. 
Serve along with chips, veggie trays, and other easy to grab extras you can order from Walmart.com's Online Grocery Pickup for the perfect tailgating party.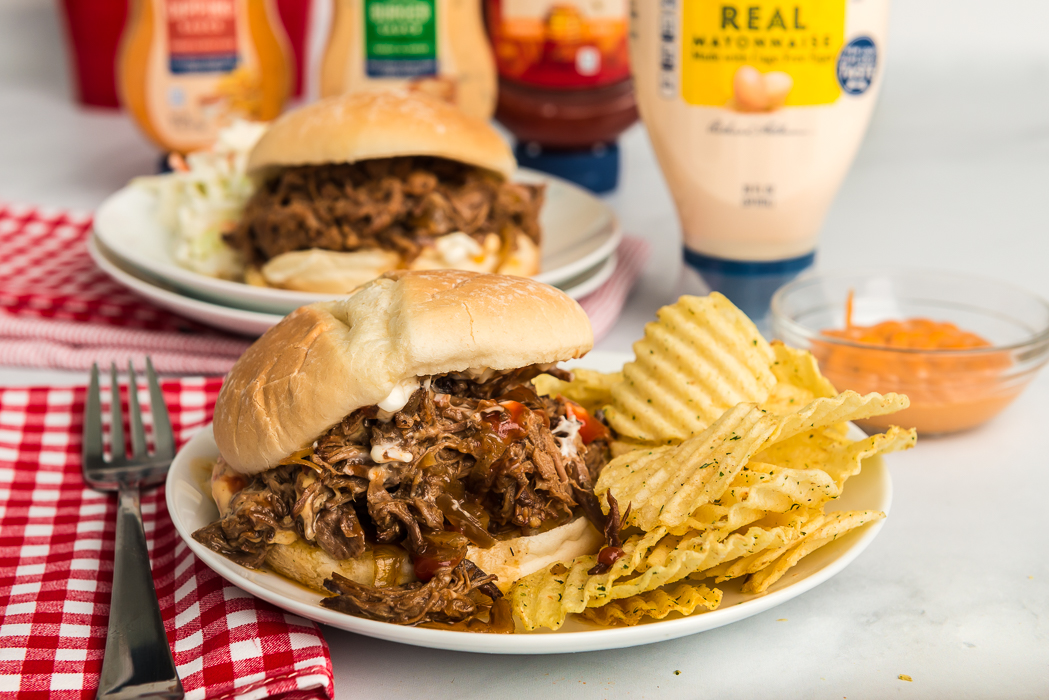 When it comes to football season, food rules supreme for me, and I want to serve meals that are touchdowns every time. This pulled beef is the perfect combo of easy, tasty, and crowd pleasing. 
Cook for a crowd with very little work or effort required, and enjoy the benefits of tender, flavorful beef. 
Load crusty buns up with this juicy, flavorful shredded beef, and top them off with your favorite Hellmann's condiments like Burger Sauce or Spicy Dipping Sauce, along with the classics Real Mayonnaise and Real Ketchup! 
Perfect for Tailgating
There is something amazing about using a slow cooker for tailgating. It eliminates so much of the work and the mess, and just lets you enjoy the game. 
And it can keep food warm while you party. 
It acts as the serving dish, as well as the cooking implement. 
Basically, a slow cooker is the perfect tool for your tailgate. And this pulled beef is the perfect food to cook in it. When served with Hellmann's condiments, these sandwiches are…you guessed it…perfect! 
What cut of beef is best for shredding?
Shredded beef is awesome for feeding a crowd and can be used a number of ways: Served on buns, in taco shells, or even with salads. But what cut of beef is best? 
Chuck: Since this is a slow cooker recipe, and it cooks for 8-10 hours, you want something that has a nice marbling, and plenty of fat and connective tissue. 
Typically, a chuck roast is a bit tough, but that is what makes it perfect for the slow cooker. Low and slow gives the connective tissue in the roast a chance to break down, and leaves you with incredibly tender, flavorful meat. 
The addition of the Hellmann's Real Mayonnaise and the spice rub adds extra flavor and moisture to your roast. So, use a chuck roast for a melt in your mouth pulled beef! 
If you don't want to use a chuck roast, a 7-bone pot roast, rump/bottom round roast, or brisket will also work, though they tend to dry out a bit faster.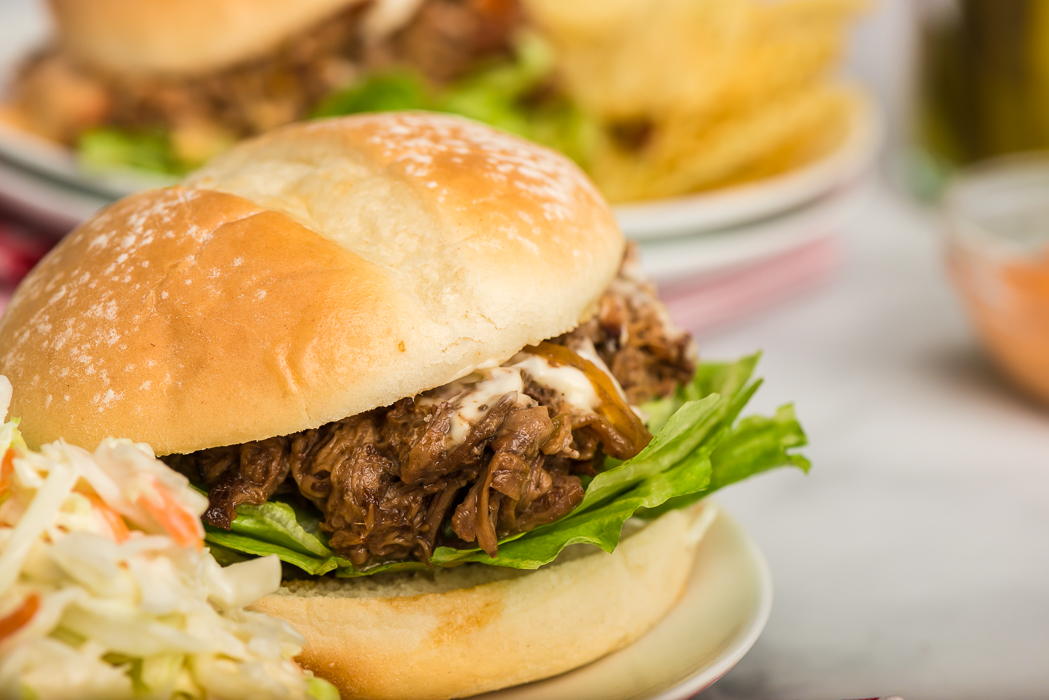 How Long Does It Take to Cook a Chuck Roast?
It depends on the size of the roast, but the general rule of thumb is 8-10 hours on LOW for a standard 3-5 lb. beef chuck roast.  
Make sure to give yourself plenty of time to let it cook until it is perfectly tender. 
With a chuck roast if you go to shred, and it is tough, give it more cooking time, as this does not mean it is over cooked, rather it means it needs a little more time for that connective tissue to break down and for it to be fork tender. 
It is far better to give yourself too much time, rather than too little, when in doubt, make it ahead and reheat it before serving. Instructions below. 
How to Make Pulled Beef
Rub that roast down with Hellmann's Real Mayonnaise
Hellmann's Real Mayonnaise is made with cage-free eggs, oil and vinegar. It is going to help keep the roast nice and moist, while the vinegar also adds flavor. 
Additionally, it gives the spice mixture something to cling to. Plus, Hellmann's Real Mayonnaise is rich in Omega 3-ALA, and made with real, simple ingredients.
Sear the outside
Once it is coated in the Hellmann's Real Mayonnaise and spices, it is best to sear the roast on all sides. If you are in a big hurry, you can skip this step. But it definitely adds to the overall flavor and end results, so if you can take the time, do it!
Searing the outside helps to hold in moisture, and the caramelized outer parts add flavor as well.  It takes only 10 minutes to do this.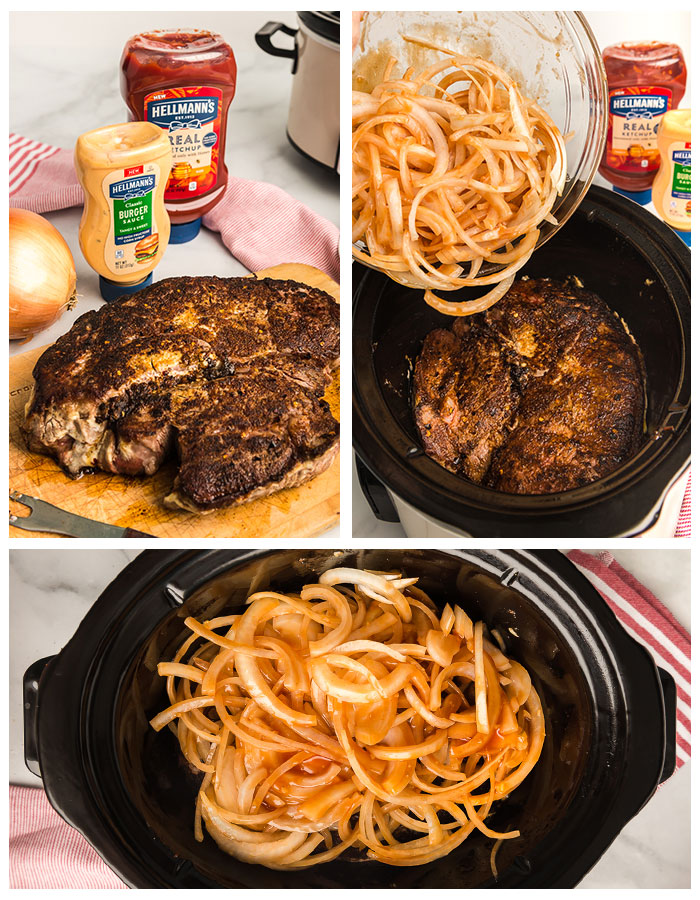 Slow Cook
Cook the chuck roast in the slow cooker with a simple sauce and some onions! The sauce is made up of melted butter, Hellmann's Burger Sauce and Hellmann's Ketchup, and some brown sugar. 
The brown sugar gives it a bit of a barbecue flavor, with the sweet and the vinegar from the various sauces. It is super yummy all combined.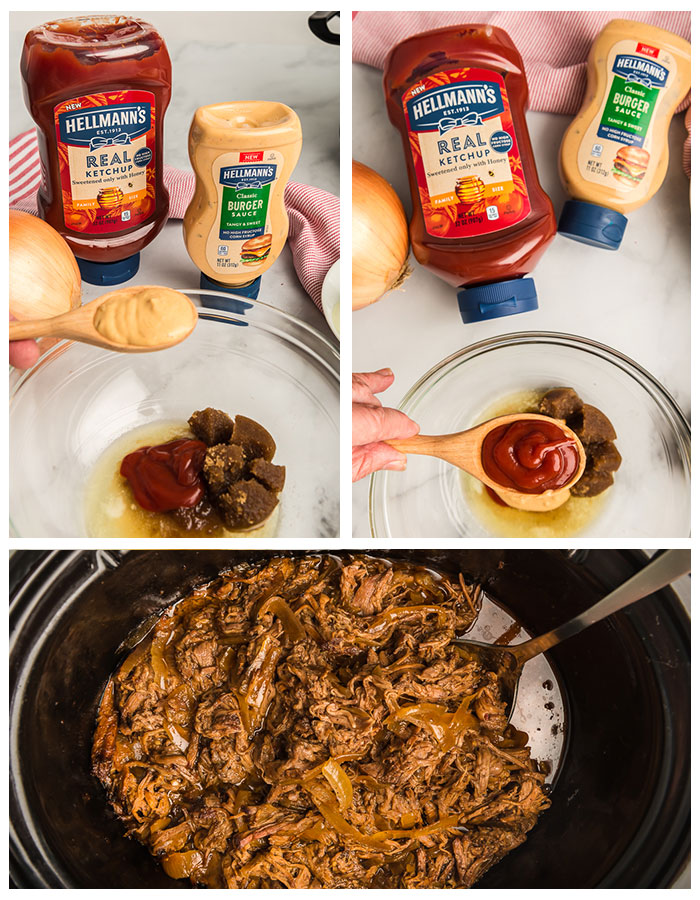 Shred
Once it's super tender, we shred it, drain the juices and then you can enjoy it as is, or top with your favorite sauces. 
The flavors are great as is, but this is where it gets fun, as you can totally customize it. 
Serve
Now is the fun part of enjoying your pulled beef sandwiches. Set the slow cooker out along with toasted buns, lettuce, tomato, and Hellmann's condiments, and let everyone doctor their sandwiches to their preference.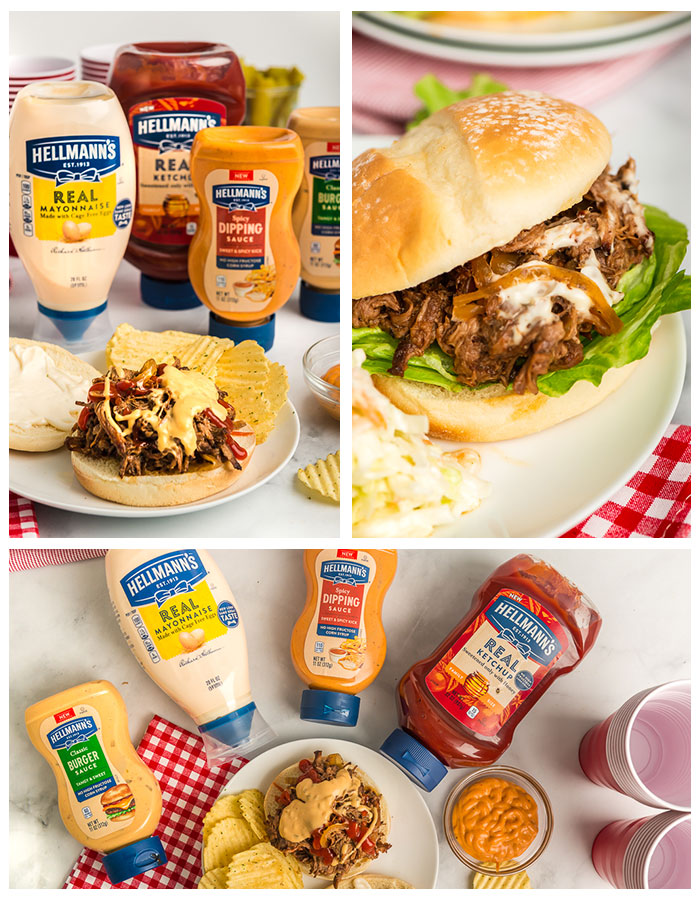 Serve with: 
Hellmann's Real Mayonnaise: 
Deliciously cream, made with real, simple ingredients, this is the ideal condiment for spreading on sandwiches, wraps, burgers, and more. Making it perfect for your tailgating party!
And did I mention the squeezable packaging, making it super easy to use at a party without the mess?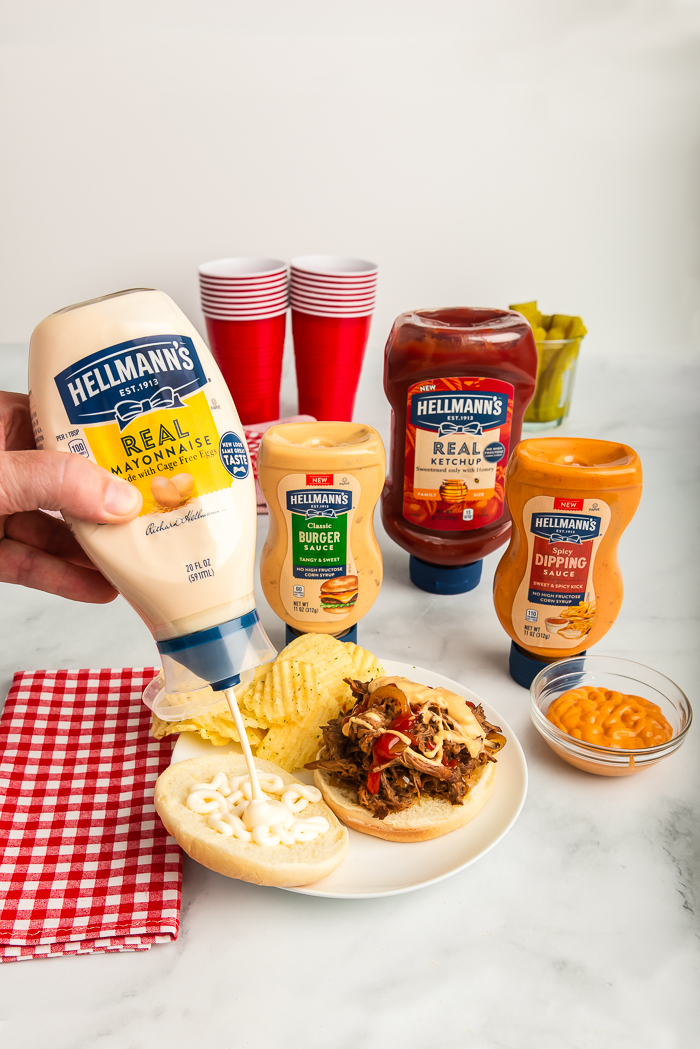 Hellmann's Real Ketchup:
Made with only real, simple ingredients. 
Hellmann's Real Ketchup has no high fructose corn syrup, and red ripe tomatoes that are non-GMO.
Plus, it is sweetened only with honey, absolutely no refined sugar. 
This is the kind of ketchup you want on your burgers, brats, and other delicious tailgating grub. 
Hellmann's Burger Sauce:
Creamy, tangy Burger Sauce made from cage- free eggs and responsibly sourced oils and vinegar.
It is flavored with bits of relish, paprika, and garlic. Talk about flavor! 
Yum, and it contains no high-fructose corn syrup, is gluten-free, and certified Kosher! 
Plus, that convenient squeeze bottle means adding it to your sandwiches and burgers is as easy as can be. 
Hellman's Spicy Dipping Sauce:
This dipping sauce is deliciously spicy and creamy, and flavored with paprika, and garlic. It is good on everything from vegetables to fries. Adding tons of flavor without high-fructose corn syrup, or gluten. 
With the convenient squeeze bottle, you can easily drizzle the Spicy Dipping Sauce onto whatever you're eating. 
Game Day Prep Made Easy
Obviously this pulled beef sandwich recipe is pretty easy since you toss everything in a slow cooker and let it do all the work, and you can even set it to cook the night before to make sure it is done and ready to go by game time. But there are other ways to make game day prep easy!
Walmart.com's Online Grocery Pickup 
With football season in full swing, tailgating is also in full swing. This year when you are gearing up for the fun, be a true tailgate master by prepping faster with the help of Hellmann's and Walmart.com. 
You can quickly, and easily order everything you need online for home delivery or convenient pickup in-store (Online Grocery Pickup). 
This means with just a few clicks of a mouse, you will have the ingredients to make your ultimate recipe lineup well ahead of time. And still have enough energy to cheer on your team!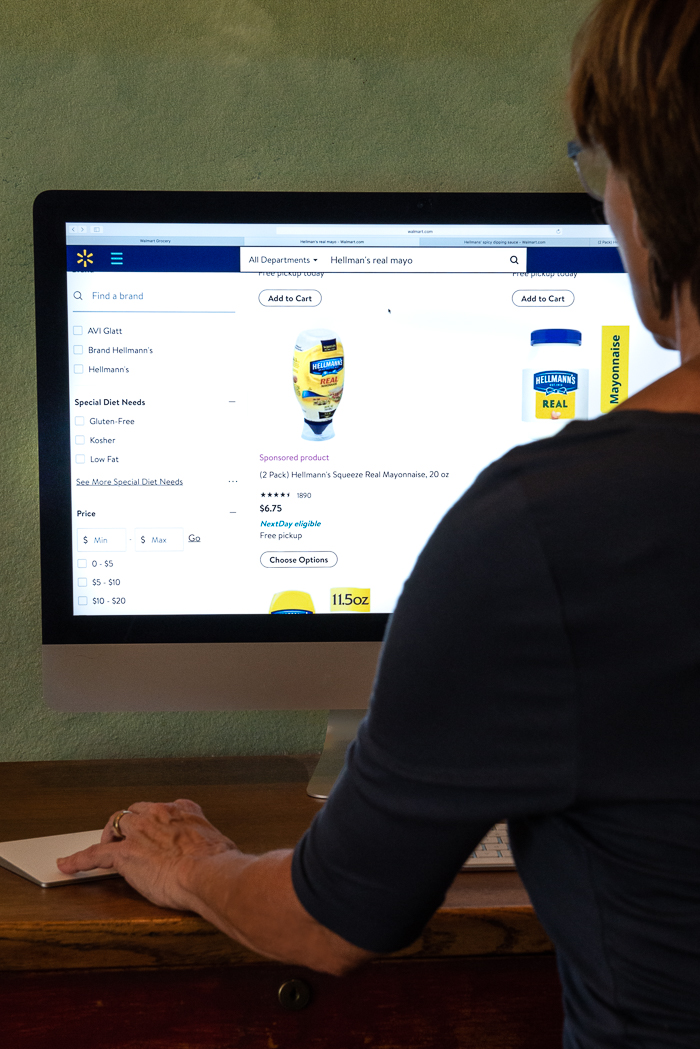 If you haven't tried it yet, or you just want your life to be simpler, then check out these products, and order them today at Walmart.com for Online Grocery Pickup. 
Use Hellmann's products
With the real deliciousness of Hellmann's at your fingertips, you are ready for a fun, tasty, easy way to impress your guests with one-of-a-kind creations for game day! These pulled beef sandwiches are always a hit and made simple with Hellmann's. 
Don't waste time, master prepping faster with Walmart.com & Hellmann's. 
Prep Ahead
I am a big fan of using pre-made items like bagged chips, and veggie trays to make game day spreads simple. But I love that homemade touch. Just because you are making something yourself doesn't mean it has to be a time suck. 
When you can prep ahead, do it!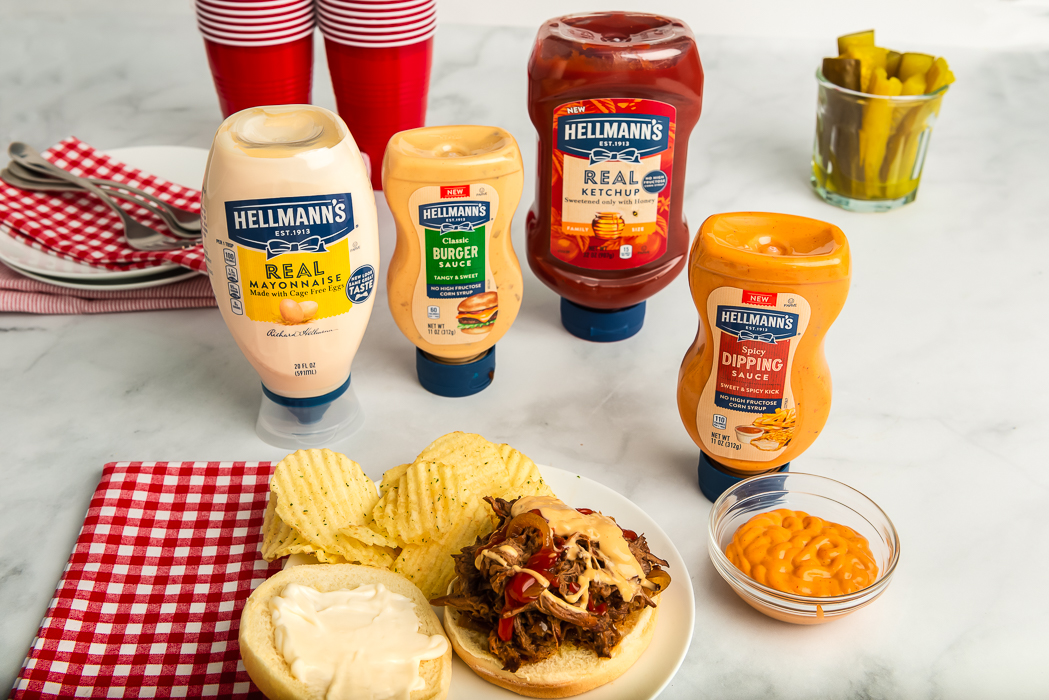 Can Shredded Beef Be Made Ahead? 
Absolutely!  I like to set the slow cooker the night before and let it cook low and slow overnight, but if you want to go even earlier, you can simply make the beef ahead of time, shred, cool and refrigerate.  
The day you want to serve it, set the beef out so it can come to room temp, then put it back in your crock pot for an hour or so on high until it is heated through. 
Tips and Other Serving Suggestions
Need a new appetizer? 
Instead of serving the beef on buns, try it on chips with cheese for an incredible nacho dish. Perfect topped with Hellmann's Spicy Dipping Sauce. 
Or serve on top of crostini, with shredded cheese and parsley! Yum
Want to fancy things up? Serve on a split baguette instead of a bun, and top with your favorite fancy melting cheese!
Whatever you do, be sure to add the delicious, creamy taste of Hellmann's Real Mayonnaise to your game day grub. It is seriously yummy, and when you order it via Online Grocery Pickup with Walmart.com, it is no work to add Hellmann's tasty condiments to your game day lineup. 
Other Great Recipes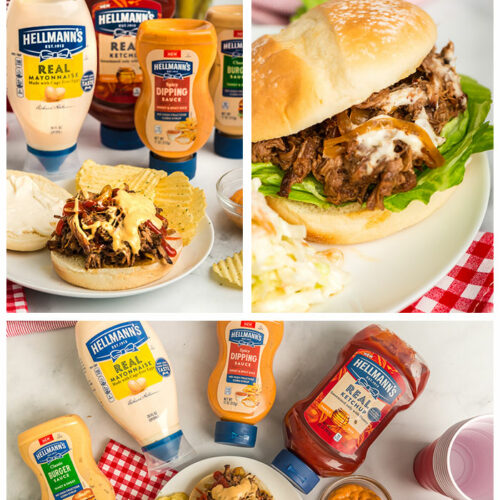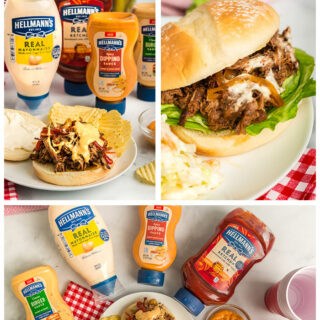 Slow Cooker Pulled Beef Sandwiches
Deliciously easy pulled beef, cooked in a slow cooker all day, so it is ready at game time to be topped with Hellmann's mayonnaise, and other fun sauces.
Print
Pin
Rate
Ingredients
Spice Mix
1/4

tablespoons

crushed black pepper

1/2

tablespoons

garlic powder

1

teaspoon

kosher salt

1/2

tablespoons

paprika

1

teaspoon

onion powder

1

teaspoon

ground coriander

½

teaspoon

dried dill

1/2

teaspoon

crushed red pepper flakes
Sauce
2

tablespoons

butter

melted

2

tablespoons

Hellmann's® Real Ketchup

1

tablespoon

Hellmann's® Burger Sauce

¼

cup

packed brown sugar
The Rest
2 to 3

lb.

beef boneless chuck roast

2

cups

thinly sliced yellow onion

2

Tbs

garlic

minced

12

burger buns

split

Lettuce

Hellmann's® Burger Sauce

Hellmann's® Spicy Dipping Sauce

Hellmann's® Real Mayonnaise
Instructions
Spray 5-quart slow cooker with cooking spray.

Mix together spice mixture.

Trim some of the excess fat from beef but leave some on for flavor and moisture.

Rub the chuck roast down with Hellmann's Real Mayonnaise and then sprinkle with spice mixture.

Heat a 12-inch skillet over medium-high heat and sear the beef roast on each side until browned, about 2-3 minutes.

Transfer roast to slow cooker.

In large bowl, mix melted butter, Hellmann's Real Ketchup and Hellmann's Burger Sauce, and brown sugar together. Then stir in onion and garlic.

Pour sauce over beef in the slow cooker.

Cover and cook on Low heat for 8 to 10 hours or until beef is tender and shreddable.

After cook time is over, remove beef and let stand 5 to 10 minutes, then shred.

Serve beef on toasted buns, and top with lettuce, and your favorite burger toppings- Hellmann's Ketchup, Hellmann's Real Mayonnaise, Hellmann's Burger Sauce, Hellmann's Spicy Dipping Sauce.
Our recipe card software calculates these nutrition facts based on averages for the above ingredients, different brands, and quality of produce/meats may have different nutritional information, always calculate your own based on the specific products you use in order to achieve accurate macros for this recipe.
Want to use this recipe in a meal plan?
Try PrePear, my FREE Meal Planning App that allows you to save your recipes, plan meals, shop for groceries, and cook simply in one place. Join Here!
Pin to your Game Day board: