Spicy Garlic Ginger Edamame
Sponsored by Best Food Facts and United Soybean Board
Spicy Garlic Ginger Edamame is the easiest, 5 minute, addicting snack food, that offers mega flavor with minimal work. It is loaded with protein, and fun! You've probably had edamame at a sushi place, and even spicy edamame, but making it at home is so simple, and you can adjust the flavors and heat to your preference, making it the perfect wholesome snack food.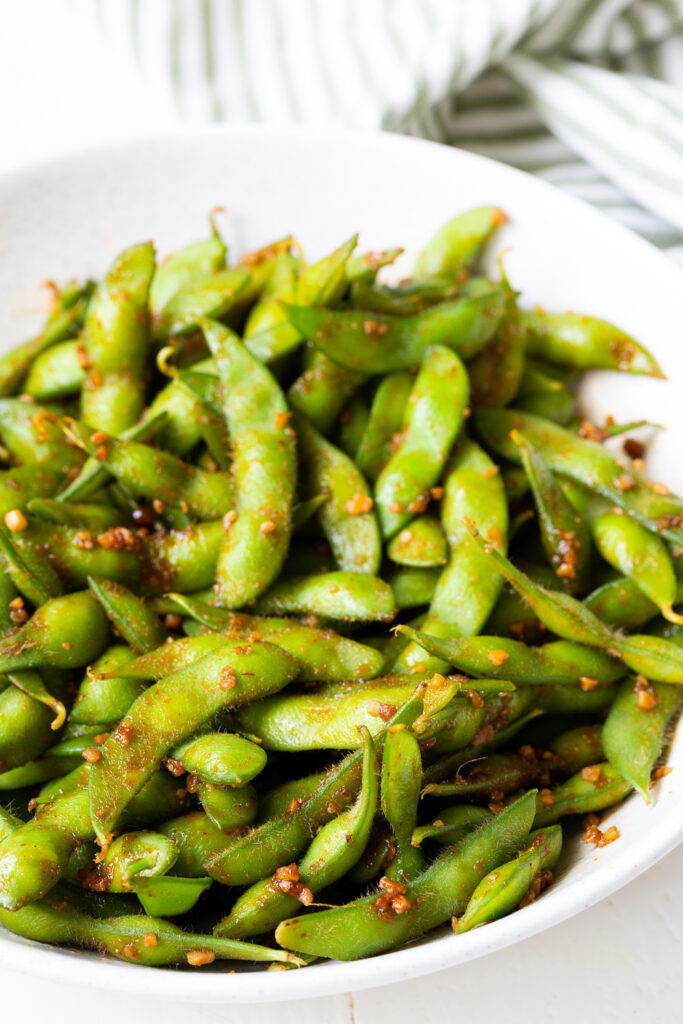 This really is the simplest snack, it is just cooked edamame in the pods, tossed in a spicy sauce of garlic, ginger, and chili, and oh my goodness, be prepared to be pleased! You will be totally addicted to this healthy snack, eating one after another, but in a great way, especially since edamame is the perfect source of a complete protein, a 1/2 cup of soybeans has 34 grams of protein. Talk about an awesome snack! 
Tastes amazing
Is so easy to make
High in protein
Make at home in minutes
If you've had steamed edamame before at a restaurant and liked it, you will love this at home version! 

What is edamame and how do I eat it?
Edamame are young soybeans. I got to check out the soybean plants, and learn all about the various stages of growth during the Best Food Facts 2022 Taste Tour. Young soy beans means the beans are soft and easy to eat, and processed before they reach the stages used to make soy oil and soy meal. They are often cooked inside the shells, like they are for this recipe, but you do not eat the shell or pod, but rather, the young beans inside. 
Simply pop the whole pod in your mouth, and place your front teeth around a bean and pull forward, scraping the beans out of the shell with your teeth. They come out really easily, and you discard the shell! They are high in protein and essential vitamins, and they are really fun to eat. 
Learn more about soy and why it is awesome from BestFoodFacts.org  USB website. 

What You Need to Make Spicy Garlic Edamame
Making this recipe is eazy peazy and the ingredients are easy to find at your normal supermarket, which makes it a simple go-to snack:
Frozen Edamame Beans: You can find these in the freezer aisle near the vegetables in most supermarkets. Sometimes they come already shelled, which you can use too, but I prefer them in the shell for this recipe. 
Minced Garlic: Use fresh if you've got it, but from the jar works great here too. 
Soy Sauce: I like using a reduced sodium soy sauce, and just choose my favorite brand. Use what you've got. If using a regular soy sauce, taste and adjust how much salt you add, or it may be a bit too salty. 
Ginger Paste: You can use fresh ginger that you mince or grate, but I love the ease and convenience of the packaged ginger paste. You can usually find it in the fresh produce section by the fresh herbs, it just comes in a little tube. I keep it in the freezer and just use it as needed so it lasts a lot longer. 
Sriracha: I love using Sriracha in this recipe, but it can be swapped for any chili sauce you want. 
Sesame Oil: Toasted sesame oil is great here too, and can add a richer flavor, a little goes a long way. Find it in the Asian or International section of nearly any grocery store. 
Kosher Salt: For this ingredient you want to adjust the amount based on your personal preference for saltiness. Use Kosher, as it is different from table salt, and a little goes a long way. I just use a pinch. 
Substitutions
Below are a few substitutes I used when testing the recipe to ensure it turns out great, and you get that bold spicy garlic and ginger flavor even with a different ingredients.
Soy sauce – use Tamari sauce or coconut aminos to make it gluten-free of desired. Use at a 1:1 ratio. Dark soy sauce is also an option, but use less. .
Garlic – Pre-minced works great, if fresh is unavailable. Or use 1 teaspoon of garlic powder. Not a fan of garlic, sub for onion powder. 
Ginger – If fresh or paste is unavailable use 1 tablespoon of ginger powder instead
Edamame – you can use shelled edamame beans instead of whole beans. If doing so, increase all the sauce ingredients by 50%.
Recommended Equipment
Steamer or Pot. You can boil or steam the edamame beans. I like to bring a pot of water to a boil and dump the beans in, turn it off and let them soak for just a couple minutes while I whip up the sauce. Or, you can put them in a steamer for 3- 5 minutes.
Small skillet. Use a small skillet to stir the sauce together. This is a light sauce, that adds a ton of flavor, so you don't need a big pan to make it. And a larger surface means the ingredients won't mix as well and the liquid may evaporate quicker.

How to Make Spicy Garlic Ginger Edamame
Cooking edamame at home is so easy, and absolutely worth the minimal effort. You essentially steam or boil the edamame for a couple minutes, then toss with the sauce of your choice, in this case a spicy garlic ginger sauce that is amazing. Then eat and enjoy. Here is the process. 
Step One: Steam or Boil the Edamame
Bring 2 cups of water to a rolling boil in a large pot, and put frozen edamame beans in the pot. Turn pot off, and let frozen edamame sit in the boiling water for 3-4 minutes until bright green, warmed through, and tender.
How to cook edamame
To cook edamame at home, you can use your microwave or the stove top. I prefer the stove top, so start with fresh or frozen edamame in the shell. I use frozen because it is really easy to find. Steam or boil them for 3-5 minutes until the pods are bright green and warmed through. Then drain them.
According to BestFoodFacts.org what you should know is edamame are large soybeans which are harvested when the beans are still green and sweet tasting. They can be served as a snack or main vegetable dish after boiling in slightly salted water. They are a good source of both protein and fiber.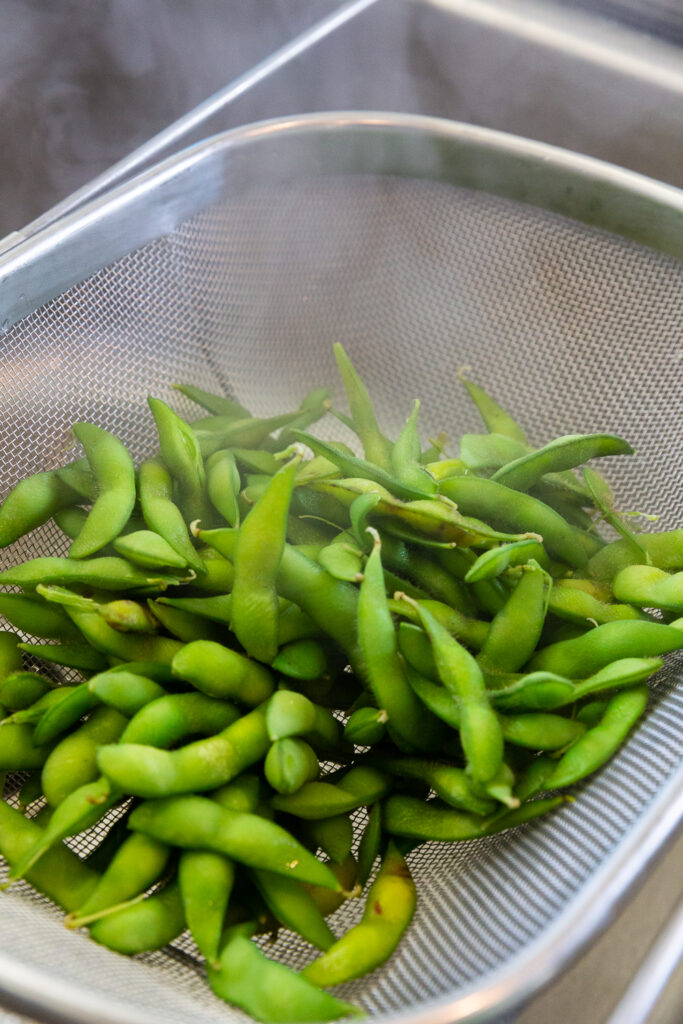 Step Two: Make Sauce
This sauce is not super saucy, and won't look like a lot, but it is plenty to coat the edamame and give it tons of flavor. You want to start by heating sesame oil in a small skillet, then adding the minced garlic, and the ginger paste. Stir in the soy sauce, Sriracha, and a little salt. That is it! 
Briefly stir fry the minced garlic, sesame oil, and ginger paste. 
Stir in the soy sauce, Sriracha, and a little salt. 
Note: if you want a really spicy sauce adjust the Sriracha amount to your preference. 

Step Three: Combine
Before I toss it all together I like to taste and adjust the sauce, as desired. It will be pretty salty and strong, remember you only have a little on each pod, but feel free to use more soy sauce for umami and saltiness, or add a little honey, sugar, or maple syrup if you want it sweeter, etc. Once it is to your liking, combine. 
Mix the steamed edamame beans and the spicy sauce! I like to take the beans hot and fresh from draining them, and simply toss them in the spicy sauce in the bowl I plan to serve them in, but you can do it directly in the saucepan if desired.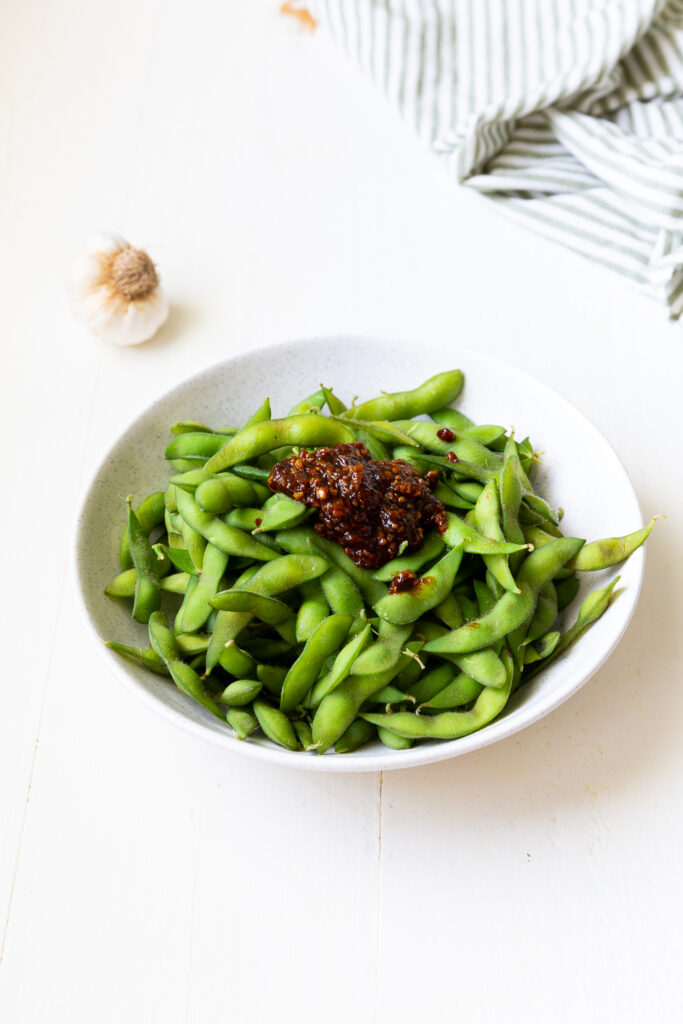 Step Four: Garnish if Desired and Serve Hot
Serve in a bowl sprinkling with sesame seeds (optional) or flake salt. I personally don't feel it needs it, but if you want to get fancy, sesame seeds on top are fun. 
How To Eat Edamame
The pod of the edamame is not edible, you only eat the beans inside the pod. 
To eat edamame remove the edamame shells, and eat the soy beans inside. You can just squeeze one end, or pop them between your teeth, and use your teeth to squeeze them out. No forks necessary, then you discard the shell or pod part.
Variations
There are a lot of ways to make this recipe, here are a few I tried to make sure they work. 
Use a microwave to steam and heat edamame pods. You can steam them in the bag according to package directions, or thaw your edamame overnight in the refrigerator and microwave for a couple of minutes to heat.
Use shelled edamame instead of in the pods, but increase sauce by 50% as the volume of edamame beans will be higher. 
Can't find the edamame? You can swap edamame with green beans or snap peas for a delicious recipe, but edamame is better. 
Serving Suggestions
This recipe is so perfect for an appetizer, or part of a complete meal, and I love pairing it with other fun appetizers like Avocado Egg Rolls or Crispy Oven Baked Chicken Wings for a party, or serve it with homemade sushi!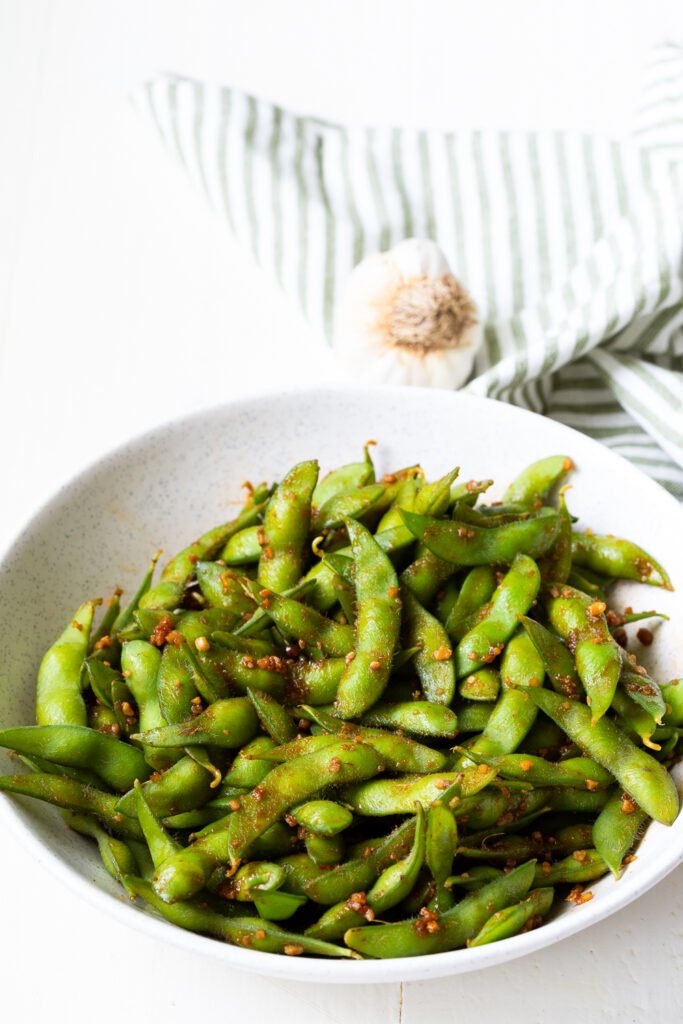 Tips and Tricks
Making this recipe is Eazy Peazy. But here are a few tips and tricks to make it even simpler:
Try not to overcook the garlic. When garlic is overcooked or burned it turns bitter, so be careful with this so you do not ruin the sauce. 25-30 seconds and then add the other ingredients and keep stirring so it doesn't burn!
Don't overcook the edamame beans. It is always best to simply follow the package instructions for cooking as fresh and frozen vary some as do cook times between brands. If you overcook, the edamame loses its brightness and gets too soft. So keep a close eye, watch for a bright green color, and try not to steam or boil more than 3-5 minutes.

 
Benefits of Soy Beans
Edamame beans make a great appetizer but they are also loaded with health benefits and nutritional value. 
In the BestFoodFacts.org website, the question of is soy good for bad for you was addressed. Here is what they found:
Dr. Garden-Robinson: "Soy foods are rich in many nutrients, including protein, which makes them important for people interested in focusing on a plant-based diet, especially a vegetarian or vegan diet.  Soy foods also provide fiber, calcium and iron. As with any plant-based foods, soy contains no cholesterol and is low in saturated fat. The fat found in soy includes heart-healthy polyunsaturated and monounsaturated fats, including essential fatty acids.
"Soy provides B vitamins, which are necessary for producing energy from the foods we eat, and soy foods also provide potassium, phosphorus and iron.  Potassium is important to maintain a healthy blood pressure, while phosphorus is needed for cell growth. Iron is crucial for the production of red blood cells and hemoglobin."
Basically it is an amazing appetizer or snack because unlike a lot of what we choose as snacks or appetizers, soy is loaded with good stuff. From the macronutrients to the proteins, fats, and complex carbohydrates. Soy is a complete protein, which is amazing. And soyfoods are rich in a wide variety of vitamins and minerals including folate and potassium. 
So basically, eat up! Your tongue and body will thank you for this one. 
Other Great Recipes Using Soy:
WANT MORE EZPZ? Subscribe to my newsletter and follow along on Facebook, Pinterest and Instagram for all of the latest updates.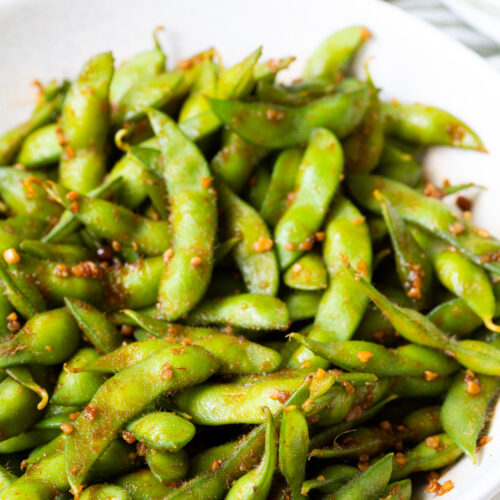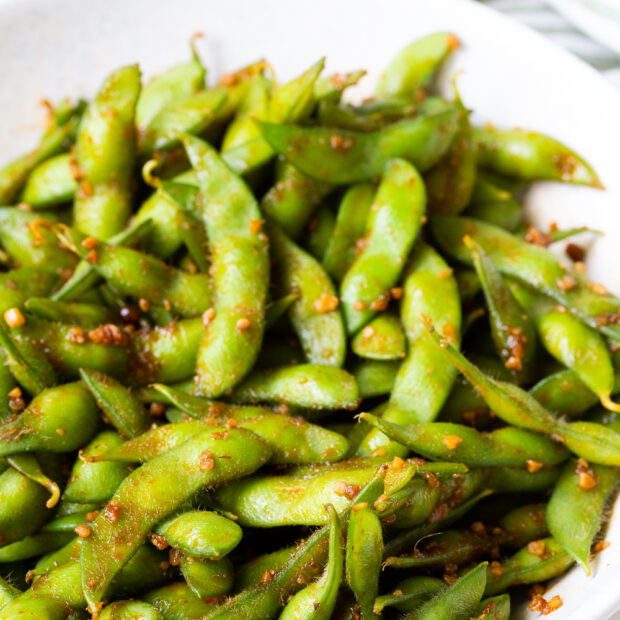 Spicy Garlic Ginger Edamame
Absolutely addicting snack, these spicy garlic ginger edamame are like the edamame you get at a Japanese restaurant or sushi house, but so much better. Easy to make at home, loaded with flavor, and come together in just about 5-10 minutes.
Print
Pin
Rate
Ingredients
16

ounces

frozen Edamame

1

teaspoon

Sesame Oil

4

cloves

Garlic

minced

1

Tablespoon

Ginger Paste

2

Tablespoons

Soy Sauce

1

Tablespoons

Sriracha

adjust to spice preference

Kosher Salt
Instructions
Bring 2 cups of water to a rolling boil in a large pot, and put frozen edamame beans in the pot. Turn pot off, and let frozen edamame sit in the boiling water for 3-4 minutes until bright green, warmed through, and tender.

Drain and set aside.

Meanwhile, make the sauce: in a small skillet, heat sesame oil, over medium high heat, and add minced garlic, saute, but do not brown or it will turn bitter. After 30 seconds, add ginger paste, soy sauce, Sriracha, and a pinch of kosher salt.

Stir together, and remove from heat.

Toss cooked edamame with sauce.

Garnish with sesame seeds if desired.

Serve immediately.
Our recipe card software calculates these nutrition facts based on averages for the above ingredients, different brands, and quality of produce/meats may have different nutritional information, always calculate your own based on the specific products you use in order to achieve accurate macros for this recipe.
Want to use this recipe in a meal plan?
Try PrePear, my FREE Meal Planning App that allows you to save your recipes, plan meals, shop for groceries, and cook simply in one place. Join Here!
Pin to your Appetizer board on Pinterest: