Spinach Tomato Pesto Chicken Recipe made easy, simple and the perfect meal for those weeknights or meal-prepping Sundays.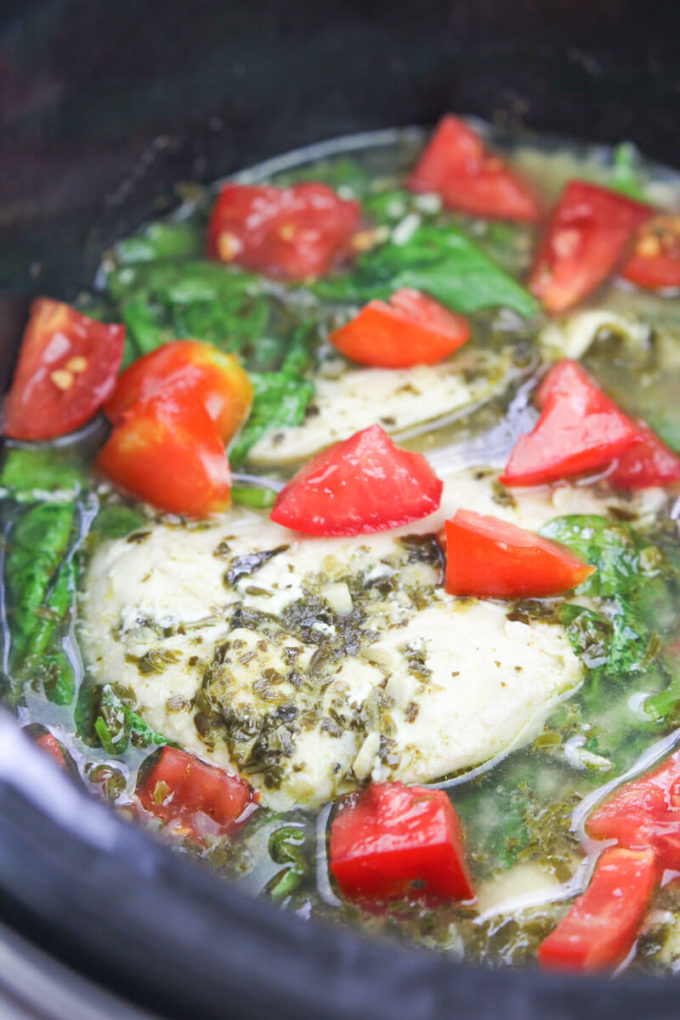 Spinach Tomato Pesto Chicken
©EAZY PEAZY MEALZ BY EAZYPEAZYMEALZ.COM
PIN IT TO YOUR SUMMER RECIPES BOARD TO SAVE IT FOR LATER!
FOLLOW EAZY PEAZY MEALZ ON PINTEREST FOR MORE GREAT TIPS, IDEAS AND RECIPES!
Lindsay here again from Veggie Balance! Stopping by to share this easy and delicious way to make a fresh dinner or lunch using my favorite kitchen appliance: the crockpot!
Yes, in my opinion, the crockpot is one of man's greatest kitchen inventions. Now, I haven't gotten myself into an Instant-pot . . . yet.
Maybe someday I will, but for now I will stick with my tried and true crockpot. She's done me well for many years and creating this Spinach Tomato Pesto Chicken is just one example.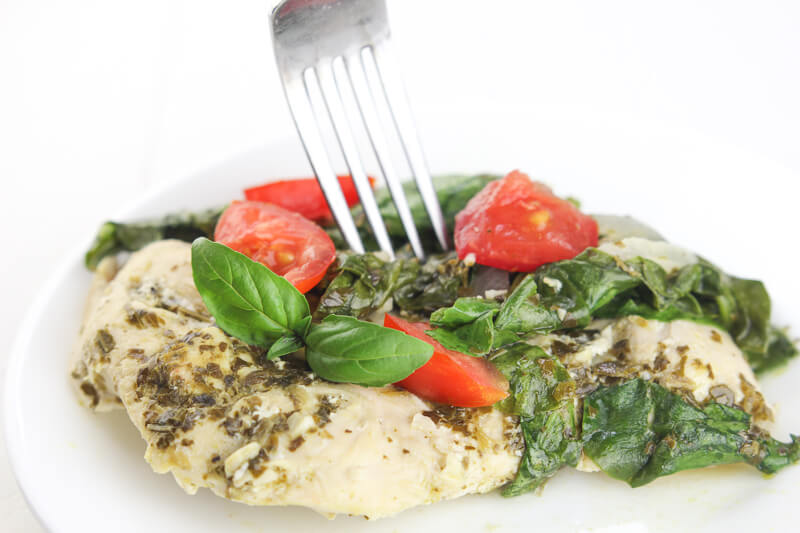 My husband eats chicken for his lunches almost every single day. You'd think he would get bored eating it every day, but he doesn't. // Seriously, how is that possible?
Many times he forgets to make his lunches in advance. With me working from home, and cooking being a part of my 'job', it's pretty much a given that I end up making his lunches most of the time. // Spoiled.
They always involve chicken though, because that is what he likes.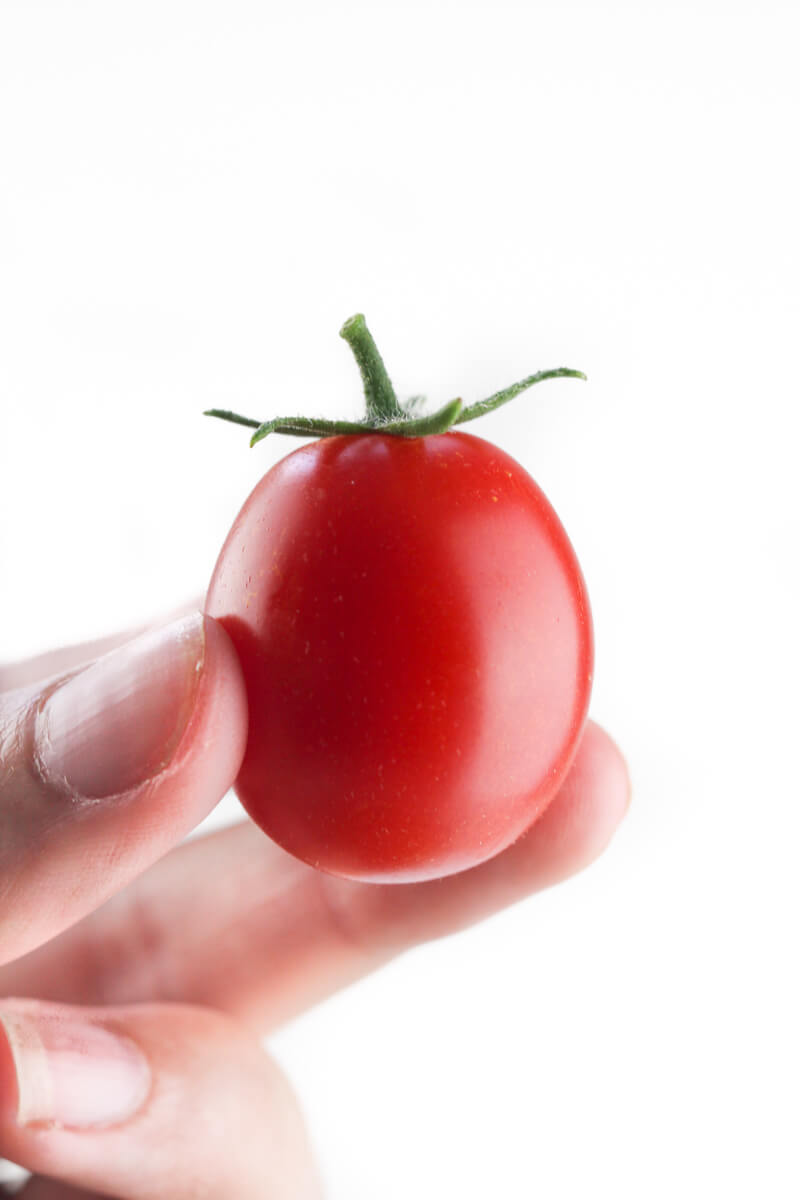 The easiest way to kick out his lunches is with my crockpot! Throw ingredients in, set it, forget it, and let the magic happen. // Again, this is one of man's greatest inventions.
Let the chicken breasts cook in the wonderful flavors of onion, garlic, and pesto. Stir in the spinach at the end and top with fresh tomatoes from the garden. // Seriously, tomatoes are coming out of my ears right now! So many tomatoes! Someone come take some.
We personally prefer thinner sliced chicken breasts; they cook quicker and more evenly. The less worry about an undercooked chicken breast, the better. If you are cooking with a large chicken breast, I strongly advise you to check the core temperature to make sure it reaches 165°F.
Now go get those 7 easy ingredients and put that crockpot to use! Whoever said crockpot recipes are just for the winter!? 😉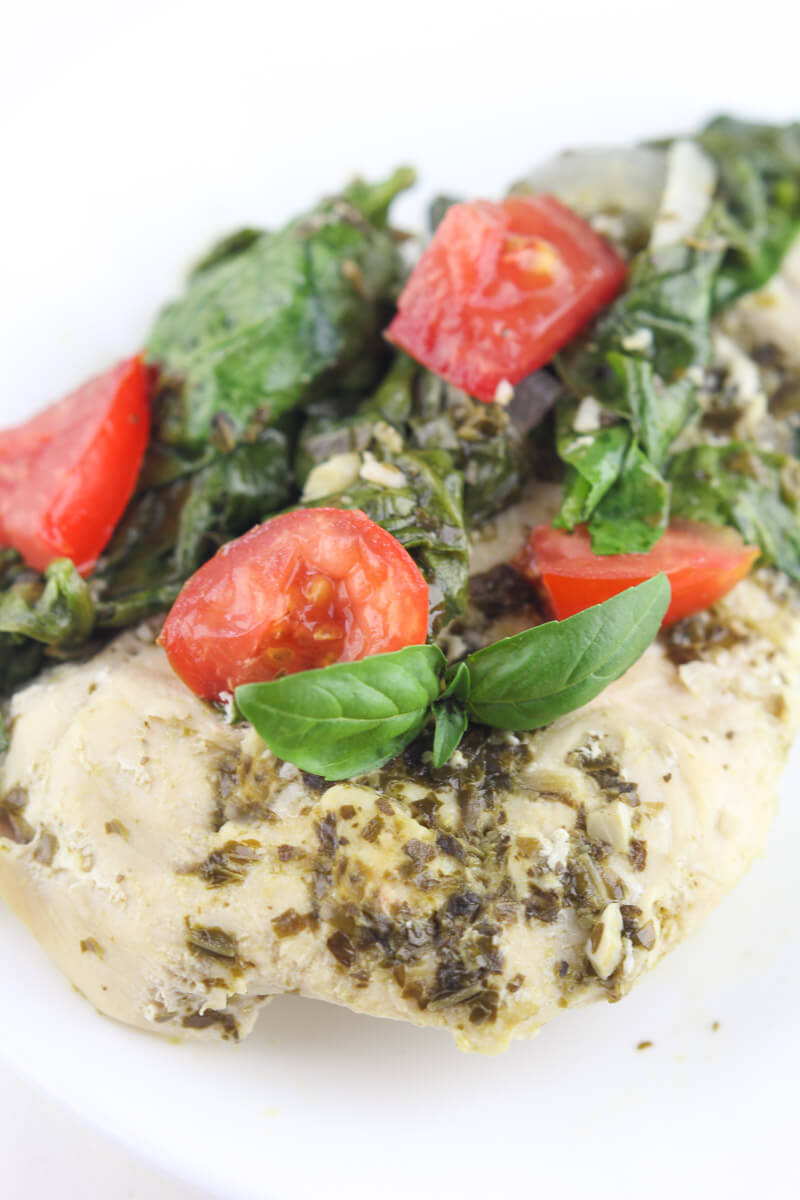 Spinach Tomato Pesto Chicken
PPrep Time
PCook Time
PTotal Time
Ingredients
5 skinless, boneless chicken breasts
2 1/2 cups chicken stock
1 small onion, chopped
2 Tablespoons garlic, minced
1/4 cup pesto
3-4 cups fresh spinach
1 cup cherry tomatoes, sliced in half
Instructions
Place chicken breasts, chicken stock, onion, garlic and pesto into crockpot.
Set on Low 4-5 hours or High for 2-3 hours.
Place fresh spinach into crockpot, stir wilted spinach into dish.
Top chicken breast with juices from crockpot bottom, fresh tomatoes and basil.
7.6.4
819
https://www.eazypeazymealz.com/spinach-tomato-pesto-chicken/
Pin to your CHICKEN DINNER board: