This post is sponsored by Vital Proteins all opinions are my own.
Fiesta Chicken Meal Prep Bowls with Cauliflower Mexican Rice with flavorful, juicy chicken, seared and cooked to perfection, served with Mexican style cauliflower rice! This is a healthy, tasty, fun way to eat a favorite, and get added protein and a little extra health kick! Perfect for meal prepping. Lasts 3-5 days.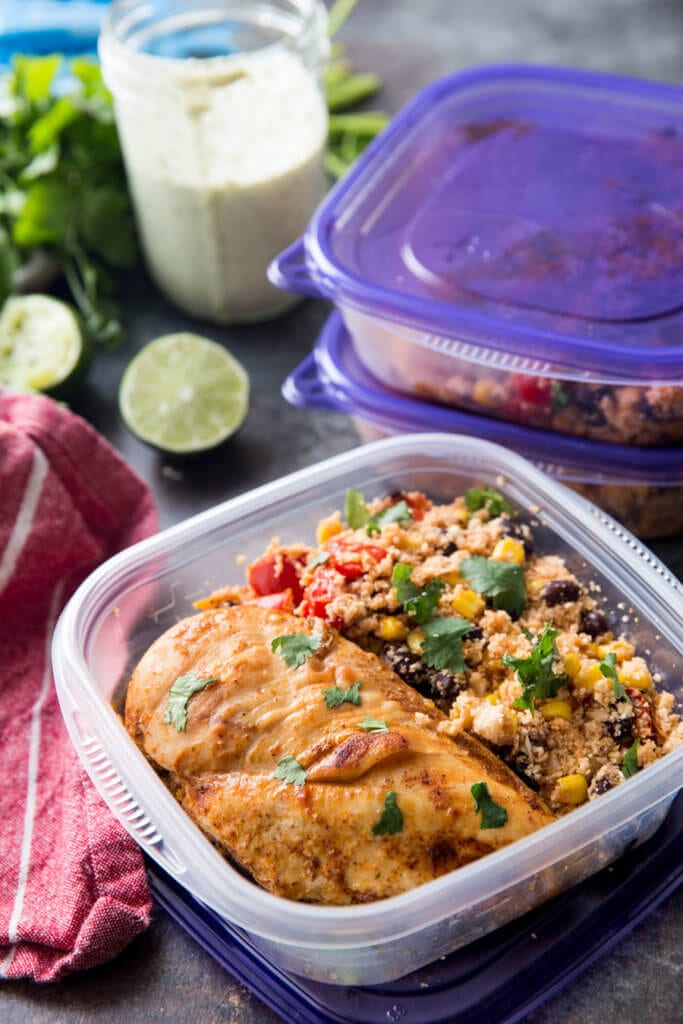 A simple and delicious spice rub, with added protein, makes this Fiesta Chicken Meal Prep Bowls with Cauliflower Mexican Rice so tasty and easy for prepping for the week. I love having something in the fridge and ready for consumption. It just makes my life so much easier and means I will actually eat lunch. So I have been on quite the meal prep bowl kick.  In fact, here are a few of my favorite options for meal prep bowls.
I knew I wanted something with a Mexican flavor twist, and chicken. But I was hoping for something other than traditional rice. So when I saw someone make cauliflower rice and share it on Facebook, I decided to try my hand at a Mexican flavored cauliflower rice. I also added extra protein to it in the form of odorless and flavorless Vital Proteins, which we all know I love!

MY LATEST RECIPES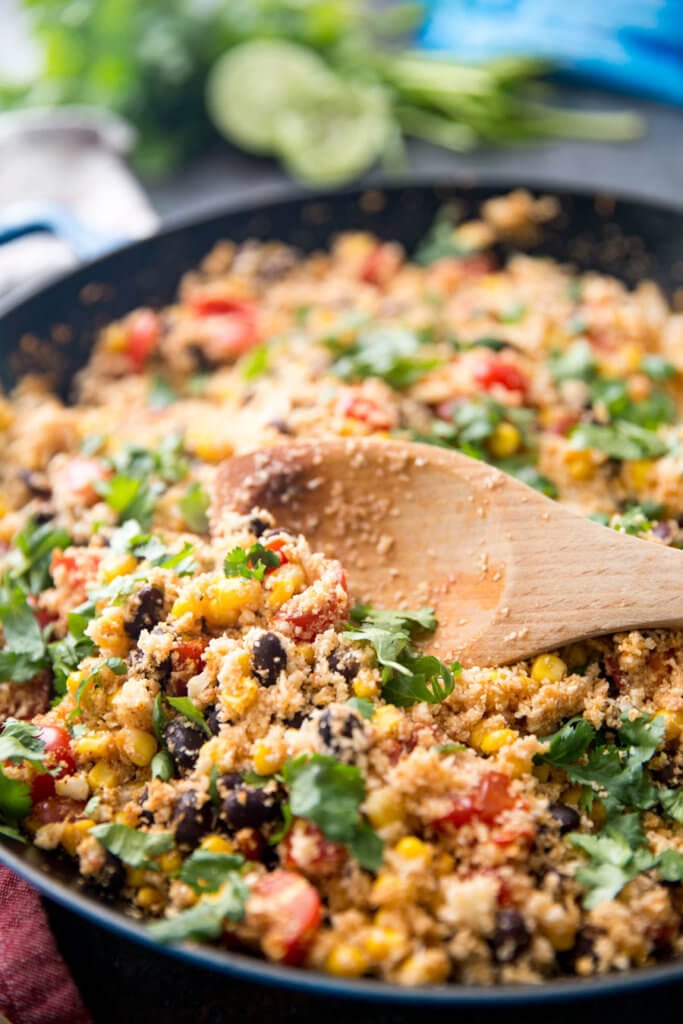 I used my food processor to take the cauliflower and give it a rice consistency. Maybe I should not have processed it as much. Then I baked it for a few minutes to dry it out a little.  I added in some favorites, like black beans, corn. and tomatoes. as well as seasonings that I love. Then I baked it for a few more minutes. When it was done, it got a sprinkle of lime juice and cilantro, and I divided it between my meal prep containers. 
Now, I can't lie and say it is as good as traditional rice with all these fixings. It may have been a textural thing. But I will tell you that I enjoyed it, and found it to be a great substitution. And the flavors were super awesome with the chicken and the dressing I made for the top.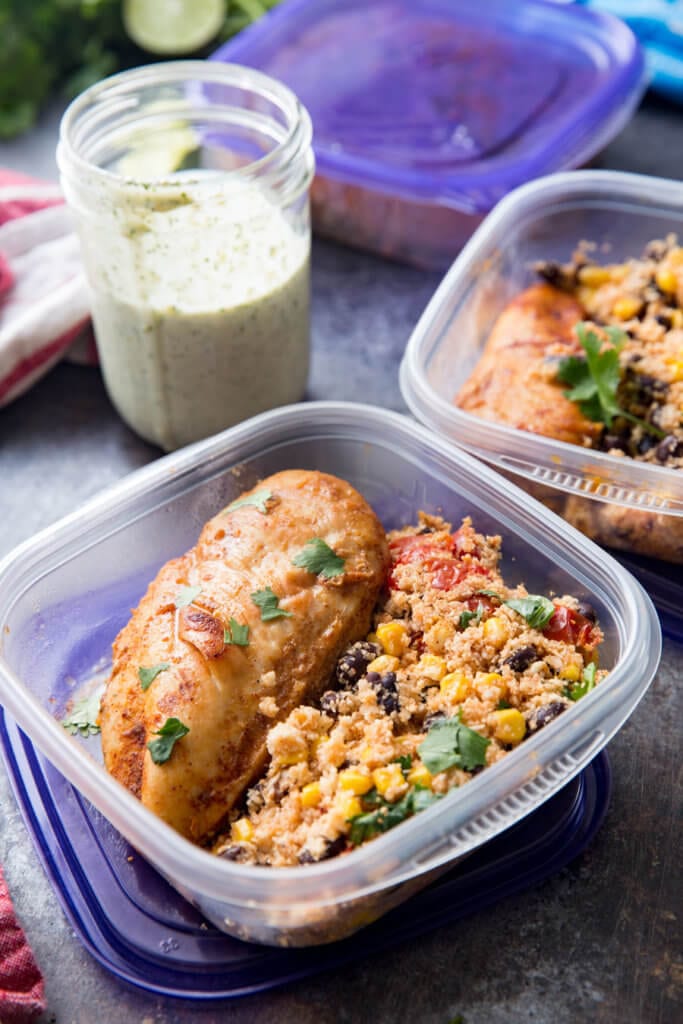 I wanted a tasty dressing with a little kick, extra protein, and a lot of flavor to add to my Fiesta Chicken Meal Prep Bowls with Cauliflower Mexican Rice. So I threw some greek yogurt, salsa verde. green onion, cilantro, olive oil, and seasonings into the food processor and then I packaged a bit of it with the chicken and cauliflower rice. When I was ready to serve, I took that part out, heated the rest up, and just drizzled it on top! Delicious.
More chicken recipes you might enjoy:
Rachael Yerkes
Yields 4 servings
Fiesta Chicken Meal Prep Bowls with Cauliflower Mexican Rice
Fiesta Chicken with Cauliflower Rice. Meal Prep that is easy, healthy, and delicious.
20 minPrep Time
30 minCook Time
50 minTotal Time
Ingredients
Mexican Cauliflower Rice

1 head of cauliflower
1 Tbs olive oil
Salt and Pepper
1 can sweet kernel corn, drained
1 can black beans, rinsed and drained
10 grams Vital Proteins Collagen Peptides (1 stick from the stick pack)
1 1/2 cups grape tomatoes
1/2 Tbs cumin
1/2 Tbs chili powder
1/2 Tbs onion powder
2 Tbs lime juice

Fiesta Chicken

1/2 Tbs cumin
1/2 Tbs chili powder
1/2 Tbs onion powder
10 grams Vital Proteins Collagen Peptides (1 stick from stick pack)
salt and pepper to taste
2 large, or 4 small chicken breasts
1 Tbs olive oil

Dressing

1/2 a bunch of cilantro
3-4 green onions, tips cut off
1 cup plain greek yogurt
1/3 cup salsa verde
10 grams Vital Proteins Collagen Peptides
1 Tbs lime juice
Salt and pepper to taste
A little olive oil to get desired consistency.
Instructions
Preheat oven to 400 degrees
Process one head of cauliflower in a food processor, until it is the consistency of rice. If you have a smaller processor, you may need to do this in two batches. Set aside
In a large oven safe skillet or pan. add 1 Tbs olive oil, and pour cauliflower rice in, spread it out, season with salt and pepper, and put in oven to bake for 8-10 minutes.
I have a set of Analon Pan and I love them because they are oven safe and have even heat distribution.
Meanwhile, add corn, beans, Vital Protein Collagen Peptides, grape tomatoes cumin, chili powder, onion powder, and lime juice together in a large mixing bowl.
When the cauliflower rice is done baking, remove from the oven, and add the corn and bean mixture to it. Stir well.
Squeeze lime juice over the top.
Bake for 10 more minutes at 400 degrees. When done, set aside.
Meanwhile, in a small bowl, mix the chicken seasonings together: cumin, chili powder, and onion powder. Add Vital Proteins Collagen Peptides, and salt and pepper as desired.
Stir well.
Take chicken breasts (best if they are even-ish in size), and pat dry.
Then sprinkle seasoning mixture over the top, and rub it in. Set aside.
In a large skillet, over medium-high heat, add 1 Tbs olive oil, and bring temperature up.
Sear chicken in oil on each side, cooking 1-2 minutes until brown.
Turn heat down, and cook until cooked through (internal temp of 165 degrees) Approximately 6-8 minutes.
Remove from heat, and set aside.
In a food processor, add all dressing ingredients, and process until smooth, use olive oil to get desired consistency.
Divide cauliflower rice and chicken out between 4 meal prep containers. Fill smaller containers with the dressing and refrigerate until ready to heat and eat.
Keeps for 3-5 days in the fridge.
Don't heat the dressing.
This is also great as a meal, no need to use only for meal prep.
7.8.1.2
956
https://www.eazypeazymealz.com/fiesta-chicken-meal-prep-bowls-with-cauliflower-mexican-rice/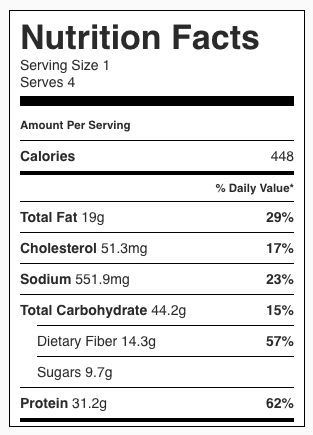 Pin to your MEAL PREP board on Pinterest:
Get EZPZ Updates In Your Inbox!