What Foods To Stock
One of the things we have been hearing about a lot recently is stocking up on food. Why? Because you may have to be quarantined. Because things like events, social gatherings, restaurants, etc. are closing, and we are being asked to stay home and flatten the curve of this virus.
As a result, we have seen a run on grocery stores, people hoarding things like bottled water and toilet paper, and a lot of panic over this pandemic. We don't know what to think, who to believe, how long to plan for, or what to do.
Whether you believe in stocking up or not, having enough food on hand to feed for your family in the case of a quarantine is not a bad idea. And so, I have compiled a list of food items that you should buy.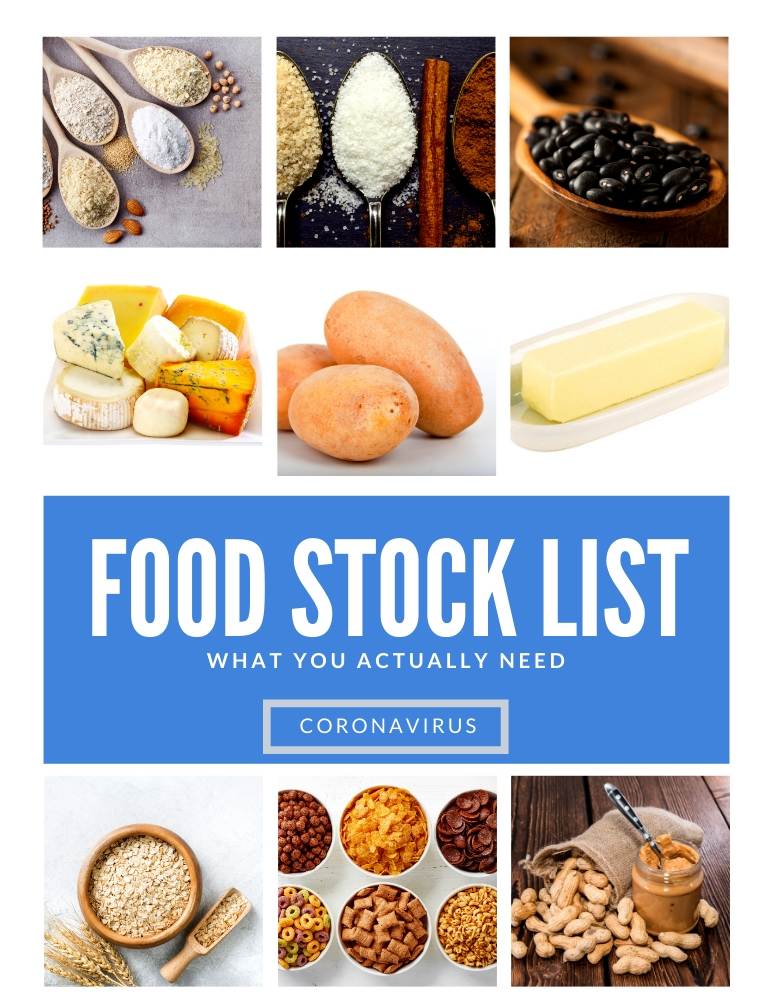 I have an entire post about how to prepare, use the things you stock up on. How to stock up without overspending. How to stock when you have limited space. What to make with the things you stock up, and how to get the kids involved. So if you want to learn how to save money, space, and waste you can find that post here: Foods to Stock for the Coronavirus
This is simply the list of recommended foods.
This is A Complete List of Recommended Food Items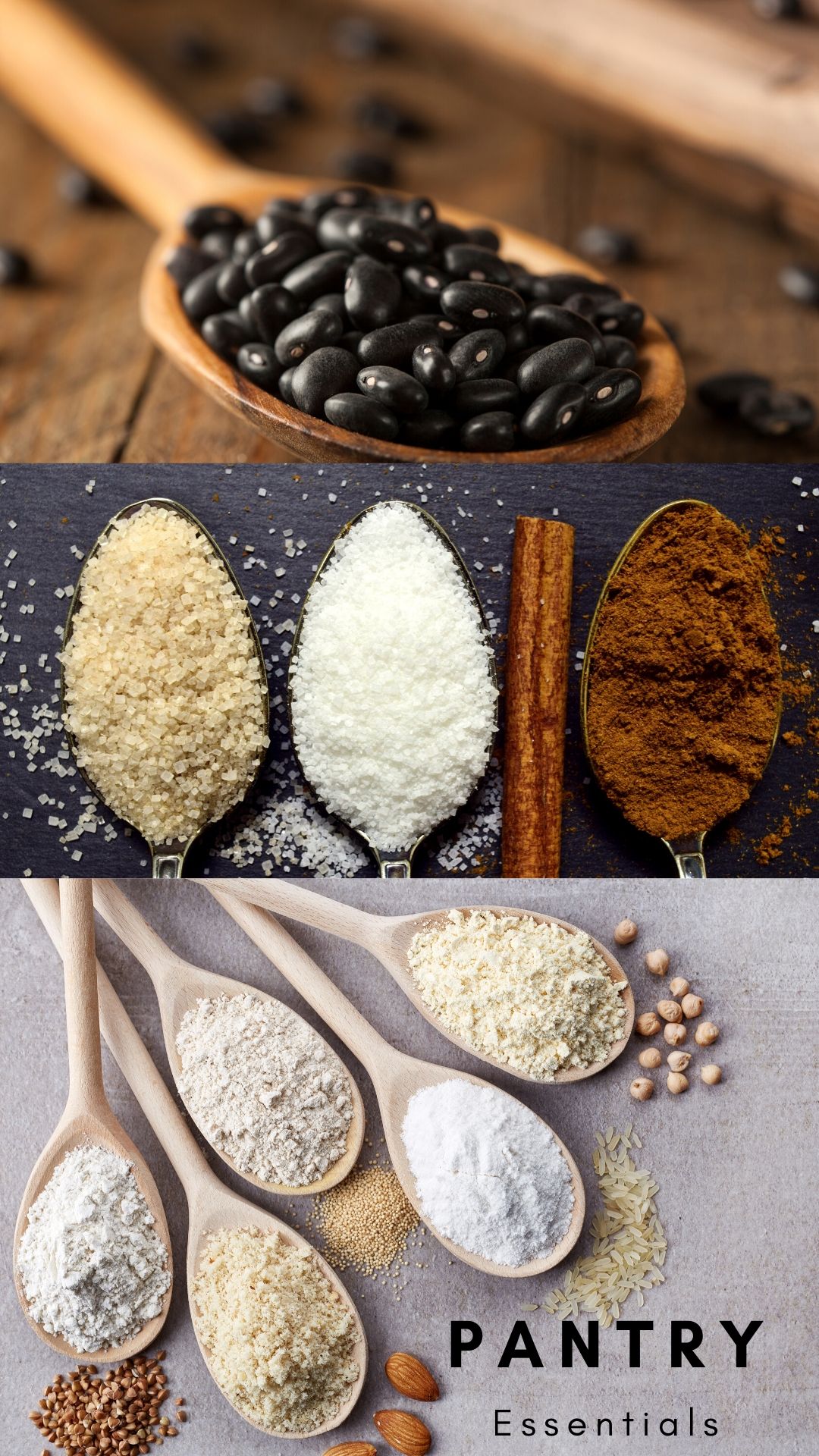 PANTRY ESSENTIALS
Oil: I suggest olive oil, as it can be used for baking, and in all kinds of cooking, dressings, marinades and dips. Vegetable oil if you want to fry. 
Vinegar: I suggest both white vinegar and apple cider vinegar, and if I had my way, balsamic too. But if you can only pick one, go with apple cider. It is very versatile and can be subbed for many others. 
Dried Pasta, Rice, Beans Etc.: Pick your favorites and get the packages of whatever dried carbs you love. My suggestion: Pasta, rice, beans, lentils!
Flour: Bread, breakfasts, lunches, dinners, and desserts, flour is a must-have for from scratch cooking. 
Cornstarch: Especially if you need to thicken anything or plan to do any baking. 
Sweeteners: Sugar (both white and brown) and honey. 
Baking Powder: A baking essential
Baking Soda: A baking essential
Yeast: A baking essential 

DAIRY and MEATS
Milk: Powdered milk is the easiest to store, and most space efficient. Shelf stable, or alternative milks like nut milks are other great options. If you have the fridge space, buying a bit of fresh milk while you can is a good idea. 
Cream: You can freeze this. Great for coffee, and soups, and desserts. 
Butter: You can freeze it. Get a good supply of both salted and unsalted, as you will be able to do all the comfort food baking you want. Plus use it for cooking, spreading, etc. 
Shredded Cheese: Another item you can freeze and has a lot of uses. From grilled cheese to pizzas, casseroles, appetizers, and more. Buy shredded if you plan to freeze. 
Ground Beef: Keep in the freezer. Can be added to pastas, soups, stews, salads, and more for extra protein, and can be taken in many different directions, like Korean Beef, or Taco Soup. 
Chicken Breast: Keep in the freezer. Chicken breasts are versatile, used in 100s of recipes, and low cost. Chop it up and throw it in a pasta dish, shred it for tacos, or add it to soup! So many uses. 
Bacon: A great item you can freeze and that can add a lot of flavor to otherwise basic ingredients, like cabbage! And the grease can double as a cooking oil if you run low!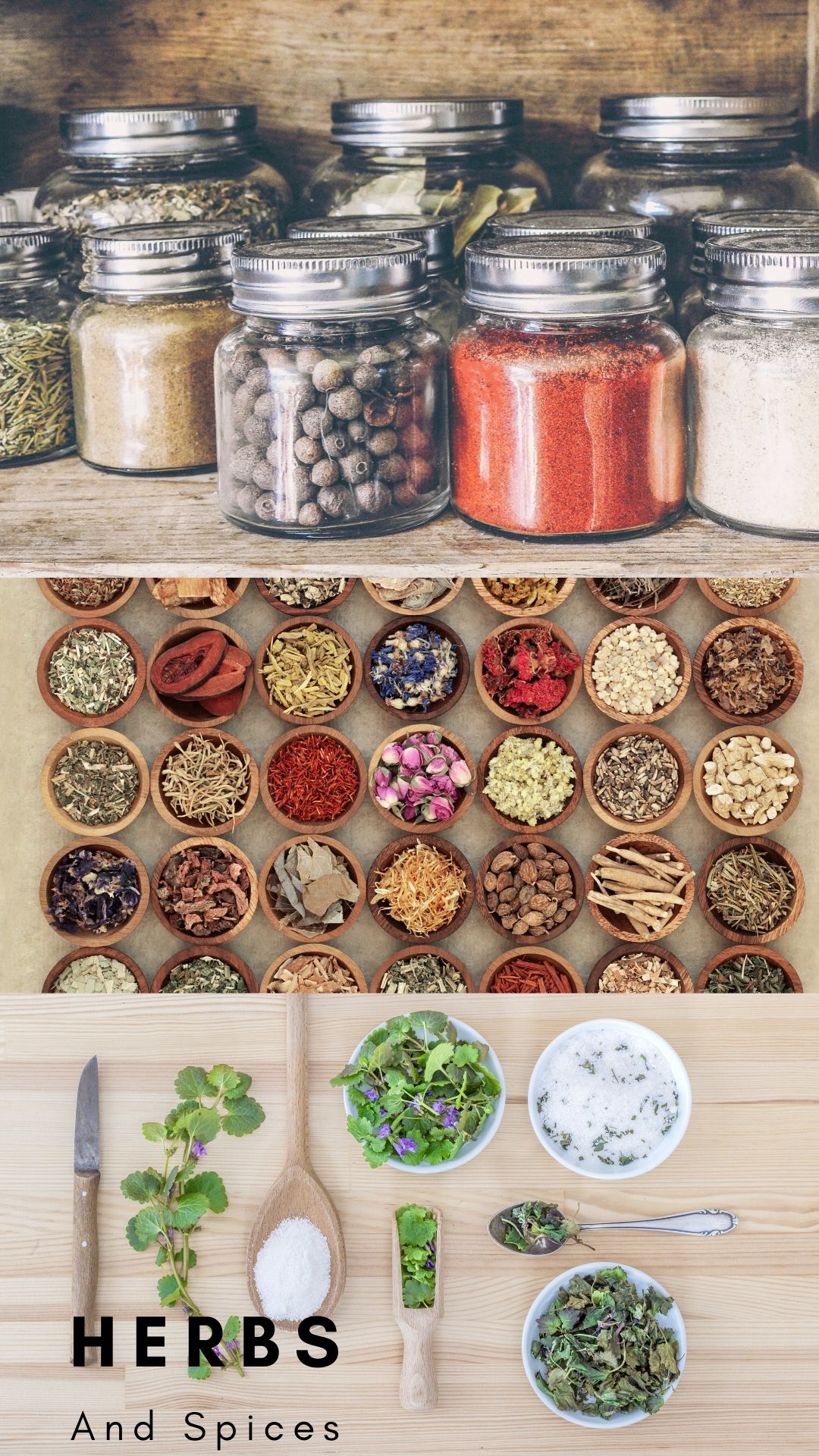 HERBS and SPICES
The herbs and spices most commonly found in recipes across the board, from Mexican to Asian, and everything in between:
Salt and Pepper
Chili Powder
Cumin
Garlic Powder
Onion Powder
Oregano
Paprika
Thyme
Spice packets: Taco Seasoning is #1, but can easily be made with common pantry spics. Homemade taco seasoning recipe. 
Additionally, stock up on both beef and chicken bouillon cubes or concentrated stock so you can make sauces, soups, and more. Or if you have a vegetarian in your home, like me, a vegetable stock concentrate 
If you can, consider purchasing fresh herb plants. They will help you add tons of flavor to your dishes, and can last indefinitely on your counter top or in an herb garden if cared for. 
Other Items for Adding Flavor:
Soy Sauce: Versatile, adds so much flavor
Mirin: I use it in so many recipes, and it is found in the Asian food aisle. 
Sesame Oil: Can really amp up flavor with just a little bit. 

VEGETABLES and FRUIT
Whatever Veggies You LOVE most that can store well: For us this in onions and garlic for flavoring everything. Carrots, Sweet Potatoes, and Cabbage. They store well, and can last up to 4-6 weeks out of the fridge if in a cool, dry place. And longer if refrigerated. 
Whatever Fruits You LOVE most that store well: Oranges or Mandarins, Apples, and Lemons are our go-tos. These are great to buy fresh, and can last up to 4 weeks if stored in a cool, dry place or the refrigerator. 
Frozen Vegetables: Anything you love to eat, that can be purchased frozen, like peppers, peas, ginger, corn, carrots, broccoli, spinach, etc. It is great to have a few bags on hand to add to your meals.  For us, Spinach is a must buy: When you buy this frozen, it goes a long way, and takes up way less space than fresh. It is super good for you. And is an excellent way to add nutrition to soups, stews, pastas, smoothies, and more. 
Frozen Fruits: If you have the freezer space, frozen berries are a must. They are great for adding to oatmeal, smoothies, muffins, quick breads, and more. We also love frozen mangos, pineapple, and smoothie blends with bananas. 
Canned Vegetables and Fruits: We love corn, beets, asparagus, tomatoes, peaches, pineapple, pears, olives, and mandarin oranges. We also love applesauce, which makes a great baking swap for things like eggs, oil, and bananas if you are running low, or can also be a great snack. 
Dried Fruit: Fruits dry well, so look for no sugar added options for things like mangos, apricots, bananas, mandarins, etc. Raisins, dates, and craisins are great for baking and breads. 
Avoid anything that won't freeze well. Buy the more watery items as you need them if they are available, rather than stocking up. Stocking up on things  like cucumbers, tomatoes, and lettuce will mean increased food waste, as they don't freeze, and have a short shelf life. 

DRY GOODS AND SNACKS
Peanut Butter or other Nut Butters: High in protein, great for baking, snacking, meals, sauces, and more. 
Cereal: Trust me, having a few boxes or bags of your family's favorite dry cereal will be a life saver if things get tough. It can be eaten dry as a snack or treat, or served with milk for breakfast, lunch or, let's face it…dinner! We've all done it. 
Oats: Oatmeal is versatile, and delicious. Breakfast, dessert, dinner, you name it, oats can be used to make it. A few canisters can go a long way. 
Tortillas (corn and flour): Don't let your taco Tuesday suffer. Just joking…all joking aside tortillas are super versatile and make for a great thing to have on hand for a quick meal. Add cheese for a quesadilla, dip it in cinnamon and sugar for a dessert. Layer it with sauce, cheese, and peppers for a casserole, wrap it around scrambled eggs and meat for a wrap, etc. 
Nuts and Seeds: High in protein, easy to store, packs a nutritional punch. Get your favorite variety. And if you buy raw nuts, you can even make your own nut milk! Or nut butters. 
Crackers: They can be eaten as a snack, used for breading meats, as a carrier for dips, a filler for meatloaf, etc. Great to have on hand. 
Granola Bars: A great snack food that has some nutritional value. We particularly love these ones from Bob's Red Mill, and you can get 20% off on them if you sign up for their  newsletter. 
Treats: Having a few treats on hand will help you feel less deprived and stressed during what is an uncertain time. Sock away a few of your favorites, or make sure you have things like vanilla and chocolate chips so you can at least bake cookies! 

DRINKS
What is your beverage of choice? Do you drink it every day? Consider getting a couple week's worth. I personally love Dr. Pepper and Chai Tea, as well as the Sparkling Coconut Water with Yuzu from Trader Joe's, so I made sure to grab a box of each to keep on hand. 
You really DO NOT need to stock up on bottled water as water is not being impacted by this virus.

PET FOOD
Another item I made sure to stock up on is dry and wet canned dog food. We have two dogs, and we made sure to grab some treats and food for them. 
If you have pets, be sure to get their favorites.
Remember, we are a worldwide community and we need to take care of each other. So plan for this uncertain time, but don't be greedy, buy more than you need, or make it so others can't get what they need. This will lead to wasted food and money on your part, and global shortages. Let's all do our part!