Balsamic Chicken & Veggies Meal Prep: Tender chicken with a sweet balsamic sauce, and tasty roasted veggies. A sheet pan meal with tons of flavor.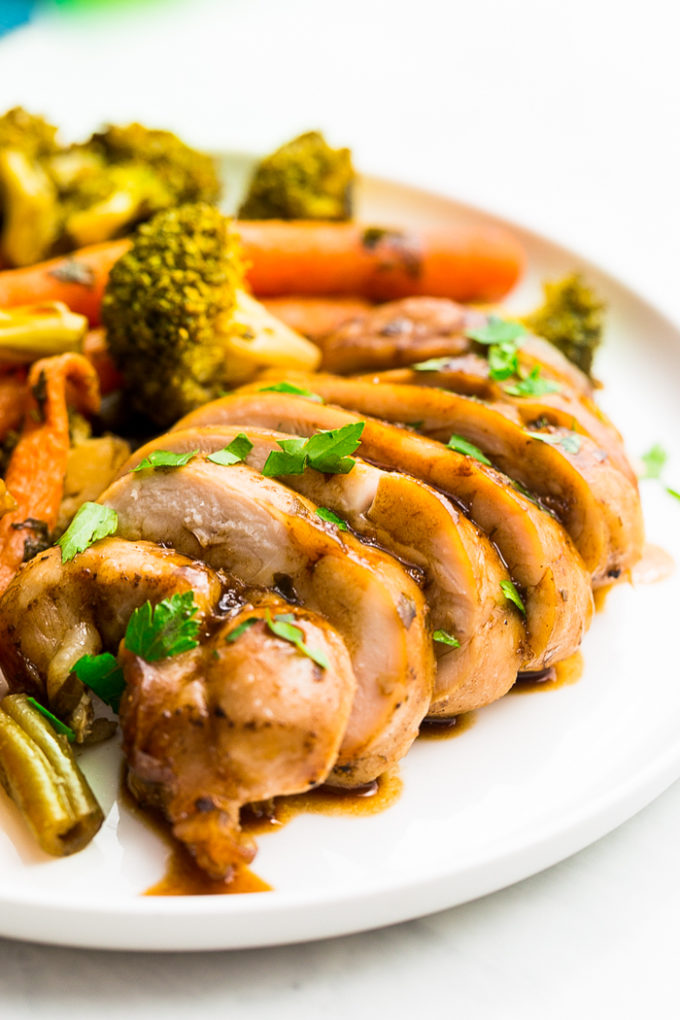 Balsamic Chicken and vegetables cooked on a sheet pan, and divided out into containers to make for great meal prep. Flavorful, low calorie, and extremely easy to make, this chicken dish is an exceptional way to stay on track with eating, and prep ahead for easy lunches. 
Balsamic Chicken Meal Prep
Like this recipe? Pin it to your Meal Prep pinboard!
Follow Eazy Peazy Mealz on Pinterest
MY LATEST RECIPES
This balsamic chicken with roasted veggies is one of my favorite easy to throw together meals. It comes together in just a few minutes of effort, makes a great dinner, and is the perfect meal to prep ahead and eat for lunches for a few days. The balsamic flavor just intensifies and gets better with time.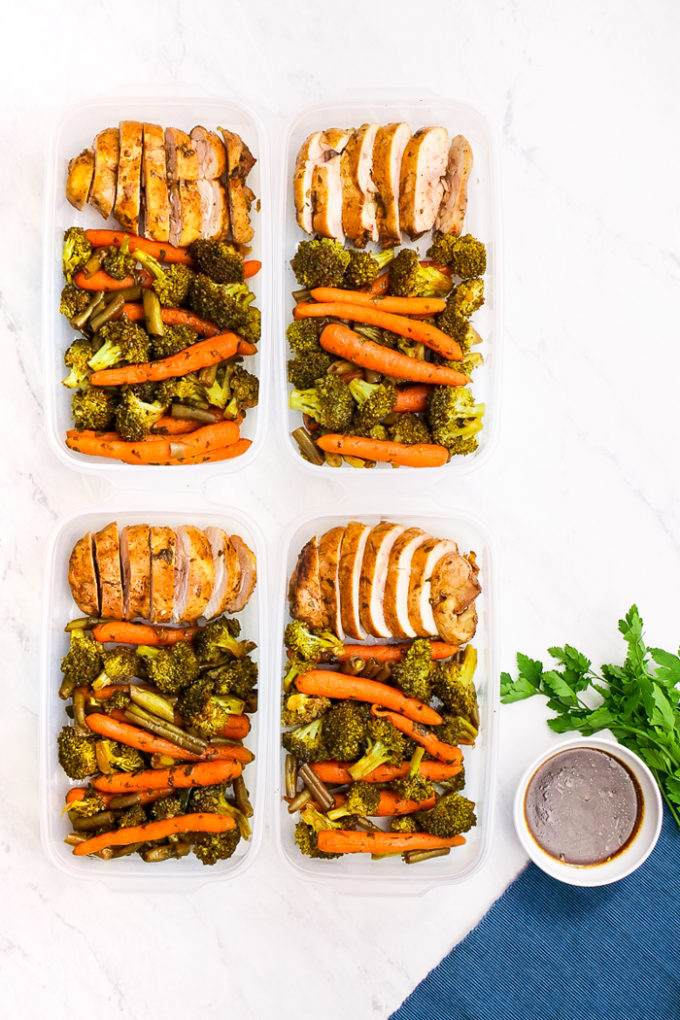 It makes plenty to feed a family, or can be split into containers to be saved for lunches during the week. The chicken stays good for 3-4 days. After that the vegetable start to get a little soggy.
I love having it for dinner fresh, and then lunch the next day as well. It helps to take some of the pressure off, and means a healthy lunch no matter how busy I get. My husband also loves to take this to work.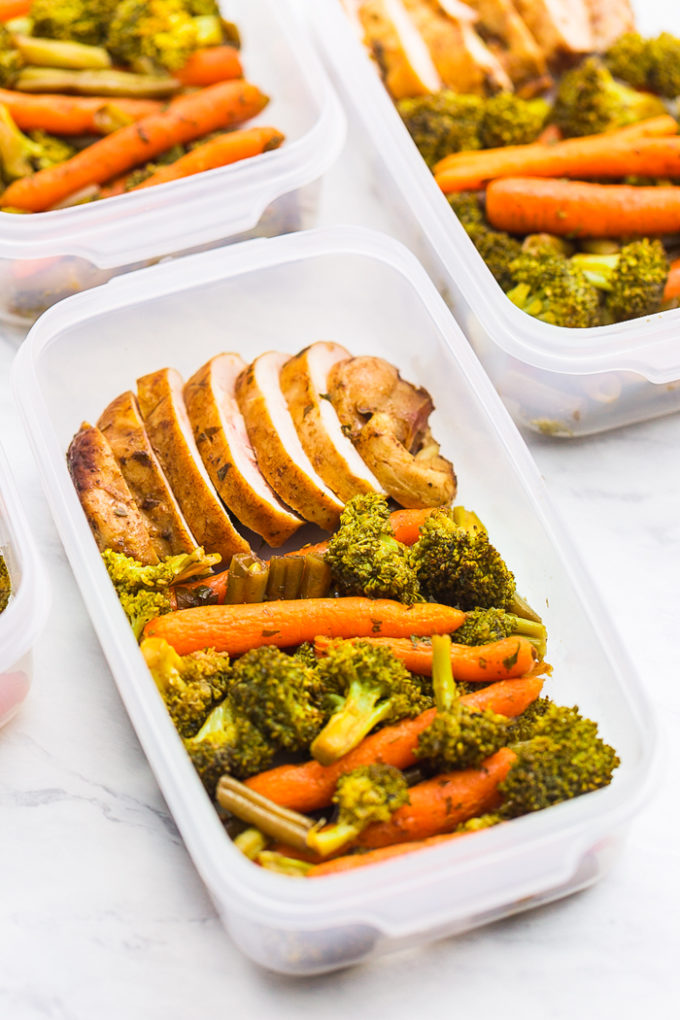 Tools used to make Balsamic Chicken Meal Prep
Balsamic: A quality balsamic makes a huge difference. Once I was in Italy and I got to do a taste test tour of several different balsamic vinegars. The difference in taste and quality is astounding. Find one you like plain, and you will like it in this dish.
Sheet Pan: These classic sheet pans are great for cooking all kinds of things on. And if you want to cut back on the mess, use a sheet pan liner/silicone baking mat too.
Meal Prep Containers: Having quality meal prep containers that are dishwasher safe, microwave safe, sturdy, and a good proportion is one of the best ways to stay consistent with your meal prepping. These Fit Packer ones are my favorite.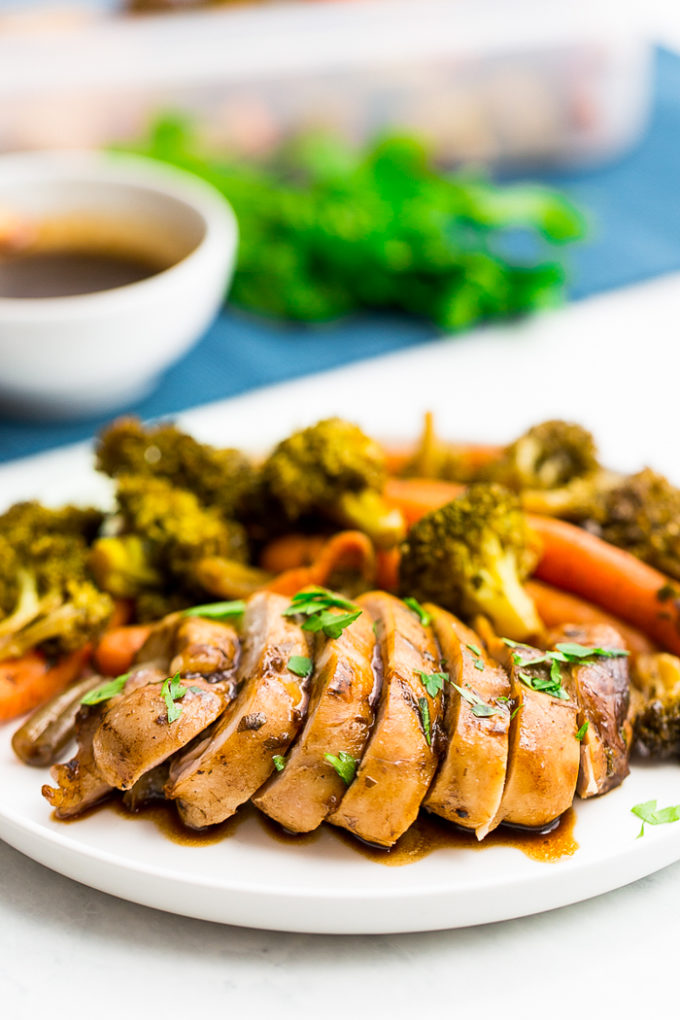 Other Great Meal Prep Recipes
Balsamic Chicken & Veggies (Meal Prep)
Ingredients
2 lb chicken thighs, boneless and skinless

Veggies

2 heads broccoli
2 cup baby carrots
3 tablespoons olive oil
1/2 teaspoon garlic powder
½ tsp onion powder
1 tsp salt
1/3 cup fresh parsley, chopped fine
8 ounces fresh green beans, snipped

Sauce:

1/3 cup balsamic vinegar
1/3 cup Italian dressing
2 Tbsp soy sauce
1/4 cup honey
3 Tbs brown sugar
2 garlic cloves, minced
Instructions
Preheat oven to 400F.
Line a baking dish with parchment paper or a silicone baking mat.
Mix together Sauce in a bowl. Set aside for later use.
Mix broccoli, carrots, olive oil, garlic powder, onion powder, salt, and parsley together in a big bowl, and toss.
Place veggie mix on a baking sheet, and roast for 10 minutes. Leave the green beans off, you will be adding them later.
After the 10 minutes is up, use a spatula to toss the veggies, add in the green beans, then push them to a side of the baking sheet.
Place chicken in empty space on the baking dish, make sure the pan is big enough so the chicken is squished up next to each other.
Pour over Sauce. Bake 15 minutes
Turn chicken over, spoon sauce from pan over the top.
Bake another 12-15 minutes, or until chicken reaches an internal temperature of 165 degrees, and veggies are tender.
Remove from oven, and let stand for 5 minutes, spoon more sauce over chicken, garnish with additional fresh parsley and either divide out into 4 containers for meal prep, or serve.
7.8.1.2
1085
https://www.eazypeazymealz.com/balsamic-chicken-veggies-meal-prep/
Pin to your Chicken or Meal Prep board:

Get EZPZ Updates In Your Inbox!