This post has been sponsored by Betty Crocker. I received product and compensation, but all opinions are my own.
Betty Crocker Brittle Mixes
Looking for an easy, yet delectable treat for parties, the holidays, or for just a late night sweet tooth craving?  I have the best treat for you: Betty Crocker Brittle Mixes.
Indulgent snacking just got a whole lot crispier, with the addition of New Betty Crocker Brittle Mixes— a new line of snackable brittle mixes, baked to provide a thin and crunchy twist on some of your favorite dessert flavors. And did I mention they are so easy to make? 
They are just as easy  to make as the Betty Crocker Mug Cakes and Chilled Treats! Just 3 easy steps.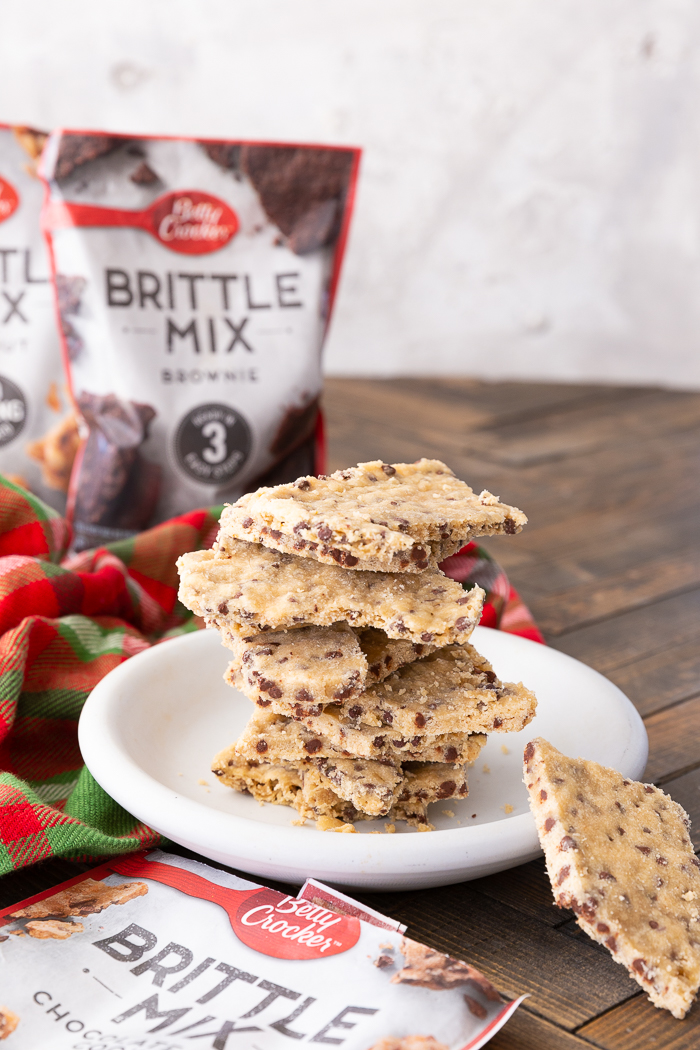 How to Make Chocolate Chip Cookie Brittle (Video)
When it comes to holiday baking, the easier the better, and as you can see, the Brittle Mixes from Betty Crocker are really just that easy.
I love sharing new products with you all, especially if they check all of the eazy peazy boxes:
Easy to make

Easy to find

Delicious

Low mess
These Brittle Mixes definitely check all the boxes and more. Combining the crunch with the sweet, these brittle mixes make for a great snack, dessert, or gift.
Betty Crocker Brittle Mixes Will Become Your Go To Treat!
The convenience and deliciousness of these treats will keep you coming back for more. Especially during the busy holiday season when time is scarce.
Why You Will Love This Line Of Brittle Mixes:
You guys know I am all about making things Eazy Peazy, and it doesn't get easier than a mix. But until recently you could only find mixes for things like cookies, brownies, and cakes. But not any more. These fun Brittle Mixes are such a fun addition to the line up of mixes, and let me share some of the things you will love most.
Easy Semi-Homemade Brittle.

Who doesn't love a good brittle during the holidays?
I know I do, but I also know the holidays are hectic, with tons of commitments, parties, last minute shopping and more.
These New Betty Crocker Brittle Mixes are the perfect way to have your brittle and eat it too. They are quick and easy to make. You get all the flavor of homemade with the ease of buying with this mix. In fact, it only takes 3 steps to go from package to done:
Mix

Press & Bake

Break
Truly could it be any simpler? You are going to love all the time you save, and your family and friends will think it is homemade!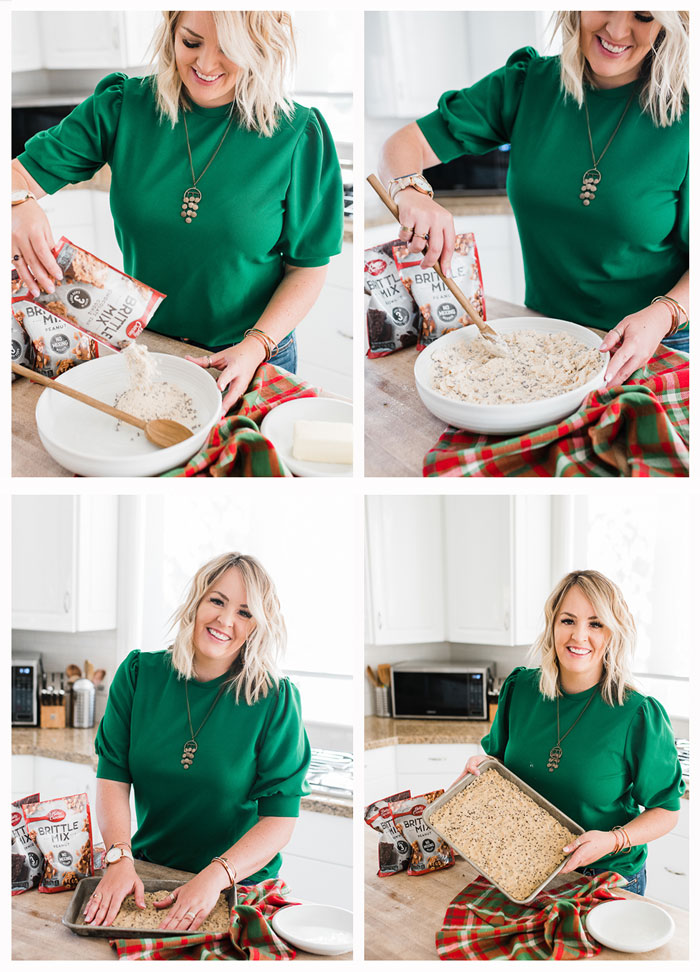 Flavor and Crunch.

One of the best parts of brittle is that crispy texture. And you get that and more with the Betty Crocker Brittle Mixes. The crunch you crave, the flavor you deserve. No sacrificing flavor or crunch!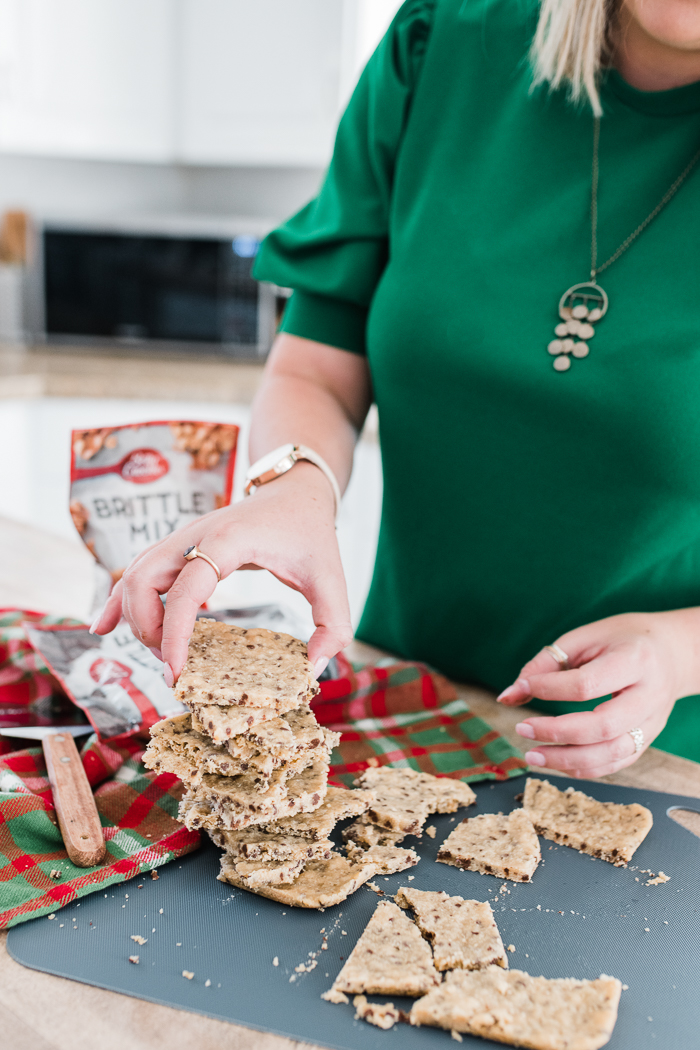 Everything Is Included In The Mix.
The best part, EVERYTHING you need for delicious brittle is included— there's no need to get a bunch of separate toppings or ingredients at the store!
And the mixes that do require something, there is a good chance you already have it.
The Peanut Brittle Mix has literally everything, you just dump it on the tray and bake. And the other two brittle mixes just need butter, and you add it and mix and bake.
So as you can see, it is so simple, and requires only something you likely already have on hand.
It's a one mix wonder. No need to worry what you are missing on your grocery list or in your cupboard.  Get the mix and get ready to bake.
A Variety Of Crave Worthy Snackable Flavors.
Don't you just hate when you find a treat you love but it only comes in one variety? So you are stuck with the same flavor every time? Well that is not the case with these Betty Crocker Brittle Mixes. Indulge in one of the threesnackable flavors. Buy one of each. They make for a great shareable treat.  
Betty Crocker Brittle Mix— Brownie

Chocolate Chip Cookie Brittle Mix

Peanut Brittle Mix
No matter what you are craving, there is a mix for that. With thin, crispy brownies, and crunchy chocolate chip cookies loaded with mini chips, or the classic peanut brittle. These fun mixes will satisfy your need for a sweet, crunchy, treat!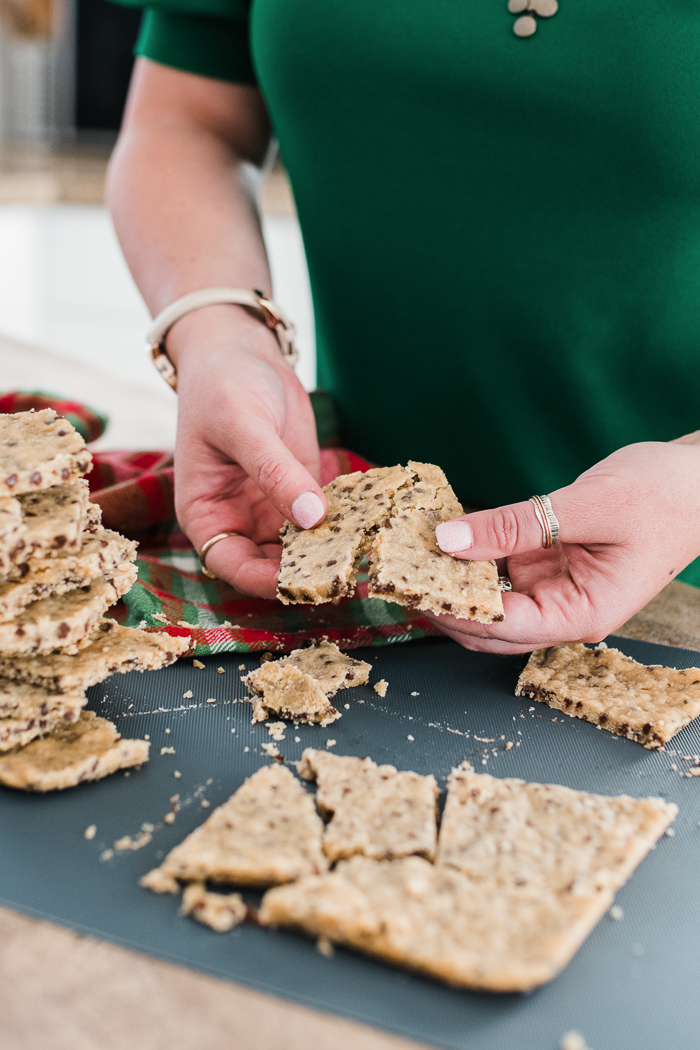 Great Gift For Family And Friends.
No matter which brittle mix you opt to make, these little decadent treasures make a great homemade gift or delicious munchie to delight friends and family with.
They are easy to transport: place on a paper plate or in a festive cellophane bag and surprise a neighbor.
They make the perfect easy neighbor and friend gift for the holidays, so stock up and enjoy all the time you are going to save.  You can never have enough–mixes or time.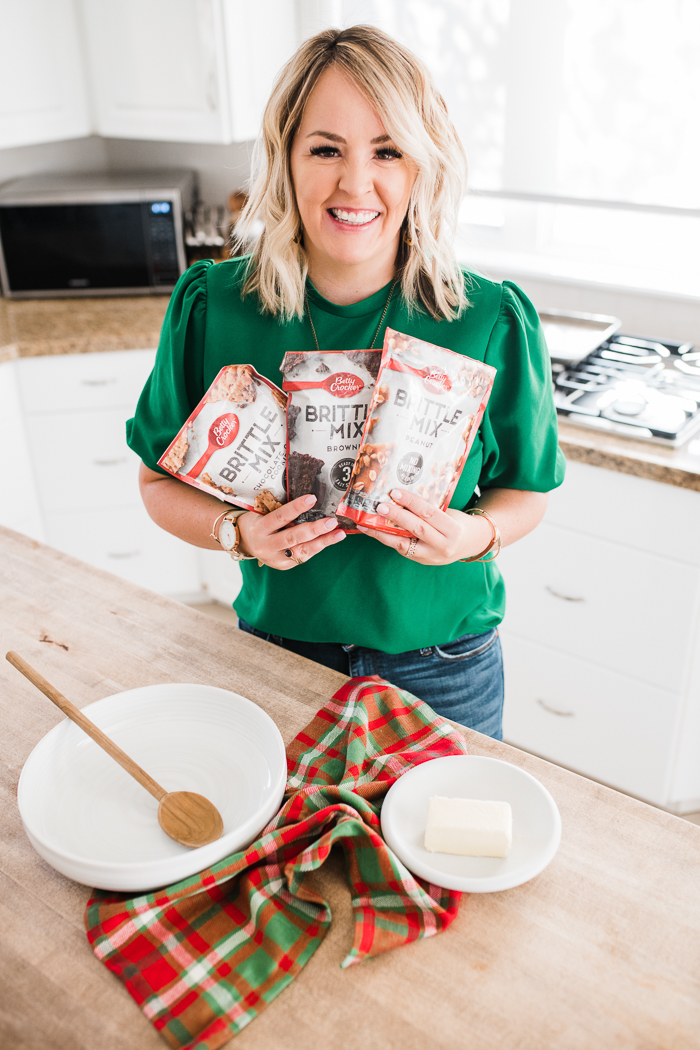 Why Betty Crocker? 
The holidays are hectic enough, give yourself a break with a trusted, sure to turn out, baking mix! Betty Crocker believes making food for others is the best way to connect and show we care. And they give you the tools and resources for fool-proof recipes and have for nearly a century. 
Betty Crocker exist to empower people to create, connect and spread joy through food made with love. The rich heritage and culinary knowledge can be seen in their commitment to celebrate the Betty in all of us.
Don't hesitate to do a little simple baking with these easy to make, delicious, Betty Crocker Brittle Mixes. 
Betty Crocker Brittle Mixes are the fool-proof way to get delicious brittle at home, without sacrificing flavor or crunch!   
Where To Buy Betty Crocker Brittle Mixes:
Betty Crocker Brittle Mixes are available in the baking aisle at select retailers, including:
Walmart

Kroger

Albertson's and Safeway

AWG

Publix

Meijer

Ahold
I hope you enjoy them as much as I do. Learn more about these tasty Brittle Mixes here.
Pin to your Holiday Baking Board:

Other Desserts: