Instant Pot Cheesecake:
An easy to make, delectable New York Style cheesecake recipe that can be cooked right in your Instant Pot.  Then topped with caramel and pecans! 
This creamy, velvety smooth cheesecake is a classic cream cheese New York style cheesecake that is paired with a decadent caramel pecan topping that can be whipped up in just a few short minutes. Make this Instant Pot Cheesecake recipe on a night that you don't want to have to slave away making a dessert, but you still want the dessert to taste like you did.
Serve with this amazing Strawberry Sauce instead of the caramel pecans, or doused in this best ever hot fudge sauce.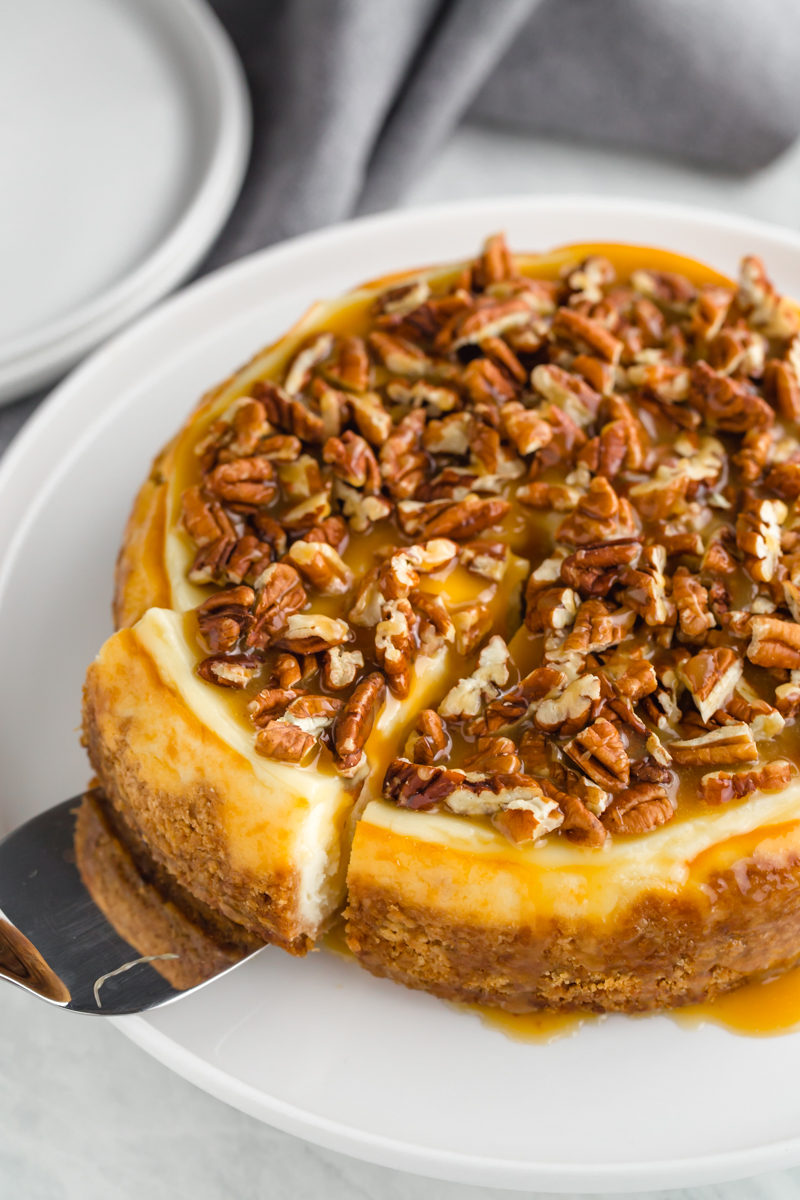 Instant Pot Cheesecake requires minimal prep, minimal mess, and minimal ingredients, yet the level of flavor is anything but minimal.  This Instant Pot Cheesecake serves about 10 people, so it makes the perfect amount of deliciousness for after a family dinner or to take to a small gathering.
Start with your roast chicken and carrots, whip up some buttermilk biscuits, and complete your meal with this decadent cheesecake.
At our house this dessert makes it often into the rotation, not only because it is easy to make and is delicious, this family favorite has the perfect balance of flavor.  This silky cheesecake paired with the crave worthy caramel pecan topping really sets this cheesecake dessert apart from the rest.
How Many Does A 7 Inch Cheesecake Serve?
When making this cheesecake recipe you can either use a 7 inch springform pan or a 6 inch one.  Obviously a 6 inch one will produce a slightly thicker cheesecake than a 7 inch pan, but either will work great.  And the cooking time is the same in the instant pot.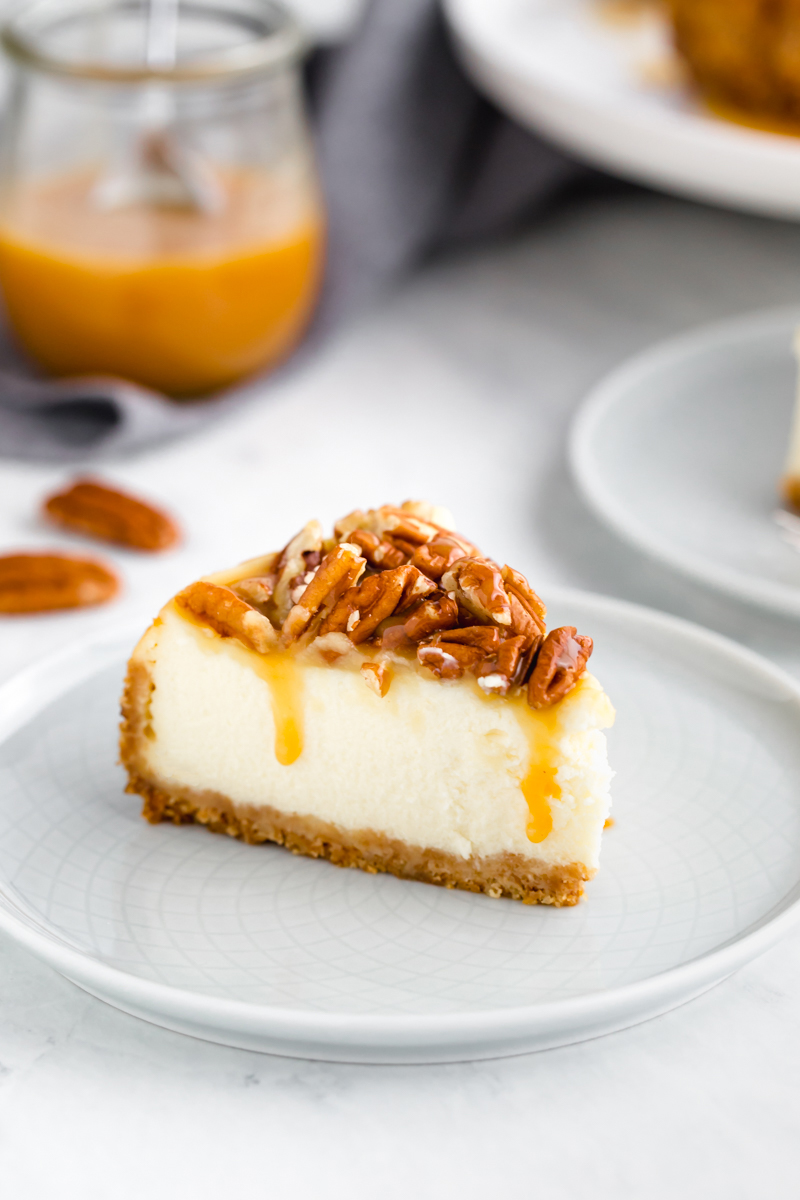 With a 7 inch cheesecake you can expect to be able to serve about 10 people.  Obviously the amount of slices will vary slightly depending on how large or small you cut the cheesecake, but on average you can get about 10 slices.
If you use a 6 inch springform pan, then obviously you will on average get a little less, plan on 8 slices.
I like the size of a 6 or 7 inch cheesecake because it isn't so big that it awkwardly takes up too much space in your refrigerator.  Plus, if you are just feeding your family or having a couple or two over, it makes enough to have a a few leftover slices.
And believe me, you are going to welcome the leftovers the next day.  It is just so, so, so, good.
However, keep in mind, cheesecake is rich and decadent, so you do not need a huge slice to get a satisfying dessert.
How Many Slices In A 10 Inch Cheesecake From Cheesecake Factory?
Because a Cheesecake Factory Cheesecake is larger than a 7 inch cheesecake, of course more people can be served.  Their 10 inch cheesecake can serve about 12-15 people. But they are HUGE slices. When we are talking about this pressure cooker style cheesecake, we aren't cutting slices that large. 
However, if you want to feed more people with this recipe, you can very easily double or even triple the recipe and make one or two extra cheesecakes.  The cheesecake cooks so quickly in the Instant Pot that it is no big deal to go for round two in the pressure cooker with another cheesecake. You will just need a few springform pans. I recommend this one from Fat Daddio's. 
Although Cheesecake Factory makes some great cheesecakes, since I know that I can make a delicious, easy, cost effective cheesecake right in my very own home, I just opt to make this Instant Pot Cheesecake.
Plus what is nice about this recipe is that it makes a great canvas for so many toppings.  The caramel pecan topping is definitely to die for, but to change it up you can add whatever you want.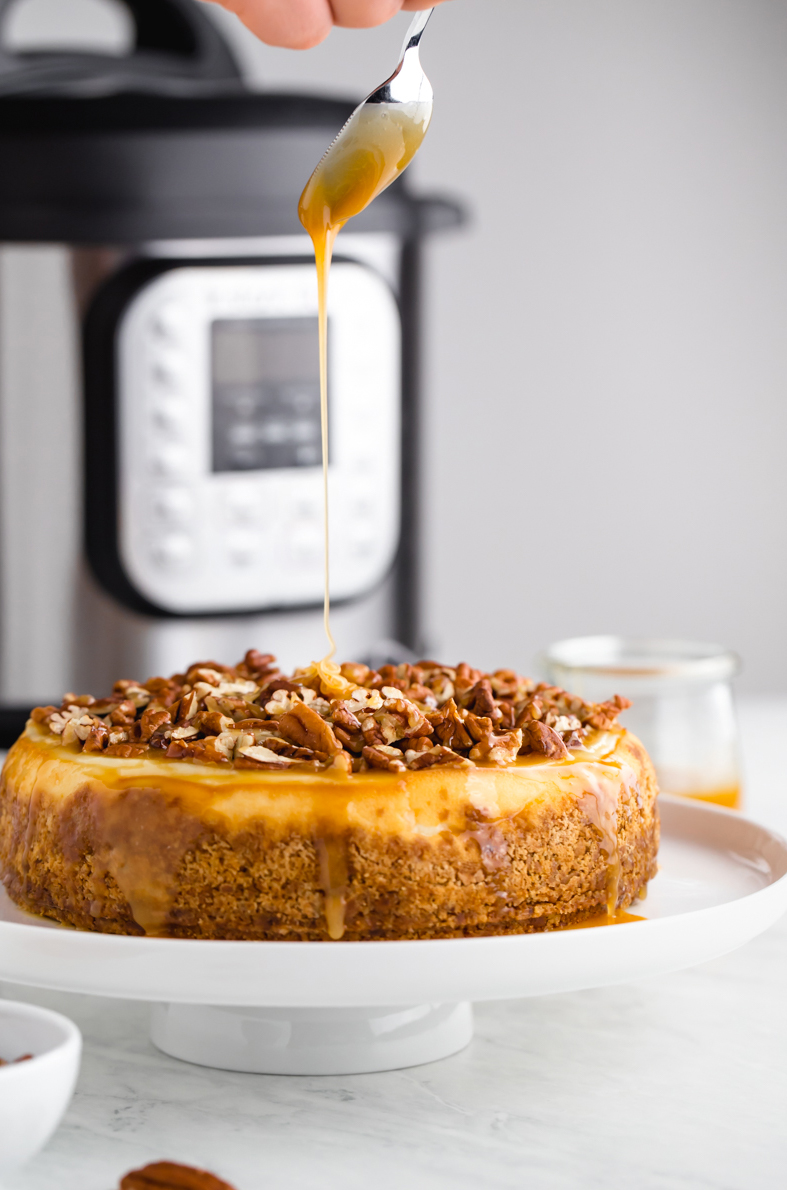 Great Toppings for Instant Pot Cheesecake:
Caramel Pecan Topping (of course)

Fresh Fruit like a Berry Compote

Crushed Candy
How Do You Get Air Bubbles Out Of Cheesecake Batter?
One of the things I love about this cheesecake recipe is that it is easy to make.  However, just like any recipe, paying attention to a few small details can really make the difference between having an excellent finished product or just an okay product.
Bubbles in a batter may not seem like a big deal at the time, but they can actually make a difference in the finished result.  
Bubbles in a the batter can later transform into having a finished, cooked cheesecake that has cracks. No one wants that, especially since it is somewhat preventable.
The trick is simply to avoid over mixing the cheesecake batter.  That's it! Once the ingredients are well-blended just don't keep mixing.
At the time it may seem like it shouldn't matter if you mix a little more once the batter is already blended, but it does matter.  Over mixing gives air bubbles, so resist the urge. Trust that the batter is mixed and move on.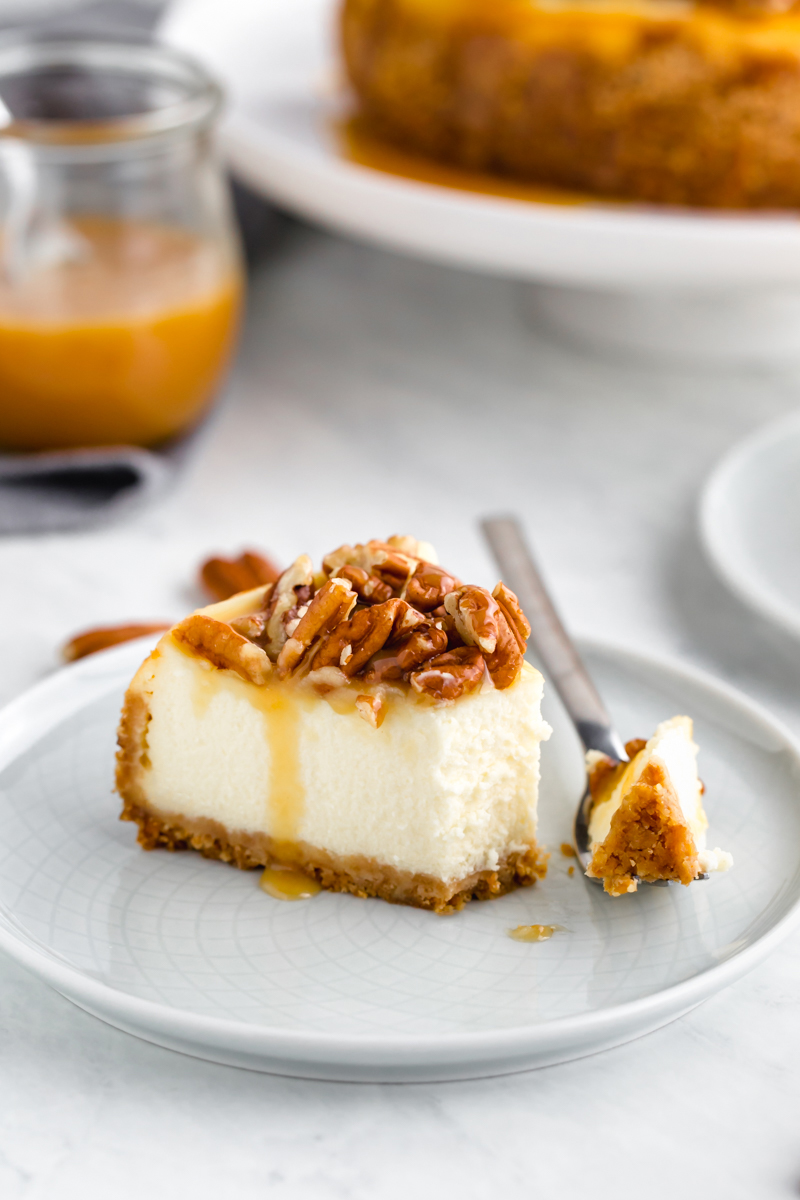 What Is New York Style Cheesecake?
Often times you will see cheesecake on the menu and you may see it classified as New York style cheesecake.  You may be thinking, what does that mean?
There are actually quite a few different kinds of cheesecakes and I am not referring to different flavors, actual different kinds.  
For example, some of the different kinds are a basic cheesecake, Roman cheesecake, which uses ricotta or mascarpone cheese instead of cream cheese, Country cheesecake, and New York Cheesecake.
New York cheesecake is sometimes mistakenly used as a name for a basic cheesecake, but it is actually slightly different.
A basic cheesecake, like the recipe we are talking about today, has three basic ingredients.
Ingredients for Basic Cheesecake:
Eggs

Egg yolks

Cream Cheese
However, a New York Style cheesecake has the additional ingredients of sour cream and heavy cream, resulting in a denser cheesecake.
Basic cheesecake and New York style cheesecake are similar, but I personally prefer this cheesecake recipe over most New York style cheesecake recipes.
I prefer the lighter cheesecake texture to the more dense filling found in the New York style cheesecake.
Plus, this Instant Pot Cheesecake recipe is easy to follow and I have a few tips to help ensure the best possible end result.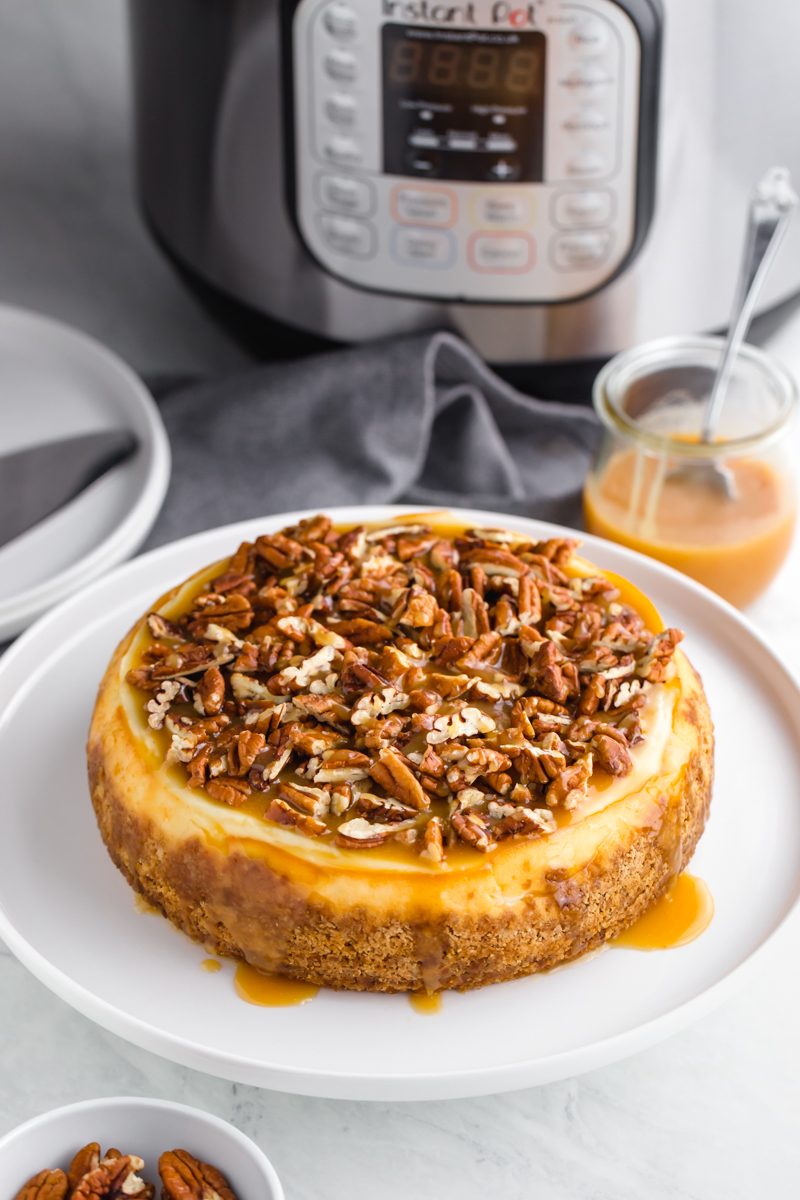 5 Tips To Make The Perfect Instant Pot Cheesecake:
Let cream cheese and eggs sit out at room temperature before mixing.

Ingredients will blend together better if they aren't taken directly out of the refrigerator and then mixed together immediately.

  

Prevent crust from becoming mushy by lining the cheesecake pan with foil.

By doing this, the liquid won't be able to seep through the bottom of the pan and

get into the crust.

  

Do not manually release the pressure when the Instant Pot is done.

 

Let pressure cooker naturally release.  This will minimize the cracks in the

cheesecake and help ensure a more even cook.                     

 

Don't over mix your cheesecake batter.  

As mentioned before, over mixing leads to bubbles, which leads to cracks in the

 finished product.

 

Let cheesecake cool at room temperature for at least 15 minutes.

By letting cheesecake cool before eating, this allows the most flavor out of each

bite.
This recipe is great, straight forward, and easy.  Just follow these tips to help ensure the perfect cheesecake.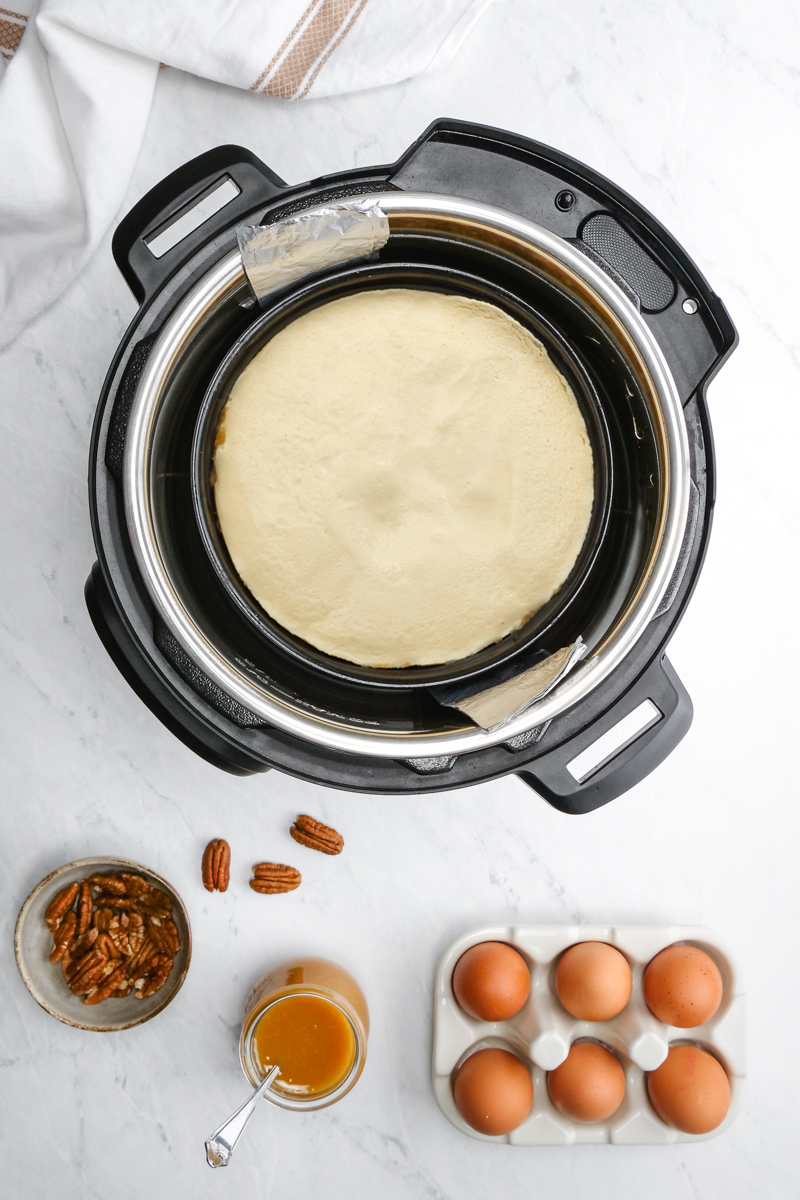 Tricks for Cooking Cheesecake In The Instant Pot.
I love using my Instant Pot for both dinner and dessert.  However, I realize if you are new to the whole Instant Pot world it can seem a little bit intimidating.
Don't worry, using the Instant Pot really is easy and to get the most out of your experience I have a few tricks to help make it even easier.
Tricks for Cooking Cheesecake in the Instant Pot:
Make a foil sling.  
Make a sling with foil so you can easily remove the cheesecake without mess.   Simply take a long piece of foil, about 20 inches in length, and fold it into thirds, lengthwise.  You can save this sling for the next time you need it.
Switch out your Instant Pot rings.
Buy a set of Instant Pot rings and use one ring when you are cooking savory food items and another when you are cooking sweet items, like cheesecake.  Instant pot rings absorb the flavor so you don't want to use a savory ring when cooking cheesecake because your cheesecake may pick up a slight savory taste.
If you have an 8 quart Instant Pot, I like to get the Instant Pot Sealing Ring 2 Pack 8 quart. It comes in red and blue.  I designate one color for savory cooking and one for sweet.
Adjust cooking times based on size of springform pan.  
You don't have to use the same size springform pan that I used in this recipe.  However, a general rule of thumb is when using a bigger springform pan you will notice that the cheesecake will be thinner, meaning cooking times will be slightly shorter.  For a smaller pan, cooking times will be longer because the cheesecake will be thicker.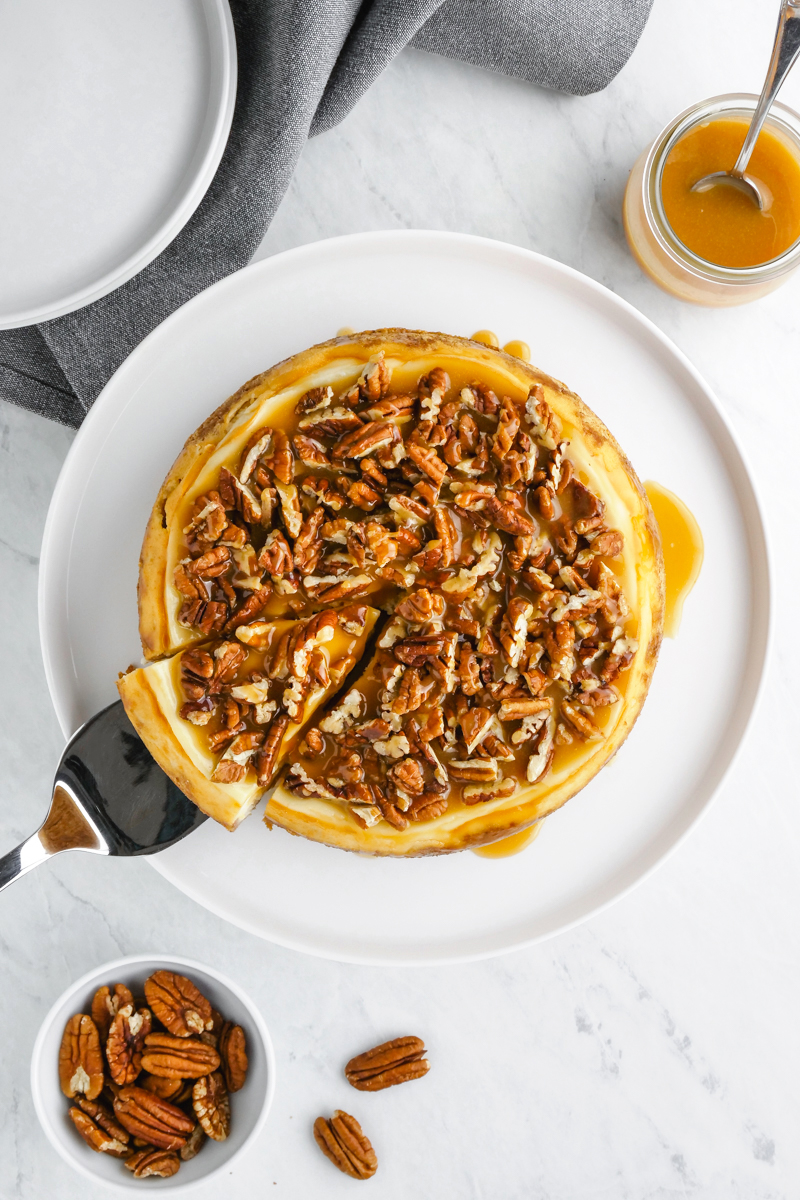 Looking For Other Great Cheesecake Inspired Desserts?
If you are anything like me, you can't get enough of cheesecake desserts.  
Looking for other great cheesecake inspired recipes?  Try Lemon Cheesecake Bars or White Chocolate Strawberry Mini Cheesecake.   Either are great choices for any dessert lover.
Of course don't forget about trying this Instant Pot Cheesecake Dessert.  It is great for an easy mid week pick me up or for birthdays when you are sick of the traditional birthday cake.  
You simply can't go wrong with this Instant Pot Cheesecake.  It is a crowd pleaser and will make a great addition to any social gathering or occasion. But another awesome Instant Pot Dessert worth mentioning is the Instant Pot Lava Cake with 4 different filling options.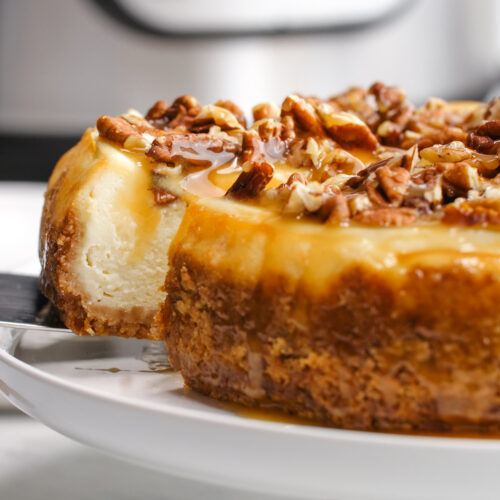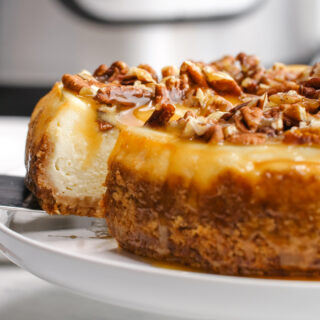 Instant Pot Caramel Pecan Cheesecake
An instant pot cheesecake made in the pressure cooker, then topped with caramel and pecans.
Print
Pin
Rate
Ingredients
Crust:
1 1/4

cups

graham crackers crumbs

1

tbs

brown sugar

5

tablespoons

unsalted butter

melted
Batter:
16

ounces

cream cheese

at room temperature

1/2

cup

white granulated sugar

1

tablespoon

cornstarch

3

large eggs

at room temperature

1/2

cup

heavy cream

at room temperature

1

teaspoon

vanilla extract
Topping:
1

cup

caramel sauce

1

cup

chopped pecans
Instructions
Cheesecake Crust:
Lightly coat a 7x3-inch springform pan with nonstick spray and set aside.

Add the graham crackers crumbs, brown sugar and melted butter to a large bowl and stir until well combined.

Press the mixture into the prepared springform pan. Using a measuring cup, press the crust and try to line the sides about to the middle of the pan edges.

Refrigerate for at least 20 minutes while preparing the batter.
Cheesecake Batter:
Make sure all the ingredients are at room temperature before you begin.

In a large bowl using a hand mixer, beat the cream cheese until light and fluffy on medium-low speed.

Add the sugar and cornstarch and continue beating until well combined and creamy. Scrape the sides and bottom of the bowl.

Add the eggs one at a time and beat after each addition until well combined.

Add heavy cream and vanilla extract. Beat well, stopping to scrape the sides and bottom of the bowl.

Remove crust from refrigerator and wrap the bottom of the pan with foil so it doesn't leak at all.

Pour cheesecake batter mixture into the prepared pan.

Cover with foil.
Cook:
Place metal trivet into a 6-qt Instant Pot and add 1 1/2 cups water.

Take a 20 inch or so piece of foil, and fold it in half lengthwise, twice so it creates a long skinny piece. Lay it over the tivet and up the sides of the instant pot so you can use it to lift the cheesecake out of the instant pot.

Gently transfer the cheesecake pan on top of the trivet and sling.

Select manual setting and adjust pressure to high. Set time to 30 minutes. You can do 35 minutes for a denser cheesecake.

When finished cooking and the Instant Pot beeps, release pressure naturally for about 20-30 minutes.

Carefully open the pot and transfer cheesecake to a cooling rack using the foil sling you made. Let it cool for 1 hour, after which run a paring knife around the edges. Remove the outside ring. Top with caramel and chopped pecans.

Transfer cheesecake to the refrigerator, refrigerate until chilled, or overnight.
Nutrition
Calories:
434
kcal
|
Carbohydrates:
38
g
|
Protein:
5
g
|
Fat:
30
g
|
Saturated Fat:
13
g
|
Cholesterol:
111
mg
|
Sodium:
268
mg
|
Potassium:
149
mg
|
Fiber:
1
g
|
Sugar:
15
g
|
Vitamin A:
830
IU
|
Vitamin C:
0.1
mg
|
Calcium:
73
mg
|
Iron:
1.1
mg
Our recipe card software calculates these nutrition facts based on averages for the above ingredients, different brands, and quality of produce/meats may have different nutritional information, always calculate your own based on the specific products you use in order to achieve accurate macros for this recipe.
Want to use this recipe in a meal plan?
Try PrePear, my FREE Meal Planning App that allows you to save your recipes, plan meals, shop for groceries, and cook simply in one place. Join Here!
Pin to your Dessert or Instant Pot board: