Chicken Sausage and Peas Alfredo Pesto Skillet Pasta was a happy accident that is one of our favorite skillet pasta recipes, with delicious flavors and easy to follow instructions. If you are looking for a quick and easy to make pasta recipe, this is the one.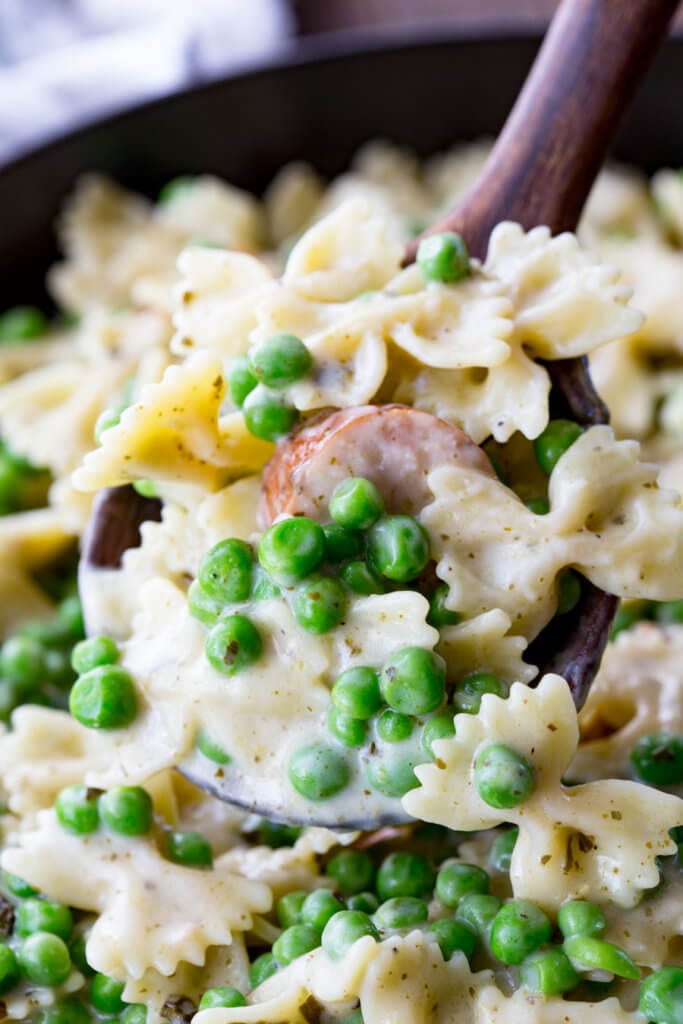 While you may not care how this Chicken Sausage and Peas Alfredo Pesto Skillet Pasta came about, I figured I should share the story: I bought this Italian Chicken Sausage that had provolone cheese and Italian style herbs in it. It sounded really good, and I couldn't wait to try it. Initially we tried to eat it like I would any bratwurst. Ugh, it was not very good, especially with traditional toppings like ketchup, mustard, and relish. But I had bought it at Sam's Club, so that meant I got like a million of them. My kids were not fans, and my husband, well, he was sweet about it, but I don't think that he liked them much either.
I was trying to decide what to make with the rest of them so they would not go to waste when I thought they would be good in a skillet pasta. Of course, it was a nice thought, but I did not do anything with it…until…I was at my mom's house, and her neighbor called and said that they had a ton of peas that they were welcome to come pick and shell them, and could keep whatever they picked.
As I sat staring at the bag of freshly shelled peas, and thinking how yummy they were, I realized they would be the perfect addition to a skillet pasta using the chicken sausage I had. So of course, I had to make it. And boy am I glad I did.

MY LATEST RECIPES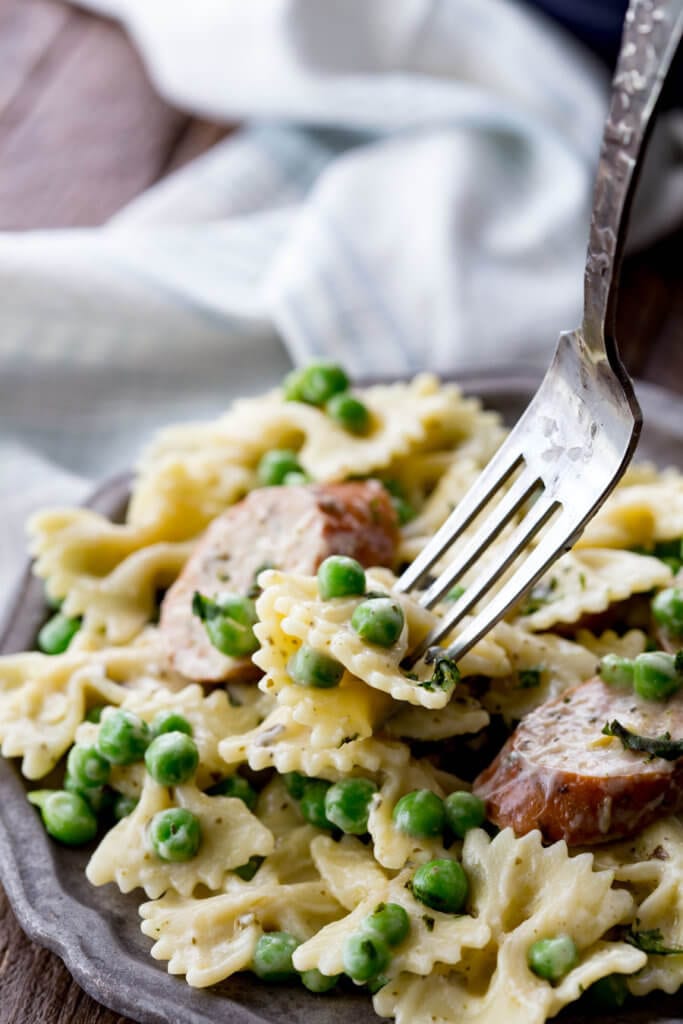 I have made Chicken Sausage and Peas Alfredo Pesto Skillet Pasta several times since with just regular chicken sausage, and peas from the freezer, and it is just as good. So do yourself a favor and try this yummy, simple, concoction!
Skillet Pasta Tips:
Gather ingredients: This is the easiest pasta because chicken sausage comes precooked, and you can get pesto and Alfredo from a jar, so it takes no time to whip up. Having everything out and on hand means you don't overcook the peas or burn anything.
Reserve Pasta Water: I got the bow-tie pasta noodles cooking, and when they were almost done, I finished assembling. I added some of the pasta water to the skillet and tossed it all around for a few minutes to make sure it was nicely coated. Why add pasta water to your Chicken Sausage and Peas Alfredo Pesto Skillet Pasta? This helps the sauce to amalgamate; the starch in the water adds body and a kind of creaminess. In other words, it just makes it better!
Wait to add Peas: Add the peas at the end. This will help them to retain flavor and not get overcooked or mushy.
Garnish: Fresh herbs, a little parmesan cheese, or other garnishes can help bring a skillet pasta dish to life!
Give yourself a break: Use the jarred pasta sauces, cut yourself some slack. They are quick, easy, and low mess. I love adding a touch of pesto to a basic Alfredo sauce to bring it up a notch and add some extra depth of flavor. I keep a jar of this pesto on hand at all time to add a bit here and there for extra flavor.
Customize: adjust the amounts of chicken sausage and peas to your personal preference. If you want a really meaty pasta, add extra chicken sausage rounds.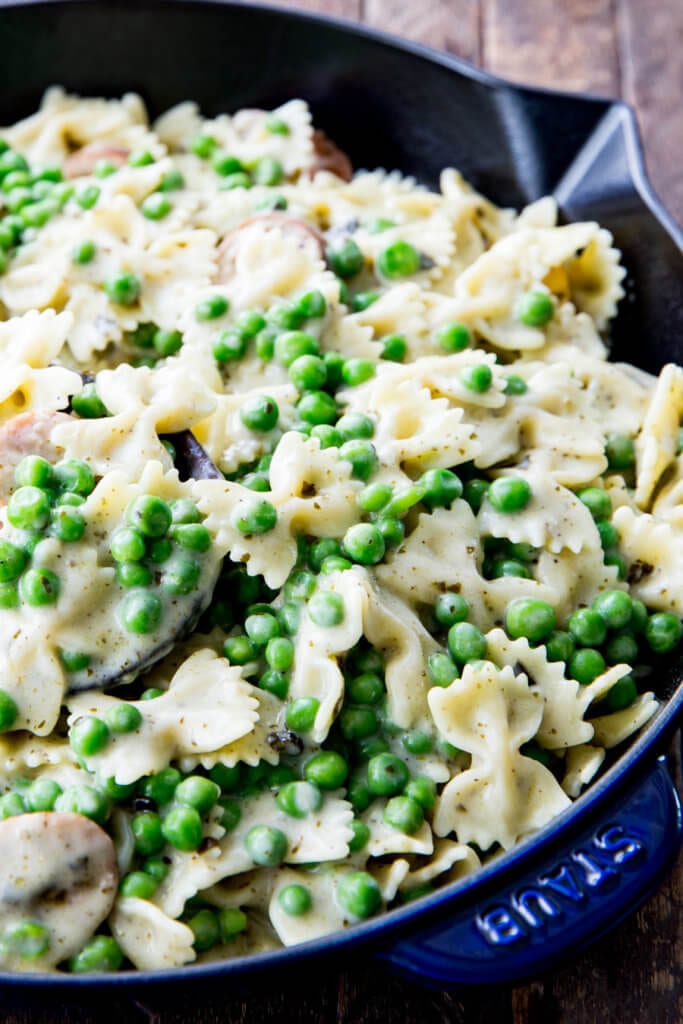 My family (Parents, brothers, and sister) were over that night I first made Chicken Sausage and Peas Alfredo Pesto Skillet Pasta for dinner, so there were about 10 of us eating. It got gobbled up pronto, and we all enjoyed it a lot. In fact, when I went back for a second helping I was sadly disappointed by an empty pan. So, I made it again the next night. It was still so good I had to share. Enjoy!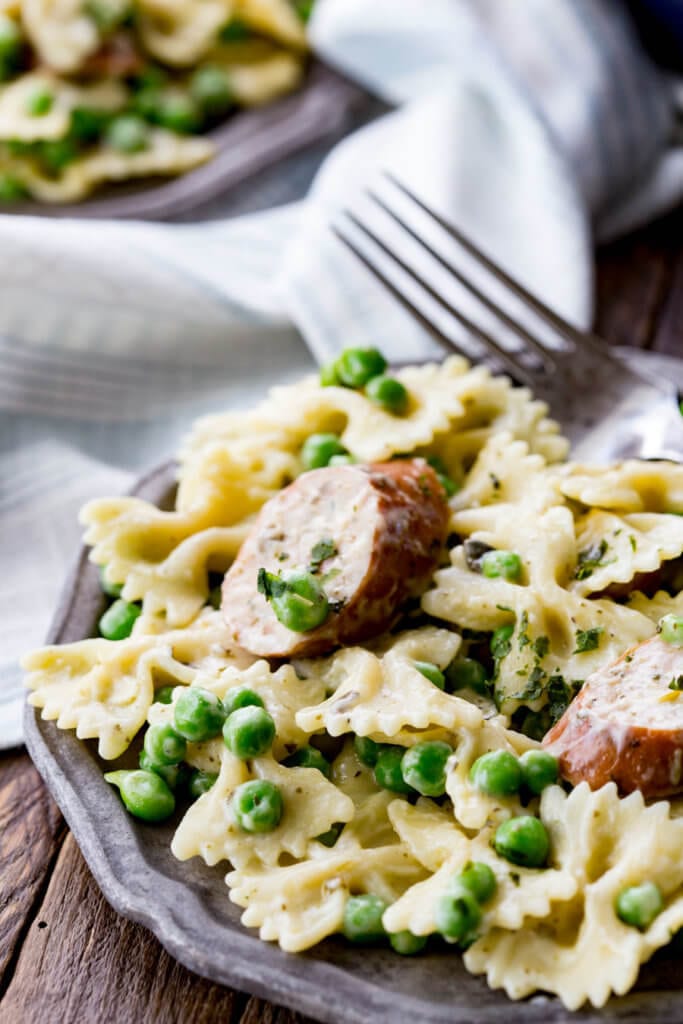 Tools Used for Skillet Pasta: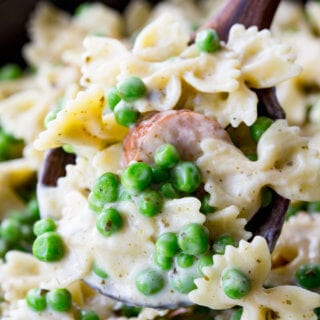 Chicken Sausage and Peas Alfredo-Pesto Skillet Pasta
Print
Pin
Rate
Ingredients
8

ounce

package of bow-tie pasta

cooked al dente

1/2

lb

Italian Chicken Sausage

fully cooked

2

Tbs

basil pesto

8

ounce

jar alfredo sauce

1.5

cups

peas

freshly shelled is best

1/3

cup

starchy pasta cooking water
Instructions
Cook pasta al-dente

Cut sausage into slices and heat in a

skillet

with basil pesto

Once sausage is heated through, add in alfredo and peas

Add cooked noodles to the skillet along with 1/3 cup pasta cooking water

Coat thoroughly and heat through for 2-3 minutes until water has evaporated

Serve hot
Other pasta recipes you may enjoy: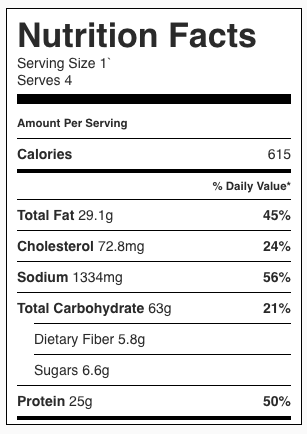 Pin to your PASTA board on Pinterest:

Get EZPZ Updates In Your Inbox!