Chili Con Carne
Chili Con Carne is a flavorful ground beef chili that offers the perfect amount of heat and seasoning that will keep you coming back for more.  Prepped in just a quick 20 minutes, this Chili Con Carne recipe is easy and convenient.
Cook Chili Con Carne on the stove or use your slow cooker, this Chili Con Carne recipe makes for a simple, healthy dinner.   You and your family will love this bowl of hearty goodness.
Curl up with a book or watch a movie and enjoy a cozy dinner with this tasty Chili Con Carne recipe and a side of cornbread.  Nothing beats a hearty chili on a cold, cozy night.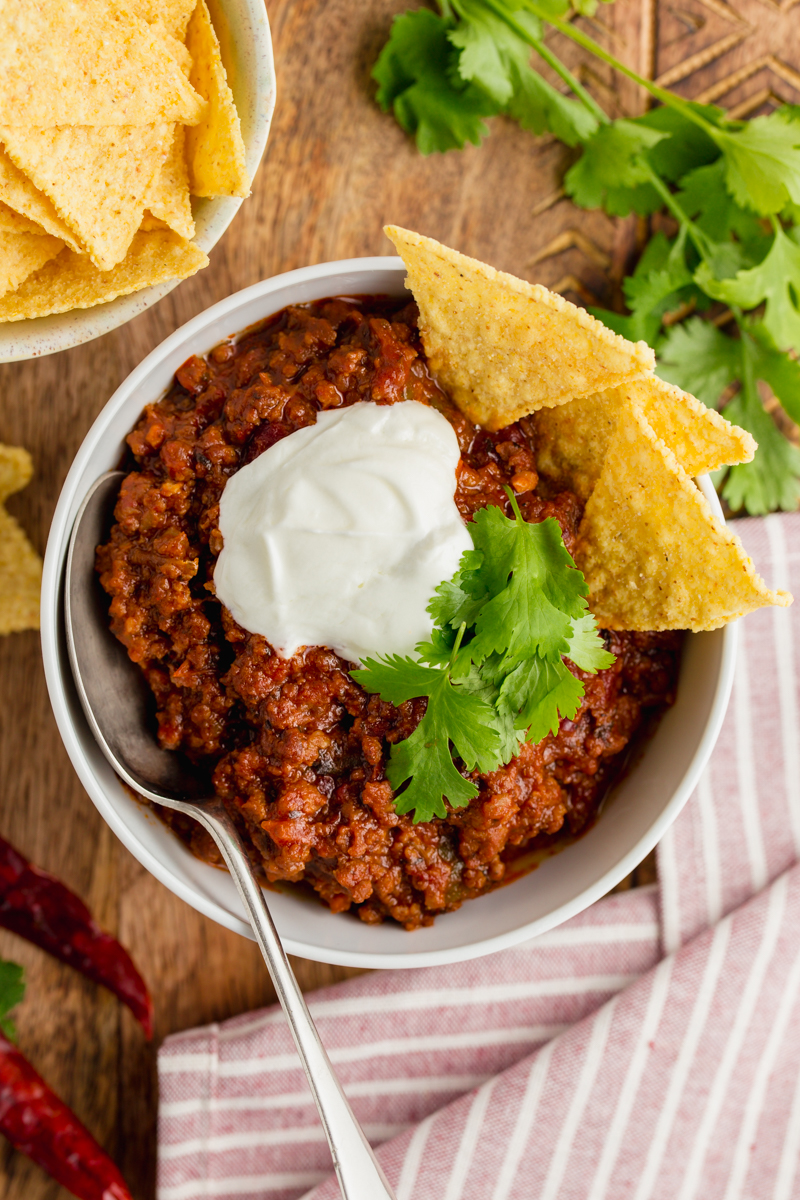 What Is Chili Con Carne?
This Chili Con Carne is just the best chili you will have ever tasted.  Loaded with just great ingredients, and easy to make for  a quick dinner fix.
Chili Con Carne is basically chili that contains meat, chili peppers or chili powder and usually tomatoes and beans. Due to the use of chili peppers, it is a stew or chili that has some heat to it.
What Does Chili Con Carne Mean?
Carne means meat in Spanish and con means with.  So literally Chili Con Carne means chili with meat.  However, I think Chili Con Carne sounds a lot better than Chili with meat, don't you?
And while we add meat to all of our chili over here:
This one is special because the meat is the main focus, and it has some extra spices to give it a rich, deep flavor.
What Is In Chili Con Carne?
Meat- Lean ground beef, a whooping 2.5 lbs of it!

Chili Peppers or Chili Powder

Additional Spices

Beans 

Tomatoes
Note:  Not all chili con carne has beans and tomatoes. I still like a little beans in mine. 
Obviously with every recipe there will be some differences and variations.  In addition to ground beef, tomatoes, and kidney beans, I added some additional ingredients to really make this dish stand out.
What Spices Are In Chili Con Carne?
You might notice the ingredient list looks long and that is because it order to achieve the best depth of flavor, and really get that delicious smoky, wonderful taste, you need some spices. But don't worry, chances are you have a lot of them in your pantry already.
Spices—paprika, chili powder, cayenne pepper, dried basil, dried oregano, dried parsley, cinnamon, black pepper and salt
Most  chili recipes use chili peppers or chili powder.  
From there, every recipe may have a different take on what additional spices to use. For this recipe I added little cayenne pepper which adds a little kick, basil, oregano, parsley, paprika, cinnamon, and of course pepper and salt.
You are going to love what the cinnamon does for the flavor.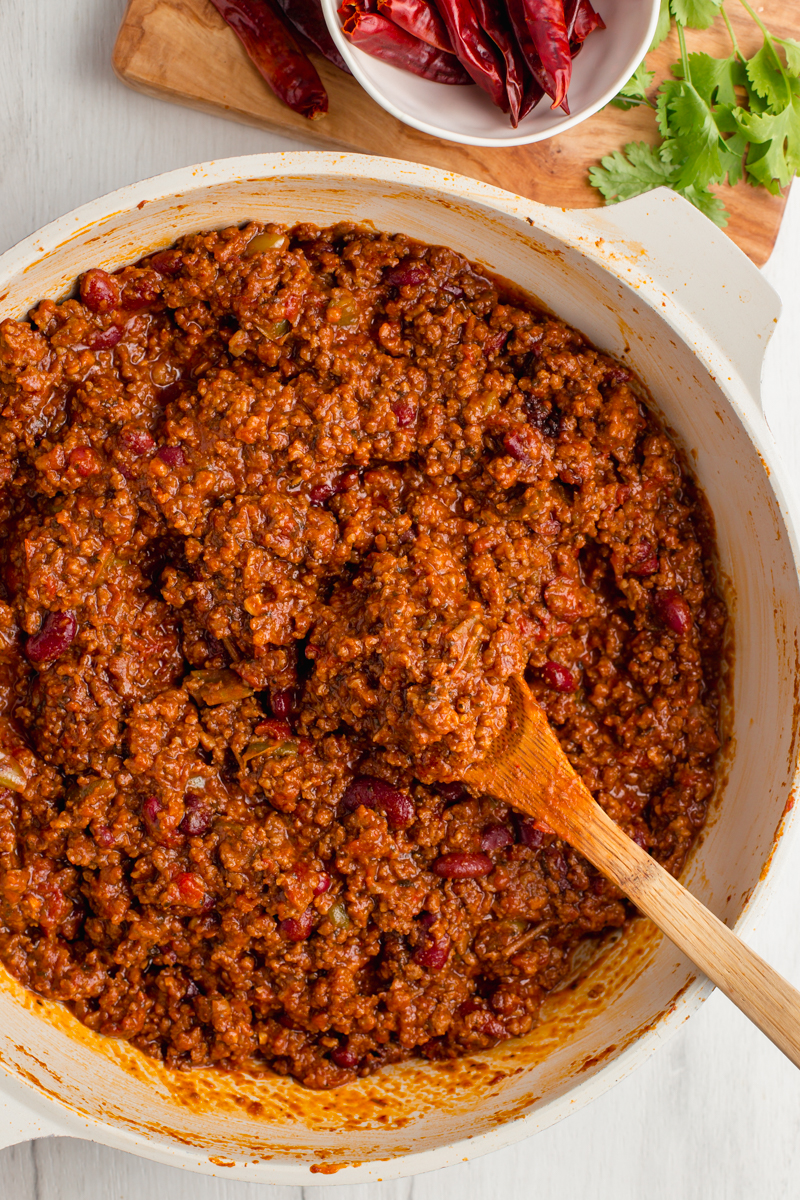 Additional Ingredients That Make This Dish Stand Out:
Aromatics: Onion  And Garlic
Green Bell Pepper
Flavor Enhancers: Beef Bouillon Cubes,

Red Wine, and 

Hot Pepper Sauce

Tomato Paste– which makes the tomato flavor richer and bolder. 
Plus the basic ingredients—beef, tomatoes, and kidney beans
This recipe offers the perfect blend of flavor with the hint of cinnamon and kick of hot pepper sauce, it is a taste you will not forget.
How To Make Chili Con Carne:
Prep

Gather all your ingredients and start prepping.  I find that getting all my ingredients ready to go first, helps simplify the process. This includes mixing your spices together.

Start Cooking

Saute your garlic and onion with half the spices in a hot skillet with oil.

Add peppers.  Cook until soft.

Add ground beef and brown.

Add bouillon and once dissolved add tomatoes and tomato paste.

Add remaining spices.

Simmer, Let Flavors Develop

Bring to boil and then reduce heat and simmer.

After 90 minutes add kidney beans and hot sauce.

Add water or beef stock depending on desired thickness and simmer for 30 minutes.

Top and Enjoy!

Serve with favorite toppings and enjoy.
Note: See recipe at the end for more detailed instructions.
As you can see from the photos this is a nice thick chili. If you want it to have more liquid you can add additional beef stock.
Classic Chili Con Carne Variations:
Get ready to have some fun here.  Even though Chili Con Carne has a fantastic flavor all on its own, it makes a great partnership with so many things.
There are so many fun ways to eat this dish.
Serve Over Rice.
One of my most favorite ways to eat chili is over rice.  In fact, I rarely have a bowl of chili without it on top of rice.
Rice adds a great texture to the dish and it allows the dish to go farther.
So, if you have some unexpected guests, like your kids invite a friend over for dinner without asking (don't you just love when that happens), or if you want left overs, you can stretch the dish out with serving the chili over rice.
Serving over rice means less chili is needed for each serving.  Rice is inexpensive, so if you want to make the chili last, I love this little trick.
Serve Over Noodles.
Why not serve chili over noodles?  It's not that crazy of an idea if you think about it.  We serve meat sauces all the time over spaghetti.
It's another fun, tasty twist.
Add Yummy Toppings.
Whether you want to serve chili over rice or just have it in a bowl, I love to load my chili up with some amazing toppings.  The choices go on and on.
Toppings:
Fritos or Tortilla Chips

Sour Cream

Plain Greek Yogurt

Shredded Mozzarella

Shredded Cheddar

Avocado

Cilantro
Jalapenos
So many choices!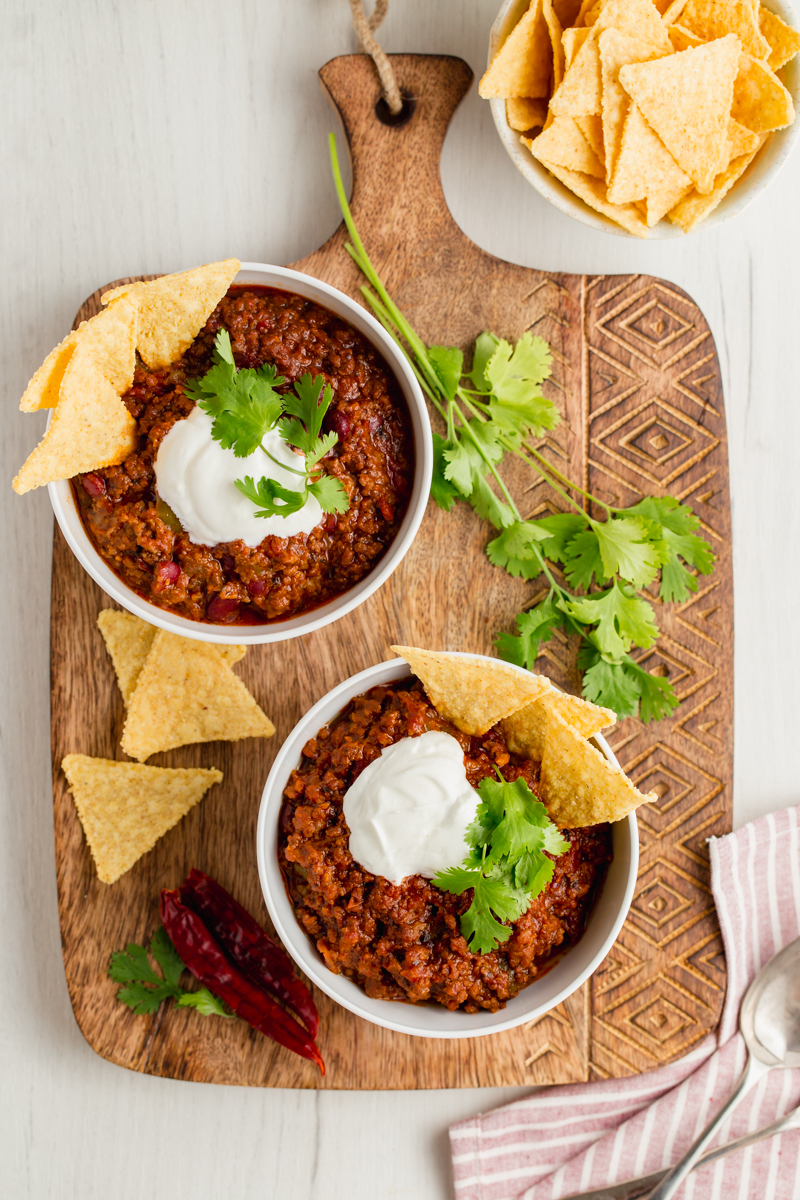 Make The Ultimate Nachos.
Get some tortilla chips and instead of just adding cheese and sour cream, dish up some hearty chili to go on top.  

Then continue to pile on the toppings with adding some cheese, salsa and guacamole.  My mouth is beginning to water just thinking about it.

Great news since the chili will already be warm you don't have to bake the nachos in the oven or microwave to melt the cheese if you don't want to.  Yay no extra cooking!  

The cheese should start to melt after a couple of minutes of it coming in contact with the chili.
If you are a nacho fan, you will love these.  Trust me you have never had nachos like these before.  They are the ultimate!
Another fun twist to nachos is instead of using tortilla chips, use waffles fries.  If you love French fries you will love these nacho, chili fries.
Chili Dogs Make For A Great 2 For 1 Dinner.
If you like hot dogs and chili, why not combine the two?  They make for a great combination.
Ever have left overs but not enough to make a whole other meal out of them?
Have Chili Con Carne one night and then use left overs the next night to put on top of hot dogs.  You don't need a lot of chili for chili dogs and it makes a much heartier meal than just a hot dog.
2 meals in 1 is my kind of recipe.
Step Up Your Baked Potato Bar.
Baked potatoes are so easy to make.  Throw some in the oven, get out your toppings and wow people with homemade Chili Con Carne as one of your topping choices.

Chili Con Carne Variations:
Even though there are some similarities with all Chili Con Carne recipes, there are also variations based on personal preference.
Everyone has their opinion.
Add some ground pork 

Use chunked meat instead of ground. 

Add in pinto beans instead of kidney beans.

Use other chilies: Red Chili, Green Chili

Skip the beans all together.
I personally am a fan of the texture and flavor of ground beef in Chili Con Carne, but you can always make modifications to this dish.
A Healthier Option Than Ground Beef.
Use ground turkey instead of ground beef for a similar flavor and texture.
Another option is ground chicken. 
Obviously you can use shredded chicken too, but the texture will be different.
Beans Not Your Thing?  No Big Deal. There Are Other Ways.
Some people just don't like beans.  Beans are not a requirement for chili. 
However, for me personally when I think of chili I definitely imagine beans in the mix, but it isn't a must.
You can still have a chunky Chili Con Carne without beans.  For me I always want a chunky chili. That is nonnegotiable.  
So, don't just eliminate the beans or you will lose some chunky texture.  Replace beans with more meat or add other ingredients like tomatoes or corn. 
How much meat to add?  As you add the meat, keep an eye on it for the desired texture, but don't add more than 2 pounds of meat.
I love meat, but anymore than that would just be too much.
Add Fun Toppings
I already mentioned toppings, but here is a list with some additional topping ideas.
Chives

Herbs of Choice, like Cilantro

Cheese

Sour Cream

Plain Greek Yogurt

Tortilla Chips or Fritos
Plan Ahead and Make It A Freezer Meal
Can You Freeze Chili Con Carne?
Chili Con Carne freezes well.  Cook it up on a less busy day or make a double batch and freeze a batch for later.
Take out this treasure when you have a busy night and don't feel like making dinner.
How about a homemade dinner that you already have made?  Yes please.
As you can see you have so many options.  This simple, healthy Chili Con Carne can be easily customized to fit your personal tastes and dietary requirements.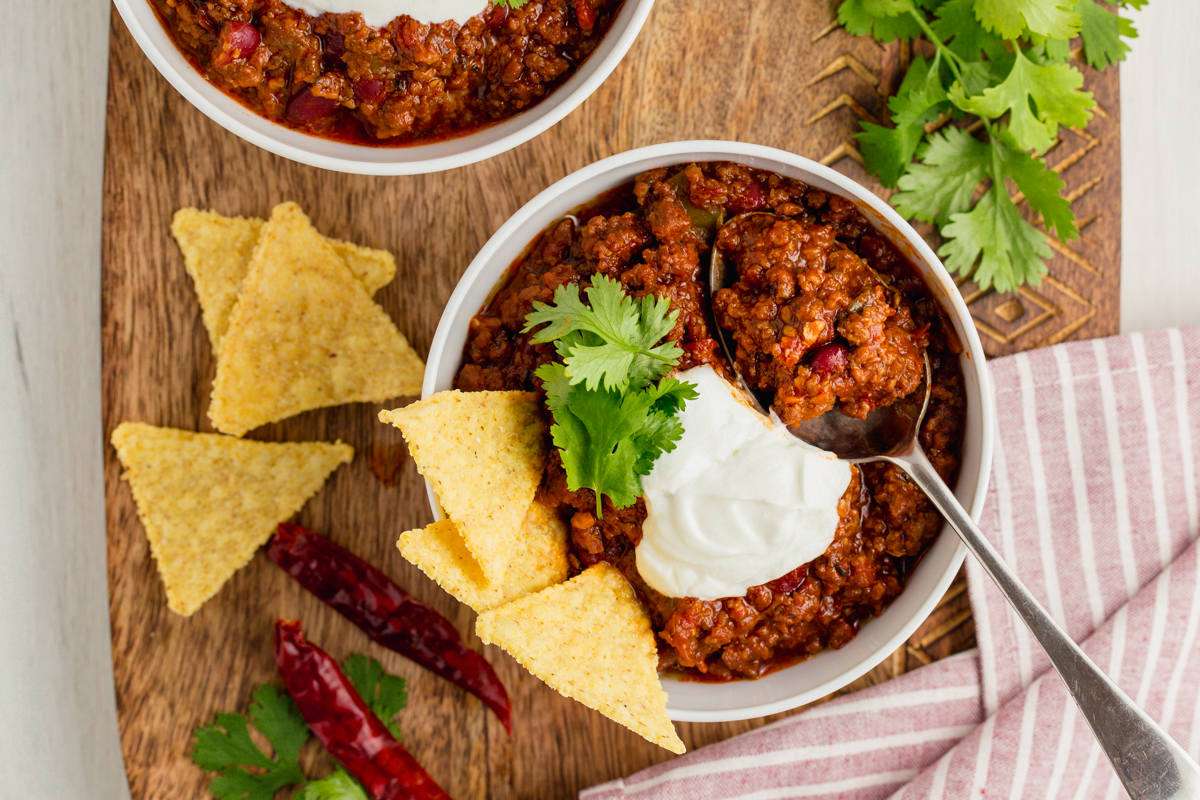 Classic Chili Con Carne FAQs:
Can you freeze chili?

  Chili or Chili Con Carne makes for a great freezer meal.  Store cooked chili in a gallon size freezer bag or in an air tight container in the freezer.  

How long does homemade chili last in the fridge or freezer?

 Stored in air tight container, chili should stay good in the fridge for about 3 to 4 days.  Stored in the freezer chili will last much longer, about 6 months.

How long can cooked chili be left at room temperature? 

Bacteria grows when food is left out in temperatures ranging between 40 degrees Fahrenheit and 140 degrees Fahrenheit.  Translation? Chili can't be left out safely at room temp for more than 2 hours.

How long can cooked chili last after being frozen and thawed?

It lasts for the same amount of time in the fridge as if you had just cooked it and transferred to the refrigerator, 3 to 4 days.

How long can you freeze cooked chili? 

The integrity of chili should be maintained for up to 6 months in the freezer, assuming it has been stored in an air tight container or freezer bag.
How To Serve Chili Con Carne:
So many ways to serve up this delicious dish.  My favorite? Serve over rice and accompany it with the most delicious homemade Cornbread Recipe.  Chili Con Carne and cornbread is a powerful duo.
Then finish the meal off right and enjoy some decadent S'mores Brownies.  DELICIOUS!
Don't Miss Out On Chili Con Carne!
You will love how this flavorful, home cooked Chili Con Carne recipe is simple, healthy and the perfect cozy dinner.  Cuddle up with a bowl of goodness made right in your very own kitchen.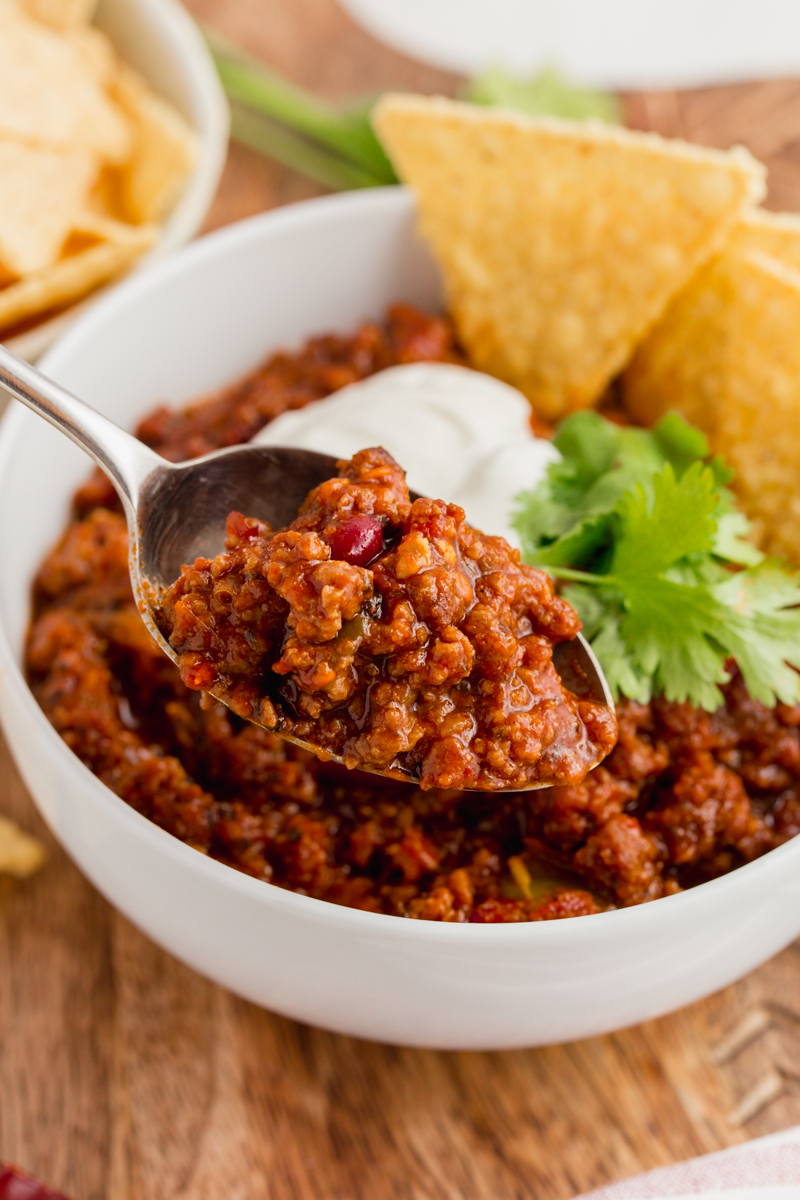 Other Chili Recipe Favorites:
Low Carb Chili: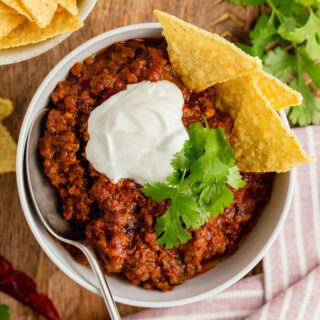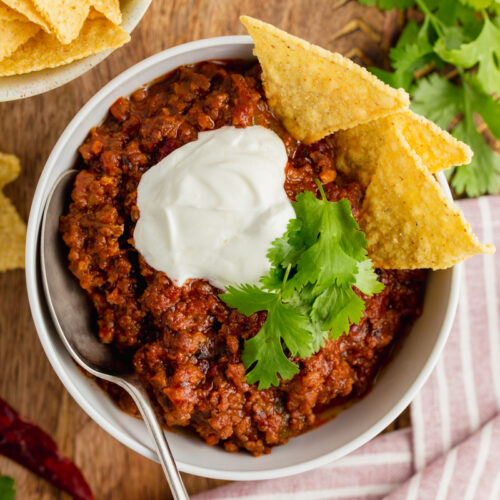 Chili Con Carne
A meat packed chili that is loaded with flavor but doesn't take much work to make. This is an easy chili recipe the whole family will love.
Print
Pin
Rate
Ingredients
Spice Mix
1 1/2

teaspoons

paprika

3

teaspoons

chili powder

1

teaspoon

cumin

½

teaspoon

cinnamon

1

teaspoon

cayenne pepper

2 1/2

teaspoons

dried basil

1/2

teaspoon

dried oregano

2

tablespoons

dried parsley

1/2

teaspoon

black pepper

1

teaspoon

salt
The Rest
4

tablespoons

vegetable oil

1

yellow onion

chopped

½

Tablespoon

minced garlic

1

green bell pepper

chopped

2 1/2

pounds

lean ground beef

2

cubes

beef bouillon

2/3

cup

red wine

32

ounces

whole peeled tomatoes

chopped

12

ounces

tomato paste

1/2

teaspoon

hot pepper sauce

more to taste

15

ounces

kidney beans

drained
Instructions
Mix all the spices together in a small bowl, by whisking them until combined. Set aside.

In a large skillet over medium heat, add oil. Once oil is hot, add onions, garlic, and half the spice mixture. Saute for 1 minute, then add in the green peppers.

Cook until peppers are soft.

Add ground beef to onion and pepper mix, and break up as you brown it.

Add bouillon and red wine, and stir in.

Cook for 2-3 minute until bouillon is dissolved into mixture.

Add chopped tomatoes (with juiceand tomato paste.

Add remaining spice mixture.

Turn heat up to a high heat, and bring to a boil.

Once boiling, reduce heat to medium, cover, and let simmer for 90 minutes.

After 90 minutes, stir in kidney beans and hot sauce.

Look at thickness, and if needed, add water or beef stock.

Continue to simmer for an additional 30 minutes.

If chili is too thin, let continue to simmer with lid off until desired thickness is achieved.

Taste, season with salt and pepper to taste.

Serve with cheese, chips, sour cream, jalapenos, cilantro, or whatever you like to garnish it with.
Our recipe card software calculates these nutrition facts based on averages for the above ingredients, different brands, and quality of produce/meats may have different nutritional information, always calculate your own based on the specific products you use in order to achieve accurate macros for this recipe.
Want to use this recipe in a meal plan?
Try PrePear, my FREE Meal Planning App that allows you to save your recipes, plan meals, shop for groceries, and cook simply in one place. Join Here!
Pin to your chili board: