The Instant Pot User Guide: everything you need to know to use your instant pot pressure cooker successfully!

Instant Pot Guide
Welcome to Instant Pot cooking! This multi-tasking device was designed to make your life in the kitchen easier. But it can be a little intimidating at first. But don't worry, I am here to hold your hand through it, and make the world of Instant Pot Cooking yours!
An Instant Pot is an electric pressure cooker, steamer, rice cooker, yogurt maker, and a saute pan with a boat load of pre-programmed settings to take some of the guesswork out of cooking. It was designed for the home cook that wants to set it and forget it. But it is a tool, that if you do not know how to use properly, will sit on your shelf and collect dust because it will be extremely frustrating.  
The guide that comes with the Instant Pot is…lacking. But I have got you covered. This post is full of tips and tricks for avoiding common problems and information to help you get great results every time you use your Instant Pot. It will address common concerns, pitfalls, and more.  
I am also updating it constantly as I learn new and exciting things about cooking under pressure! So check back often.
Instant Pot = Kitchen Tool
The instant pot is an excellent kitchen tool. If you learn to use it, you will learn to love it. 
It can help speed up cooking.

It can help you get intensive flavors in a shorter period of time.

It can mean cooking meat from frozen when you forget to pull it out and defrost it.
I am sure it does so much more, but let's not waste time on that for now. These are just some of my favorite perks. There are a lot of perks. But you can't take advantage of them if you don't know how to use it properly. Not learning the capabilities and quirks of the IP is like buying an expensive smartphone and only using it to make calls. So let's get started.
Favorite Instant Pot Recipes
Instant Pot Parts
You have to get to know your pot. And what each part is called, and why it is important. So let's do a quick review. The Instant Pot ships with these parts:
Base unit– It has lots of pre-programmed functions that are fun to explore.
Lid with sealing ring – The lid has a steam release handle valve, a float valve, and a sealing ring. The sealing ring is removable, and so are the valves (with a little work) so you can clean them.
Inner pot/liner– This is where the ingredients go. Do not put them into the base unit or it will ruin it. You can buy additional inner pots, which I totally recommend.
Condensation collector– This is a superfluous item in my opinion. I believe it is meant to collect the condensation that drips off the lid when you stand it upright on the base unit outer ring. I have never used it.
Power cord– Obviously helps supply power. On some models it is connected, and on others it is detachable. Good to note, if your pot doesn't appear to be working, this is the first thing you should check. It can come out fairly easily.
Measuring cup– This is for rice. It is not the equivalent of American measuring cups. 
Trivet– This handy tool is one of my favorite accessories, and can be used in two different directions. It helps get food off the bottom and out of the liquid. Great for hard boiling eggs, etc. Or flip it the other way. I flip it up on the handles and put my rice pan on it to cook rice at the same time as other foods like I did in this Korean Beef recipe. So handy!
Utensils– Great to have, good for the inner pot.
A few things to know:
The float valve will be in the down position when the Instant Pot is not pressurized, and then you know it is safe to open the pot.

The steam release valve needs to be in the 'Sealing' position for the pot to come to pressure. So unless you're using the slow cooker functionality, you will almost always set this to "sealing" when cooking.

The sealing ring can be removed for cleaning. Just be careful not to stretch it out when taking it off. When putting it back on, make sure it is on correctly or your Instant Pot won't seal. The ring will absorb smells, so you definitely need to clean it. More on how below.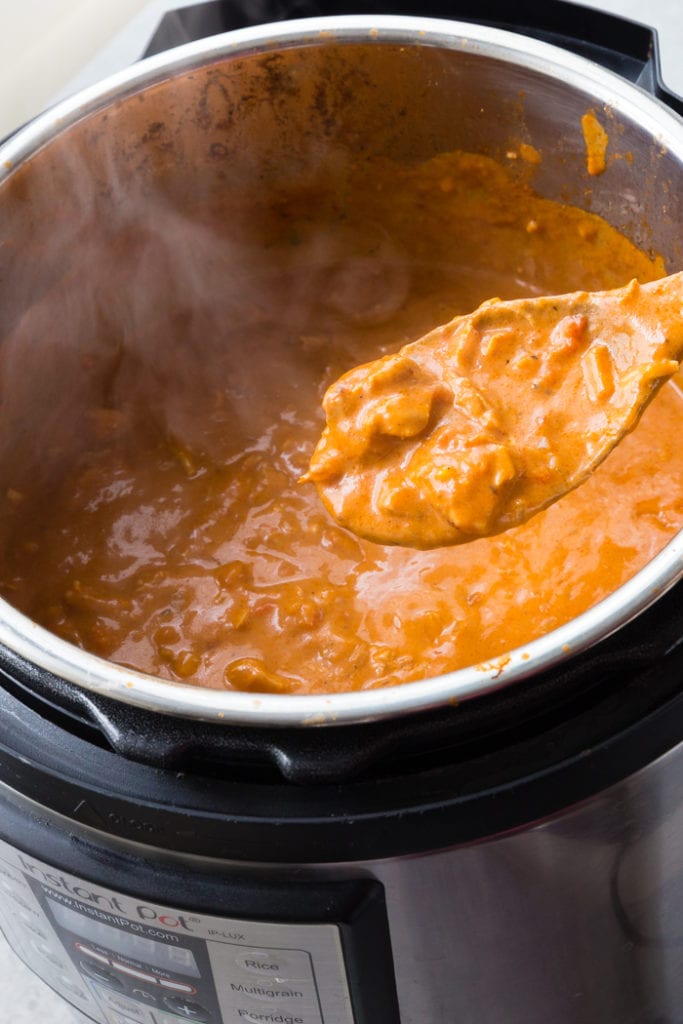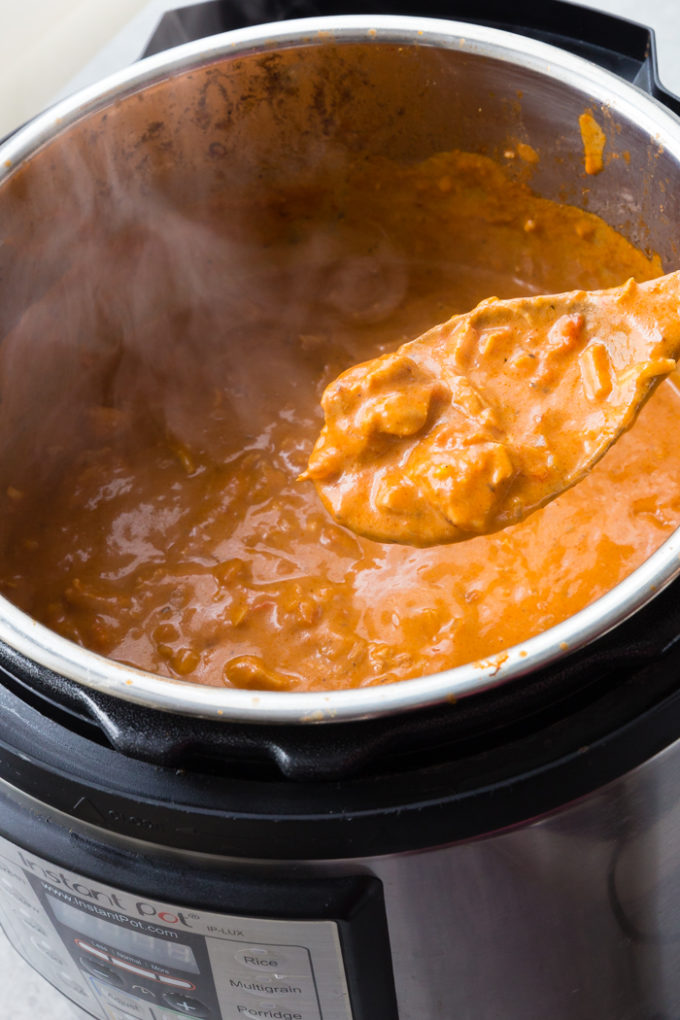 Pressure Cooker Water Test
This is step one for using your Instant Pot. The water test is a way to make sure your pot is not defective. That it will seal entirely and be able to come to pressure. It is a good first step and will insure you don't waste food in a faulty pot.
The manual is going to tell you to use a bunch of water. Don't. It will take forever. Just use a cup or two of water, and put the lid on, lock it in place and do the test. If you use a bunch of water you will be waiting 30 plus minutes for the pot to come up to pressure, and you will likely think the pot is broken.
Adjust Expectations
The instant pot is fast, but not a miracle worker. You won't get a pot roast cooked to tender fall apart goodness in 20 minutes.  It just isn't going to happen. However, it is far quicker than using a slow cooker, and can produce similar or even better results. We absolutely love this Mississippi Chuck Roast, and it is on the table in under 2 hours. In my crock pot it takes 8.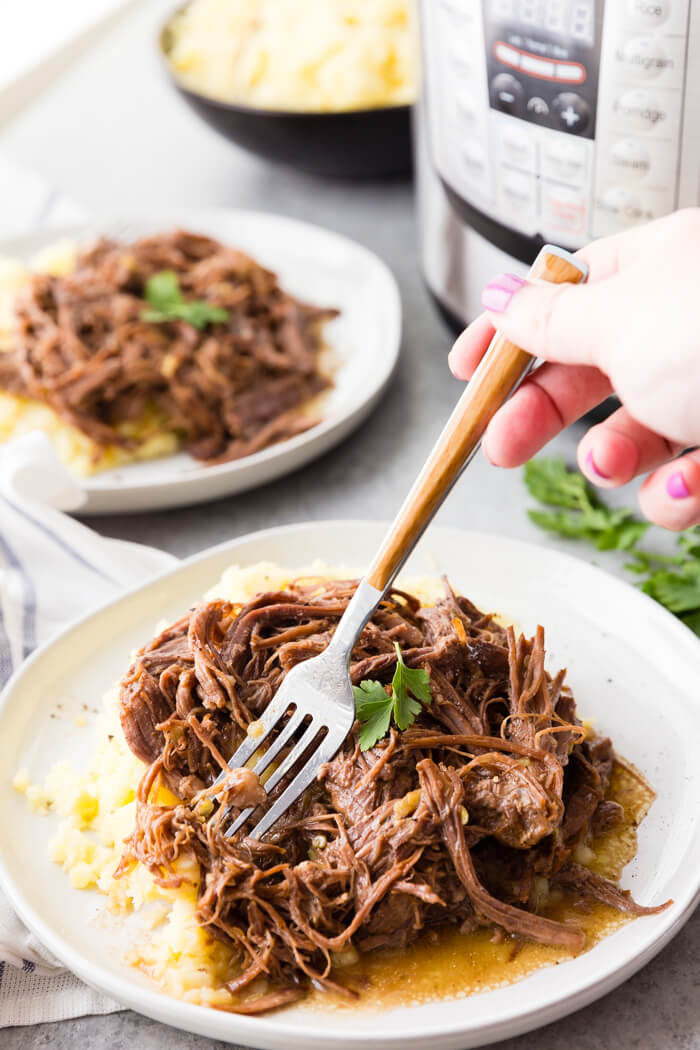 There are simply some things you can prepare faster or better on the stove or in the oven, or on a grill. This is a tool, not a one size fits all, magic fix it for all your cooking needs. You just have to figure out how to make the best use of this new tool for your circumstances. It is really nice to be able to set the pot then walk away and not have to tend it. And it does some things (like cooking from frozen, or making dried beans amazing) better than any other tool. This guide should help you figure out the best use of the pressure cooker Instant Pot, for you!
No matter what you do, adjust those expectations, and give yourself a reality check and you will be far happier. Too many recipe writers title things like "5 Minute Sweet and Sour Chicken" which leaves people disappointed when it actually takes 20 minutes to get the chicken on the table. This common problem is because the recipe writer is quoting the cooking time. However, cooking time does not include the time it takes for the pot to come to pressure or to depressurize.
Getting Your Pot To Pressure
Liquid in pot
In order for the pot to come to pressure there has to be liquid. In the 6Qt or below, you need at least 1 cup of liquid. In the 8 Qt and above you need at least 2 cups of liquid.
The liquid can be an ingredient, or can come from an ingredient. For example, frozen chicken breasts may release liquid when defrosting, so you may be able to get away with less other liquid initially. Regardless, liquid is necessary to build steam and pressure.
Broth, water, wine, etc. will all work. But a sauce like a BBQ sauce that is not diluted will have too high of a sugar content, and can burn, which won't allow the pot to come to pressure. If you are using something like tomatoes as your liquid, you may need to dilute them a little to make it work. 
Think of a pot coming to pressure like preheating the oven. And plan for it. How long it takes depends on how full the pot is, whether the ingredients inside are fresh or frozen, how big your pot is, etc. So plan on 10-30 minutes of additional time when preparing recipes for the pot to come to pressure and to depressurize.
Set your valve to the "sealing" position. Some steam will still escape from the valve while the pot is coming to pressure. This is normal, do not worry. It will eventually stop once the float valve rises, indicating the pot is sealed. However, if it sputters, and liquid is spitting out, then you may need to reposition the valve to "sealing again".
Once the float valve rises the pot display will change from "On" to the countdown of time, or cooking time.
Tips for getting your pot to pressure faster:
Use the right size pot- A bigger pot will take longer to come to pressure. So choose the right size Instant Pot for your needs. I have a family of 6 so I own a 6Qt and 8Qt and go between them based on what I am cooking.

Turn the saute function on while adding ingredients, just be sure to add liquid first. This will help heat the pot up and can cut down on time for coming to pressure. But it may also start to cook ingredients. So use your best discretion, and adjust cooking time accordingly.

Heat liquids you add in the microwave before dumping them in.

Make sure the seal is tight, and the sealing ring is on properly, otherwise you may have to remove the lid, adjust it, and start over.
Release Pressure
When cooking time is up, there's the matter of releasing the pressure. The top of the pot has this handy little valve you can turn to release pressure. However, there are times when quick releasing pressure is a bad idea, and can ruin a dish. Learning when to use a NPR or Natural Pressure Release versus a QR Quick Release is one of the most important aspects of properly using a pressure cooker.
Natural Pressure Release versus Quick Release
After the pressure cooking time has finished. You can release the pressure two ways.
Quick Release: A quick pressure release is when you open the steam release valve and allow the steam to release quickly.

Natural Release: You do nothing, when the cook time is up, you let the pot sit, and let the pressure come down naturally. A natural pressure release can take from 5 to 30 minutes in the electric pressure cooker.
When the pressure is fully released, the float valve will drop and the lid will unlock to open. The pressure cooker will not open until the pressure is released and the float valve has dropped.
Tips when Quick Releasing Pressure:
Keep your face and hands away from the steam as it's released.

Don't release pressure under hanging cabinets, which can be damaged by the steam. Some people will take a piece of PVC pipe in an elbow shape and use it to redirect steam. I prefer the next option. 

Cover the release with a tea towel to avoid being burned by any spitting water or steam. I just stick a rag/towel over the valve, and then twist. 
When to use which?
I use this basic rule of thumb: If I need to stop the cooking so things do not overcook I use a Quick Release, if not I use Natural Release for at least 10 minutes. 
QR (Quick Release): Using a quick pressure release stops the pressure cooking quickly. Use a quick pressure release when you are cooking ingredients, like vegetables, that you want to avoid overcooking. QR is best for vegetables, pasta, rice, and shrimp
NR or NPR (Natural Pressure Release): Use a natural pressure release to release the pressure gradually. During a natural release, the cooking continues so you need to take that in to account when determining your cook time. Often, when a recipe calls for a natural release, the author is counting on that time to finish cooking the food.
Natural release is especially important when cooking meats, particularly roasts. A quick release creates a kind of pressure vacuum and can suck all the moisture out of the pot, leaving your meat dry, chewy, and tough. Think of the natural release as the rest period. Just like with grilling, you need to give the meat a chance to relax the muscle fibers, and for those juices to reabsorb so your roast or whatever you are cooking will be tender.
Whenever I hear someone say their roast was tough, my first question is whether or not they let the pot naturally release pressure.
TIP: There is one small trick, the 10 minute natural release, followed by a quick release. This gives you the benefits of a natural release, but speeds things up a bit.
10 Minute Natural Release:  Wait 10 minutes, then release remaining pressure using the steam release valve.
Keep In Mind: When your pot has finished the cooking cycle and switches over to "Keep Warm" and you are doing a NPR, you do not need to turn off the IP or unplug it. By leaving it on the "Keep Warm" setting, you do not slow down the pressure release, and you get the benefit of the timer to count down how long it has been since the cooking time ended.
However, if you think you may forget to turn off your pot, it won't hurt it to shut it off or unplug it. Personal preference should be considered.
Instant Pot Settings
The Instant Pot is a mutli-cooker, meaning it has different settings to accomplish different tasks. For example, the "yogurt" setting is programmed to hold temperature at a place where the yogurt can incubate. So it would not be the best setting to use to try and cook a chuck roast. Understanding the various settings and when to use them and not use them is important.
"Manual" vs. "Pressure" Cook:
When you read a recipe and it says "manual" and then you look at your instant pot and don't see that button, do not panic. Instead use the "Pressure" or "Pressure Cook" button, it's the same thing! IP models are different, and older models said "manual" where newer models read "pressure". This is where you manually set the amount of time you want something to pressure cook for.
High – Low :
The default is high. If the recipe doesn't indicate to change the pressure setting, then assume it means high.
Program settings:
Poultry, Meat, Stew, Rice, Cake, Yogurt etc. are buttons that you can hit on your base, and may vary based on which model you buy. The important thing to remember is that these are much like a microwave's presets for "popcorn" or "defrost". They can be a great starting point, and are just a pre-set time and power setting, that is standard for the food type. But lucky for us, you can still cook chicken in the pressure cooker without hitting "Poultry".
If you aren't using a recipe, they can be great for figuring out cooking times. But most recipes will use a manual or pressure cook setting.
Keep in mind: If you use a program setting you can still adjust the time.
Other settings: Keep Warm & Sauté
Keep Warm: This is the setting your pressure cooker will default to after cooking time is up. The Instant Pot will utilize this setting for up to 6 hours.
Sauté: This is one of my favorite settings, and one of the reasons I love my Instant Pot. It means I can braise my beef, sear my chicken, etc. and then cook it all in the same pot for low mess. Use this function for browning meat, sautéing onions, garlic, etc. before cooking, and for reducing sauce after cooking.
When on the saute function, you can change the temperature. It can go low/less, medium/normal, and high/more.
Pot -In-Pot (PIP):
One of my favorite parts of using the Instant Pot is being able to cook several parts of dinner at the same time. Like with this sweet and sour chicken, I can cook the chicken in the sauce and cook the rice at the same time.
When you cook food in another dish/pan inside the Intant Pot pot, it is called Pot-in-Pot. There are many reasons you would do this. Such as when you do not want the food to touch the bottom of the pot, or if you don't want it to cook sitting in liquid.

What kind of pots can you use?
The rule of thumb is that if it is oven safe, it is pressure cooker safe. You can use loaf pans, Pyrex glassware, foil pouches, parchment pouches, silicon molds, etc.
CAUTION: Be careful when using glass that you do not use anything with a chip in it, as it can shatter when under pressure.
If cooking rice, cakes, meatloaf, lasagna, cheesecake, etc. you would use a separate pot. If you are cooking multiple things, like fish wrapped in parchment and then a steamer of veggies, you would utilize this method. You can stack items, and there are lots of fun accessories you can buy to do this as well. But I say look around your kitchen and see what you have that might work. I use a 6 inch cake pan to cook rice in my Instant Pot, along with chicken and sauce. It fits perfectly, and I just set it on top of the trivet.
A note on rice: When cooking rice, it is important to play around to find your personal preference with ratios of water to rice, and time to cook and release. I love 2:1 water to rice, with a bit of butter, 4 minutes cook time, and 5 mins NPR. But my kids say the rice is too soft that way. So figure out what works for you. If you use the programmed setting for rice, remember that it only applies to white rice. The manual should give you good instructions for cooking other types of rice.
Cooking from Frozen
One of my favorite perks of the Instant Pot is the ability to cook from frozen. Unlike a slow cooker where the food would sit at unsafe temperatures too long, the Instant Pot can handle frozen foods without giving you food poisoning.
For the most part, when cooking from frozen the cook time will not change. The time it takes for the pot to come to pressure will increase due to the frozen mass inside of it. But the cook time should stay the same.

The exception is when you have something that is a solid block, or is very thick, like a frozen roast, or chicken in a solid block, instead of individually frozen pieces. In which case you may need to start with a little time, break it apart, and then cook it again for longer. Or increase cooking time to insure the entire thing cooks through.
Cleaning Smelly Sealing Ring
The ring that helps to seal your pot is going to get smelly. It will absorb the scents from the herbs and spices and things you cook with. It happens to everyone. But in order to avoid making your yogurt taste like your curry, or the dish from tonight having hints of last night's dinner, it is important to know how to clean the ring.
The ring is removable, and dishwasher safe. So feel free to clean that way. However, it is not always enough. So here are a few tips:
Steam Clean:
Fill the Instant Pot insert with two cups of white vinegar or two cups of water and a lemon rind.

Seal the lid, lock it into place, and run the Instant Pot on the "steam" setting for two minutes.

Remove the ring from the lid and let it air dry completely.

It should be clean and smell as good as new.
UV Rays:
Wash your gasket with soap and water.

Set it out in the sun for a few hours to air dry.

The UV rays should do their job and leave it smell free.
Freeze it:
Wash it.

Dry it.

Freeze it.
Honestly, there are a lot of opinions, so try them all to figure out what works best for you. Usually I will hand wash, run it in the dishwasher if needed, and stick it in the sun if it is getting stinky. Some smells are more stubborn than others, and it might take a combo of some of the above. But those smells can transfer flavor, so be sure to wash it up. And replace it if needed. You can find them on Amazon. 
Tips:
Have two sealing rings: one for savory dishes and one for desserts, rice, oatmeal, etc.

Always store your IP lid with the inside UP – not sealed in place, to encourage air flow, and not trap smells inside.
Storing your Pot:
You may find yourself using your pot a lot, but you still need to know how to store it. I would suggest find a shelf or cupboard space, or leave it in a dedicated space on a counter. DO NOT store it on top of the stove.
Best storage practice:
Unplugged

Liner in, to avoid accidentally pouring liquid into the base.

Lid upside down, with the sealing ring on.
Cooking Tips:
Always saute onions and garlic before pressure cooking, it will help release flavor, and soften them up.

Add thickener, flour, corn starch slurries etc., to make gravy/sauce after your done pressure cooking. Use the saute function to reduce if needed.

There is a lot of "user-error" with pressure cooking, so if you want consistent results when something turns out it is important to take good notes about what you did. Include things like the size and weight, plus cut of meat, amount of marbling in the roasts you use. The amount of liquid, buttons you use, sauté or not, frozen, fresh or thawed. Time cooked, NPR or QR.  Recipe writers should try and be very detailed for you, to make it easier, but this is not always the case, so take notes on what works for you and what doesn't.

Cream soups should be added after pressure cooking in most cases.

In general, dairy products like milk, cheese, cream cheese, etc. should be added after pressure cooking.

Deglaze your pan after searing anything using cooking wine, stock, or water, otherwise the pot will read "Burn" and won't come to pressure. To deglaze, pour a little liquid in while still on saute, and use a wooden spoon to scrape the bottom. It will add flavor as well. Yum!

Sear your meats for a better, deeper flavor. This post is supposed to make life easier, but you still need to employ sound cooking practices, or your food just won't taste as good.
Remember not everything is meant to be cooked in the Instant Pot. Somethings are just better grilled, baked, etc.
Precautions:
Do not put your Instant Pot on your stove top. I am part of several Instant Pot groups and communities online, and it never ceases to amaze me how many people melt or damage their pot or their lid by sticking it on the stove.  The best solution I can think of to this problem is just to never place it on your stove. Ever. Some people do not have the counter space to put it elsewhere, but chances are you will bump a knob, or not realize the stove was still hot from something else and it will be ruined.

Don't pour anything directly into the base, always be sure the inner lining pot is inserted. It can ruin the machine if the interior gets wet. So figure out how you can make sure you never accidentally pour liquid into the base. This might be putting a rubber band across the top as a visual reminder, only storing it with the inner lining pot in it, etc.

Better to undercook than over. When in doubt about a cooking time, start conservatively. This will help you to not ruin food by overcooking. It is very quick and easy to add time, but you can't uncook something. So when testing a new recipe or a new method, error on the side on not cooking enough. Your pot will come back up to pressure in just a minute or two.
Recommended Instant Pot Accessories:
Now that you know everything you need to be a skilled and excellent Instant Pot home chef, let's talk about adding accessories to make life with an instant pot even easier.
Here are the ones my community of Instant Pot lovers recommend the most: