Instant Pot Corned Beef and Cabbage: A tender, flavorful, and totally fun recipe for Corned Beef and Cabbage, cooked in an instant pot, or slow cooker. You only need about 5 minutes to get everything ready for a delicious Irish meal of Corned Beef and Cabbage.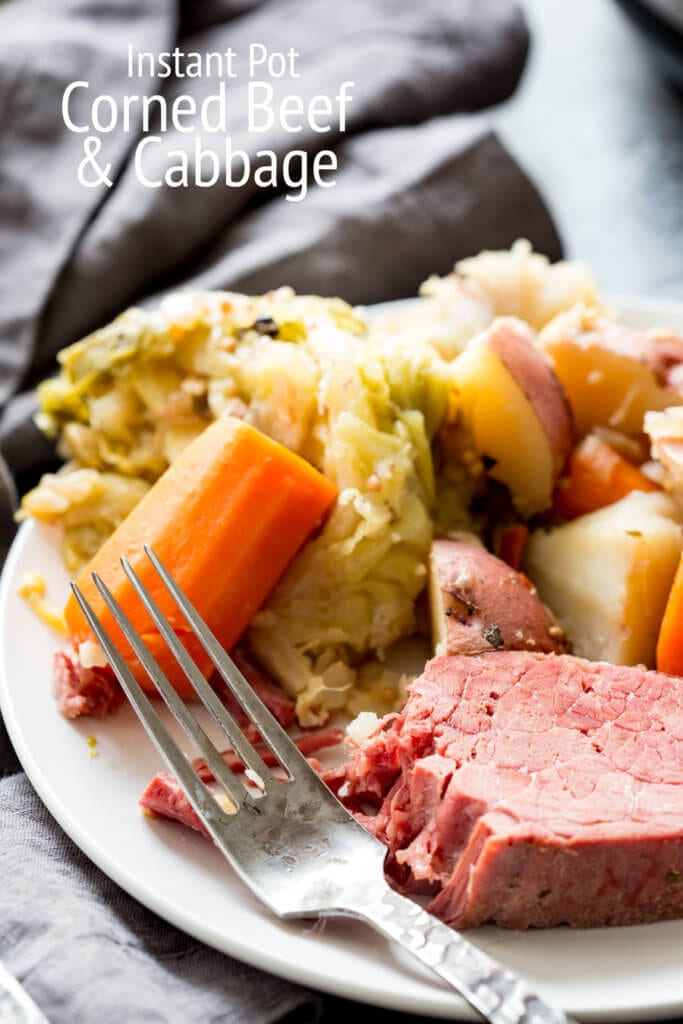 Would you believe me if I told you I was in my 20's before I ever tried Corned Beef?? Like seriously, I had never even eaten a Reuben before. We did not grow up eating it, and I had never come across it before.
When Facebook first started getting bigger, we would follow all of our friends, and pretty much anyone we knew. Right? Like now, I try to only follow people who I actually care to see what is going on in their lives, but when it first started, you followed anyone else who had Facebook. I feel really old knowing that I was around when Facebook started. But anyway, a girl that I barely knew in High School posted something about how she could not wait for her family's traditional Irish dinner on St. Patrick's Day: Corned Beef and Cabbage.
She seemed genuinely excited to eat it, so I knew I needed to try it. I went out to dinner with a friend, and tried it.  It was only ok. I was not a fan. Fortunately I gave it another chance, because I have since realize I just had some that wasn't prepared that well. And it is actually super yummy.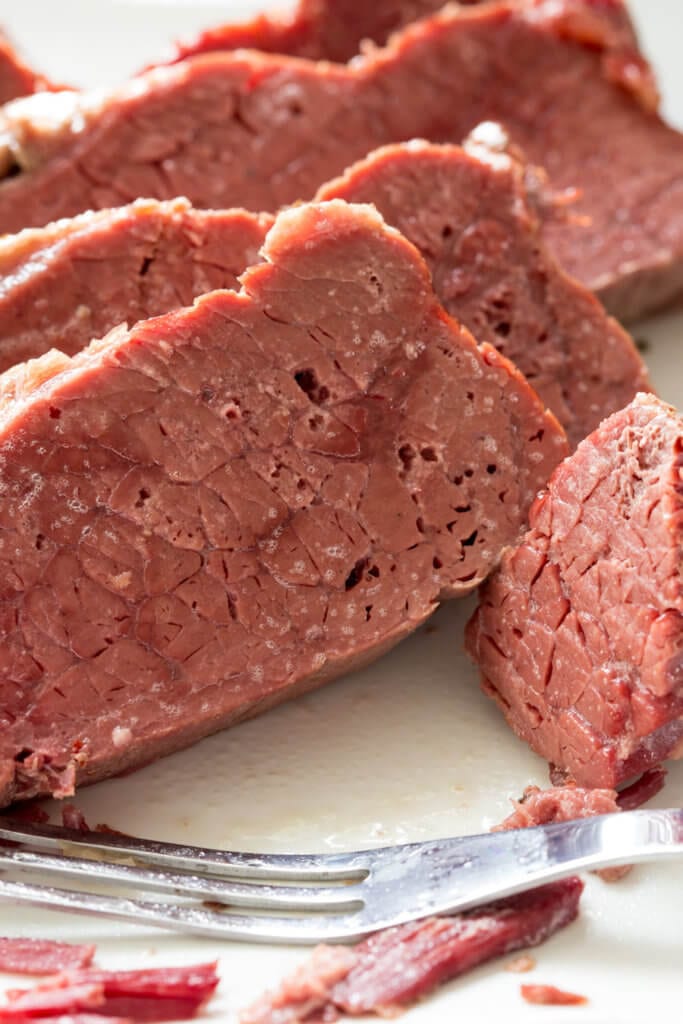 This recipe for it is cooked in the INSTANT POT! Which in my opinion is one of the greatest kitchen gadgets ever. I seriously love it. It is just so convenient. Anyway, it takes about 5 minutes to throw everything in, and the instant pot does the work. Then you take the corned beef out, and add in the veggies and cabbage. And a few minutes later you have a complete meal.
I added carrots and potatoes to my corned beef and cabbage because I love having the variety. The flavors were awesome, and it turned out to be absolutely delicious. So I am really glad I opted for the addition.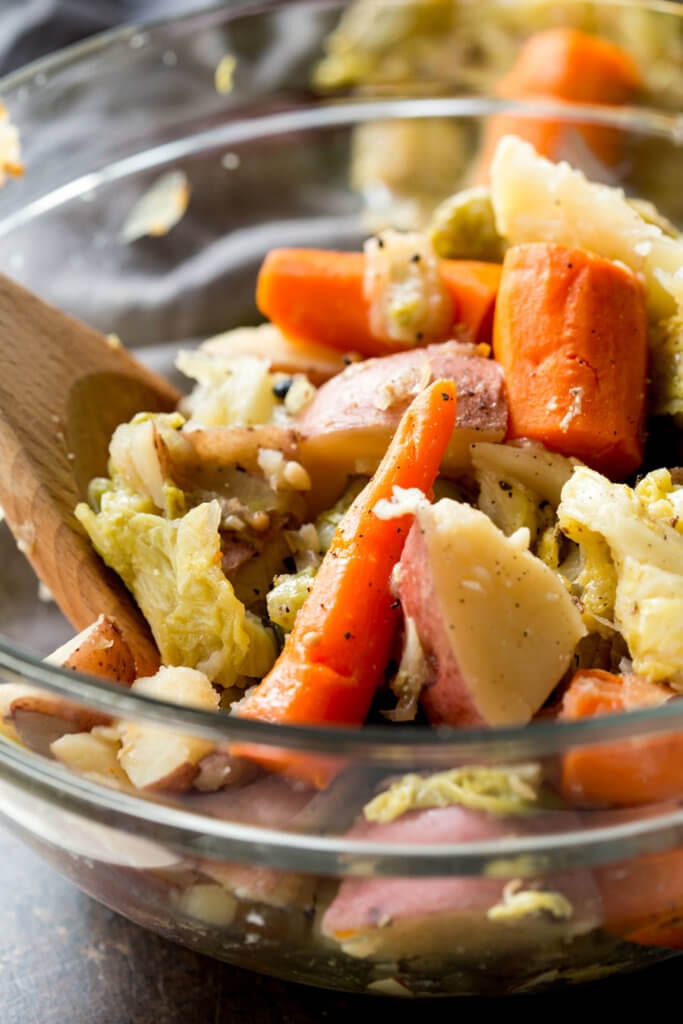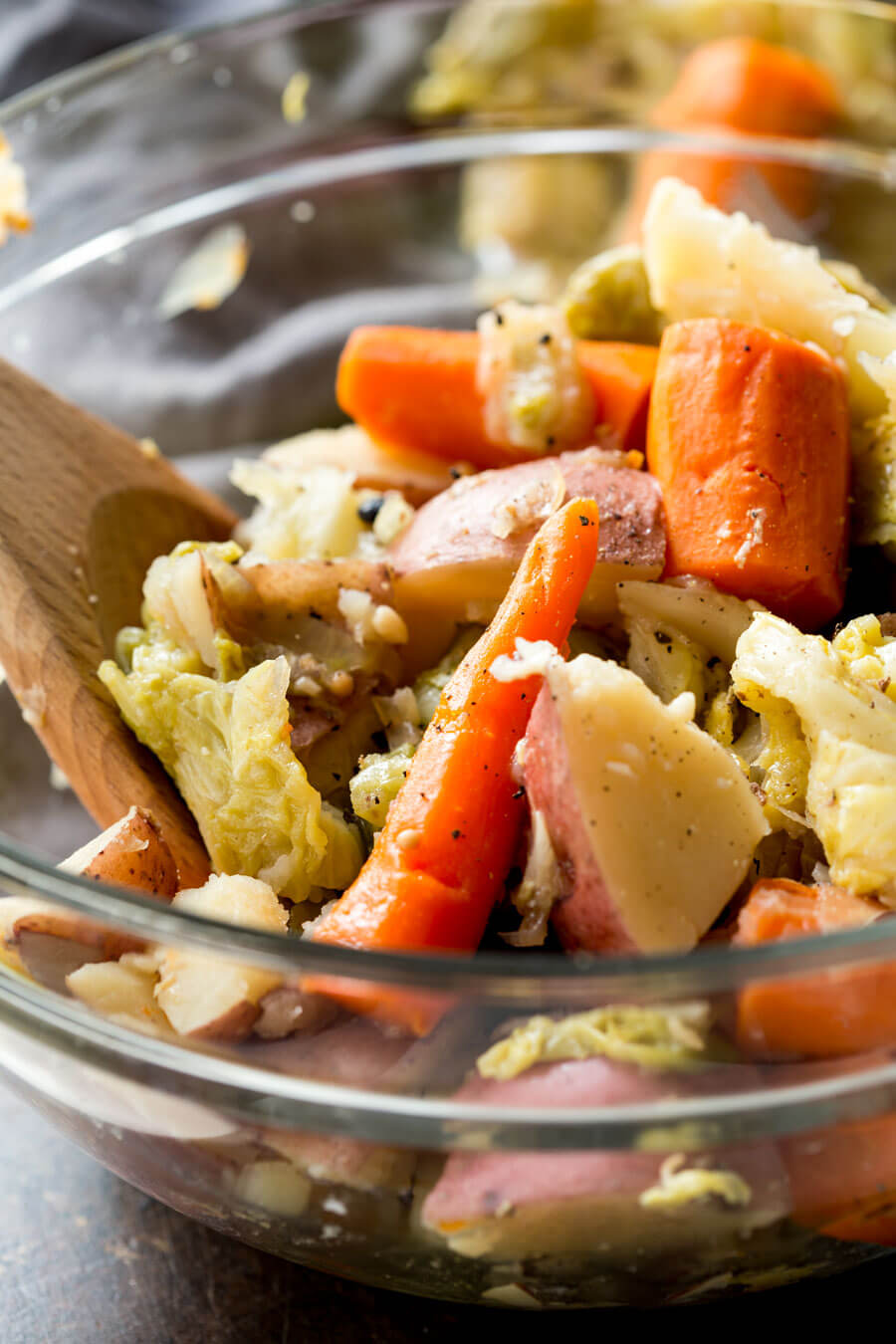 Anyway, you can totally cook this whole meal in a slow cooker too, if you don't have an Instant Pot. But I suggest getting one. They are under $100, and make dinner prep so easy. I made these pulled pork and 3 bean salad protein bowls in one! Delish.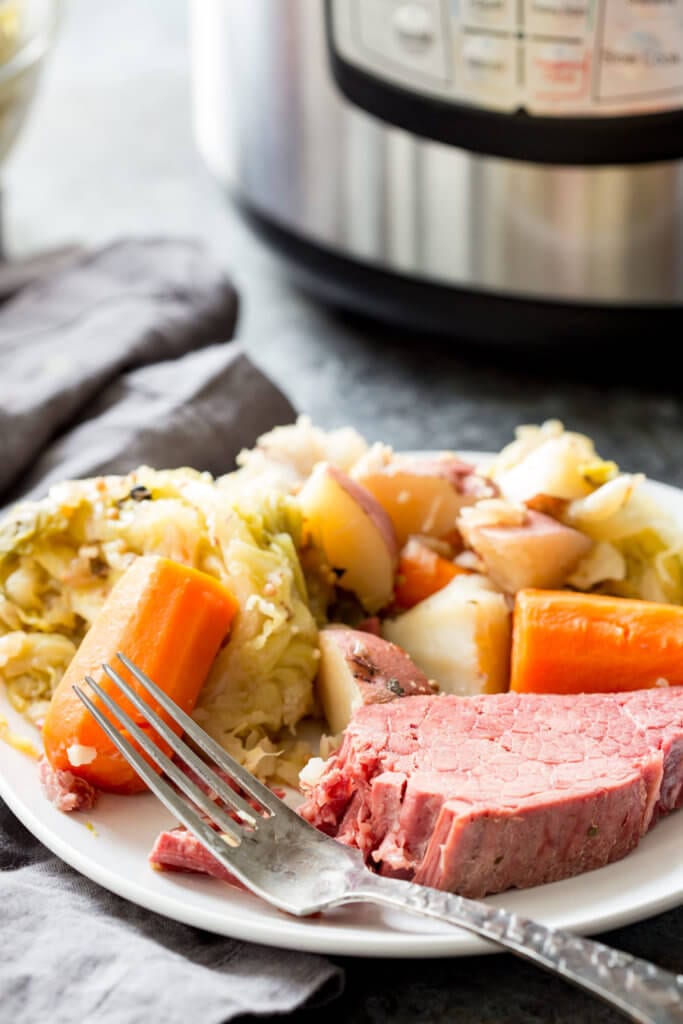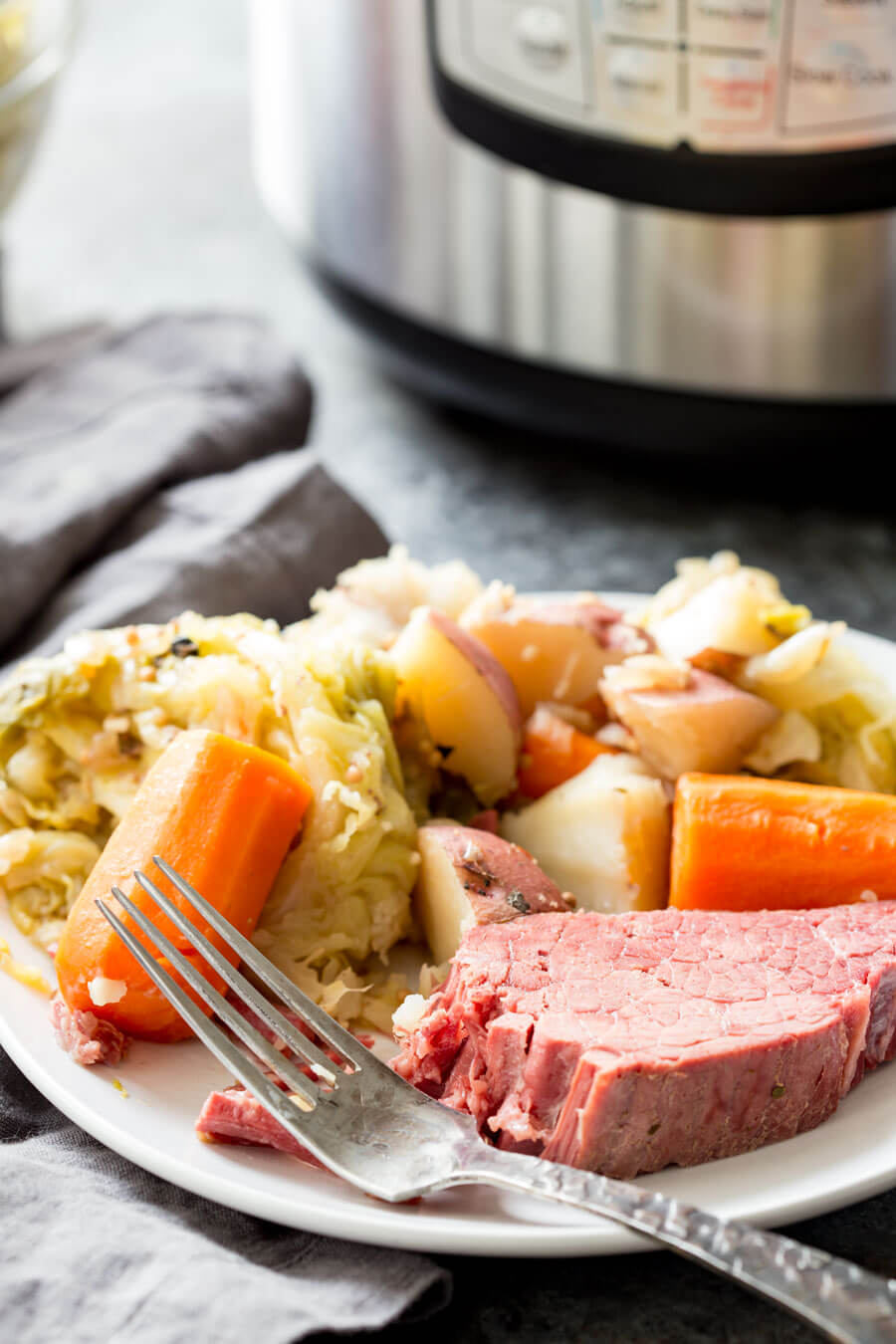 Instant Pot Tips for Corned Beef & Cabbage
You can set your instant pot to a preset like "meat" or you can set it manually.
Just use the seasoning packet that comes with the corned beef, but if you don't want to do that feel free to add bay leaves, whole mustard grains, and thyme. But strain them out of the liquid before cooking the vegetables.
Give the pot time to depressurize with the corned beef, rather than venting it will help it be more tender.
When cooking the cabbage, vent it so that it doesn't get too soggy.
Put cabbage on top of everything else so it is above the liquid, you may need to drain a little liquid off.
Corned Beef & Cabbage (Instant Pot or Slow Cooker)
Ingredients
Corned Beef

3-4 pound Corned Beef Brisket
3 cups Beef Broth
3 cups Water
Seasoning packet from corned beef
1/2 cup yellow onion, minced fine
3 Garlic Cloves, peeled and whole
15 whole peppercorns

The rest

6 Red Potatoes, rinsed and cut into bite sized pieces
5 Carrots, peeled and cut into 2-3 inch pieces
1/2 and onion, sliced
2 cloves Garlic, minced
½ teaspoon Salt
1 head green Cabbage, cut into 8 wedges
Instructions
Place corned beef in Instant Pot , fat side up
Add water, beef stock, seasonings, garlic, peppercorns, and onions.
Put lid on, and set to "sealed"
Use meat setting, or manual setting, and set to 60 minutes.
The display will turn to "ON" and after it is hot and pressure has increased it will start counting down.
When the time is up, wait for the pressure float to go down on it's own, or vent it, and remove lid.
Remove corned beef from pot, place on a plate and cover with foil, set aside.
To the liquid in the pot, add the potatoes, carrots, onions, garlic, and salt, and put the cabbage on top of all of that.
Put lid on, set to sealed.
Press "Manual" and increase cooking time to 10 minutes on high pressure.
When finished, wait for pressure float to come down, or vent and remove lid.
Drain liquid off, and serve vegetables with sliced corned beef.
Enjoy!
Place all ingredients except the cabbage into a large (7 Qt) Slow Cooker , and cook on high for 4-5 hours.
Add cabbage on top and cook an additional hour.
Remove, drain off liquid and enjoy!
7.6.4
953
https://www.eazypeazymealz.com/corned-beef-cabbage-instant-pot-or-slow-cooker/
Pin to your DINNER board on Pinterest:

Get EZPZ Updates In Your Inbox!