Crock Pot Chicken Pot Pie:
Creamy, delicious, comfort food made easy in the slow cooker so it is ready when you are.
Crock pot chicken pot pie is not your average chicken pot pie, rather  it is a chicken pot pie filling made in a slow cooker, then topped with buttery biscuits, and baked for a simpler version of a classic pot pie.
It contains no cream of anything soups, and is loaded with veggies, and delicious chicken, which means when you finish off the meal with a slice of homemade chocolate cake, or a nibble of lemon bar, you won't feel too bad about it.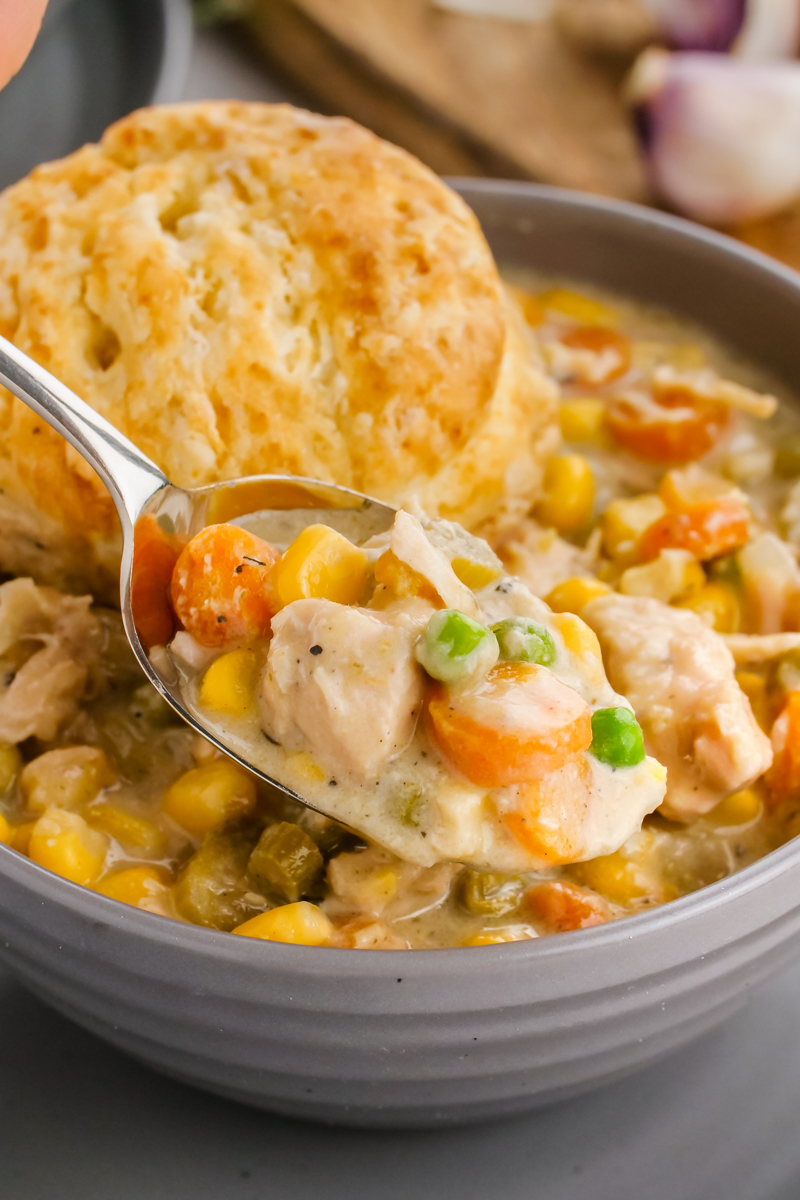 Chicken pot pie is one of my kid's favorite meals, that and easy homemade spaghetti sauce. But sometimes I just don't feel up to the work of making a homemade pie crust, and a pot pie filling, and then baking it all up.
Dinner hour is often chaos, and I need something that I can do all the prep work for earlier in the day, so at dinner time it is quick, easy, and doesn't require my attention.
This is where the slow cooker chicken pot pie comes in. It gives you all the things you love about Classic Chicken Pot Pie, but very little hands on time during the dinner chaos.
Why We LOVE Crock Pot Chicken Pot Pie
This is the best ever short cut to chicken pot pie recipe, and here is why:
Comfort food without the work. I thought I couldn't love my slow cooker any more. I was wrong. Ok, yes you still need to cut up your vegetables and chicken, and the sauce is homemade so it takes a few minutes, but because it slow cooks for up to 6 hours, you can do that during the slower parts of your day, and enjoy chicken pot pie flavor without any rolling out dough.
From scratch—kind of.  No condensed soup or cream of anything soup. This recipe is nearly all from scratch, except the biscuits, which I use a canned biscuit for to cut down on time and hassle. However, you can use these Easy Homemade Buttermilk Biscuits if you want to go fully homemade. The filling has no cream of anything soup, and it tastes awesome.
Customizable: This recipe consists of chicken, gravy, vegetables, and buttery  biscuits. As a mom I love knowing what goes into the foods my kids eat, and I love that I can amp up the veggies if I need to, skip the chicken if needed, or sub in something else. I love throwing in odds and ends veggies, and changing the flavors up some based on what I have in my fridge.
No Crust: Admittedly, I love crust, but I hate rolling it out. And am not a fan of store bought pie crust. I want light and flaky. This recipe doesn't use crust, which means you eliminate a lot of the work.
How to Make Crock Pot Chicken Pot Pie
One of the things I truly love about this recipe is at the core it is only a few simple steps.
Cut everything up. Basically, prep your ingredients. This is washing and chopping the veggies, and cubing the chicken. And get it all in the crock pot.
Make the sauce.   The sauce is done stove top, and while I realize this makes this not 100% crockpot, it is worth it to avoid having to use a canned soup or cream of something to get a thick sauce. The sauce uses the technique called making a roux, which essentially means mixing butter and flour together over heat, then slowly adding liquid to get a  nice thick sauce.
Let it Cook.
Bake the biscuits. The great thing here is you don't even have to dirty  another pan to bake the biscuits to top this slow cooker pot pie mixture. You do it right in the slow cooker liner.

How to Thicken Chicken Pot Pie in Crock Pot
I have tested this recipe enough times I feel confident saying you should not have to thicken the filling. However, with that said, you might…
Here is why:
Water content in chicken: Depending on the chicken you buy, it may be "plumped" up using injections of salt water. Which means when it cooks, it releases a lot more water than a different chicken breast may.
Water content in veggies: The water content in the vegetables can also vary from those that I used, especially if you opt to use any frozen vegetables.
If you find that when it comes time to add your biscuits, your recipe resembles a soup rather than a thick stew, or filling, you will want to thicken it up so the biscuits don't sink into it and become more like dumplings than a yummy topper.
How to Thicken:
Add half a cup of instant mashed potato flakes. This is an easy  way to thicken, while also adding some extra heft and heartiness to the slow cooker chicken pot pie.
Make a corn starch slurry: This is a fancy way of saying use cornstarch and water to thicken things up. To use cornstarch to thicken the filling, you mix together 2 tablespoons of cornstarch and 3 tablespoons of cold water. Once the cornstarch is all mixed with the water so you don't have lumps, gradually stir it into the hot liquid of the slow cooker. Let it cook for 10-30 more minutes to thicken.
Cook longer.  If you have time let it cook longer, and know it will thicken some as it cools.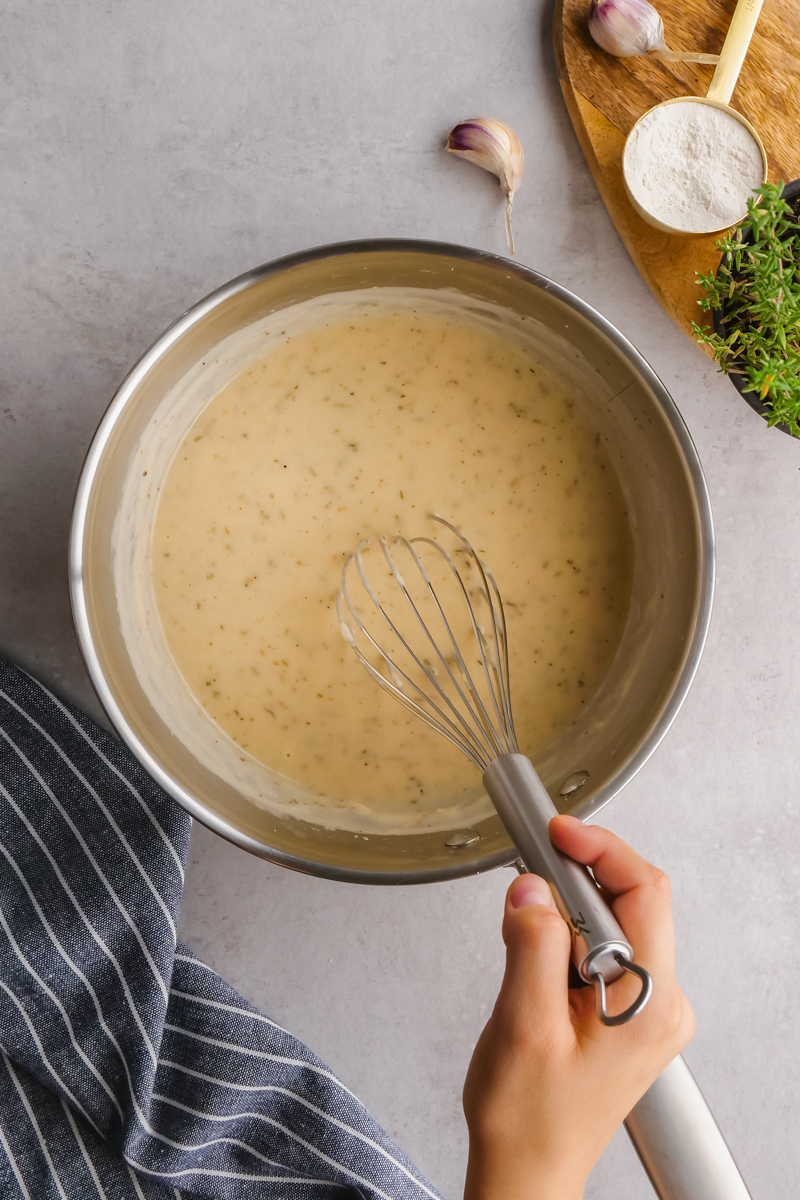 Tips for Easy Crock Pot Chicken Pot Pie
Creamy, hearty, addictively delicious, but did we mention easy? This is one of those fix and forget type meals, with only one step after getting everything into the pot, and that is baking up the biscuits to finish it all off.
Here are some tips to make things easier, and help you get the best crock pot chicken pot pie topped with biscuits every time.
Make things faster with already chopped vegetables: If pressed for time, look for already cut or frozen vegetables to replace the veggies in this recipe. This can change the overall texture and slightly alter flavor, but often the time savings can be worth it.
Taste the sauce: The sauce you make for this slow cooker chicken pot pie is a huge part of the flavor of this dish, which means you need to taste it and adjust as you go. If you don't like the taste, you won't like the finished dish. So make it, taste it, adjust it, and then add it to the rest. Then taste it again before you top it with the biscuits, and if it needs anything (like salt or pepper) add it at that time.
Add peas and corn last. You can reserve the corn and peas until the end just before baking the biscuits to help them keep texture and flavor. But I have made it both ways, and it is delicious no matter when you add them.
Bake until biscuits are golden. The recipe calls for about 13-15 minutes, but every oven heats a little differently. The goal is not to cook the chicken pot pie filling, as it is already  done at this point, it is to make delicious biscuits to serve as the "crust". You do not want them to end up soggy, so make sure to bake them until they are nice and golden.
One Pot Chicken Pot Pie Variation Ideas:
When it comes to variations on this recipe, the biggest thing to keep in mind is you can change whatever you want to your preference as far as what is added. The sauce, and the method should stay the same.
Love broccoli? Add broccoli. Love potatoes? Add extras. You can change it to your preference.
Why Use Biscuits instead of Crust?
Biscuits are easier than crust, and more consistent. But you can use crust on the top like you do with the biscuits, and cook it the same way.
I do not recommend using crust on the bottom of the slow cooker.
Can You Use Crust?
Can  you make crock pot chicken pot pie with pie crust? You can use crust on top! Just like with the biscuits, you would add the crust near the end of cooking, and finish the crust in the oven.
Can You Use Crescent Rolls?
You can use crescent rolls instead of biscuits.  You can use bisquick as well and make a biscuit from that.
Other Variations:
Crock pot chicken pot pie filling with egg noodles: Instead of topping with biscuits, serve this delicious filling over egg noodles.
Slow cooker chicken pot pie soup: This s a real simple thing you can do, when finished cooking, add chicken stock, milk and cream to achieve desired consistency and creaminess and eat as a soup.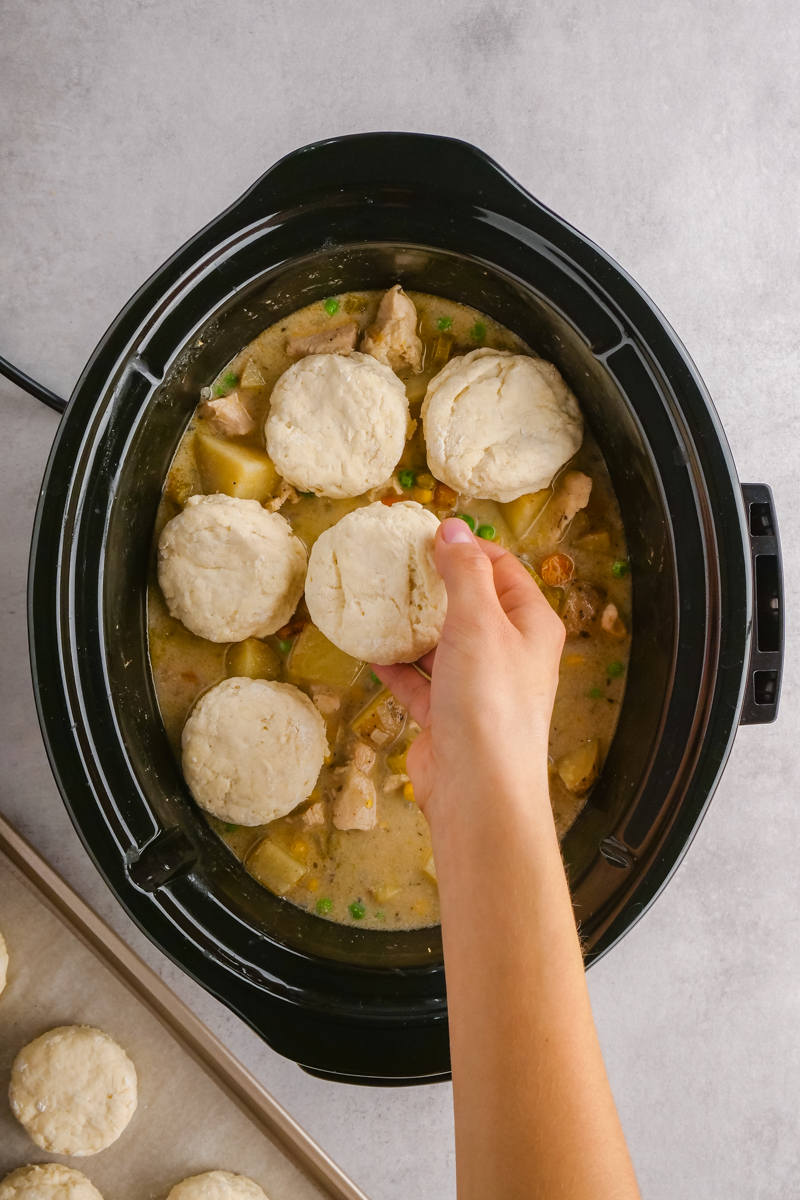 What you need to make this easy recipe for pot pie in the slow cooker
A Crock Pot or Slow Cooker: I  suggest a 5 Qt or larger.
Biscuits: I love giving myself the ease of using a pop can of biscuits. But  you can make them from scratch as well. My easy homemade buttermilk biscuits work really well here.
A Sauce Pan: To make the sauce that goes over all those yummy vegetables. It is the usual players of carrots, potatoes, onions, etc. but you can add in others if you want. If adding something delicate, wait until  part way through the cooking time so it doesn't get mushy.
A Little Time: This recipe does not take too much hands on time, and can be made in the morning so you can set the slow cooker and forget it until later in the evening when you are ready to eat, but it does take time to work, so plan ahead so you don't end  up hungry with half cooked chicken.
Tips for Making this Easy Recipe Even Easier
Crock pot liners: This is one of the quickest and easiest ways to clean a slow cooker. One of the beauties of the low and slow chicken pot pie cooking method is you get all those flavors melding together to make a really delicious pot pie. But it can also mean baked on sauce all over the sides.
A crock pot liner will help to eliminate that mess.
Frozen Veggie Mix: Another great way to make easy chicken pot pie in the slow cooker is to use a frozen vegetable medley, and frozen potatoes, so you do not  have to do any washing or chopping. If you are in a big rush, this is an excellent way to get dinner on the table (or in this case, in the crock pot) faster.
Crock Pot Chicken Pot Pie with Canned Soup: This method is a real time saver as well. Instead of making your sauce, you can combine canned soup (cream of mushroom, cream of chicken, or cream of celery, with some chicken stock, and pour over the mixture. Then when the time is almost up, add some milk or heavy creamy to get that creamy consistency you want, or add cream cheese and stir it all together. It will change the flavor, but can help cut down on time.

This slow cooker chicken pot pie recipe is freezer friendly!
This recipe is extremely freezer friendly.
Make Ahead Freezer Friendly:
Toss all the ingredients, except the potatoes and sauce, in a freezer bag.
Make your sauce, and put into another freezer bag. Then freeze!
When you are ready to cook, dump both bags into the slow cooker and add in your potatoes, and cook like normal.
Yes, you do have to add potatoes fresh, so if you want to avoid this step, substitute already frozen diced potatoes for fresh.
Freezing it ahead of time saves time and money for you as you have something ready to go, and can make the meal when you have time, rather than on a busy day. That way on busy days you can just toss it all in the slow cooker and be done.
Freezing already cooked Chicken Pot Pie from the Slow Cooker:
If you want to cook it all the way  through and freeze it, I suggest cooking everything in the slow cooker, then transferring it to a foil pan for freezing. Do not add the biscuits. Instead, thaw and heat the filling in the oven at 350 degrees for about 45 minutes, then add the biscuits and finish baking.

What to Serve with Chicken Pot Pie Made in the Crock Pot
Chicken pot pie in the slow cooker is essentially a complete meal. But it is always great served with a nice salad like this Peach Burrata Summer Salad, or this tasty cucumber and tomato salad.
More Crockpot Inspiration:
Video For How to Make This Chicken Pot Pie: Crock Pot Recipe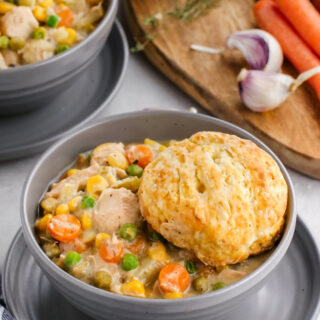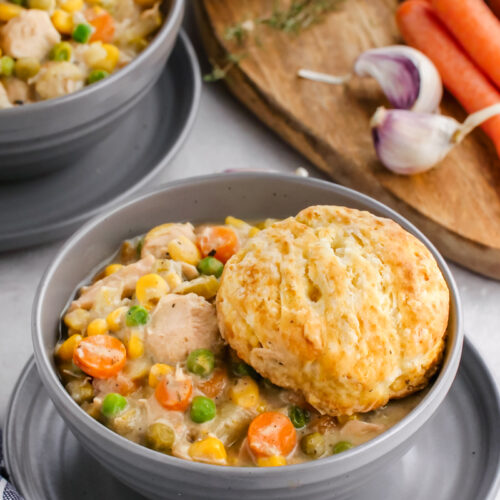 Crock Pot Chicken Pot Pie
Crock pot chicken pot pie is creamy, delicious, comfort food made easy in the slow cooker so it is ready when you are.
Print
Pin
Rate
Ingredients
16

ounces

refrigerated buttermilk biscuits

8 biscuits

4

boneless skinless chicken breasts halves

cut into cubes, about 2 lbs

1

lb

red potatoes

quartered

1

cup

baby carrots

chopped

1

cup

celery

chopped

1

onion

diced

1

cup

corn kernels

1

cup

petite peas

2

teaspoons

garlic powder

1

teaspoon

celery salt

1

teaspoon

ground black pepper

1

cup

chicken stock
Sauce
3

tablespoons

unsalted butter

3

cloves

garlic

minced

1/2

cup

all-purpose flour

1 1/2

cups

chicken stock

1/2

teaspoon

dried thyme

1/4

teaspoon

dried parsley

1/4

teaspoon

dried oregano

Pinch

of paprika

Kosher salt and freshly ground black pepper

to taste
Instructions
Spray a slow cooker with non-stick cooking spray

Add the chicken, potatoes, carrots, onion, celery, garlic powder, celery salt, and black pepper into the slow cooker, and pour 1 cup chicken stock over the top.

Put the lid on and turn onto a low heat setting

On the stove top, make sauce by melting butter in a large saucepan.

Add garlic and cook, stirring until fragrant, about a minute.

Whisk flour into the butter mixture and stir until it is starting to brown, about 1-2 minutes.

Gradually whisk chicken stock into the butter mixture.

Once combined, add thyme, parsley, oregano and paprika.

Cook until sauce has started to thicken and resembles the consistency of a stew. This takes about 5-10 minutes.

Taste, and season with salt and pepper.

Pour sauce over the chicken mixture in the crock pot, and stir, then return lid and cook on High for 4 to 5 hours.

When 15-20 minutes remain on the cooking time, add your peas, and preheat oven to 350°.

When time is up, turn off slow cooker and open tube of biscuits, carefully place biscuits on top of the chicken mixture.

Remove the ceramic, inner part of the slow cooker and bake in the oven for 12 to 15 minutes, or until the tops of the biscuits are golden brown.

Ladle chicken pot pie mixture into bowls with a biscuit on top and serve.
Notes
To keep peas and corn from over-cooking, you can add them at the end, just before removing the pot pie filling to the oven. But the recipe works well no matter when you add the peas and corn. 
Our recipe card software calculates these nutrition facts based on averages for the above ingredients, different brands, and quality of produce/meats may have different nutritional information, always calculate your own based on the specific products you use in order to achieve accurate macros for this recipe.
Want to use this recipe in a meal plan?
Try PrePear, my FREE Meal Planning App that allows you to save your recipes, plan meals, shop for groceries, and cook simply in one place. Join Here!
Pin this to your crock pot board: