This is a sponsored conversation written by me on behalf of Kroger. The opinions and text are all mine.This is a sponsored conversation written by me on behalf of Kroger. The opinions and text are all mine. #ad #freezerfreshideas
Cozy, warm, and comforting, this Easy Meatball Soup is a classic flavor combo in a delicious soup form. Tomato based soup loaded with veggies, noodles, and savory meatballs. You will love how simple, and amazing this soup is.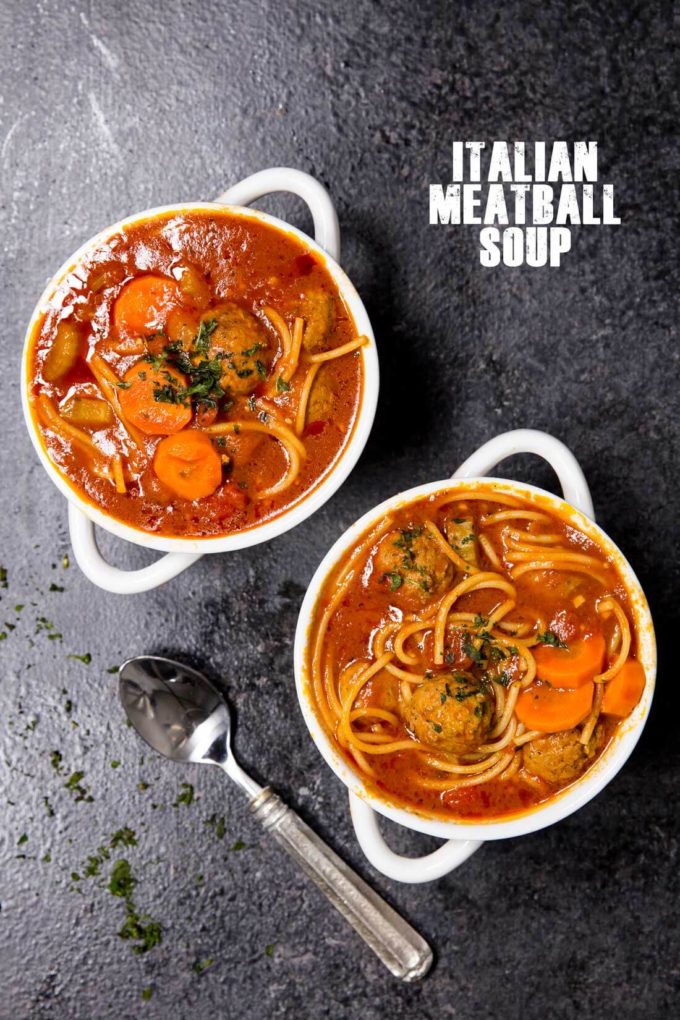 Happy New Year! Do you guys set resolutions? This year I have a lot of goals for my business and for my family. But when it comes to personal resolutions I realized I am not very good at sticking with them. Life has a way of getting chaotic and complicated, and they fly out the window pretty quickly. So instead, I decided to start my year with a theme, and that is to simplify where I can. This means outsourcing more, and being more present. It also means being okay with help and short cuts.
I have a tendency to make life harder for myself than it needs to be. For example, on a weekend I was already over booked and overwhelmed, I decided my child had to have homemade cupcakes for their birthday party. Not even from the box. Well guess what, making those cupcakes stressed me out, made my kitchen a mess, and put me in a bad mood for his party. I should have just bought some cupcakes. The kids would not have cared either way and I would have been far more pleasant.
The point of this story is that this year I am giving myself permission to enjoy some easy recipes with some great short cuts. And to take advantage of the freezer section at my local Smith's grocery store.
When it comes to meal planning, using things like already chopped and ready veggies, or premade meatballs, or maybe even a frozen pizza now and again makes my life easier, and means a home cooked meal and time to spend with my family.
I get giddy just thinking about all the time I am going to save, and all the delicious food I am going to eat. I was browsing the site www.freezerfreshideas.com and my mind was spinning with the possibilities for simple meal planning and delicious foods my family will love. It had recipe ideas, coupons, and articles. And I couldn't wait to start cooking.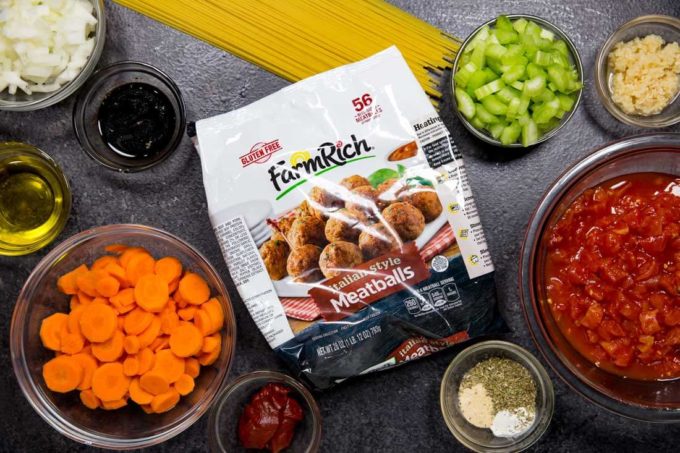 Instantly I thought of this amazing soup! It is a Classic Italian Meatball Soup, but instead of spending tons of effort making meatballs, I bought the already made Farm Rich Italian Meatballs. They are delicious, and the perfect addition to this hearty, and fantastic soup. And it is ready in less than 30 minutes! It doesn't get better than that!
So treat yourself to a simple recipe with a great short cut, and take a minute to browse the freezer section in your local Kroger. It might surprise you what is there. There are so many fun, healthy, and delicious options, ingredients, and meals. And I am certainly planning to take advantage of them.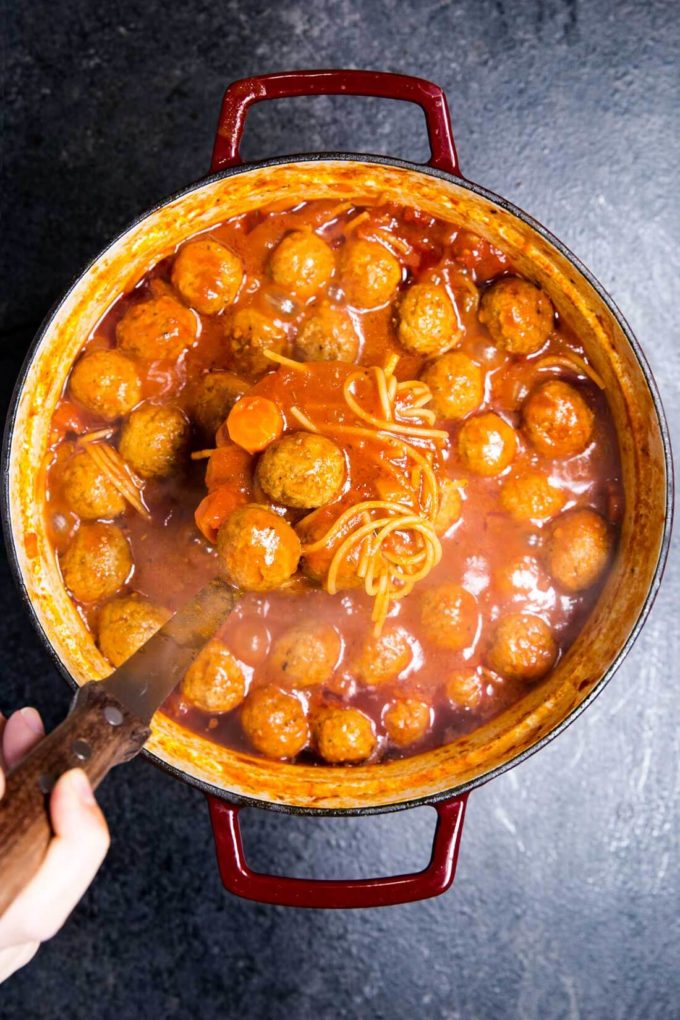 Yields 8 servings
Easy Meatball Soup
A delicious and easy Italian meatball soup, savory veggies, delicious meatballs, and almost no work at all!
15 minPrep Time
30 minCook Time
45 minTotal Time
Ingredients
2 Tbs olive oil
1 cup yellow onion, finely chopped
2 Tbs minced garlic
3 cups beef stock
29 ounces tomato puree
2 ounces tomato paste
28 ounces canned petite diced tomatos
1 tsp garlic powder
1 tsp onion powder
1 Tbs Italian seasoning mix
1 Tbs balsamic vinegar
1 cup carrot, chopped fine
1 cup celery, chopped fine
8 ounce package spaghetti noodles, broken in half
1 bag Farm Rich Italian Style Meatballs (56 count)

Garnish

Parmesan reggiano for garnish
Fresh basil
Instructions
In a heavy stock pot, over medium high heat, add olive oil onion and garlic and cook for 2 minutes, until fragrant.
Add beef broth, and bring to simmer.
Add tomato puree, tomato paste, and petite diced tomatoes, garlic powder, onion powder, Italian seasoning, and balsamic vinegar.
Bring to a simmer.
Once simmering, add in carrots, celery, and Farm Rich Italian Meatballs.
Let simmer 5 minutes, covered with lid.
Stir occasionally while simmering.
After the 5 minutes is up, add spaghetti noodles in, break them in half.
Use a spoon to press them into the pot so they are completely submerged.
Cook for approximately 12 minutes, until spaghetti is al dente.
Remove from stove. And serve!
Garnish with that delicious parmesan cheese and basil if desired.
7.6.4
900
https://www.eazypeazymealz.com/easy-italian-meatball-soup/
 Pin to your Soup board on Pinterest:

This is a sponsored conversation written by me on behalf of Kroger. The opinions and text are all mine.