This post is sponsored by Mirum, all opinions are my own.
Gifting Less Stress
Life is stressful, find less stress with your tea moment, and a collection of things to help you unwind, relax, and slow down.  
During the fall and winter seasons, and especially during the holidays it can be a challenge to juggle everything life throws at you. From family obligations, activities, and of course work and running a household.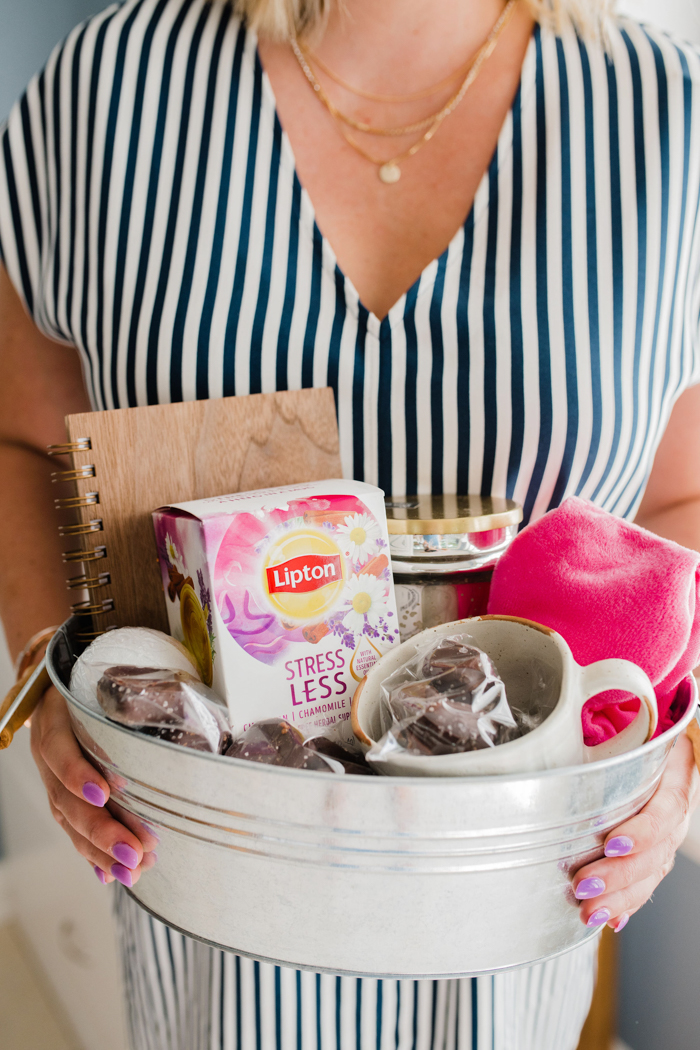 I tend to always have a lot on my plate with running an online business, caring for 4 young children, chauffeuring them to and from their various activities, trying to stay healthy etc. So when I add the holidays to the mix, or bad weather, crazy driving conditions (we live where there is a LOT of snow), I have to remind myself to slow down and actively do things to combat my stress. 
Otherwise the results are never fun. 
I know I am not alone, and so many of us are trying to do it all and feeling the stress of that. So, today I am reminding you to enjoy the hectic holiday season more by remembering to slow down and take a tea moment with Lipton Stress Less Herbal Supplement or your favorite tea.
Don't know what tea is right for you? 
Take the Walmart Tea Quiz from www.discoverteashop.com to discover the Possibili-teas, and order right online to have your tea of choice delivered right to your door. 
Additionally, I am sharing some of the things I do to combat stress. 
And not just how I combat stress, but how I am using these ideas in my holiday gifting, to create fun gifting baskets for my friends, family, kid's teachers, and even my neighbors during the holiday season. Because we could all benefit from less stress! Am I right?  
How I Combat Stress:
There are a million articles online about ways you can reduce stress, but one thing I have found they all have in common is so many of those things take time. And time is the one thing I do not have. 
Because I feel like I never have enough time to add more into my routine, I have looked for products and solutions that are quick and simple, but effective for reducing my stress, but that integrate seamlessly into what I am already doing.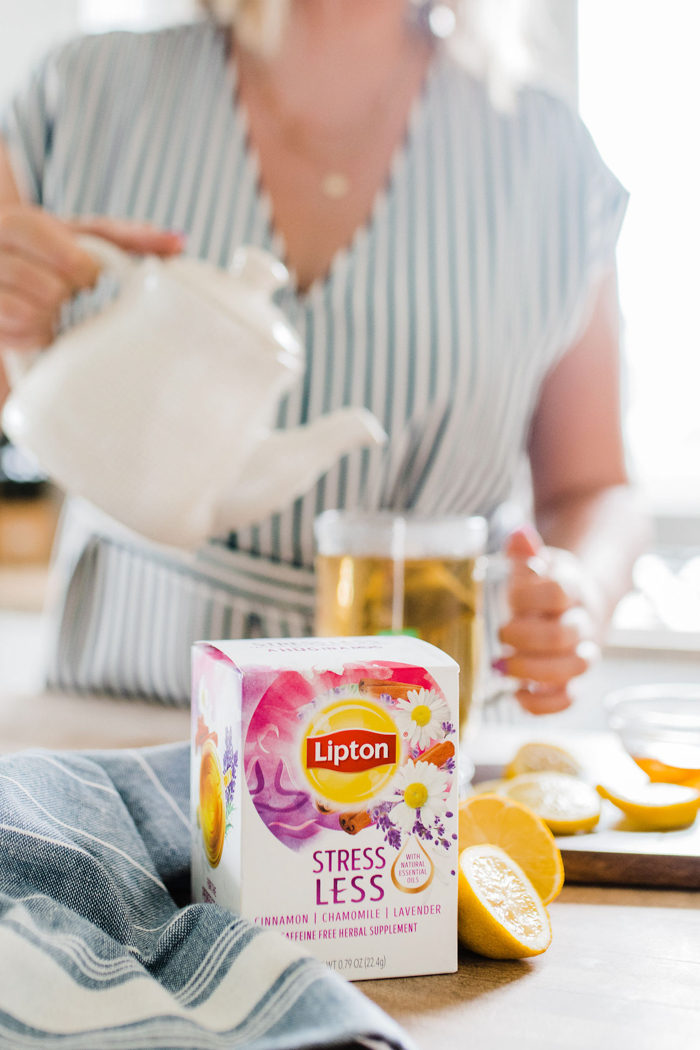 Lipton Stress Less Herbal Supplement
For example, drinking a cup of Lipton Stress Less Herbal Supplement in the morning with my breakfast sets me up for a great day. 
Like most busy moms, I wake up with a to-do list 5 miles long, and the Lipton Stress Less Herbal Supplement Tea, helps me to relax, rewind, and then press play again with a caffeine-free herbal supplement that has cinnamon, chamomile, and lavender. 
This is my kind of tea. I  love the comfort of a cozy herbal blend that helps me unwind after a long day, or helps me start my day on the right foot.  
It's no secret that certain herbs have been known to have calming and relaxing benefits. You'll find many of those same herbs in this tea.
Stress Less is delicious, with carefully selected botanicals blended with lavender essential oil. And is a great addition to my diet.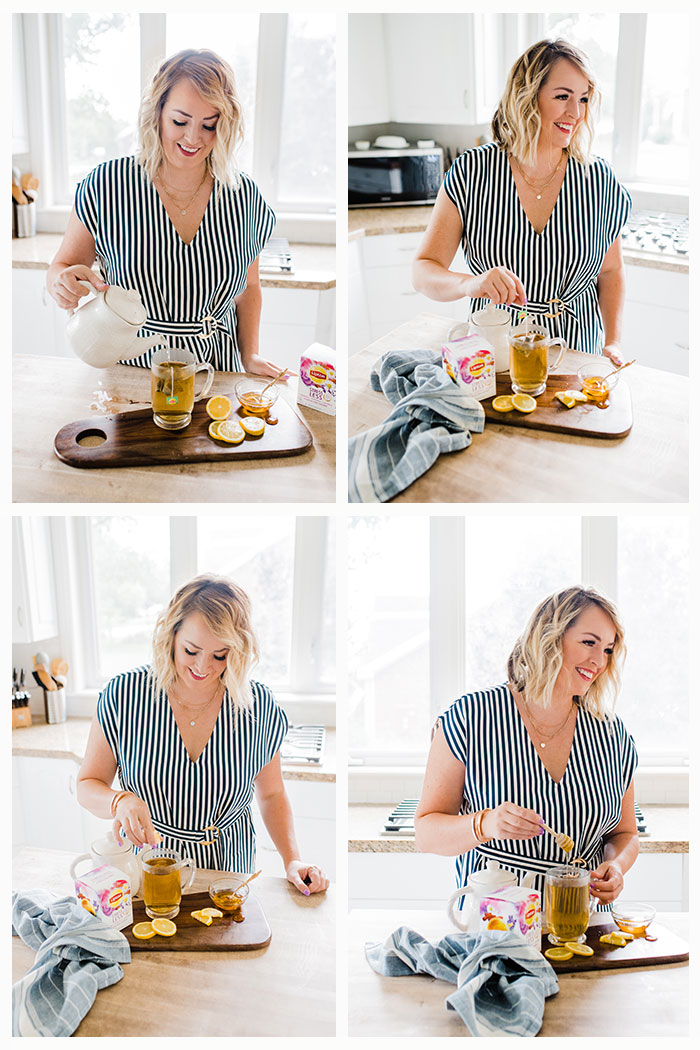 Taking Some Me Time
Me time often feels hard to come by, but I realized this does not have to be hours on end. This can simply be taking 5 minutes of quiet to myself. 
Sometimes, I take a bath with a nice bath bomb, or a sit in a quiet room with a nice candle burning, or read a few chapters of a book. Lately, my me-time has been taking a tea moment and enjoying the various flavors and benefits of teas I found in the Walmart Tea Shop. 
There is something wonderfully satisfying about drinking a freshly brewed cup of tea! So, whether it is Lipton, TAZO, Pure Leaf, or Pukka, it's all available via Walmart.com's Tea Shop! So find which is right for you.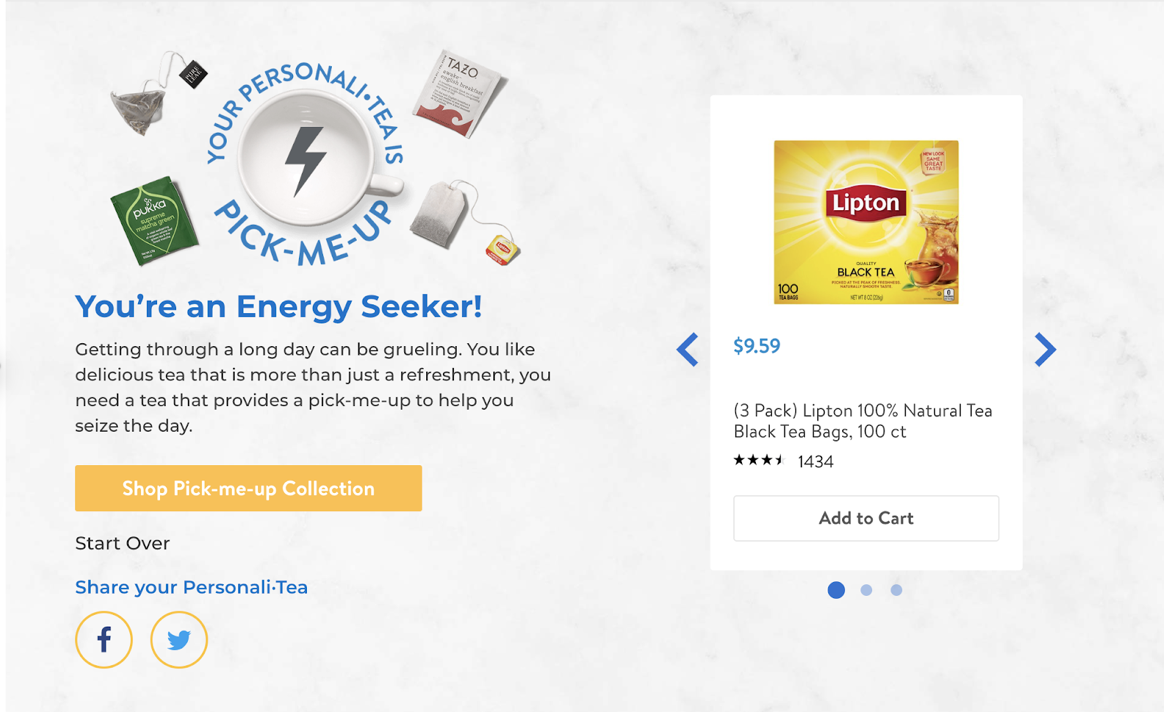 I took the tea quiz on the Walmart Tea Shop, and found that I am an energy seeker. So, in addition to my Stress Less Herbal Supplement from Lipton to help me relax and rewind, I enjoyed finding my favorite teas from the Pick-Me-Up collection to give me a boost to help me conquer the day. 
The Pick-me-up collection is designed with carefully crafted tea blends that provide a pick me up, whether you need it in the morning or mid-day! 
What is your personali-tea? 
The Walmart Tea Shop offers a wide selection of premium teas, including Lipton and TAZO, so you can find the exact tea that is right for your tea moment. 
Be sure to take the DiscoverTeashop.com Quiz to help you "Discover the Possibili-teas" for relaxation, flavor, well-being and pick-me-up occasions, then conveniently purchase each tea online for delivery right to your front door
Quality Sleep
Nothing amps up stress like lack of sleep, at least for me. I know how important sleep is. And how you need to go to bed early and get a good night's rest. That is all good and well, except, night is when my family is sleeping and doesn't need me, so often it is when I have the most time to get things done. 
Instead of focusing on going to bed early, I changed my focus to getting a good quality night of rest. That way, when I do sleep, it is good quality sleep. 
Here is how I have been making sure the sleep I do get is great:
Turn off screens for 1 hour before I go to bed. 

Journal for 5 minutes to shut my brain off before bed. Scribbling down your thoughts can help you clear your head and allow you to rest without your mind running a mile a minute. 

Drink a lovely glass of warm, caffeine free

Lipton Stress Less Herbal Supplement

to calm me and help me get into sleep mode. 

Wear an eye mask, a weighted mask is my favorite. 

Keep the room cool. 
What are some ways you get good quality sleep? 
Move That Body
When I start to feel the weight of stress bearing down on me, I physically make a change in my environment by getting up and moving my body. 
This does not have to be formal exercise, rather it is simply moving around. I might play a song and dance. I might go for a walk around my neighborhood. Or if I am lacking time, I will literally just do 5-10 jumping jacks to get some blood flowing. 
It is amazing how great moving for even a minute or two helps me reduce stress. 
Eat Good Food
There is this funny thing that happens, when I start to feel stressed, I tend to reach for fatty, sugar filled foods. But when I remember to focus on a balanced diet, and nutritious foods, I feel better, and I manage stress better. 
Just being more conscious of my diet had helped a ton.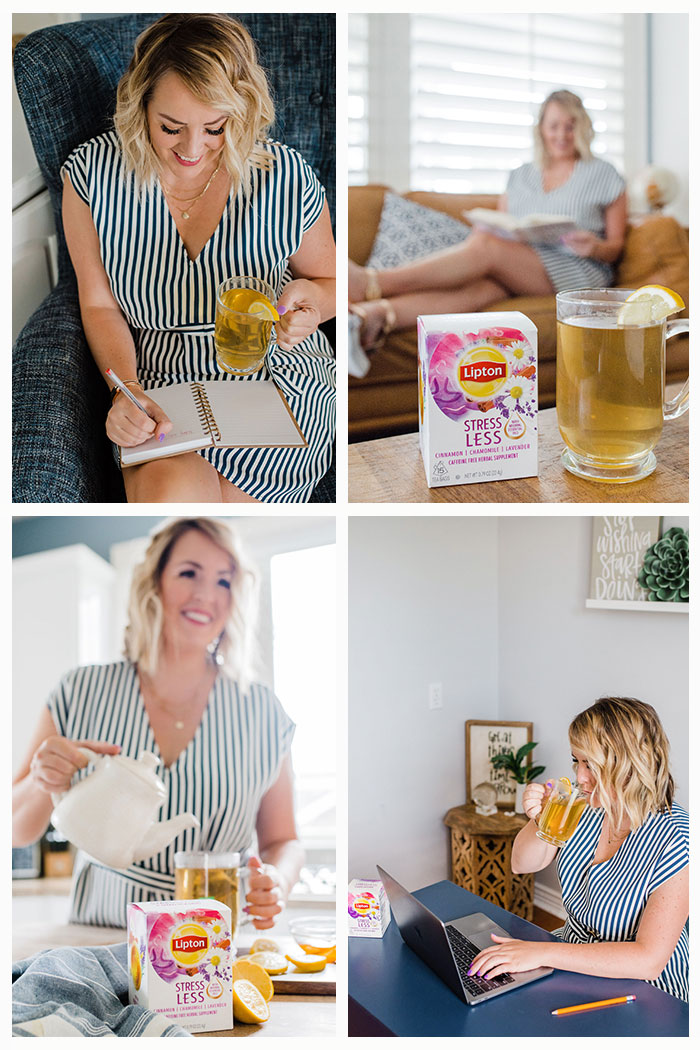 Make Life Easier 
As silly as it sounds, one of the best things I have done to combat stress is simply to take advantage of the things that make life easier. 
Like online ordering! 
I got all my tea from Walmart.com, and loved that not only did I not have to remember it when I was out grocery shopping, but that it was shipped right to my door! Making my mornings easier. 
Thankfully, even during the busiest time of year, Walmart can help you find solutions for your fall and holiday needs at an everyday low price. 
Head to the Walmart.com and stock up on everything you need for the holidays, including your favorite tea, so you're ready all season long as you bake, shop, plan, and most importantly, enjoy the end of year festivities!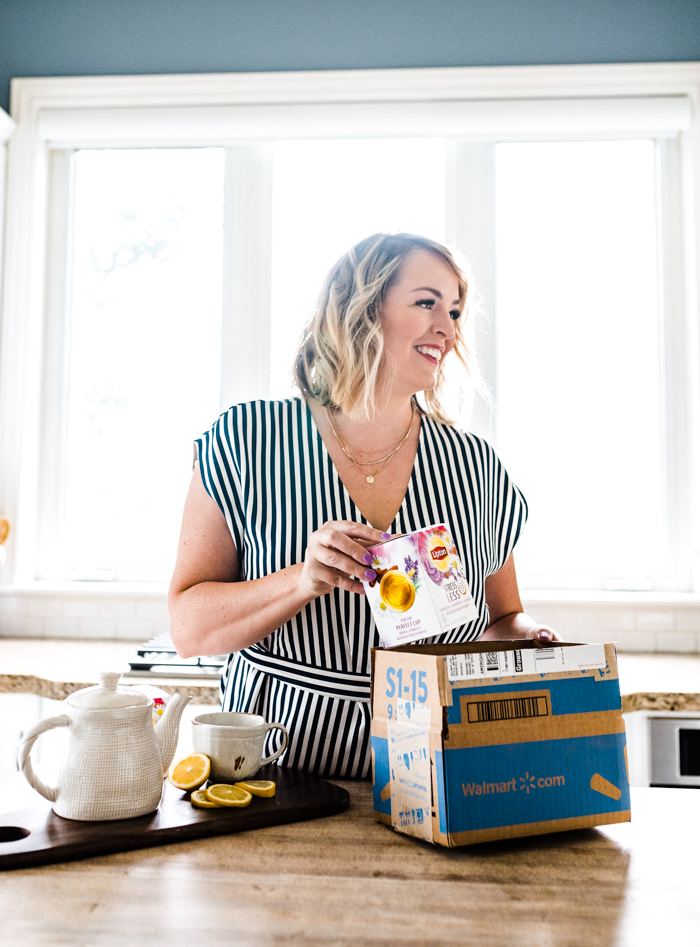 Gift This Goodness to Friends and Family
You know when you find something you love, you almost can't help but share it with everyone. I know when you discover something that makes my life better, I can't help but share. And since the holidays are a season for giving, I am doing just that. I am sharing the gift of less stress with the people in my life with Stress Less Gift Baskets. 
Once I figured out what works for me for less stress, I decided to use those things to give that gift to others. So, I compiled gift baskets with my favorite stress reducing products and packaged them for family and friends. And you can too!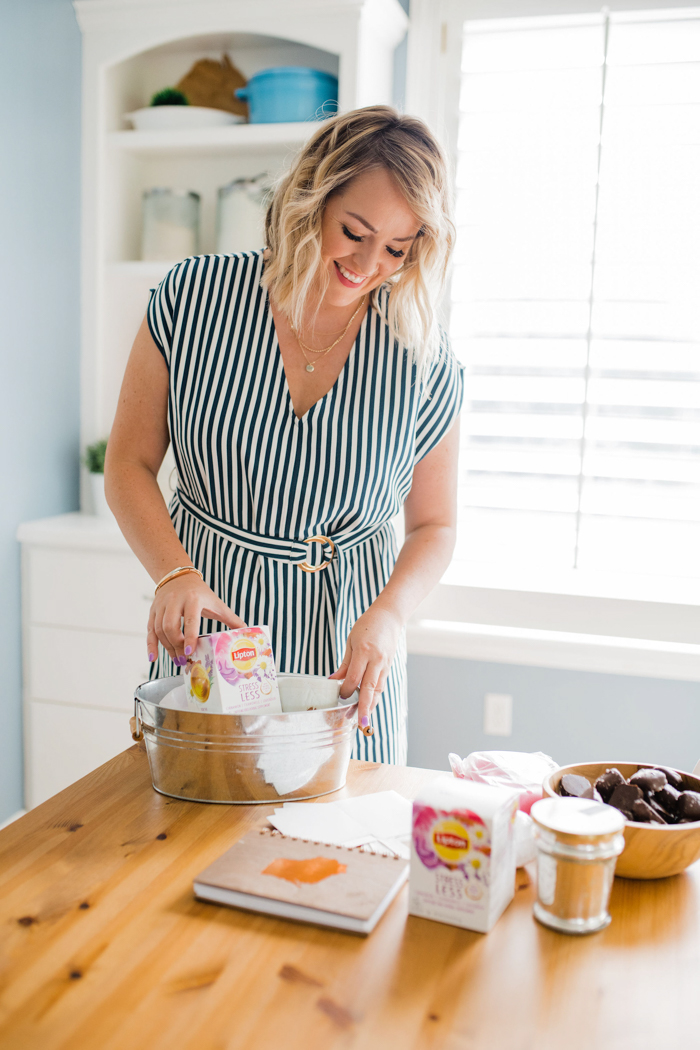 Making the Gift Basket
 What to Include:
Lipton Stress Less Herbal Supplement- I ordered this from Walmart.com

Mug- Also ordered on Walmart.com and the perfect accompaniment to the tea. 

Candle-  A fun scent, maybe one that mimics the season is always nice. 

Bath Bomb- For the bath lovers, or a shower fizz for those who aren't big on baths. 

A Journal- To let them scribble thoughts, make lists, and unwind. 

Chocolates- Because who doesn't love an indulgent treat? 

Eye Mask – For better sleep! 

Anything else that will help your loved ones stress less and enjoy the holidays more!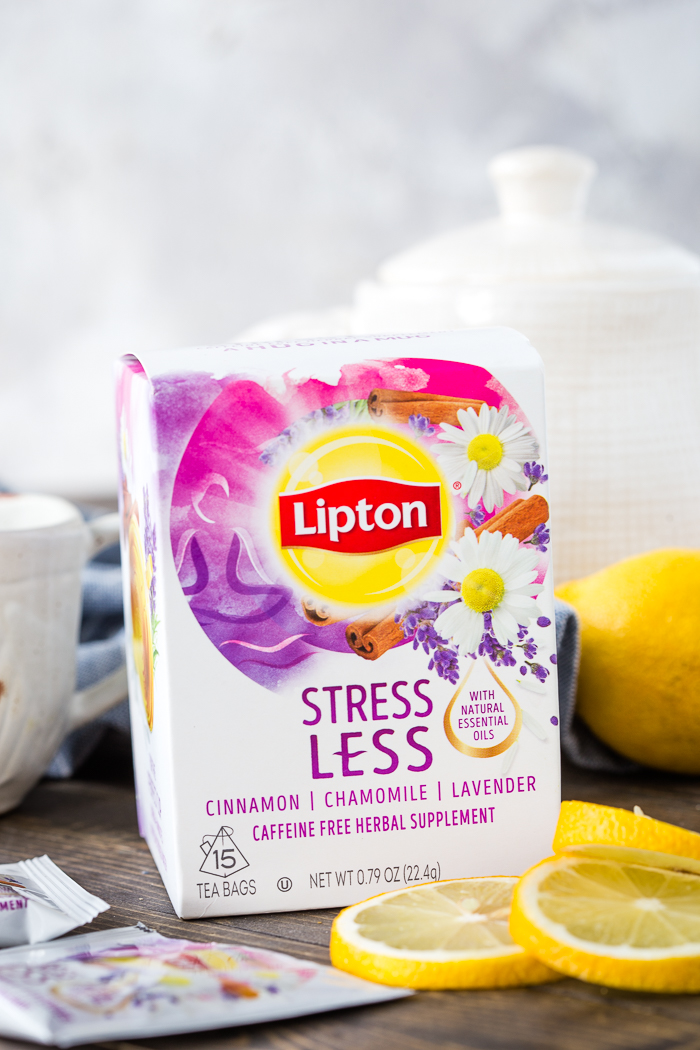 Other Recipes: