Ham and Spinach Omelette (Keto)
Ham and Spinach Omelet:  A protein packed, healthy, flavorful spinach omelet recipe, this egg omelet takes only a couple minutes to cook and makes a great meal to start your day with.  
This light and fluffy egg omelet will become a regular in your breakfast rotation.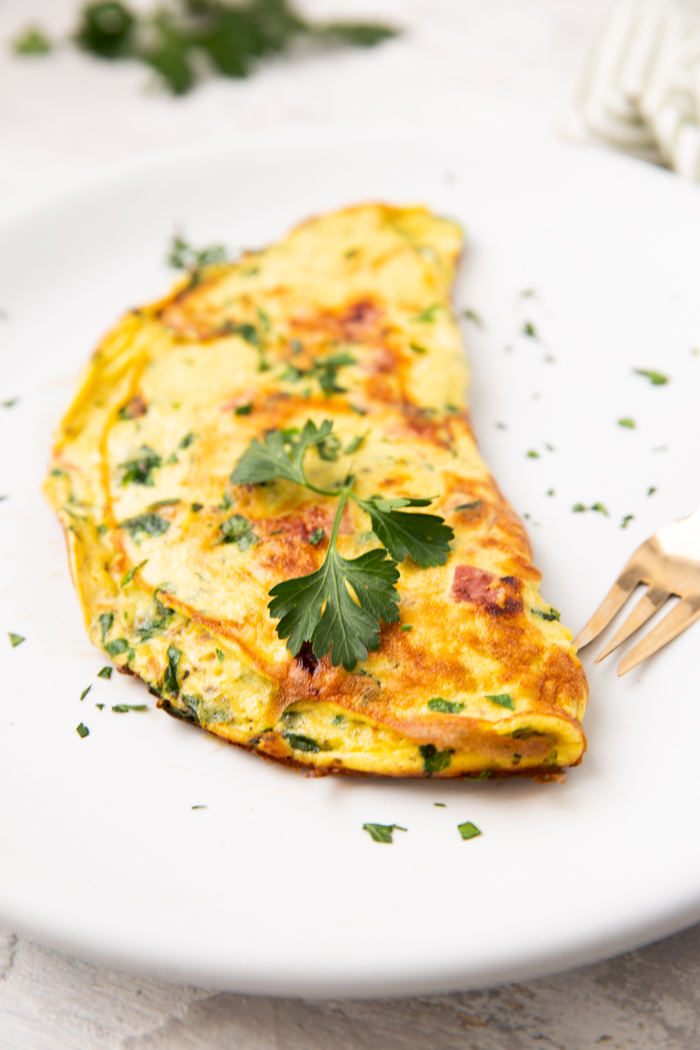 This Ham and Spinach Omelet is packed with savory ham, vibrant green spinach, and caramelized sautéed mushrooms, producing an amazing taste while providing tons of nourishment.  
Quick, easy, and delicious, this egg omelet will pull you out of any meal slump.
My family loves this omelette.  I love that not only does it taste great and is packed with so much goodness, this omelet does not just have to be made only for breakfast. I love that it is filling enough that it can be made for an easy dinner or lunch too.  
How Many Calories Does A Spinach Omelet Have?
Great news, a spinach omelet does not need to have very many calories at all.  Eggs are amazing because although they are loaded with protein, their calorie intake is pretty low.  
Eggs can be as low as about 70 calories each.  That is nothing considering how filling they are.  Plus spinach is very minimal in calories. One cup of raw spinach is only about 7 calories!
So, how many calories a spinach omelet hasdepends on how many eggs you use and whether or not you use butter to grease the pan.
I recommend when making an individual omelet to use 2 to 3 eggs.  
So, if you use 2 eggs, some spinach, and a no calorie non-stick spray, you are looking at about a 150 calorie omelet.  That is definitely a low calorie breakfast option.
Is it Omelet or Omelette?
I am spelling it both ways because in America we do spell it both ways! Hahaha so don't be concerned in this post if you see it spelled two different ways. It is the same thing.
I just want to make sure you can find it no matter how you spend it.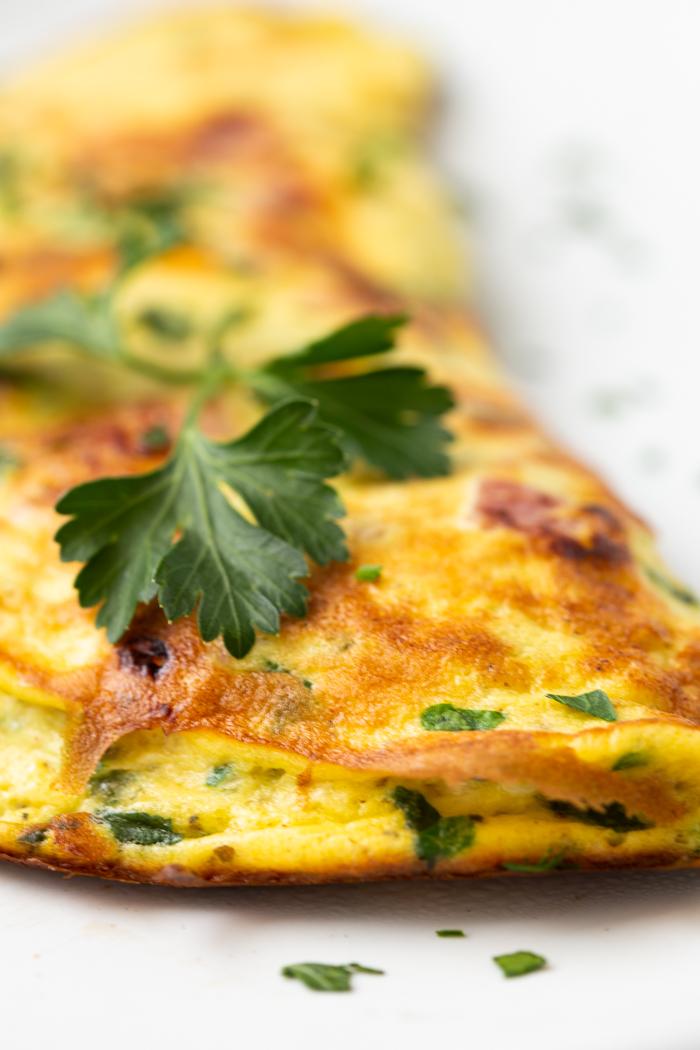 This Ham and Spinach Omelet recipe isn't too high in calories even with the additional ingredients. 
Mushrooms are a low calorie food though and ham and cheese will add additional protein without too high of a calorie price.
However, If you are worried about the calories you can always use less ham, and butter than the recipe calls for or split the serving in half.
What Can I Put?
How Many Eggs?
An omelet is a great canvas for so many things.  For example, while this omelet has ham in it, you could easily omit that ingredient and add bacon or sausage instead.
If you love peppers or tomatoes those could be added too.  There are so many ways you can go with an omelet.
Options for Omelet Filling:
Ham

Mushrooms

Cheese

Spinach

Tomatoes

Onions

Sausage

Bacon
I really love the flavor profile for this omelet and the accompanied spices.  However, feel free to omit or change an ingredient based on personal preference.  I have found this is a great breakfast for low-carb eaters, but a little protein heavy for keto.
If you are keto, be sure to add some fat so you can keep it in the right macros to stay keto-friendly. Cook it in butter or oil, and use cheese. 

How Many Eggs To Use For One Omelet?
While you can vary and change up ingredients, for this recipe I recommend sticking with the suggested egg amount, which is 3 eggs.  The ratio to eggs and filling is perfect and the proportion of cream and cheese is just the right amount for 3 eggs.
I like 3 eggs because it allows a larger canvas for more fillings.  Plus it makes the dish that much heartier.  But this could easily be a serving for 2 if you are counting calories. 
How Many Carbs Are In A Ham And Cheese Omelet?
Good news there aren't very many carbs in a ham and cheese omelet.  Eggs, ham, and cheese are all keto friendly, in case you are counting carbs.
An egg has less than one gram of carbs, one slice of ham has about 1.1 grams of carbs, and cheddar cheese is about .4 grams of carbs per ounce.  
Assuming that you use 2 eggs in the omelet, and stick to the above portions for ham and cheese, a ham and cheese omelet may contain around 3.5 grams of carbs.
An omelet is a great choice for a filling low carb dish and this Ham and Spinach Omelet is no exception.  The additional ingredients of mushrooms and spinach are also low carb, making this omelet a great option for someone who is counting carbs or is on a keto friendly diet.
Should You Put Milk In An Omelet?
Typically I like to add a little milk to an omeletet.  While Milk added to an omelet can hurt the consistency  if you  add too much, it can also help make the eggs nice and fluffy. 
Here is a little secret about this recipe.  Instead of milk, I up the fat by adding cream into the mixture.  
Although you don't have to use cream with the cheese in an omelet, I highly recommend it.  It adds a great dimension and the needed fat to make it veto-friendly. 
How you mix: Carefully fold the egg yolks into the egg whites until fully incorporated.
What you mix: Adding a little cream and whisking with a fork will help add air to the mixture, and thus increase fluffiness.
Wait for it to cook: Pour the egg into a nonstick frying pan with a lid. Cook over medium-low heat until bottom of omelet has set, about 5 minutes.  The lid helps keep moisture in and adds to fluffiness.
Add fat: Lift up each side of the omelette and drop a tablespoon of butter underneath, if desired. This adds fat, and helps your eggs stay nice and fluffy with a firm exterior to hold your omelet together.
Egg Whites Only Vs. With Yolk?
In this recipe I use whole eggs.  I personally am a fan of the whole egg because both the egg whites and egg yolk offer different benefits.  
Plus although egg whites are lower in calories, the yolk adds fat, and helps sustain you for longer.
However, if you want to make this Ham and Spinach Omelet with egg whites only that is no problem at all.  I would use 6 egg whites in place of 3 whole eggs. Egg whites to whole eggs is usually a 2:1 ratio in cooking.
Just remember, this may keep it low carb but not necessarily keto friendly.
Why Some Prefer Egg Whites:
Egg whites are lower in calories.  17 calories each.

Majority of the protein is in the egg white.

Egg white contains minerals.

People on low cholesterol diets may not want to eat the yolk due to the cholesterol.
Why Some Prefer The Whole Egg:
For most, cholesterol is not an issue when it comes to eating the egg yolk.
While people on low cholesterol diets may not want to eat the egg yolk, typically for most, the amount of cholesterol consumed for 2 eggs a day is considered fine to have for most people.
The egg yolk does provide a good portion of protein.
While egg whites contain most of the protein, egg yolks contain just under half the protein, so there is still a good amount of protein given from the yolk.
Egg yolk contains vitamins.
Egg whites contain minerals, but egg yolks contain vitamins.  So by eating both, you get the best of both worlds.
Egg yolks in the past have gotten a bad rap, but as time goes on they are discovering that the cholesterol content isn't an issue for most.  
I personally like the taste of the egg yolk and the fact that I feel more full.  Lower calories is great with the egg whites, but if I am not as full then am I really ahead on calories?
In the end, whether you choose to eat egg whites only or the whole egg, in a dish like an omelet from a taste standpoint the meal will be just as good.  
So feel free to make this dish with either whole eggs, egg whites only, or a combination of the two, like 2 egg whites with one whole egg.  Any of these options will work great in this egg omelet recipe.
Egg Substitute?
I love eggs, but I realize that not everyone necessarily consumes eggs in their diet.
There are egg substitutes and you can use when baking etc. but not for an omelette. Omelette by definition is egg and other ingredients. So don't try to sub, just find a different recipe like maybe some keto pancakes, or if you are looking for a keto dinner option try Keto Beef and Broccoli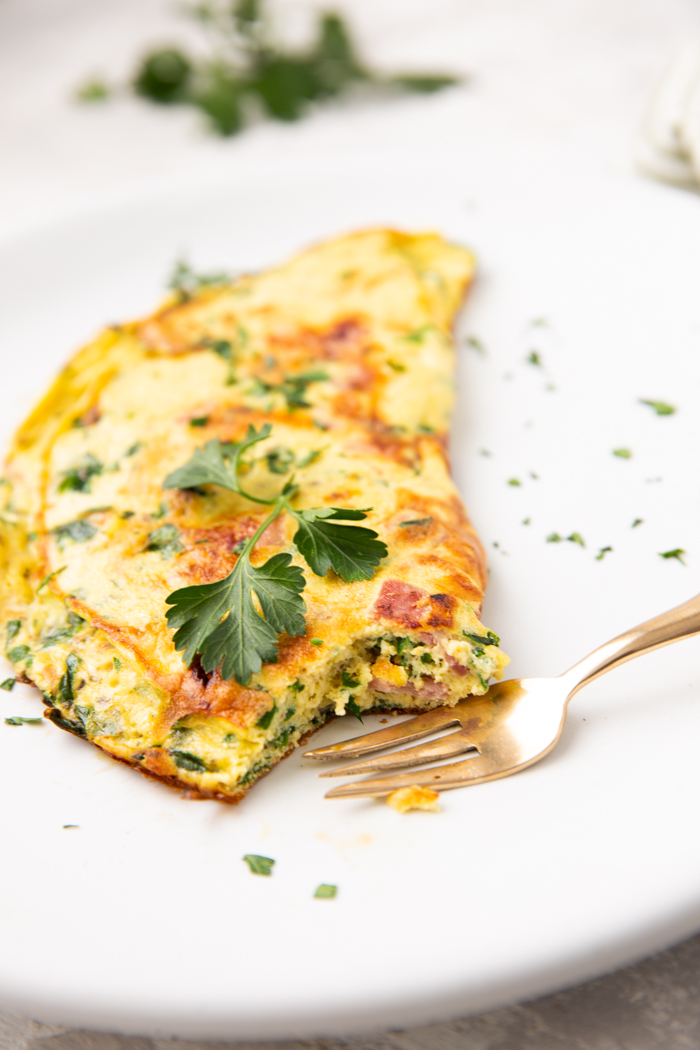 Serving Suggestions:
This Ham and Spinach Omelet is delicious and it is so filling that if you don't have time for anything else, it can stand alone on its own.
However, there is a  great and easy smoothie option that would wash down this omelet and add a sweet flavor to the meal.
I recommend the Green Smoothie, which has great ingredients like strawberries, mango, tangerine, banana, and spinach.  What I also like about it is you can use any of the leftover spinach that you didn't use in the omelet recipe in this smoothie.  
Plus, I Iove spinach in smoothies because it gives an added nutritional benefit without ruining the fruity flavor.
This Ham and Spinach Omelet is a Must Try!
Looking for some other easy and delicious egg omelet recipes?  Try Roasted Veggie Omelets and Easy Denver Omelet Breakfast Cups.  Both would make great additions to your breakfast menu. But, they  are not necessarily keto friendly. 
Keto Friendly Breakfast Ideas
And want some low carb snack ideas?
WP Recipe Maker #29714remove
Ham and Spinach Omelet (Keto) You can't go wrong with a healthy breakfast omelet of ham and spinach to start your day. This omelet is so healthy and good it will leave you feeling sunny side up. Course: Breakfast, Main Dish Cuisine: American Keyword: keto ham and mushroom omelet, omelet recipe Prep Time: 10m Cook Time: 15m Total Time: 25m Servings: 2 – 3 Eggs – 1/4 cup Spinach – 1/4 cup Ham Chopped – 1/4 cup Cheese of choice – 2 Tbsp Heavy Cream – 1 Tbsp Butter – 1 Tbsp olive oil – 1/2 tsp Cayenne Pepper – 1/2 tsp Italian seasoning – 1/4 tsp Black Pepper – 1/4 tsp Salt to taste 1) Dice the spinach and ham into small cubes 2) Beat the 3 eggs with the salt, pepper, cayenne and Italian seasoning 3) Whisk in the heavy cream and cheese 4) Heat 1/2 the butter and olive oil in the pan 5) Saute the spinach and ham in the pan with the butter. 6) Cook till they start to caramelize 7) Lower the heat, take the pan off the stove and pour in the egg mixture 8) Place back on the stove and cook until the bottom is starting to brown.  9) Fold half over to create omelet cover with a lid and cook for 1-2minutes until no longer runny 10) Garnish with parsley 11) Serve calories 362 carbohydrates 1 protein 16 fat 32 saturated_fat 14 cholesterol 307 sodium 739 potassium 162 vitamin_a 28.7 vitamin_c 1.3 calcium 15.6 iron 9.3