Keto Snacks
Did you know one of the hardest parts of changing your dietary lifestyle is the snacks? It is those between meal moments when you don't have a plan, and have the munchies, that can get you into trouble.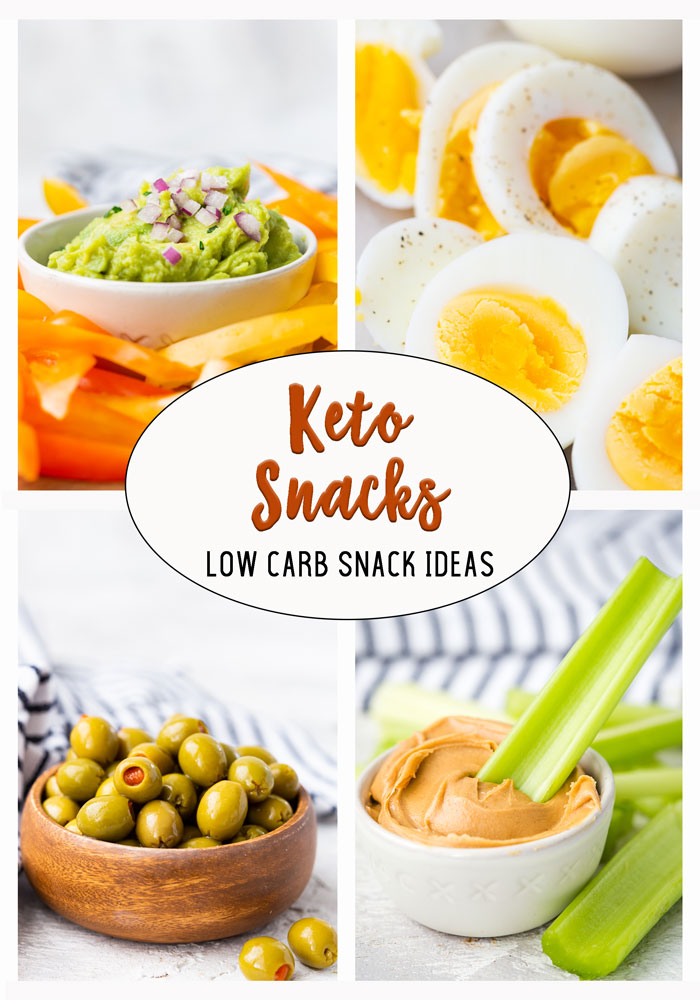 With a low-carb diet, snacking can make or break you. And if you are doing a keto diet then the wrong snacks can kick you out of ketosis and ruin your hard work. That is why today I am sharing a list of keto-friendly snacking ideas so you can stick to your goals!
What is a Ketogenic Diet?
A ketogenic diet is high-fat, extremely low-carb, and a moderate amount of protein. The idea is to put the body into the metabolic state called ketosis, so it burns fat for energy instead of the typical carbohydrates. When you eat low carb or keto, the body doesn't have carbs to burn, and instead turns to fat stores for energy. You become a fat burning machine, and lose that excess fat you didn't want anyway. Awesome right?
Totally, if you can stick to a keto diet, and can help your body remain in ketosis while avoid under-eating or over-eating and more.
How low-carb is the ketogenic diet?
The typical breakdown is this:
5-10% carbs This means around 20 grams of carbs a day.
20-25% protein (but there are many that say you really don't need to worry about eating too much protein, as it is unlikely to kick you out of ketosis)
70-80% fat
What can I eat on the Keto Diet?
If you want to stick to a keto diet, you need the right snack foods. It doesn't matter what you eat as long as the macros (amount of carbs, protein, fat, etc.) are on track.
A typical keto diet includes:
Meat
Poultry
Seafood: especially fatty fish like salmon and sardines.
Eggs
Cheese
Butter, cream, and other full-fat dairy.
Nuts and seeds. Though some are lower carb than others.
Avocados.
Lower-carb vegetables: such as greens, tomatoes, onions, and peppers.
Good fats—coconut milk, extra-virgin olive oil, etc.
My Favorite Keto Diet Snacks:
Hard Boiled Eggs:
Eggs are an excellent source of protein with a very low amount of carbs. In fact, there are only about 0.6g of carbs in a large egg. So, if you are staying under the generally recognized amount of 20g of carbs per day, and have room in your diet for additional protein, an egg, hard boiled with a little salt and pepper is a great option for snacking. You can prep several ahead of time, and they will keep in the fridge for 3-5 days. Making this a great grab and go snack option.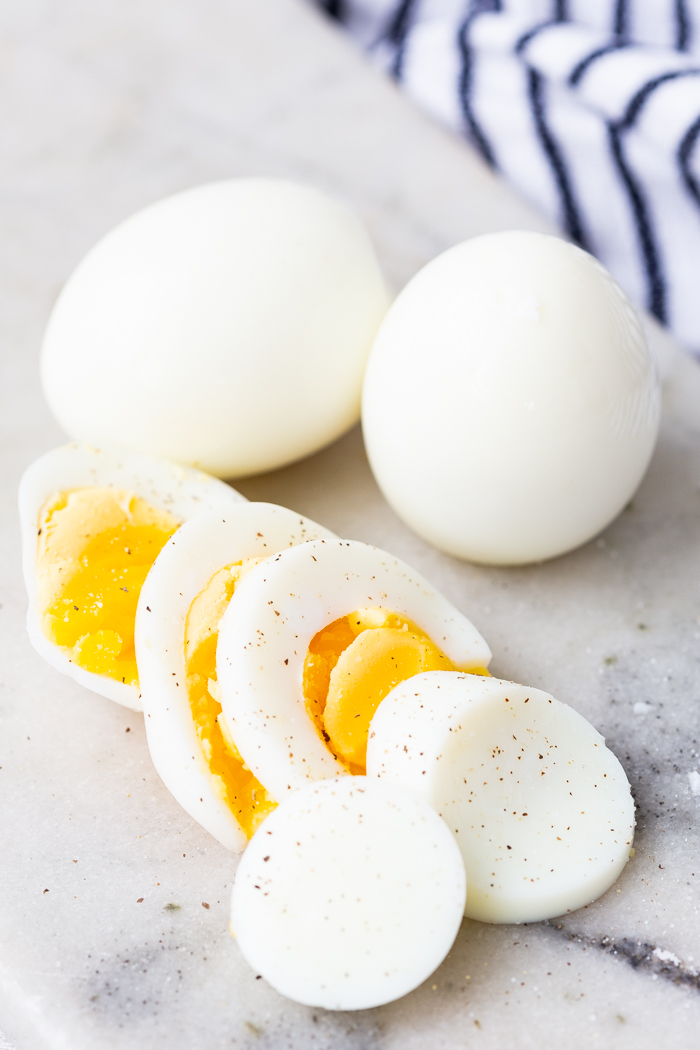 Pepperoni and Cured Meats:
Having a package of high quality pepperoni, preferably pepperoni made from grass fed beef, is a great way to snack with the keto diet. It offers no carbs, good protein, and quite a bit of fat. The downside can be high sodium and if you don't choose a good quality pepperoni, salami, etc. you will also get lots of processed junk and preservatives. For some the higher sodium is a plus. I love this snacking option and recommend checking labels carefully as some cured meats have sneaky, carb filled fillers.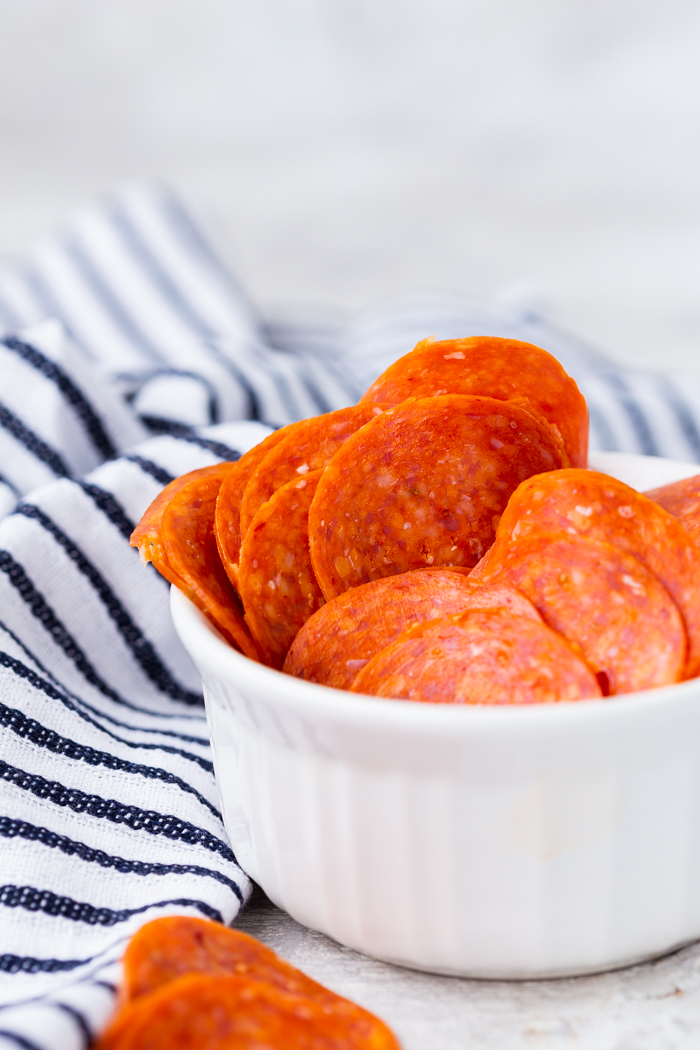 Seaweed:
One of my kids favorite snacks is seaweed, so I often keep it on hand. When I realized what a nutrient dense, and low-carb snacking option it was I was thrilled. Not all seaweed is created equally. Some have added flavors that can add carbs with sugars etc. So check your packaging, but a quality piece of seaweed makes for an excellent keto snack. Seaweed is calorie free and fiber rich, making it perfect for low-carb dieting.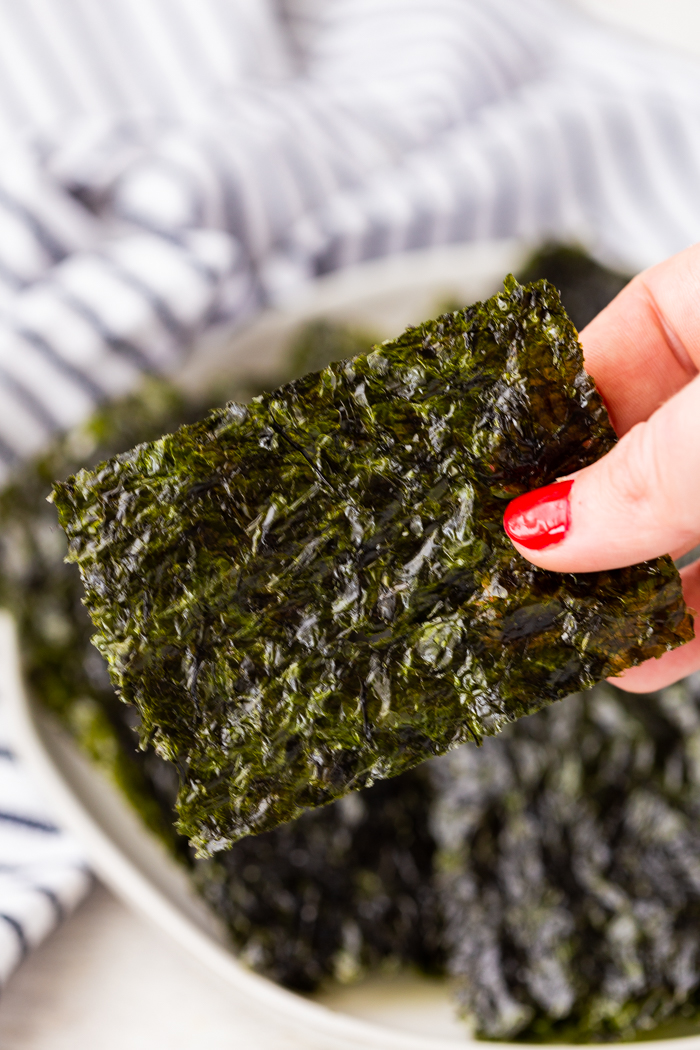 Full Fat String Cheese
Cheese in an awesome snack on the keto diet, especially these great pre-packed and portioned string cheeses. However, once again, check labels carefully. Get the full fat versions for the added keto diet benefits, and look for high quality cheeses with no fillers.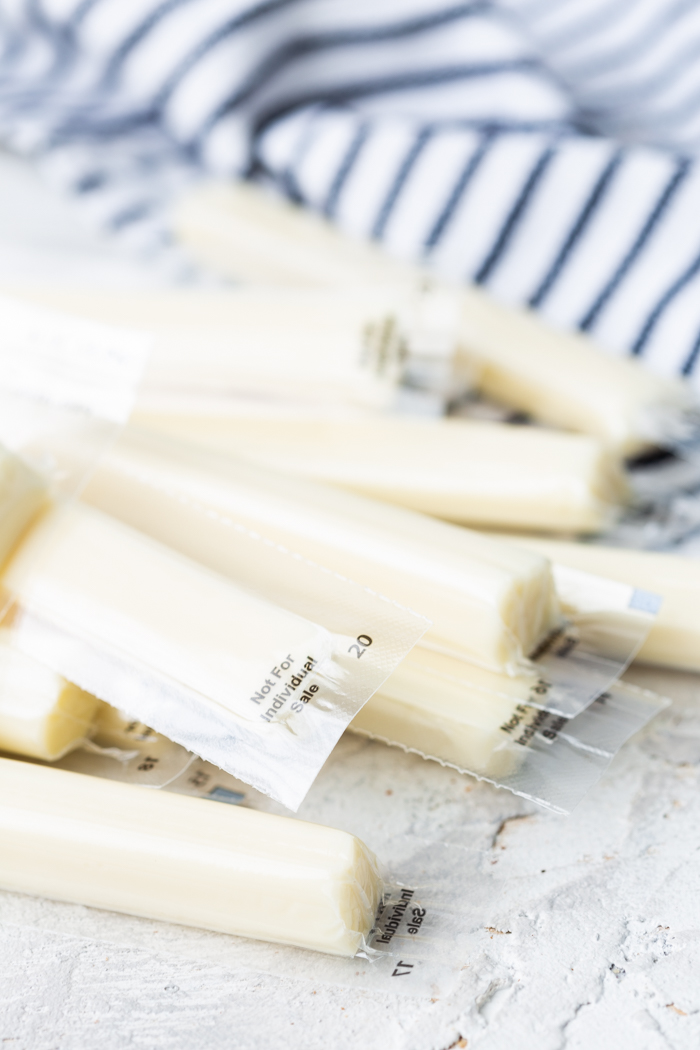 Turkey Roll Ups:
A turkey roll up is a fantastic option when you want a filling snack with some gusto. These turkey roll ups use a turkey deli meat (look for a high quality option with few fillers and preservatives) an ounce of cream cheese, and a slice of cucumber. You get flavor, crunch, and creaminess all in a low carb, keto-friendly snack. Win-win.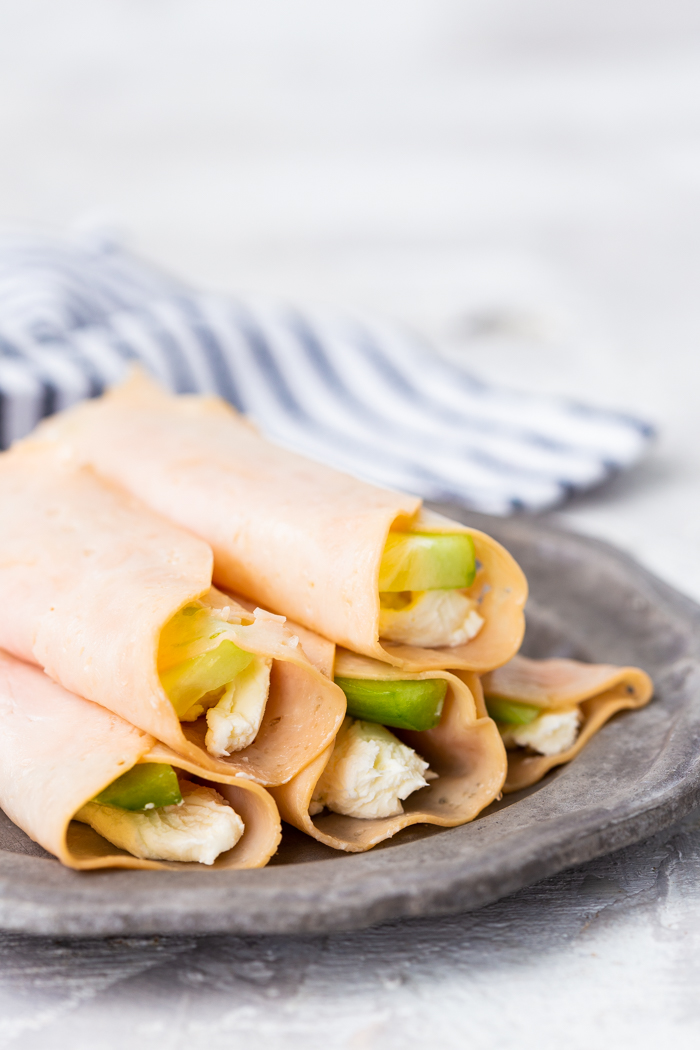 Pecans and other Nuts:
Several nuts are an excellent food choice while on the keto diet. Pecans, Brazil nuts and macadamia nuts, specifically are great for a low carb, high fat and protein snack. Feel free to snack on those all day. Just remember they do have calories, so don't over do it too much. Avoid cashews, as they have a greater number of carbs.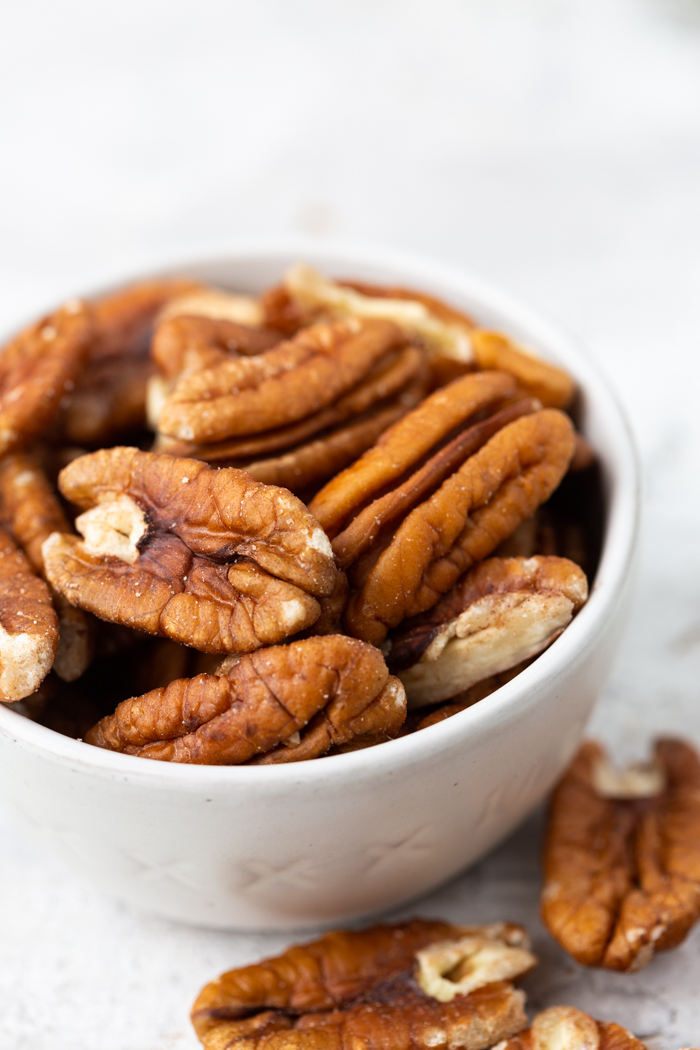 Olives:
When it comes to foods that are high in good fats and low in carbs, avocados and olives take the cake! One of the best parts about using olives as a snack on the keto diet, is while they do have some carbs, they aren't all digestable carbs, which means they are still good for keto. Half of their carbs come from fiber. A one-ounce (28-gram) serving of olives contains 2 grams of total carbs and 1 gram of fiber. This means, of your 15-20 allotted grams of carbs a day, olives only take 1.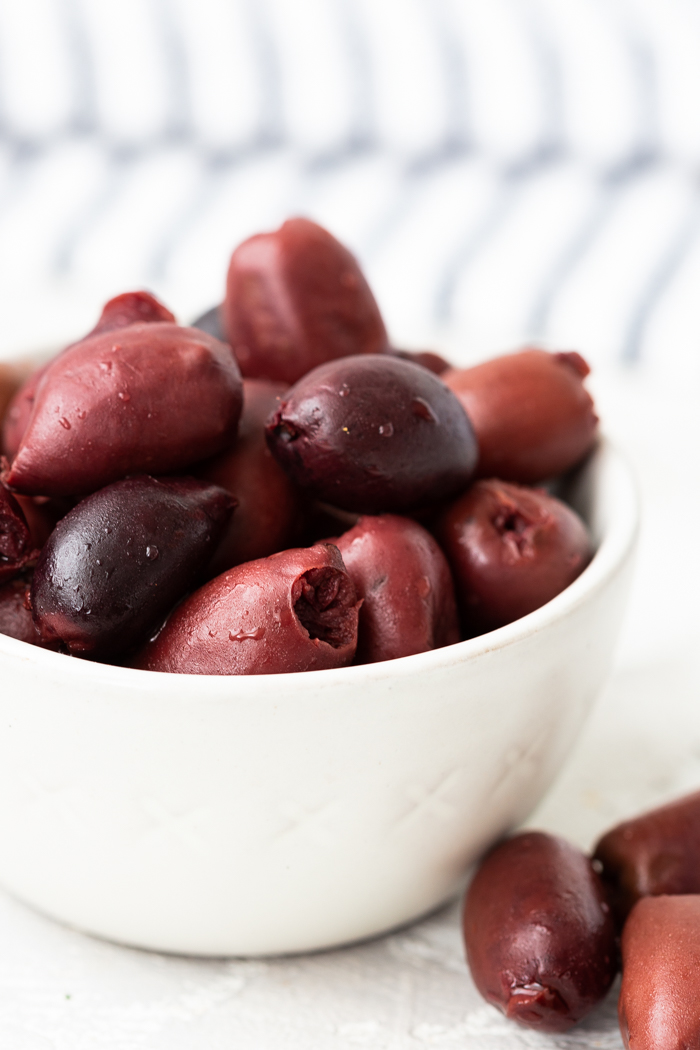 Zucchini parmesan chips:
Sometimes you just want a snack that is rich and satisfying, and that is where these zucchini parmesan chips come in. They are thinly cut slices of zucchini seasoned with salt and pepper and covered in parmesan cheese, then baked until golden and crispy. They are so easy to much on, flavorful, and delicious. And a fun low-carb snack option that offers a nice fat content thanks to the cheese and some protein too.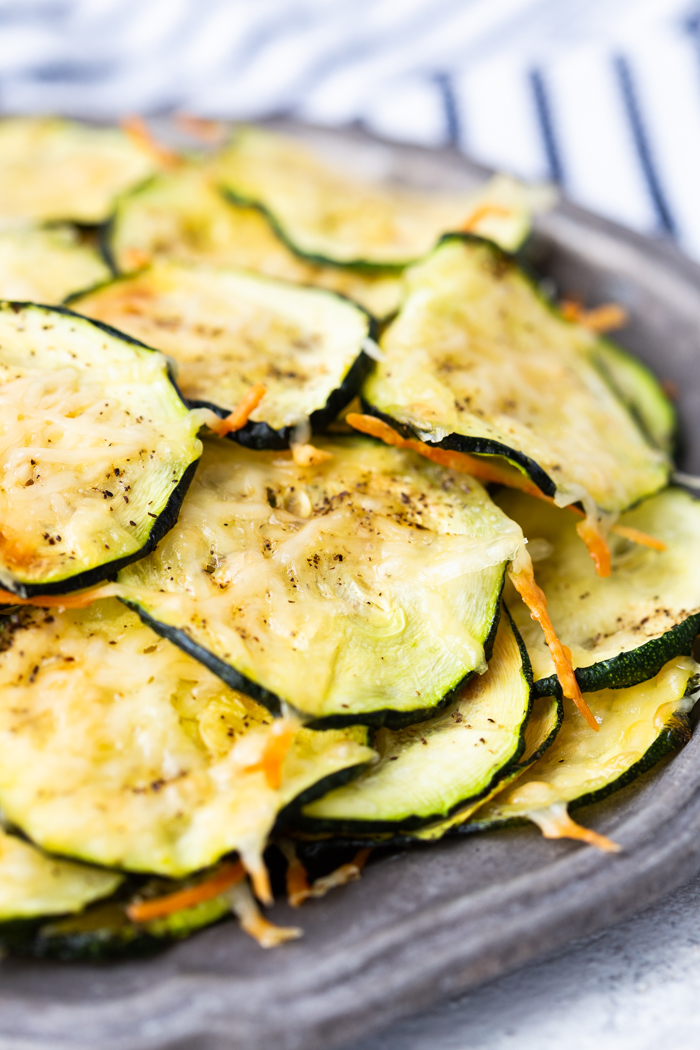 Cheese and Nuts:
I know we have already talked about string cheese and pecans, but one of my favorite ways to snack and stay keto friendly is combining the two. A few slices of cheese with a small handful of nuts. Delicious and easy. Again, remember to choose full fat cheeses, and nuts that fall on the low carb end of the spectrum, like pecans, and macadamia nuts.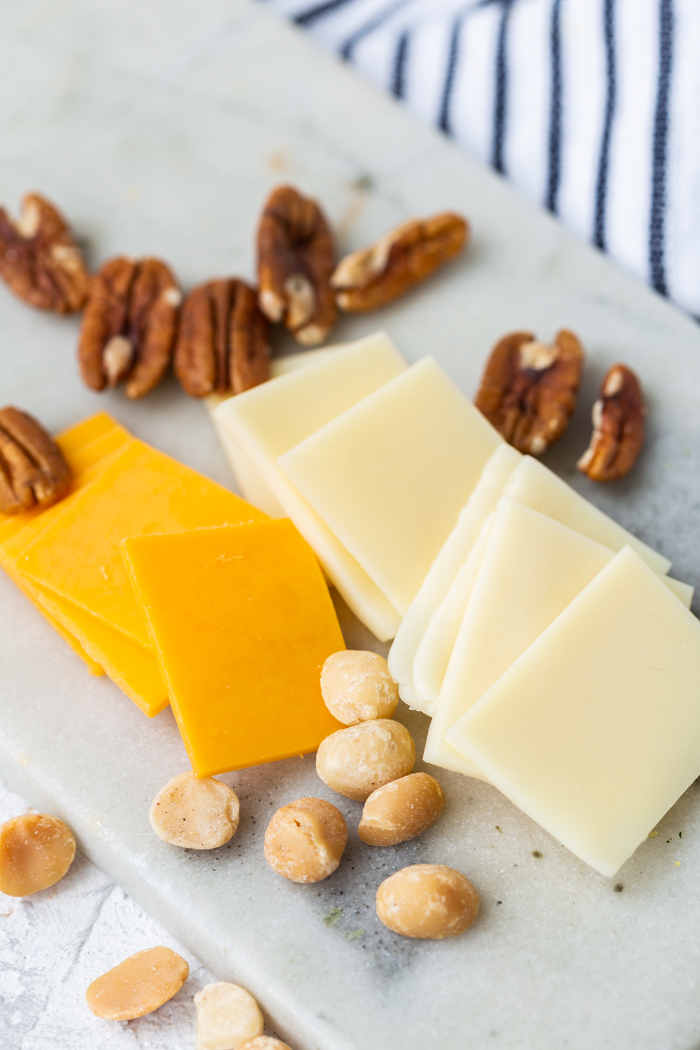 Hummus and Low Carb Veggies:
Hummus and low carb veggies like bell peppers and cucumbers are a great option when on the keto diet. Don't eat it with carrot sticks, despite the photograph, as they are higher in carbs. But go ahead and enjoy your favorite hummus as a healthy, tasty, snack on keto.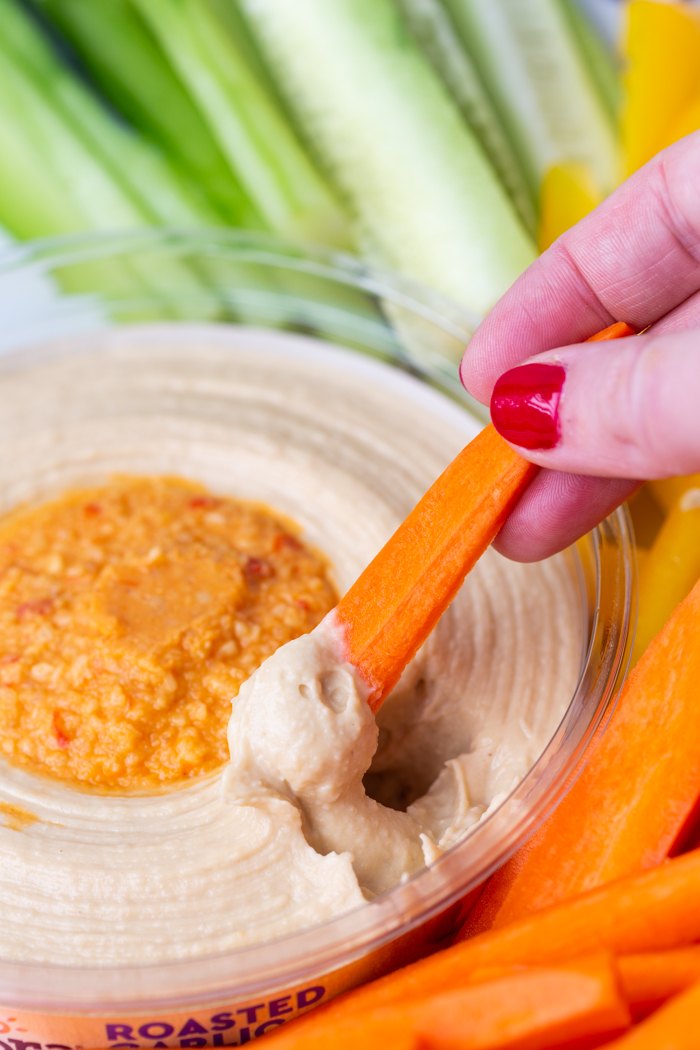 Macadamia Nuts:
Okay, okay, I know I have covered nuts a time or two already, but macadamia nuts are so tasty they deserved their own mention. Sometimes for the sake of going low carb, people neglect the nutrient value of food. Macadamia nuts are loaded with good stuff, from healthy monounsaturated fatty acids, to fiber (the good carb), B-vitamins, and essential minerals. They give you all of this with only 1.5 grams of net carbs per serving.
Deviled Eggs:
Eggs are good for you on keto, but deviled eggs are an even better option, especially when you add bacon. Why? Because you increase the fat content while still keeping the carbs super low. The nice thing about deviled eggs is you can add fat in the form of mayo, avocado, bacon, etc. Check out my recipe for Bacon Jalapeno Deviled Eggs here.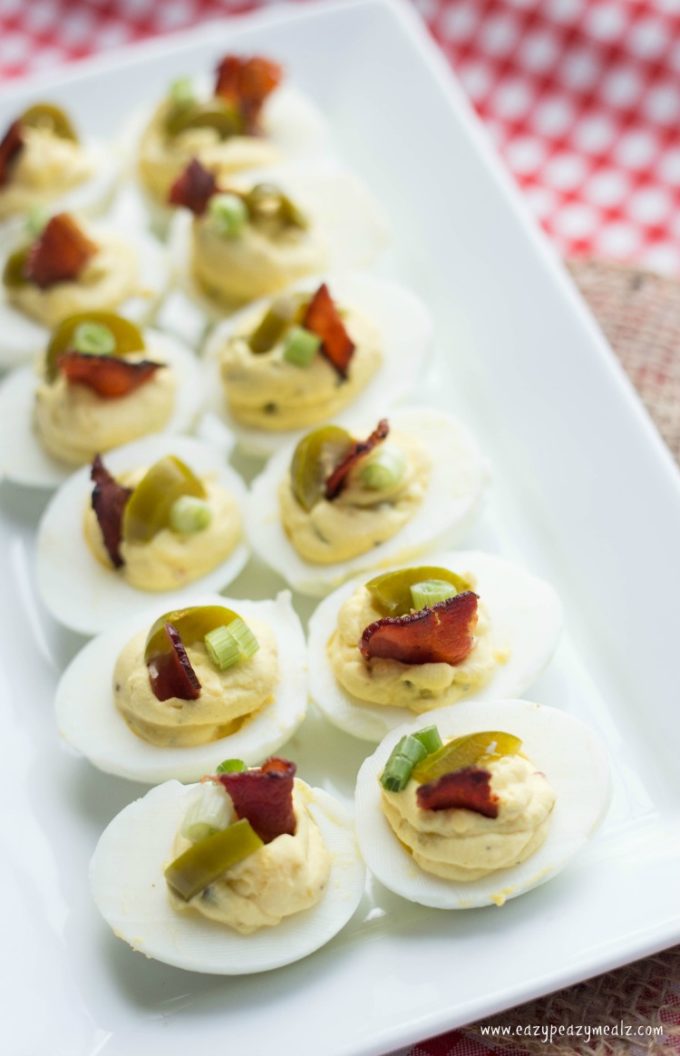 Guacamole with Bell Peppers:
Guacamole is an excellent low carb snack because avocado is a super healthy fat with tons of other perks. When you combine it with nutrient rich, but low carb bell peppers you get a snack that fuels your body and keeps you in ketosis.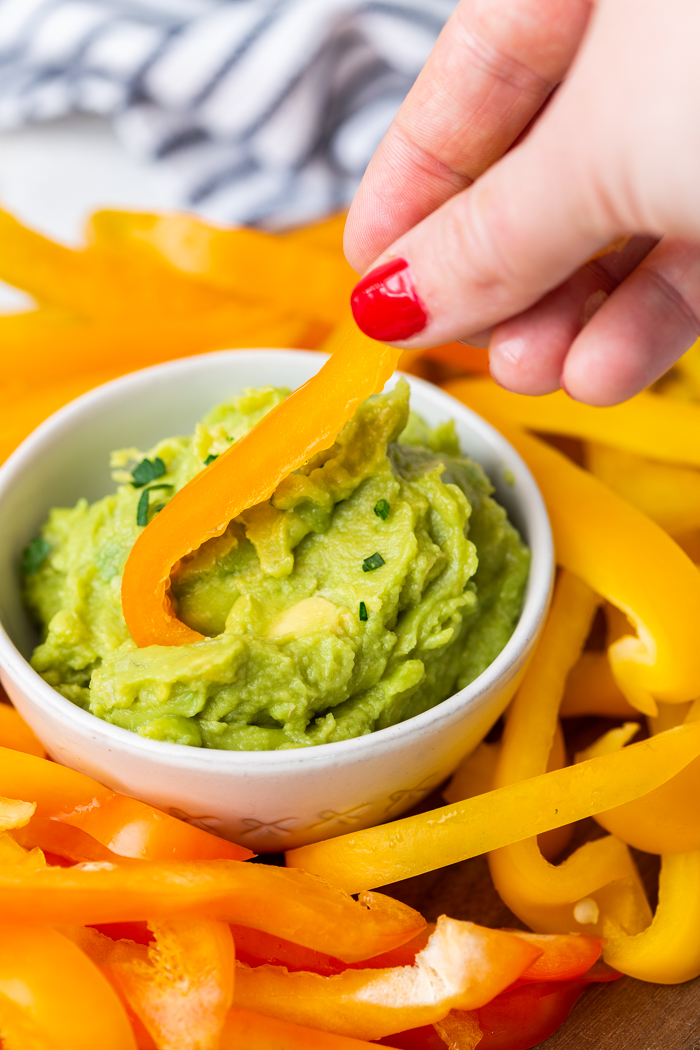 Kale Chips:
Kale chips are an excellent low carb snack, especially if you make them yourself so you can control what is added. Often the kind you purchase at the store have added sugars and flavors that are carb rich. Kale is a little carb heavy, but I still recommend it as a snack because it is loaded with vitamins A and C which often get neglected from the diet when eating low carb or keto. So eat it with balance in mind, and watch the carbs. But enjoy the added nutrients.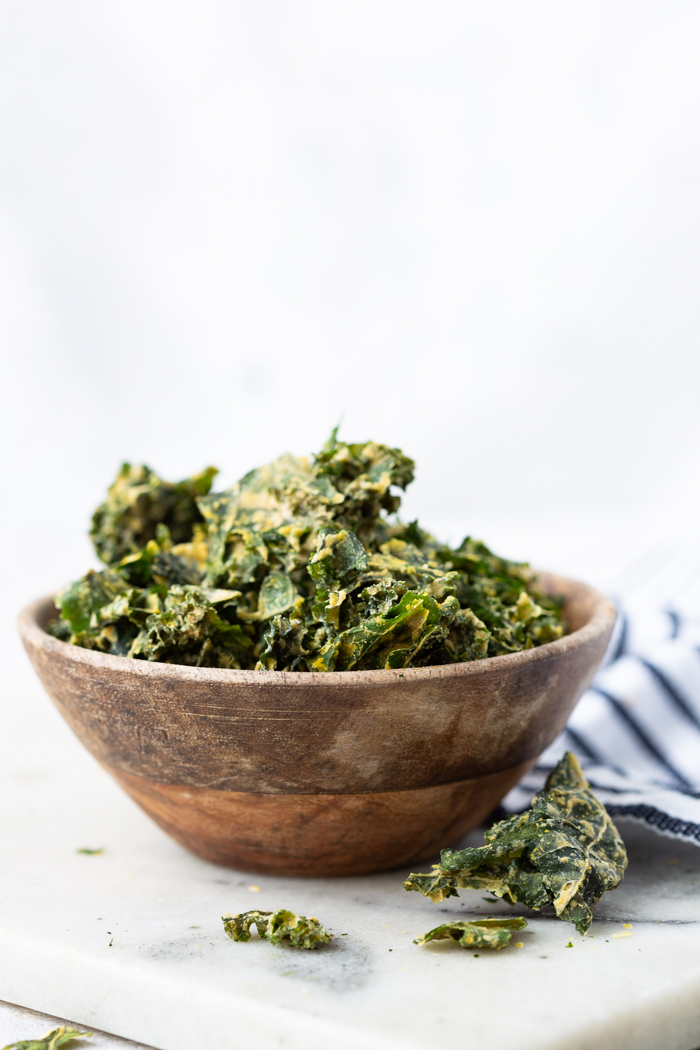 Green Olives:
There are plenty of varieties of olives, and green are my favorite for keto snacking. Olives are made up of mostly fat, have a low calorie count, and a low carb count. This means they are as good for you as avocados with fewer calories. Perfect for keto snacking.
Cheese crisps:
These parmesan cheese crisps are simply a fun way to replace carb rich snacks like chips and crackers, but still get that same satisfying crunch. These cheese crisps are 100% parmesan cheese, simply cooked to a crisp. Check labels, but cheese crisps are an excellent sub for chips on a keto or low carb diet.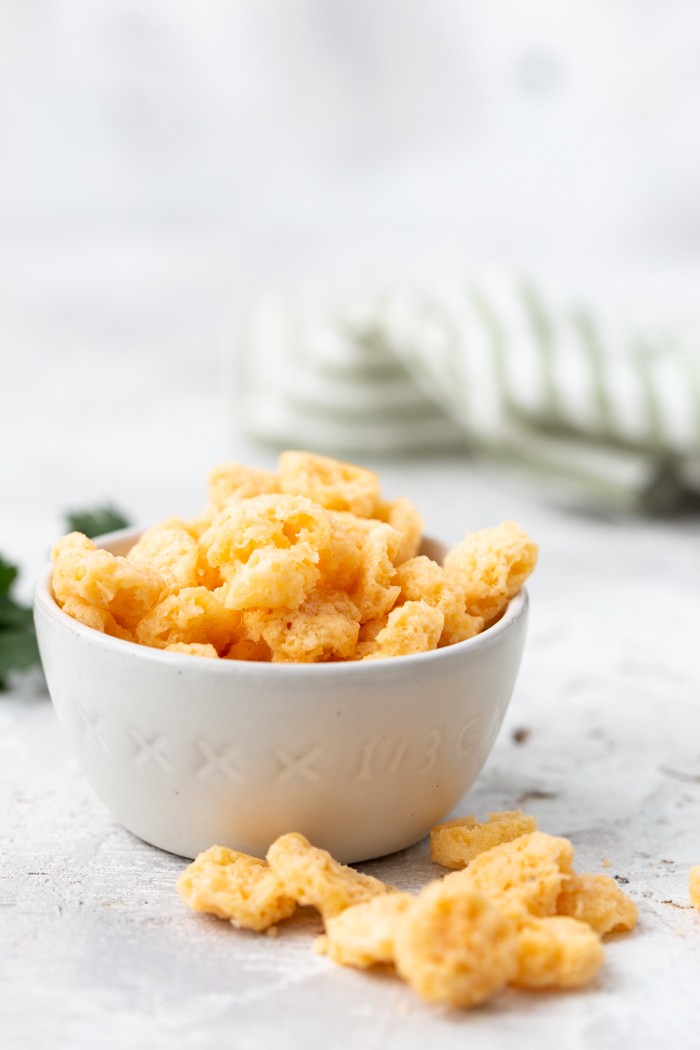 Classic Deviled Eggs:
Everything I said about the jalapeno bacon deviled eggs applies here. Super low carb, high fat, moderate protein. The perfect specimen for keto dieting, and all in one, snackable option.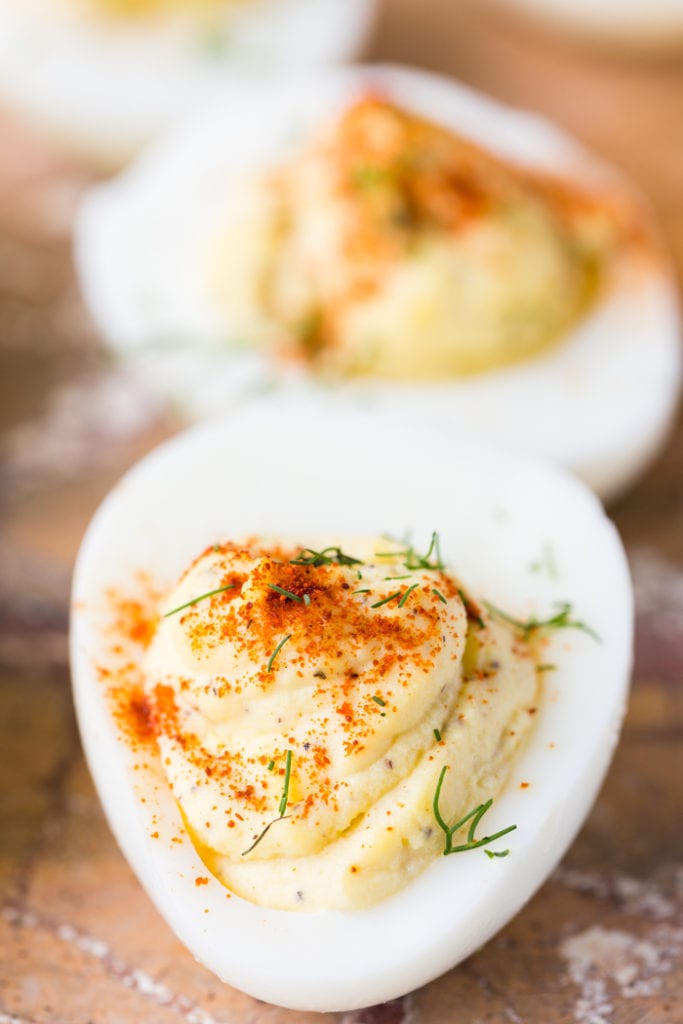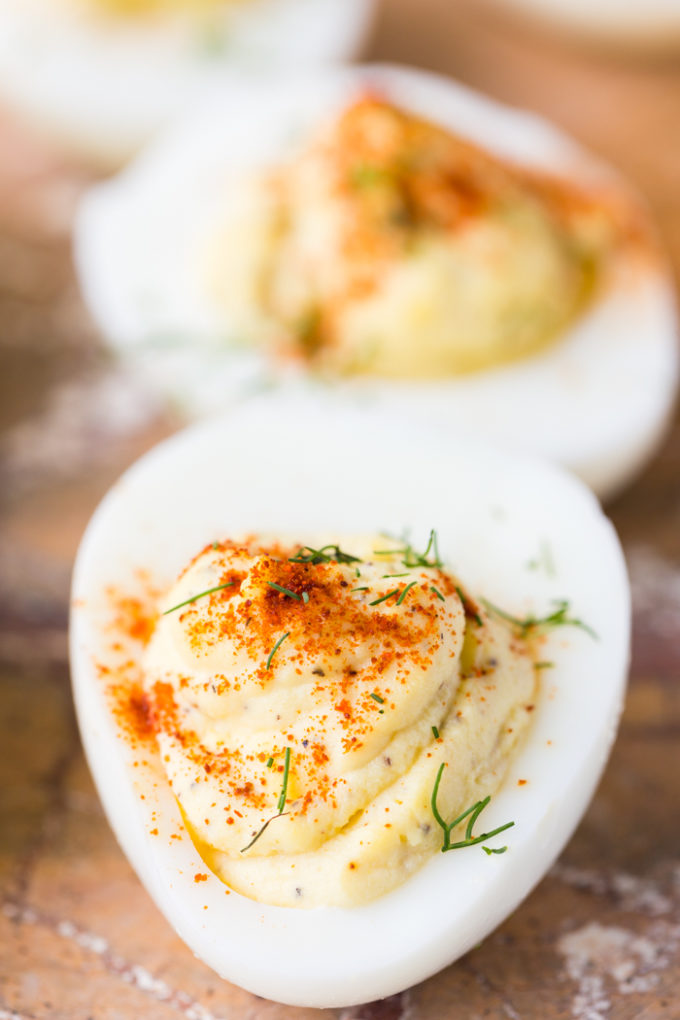 Nut Butter + Celery:
If nuts are good for you on keto, it stands to reason nut butters would be too, as long as you aren't going for the ones with tons of added sugars. When you combine a delicious nut butter with celery sticks you get great health benefits of healthy fats and protein.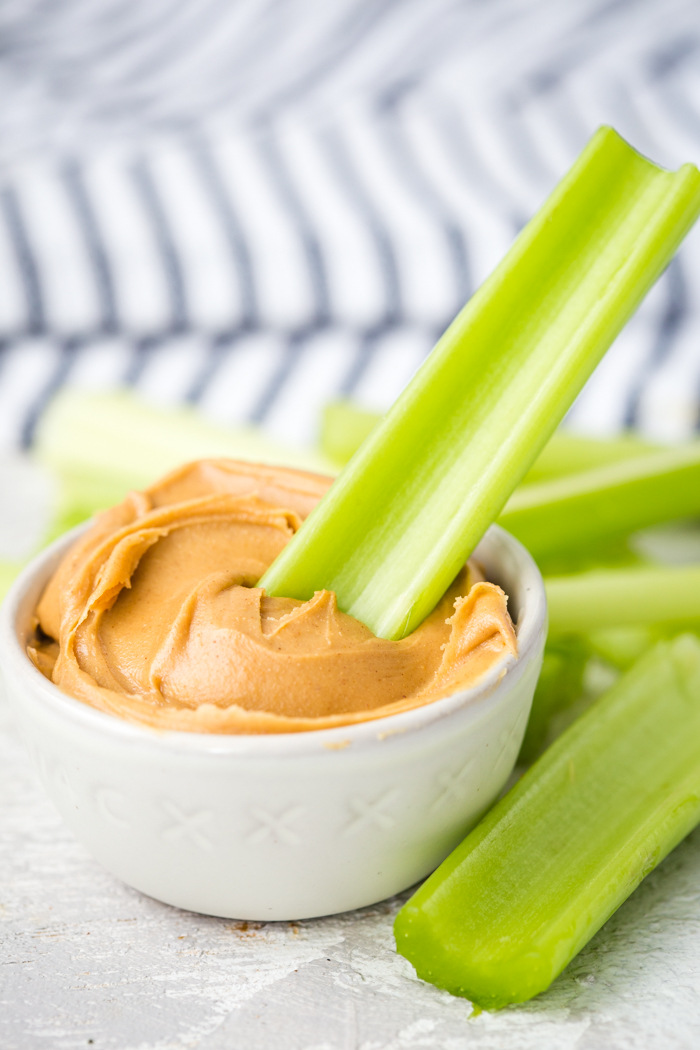 Brie + Nuts:
A good creamy brie is nice and packed with fat, and when you combine it with pecans, it is an excellent keto snack. Brie only has 0.1 grams of carbs per ounce. That means you can enjoy baked brie and still be keto-compliant. This makes my dairy-loving heart super happy.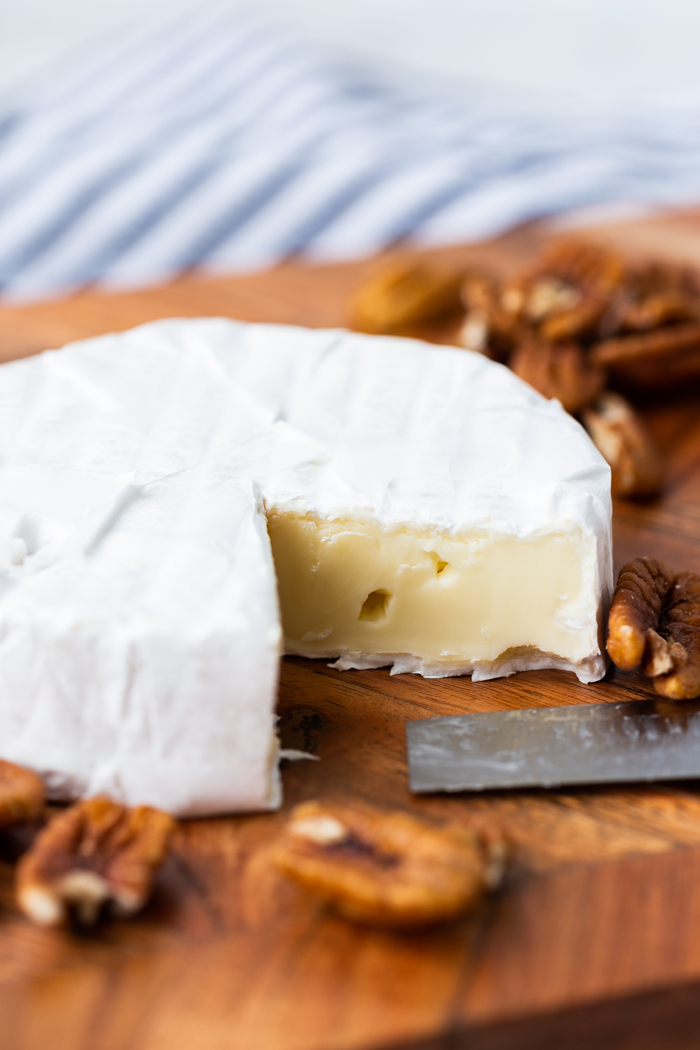 Bacon Wrapped Asparagus:
Hands down one of my favorite recipes and snacks for keto diet! These bacon wrapped asparagus are salty and delicious, and have just the right amount of fat and protein and flavor, while remaining relatively low in carbs. For this recipe, wrap your trimmed asparagus in bacon, and bake on a rack on a sheet pan at 400 degrees for 10 minutes, flip them and bake 10-15 minutes more until bacon is crispy. Get the full recipe here.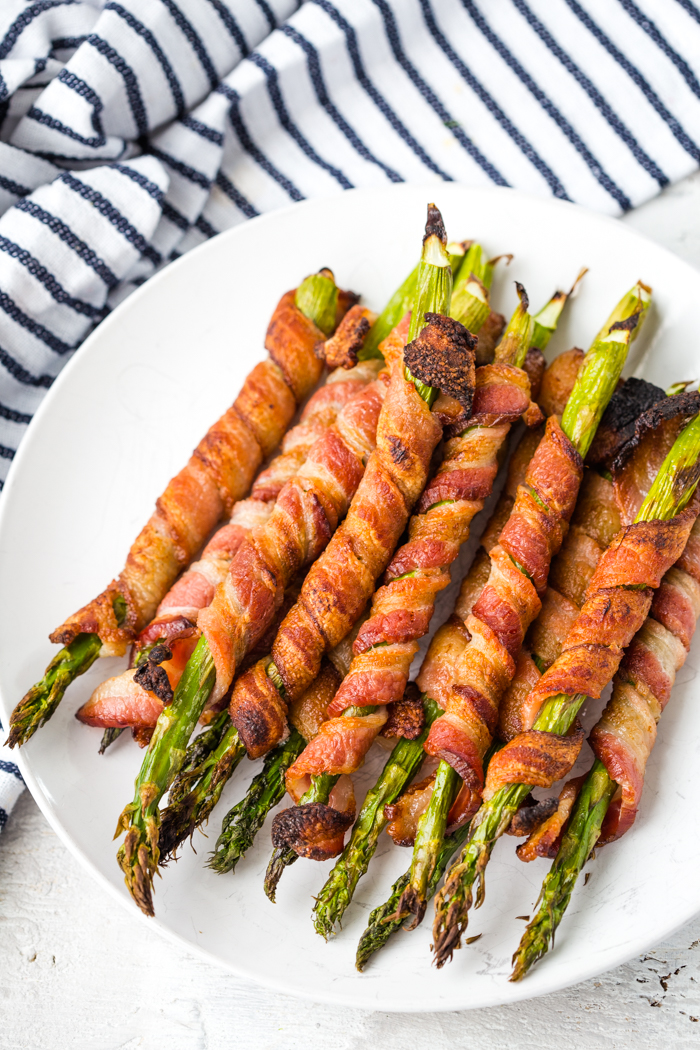 Dill Dip and Cucumbers:
This dill dip is the stuff dreams are made of. I first tried it on a vacation with a friend. She brought it to let everyone try it, it was her grandmother's recipe and boy did I love it. I asked if I could have the recipe, and now I am sharing it with you! Get the recipe here. This dip is full of fats, and creamy dairy, and is low in carbs, making it great for snacking while staying keto compliant.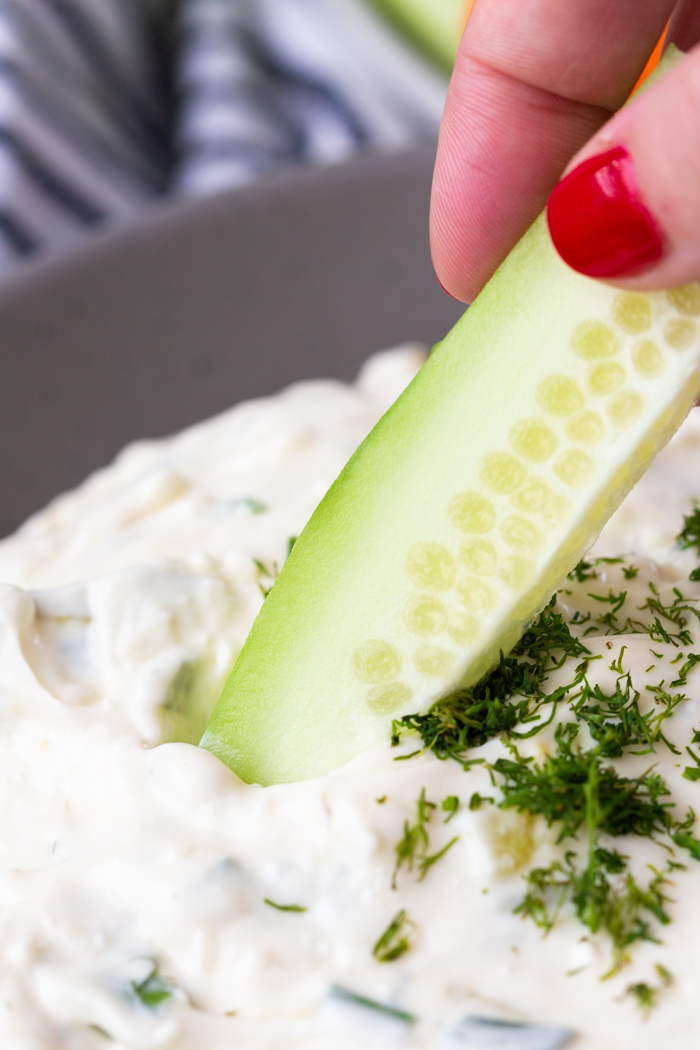 Coconut Chips:
If you can find the unsweetened kind, these coconut chips are an excellent keto friendly snack food. They are crunchy and tasty, and low in carbs and high in fat. A great snack. But read the labels so you don't end up with any surprises.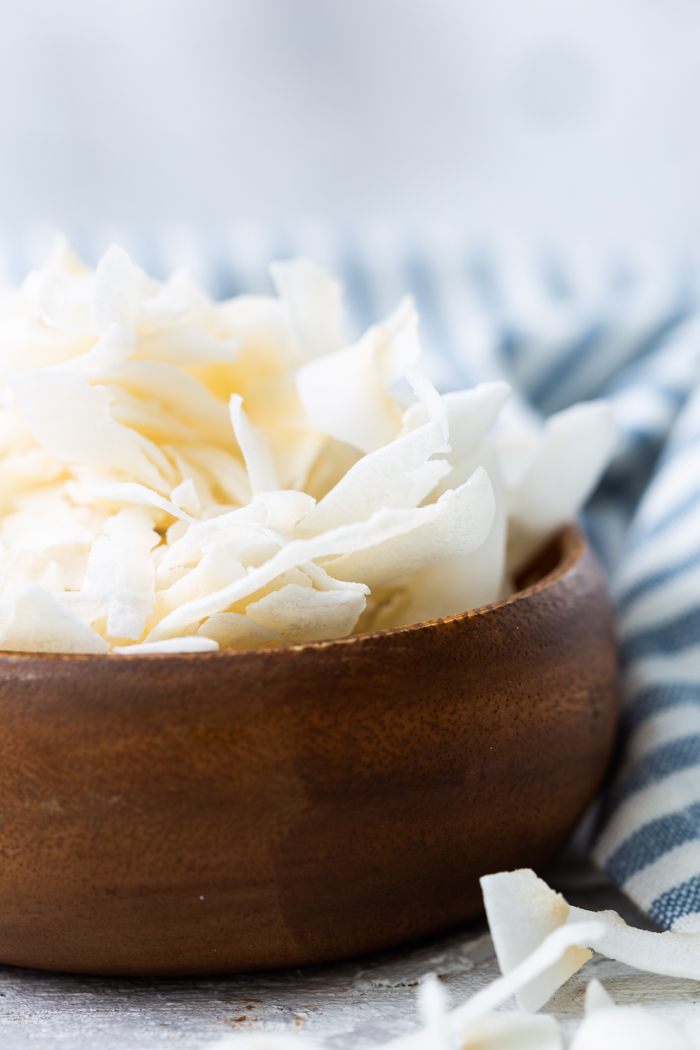 Ham and Cheese Egg Muffins:
While this is typically a breakfast option on keto, it is also a great snack. These little guys aren't too calorie heavy, and can be a great source of both protein and fat. Plus they are super low carb.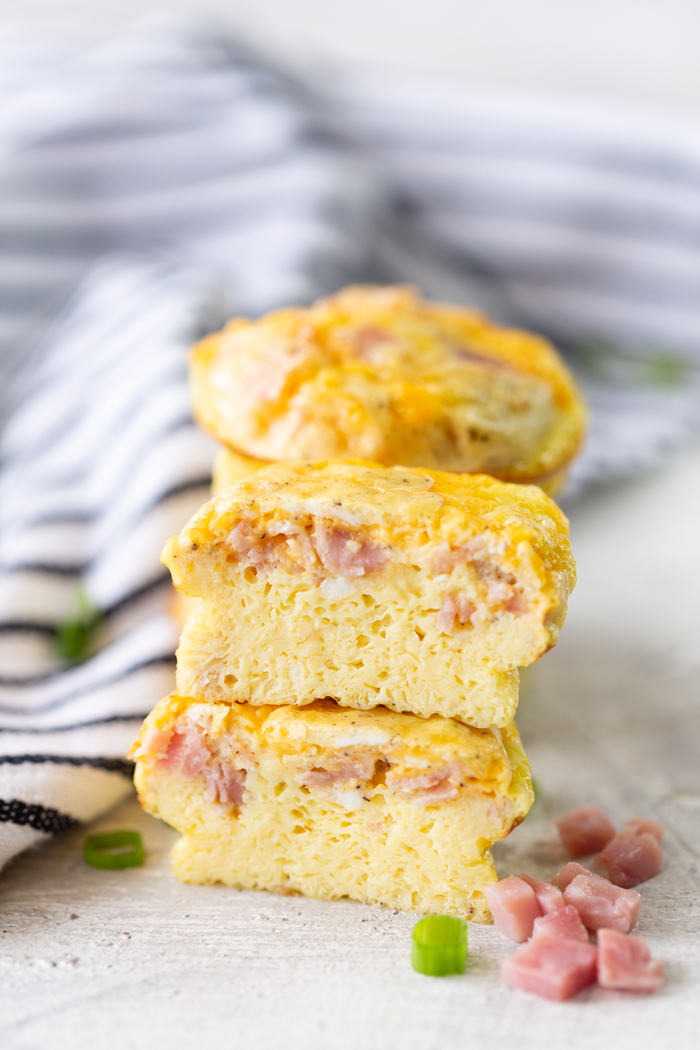 Cheddar Bacon Ranch Deviled Eggs:
Cheddar Bacon Ranch Deviled Eggs
Ok, yes, another deviled egg recipe, but that is because when you are on a keto diet you still want to enjoy lots of flavor, even in your snacking, and these eggs are perfect for that. Instead of using mustard, they use ranch seasoning, which gives them a fun flavor profile, and keeps them totally keto compliant.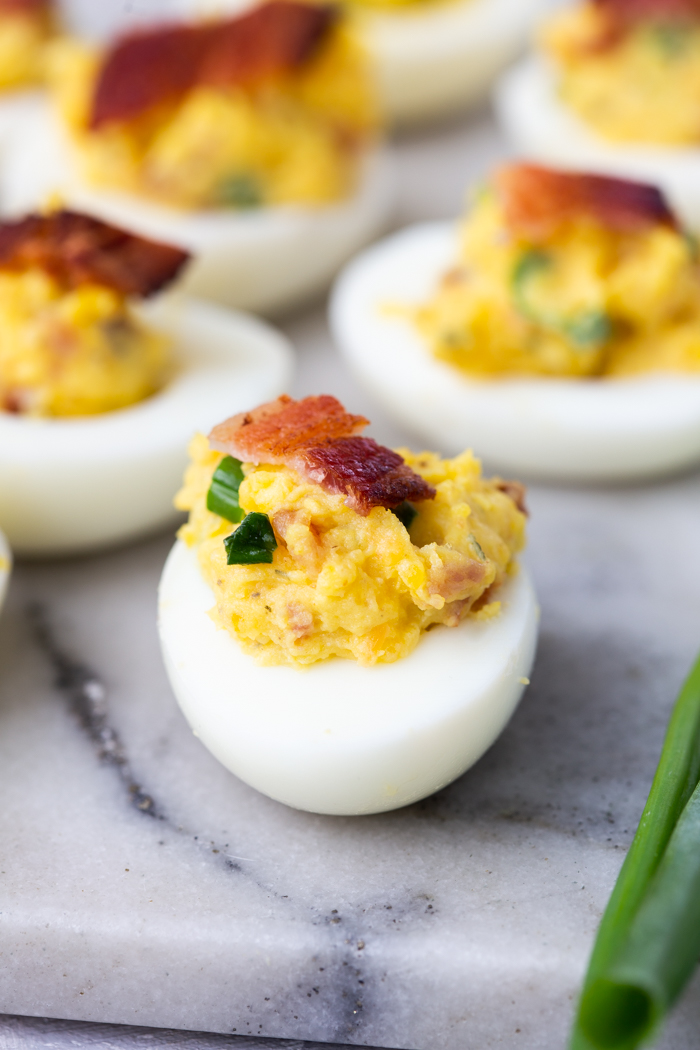 Guacamole:
When you add things like bell peppers, a few tomatoes, and plenty of cilantro to your easy guacamole, it becomes a snack you can't wait to munch on. Skip the chips, and instead opt for cheese crisps, or bell peppers. And you have the perfect keto friendly snack.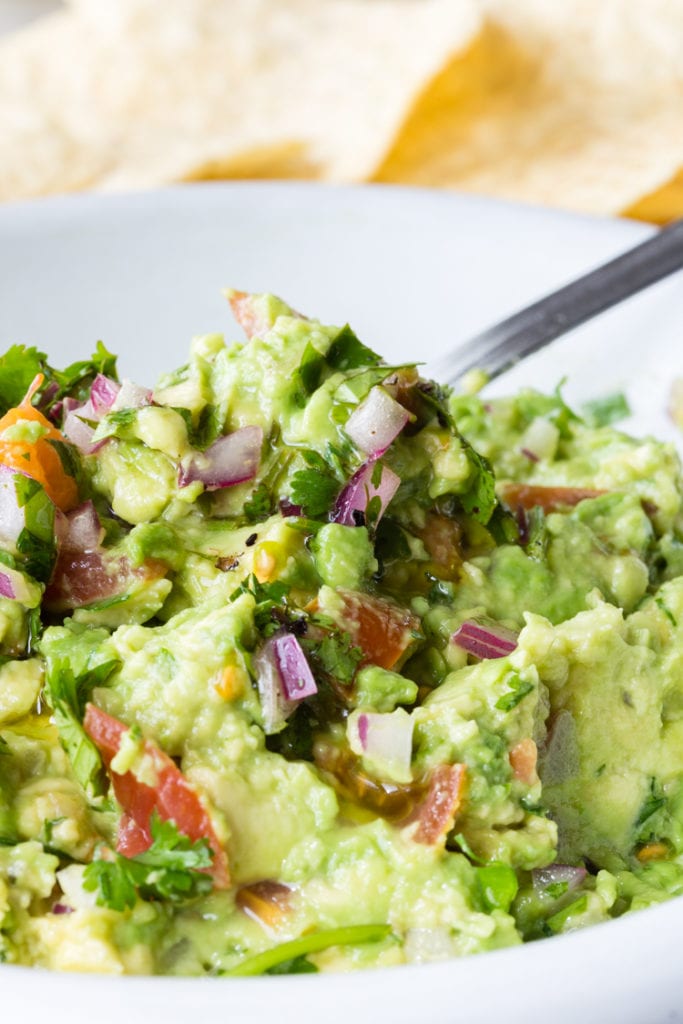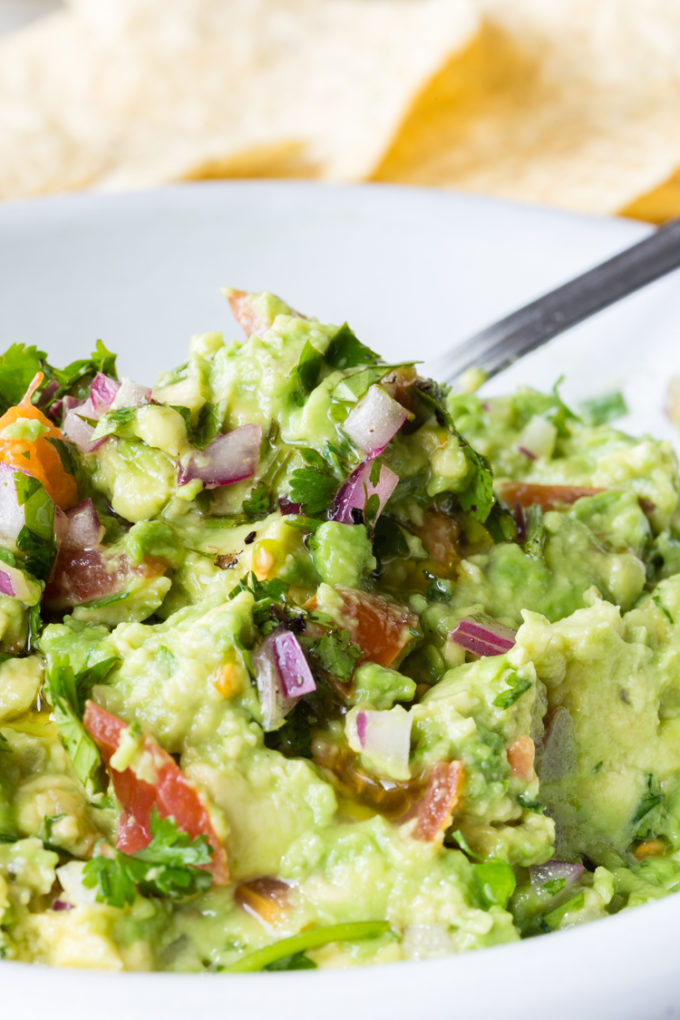 There you have it, a great place to start when it comes to keto snacking, and plenty of ways to stock your fridge and pantry so even when you get the munchies you can stay keto compliant.
Keto Meal Ideas
If you are looking for some great low-carb meal ideas, here are a few of our favorites:
Pin to your Keto Diet Board: