Lemon Rosemary Marinade
Lemon Rosemary Marinade is the perfect solution when you are looking for an easy, light, Italian inspired marinade that partners well with both chicken and pork. 
Lemon Rosemary Marinade is quick to make and provides a refreshing flavor to your meal. Marinate chicken, and serve with rice pilaf, cucumber salad, and these smores brownies for a perfect summer meal.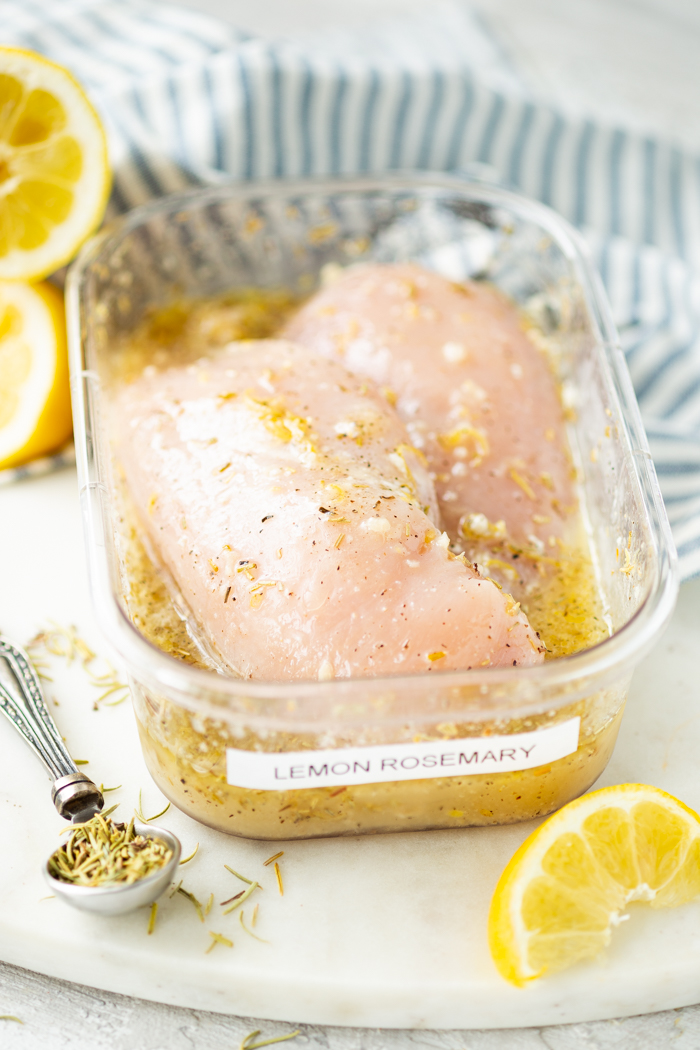 The prep for this Lemon Rosemary Marinade is so simple. 
It only requires a few ingredients, yet it is bursting with citrusy, Italian flavor.  Make this Lemon Rosemary Marinade on a night where you want minimal prep, but anything but minimal taste.
I have tried store bought marinades and while there are some pretty good ones out there, nothing beats the freshness and flavor of a homemade marinade. I am obsessed with playing with flavors, like with this Mojo marinade, a citrus, garlic, and onion marinade. Or this Greek chicken marinade. Or this jerk marinade (OH MY)!
Being able to adjust flavors is amazing, and knowing what goes into the marinade, and therefore your body, also amazing.
Plus, when a marinade like this is so easy to make, there is no need to venture down the aisle of your grocery store looking for a store bought product.
You can so easily make this fresh, homemade Lemon Rosemary Marinade in a couple short minutes right in the comfort of your very own kitchen. 
And boy oh boy can you tell the difference!

What You Need For This Marinade:
Since I have been boasting about the simplicity of this marinade and its minimal ingredients, I better start putting my money where my mouth is and prove it.
Ingredients Needed For Lemon Rosemary Marinade:
Lemon

Extra Virgin Olive oil

Garlic Cloves

Dried Rosemary

Kosher Salt 

Freshly Ground Black Pepper
That's it!  Only six ingredients.  Six ingredients that you may already have in your cupboard.  Six ingredients that include basics like salt, pepper, and olive oil.  Six ingredients with very minimal chopping.
This recipe is easy peasy. And great on chicken and pork, and several different cuts.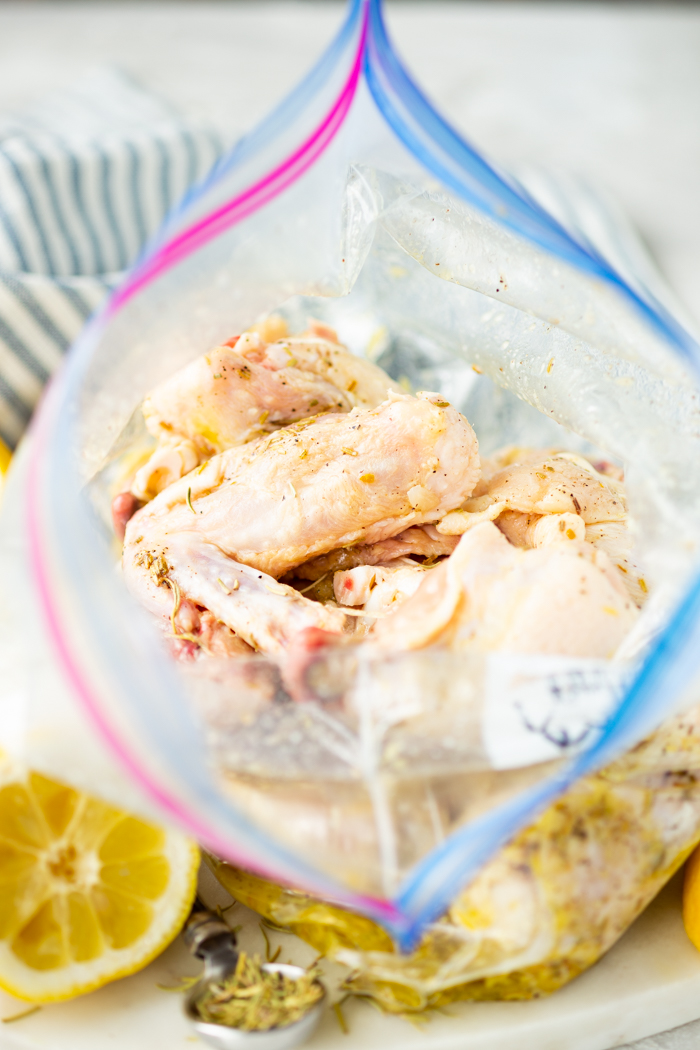 Why This Marinade Is So Great:
This Marinade Has A Refreshing Flavor.
Okay I can't wait for you to try this marinade.  The flavor is light and refreshing and can be used in so many dishes.
When we were recipe testing all of the marinades, I had a kitchen full of helpers, and I asked them all to taste them, and this one was our camera man's favorite! And I had to agree. It was simple flavors that packed a punch.
This Marinade Partners Well With So Many Things.
Not only can you use this marinade with pork or chicken, it partners nicely with other foods. 
Lemon rosemary marinated chicken is great with pasta, or serve it along with a nice Caesar salad, or even put it in a green salad. 
There are many ways you can use protein that has been marinated in this special sauce. Wraps, salads, with various starch sides. 
The Marinade Requires Minimal Ingredients That You Probably Already Have in Your Cupboard.
The only item on this list I don't always have is fresh lemons, but even that is rare.
It stinks to be dinner prepping and to realize you are one ingredient short.  Believe me I have been there. Shamelessly texting my neighbor to see if I can borrow an ingredient,  I have done that one too many times.
Fortunately, as already mentioned, this recipe does not require very many ingredients and you probably have almost, if not all the ingredients already on hand. 
If you don't have all these ingredients, consider making some changes to your shopping habits, as they are great universal ingredients to stock your kitchen with.
I love when a recipe calls for ingredients that I will use in other dishes.  That way I won't feel bad about the cost of ingredients when I know I will use spices or food items for other recipes. 
And let's be honest, as said before, you probably already have most of the items already in your kitchen, making this recipe not only easy, but convenient too.  Trust me, I am all about convenience.
In nutshell, this recipe is easy, convenient, tasty, and partners well with a lot of things, making this marinade a must try.
How Long Should You Marinate Chicken?
If you don't have a lot of time to prep, this Lemon Rosemary Marinade is a great meal option.  It will dress up your basic chicken and only takes 1-2 minutes to make. And can flavor your chicken perfectly in  under 30 minutes. 
However, while the marinade only takes minutes to make, allow time for the chicken to to marinate.  
For this recipe, I recommend marinating your chicken from anywhere between 30 minutes to 2 hours for chicken breasts. And 4-12 hours for bone in, skin on chicken.  Times will vary depending on the cut.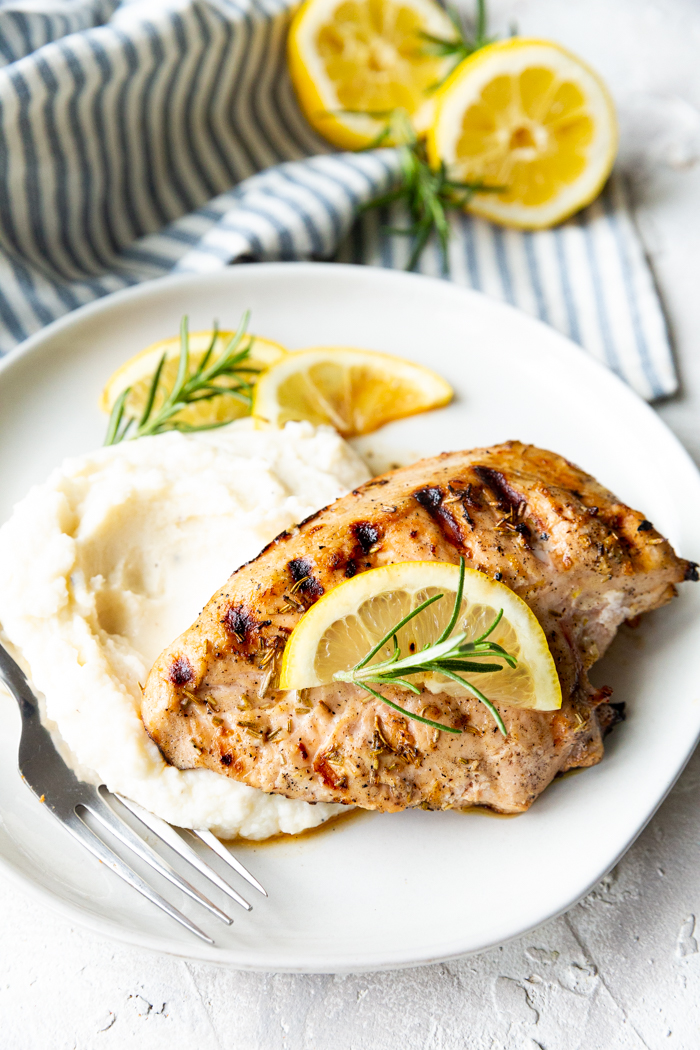 Can You Marinate Chicken Too Long?  
Absolutely you can.  Don't think the longer you marinade the chicken the more tender it will get.  This is not the case. You can actually marinate a piece of chicken for too long.
For this recipe, definitely pay attention to the cut of chicken and definitely do not marinate for more than 12 hours.
In fact, for many marinades, I advise only marinating your chicken for 30 minutes to two hours.  
Especially if the marinade has citrus or acid in it, as it can make chicken tough. And this marinade obviously has lemon.
The trick is that you want to give time for the chicken to get the best flavor, without marinating it so long your chicken toughens up.
You can also risk chicken getting mushy and unappetizing as well.
Just keep in mind the following rules of thumb:
30 minutes to 2 hours for chicken breasts.
And 4-12 hours for bone-in, skin-on cuts.
Can You Marinade Frozen Chicken?  
Absolutely you can.  In fact I love to do this because then it's like I have a built in freezer meal and oh how I love freezer meals for those oh so busy nights.
Just be aware that as your chicken is defrosting, the marinating process is happening.  No need to further give time for marinating. 
In fact I advise to not let your chicken continue to marinate after it has defrosted.  Because the chicken has already been marinating while it is defrosting, providing more time to marinate can hurt the quality of your protein.  
Remember marinating for too long can lead to tough chicken. 
So yes, freeze it in the marinade, but plan to cook immediately after defrosting.
How Long Should You Marinate Pork?
Can You Marinate Pork Too Long?  
Yes, just like with chicken you can marinate pork too long and have it become mealy.  Yuck.
Remember, marinating pork is all about bringing out flavor.  It has nothing to do with tenderizing the meat. So, you want to marinate long enough to get the optimal flavor of this marinade, but not so long that the texture suffers.
For this marinade recipe, the same time frame applies, just like with the chicken.  Marinate pork 4-12 hours, depending on the cut.
However, typically with pork a good general rule of thumb is 30 minutes to 12 hours.
Pork is definitely a fun protein to marinate and although when you think of a lemon rosemary marinade the protein pork may not come to mind, don't limit yourself.
This marinade definitely pairs nicely with the flavor of both pork and chicken. And grilling pork chops marinated in this is amazing! 

Marinating Tips:
Marinating isn't a hard process, especially when you pick a delicious and easy to make marinade, like Lemon Rosemary Marinade. 
However, there are some things you want to be careful of or want to implement to get the most out of your marinating experience.
Marinating Do's and Don'ts
Can Marinade Be Used As A Sauce?  Is this a do or a don't?
Well it's both.  
Do taste the marinade, and if you like the flavors as is, set aside part of the marinade before it comes in contact with raw meat and use it as a sauce.  Go for it. A lot of marinades make great sauces.
Don't cover your raw protein with the marinade and then use it post-marinading for a sauce.  You could get sick from sauce that has come in contact with the raw meat and nobody wants that.
(There are ways to salvage it and use it, but not raw.)
Can You Freeze Marinades?  Yes.
If it will make life easier to make this marinade ahead of time and freeze it, go ahead.  I personally love to do that. 
Do freeze this favorite marinade for later use.  In fact make it a freezer meal and marinate your chicken or pork in the marinade and freeze it for later.
Don't forget though that the protein is already marinating while defrosting.  Don't add additional marinating time to the protein.
Can You Store The Marinade In Any Container?  A Big NO on this one.
Don't use metal containers when marinating the food in the Lemon Rosemary Marinade or any marinade for that matter.  Little chemistry lesson here, the acid in the marinade can react to the metals chemically and actually change the flavor or the marinade.  You do not want this to happen.
Do use gallon sized ziplock bags to store your lemon rosemary marinade or marinating food.  They fit easily in the fridge/freezer and are not too expensive.
Can You Use As Much Salt As You Want In A Marinade?  Nope.
Do use a little salt in a marinade.  I used salt in this recipe. Salt can bring out flavor.  
Don't use too much salt in a marinade.  Salt can dry out the meat by drawing out the moisture.  It is better to add salt later if you prefer more salt, than to use more in your marinade. When in doubt, cut down the salt, and add at the end. 
I like a nicely salted meat, so if you are salt sensitive, keep this in mind when making this recipe and customize to you. 
Taste the marinade before adding it to your chicken/pork. If you prefer more salt in this marinade, simply just add the salt later when you are ready to eat so it does not dry out the meat.
Can You Marinate Chicken And Pork At Room Temperature?  No!!!!
Don't marinate your raw meat at room temp, whether you are using this marinade recipe or any marinade.  Dangerous bacteria can grow and can cause food borne illness.
Do marinate your protein of choice in this Lemon Rosemary Marinade in either the fridge or freezer as a freezer meal.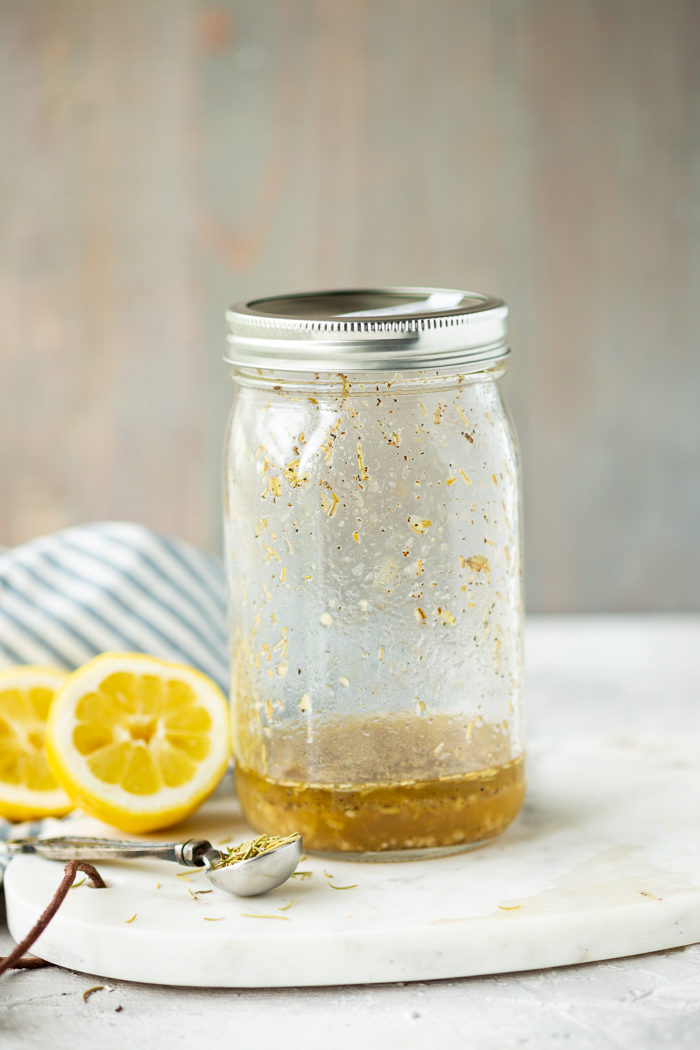 Cooking Methods For Marinated Meals:
I personally love to grill chicken this time of year, but you can cook your lemon rosemary marinated protein in the oven, on the stove, or on the grill.
Use the cooking method of choice for this meal and enjoy.
Cooking Methods For Marinated Meats:
Grill – With a 400 degree grill, grill 5-7 minutes per side to reach 165 degrees internal temperature. 

Bake – Bake at 400 degrees for 22-25 minutes until internal temperature reaches 165 degrees F. 

Skillet or Stove Top – Sear exterior of chicken by cooking on medium high heat with a little fat (oil or butter) for 5-7 minutes per side. Then turn down and cover pan and cook until internal temperature reaches 165 degrees F.
Air Fry – Cook at 375 degrees for 22 minutes (depending on thickness), flipping at 15 minutes, then check internal temperature.

Stir Fry- Cut into small pieces, cook over high heat until chicken is cooked through. 
Any of these methods will work great with this dish.
Cook chicken to 165 degrees F. Cook pork to 145 degrees F.

Make It A Complete Meal:
Serve lemon rosemary marinated chicken in a salad and make extra marinade to use as a dressing or serve it with pasta.
Or if you want to keep it really simple, marinate pork or chicken and serve it with a baked potato or smashed potatoes and a side of Cheddar Bacon Florida Sweet Corn.  This meal will not disappoint.
No matter how you choose to use your marinated dish, keep with the lemon theme and end the meal with perfectly, delicious Lemon Shortbread Cookies.  It will add the perfect bit of flare and ending to your perfect meal.
Lemon Rosemary Marinade Is A Must Try!
You will love the simplicity and taste of this Lemon Rosemary Marinade.  The marinade can be made ahead and stored in the fridge for 3-5 days before being used on chicken. So make it and enjoy!
Once this marinade has gotten you in the citrusy mood, here are some other lemon infused dishes you have got to try.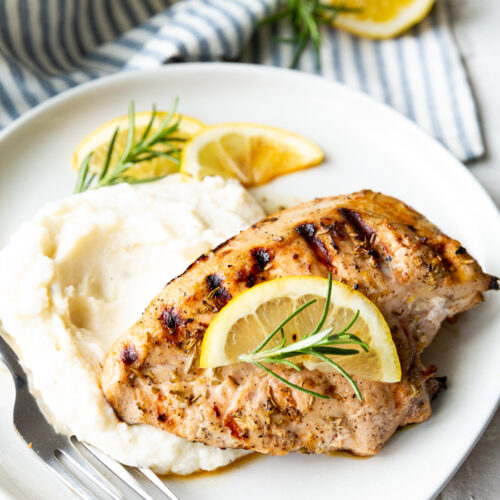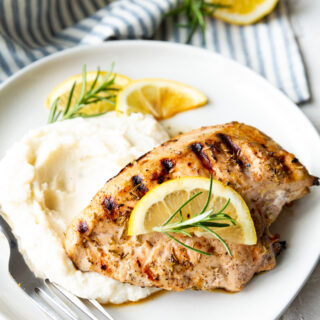 Lemon Rosemary Marinade
A citrus and herb marinade that leaves chicken flavorful and juicy and absolutely fantastic.
Print
Pin
Rate
Ingredients
1

lemon

juice and zest

1/4

cup

extra virgin olive oil

2

garlic cloves

minced

1

teaspoon

dried rosemary

1/2

teaspoon

kosher salt

1/2

teaspoon

freshly ground black pepper
Instructions
Zest a whole lemon, then juice it.

Add all ingredients to a jar or bowl.

Shake or whisk together.

Pour over chicken or pork in a container or zip top bag.

Marinate for 30 mins - 2 hours for chicken breasts, 4-12 hours for bone-in, skin on cuts of chicken. And 2-10 hours for pork.
Nutrition
Calories:
130
kcal
|
Carbohydrates:
3
g
|
Protein:
1
g
|
Fat:
14
g
|
Saturated Fat:
2
g
|
Sodium:
292
mg
|
Potassium:
37
mg
|
Fiber:
1
g
|
Sugar:
1
g
|
Vitamin C:
14.8
mg
|
Calcium:
10
mg
|
Iron:
0.2
mg
Our recipe card software calculates these nutrition facts based on averages for the above ingredients, different brands, and quality of produce/meats may have different nutritional information, always calculate your own based on the specific products you use in order to achieve accurate macros for this recipe.
Want to use this recipe in a meal plan?
Try PrePear, my FREE Meal Planning App that allows you to save your recipes, plan meals, shop for groceries, and cook simply in one place. Join Here!
Pin to your marinade, dinner, or grilling board on Pinterest: