Mashed Cauliflower
Mashed Cauliflower is the perfect low carb alternative to mashed potatoes.  Prepped and cooked in just a short 25 minutes, this cauliflower mashed potatoes recipe is the perfect answer for when you are craving creamy mashed potatoes but are looking for a healthier or low carb option.
With a little bit of Romano and Parmesan cheese, accompanied with garlic and just a pinch of cream cheese, the balance of ingredients makes this the best cauliflower mashed potatoes ever.  Don't worry about how to make mashed cauliflower, trust me this recipe is easy peasy.
Serve it with the best turkey recipe, roast carrots, and turkey gravy!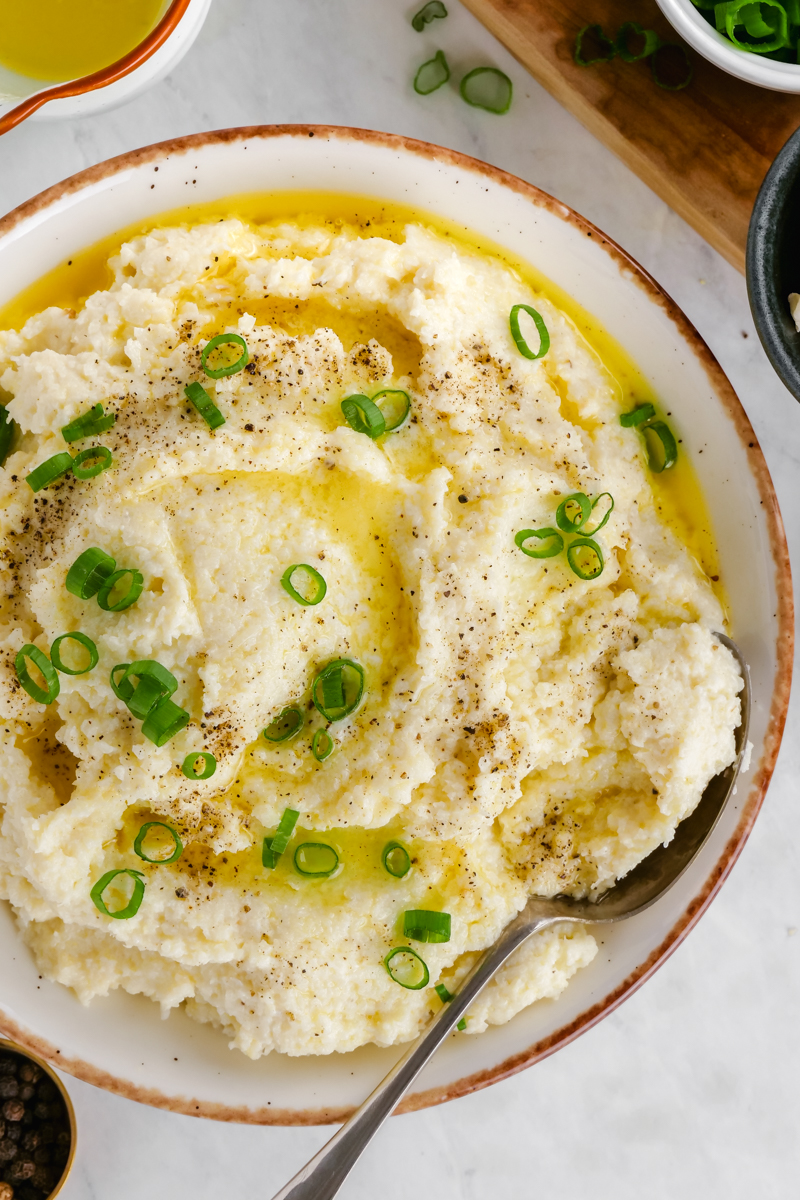 Creamy mashed potatoes are so, so good, but let's be honest they are not so good for the waistline.  That is why Mashed Cauliflower or cauliflower mashed potatoes will soon become your new best friend. You get all the flavor without the pesky carbs. 
How Do You Cook Cauliflower To Taste Like Mashed Potatoes?
I am so glad you asked. 
There wouldn't be anything amazing about cauliflower mashed potatoes if all it tastes like was cauliflower that is mashed.  I mean really where is the fun in that?
Yes, this Mashed Cauliflower mimics the taste of regular mashed potatoes.
However, I am going to be honest with you here.  While Mashed Cauliflower is really, really good, does it taste exactly like mashed potatoes? I mean does diet soda taste exactly like regular soda?  No.  
Here is the thing though, they do taste A LOT like mashed potatoes and the flavor is so good you won't even mind.  And when you whip them to be fluffy and delicious, they will fill the craving for mashed potatoes. 
Now don't go around saying this too loudly, but your kids won't even realize they are eating cauliflower.
I love when I can be sneaky with my veggies.
Can you make Mashed Cauliflower even further mimic the taste of mashed potatoes?  Why yes you can.  
However it is more about the ingredients than the method of cooking in regards to mimicking the taste.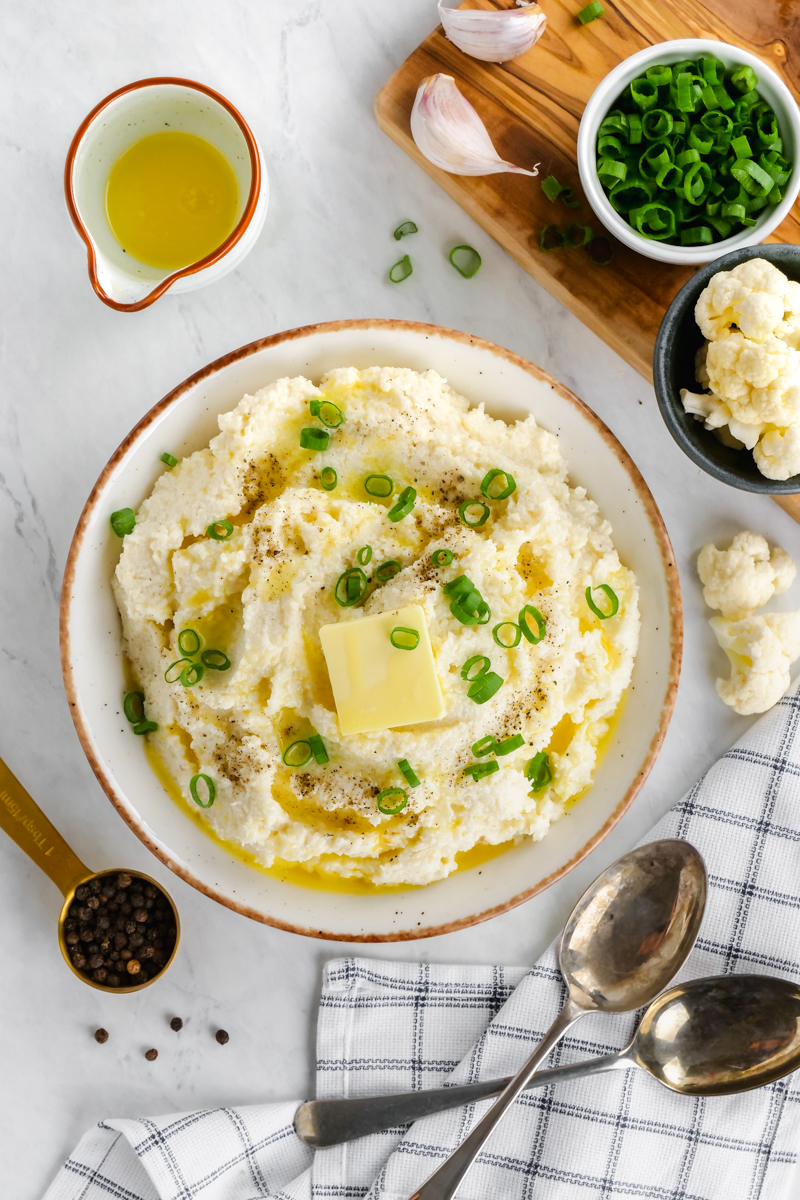 2 Ways To Make Mashed Cauliflower Taste Like Mashed Potatoes:
Use Spices.
Cauliflower is like a blank canvas that should be added to.  It really works well with so many spices. So, what's stopping you?  
Use spices that are typically used in mashed potatoes, for example garlic, black pepper,  etc. .
Use Ingredients Used In Mashed Potato Recipes.
Mashed potatoes are always amped up with some fat, and some flavor. If you want your mashed cauliflower to taste like mashed potatoes, you will want to do the same thing.  Use sour cream or cream cheese, butter, or add a favorite cheese in the mix.  
Want to produce the same flavor profile?  Well then use the same ingredients.  
Whatever you use in  your favorite mashed potato recipe can be used in this mashed cauliflower recipe. 
Notice in this recipe both garlic, cream cheese, and cheese are all used to help mimic that mashed potato flavor.
How To Make Cauliflower Mash?
Roast cut cauliflower in oven with garlic and olive oil drizzled on top for 15-20 minutes.  Many recipes for mashed cauliflower say to boil it. Yuck. Do not do that. No only will you lose a bunch of the amazing nutrients, but also it won't be as flavorful. Roasting brings out the natural sweetness, and adds amazing flavor to your dish. Mashed cauliflower is so much better when roasted.
Whip it. Use a food processor (or other method), blend the cooked cauliflower and garlic.  You  want that creamy, mashed potato texture, you get that by food processing the cauliflower. 
Add flavor. Add all the cheese to the processor and pulse until incorporated. Yum! 
Taste and Adjust. Taste and further season with salt and pepper.
Is that easy or what?  No long drawn out process.
Roast, blend, add more ingredients, further blend or process, and season.  That's it!!
Is it just me or does it seem like not only is Cauliflower Mash better for you than just regular mashed potatoes, it also seems to be a lot easier to make?  No peeling needed. 
If there was a competition between Mashed Cauliflower and mashed potatoes, I would say that Mashed Cauliflower was winning.  Sorry mashed potatoes. We still love you of course. (Ok quick plug for my mashed potatoes, they are pretty amazing, and if you want to learn all the tricks for how to make them amazing, check out this post for How to Make Mashed Potatoes.)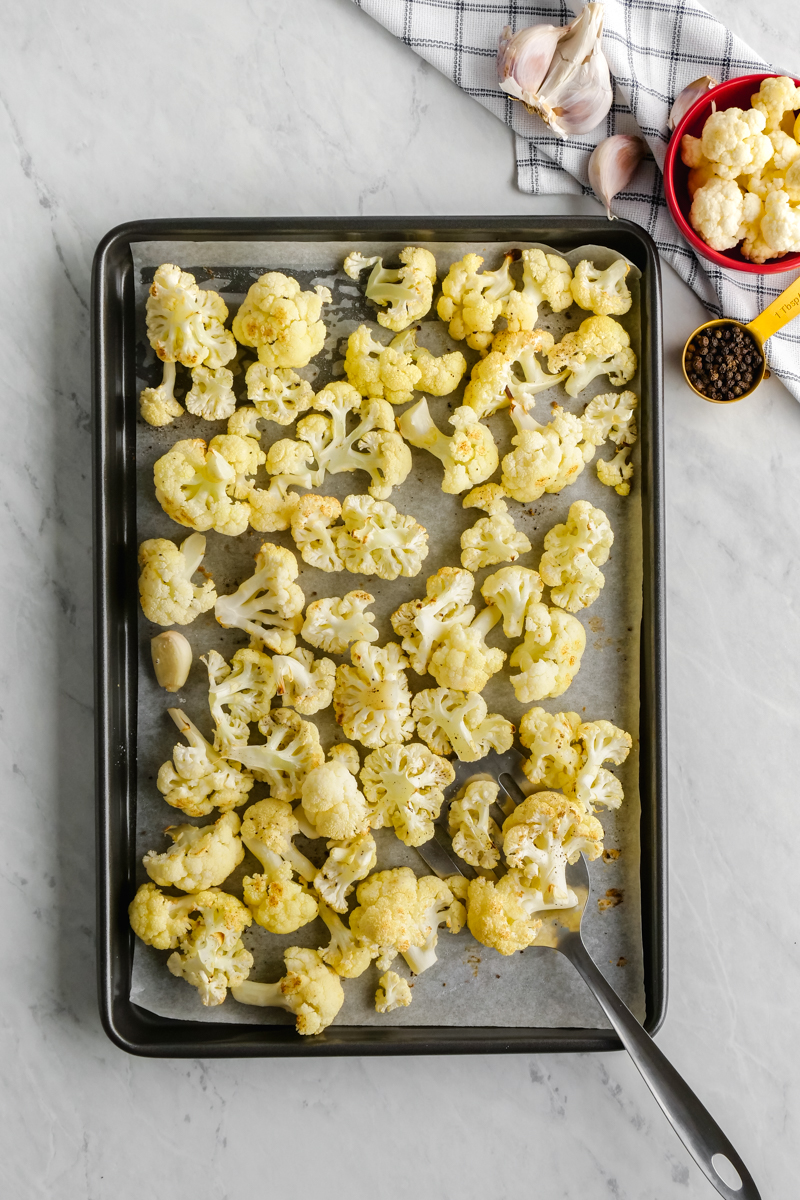 Why Roast The Cauliflower?
I know I mentioned this already, but roasting the cauliflower is so important for a rich, deep, delicious flavor. Not only do I like the flavor that is brought out when you roast the cauliflower, but it is a simple method.  
Also, no one wants watery mashed potatoes or mashed cauliflower.  Roasting reduces moisture, unlike boiling which can lead to watery cauliflower mashed potatoes.
Plus, roasting is so easy.  Throw it in the oven and no need to babysit your dish.
3 Reasons Roasting Is Fantastic:
 Flavor

 Easy Method Of Cooking

 Reduces Moisture = No Watery Mashed Cauliflower
Obviously you can cook the cauliflower in the way that you prefer, but I wouldn't.  You can make this recipe with using a different cooking method, but this is the best one.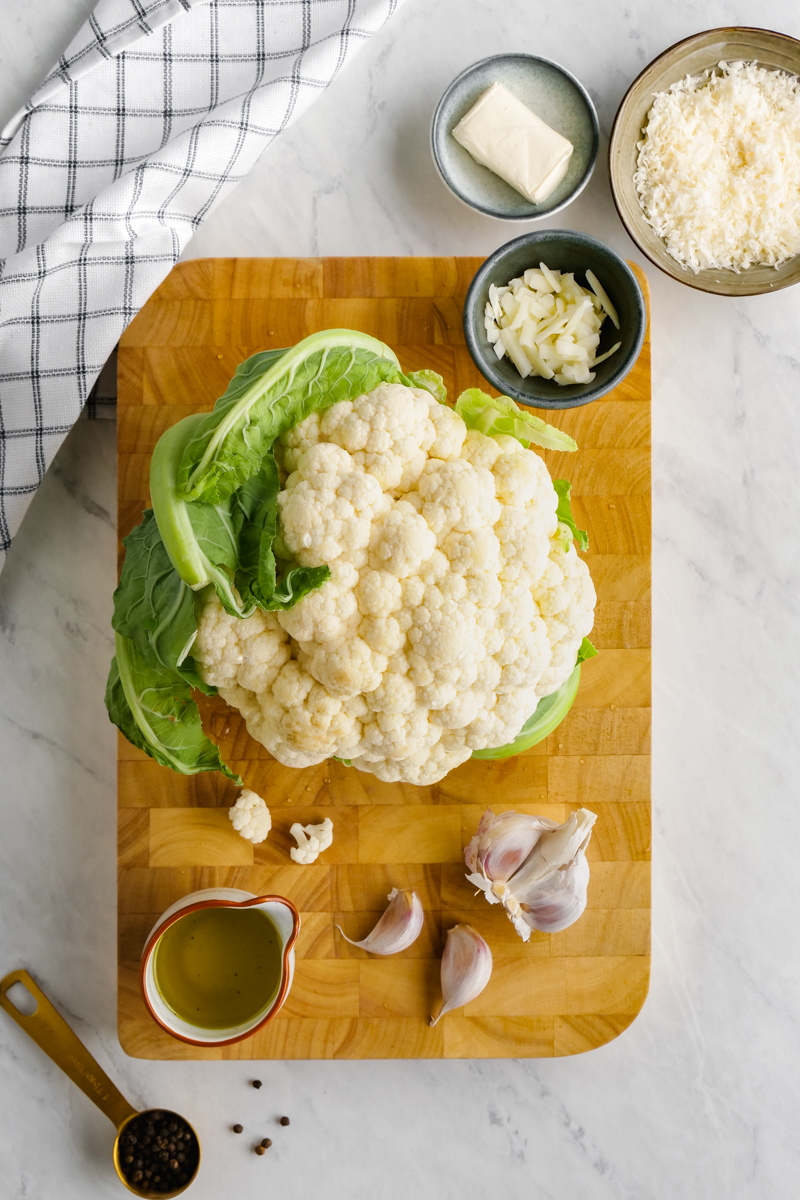 How Do I Make Mashed Cauliflower Creamy?
The word creamy and mashed potatoes go hand in hand, right? 
So of course everyone is probably going to want to their cauliflower mashed potatoes to be creamy too.
If you follow this recipe your Mashed Cauliflower should come out plenty creamy.  
However, if you want an even creamier cauliflower mashed potato, there are ways to make this happen.
How To Make It Creamy:
Roast Cauliflower.
Follow this recipe and roast your cauliflower.
Roasting reduces moisture, preventing Mashed Cauliflower from being watery.  Watery mashed cauliflower is not creamy.
Let Cauliflower Sit After Being Roasted.
By letting cauliflower sit for a few instead of immediately transferring the cauliflower to the food processor, gives time for additional moisture to be retained in the cauliflower, further preventing watery cauliflower mashed potatoes and helping produce a creamier product.
Add Full Fat Greek Yogurt.
Add a little more creaminess to the Mashed Cauliflower by adding some Greek yogurt into the blending process.
Follow these steps and you will be well on your way to a creamier mashed cauliflower.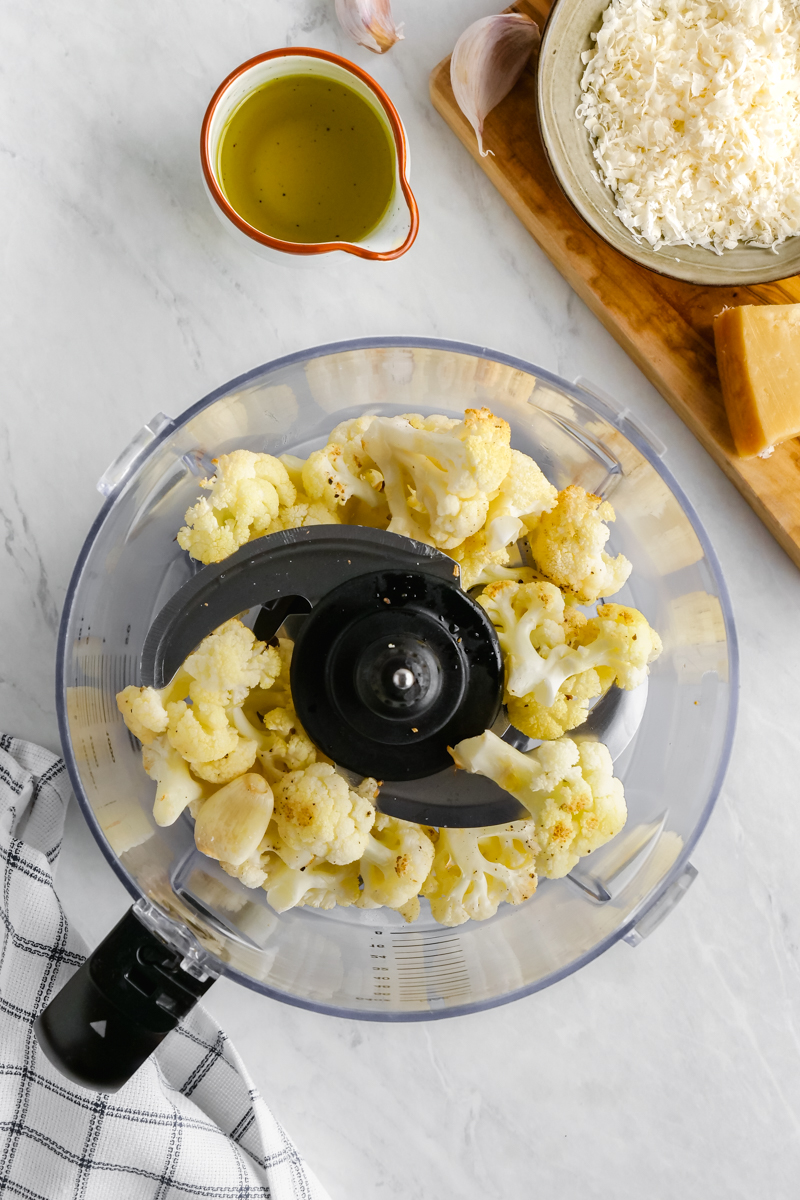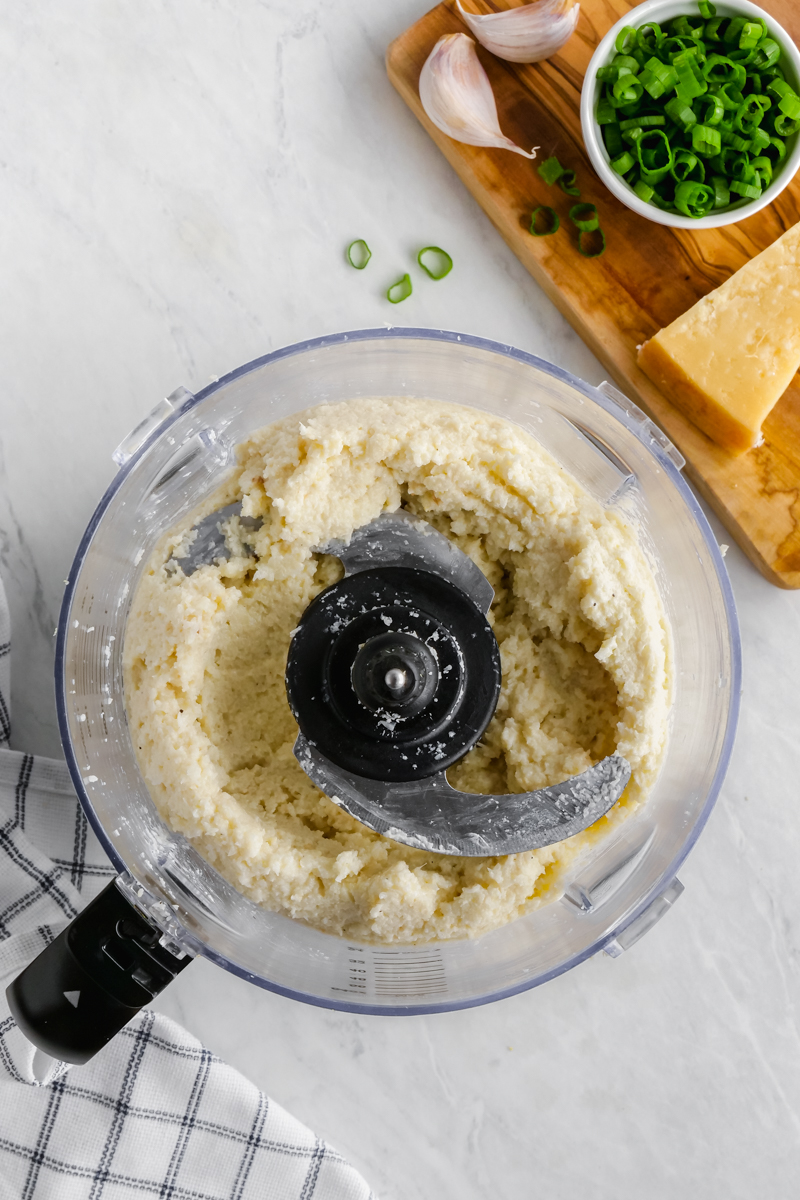 Food Processor, Blender, Or Potato Masher?
Okay so don't stress if you don't have a food processor.  Yes, I mentioned to use a food processor in this recipe, but in a pinch you can use a blender or potato masher.
Okay now that we've gotten any of those worries out of the way, let's talk best case scenario.
I chose to use a food processor when making this dish.  Why? Because in my opinion it is the best option.
Food Processors: 

Food processors are geared towards food, hence the name.  If you want smooth cauliflower mashed potatoes, then a food processor is your best bet. but keep processing until it is smooth and fluffy. 

Blenders: 

Blenders will do in a pinch, but you want to use a good one.  Blender are typically for liquids. Use a high powered blender to get it really well mashed and creamy. 

Potato Masher: 

Hopefully this isn't bad news to anyone, but potato mashers are my last choice.  They take more personal effort, since done by hand and they produce a more lumpy mashed cauliflower, rather than smooth.  But they  still work. 
So best case scenario, I would personally use a food processor, but don't let whether you have one or not be the deciding factor as to whether you make this dish or not.  
You can make this dish and be very happy with it without a food processor.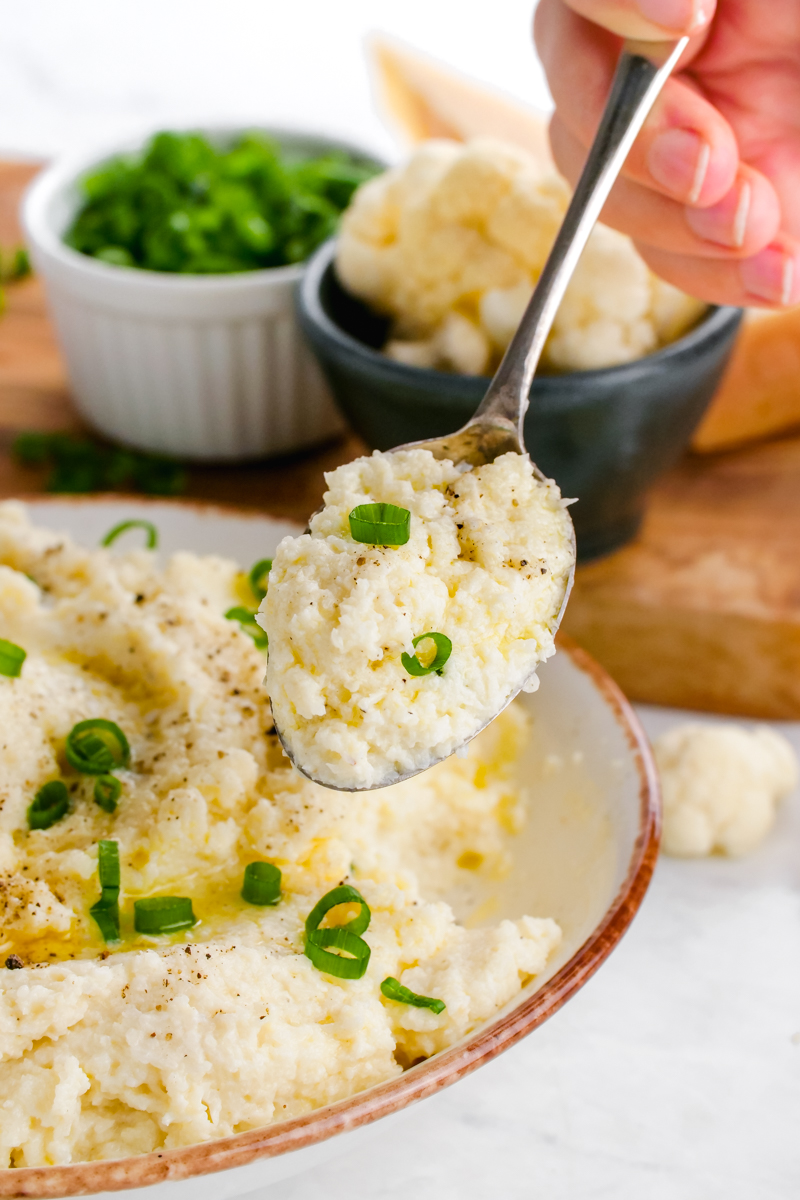 Is Mashed Cauliflower Good For You?
In my opinion the one of the main purposes of making Mashed Cauliflower is to have a healthy alternative to mashed potatoes, right?
So, I wanted this recipe to be pretty healthy.  
There is minimal use of oil, a small amount of cream cheese and Romano used, and I chose to use Parmesan cheese, which is one of the lowest calorie cheeses and a healthier cheese, as well.
Why This Recipe Is A Healthy Alternative:
Non starchy, low calorie vegetable is used instead of potatoes. 

Healthier oil

Minimal use of cream cheese- Just the perfect amount to get creamy and flavorful. 

Romano cheese contains healthy fats 

Use of healthier low cal cheese, Parmesan
Overall this recipe is pretty darn healthy.
Is any mashed cauliflower recipe good for you?  Not necessarily.
Cauliflower is healthy.  However with mashed cauliflower whether it is healthy of not depends on how much or if any unhealthy ingredients are added, like butter for example.
It's kind of like fruit.  A bowl of fruit can start off as a good idea, but then if you sprinkle it will tons of sugar, add a huge dollop of whipped cream, or drizzle with tons of sprinkles and chocolate, all of sudden that bowl of fruit became dessert, which isn't that healthy.
So follow this cauliflower mashed potatoes recipe and give yourself and family a much healthier side dish than mashed potatoes, but recognize it isn't exactly diet food. 
If you want to add additional ingredients just be aware of how healthy or low carb those other ingredients are and the portions being added.
Now some of you may be thinking, while the idea that it is healthy is all nice to hear and all, you want to know if the basis of this dish, the cauliflower is keto.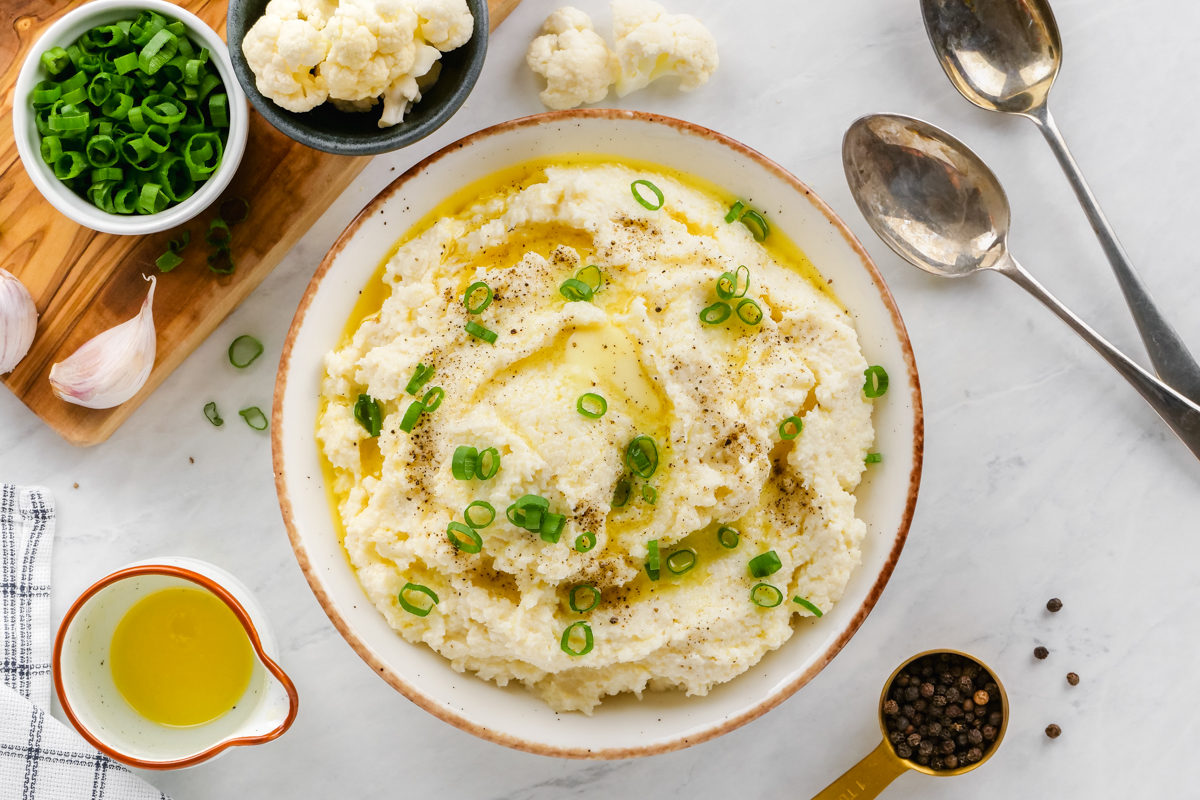 Is Cauliflower Keto?
So while mashed cauliflower isn't the most healthy recipe, it definitely fits the bill for the popular low carb diet–Keto!
Cauliflower is very keto friendly. 
It is low in carbs, just about 1.5 g of net carbohydrates for every 1/2 cup serving.  
Plus cauliflower is such a great substitute for some not so keto friendly foods like potatoes and rice.
So when looking for some great keto recipes, cauliflower is a great place to start.  You just need to make sure the other ingredients are keto friendly as well.
Optional Additional Ingredients:
Cauliflower offers a great foundation to add to.  There are so many ingredients that you can add to this recipe.
I recommend using ingredients that you associate with mashed potatoes in order to further mimic the taste.
Ingredients:
Sour Cream

Almond Milk

Greek Yogurt

Cheddar Cheese

Bacon

Spices—Thyme, Rosemary, Parsley, Sage, Chives
Add a little bacon or extra spices to this recipe, depending on your personal preference.  You really can't go wrong.
However, to ensure consistency, I probably would be cautious with adding liquids, like almond milk to this recipe, for example.  Although if you don't mind a little trial and error, go for it.
How Long Does Mashed Cauliflower Last?
You CAN make this dish ahead of time.  However, I don't personally recommend it.  Some food is just served better fresh, and that is certainly the case for mashed cauliflower.
However, for leftovers or if you want to make it ahead of time, it will stay good in the fridge, left in an air tight container for up to 5 days.
Seriously though, it is so easy to make.  So, just make it a little bit before dinner.
And as for leftovers, we usually finish this side in one sitting. But should you need to reheat, add a little liquid. 

Serving Suggestions:
Serve up some Mashed Cauliflower with some delicious
It is sure to be a winning combo.
Walk Away From The Unneeded Carbs.  Try This!
Delicious, creamy mashed potatoes, does not have to include potatoes. There is another way.
Add some veggies into your diet, and try this healthier, low carb option, Mashed Cauliflower.  Trust me you will be so glad that you did.
Now that I have got you on the cauliflower kick, here are some other great dishes.
Other Dishes To Try:
Video Demo of How to Make Mashed Cauliflower: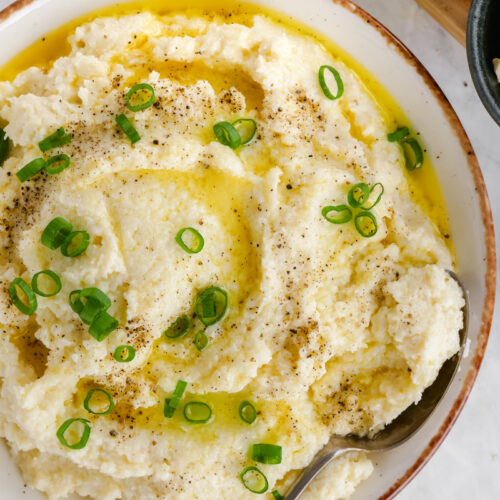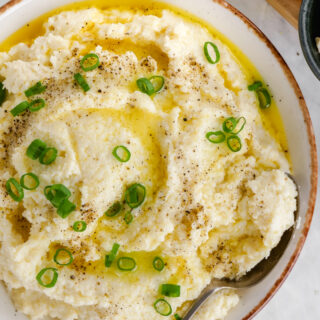 Mashed Cauliflower
With a little bit of romano and parmesan cheese, accompanied with garlic and just a pinch of cream cheese, the balance of ingredients makes this the best cauliflower mashed potatoes ever.
Print
Pin
Rate
Ingredients
1

head cauliflower

cut into florets

1

tablespoon

olive oil

1

garlic clove

1/4

cup

grated Parmesan cheese

1

Tbs

romano cheese

optional

1

tablespoon

cream cheese

Salt and Pepper to taste
Instructions
Preheat oven to 400 degrees

Place cauliflower florets and garlic clove on a lined baking sheet, and drizzle olive oil over the top.

Sprinkle with a little salt and pepper.

Roast for 15-20 minutes until cauliflower is starting to brown and is tender.

Transfer half the cauliflower, and the garlic to a food processor; cover and blend on high. Add remaining cauliflower florets, one at a time, until creamy.

Add Parmesan cheese, Romano cheese, and Cream cheese, and pulse until fully incorporated.

Taste, then season with salt, and black pepper to preference.
Nutrition
Calories:
112
kcal
|
Carbohydrates:
8
g
|
Protein:
6
g
|
Fat:
7
g
|
Saturated Fat:
3
g
|
Cholesterol:
11
mg
|
Sodium:
166
mg
|
Potassium:
430
mg
|
Fiber:
3
g
|
Sugar:
3
g
|
Vitamin A:
103
IU
|
Vitamin C:
70
mg
|
Calcium:
118
mg
|
Iron:
1
mg
Our recipe card software calculates these nutrition facts based on averages for the above ingredients, different brands, and quality of produce/meats may have different nutritional information, always calculate your own based on the specific products you use in order to achieve accurate macros for this recipe.
Want to use this recipe in a meal plan?
Try PrePear, my FREE Meal Planning App that allows you to save your recipes, plan meals, shop for groceries, and cook simply in one place. Join Here!
Pin to your Keto board on Pinterest: