Roasted Carrots: Sweet and Savory
Roasted Carrots, the ultimate side dish, as these tender carrots can be made two ways: sweet and/or savory!
They are roasted to perfection, roasting brings out their natural sweetness, and gives a wonderful caramelization. Combined with a sweet or savory glaze, these carrots are insane!
Roasted Carrots are perfect side dish for any table setting!  Serve with Easy Roast Chicken, Oven Roasted Asparagus, and Garlic Smashed Potatoes for a complete  meal.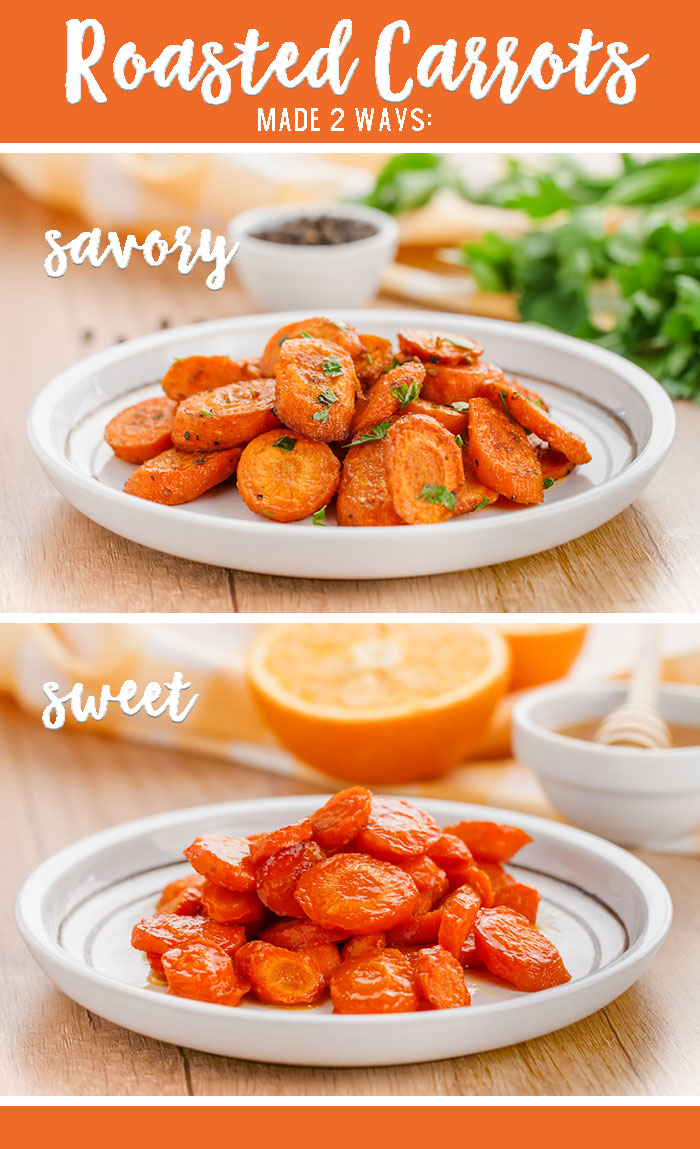 Sure to be a crowd pleaser at your dinner table! 
What you Need to Make Roasted Carrots:
When it comes to roasting carrots you really only need three things:
Carrots: Peeled and sliced on diagonal. A lot of people wonder if you can/should roast your carrots with the skin on. I like to peel them, but you can do it either way.
Fat: Extra virgin olive oil is my fat of choice. But you can also use coconut oil, vegetable oil, or avocado oil.
Seasoning: Kosher salt is the way to go.
Then you get to add some flavor with your choice of seasonings. Carrots are already going to sweet and delicious with a strong flavor because of the method of roasting. But it is fun to add some extra flavor.
Savory Carrots:
Have fun with this spice combo, and make it your preference. But here is what we love on our savory roasted carrots recipe.
Freshly cracked black pepper: Freshly cracked is best because it adds some texture. You get the fine pepper like you would with black pepper, but you also get some courser pieces.
Paprika: Paprika is an excellent spice because it adds a sweet peppery flavor without any heat.
Garlic powder: Garlic powder an excellent addition to any dish as it will help brighten flavors without adding extra sodium.
Onion powder: Onion powder adds flavor, aroma, and has lots of perks for health too.
Finely chopped fresh flat leaf parsley: Parsley is the perfect compliment to carrots as it is fresh and bold, but doesn't cover the delicious flavors of the carrots.
Sweet Carrots:
Carrots are already naturally sweet, and the roasting process enhances that delicious flavor. But it can also be fun to add a sweet glaze to make it taste like candy. This is my kid's favorite way to eat carrots.
Honey: Maple syrup is also a great option, so feel free to switch it out.
Orange juice: sweet potatoes I discovered the beauty of orange juice with both and carrots a few years back, and I will never go back.
Unsalted butter: You do not want the extra salt, so if you use salted butter, take the salt out of the recipe. And use melted butter for that creamy, deliciousness.

How to Make Roasted Carrots:
Roasting carrots is super simple and makes the carrots tender-juicy and a little crispy on the outside with just enough caramelization. Pure Perfection!
Roast at the Right Temp. Preheat the oven to 425 degrees F. You can roast at a higher temp, but this lower temp still give you the caramelized edges but the longer roasting times means tender carrots.
Prep the carrots: How you prepare your carrots is a key factor in how this roasted carrots recipe turns out. Start by peeling them and  cutting off the tops. Then slice them on a diagonal so that you have as much surface area as possible for each carrot. This will help you get all that great flavor from caramelization.  Also do your best to make the pieces even with thickness. It doesn't have to be perfect, but it will roast better if the slices are even.
Season: This is where you add the flavor with seasonings. The glaze comes later. So add the carrots to a sheet pan and toss with olive oil and seasonings. Make sure you coat those carrots well.
Roast: Now let that beautiful oven do its job to pull out the sweetness of the carrots. Set your oven to 425 degrees. Flip the carrots halfway through cooking time.
Finishing touches: Ok, once things are done roasting, you can add more flavor with fresh herbs, or the sweet glaze.
When Finished
Savory Carrots:
Toss with fresh herbs and serve immediately.
Sweet Carrots:
Drizzle delicious sweet glaze over the carrots and return it to the oven for 2-3 minutes to allow sauce to caramelize further.

Tips for perfect roasted carrots
Use the Right Carrots: While you can roast baby carrots, and this method works for baby carrots, I suggest getting regular carrots, peeling them and cutting them. They will just taste better.
Cut the carrots evenly: Do the very best you can. The important thing to keep in mind is if you cut them evenly they will roast evenly. Which means by default they won't roast evenly if they aren't cut evenly. Basically some will be cooked and some won't if they are uneven. So try to cut them with even thickness, on a diagonal.
Coat with olive oil: I like to toss mine either on the tray or in a zip top bag with the olive oil and seasoning. You want them to be evenly coated, with not too much, and not too little oil.
Roast at the right temperature: After roasting all my vegetables at 450-500 degrees for years, I finally started playing with temps and times, and I have found roasting carrots in a 425 degree oven for about 20 minutes gives the perfect results. Tender, but crisp, and just the right amount of caramelization. Trust me, this  is the right way to roast carrots.
Flip carrots halfway: This is not essential, they will still cook through, but the reason you want to flip the carrots at the halfway point is so you get that great caramelization on both sides.
Give them Space: My #1 tip for perfectly roasted carrots is enough room in the pan. Just like Julia Child's is known for saying don't crowd the mushrooms, I am telling  you, do not crowd the carrots. If they do not have room on the sides for the moisture to evaporate while they cook (which is what gives you that nice caramelization), they will steam instead of roast. They will still taste good, but not nearly as good. The texture, the complexity of flavor, and all that delicious goodness you get by roasting will be gone. Use a large sheet pan or cook in batches.

What to serve with roasted carrots?
These carrots are great as a side to almost any protein. I personally love to eat them with just about everything, and often make them for a snack. Here  are some of our favorite proteins to pair these carrots with:
What is the Best Way to Cook Carrots?
I love roasting my carrots to have that extra tender but crisp flavor and the natural sweetness is enhances. There are so many ways to cook carrots though!
These choices will leave your carrots tender on the inside and a little crispy-crunchy on the outside.
Oven- Roasting can b e don at many different temps, though I recommend the temp of 425 degrees F. No matter what temp you chose, check doneness and adjust as needed for your oven, and how thick you cut your carrots.

450 degrees: 17-20 minutes
425 degrees: 20 minutes
400 degrees: 20-25 minutes
375 degrees: 25-30 minutes
350 degrees: 30 minutes +

Broil- If you choose to broil, cut thinner, as they outside will cook faster, and you do not want them to burn.

Broil for 15 minutes, flipping several times throughout to avoid burning.

Boil- This is not the recommended method, braising in a sauce would be better, such as these Honey Braised Carrots
Sauté- This is done in a skillet, with a lid, and takes about 10 minutes to get tender crisp carrots.
We love carrots and have a few more for you to try: Honey Braised Carrots or Balsamic Roasted Carrots and Parsnips.

Do you roast carrots skin on?
No. You can, but they will be more bitter and earthier in flavor, and it can change the texture and end result.
If you are using large, long carrots or fresh from the garden carrots, you will want to wash and peel the carrots before roasting them, and cut the tops off.
Obviously if you  want to skip the step of peeling, wash them really well. Or use baby carrots. This is not as good, but will still be delicious.
What else can you roast with carrots?
What other vegetables can be roasted with the carrots at the same time and temperature?
Basically any root vegetable cut to the same size should take about the same time to roast as your carrots, at the same temperature. So this is potatoes, and beets, sweet potatoes, and parsnips. You can also add onions for flavor, and Brussel sprouts.
If you want to add Brussels sprouts or broccoli, cut those larger, as they do not take as long to roast as carrots.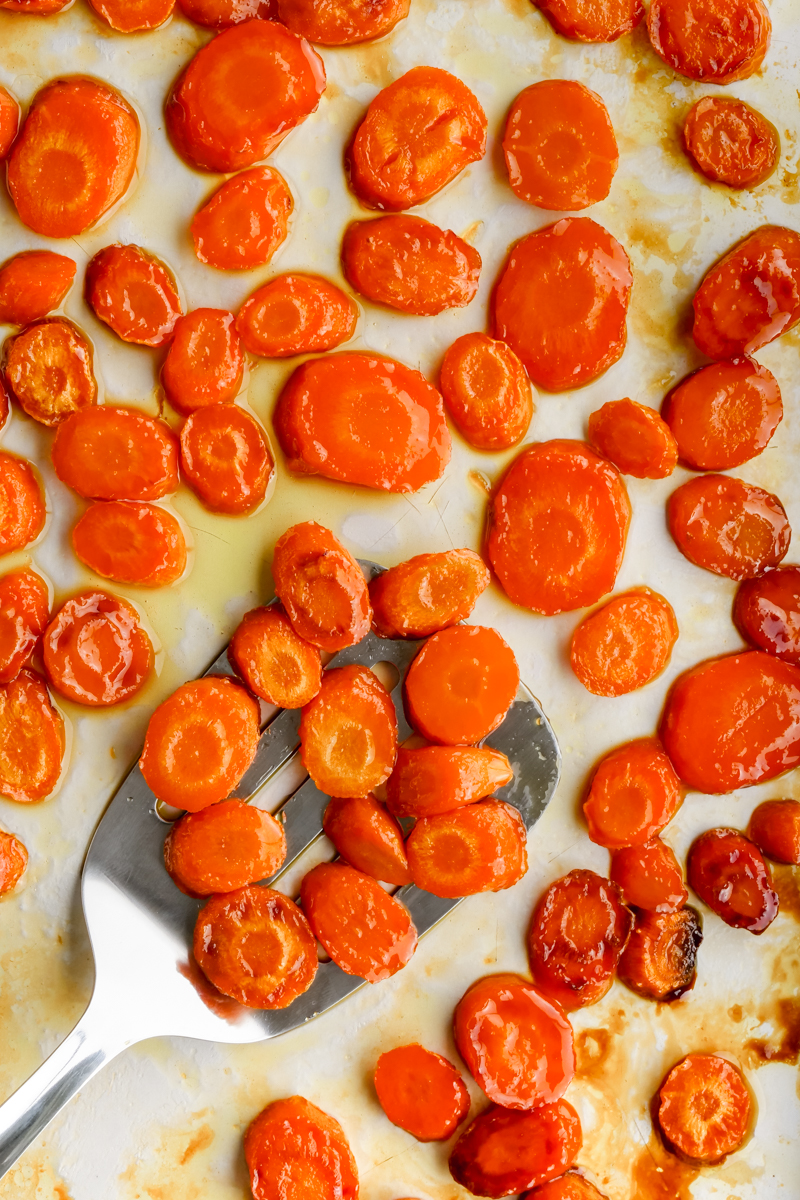 Varieties of carrots:
There are a lot of variety of carrots or types of carrots you can buy for this recipe. I recommend the Nantes variety, which is essentially what comes in most major retailers.
If you want a farmer's market carrot, avoid the Chantenay variety, they  are usually short and stout and have a woodier core, which is not as yummy when roasted.
This method of roasting works well on the beautiful multi-colored carrots. So feel free to use those.
Can I Make Ahead?
These are best served fresh, but you can absolutely make them ahead, or at least partially prepare them to make your life easier.
To make ahead: 
Follow the instructions up to the point of roasting, and refrigerate until ready to roast.
Or
Full instructions and roast them. Then let them cool. Place in a airtight bag or a plastic container. Place in the refrigerator up to 5 days.
When ready to reheat, either return them to a baking sheet and heat for about 5-10 minutes, or heat in microwave.
These don't take much time, I find it is best to make them up fresh. Save time by pre-measuring ingredients and pre-mixing the glaze.
Can I freeze it?
Yes, these do well frozen! But again, I caution they are best made fresh. However, if you want to make ahead and freeze these carrots you can.
Follow the steps to roast them and let them cool. Place in an airtight bag or a plastic container. Freeze up to 1 month.
Reheat in the oven at 350 degrees Fahrenheit and reheat for for 12 to 15 minutes or until they are tender.

Make a complete meal with Roasted Carrots
This is a great thanksgiving side dish that keeps on giving during Sunday meals, pairs well with any meat and tastes great alone! Try it with this Air Fryer Turkey Breast, Easy Scalloped Potatoes, Traditional Green Bean Casserole and Mom's Dinner Rolls.
Need more side dishes, here are our favorites!
More carrot recipes!
We love carrots but it is always fun to have a variety of recipes to use carrots in.
How to Make Roasted Carrots Video Tutorial: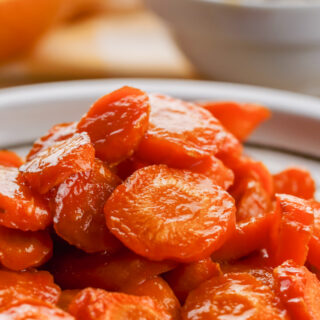 Roasted Carrots
Roasted Carrots are tender carrots with a sweet and savory sauce that is roasted to perfection!
Print
Pin
Rate
Ingredients
2

pounds

carrots

peeled and sliced on diagonal

2

tablespoons

extra virgin olive oil

1/2

teaspoon

Kosher salt
Savory Carrots:
1/4

teaspoon

freshly cracked black pepper

1/2

teaspoon

paprika

1/2

teaspoon

garlic powder

¼

teaspoon

onion powder

1

tablespoon

finely chopped fresh flat leaf parsley
Sweet Carrots:
2

tablespoons

honey

1

tablespoon

orange juice

1

tablespoon

unsalted butter

melted
Instructions
Preheat the oven to 425 degrees F.

Peel carrots and cut off the tops. Slice on a diagonal so each piece of carrot is evenly sliced for an even roasting, and the thickest part is ½ inch thick.
SWEET CARROTS:
Add olive oil and salt to carrots and toss to coat.
SAVORY CARROTS:
Add olive oil, salt, pepper, paprika, garlic and onion powder. Toss to coat all the carrots.
ALL CARROTS
Spread carrots into 1 even layer on a large roasting pan.

Roast for 10 minutes.

Remove from the oven and flip carrots over, return to oven for another 10-15 minutes. *

Remove the carrots from the oven.
SAVORY CARROTS:
Toss with fresh herbs and serve immediately.
SWEET CARROTS:
whisk together honey, melted butter, and orange juice in a small bowl until smooth.

Drizzle over carrots and return to oven for 2-3 minutes to allow sauce to caramelize further.
Notes
Recipe Notes
*Roast on a  large tray without any  of the carrots touching for best results
*Time will vary based on actual oven temperature, how spread out carrots are, and personal preference for how roasted you want the carrots, so continue cooking until desired doneness is achieved. 
*Leftover carrots will keep well in the fridge (covered/stored in air tight container) for 3 to 5 days.
Recipe and method slightly adapted from Chelsea's Messy Apron
Nutrition
Calories:
108
kcal
|
Carbohydrates:
16
g
|
Protein:
1
g
|
Fat:
5
g
|
Saturated Fat:
1
g
|
Cholesterol:
4
mg
|
Sodium:
224
mg
|
Potassium:
363
mg
|
Fiber:
3
g
|
Sugar:
10
g
|
Vitamin A:
19050
IU
|
Vitamin C:
8
mg
|
Calcium:
37
mg
|
Iron:
1
mg
Our recipe card software calculates these nutrition facts based on averages for the above ingredients, different brands, and quality of produce/meats may have different nutritional information, always calculate your own based on the specific products you use in order to achieve accurate macros for this recipe.
Want to use this recipe in a meal plan?
Try PrePear, my FREE Meal Planning App that allows you to save your recipes, plan meals, shop for groceries, and cook simply in one place. Join Here!
Pin to your sides board on Pinterest: