This shop has been compensated by Collective Bias, Inc. and its advertiser. All opinions are mine alone. #YesYouCAN #CollectiveBias
Party perfect Philly Cheesesteak Stuffed French Bread! Flavorful tender meat, fragrant and delicious onions and peppers, melty cheese, and a crusty french bread, perfect for a crowd, and easy to make too!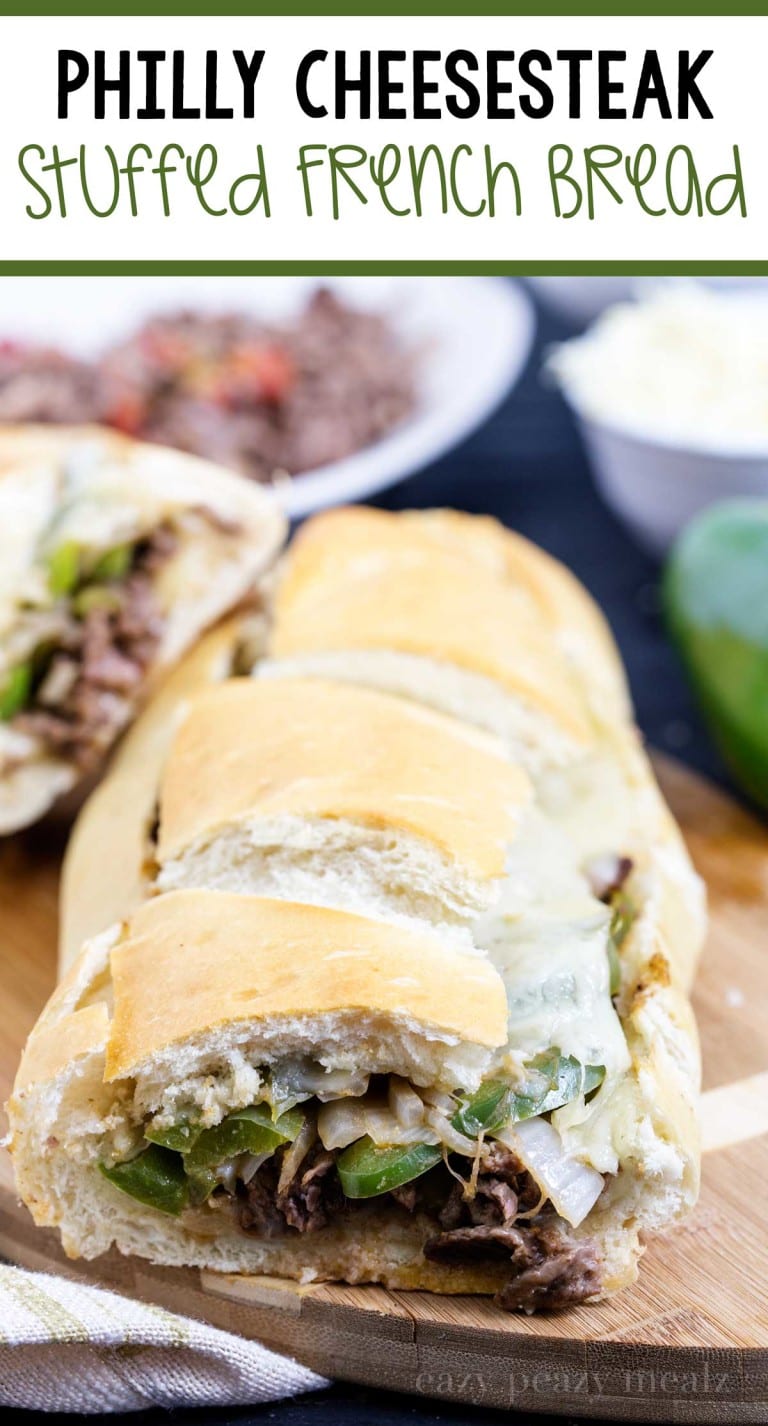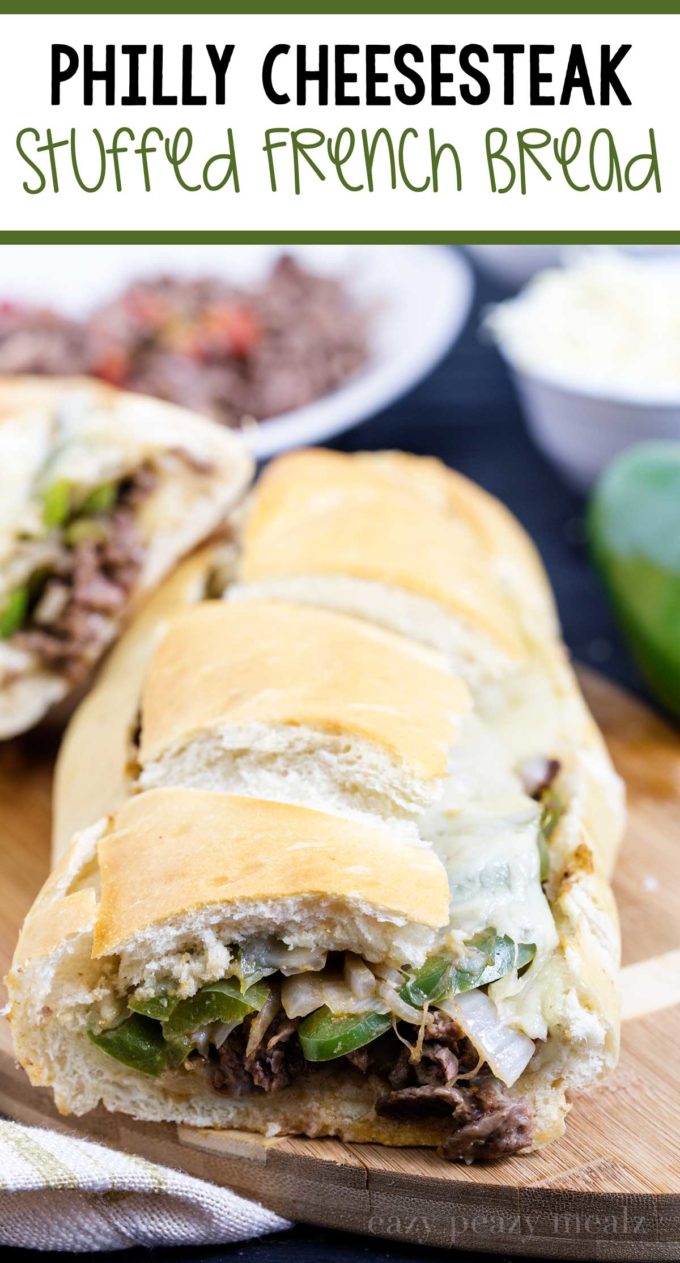 When it comes to feeding a crowd at a football party, I always tend to opt for the food options that are big on flavors and low on effort. I guess that makes me lazy. Or smart. Let's go with smart.
Anyway, this stuffed Philly Cheesesteak Stuffed French Bread meets both criteria. Lazy and smart? Haha, just kidding, low on effort, big on flavor. It is super easy to make and scale (double or triple for a big gathering), and tastes so good you won't have leftovers. But if you do, you can wrap in foil, pop in the freezer, and reheat in the oven (still in the foil), and it will be just as good!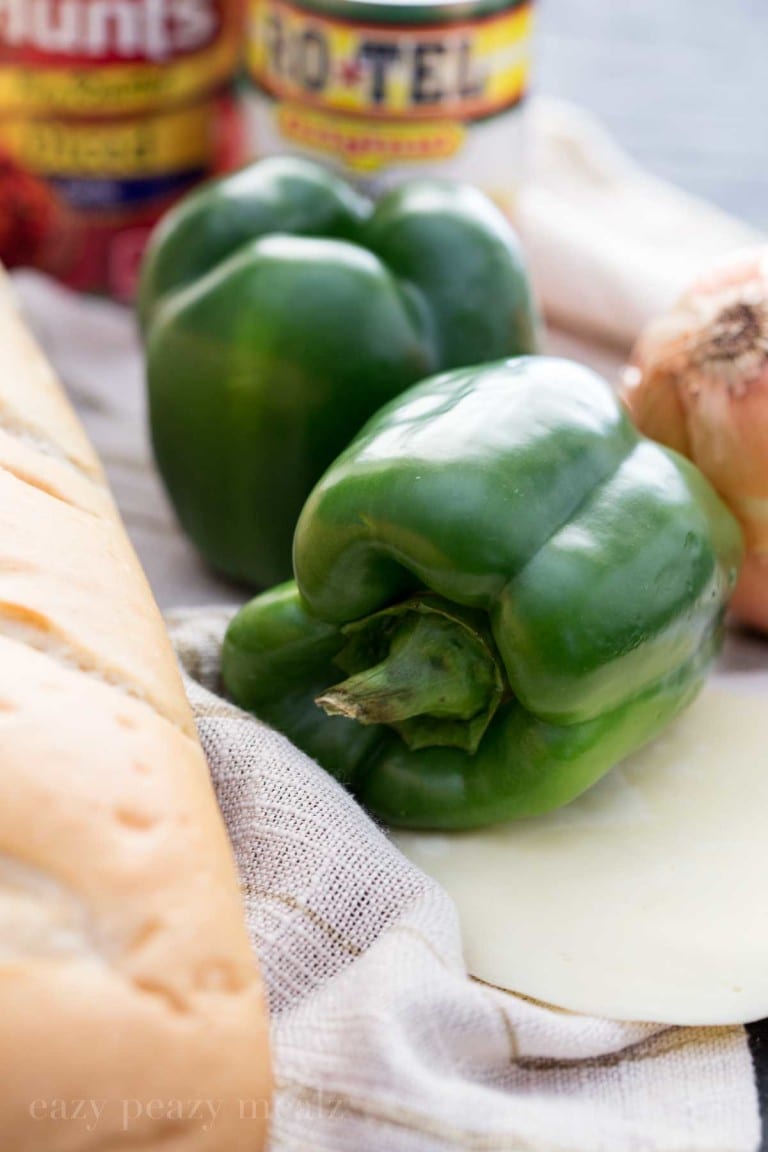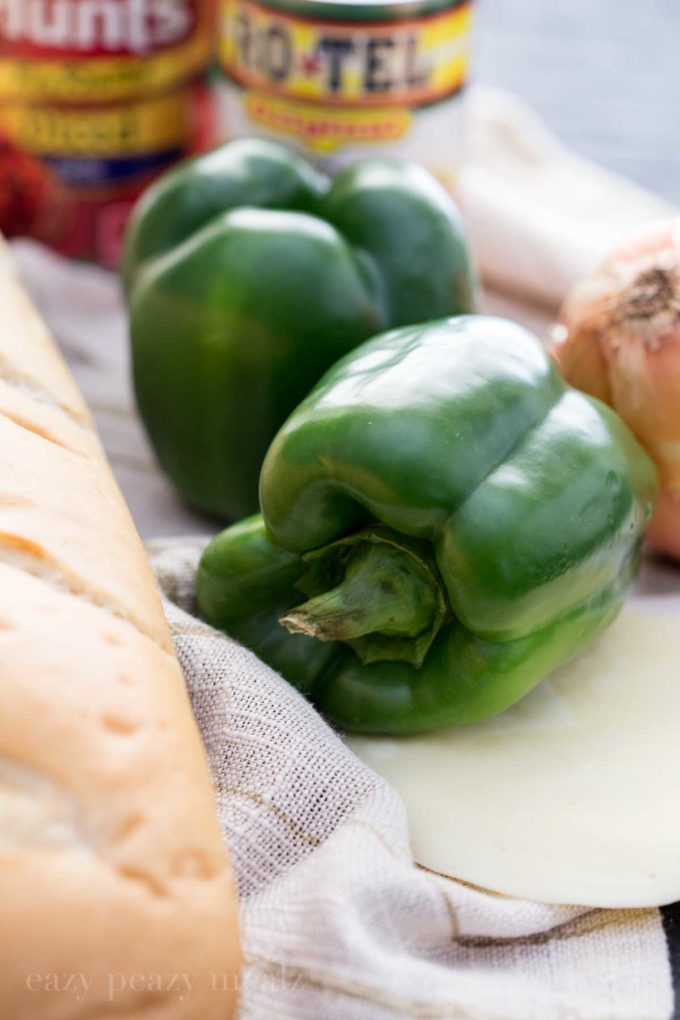 Of course, Philly Cheesesteak Stuffed French Bread is only as good as the ingredients you start with, so I picked up some fresh baked french bread at the Walmart bakery, some fresh green peppers and yellow onions, a can of Ro*TEL, (optional: For extra tomato flavor in your cheesesteak, a can of Hunt's fire roasted tomatoes in addition to the Ro*TEL), and provolone cheese.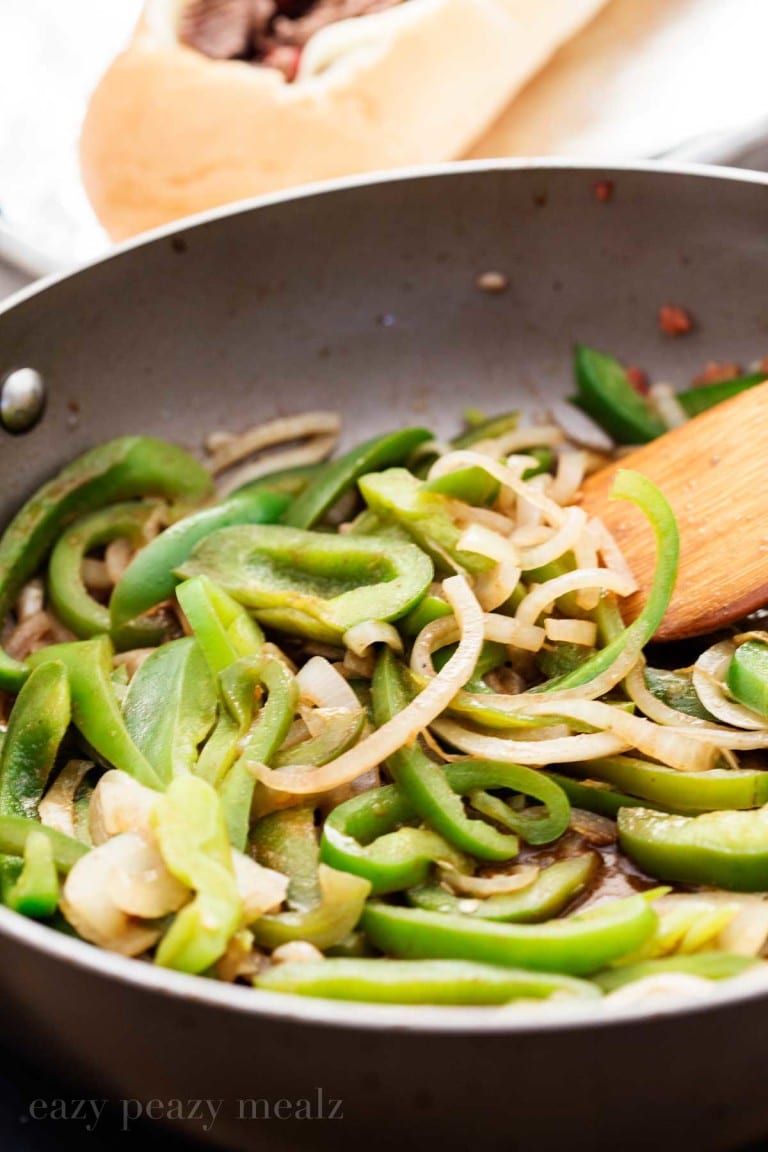 Then I got cooking. Don't these peppers and onions look amazing? My house smelled so good that the whole time the Philly Cheesesteak Stuffed French Bread baked I was salivating.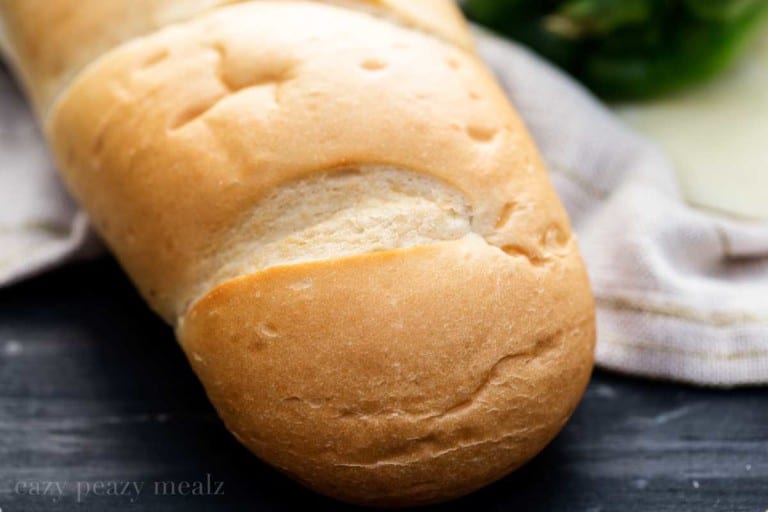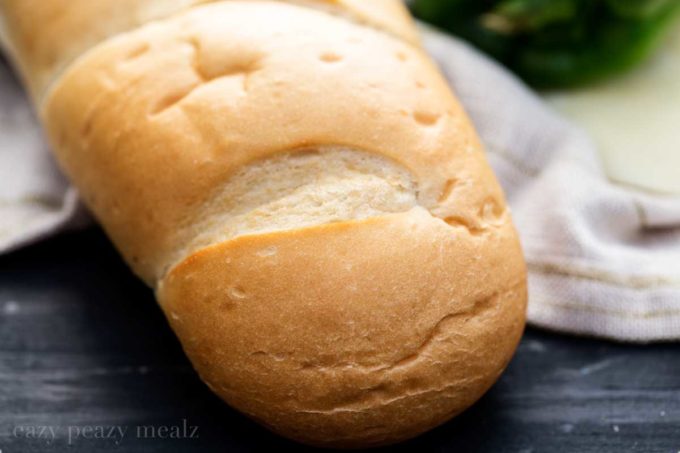 Don't you just love easy, stress free recipe creation? What is easier than picking up already baked french bread, for what? A dollar a loaf. So good, so inexpensive, so easy.
And the beef, only a few ingredients are required and you get such awesome flavor, you may want to make extra so you have enough to fill your bread once you get done picking at it! Just sayin' But really, all I had to do was open a can of Ro*TEL to add a huge dimension of flavor to the typical way beef for a Philly Cheesesteak is cooked. And don't worry, you drain the liquid off later, so it won't make your bread soggy, and the flavors are out of this world yummy.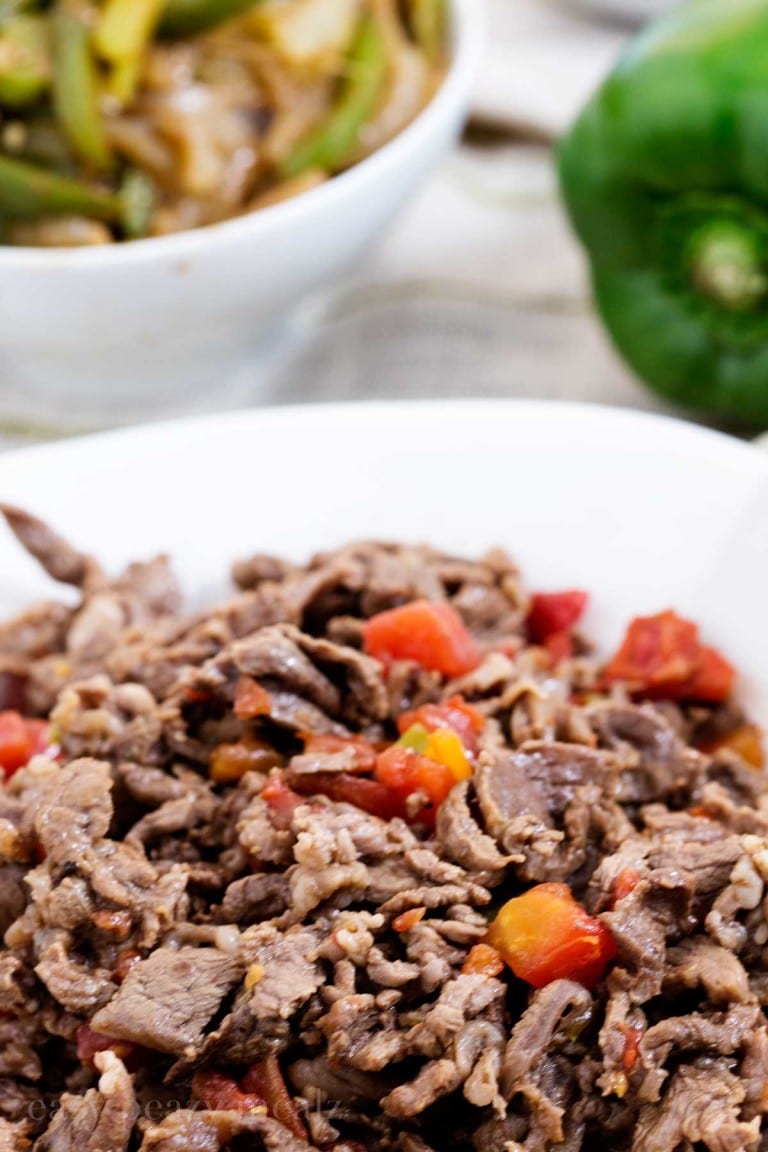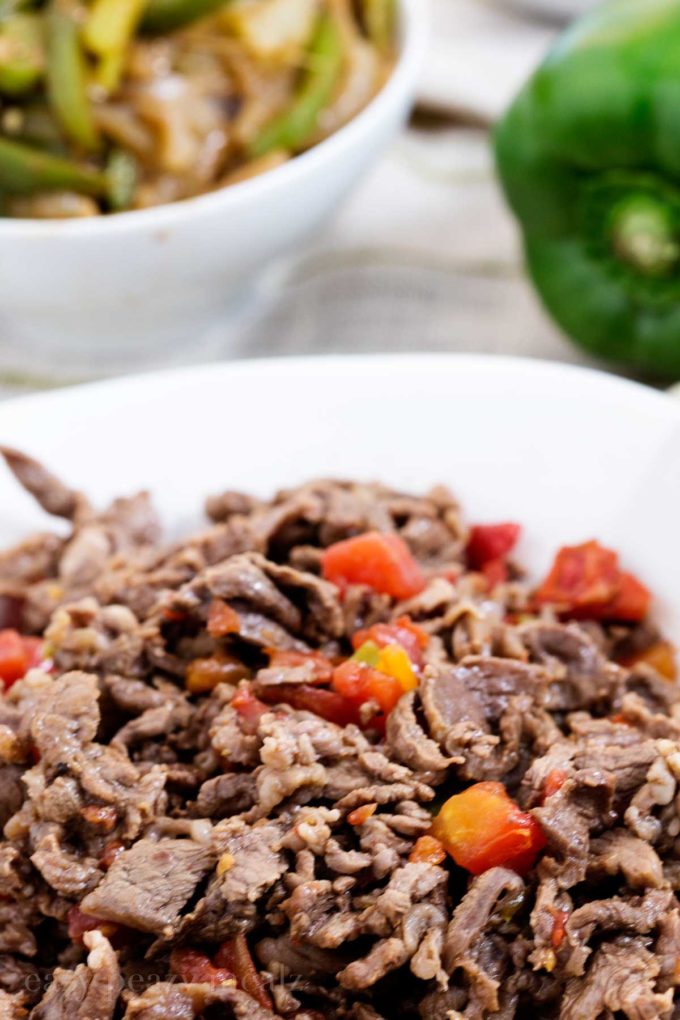 Anyway, this Philly Cheesesteak Stuffed French Bread was so easy, and while there is a little time involved, most of that is just waiting for it to finish baking. However, I thought I would share a few of my favorite kitchen tips used for this recipe to simplify things further:
#1 Pepper seed removal: Everyone has a different method, but this is my personal favorite. Grab your pepper, cut along the top where the stem is, just right along the edge of the stem part. Then just pull it out with your hands. All the seeds should come with it. Then slice the rest. So easy.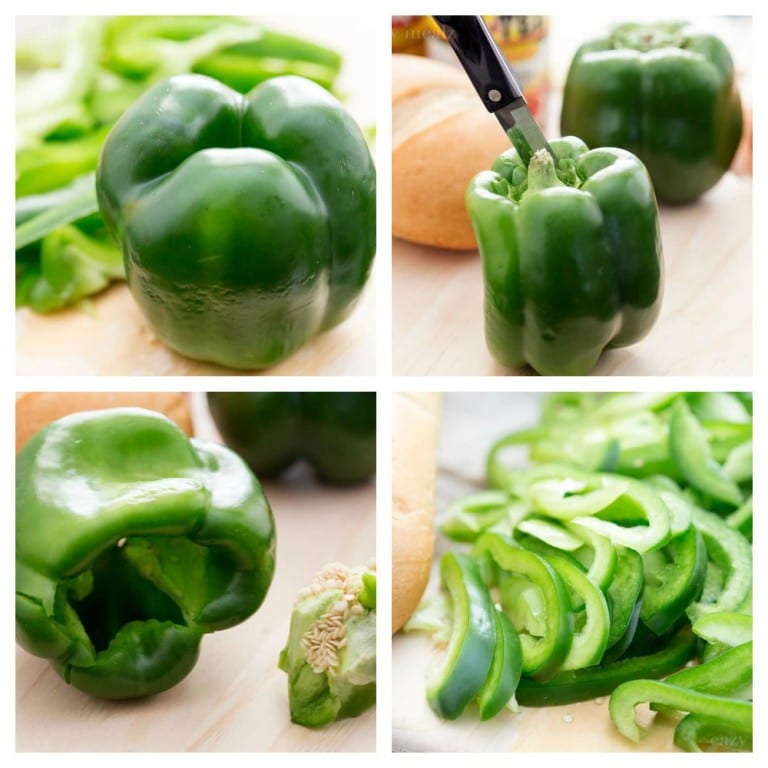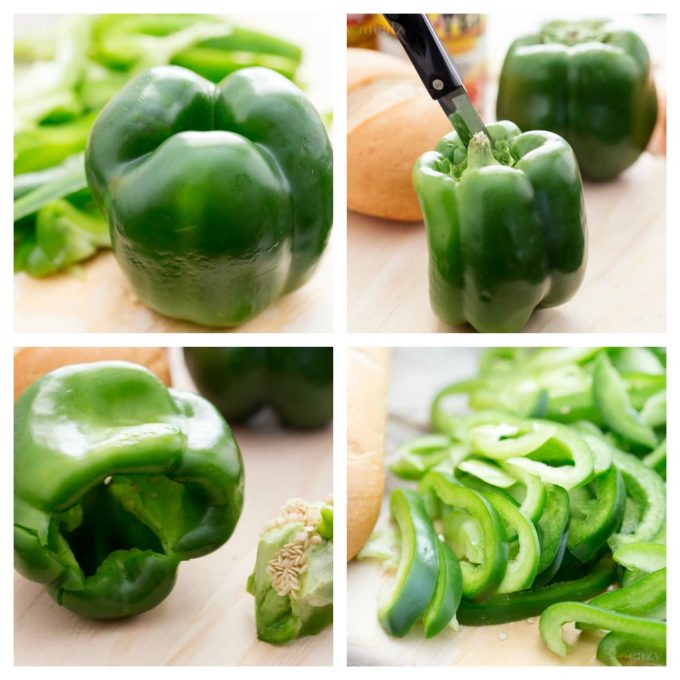 #2 Onion Chopping: I hate crying so I chop quick, but I also employ a really simple kitchen hack:
Put the onion in the freezer for 15 minutes before chopping.
Sounds crazy, I know, but it really works. And it is so much better than wearing funky goggles.
This is how I like to chop onions to get uniformity and ease:  I start by chopping off the ends. Then I slice it right down the middle (as pictured), leaving the tunic (the onion skin papery part) on. Once cut, then I remove it along with the top layer, lay the onion flat and chop, chop, chop! It is so easy. And tear free.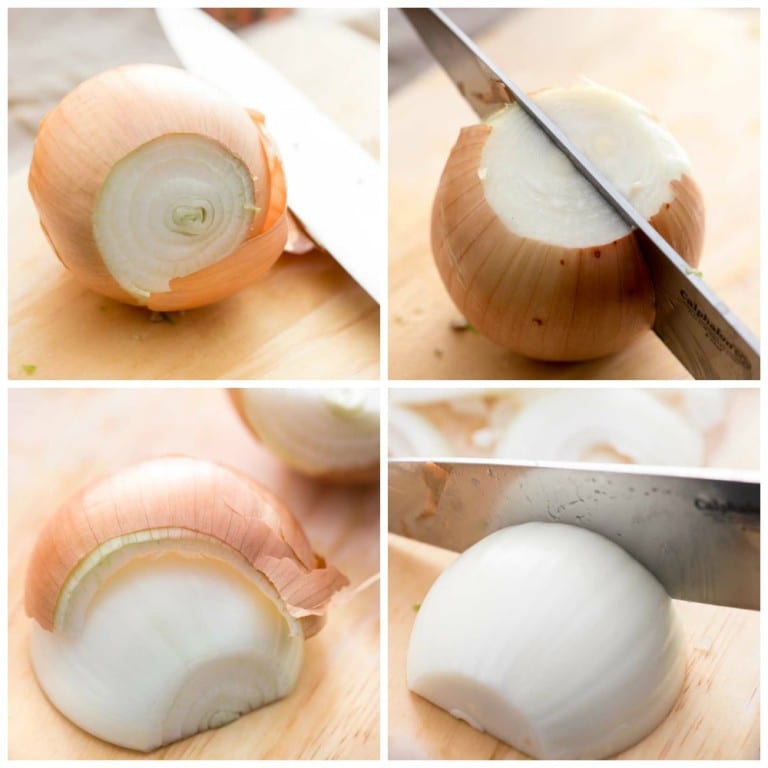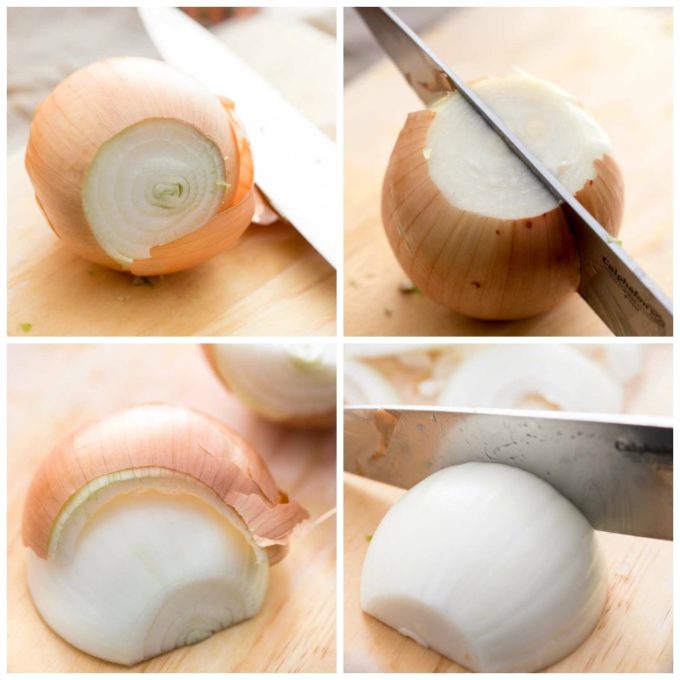 #3 Buy Already Chopped or Advance Chop: This is my favorite trick, especially when I am in a time crunch. I just  speed up the process by buying hings that are already chopped. Especially the meat. Or I chop ahead of time. I frequently slice up peppers and onions and pop them in the freezer for later use. Once cooked they taste the same as fresh, and it means I always have them on hand and ready to go. Try it, you will love it!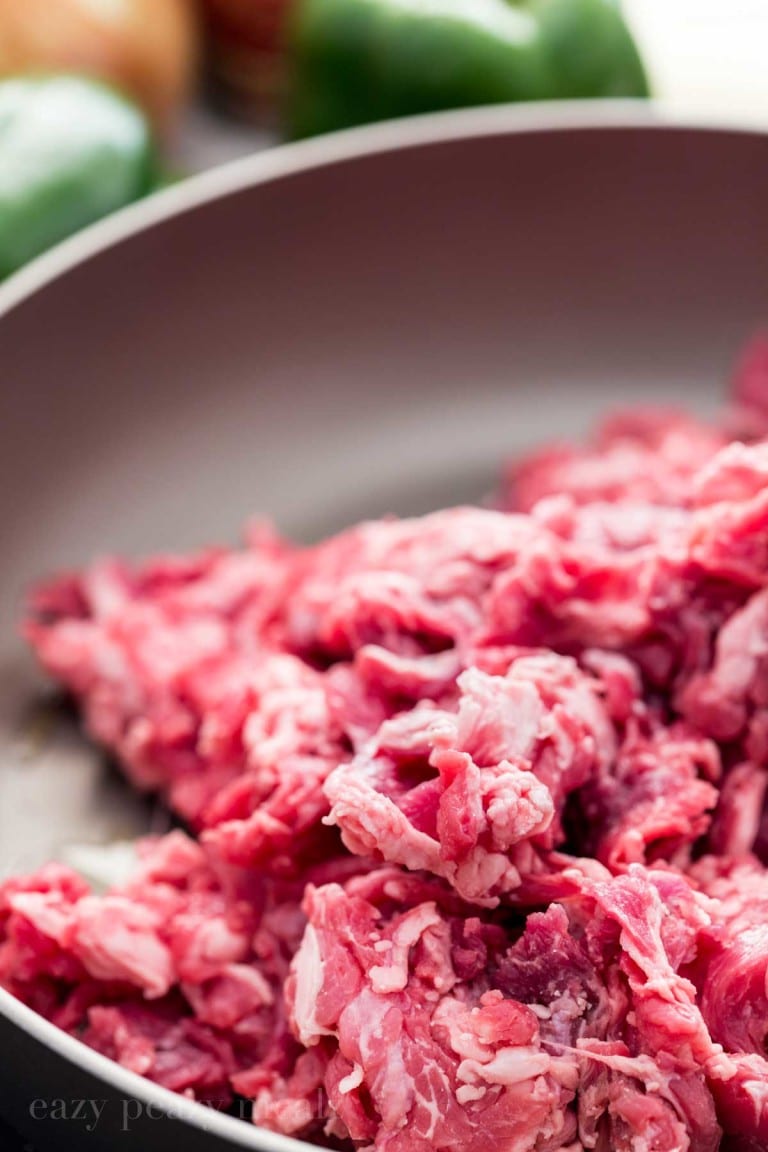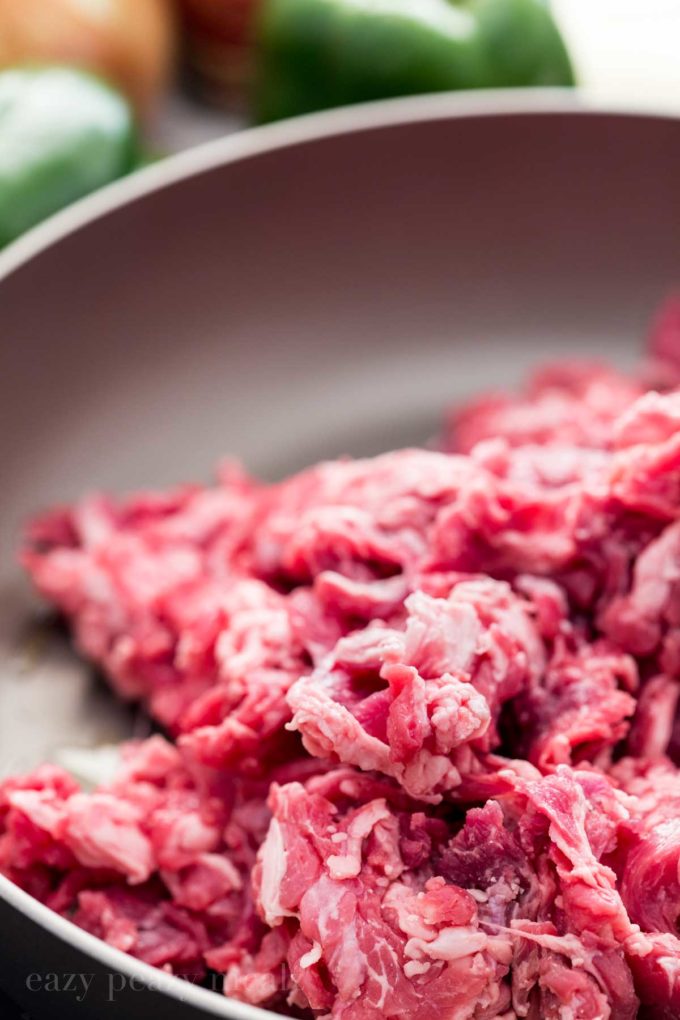 Anyway, you cook everything up, and then assemble as shown here: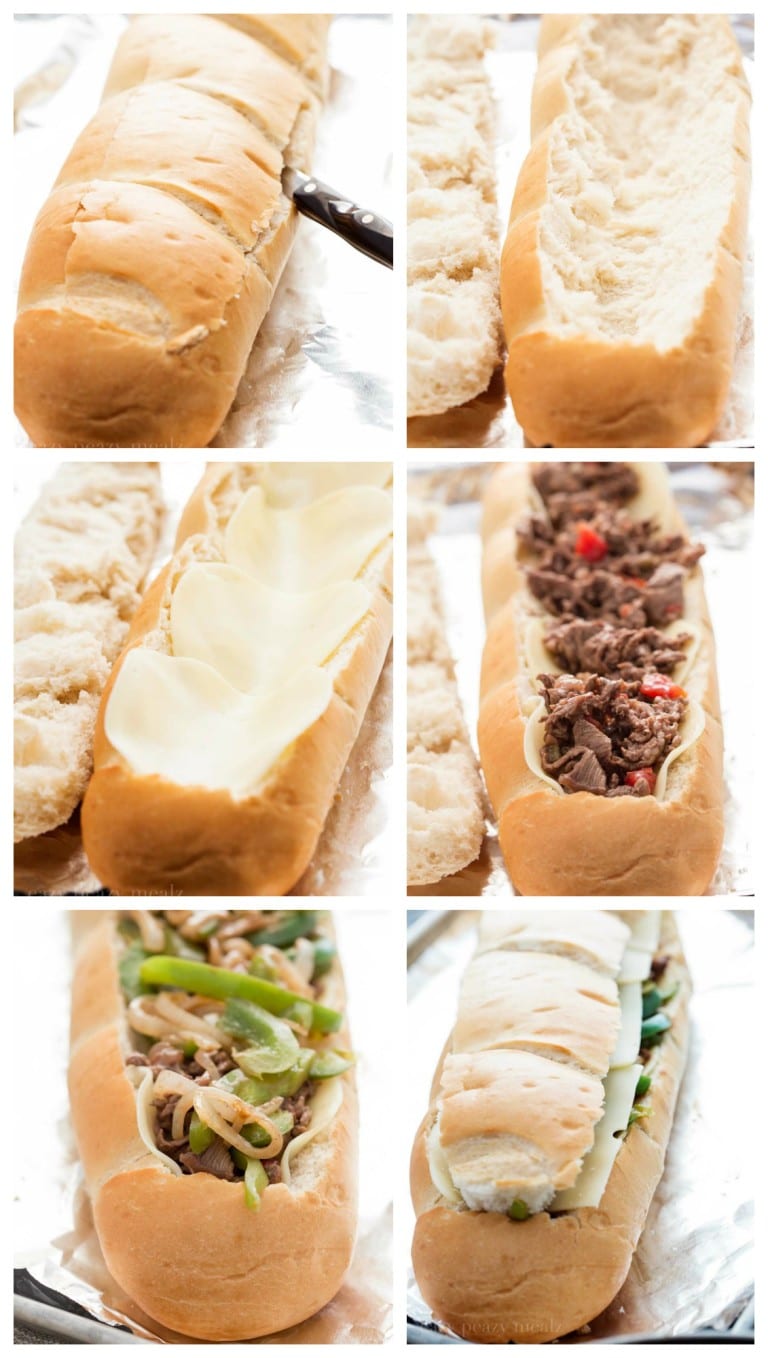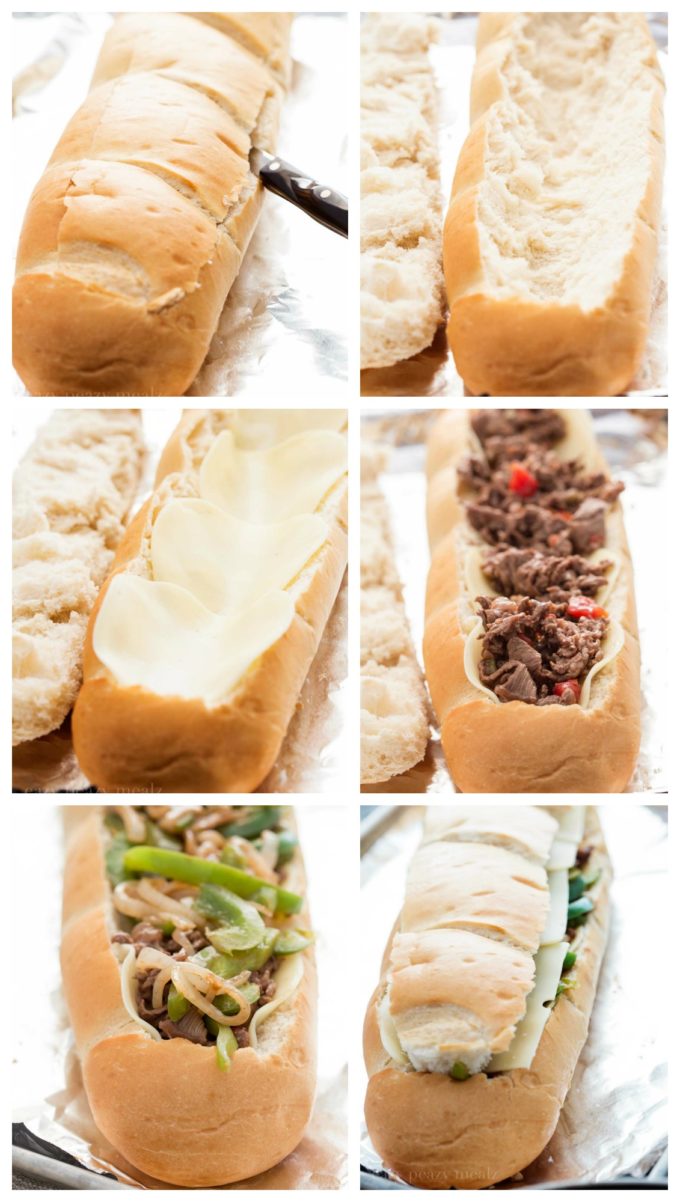 Then bake and enjoy! I am sure you will, as will everyone at your party!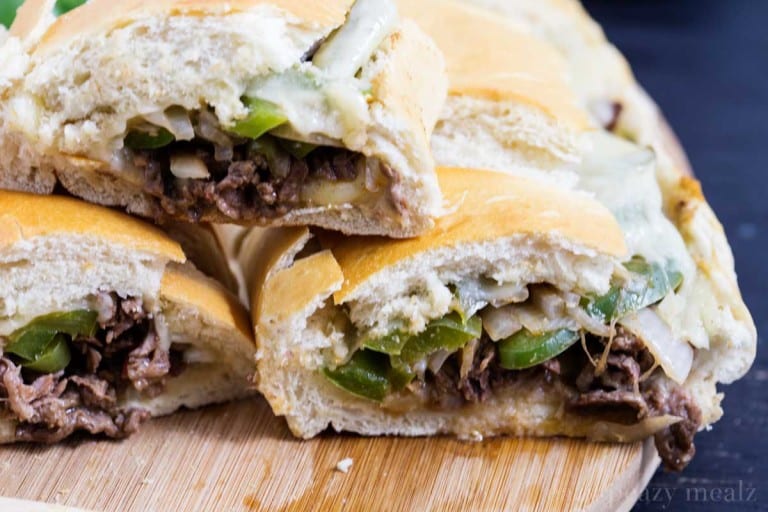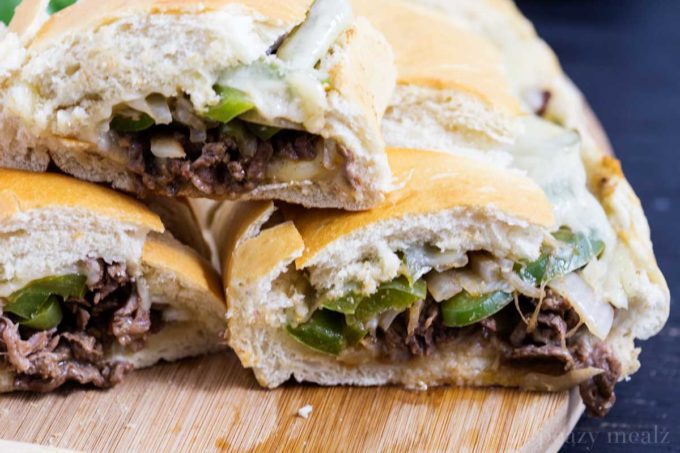 I served my Philly Cheesesteak Stuffed French Bread up on a little
and on so it was very fun and sure to be repeated for the Big Game!
Sandwich recipes that you may enjoy: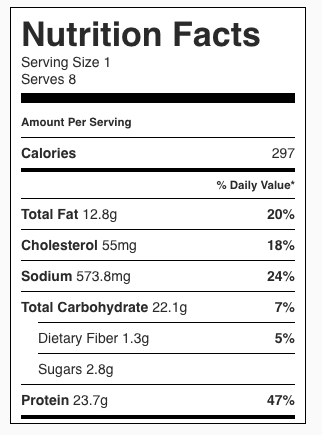 Head to Walmart to get everything you need to make Philly Cheesesteak Stuffed French Bread.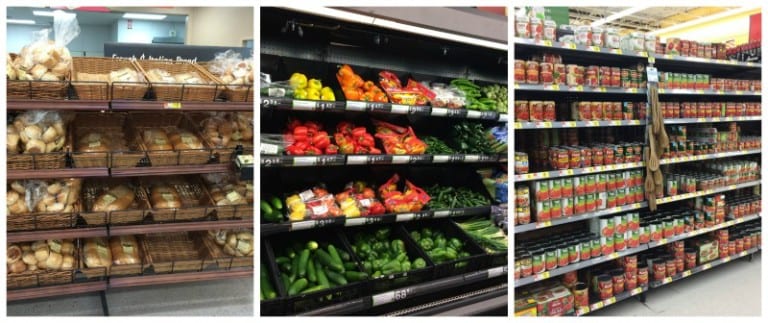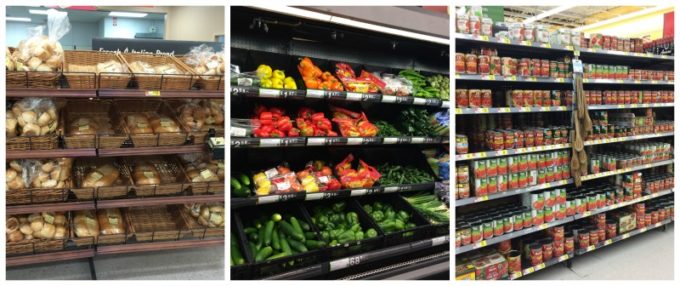 This Philly Cheesesteak Stuffed French Bread is so easy to make, and so yummy, it will definitely be on our Big Game table. What will be on yours?
Don't forget to pin for later: