Italian Sausage and Peppers: This is a sponsored conversation written by me on behalf of Johnsonville. The opinions and text are all mine.
Italian Sausage and Peppers: Delicious Johnsonville Italian Sausage served in a bun with sautéed peppers and onions and all the fixings! This is an easy feast.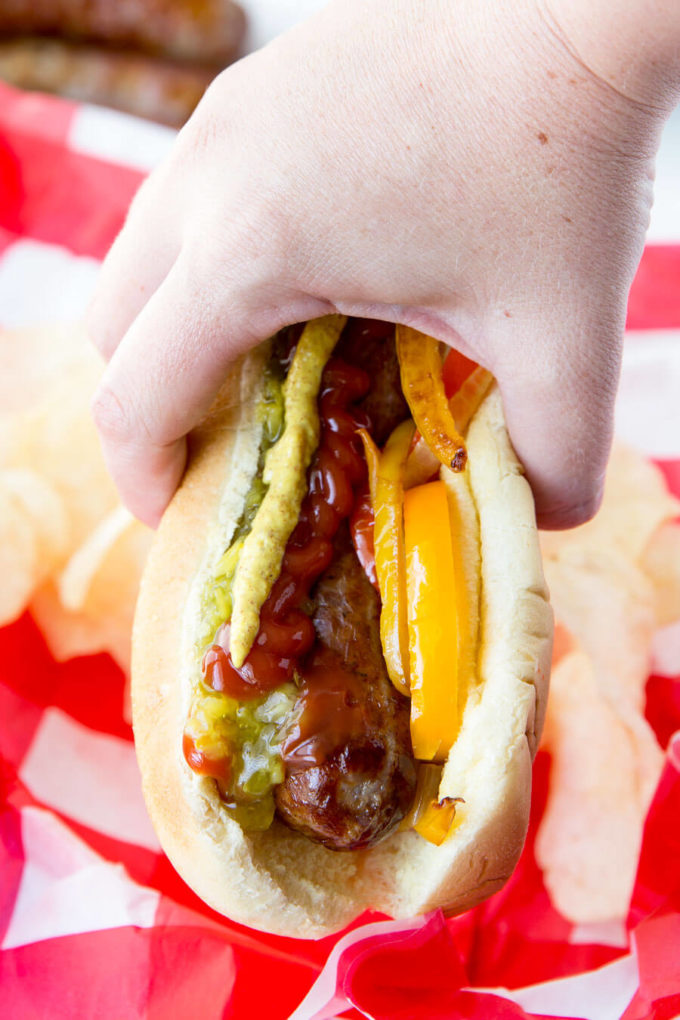 There are a lot of amazing fathers in my life, from my own Father to my Father-in-law, and my husband who is awesome. Throw in a slew of brother-in-laws and brothers, and well…there are some pretty great dads out there.
And what better way to celebrate them then with a big old cook out with some Italian Sausage and Peppers? A barbecue. A shindig. A yard party. Complete with sides, salads, chips, and of course sausages and bratwursts.

MY LATEST RECIPES
My favorite way to eat a grilled sausage is smothered in sautéed onions and peppers. It is so simple but offers so much flavor. I can't wait for you to try it. We will likely be eating these all summer long, including Father's Day!
Oh boy did Father's Day sneak up on me this year. Like seriously, I feel like it was just the beginning of the year and now we are in June. How does that happen? The days are flying by and the kids are out of school for the summer, and I am realizing Father's Day is just around the corner and I need a gift.
Do you love gift giving? Gifts are my love language, so I am a huge fan. But I am not a fan of giving gifts just for the sake of giving gifts. I want to give something that is wanted, practical, meaningful, or at least useful and liked. And that is a tall order to fill.
So if you are anything like me, and want an awesome Father's Day gift, may I suggest you get a Johnsonville Sizzling Sausage Grill!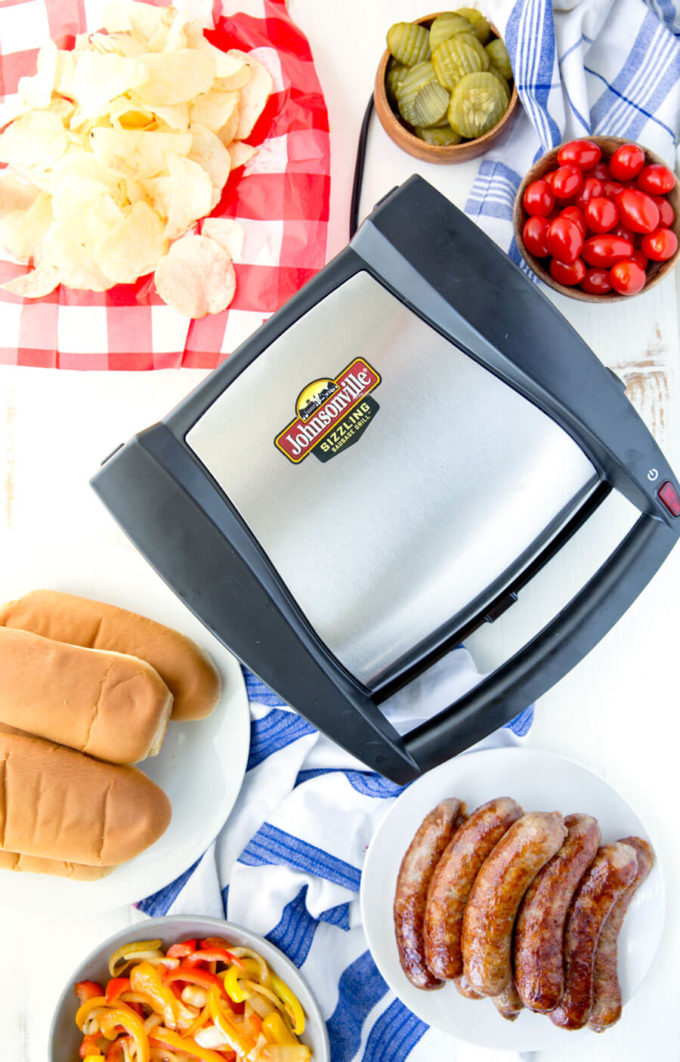 It is seriously amazing. You guys, I am not just saying this. We have used ours almost daily since we got it. And my husband uses it as much as I do. If the fathers in your life enjoy a good sausage or bratwurst, they are going to love this grill and Italian Sausage and Peppers!
We love a good cook out, and summer sides and salads to go with it. And my husband loves bratwursts and sausages. So being able to cook some up for lunch, with low mess, and total ease has been amazing.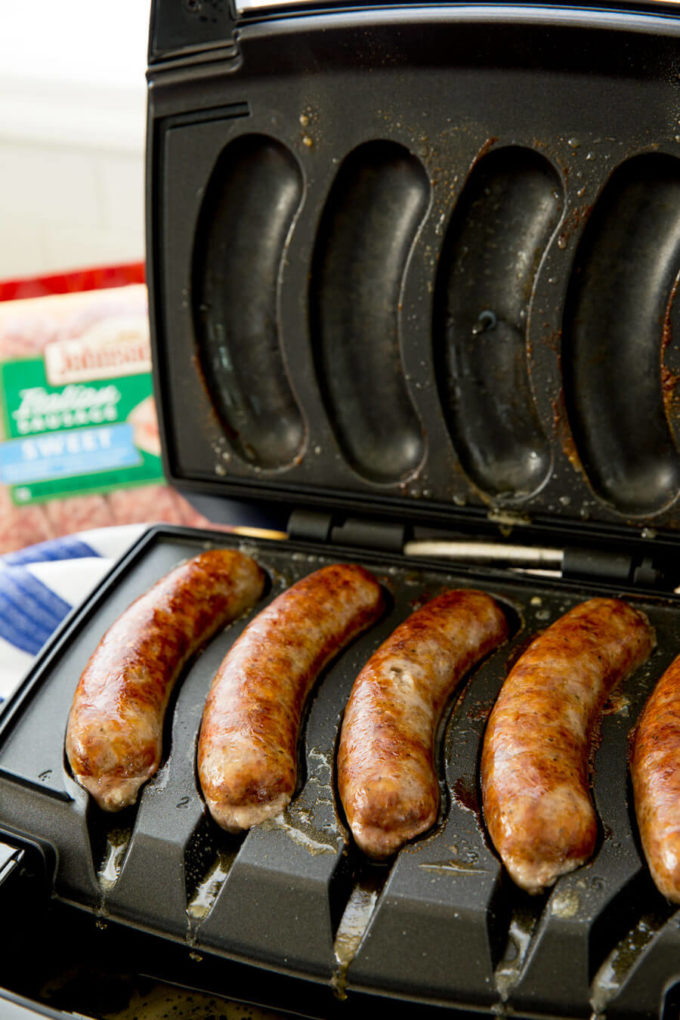 Johnsonville Sizzling Sausage Grill
Here is what I love about the Johnsonville Sizzling Sausage Grill:
Cooks the sausage in 15 minutes. You literally put the sausage in and walk away, and it beeps at you when it is done. If only my barbecue grill did that…there would be so many less charred burgers being fed to my kids! Hahah
It has a temp thermometer built in so you get perfectly cooked sausage every time. I don't know about you guys, but I sometimes worry if the inside is cooked through. Problem solved!
It holds 5 sausages, and is perfectly shaped for them, meaning again…perfectly cooked sausages. Nice brown outside, juicy, fully cooked center.
The cooking plates are removable so it is easy to wash.
The grill isn't messy. The whole thing seals up, and the sausage browns evenly while the flavors and juices stay inside. And it has a grease tray for the drippings, so no mess outside the grill.
It is small and easy to store because it can be stored horizontally or vertically.
It's great for any time of the year, making every season grilling season.
I love that it just requires electricity, which means it is great for things like RV's, but is also amazing in the kitchen.
Find it here: https://www.sizzlingsausagegrill.com/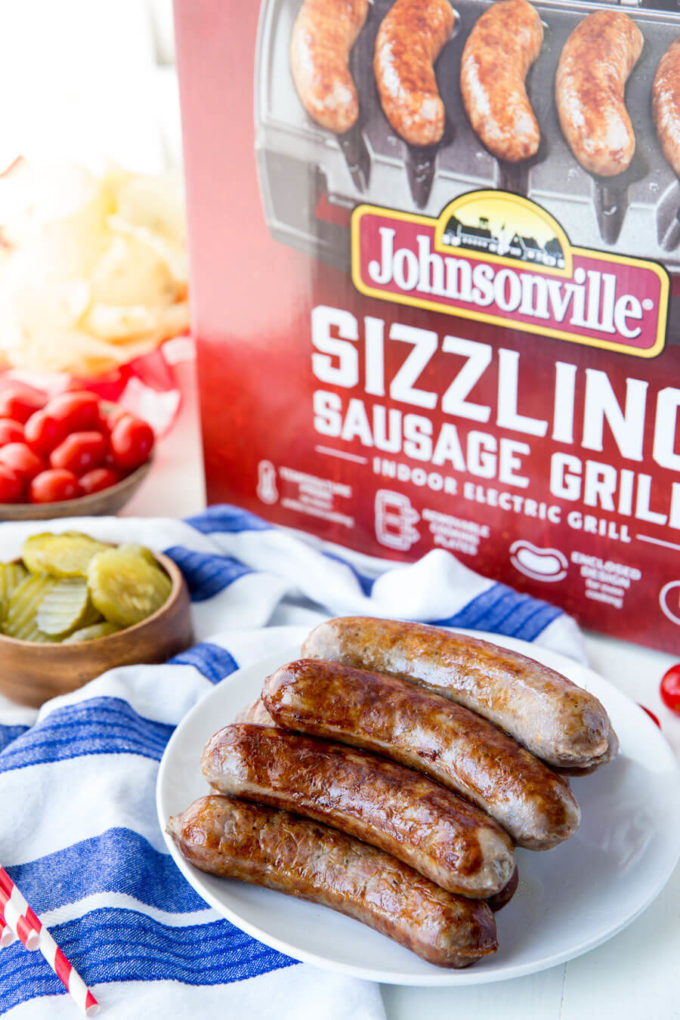 So now that you know what to get the fathers in your life for Father's Day, let's talk about these delicious Italian Sausage and Peppers.
Basically you are going to saute the onions and peppers while the sausages cook. These sausages take 15 minutes, so get your onions and peppers cut up and start the onions coking, then get the sausages going. And they should finish around the same time.
Then you have a fantastic and flavorful topping to add to the relish, ketchup, mustard, and other standard fixing!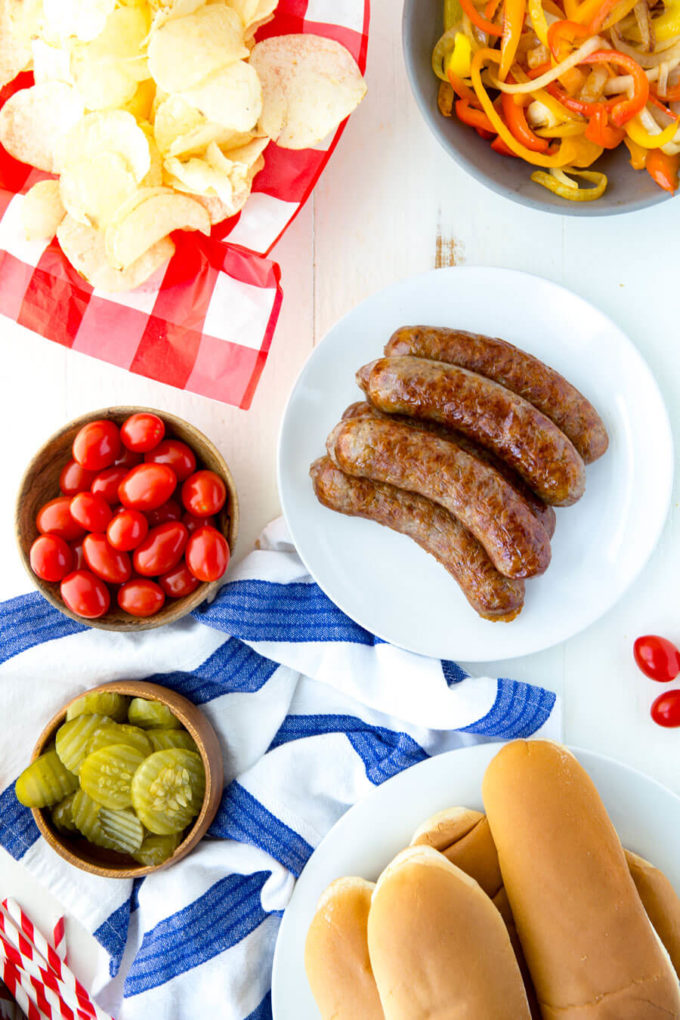 What is your favorite way to eat a grilled sausage or bratwurst? Which toppings do you prefer? What sides do you always serve with them? I'd love to know, so comment below!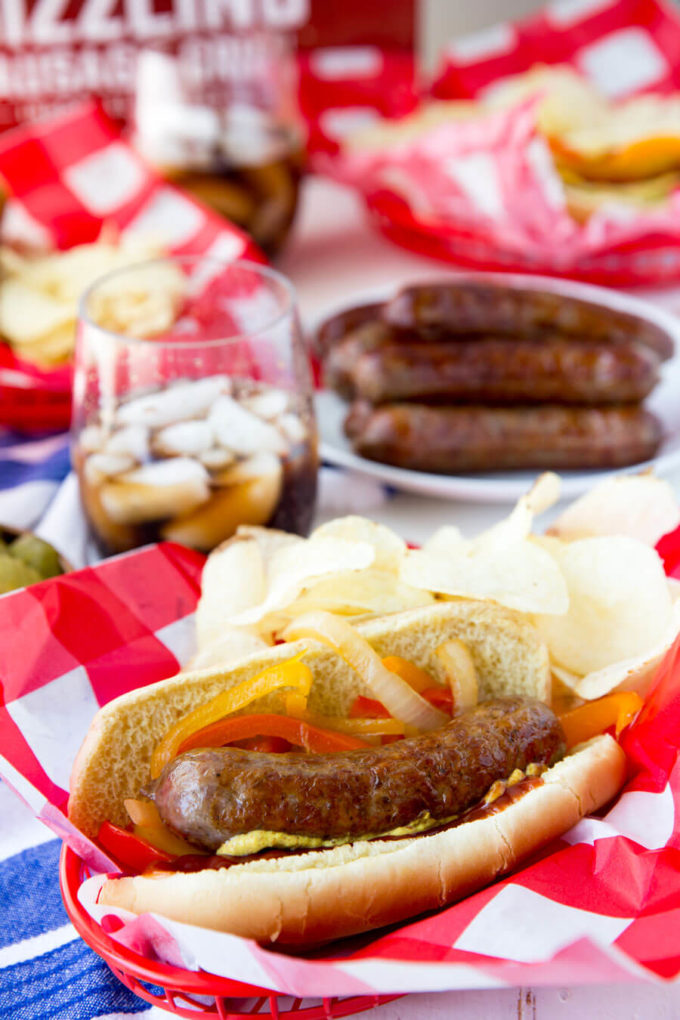 Other summertime recipes you might enjoy:
Ingredients
5

Italian sausage

1/2

Tbs

olive oil

1

large yellow onion

julienned

1/2

a red bell pepper

1/2

a yellow bell pepper

1/2

an orange bell pepper

1

tsp

apple cider vinegar

salt and pepper
Instructions
Heat the olive oil in a large saute pan over medium heat. I used my

Calphalon Pan

because it has a non-stick surface, it heats evenly, and when I need to the lids are safe to go in the oven.

Add onions, cook on low for 15 minutes, stirring occassionally

Add peppers after the 15 mins, as well as apple cider vinegar and salt and pepper to taste.

Cook until peppers are tender, about 5 minutes.

Top on Italian Sausage

Enjoy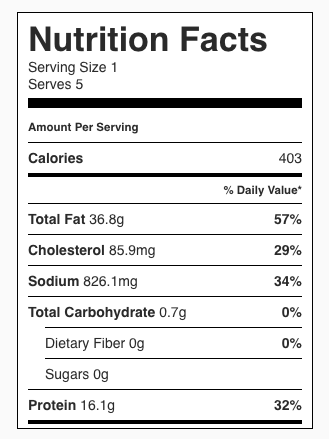 Pin to your Grilling Board on Pinterest:

This is a sponsored conversation written by me on behalf of Johnsonville. The opinions and text are all mine.
Get EZPZ Updates In Your Inbox!