This post is sponsored by Smithfield Marinated Fresh Pork, all opinions are my own.
Pork Medallions with Broccoli
Pan fried pork medallions are a busy mom's best friend. They can be cooked in only a few minutes, are a one-pot wonder, and always turn out flavorful, tender, and juicy!
This one pan meal offers juicy, tender, delicious pork that is seared to perfection and perfectly portioned, all accompanied by crisp tender broccoli with mushrooms and a simple pan sauce.
One dirty skillet.
Hardly any prep work. AKA: Quick and easy!
Super flavorful and downright yummy!
When you want easy, delicious, and perfect for midweek or entertaining company, this is the recipe for you.
Serve with creamy mashed potatoes, or mashed cauliflower for a complete meal!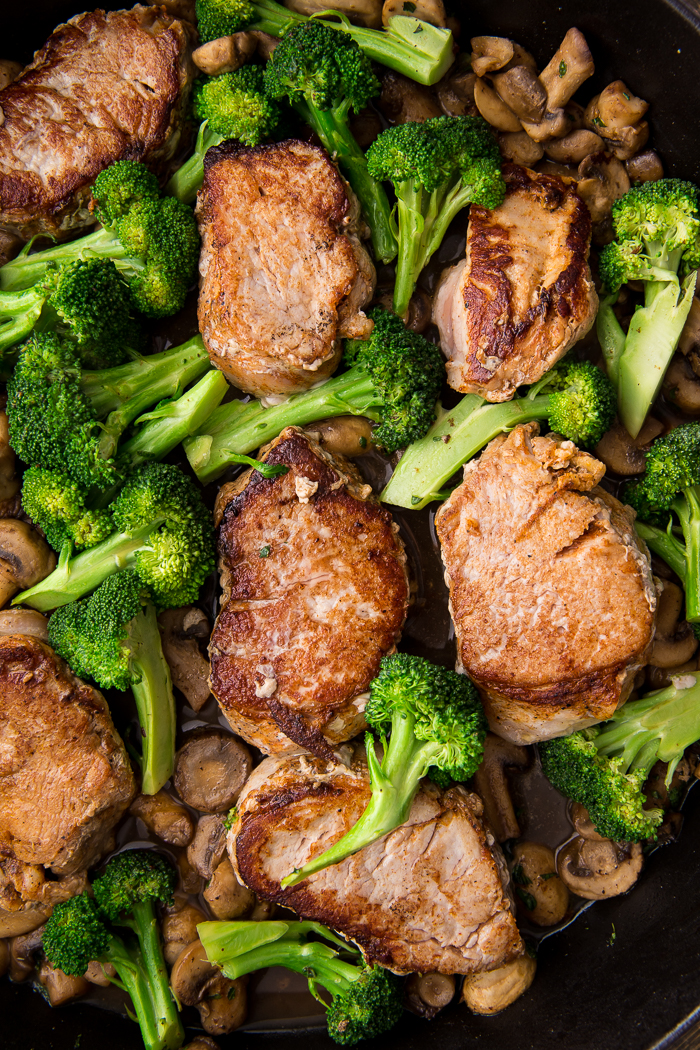 Well, it is that time of year again…the Holiday Season. When life gets hectic, but is also wonderful and fun. This time of year always keeps me on the run with holiday parties, company in town, last minute shopping, and let's not forget, all of the recitals and performances.
I love having easy 30 minute or less meals in my back pocket for just these times. And Smithfield Marinated Fresh Pork is my go-to during the holiday season because whether I am entertaining, or looking for a quick and easy weeknight meal to fit in before we head out the door, Smithfield has got me covered.
Their collection of Marinated Fresh Pork products are pre-seasoned to cut down on my prep-work. And with the big variety of flavors and cuts, I can always find something my family loves. Making them an easy choice for busy nights, as well as for entertaining.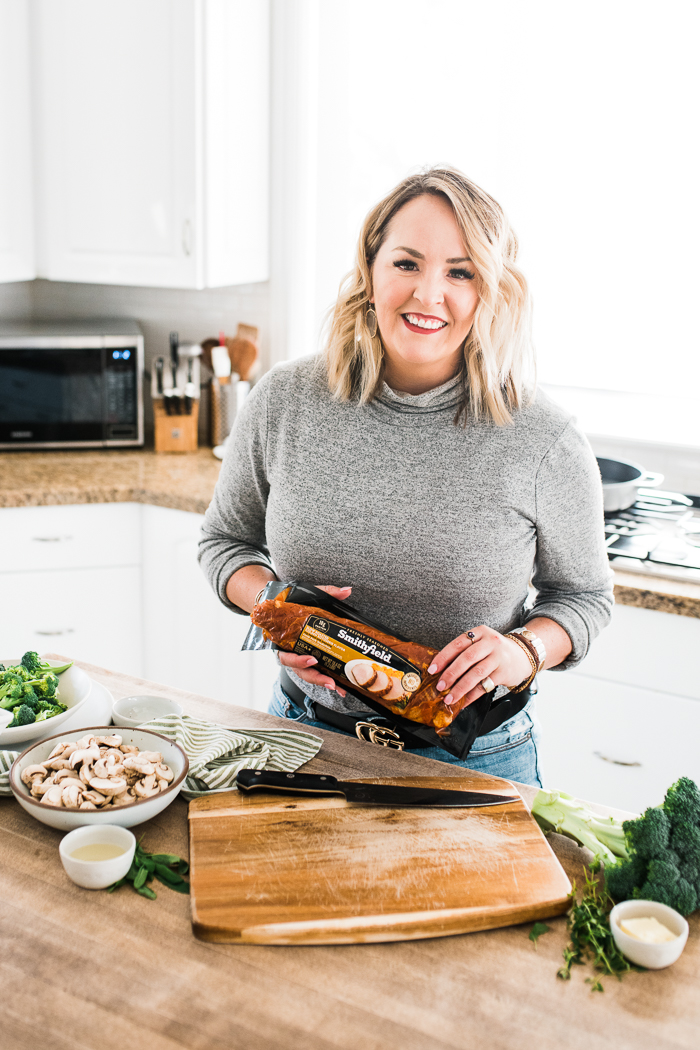 The Perfect 30 Minute + One Pan Meal:
Today's recipe is a favorite because it is so simple, quick, and low mess.
Why is it such a great option?
It starts with the Smithfield Marinated Fresh Pork Tenderloin. Part of the beauty of this particular cut of pork, besides being ultra-tender, is how quickly you can go from package to table. Whether you roast it, sear it, or stir-fry it, this pork tenderloin cooks in under 30-minutes, making it a great choice for a quick meal.
Beyond that, I love pork tenderloin because I can cook it and my sides in the same pan, aking for easy clean up. After searing the meat in a skillet, adding in the veggies, and finishing it all off is simple.
Pork tenderloin is already a quick cooking meat that is tasty and delicious, but by cutting it into medallions, you get an even faster cook time, and some fun possibilities for serving.
Broccoli and Mushrooms:
This is a complete meal. Of course you can pair it with some mashed potatoes or rice pilaf, but the beauty of this one pan meal is you cook the pork medallions, but also the mushrooms and broccoli at the same time. And boy it is delicious.
You start with the pork medallions, giving them a good sear, then you add the mushrooms and butter. Then you add some chicken stock to deglaze the pan. Deglazing the pan means you use some liquid in a hot pan, and a wooden spoon, to get all the brown bits off the bottom and into the liquid. Not only does this help you clean the pan easier afterward, but it adds a ton of flavor to your sauce.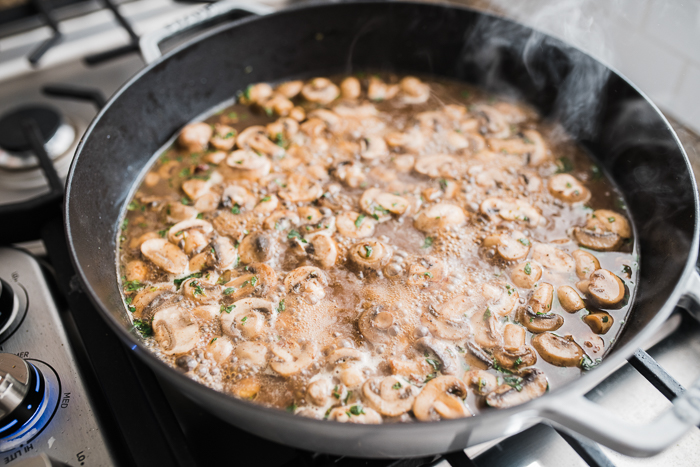 What is a medallion of pork?
Pork medallions are cut from pork tenderloin, not to be confused with pork loin or pork loin filet. Which are different. The pork tenderloin is a cylindrical, 10-12 inch piece of pork from the pig's back, that is extra lean, and usually weighs about a pound, give or take.
The medallion is created by slicing the tenderloin into rounds.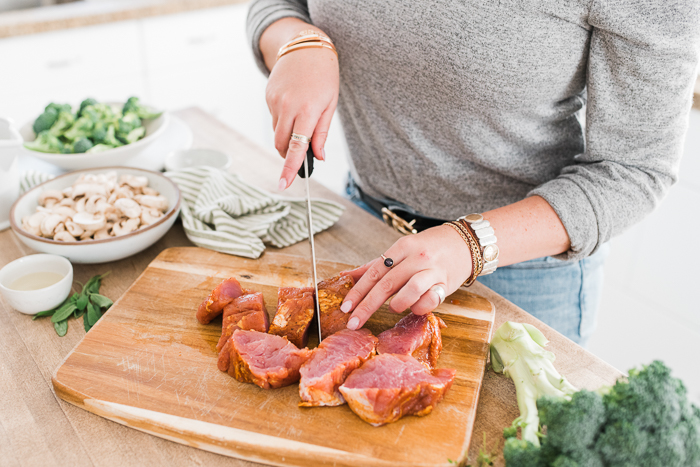 How Thick Should I Cut a Pork Medallion?
Slicing the pork tenderloin is super easy to do.
To create pork medallions, simply slice the tenderloin into 8 evenly sized pieces. This will result in 1-2 inch thick pieces.
To get perfect pork medallions, don't pull out a ruler, as this is not the eazy peazy way. Instead, start by cutting the tenderloin in half. Then cut each of the pieces in half, and then in half again. The result will be even sized medallions, which is imperative for even cooking.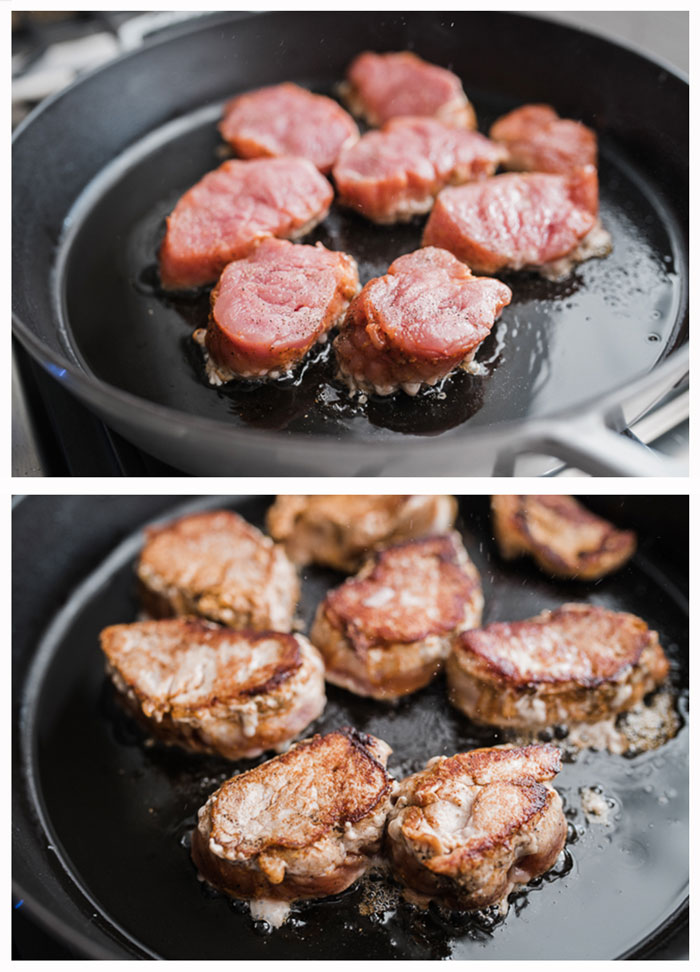 How to Cook Pork Medallions
One more reason to love Smithfield Marinated Fresh Pork? Rather than having to cook with a recipe, you just need a method. Simply buy a pre-marinated pork tenderloin in your preferred flavor, and cook with the method below.
For this recipe I used the Smithfield Slow Roasted Golden Rotisserie Pork Tenderloin, but there are several flavors and varieties to choose from including: Roasted Garlic & Herb, Sweet Teriyaki, Steakhouse Mushroom, and Applewood Smoked Bacon.
Because it is already seasoned, you simply have to remember the process for cooking pork medallions:
Evenly cut your Smithfield Marinated Fresh Pork Tenderloin into medallions.

Heat oil in a skillet.

Once the oil is super hot, where it is NOT smoking, but it simmers, this is when you put your medallions in to sear.

Sear the pork for 3-4 minutes per side. Resist the temptation to move it. Do NOT touch it. Searing it gives it that golden brown crust and even more flavor.

Let rest for 5 minutes once finished cooking.
In this recipe we are adding one more step to cook some vegetables and make an easy pan sauce in the same skillet, for a low mess meal. But it really is a simple method that takes only 15 minutes.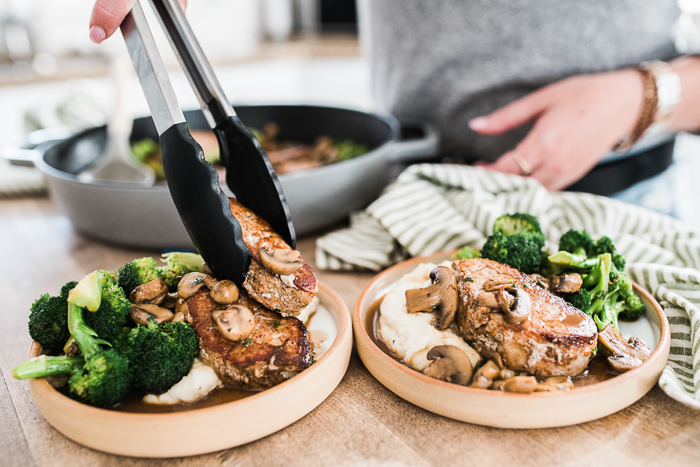 How do you know when a pork tenderloin is done? Cook pork tenderloin to 145°F.
Now you might be wondering if 3-4 minutes a side is going to be long enough to cook your pork through? And the answer is, yes, it should be. However, pork is a super lean meat and you do not want to overcook it. So the best way to get juicy, tender, pork every time is to measure the internal temp.
Measuring internal temperature with an instant read meat thermometer is the best way to get perfectly cooked pork tenderloin medallions.
The USDA lists 145°F as its recommended safe minimum cooking temperature for fresh pork.
Cook to 145°F, and the meat will be tender, juicy, and may have just a touch of pink. A little bit of pink is totally fine, as with pork, the internal temp is a much more accurate indicator of doneness than color.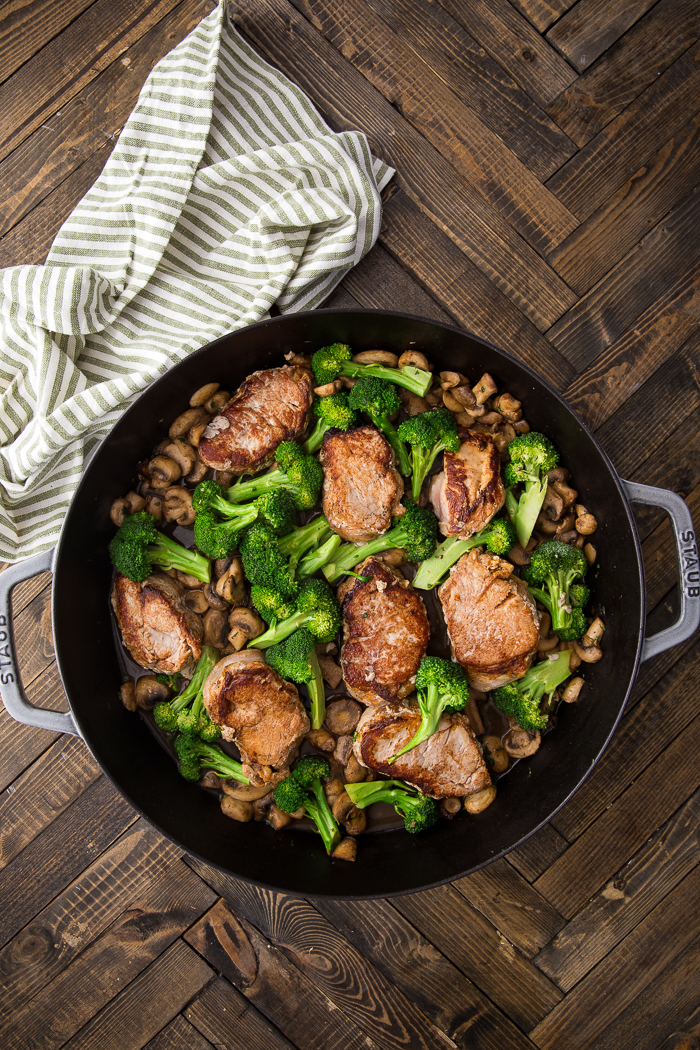 How to Reheat Pork Medallions
These medallions are so tasty, it is unlikely you will have leftovers, but if you do, or if you want to cook ahead to make lunches for the week, you don't want to ruin something delicious by drying it out when you go to reheat it.
So to prevent dried-out meat, reheat with these steps:
Reheat the pork medallions separately from the vegetables.

Sear the medallion again. It is a thin enough cut, and will reheat quickly with this method to prevent drying out.

Add a splash of water or chicken stock to the pan, and let the steam add moisture back into the pork.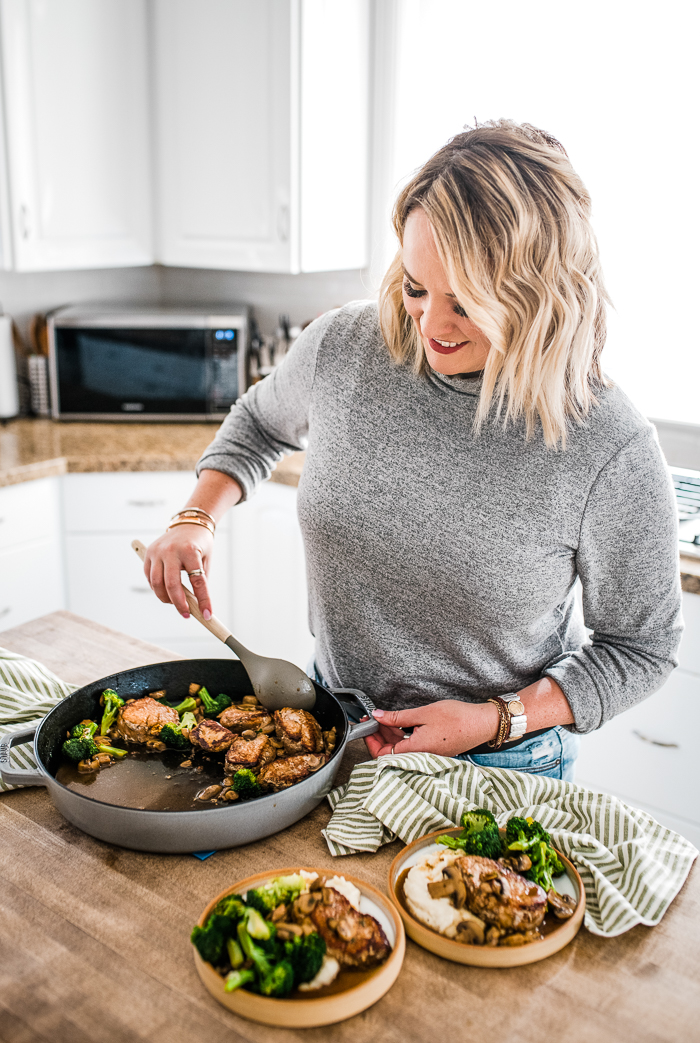 WHY I BUY SMITHFIELD MARINATED FRESH PORK:
I know I have already mentioned how much I love the convenience of Marinated Fresh Pork from Smithfield, but that is not the only reason it  is my go to. Here are a few more reasons:
The Marinated Fresh Pork collection is made from 100% fresh pork with no artificial ingredients and packed with protein.

Pork is super versatile – you can roast, sauté, grill or slow-cook for any style of dish, and have it on the table in a matter of minutes.

Pork tenderloin is a super-lean cut of meat, which means it can dry out quickly. These products are conveniently marinated and essentially brined, which helps the meat to stay tender, juicy, and flavorful. In other words, it is fool-proof!

While I love pork tenderloin, Smithfield Marinated Fresh Pork is available in a wide variety of fresh cuts, including pork roasts, loin filets, chops, and sirloins. 

It is quick to cook. It can be sliced, diced, chopped, etc. for faster cooking times when my nights are hectic.

Smithfield Marinated Fresh Pork products are available at select grocery stores and retailers nationwide, including Walmart, ShopRite, Publix, and Albertsons/Safeway.
For more product information and recipe inspiration, visit www.Smithfield.com.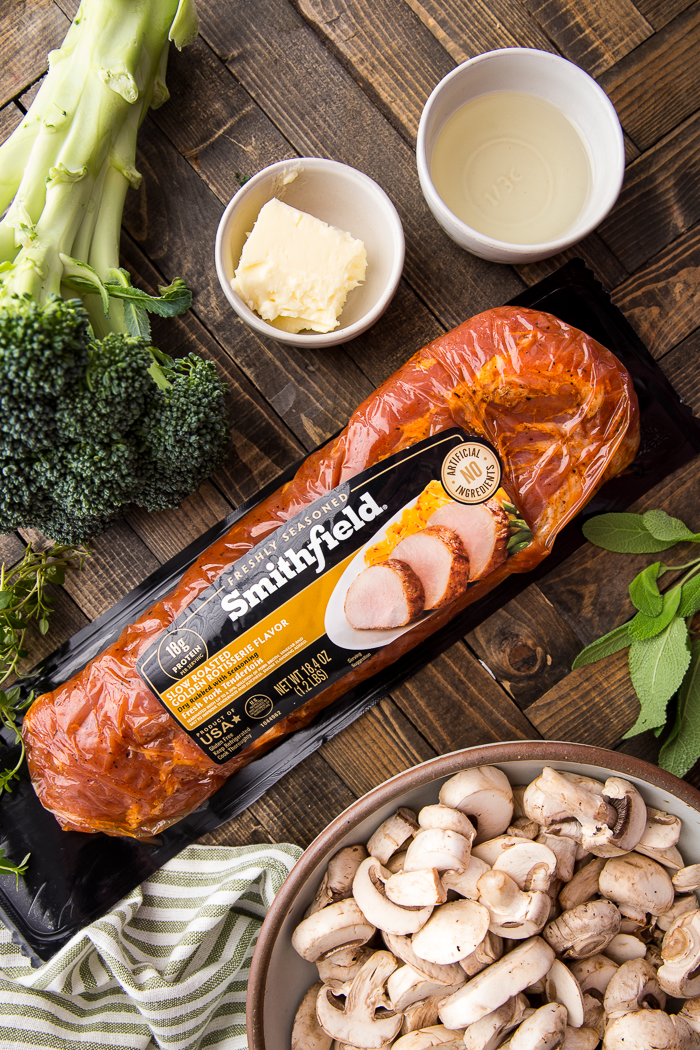 Other Great Smithfield Recipes:
How to Make Pork Medallions with Broccoli Video: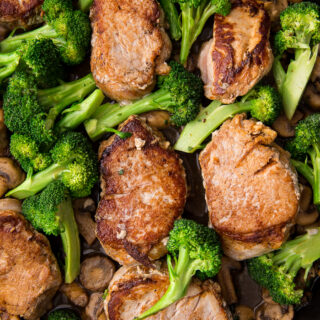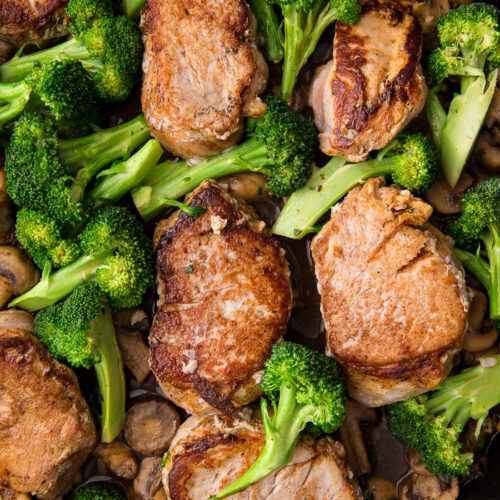 One Pan Pork Medallions with Broccoli
Delicious pork medallions serve with pan sauce, mushrooms, and broccoli for an easy 30 minute meal.
Print
Pin
Rate
Ingredients
1

Smithfield Slow Roasted Golden Rotisserie Marinated Fresh Pork Tenderloin

2

Tablespoons

vegetable oil

1

Tablespoon

butter

(can use more if desired)

8

oz

baby bella mushrooms

sliced, or white mushrooms

1

cup

chicken stock

1 1/2

cups

broccoli florets

1

Tablespoon

fresh sage

finely chopped (or sub 1 teaspoon dry sage)

1

teaspoon

fresh thyme

finely chopped (or sub 1 teaspoon dry thyme)

salt and pepper

to taste
Instructions
Remove Smithfield pork tenderloin from packaging and slice into 8 equal sized medallions.

In a large, heavy skillet, heat 2 Tablespoons of vegetable oil over medium-high heat.

Once pan is hot, place pork medallions into the hot oil, and let cook for 3-4 minutes. Do not move the pork at all, let it form a golden crust.

After golden crust forms, flip and cook other side for 3-4 minutes. Then remove to a plate, and set aside.

Add the tablespoon of butter to the pan and the mushrooms. Add 1-2 Tablespoons of the chicken stock and use a wooden spoon to scrape the brown bits off the bottom.

Add the herbs, and cook the mushrooms, stirring often, until they turn start to get tender and golden brown, about 5 minutes.

Once they are cooked to your liking, add the remaining chicken stock and fresh herbs, and stir them together.

Turn heat up and bring to a boil. Continue cooking letting the sauce reduce by half (about 5 minutes).

Add broccoli, and stir together.

Return pork medallions, with any of the juices that gathered on the plate, back into the pan.

Spoon some sauce over them, and remove from heat.

Cover pan and let sit for 5 minutes to let broccoli become tender, and sauce thicken.

Taste, season with salt and pepper as needed.

Enjoy!
Nutrition
Calories:
668
kcal
|
Carbohydrates:
7
g
|
Protein:
98
g
|
Fat:
26
g
|
Saturated Fat:
11
g
|
Cholesterol:
319
mg
|
Sodium:
411
mg
|
Potassium:
2207
mg
|
Fiber:
1
g
|
Sugar:
3
g
|
Vitamin A:
499
IU
|
Vitamin C:
31
mg
|
Calcium:
66
mg
|
Iron:
5
mg
Our recipe card software calculates these nutrition facts based on averages for the above ingredients, different brands, and quality of produce/meats may have different nutritional information, always calculate your own based on the specific products you use in order to achieve accurate macros for this recipe.
Want to use this recipe in a meal plan?
Try PrePear, my FREE Meal Planning App that allows you to save your recipes, plan meals, shop for groceries, and cook simply in one place. Join Here!
Pin to your 30 Minute Meal board on Pinterest: