This post is sponsored by Smithfield Marinated Fresh Pork, all opinions are my own.
Roasted Pork Crostini with Apple and Pomegranate: Crostini made from oven roasted pork tenderloin, thinly sliced, and laid atop of creamy bed of brie, then sprinkled with an apple pomegranate salsa! This Roasted Pork Crostini is a flavorful taste of the holidays, and a perfect appetizer for all the holiday parties and events. Flavorful, easy, and super delicious.
Hands down one of my favorite ways to use an oven roasted Smithfield Marinated Fresh Pork tenderloin is in this unexpected delight–crostini! This amazing appetizer will be the hit of any party as it offers a hearty bite, a lot of flavor, and no one has to know it was super easy to make.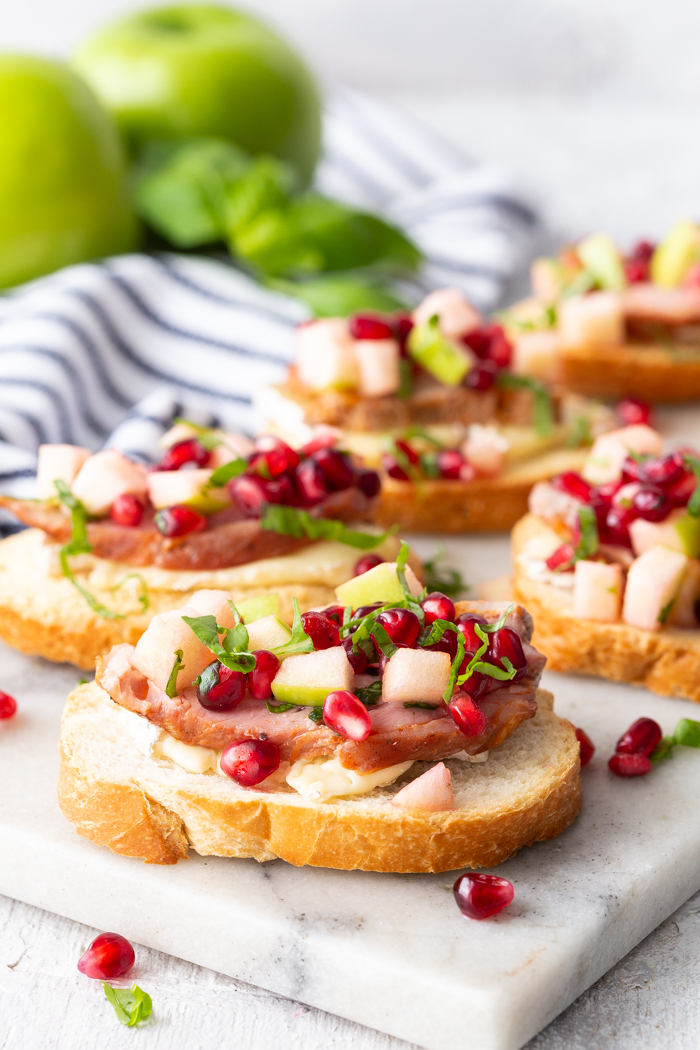 One of my favorite holiday hacks is serving foods that only look like they are difficult or time consuming. This roasted pork crostini is the prime example of this. With bold delicious flavors, a beautiful presentation, and layers of complexity, don't be surprised if guests think you spent hours in the kitchen.
The real key is the pork tenderloin. I don't use any pork tenderloin, rather I save time and hassle and use Smithfield Marinated Fresh Pork. It is my go-to for delicious, quick and easy recipes during the holiday season.
I loved using it here in an appetizer, but it is also amazing as an entertaining main dish or a hearty weeknight meal for the family.
Why do I love Smithfield Marinated Fresh Pork?
The prep work is already done. They come pre-marinated, which means I get all the flavors that come from having the tenderloin sit in marinade, without any of the work. I simply roast, sauté, grill or slow-cook, and as a result, I get to spend less time in the kitchen and more time celebrating with family and friends.
Variety of Flavor- For this amazing recipe I used the Smithfield Slow Roasted Golden Rotisserie Marinated Fresh Pork Tenderloin, but there are several slow-marinated and perfectly seasoned, Smithfield Marinated Fresh Pork options.  Such as Roasted Garlic & Herb, Applewood Smoked Bacon, Sweet Teriyaki, and Slow Smoked Mesquite.
High Quality: I know when I buy a Smithfield Marinated Fresh pork cut, that it is going to be the kind of quality I won't be embarrassed to serve my guests. It is made from 100% fresh pork with no artificial ingredients and is packed with protein.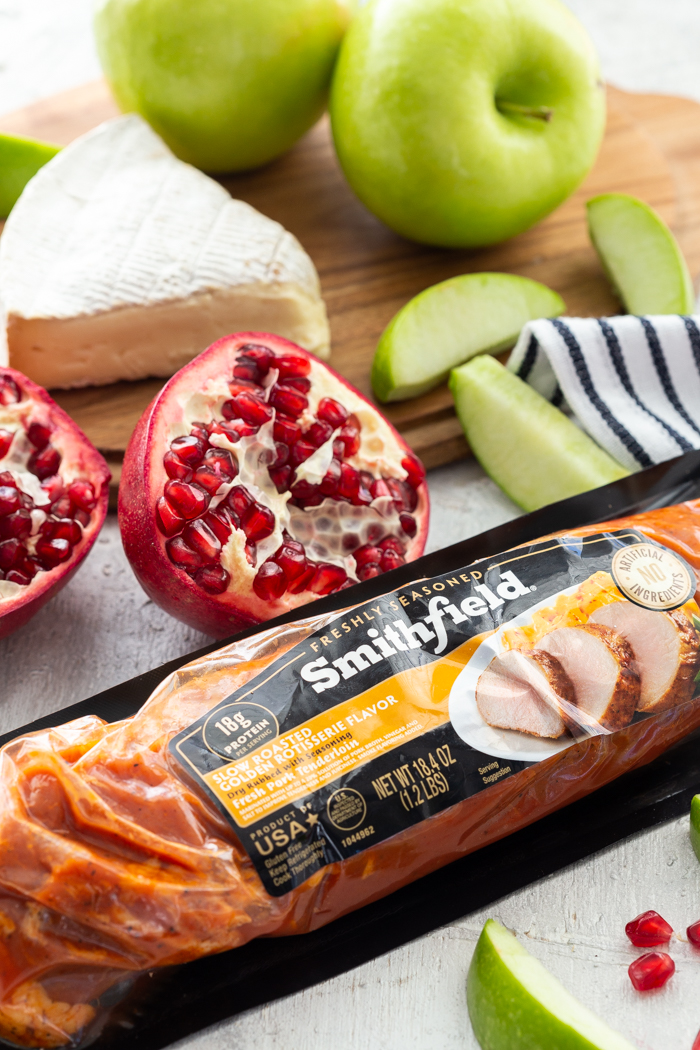 I picked up my Smithfield Marinated Fresh Pork from Walmart, but have seen them at Ridley's, and at Kroger stores like Smith's as well. They are available in a wide variety of fresh cuts, including pork roasts, loin filets, chops, ribs, sirloins, and tenderloins.
For more product information and recipe inspiration, visit www.Smithfield.com
How do I cook pork tenderloin in the oven?
Because this Smithfield Marinated Fresh Pork is pre-marinated, it can simply be removed from the package and roasted in the oven. My favorite way to roast a pork tenderloin is to start at a higher heat, then after getting a nice sear on the outside, turn the heat down for the remainder of the cooking time.
Start at 400 degrees for 10 minutes
Turn down to 350 degrees, and cook approximately 15 minutes per pound or until internal temp is 145 degrees F.
The rule of thumb is to cook until the internal temperature is 145, depending on the doneness you prefer. This usually takes 20 + minutes to achieve, but the pork tenderloin can be sliced or cubed for even faster cooking.