Roast Turkey Breast
Roast Turkey Breast is the best ever oven roasted turkey breast recipe!  Tender, juicy, deliciously seasoned, turkey breast made in your oven for a traditional turkey dinner with half the time, half the work, and all the flavor.
If you are wanting to keep your Friendsgiving traditional and still make the best turkey to amaze your friends then look no further, I've got you covered!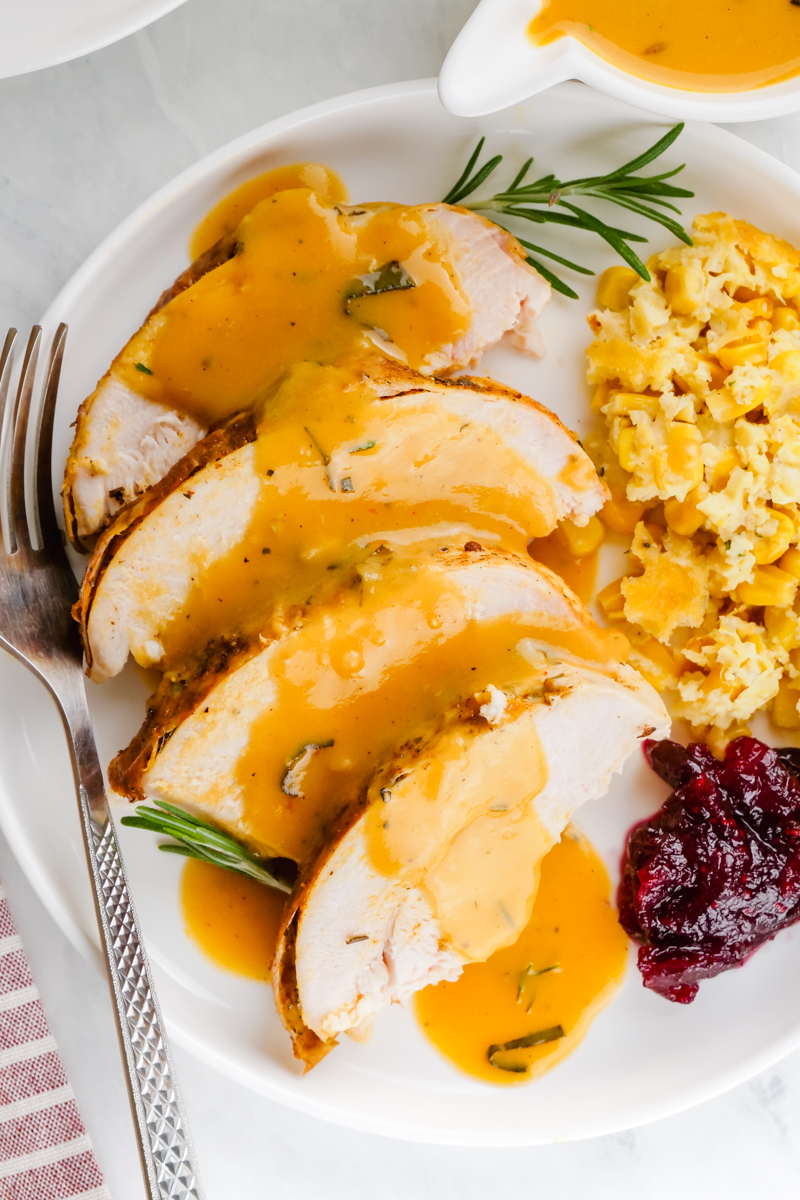 I have partnered with Sabra to bring you this post, all opinions and my love of Friendsgiving are my own.
Friendsgiving
Friendsgiving is a chance to join together and celebrate everything that's awesome in life.
Good friends, good food, and good times shared around the table.  
What is a celebration without amazing food? While Thanksgiving can be structured and traditional, Friendsgiving is an opportunity to change things up. To encompass you and your friends' unique tastes and personalities. To make it yours. Just like hummus.
This year, Sabra is here to help you bring your friends together over this new tradition — with flavor and fun, for everyone on your guest list.
So welcome your friends, pull up a seat, and join us, because this Friendsgiving is going to be a Friendsgiving For All.
And what is Friendsgiving without an amazing juicy turkey? 
Seasoned with all the best spices like garlic, sage, paprika, rosemary, and Italian seasonings, this Roast Turkey Breast recipe is mouthwateringly good, and the perfect addition to your table. 
And if your Friendsgiving is going to be on the smaller side, this turkey breast is the perfect way to keep it tasty and delicious without having to cook an entire bird.
I have all the tips for the Perfect Turkey  if you want to do a full bird. But if you only need enough for 6-8, this is the recipe for you!

Roasting a turkey breast is not a difficult process when you have an easy to follow delicious recipe like this one.
This Roast Turkey Breast is a favorite of mine because it is such a tasty and filling meal, with classic flavors, aromas, and comfort but easier than cooking the whole turkey. And faster too, freeing up your oven for all those delicious sides like green bean casserole, corn casserole, and sweet potatoes!
How To Defrost Turkey Breast?
This recipe is yummy and easy to make, but in order for your Friendsgiving to be a success, your turkey needs to be defrosted thoroughly.  
I do NOT advise you not to even entertain the idea of cooking from frozen. 
If you want a juicy, delicious, safely cooked turkey breast, fully defrost before cooking.
Turkey Breast Defrosting Methods:
Refrigerator Method
Okay here is the deal, I'm going to just cut right to the chase.  Defrosting your turkey breast in the refrigerator is the best method.  THE END.  
Defrosting in the refrigerator is the recommended method because it is the safest method.  It ensures that the turkey will thaw at a consistent temp.
How To Defrost Turkey In The Refrigerator:
Don't open the packaging.  

Keep turkey in the original packaging, breast side up.

Allow for enough time to defrost.  Plan on one day per 4 pounds of meat.

Once defrosted, cook immediately or leave in the refrigerator for up to about a day.
Note: While this is the best method, it is also the slowest method.  There are other ways if you are in a time crunch.
Microwave Method
This is the fastest defrosting method, but I don't really recommend this way because the integrity of the meat can suffer, resulting in a dry, less juicy oven roasted turkey breast.  So, if you choose this method, consider yourself warned.
How To Defrost Turkey In The Microwave:
Remove turkey breast from packaging and place on microwave safe dish.

Press defrost button and plan on microwaving 6 minutes for every pound.

Turn breast over halfway through cooking.

Cook once defrosted.
Tip:  Remember you want to defrost the turkey not cook it.  Sometimes parts of the turkey will start to cook when defrosting in the microwave.  If this happens, simply take a break from the defrosting process for 5 minutes or so.  Then continue to defrost, assuming there are still portions that need it.
Cold Water Method
This method is kind of the happy medium between the two previous methods.
It takes more time to do this method than the microwave method, yet not as long as the refrigerator method.  However, regardless of time, the refrigerator method is still the safest.
How To Defrost Turkey With Cold Water:
Do not open the package.  Keep turkey in store bought package.

Put turkey in a bowl, breast side down.

Cover turkey completely with water.  

Every half hour change out the water.

Plan on defrosting the turkey for 30 minutes for every pound of meat.

Once defrosted, cook immediately.
And there it is.  3 options for defrosting a turkey breast.  Pick which one works best for you.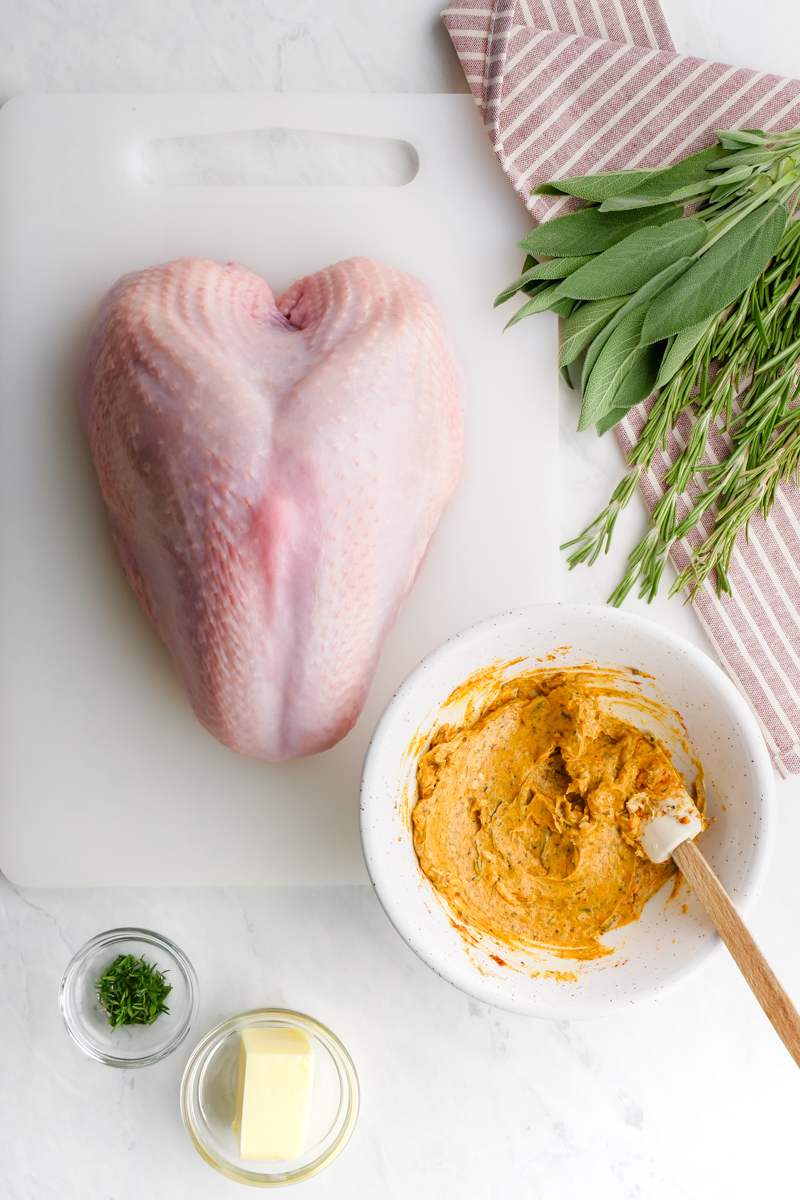 How To Make Turkey Breast Juicy?
No one wants a dry, tough piece of turkey.  Yuck. So showcase your culinary skills to your friends this Friendsgiving with the juiciest, most tender turkey breast ever!
When you bring people together, and celebrate with great food, a juicy turkey is a must.
With a few simple tips you can skip the dried out bird and get a lovely meal. 
How To Make Your Turkey Juicy:
Make sure to cook turkey that is completely defrosted.

Use a butter rub to bathe the turkey in delicious flavor, but also keep it moist while cooking.
Baste! It may seem like a pain, but one time of basting is all it takes to go from good to great.

Don't overcook the turkey. I highly recommend using a meat thermometer to get the internal temp right and not overcook. 

Don't eat turkey immediately right out of the oven.  Let it sit for about a 1/2 hour or so to allow juices to fully reabsorb.

Follow this Roast Turkey Breast recipe.
It's as easy as that.  Don't settle for dry, unappetizing bites of turkey.  There is a better way Friends.
Now since we have been talking about ways to ensure your turkey is juicy, we should probably talk about how to make sure the turkey is fully cooked though.  Just like overcooking your turkey can result in dried out meat, undercooking can result in getting sick. No one wants that.

What Temperature Should A Turkey Breast Be Cooked To?
The magical number is at least 165 degrees.  Simply get out your food thermometer and place it in the thickest section of the turkey breast and then read the thermometer.
Checking the temperature while cooking will insure your bird turns out perfect every single time. It is worth investing a few dollars into getting a meat thermometer and a few minutes in checking temp.

What Should I Serve With Turkey?
For your Friendsgiving, turkey makes a great main dish, but what about all the delicious sides? Side is where it is at. And this turkey recipe keeps the flavors simple enough it can pair with many sides well.
Sabra wants to help make  your Friendsgiving unforgettable, so be sure to visit their Pinterest board for recipes, décor, ideas and more inspiration here: https://www.pinterest.com/sabradips/friendsgiving/ 
And check out these fun recipes too!
The side possibilities are endless with this fantastic roasted turkey dish. 

How To Use Leftovers:
Leftovers are like the gift that keeps on giving, and such a fun way to send your friends home after a successful Friendsgiving. 
Plus if you have an abundance of leftovers then you are in luck my friend because there is so much you can do with leftover turkey, aside from just going for round 2 of that fabulous dish.
How To Use Leftover Turkey:
So many options and so little time.  Any of these would be great to use your extra turkey in.
Roast Turkey Breast Is A Must Try!
Don't miss out on this perfect Roast Turkey Breast recipe.  You will not be disappointed. It doesn't take too long to cook and it so, so tasty.  Do yourself a favor and make this meal a.s.a.p.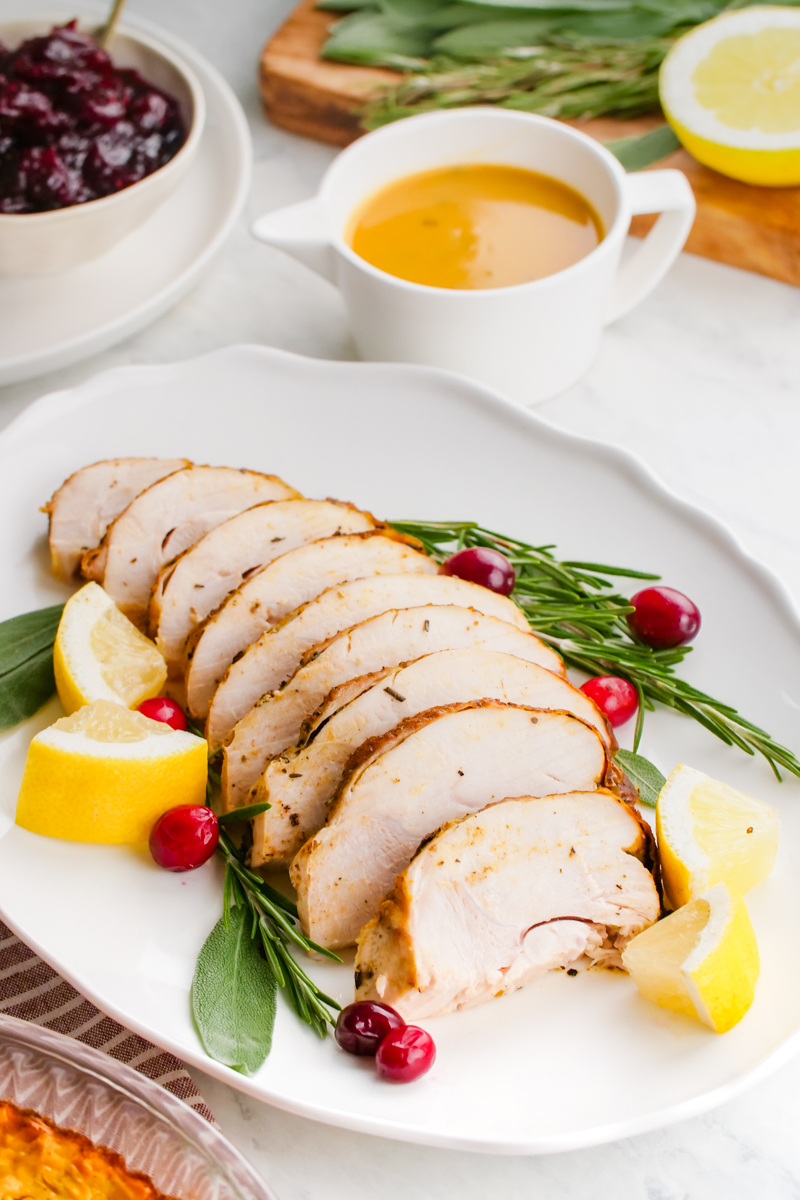 Make this the best Friendsgiving ever with the help of Sabra.   Visit this Pinterest board for more great recipes, décor ideas, and more inspiration: https://www.pinterest.com/sabradips/friendsgiving/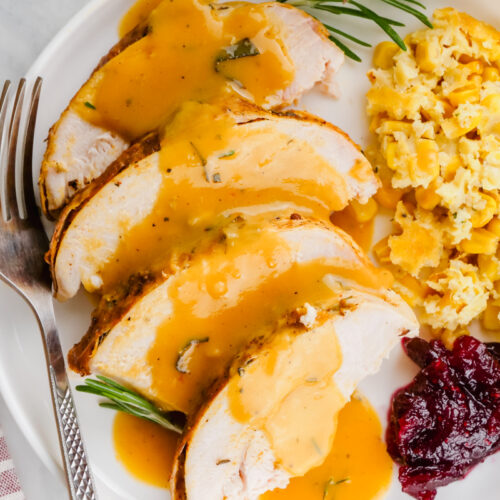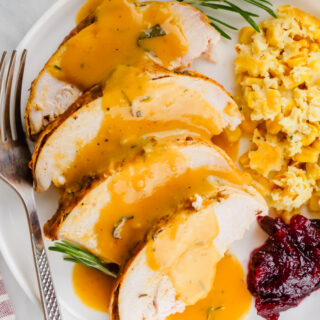 Roast Turkey Breast
Delicious Roast Turkey Breast, cooked in the oven with a butter rub for a juicy, tender, flavorful turkey perfect for a small crowd or Friendsgiving dinner.
Print
Pin
Rate
Ingredients
1/3

cup

butter

softened

1

clove

garlic

minced

½

teaspoon

fresh sage

chopped fine

½

teaspoon

fresh rosemary

chopped fine

1

teaspoon

smoked paprika

1

teaspoon

Italian seasoning

1/2

teaspoon

garlic powder

1

teaspoon

salt

1

teaspoon

black pepper

3

pound

turkey breast

with skin
Other:
Instant read meat thermometer
Instructions
Preheat oven to 450 degrees F (175 degrees C).

Mix 1/3 cup butter. In a bowl, combine melted butter with garlic, paprika, sage, rosemary, Italian seasoning, garlic powder, salt, and black pepper. Set aside.

Place turkey, breast skin side up, in a roasting pan. Use your fingers to loosen the skin and separate it from the breast meat.

Brush half the butter mixture over the turkey breast underneath the skin. Rub a little on top of the skin and reserve remaining butter mixture.

Place turkey in oven, and roast in the preheated oven for 30 minutes.

After 30 minutes, remove from oven and take remaining butter and pour over the turkey. Baste turkey breast with butter mixture. Then tent turkey breast loosely with aluminum foil.

Turn oven temp down to 350 degrees F, and return turkey to oven and roast until the juices run clear and an instant-read meat thermometer inserted into the thickest part of the breast, (and not touching bone), reads 165 degrees F (65 degrees C), about 45 more minutes to an hour depending on the size of the turkey breast.

Let turkey breast rest 10 to 15 minutes before slicing and serving.
Nutrition
Calories:
324
kcal
|
Carbohydrates:
1
g
|
Protein:
49
g
|
Fat:
14
g
|
Saturated Fat:
7
g
|
Cholesterol:
150
mg
|
Sodium:
945
mg
|
Potassium:
556
mg
|
Fiber:
1
g
|
Sugar:
1
g
|
Vitamin A:
525
IU
|
Vitamin C:
1
mg
|
Calcium:
40
mg
|
Iron:
1
mg
Our recipe card software calculates these nutrition facts based on averages for the above ingredients, different brands, and quality of produce/meats may have different nutritional information, always calculate your own based on the specific products you use in order to achieve accurate macros for this recipe.
Want to use this recipe in a meal plan?
Try PrePear, my FREE Meal Planning App that allows you to save your recipes, plan meals, shop for groceries, and cook simply in one place. Join Here!
Pin to your Friendsgiving board on Pinterest: