This is a sponsored conversation written by me on behalf of Kingsford. The opinions and text are all mine.
Smoked Hickory Meatball Skewers with Mozzarella are a delicious BBQ sauce covered meatball with melty mozzarella cheese, and a fresh basil garnish.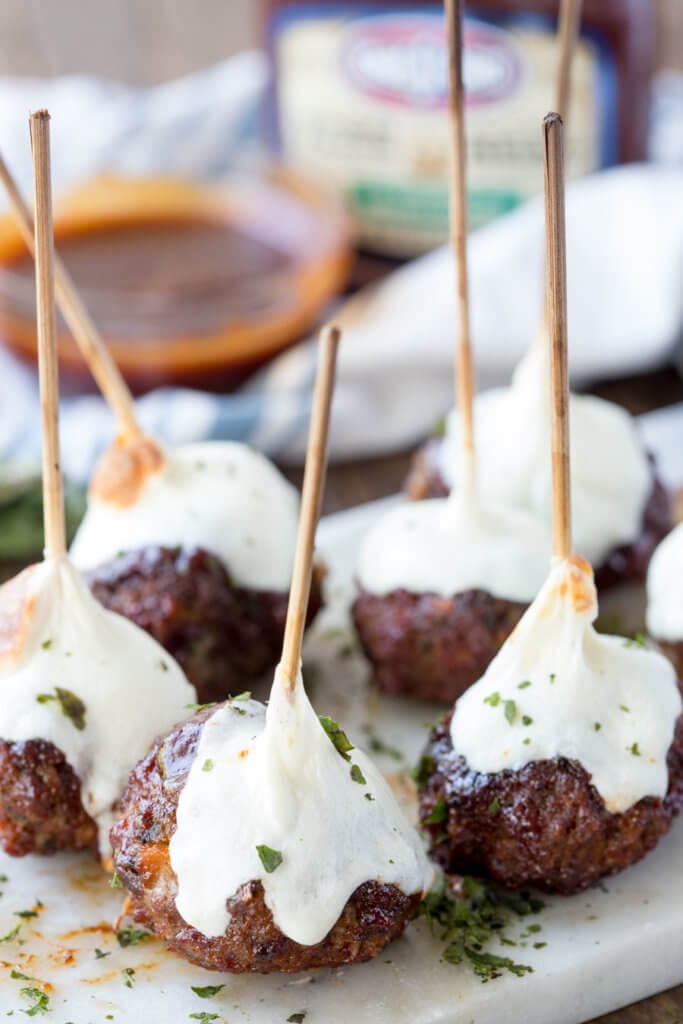 Okay, before we talk about these SmokedHickory  BBQ Meatball Skewers with Mozzarella, let's talk about grilling season.
Sunshine…on my window…makes me happy…like I should be! What is that song? It totally gets stuck in my head all the time. I think it is from a movie, but I have no idea who the artist is, or what the rest of the lyrics are. But I can tell you it is truth! Every time sunshine is coming through my window I get happy. And one of the main reasons for this is that it means grilling season is just around the corner.

MY LATEST RECIPES
Grilling season, for me, by definition, is that time of year when the stove becomes dormant, the air becomes fragrant, and sauces and marinades rule the land. It is when friends gather, families eat together, and food never tasted quite so good.
Can you tell I love to cook everything on my grill? Seriously…low dishes, huge flavors, and oh that smell. I mean is there any smell better than a grill loaded with juicy meat, covered in a tasty BBQ sauce? I think not. If they made a BBQ grill perfume, I would totally wear it.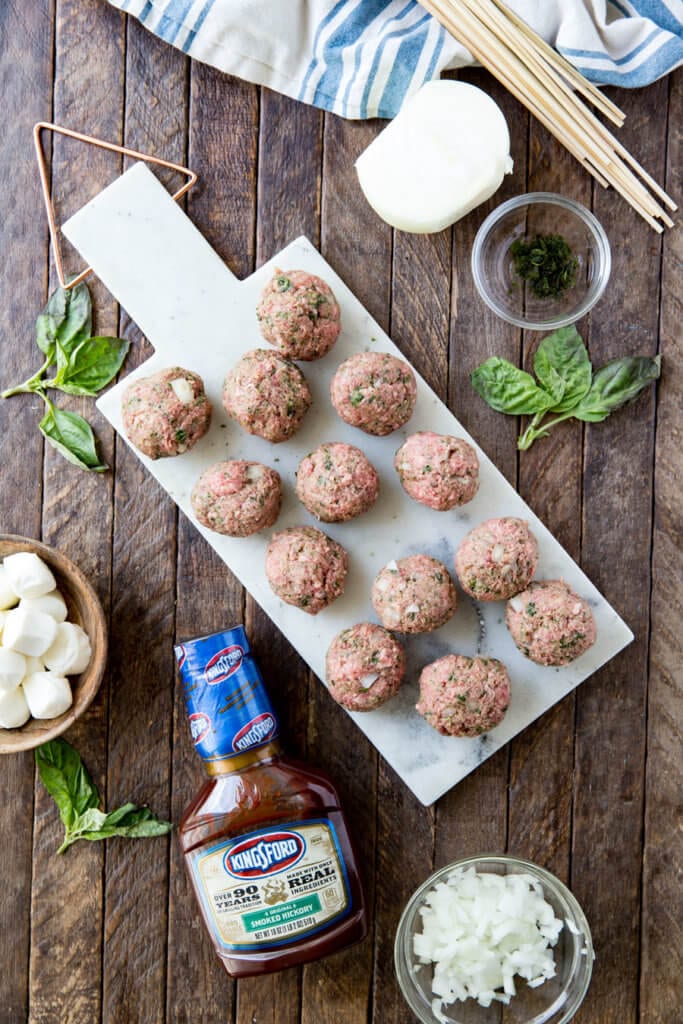 Anyway, enough about me, and don't worry we will get to these juicy morsels of perfection (meatballs) soon enough. But first, I am super stoked to share something with you guys… BIG NEWS. HUGE NEWS.
I am sure you are familiar with the Kingsford® brand. Kingsford has been around since 1920 with its charcoal and wood chips, and after 90 years they are launching their very first line of sauces and rubs.
Say what???? And they were worth the wait. I wish I could share the smell of these meatballs with you as they cooked. Absolutely mouthwatering.
Anyway, you guys have to check out these new sauces, and of course make them part of your summer grilling. For these insanely tasty meatballs I used the Kingsford® Original Smoked Hickory BBQ Sauce sauce, but there are also other flavors like Kingsford® Brown Sugar Applewood BBQ Sauce and Kingsford® Honey Jalapeño Mesquite BBQ Sauce  and there are Kingsford® Original Smoked Hickory BBQ Sauce Mix & Dry Rub too! So you guys, if you try it be sure to leave a review so other grillers can see how awesome-sauce these sauces are! (Click links to get to reviews).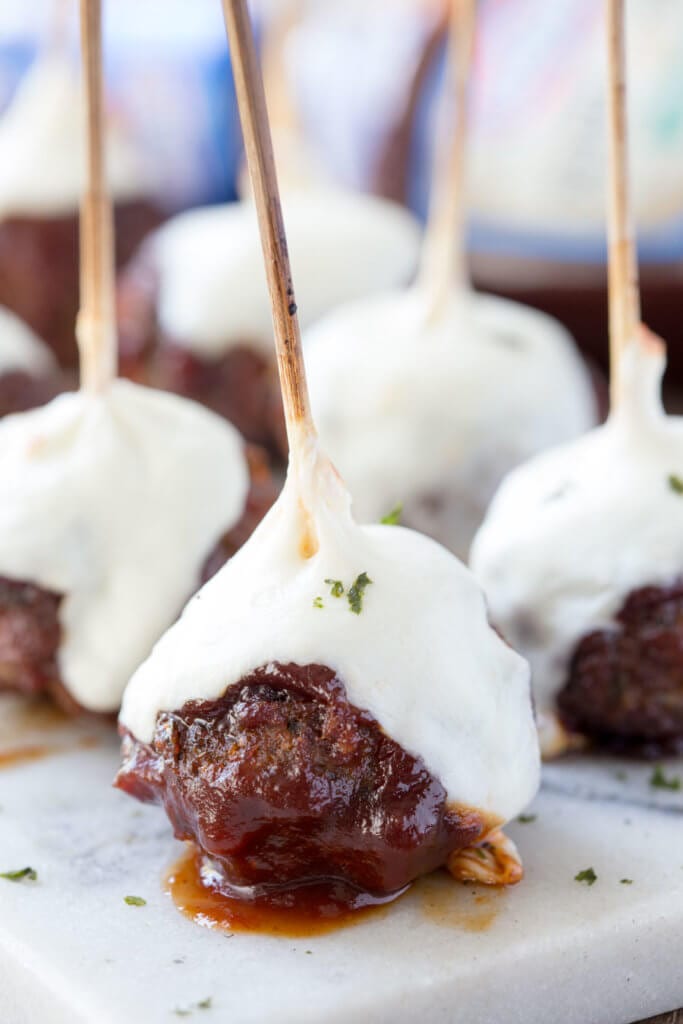 With the new BBQ sauces, and the weather warming up, and school wrapping up, these  Smoked Hickory Meatball Skewers with Mozzarella are going to start taking the place of some of the soups and stews that have been on the menu of late. And we are going to welcome that change with open appetites.
These Smoked Hickory Meatball Skewers with Mozzarella are super duper easy to make, you mix a few delicious ingredients together, form your meatballs, then sauce them up! They turn out flavorful, juicy, and filling. And they are fun to eat too. Who doesn't like eating something off a skewer? Just more fun.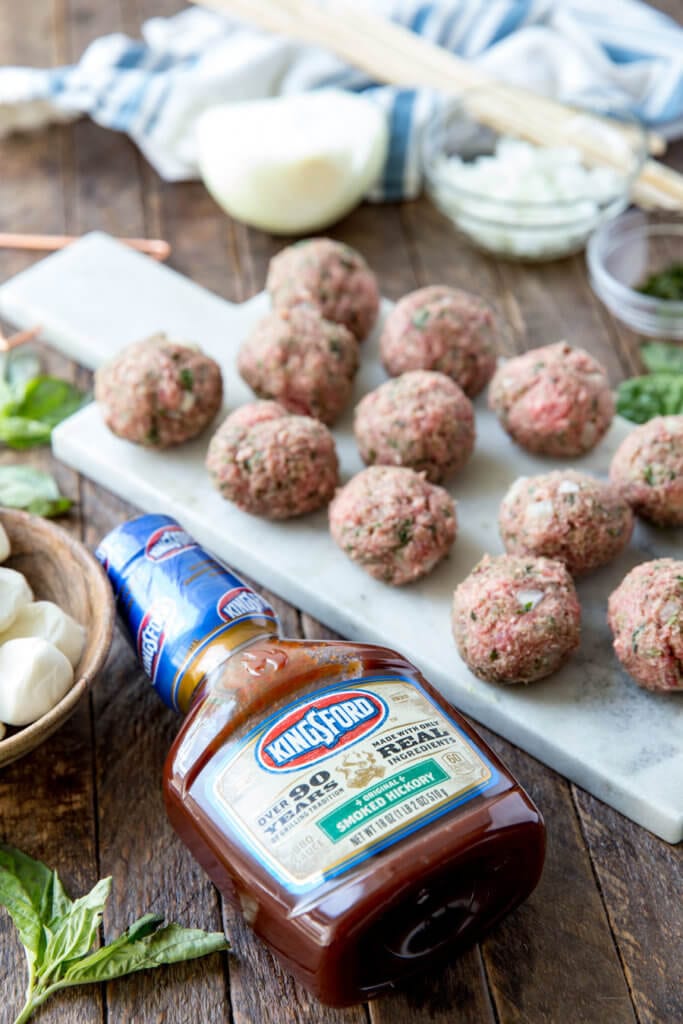 Who wants to get sauced with me? I mean…right? So you mix some meat, fresh herbs, onions, etc. together, and form your meatballs, then you slather them in sauce.  They are going to be juicy, and delicious, and they are going to smell amazing.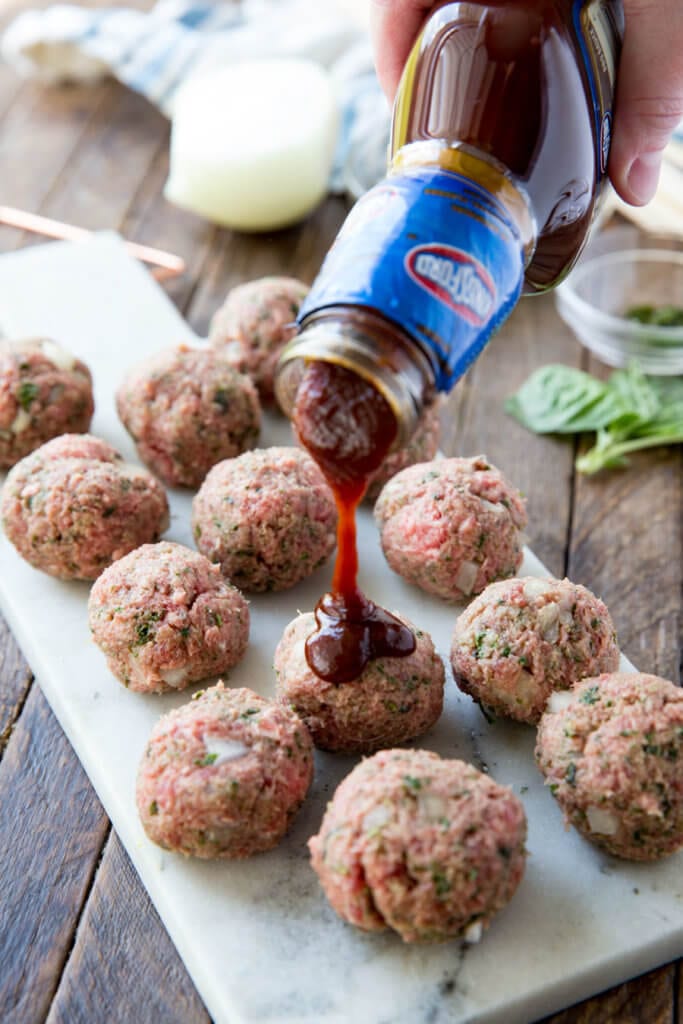 Be liberal with the sauce, it is delicious, and it will cook down and add a sticky, flavor packed coating to the exterior of the Smoked Hickory Meatballs. Don't be afraid to make a mess.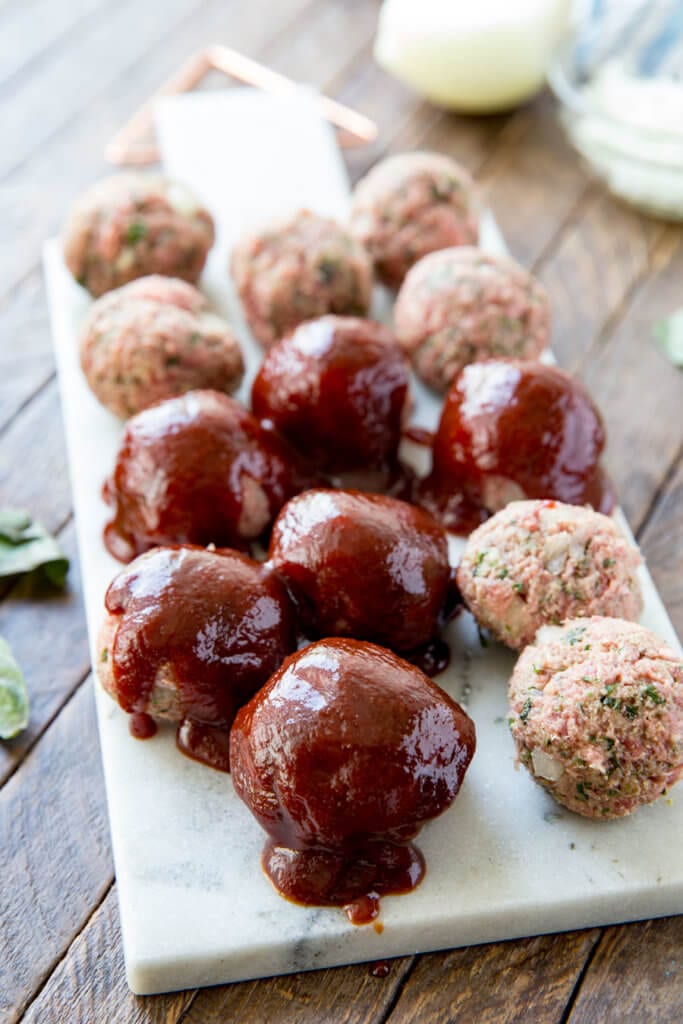 Now get those Smoked Hickory Meatball Skewers cooking. You will want to cook them on both sides, and may even want to add extra sauce.
But you won't want to eat them just yet, because you have to add that final touch, that last ingredient, that pièce de résistance that takes them from good to great.
Hickory Smoked BBQ Meatballs with Mozzarella need the mozzarella! So once they have cooked, you are going to take a little piece of mozzarella, and spear it with a skewer, then skewer the meatball, and let it grill a while longer, while that cheese melts over the top of those saucy little meatballs, and you get another layer of flavor.
Muah! So good.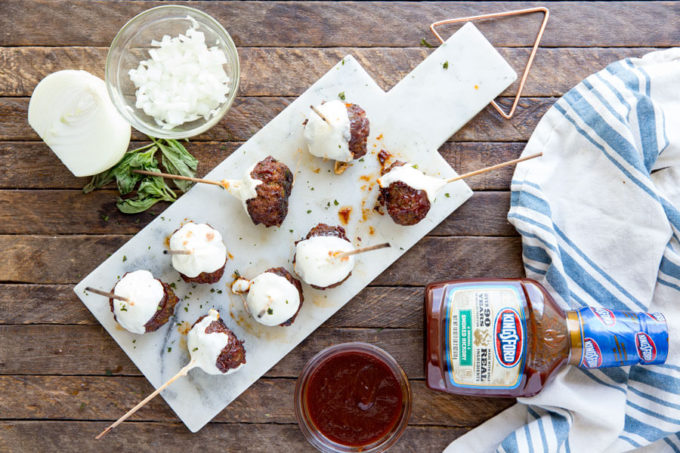 Smoked Hickory Meatball Skewers with Mozzarella Tips
Measure your meatball filling to get evenly sized meatballs for uniform cooking.  Using a 2 Tablespoon
works well for uniform meatballs.
Preheat your grill, this will ensure they cook appropriately.
Use a meat thermometer to make sure they are cooked through.
Sauce liberally.
Garnish if desired: I like to sprinkle a little extra basil on the top because, frankly, I like basil on everything. But it pairs so well with that smokey, flavorful, sweetness of the Kingsford® Original Smoked Hickory BBQ Sauce.
Add your skewers and mozzarella at the end, soak skewers in water if you don't want them to burn, but even if you forget it will be okay because it won't take too long for the mozzarella to melt over the Hickory Smoked Meatball Skewers with Mozzarella.  This set of 100
is what I used.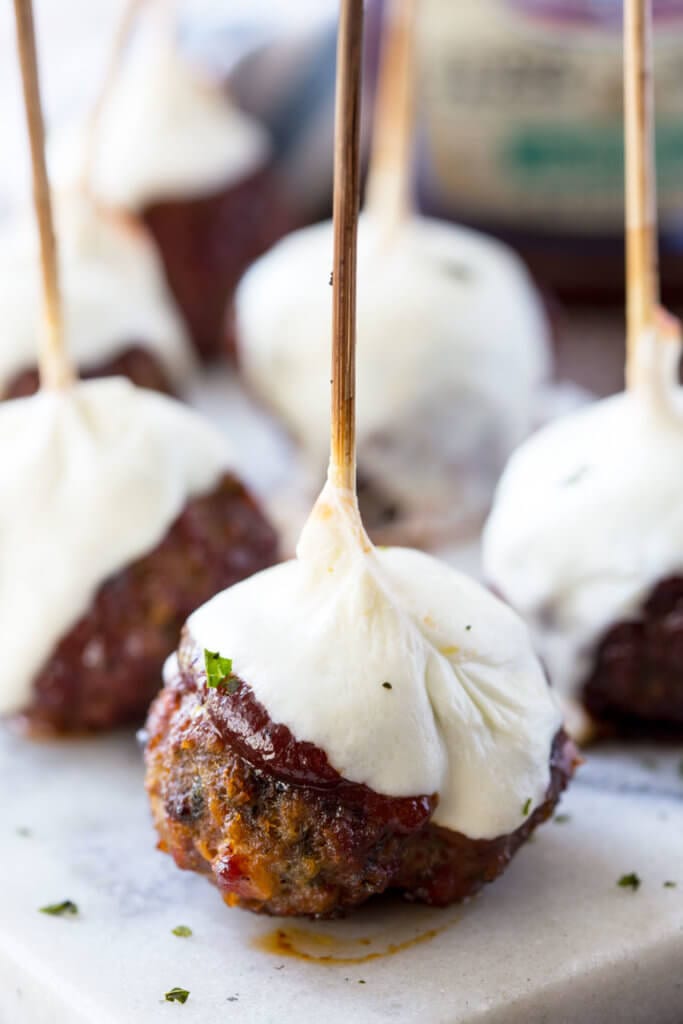 Now you can eat your Smoked Hickory Meatball Skewers with Mozzarella! So go ahead, check out the new line of Kingsford® BBQ Sauces and Rubs, and make these tasty meatballs. Just remember, you might want to double the batch because when the neighbors smell what you are grilling…you might have company!
Other recipes to try: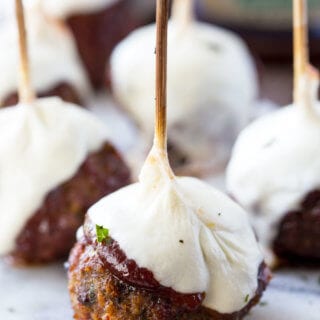 Smoked Hickory Meatball Skewers with Mozzarella
Print
Pin
Rate
Ingredients
1

pound

ground beef

1/2

cup

bread crumbs

1/3

cup

basil

chopped

1

egg

scrambled

3

tablespoons

onions

diced

1/2

teaspoon

salt

1/3

cup

Kingsford® Original Smoked Hickory BBQ Sauce & Dry Rub

4

ounces

fresh mozzarella

20 3-

inch

wooden skewers
Instructions
Build a charcoal fire for indirect cooking using Kingsford® Charcoal by situating the coals on only one side of the grill, leaving the other side void. Preheat the grill to 400 degrees Fahrenheit.

In a medium bowl, combine the ground beef, bread crumbs, basil, egg, onion and salt, and mix well. Form about 20 meatballs using 2 tablespoons of the beef mix per meatball. Season the meatballs generously with Kingsford® Original Smoked Hickory BBQ Sauce & Dry Rub and place the meatballs on the grill and close the lid. Cook the meatballs for 10 minutes or until the internal temperature reaches 160 degrees Fahrenheit. Using a

meat thermometer

will ensure proper cooking.

While the meatballs cook, place a ball of mozzarella (1 teaspoon each) around each wooden skewer 1-inch from the end. Insert each mozzarella skewer into the top of each meatball. Close the grill lid and cook for an additional 2 minutes or until the cheese melts. Remove from the grill and serve.
Notes
Recipe created by Pitmaster Chris Lilly of Big Bob Gibson Bar-B-Q on behalf of Kingsford® Charcoal.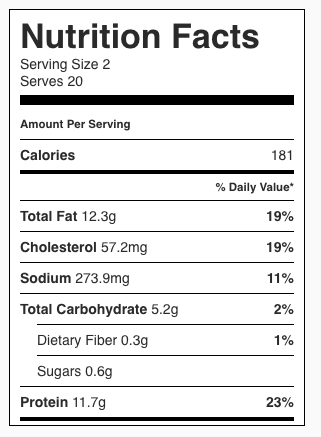 Pin to your BBQ board on Pinterest:

This is a sponsored conversation written by me on behalf of Kingsford. The opinions and text are all mine.
Get Delicious Recipes In Your Inbox!