Spiced Orange Marinade (Chicken or Pork)
A fantastic marinade for chicken or pork made with a delicious combination of oranges and spices. The sweet and tangy citrus pairs well with the earthy, nutty flavors of the nutmeg, allspice, and cloves.
Spiced Orange Marinade is the perfect marinade for chicken or pork. Made with a delicious combination of orange and spices, the sweet and tangy citrus taste pairs well with the earthy, nutty flavors of nutmeg, allspice, and cloves.  This one of a kind marinade is a favorite.
Looking for a marinade different from the rest?  This Spiced Orange Marinade's flavor is unbeatable and will stand out from all other marinades.  Make this recipe when you want to change things up a bit without any extra effort or time in the kitchen.
This marinade is great for any time of the year.  The citrusy orange is a crave worthy component in the summer and spring, while the undertone of nutmeg, allspice, and cloves, gets me in the mood for winter and fall.  It is the perfect recipe to keep on hand all year round.
Can Marinade Be Used As A Sauce?
Okay, I am so excited for you to try this marinade.  It is so different and delicious.  
And since this spiced orange treasure of a marinade is so good, it seems like it would be such a waste not to use it as a sauce.  So, I say don't limit yourself.  
Use it as a sauce too.  Many marinades make great sauces.
There are just a few things you need to keep in mind when using this marinade or any marinade for a sauce.  Otherwise this whole sauce thing could go south pretty fast, resulting in you getting sick. Nobody wants that.
2 Tips for Using A Marinade As A Sauce:
Don't use the extra marinade that has come In contact with raw meat.
Raw meat has bacteria, so don't use excess drippings from the marinated raw meat.  The sauce will be compromised. Now you could boil the sauce, but I say why mess with it.  There is a better way.
Set aside portion of the marinade before using all of it to marinate your meat.
Simply, make the marinade and portion out the amount that you want to use for the sauce first.  Put that portion in its own container.
That way it won't come in contact with the meat. Then use the rest of the sauce to marinate the meat.
See crisis averted.  No one needs to get sick from using the same marinade recipe for a sauce too.  Follow these two tips and you can have a recipe that by evening poses as a marinade and by snack time is a sauce.  Yes!
If you forget to set it aside, you can bring it to a rapid boil and boil for 5-10 minutes before serving it as a sauce, but it is better to avoid the risk.
What You Need For This Marinade:
So as you get ready to make this sauce/marinade, there are some ingredients you need to make sure you have on hand. 
I mean I wouldn't want you to start making this treasure and realize you are an ingredient short.  Fortunately, there are no obscure ingredients.
So, you will either have them all on hand or they at least won't be hard to find at the grocery store.
I hate going to the grocery store and being stuck on one crucial ingredient that is hard to find.  This shouldn't be the case with this shopping list.
Ingredients Needed For Spiced Orange Marinade:
Orange juice

Zest of an orange

Olive oil

Minced garlic

Ground nutmeg

Ground cloves

Allspice

Cinnamon

Salt
Just listing these citrusy and earthy ingredients makes my mouth start to water.

Why This Marinade Is So Great:
This marinade simply put just makes me happy.  The flavors come together so nicely, producing a taste that is so different from other marinades and yet so, so, good too.
Plus, this marinade is quick and easy to make, which sometimes is just a necessity.  Life is so busy. Let's simplify meal prep and this sure does.
Lastly, I love, love, love that Spiced Orange Marinade pairs nicely with both pork and chicken.
Sometimes I want chicken and sometimes I want pork.  I would hate to be in the mood for a great marinade like this one and be limited to one protein choice over the other.
3 Reasons This Marinade Is the Best:
 It has an amazing flavor

 It is easy to make, thank goodness

 Goes great with both chicken or pork
Do I need to say more?!
Cooking Methods For Marinated Meats:
Okay now that I have raved about this marinade, let's talk cooking.  Obviously marinated meats need to be cooked.  
So, what is the best way to cook spiced orange marinated chicken or pork?  I say the best way is the way that sounds easiest or most appealing to you.  Am I right?!
Marinated chicken or pork can be cooked on the stove, oven, or grill.
Note: Just make sure to use a nice olive oil, opposed to a cheaper one if you want to grill.  More expensive olive oils tend to have higher smoke points. 

Cooking Methods For Spiced Orange Marinade:
Grill – Heat grill to 450 degrees and cook for 5-6 minutes per side until internal temperature reaches 165 degrees. 

Oven – Set temp to 400 degrees and cook for 20 minutes, or until cooked to internal temperature of 165 degrees. 

Stove Top – Heat your skillet on medium-high heat, add your oil or butter, and cook on each side for 5-6 minutes. 
Choose the method you personally like best.
Marinating Tips:
Since I love a good homemade marinade, I have made and used a lot of marinades.  Here are just a few things to keep in mind when using this marinade or any marinade, in fact.
For example, there is a sweet spot when it comes to the length of time you choose to marinate your pork or chicken.  Not long enough, and the flavor of this marinade won't come through.
Too long and the acidity of this marinade or any marinade can compromise the quality of your meat.
So, with that all said, let's talk marinating times.
How Long Should You Marinate Your Chicken?
With this marinade, I recommend 4-12 hours, depending on the cut of the meat.
Now can you marinate chicken too long?  
Absolutely!  Remember longer marinating times don't always equal more tender meat.
For this recipe, stick to the advised time and you will be fine.
Note: If you ever are marinating chicken and you don't know how long, a good general guideline is 30 minutes to 2 hours unless otherwise specified, like with this recipe.

Can You Marinate Frozen Chicken?
Yes and I recommend it.   I mean imagine this, it's the beginning of the week, you are overwhelmed with life and on top of that you are dreading the idea of having to figure out a meal.
Then, to your surprise, you open the freezer and there waiting to be discovered is frozen marinated chicken.  A freezer meal already prepped that just needs to be defrosted and cooked is the perfect surprise. I think I like that surprise even more than  finding a few unexpected dollars waddled up in my pocket.
So, throw marinated chicken in the freezer and then defrost when needing an already prepped meal.
Important tip here though, once chicken is defrosted it is ready to be cooked.  No additional marinating time needed. The chicken is actually marinating while it is defrosting.  Isn't that just great news?
So while we are on the subject, can you freeze marinades?
You absolutely can.  You want to make a marinade ahead of time and save it for later in the freezer, go for it.  I just personally like to go a little further and freeze it with the chicken, creating a freezer meal.  However, either works and is a great idea.
So since, I have talked about chicken I should probably mention the time frame for marinating pork.  I mean I wouldn't want it to seem like I am favoring one protein over the other, now.
How Long Should You Marinate Pork?
When using Spiced Orange Marinade, depending on the cut, marinate the pork for 4-12 hours too.  That should be easy to remember. Same time frame for chicken and pork. Love it when that happens.
Can You Marinate Pork Too Long?  Yes, yes, yes.  
Remember, just like with chicken, you don't want to over marinate.  If you marinate for too long, the pork will become mealy.
Plus, marinating pork isn't even about tenderizing the meat.  It is just about the flavor.
So when you make this dish, just stick to the time recommendation and you will be fine.
Marinating Do's and Don'ts:
Okay so marinating isn't hard and this marinade recipe isn't hard to make.  I just figured though that since we've been talking tips, I mine as well share some do's and don'ts so you can get the most optimum, perfect, finished product.
Here are some tricks of the trade.
Do: 
Add vegetables to this dish.  Marinate veggies for 15-30 minutes.

Make more marinade when cooking more meat.  Prepare about a half cup to one cup per pound of pork or chicken.

Grill your marinated dish if you want, just make sure to use a high smoke point oil in

the marinade, like with this recipe a nicer olive oil or depending on the marinade peanut, safflower, canola, or soy oil.
Don't:
Don't add more salt to the marinade.  Too much salt will draw out the moisture in your meat, making it dry.  If you want more salt, add it when you sit down to eat.

Don't marinate this dish in a metal container.  Metal containers can affect the taste. I like to just use a ziplock bag.  It fits easily in the fridge and isn't very expensive.

Don't use excess drippings for a sauce, as already mentioned.  Discard marinade after use, as bacteria can grow in it. If you do want to use it as a sauce or for basting, and didn't set it aside ahead of time, be sure to follow safety procedures of boiling it for several minutes, until it reaches at least 165 degrees F.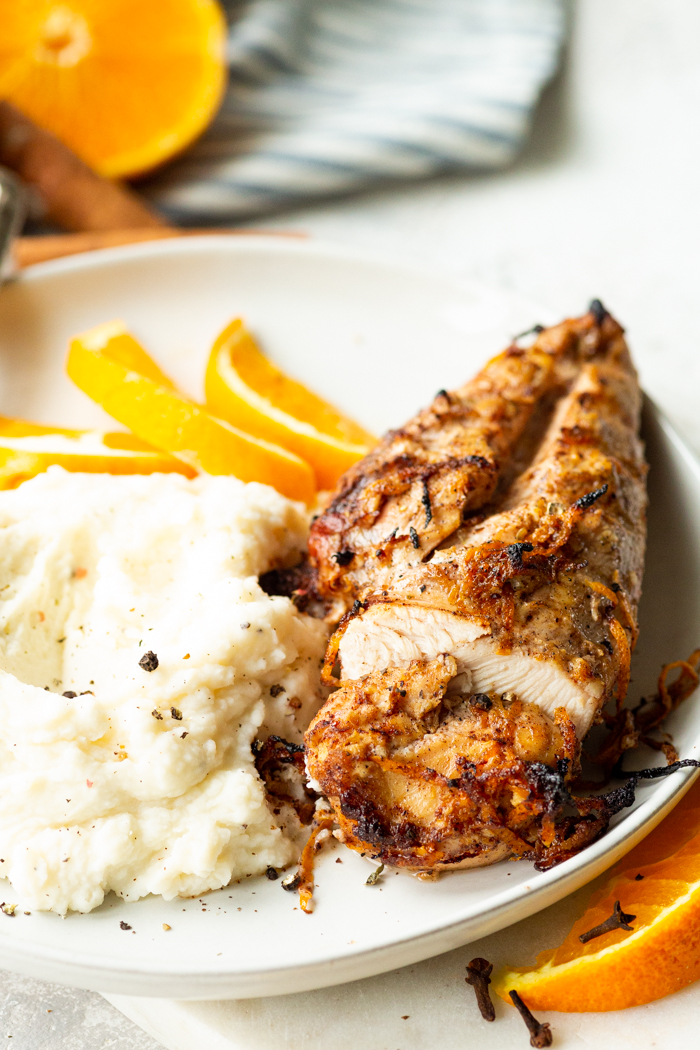 Make It A Complete Meal:
I can't wait for you to marinate a tender piece of chicken or pork in this flavorful marinade.  But, let's not stop there.
Make this dish a complete meal and serve it with a crave worthy sides, drinks and desserts:
Sweet Potato Casserole or Green Bean Casserole.
Instant Pot Caramel Pecan Cheesecake or Candy Bar Poke Cake.  
This marinade will deliver time and time again. Mix it up and use it for some chicken dinners and then change things up and use it as a great marinade for pork.  
Either way you can't go wrong.
And if after having this marinade you are in the mood for some other citrusy, delicious dishes, don't worry I've got you covered.
Dishes to Try: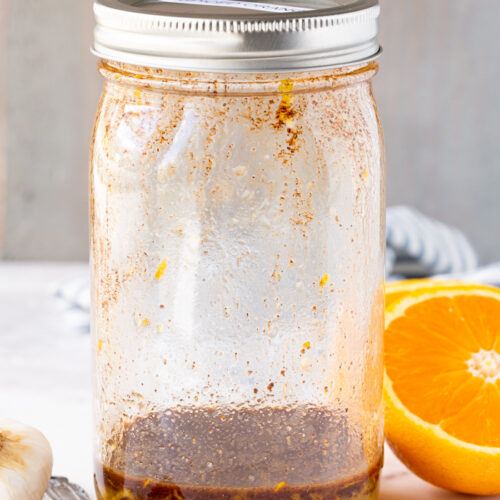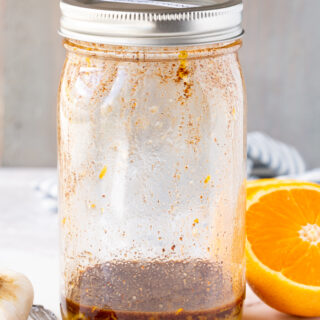 Spiced Orange Marinade (Chicken or Pork)
A fantastic marinade for chicken or pork made with a delicious combination of oranges and spices. The sweet and tangy citrus pairs well with the earthy, nutty flavors of the nutmeg, allspice, and cloves.
Print
Pin
Rate
Ingredients
1/2

cup

orange juice

1

orange

zest of

3

Tablespoon

olive oil

1

teaspoon

garlic

minced

3/4

teaspoon

ground nutmeg

1/2

teaspoon

ground allspice

¼

teaspoon

ground cloves

¼

teaspoon

cinnamon

¼

teaspoon

salt
Instructions
Add all ingredients to a jar or bowl.

Shake or whisk together.

Pour over chicken or pork in a container or zip top bag.

Marinate for 4-12 hours depending on cut of meat.
Nutrition
Calories:
127
kcal
|
Carbohydrates:
8
g
|
Protein:
1
g
|
Fat:
11
g
|
Saturated Fat:
2
g
|
Sodium:
147
mg
|
Potassium:
121
mg
|
Fiber:
1
g
|
Sugar:
6
g
|
Vitamin A:
135
IU
|
Vitamin C:
33.2
mg
|
Calcium:
17
mg
|
Iron:
0.1
mg
Our recipe card software calculates these nutrition facts based on averages for the above ingredients, different brands, and quality of produce/meats may have different nutritional information, always calculate your own based on the specific products you use in order to achieve accurate macros for this recipe.
Want to use this recipe in a meal plan?
Try PrePear, my FREE Meal Planning App that allows you to save your recipes, plan meals, shop for groceries, and cook simply in one place. Join Here!
Pin to your chicken board: