Super Simple Cashew Chicken: An easy cashew chicken recipe that is delicious and a real crowd pleaser. Tender chicken, flavorful sauce, and of course those delicious crunchy cashews make this take-out, fake-out a family favorite.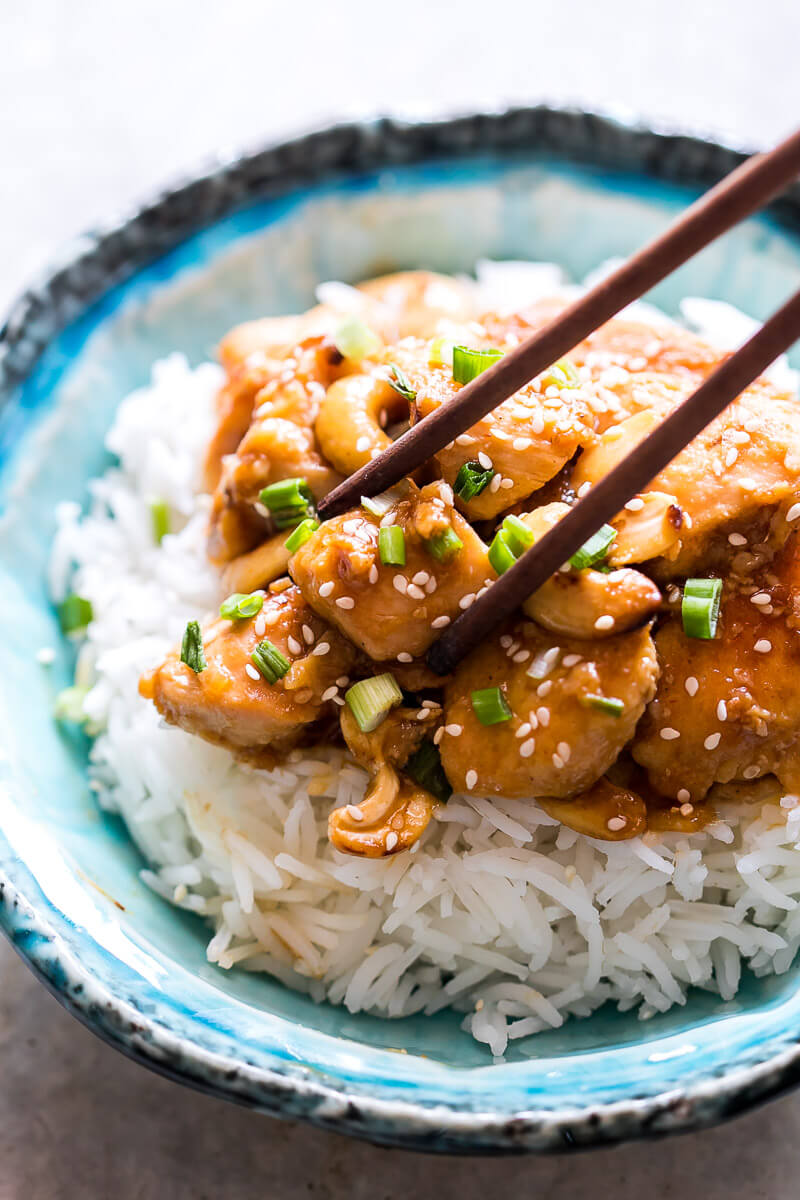 Quick, easy, Super Simple Cashew Chicken, perfect for feeding a crowd!
My family is obsessed with anything Asian in the food world. We love beef and broccoli, orange chicken, and sweet and sour. We LOVED this Asian Honey Chicken I shared recently, and the Asian Lemon Chicken on my site is an all time favorite and one of my most popular recipes. But I had yet to make a cashew chicken I loved, and thought was relatively easy to make.
I have this cute friend Danelle, who I met at a blogging conference, and she had an Easy Cashew Chicken on her site Let's Dish Recipes and I decided to give it a try. My sister was coming to dinner, and I broke one of my rules of thumb not to make a new recipe for company. But no one complained. In fact, everyone really loved it.
Of course, I put my own spin on it because I can't leave any recipe alone, but I think it turned out pretty awesome. And we have made Super Simple Cashew Chicken several times since.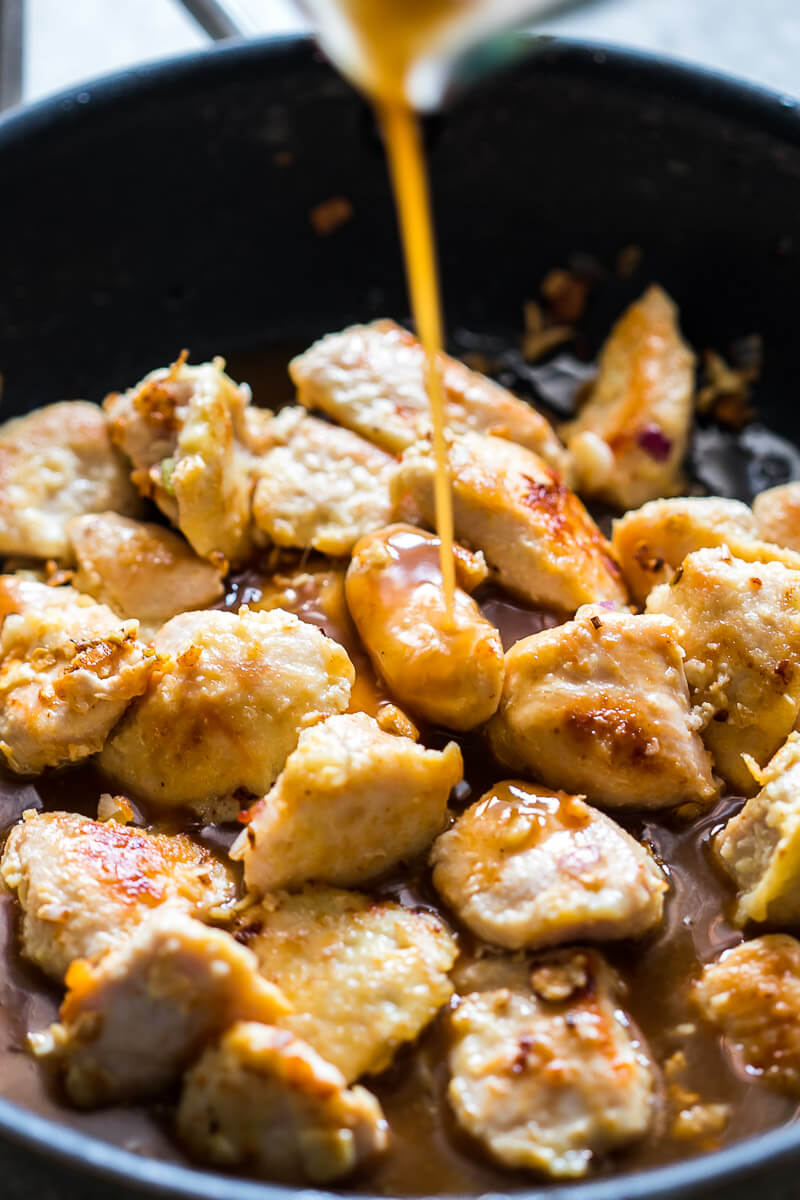 I served Super Simple Cashew Chicken with Brussel Sprouts, and white rice. But I think it would be awesome with steamed broccoli too! Now tell me that isn't easy? I had no idea, but guess what? I don't have to go for take out any more because it is just so easy to make at home.
I love when I find a recipe that is simple enough to make for everyday cooking, but one that my family loves enough that I am confident serving it to guests. This is one of those recipes. Easy, flavorful, and delicious.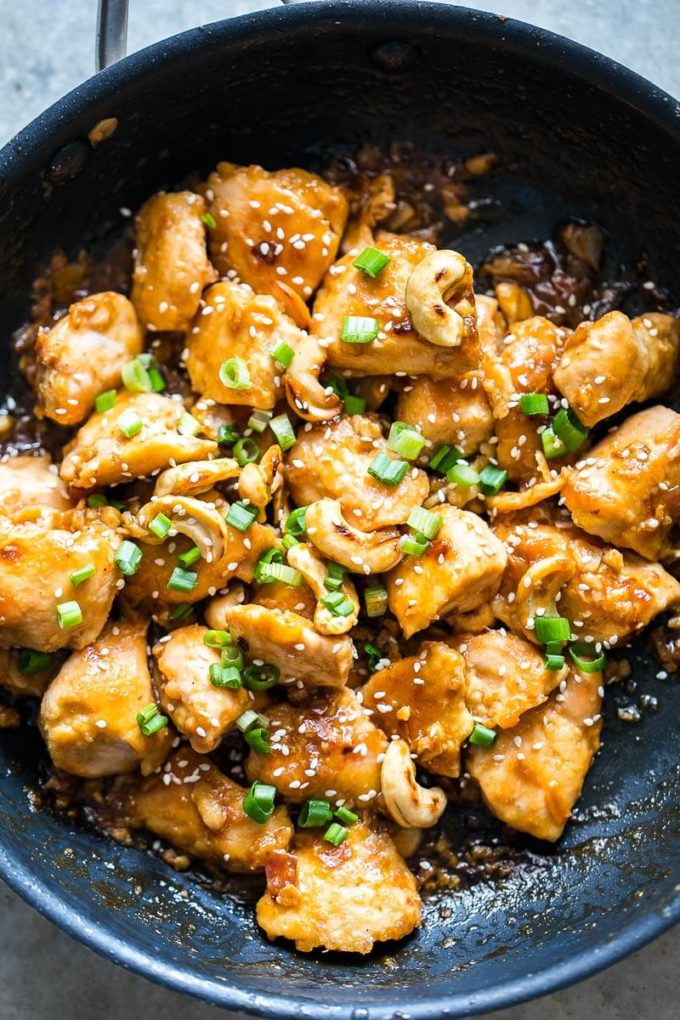 Tips for Good Cashew Chicken:
Give yourself plenty of room in the pan to cook the individual chunks of chicken after they have been tossed in corn starch. You want a nice crispy exterior that can soak up the sauce. So cook in batches if you need to.
Use roasted and salted cashews for extra flavor. That extra salt, and the deeper flavor will only add to your dish. If using raw, add some salt, and maybe toast the cashews a little before adding them.
Garnish. A fresh garnish like green onion can help brighten a dish and lighten it. Plus it looks pretty.
Serve over rice!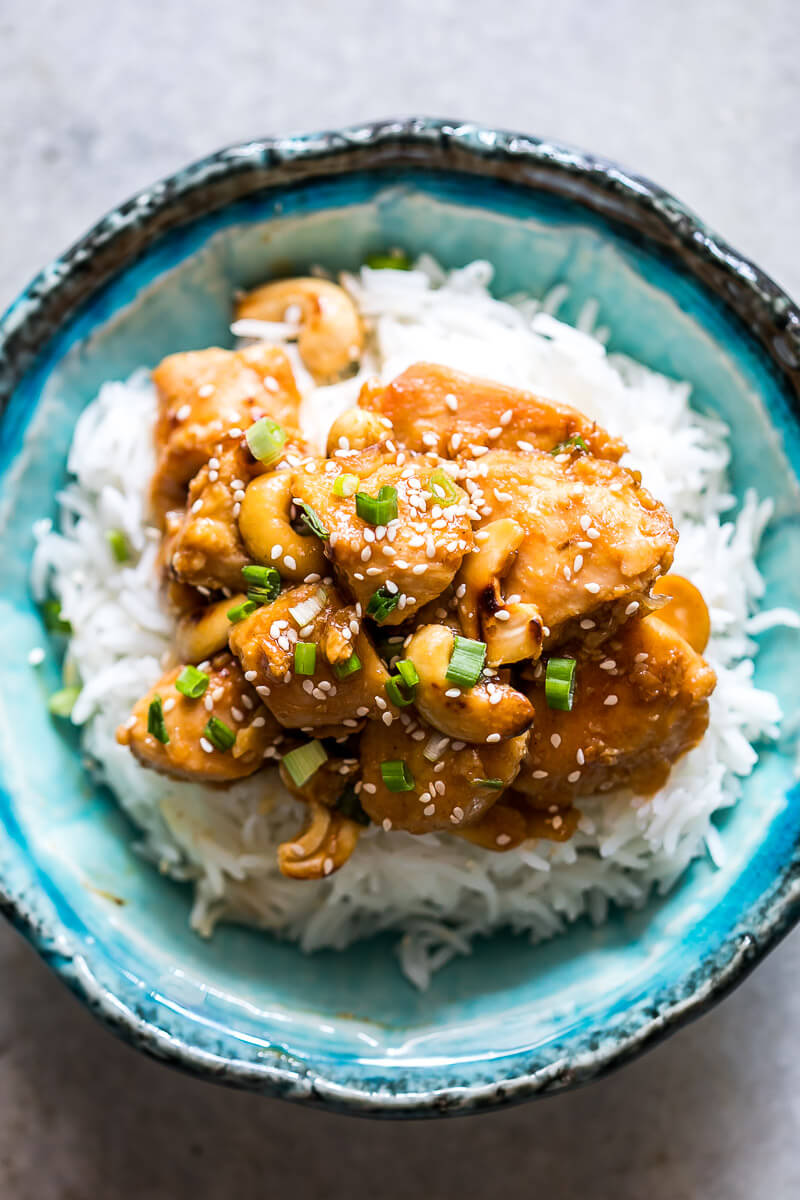 Don't forget to check out some of our other Asian Inspired Favorites:
Rachael Yerkes
Super Simple Cashew Chicken
10 minPrep Time
15 minCook Time
25 minTotal Time
Ingredients
1 1/2 pounds boneless, skinless chicken breasts, cut into pieces about an inch
1 egg
1 tablespoon cornstarch
1/3 cup vegetable oil

Sauce

2 Tbs minced garlic
1 Tbs scallions (white parts)
2 Tbs rice vinegar
3 Tbs hoisin sauce
1/4 cup water
3/4 cup roasted, salted cashews

Garnish

Toasted sesame seeds
Green parts of scallions
Instructions
Cut chicken into bite sized chunks
In a medium bowl, whisk one egg, and then toss chicken in it.
Remove chicken pieces and put in a gallon size plastic bag
Add in corn starch or flour, shake to coat well.
Heat vegetable oil in a skillet over medium-high heat
I used my Anolon Pan because it cooks evenly and is large enough to give the chicken plenty of room to cook.
Cook chicken in oil for 2-3 minutes, then flip and cook 2-3 minutes on the other side.
Add garlic and white parts of scallions, and stir fry for 1 minute.
Add in rice vinegar and cook for another minute
Pour hoison sauce and water over the top, and stir, cooking another couple minutes until sauce is thick and chicken is cooked through
Stir in roasted salted cashews, and serve immediately, garnish with green parts of scallions and toasted sesame seeds if desired.
7.6.4
577
https://www.eazypeazymealz.com/super-simple-cashew-chicken/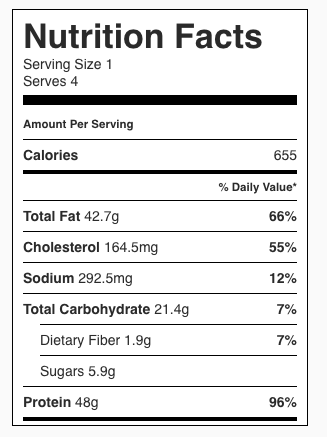 Pin to your Easy Chicken Dinner board:

Get EZPZ Updates In Your Inbox!