Sweet Potato Fries Air Fryer:
Crispy exterior, soft and pillowy interior, perfectly seasoned sweet potato fries! These crispy sweet potato fries are made in the air-fryer, and only use a small amount of oil.
Sweet potato fries made in the air fryer are a great, healthy alternative to deep fried fries. The small amount of oil means less fat and calories, without sacrificing flavor. And the air fryer means crispy, tasty, fries, within minutes if your not a fan of sweet potato's try Air Fryer Fries.
Sweet potatoes are so versatile you can mash them and make a sweet potato casserole, scallop them, make a pie, or air fry. If you don't have an air fryer, don't stress, I have included oven instructions as well.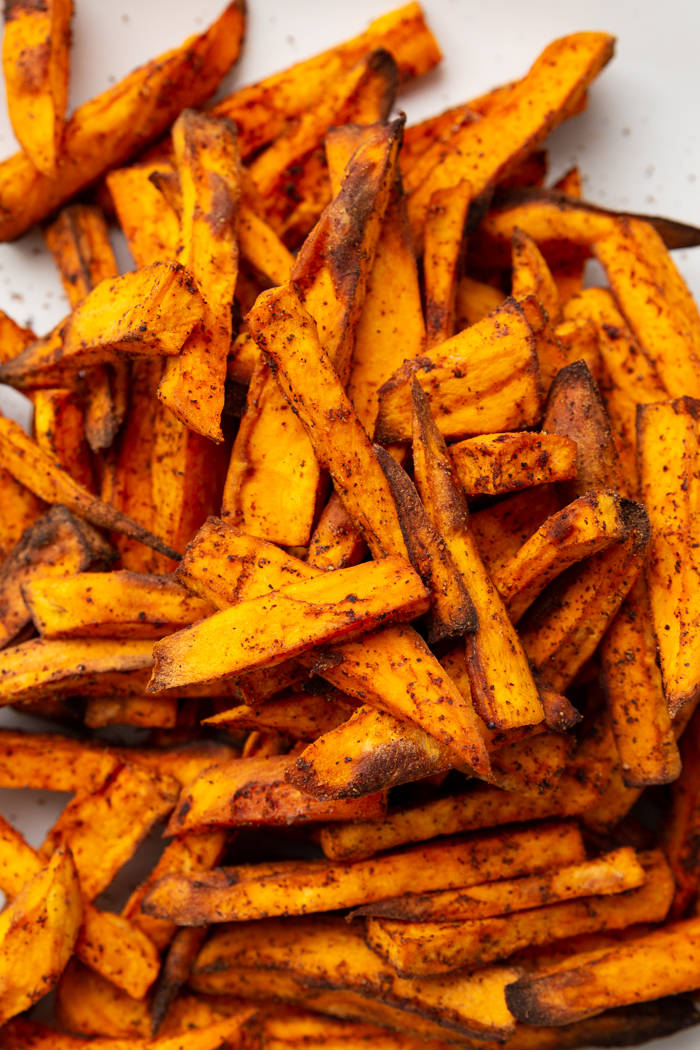 Raise your hands if you love fries? Oh man, both hands up over here. But I can be a little picky when it comes to my fries. I like a crispy exterior, soft interior, and if I can get them with less oil, then hallelujah. I mean, I want to be so into healthy eating and everything, but I am more of a moderation in all things kind of girl.
And I do love my fries. That is one of the top reasons I am currently crushing on all things air fryer.
How does an air fryer work?
The air fryer is super awesome because it gives you the consistency and texture of fried food, with that crispy crunch we all love and find so satisfying, but without all the extra oil.
How? It uses air and convection technology to circulate that air and evaporate the moisture off the exterior of your food to give it a crispy crunch.
It is actually pretty awesome. And I have made everything from breakfast eggs to stuffed chicken in mine. If you don't have one, I suggest checking them out: Amazon Air Fryers.
How do you make sweet potato fries crispy?