Thai Red Curry Marinade
Thai Red Curry Marinade is the perfect marinade for all you Thai food lovers out there. 
This coconut milk based sauce has the perfect level of heat and signature Thai flavor that will make this marinade a Thai favorite. 
Change things up a bit in your meal rotation and make this Thai Red Curry Marinade for a pork or chicken dinner. Serve with broccoli and rice pilaf for a complete meal.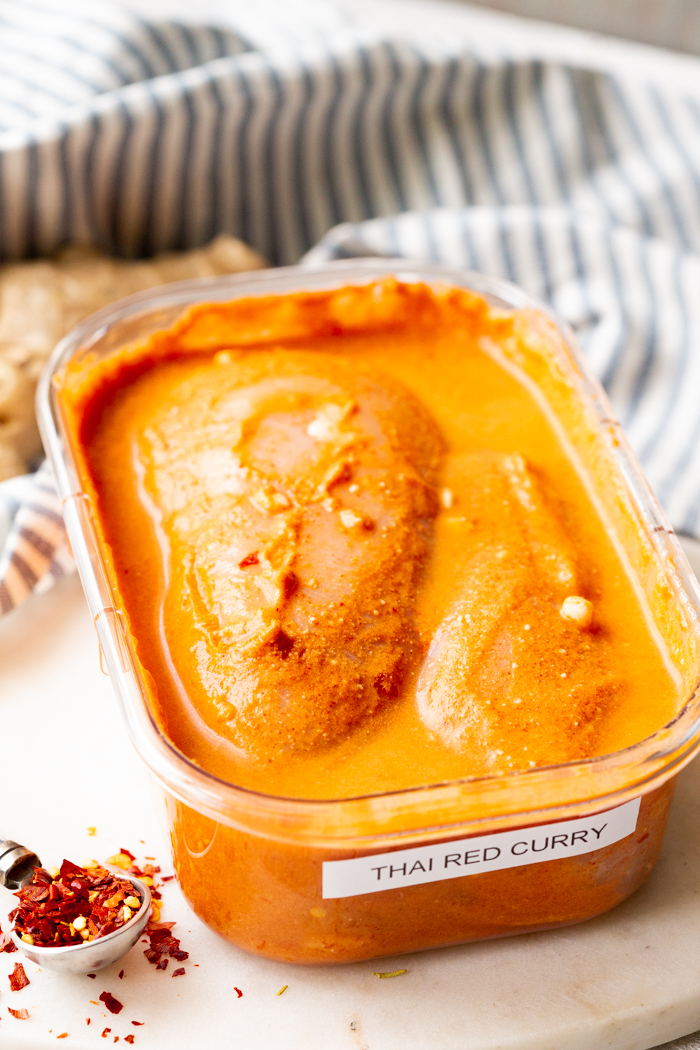 Thai Red Curry Marinade requires little prep equaling little mess in your kitchen, resulting in a marinade that you won't hesitate to make again and again. 
Simple and easy, yet the taste offers an amazing depth of flavor, this marinade is one you are going to want to save to your recipe box.
This Thai Red Curry Marinade is not only fast and easy to make, it won't make a huge mess in your kitchen either. 
With this marinade requiring no chopping, all you have to do is measure out your ingredients, dump them in a container, and mix.  It doesn't get much easier than that, making this marinade a go to in my meal rotation.

Why This Marinade Is So Great:
You have got to try this marinade.  The Thai flavor is spot on and it so easy to make.
First of all most marinades require mincing or chopping.  There is none of that in this recipe. That's right, you heard me, no chopping!
Don't even get out a knife when prepping.  Literally, you measure out your ingredients and pour them into a bowl or jar.  Then just a quick little mixing and you are done.
You literally could be done with this marinade in under 2 minutes.  It's faster than finding a marinade at your local grocery store and the taste is far better.
Plus, once you've tried this marinade you will never want to go back to store bought sauces, seriously.  The elevated flavor of a good homemade marinade is unbeatable.
If you haven't ever tried Thai flavored food, this marinade will make a great first impression to Thai cuisine.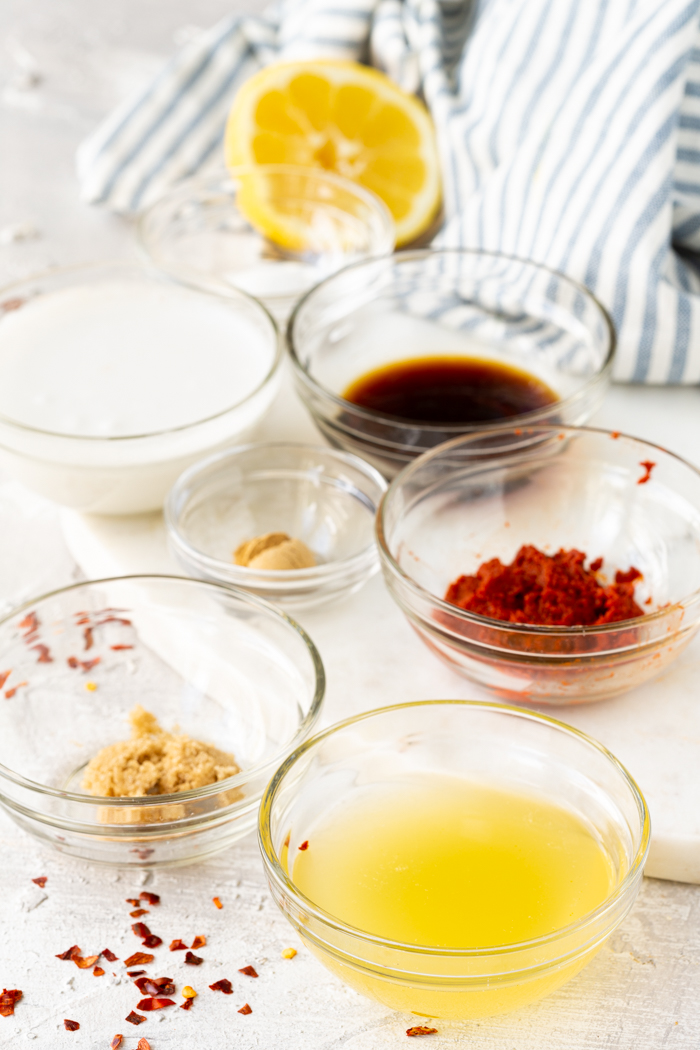 3 Reasons Why This Marinade Is The Best:
No chopping or mincing required

Fast and easy to make

Perfect balance of spice and Thai flavor 
Do yourself a favor and make this easy and delicious Thai inspired marinade.  You will be so glad that you did.
What You Need For This Marinade:
Just a handful of ingredients you will need to make this really good sauce.   Most you may have on hand.
Ingredients Needed For Thai Red Curry Marinade:
Coconut Milk

Chicken Stock

Thai Red Curry

Fish Sauce

Brown Sugar

Chili Flakes

Salt 

Ginger
Before you get shopping, I want to acknowledge the elephant in the room.  
Did you see fish sauce on the list? If you are new to Thai cuisine an ingredient like fish sauce may seem not so appealing.  
Do not let this worry you.  Fish sauce is a staple in Thai cooking and if you have ever had Thai food, you probably had fish sauce in the dish and didn't even realize it.  
Fish sauce contributes to that Thai flavor, so don't be shy, it doesn't ruin the meal.  
Now, big chain grocery stores often times will carry items like fish sauce and Thai red curry paste in their Asian food section.  However, it can be hit or miss too.
So, if you can't find fish sauce or Thai red curry paste at a grocery store, I suggest an Asian market.  
I love Asian markets because their selection is broader and a lot of times cheaper.  So, if you have the time, I recommend going there anyways, even if your grocery store carries these two items.
Lastly, another option is to buy these items online.  What can't you find online these days? Seriously.  
Pick up some Mae Ploy Red Curry Paste,  and get some Thai Kitchen Premium Fish Sauce while you are at it. 
If you want to make life easy and not even go to a store for your Thai ingredients, just go online.

Marinating Tips:
Okay now that we have talked about how good this Thai Red Curry Marinade is and what ingredients you need, let's talk tips.
Marinating is really simple and it is a process you will want to do again and again.  However, there are some tips that I want to share so your marinating experience will be the absolute best.
5 Musts for Marinating:
Tip 1:   How Long Should You Marinate Chicken?
For this recipe, depending on the cut of the chicken, you will marinate your meat, for up to 4-12 hours.  
I know this seems like a huge time frame. Within that time range for thicker pieces, I recommend marinating on the longer end of the time frame.
Can You Marinate Chicken Too Long?  Yes!
Don't exceed the 12 hour mark for this recipe.  While poultry can marinate for up to days from a safety stand point, according USDA Food Safety, not all marinades from a flavor and tenderizing standpoint are good for this.
Over marinating can result in toughening the chicken or making it mushy.  Stick to the time frame of this recipe and you should be fine.
Note:  If a recipe doesn't even specify a time frame for marinating, a good guideline for chicken is typically 30 minutes- 2 hours.

Tip 2: Can You Marinate Frozen Chicken? 
Yes and I highly recommend it.
Frozen chicken already marinated in this Thai Red Curry Marinade makes a great freezer meal.  Oh how I love freezer meals! Having a meal already prepped that just needs to be defrosted and cooked is the perfect solution to a busy night.
Now chicken won't technically be marinating while it is frozen.  Once the chicken starts defrosting that is when the magic begins.  
Since the chicken is marinating while it defrosts, you don't need to continue to marinate it after it is defrosted.  Count the defrosting time as your marinating time and once defrosted cook it. That's easy enough, right?
Tip 3:  Can You Freeze Marinades? 
Yes!
You can freeze the marinade and defrost it for later.  If you want to get ahead of the game, totally do this. 
However, I say why stop there?  Cover your meat with the marinade, put it in a freezer bag and make it a freezer meal, like we talked about.
However, which ever you prefer you can do.

Tip 4: Can Marinade Be Used As A Sauce? 
Absolutely, but you have to be careful with how you execute on this.
Thai Red Curry Marinade used as a dipping sauce?  Sounds divine.  
Make the marinade and set aside a portion of the marinade that you want to use for a sauce in a separate container.  You don't want the portion used for the sauce to come in contact with raw meat.
You can't marinate the chicken and then use excess drippings for a sauce.  The sauce will then have bacteria growing in it.  
Now you can boil the sauce, but sometimes that changes the flavor and you have to make sure that you get the sauce hot enough.  
I say why mess with it.  Just set aside a portion of the marinade ahead of time that you won't use to marinate the chicken or pork. 
Tip 5: How Long Should You Marinate Pork?
Since this fabulous Thai inspired marinade works well with both pork and chicken, we better talk about marinating times for pork too.
Good news, for this recipe, the same guidelines apply.  Depending on the cut, marinate between 4-12 hours.
Can you marinate pork too long?  You sure can.
Don't over marinate your pork or it can become mealy.  Nobody wants that.
Note:  If a recipe does not specify, a good rule of thumb for pork is 30 minutes to 12 hours.
Marinating Do's and Don'ts:
Okay now that you are a marinating expert, let's just quickly continue our talk about marinating tips and go over some do's and don'ts you want to be aware of before you make this amazing marinade.
Do's:
Always marinate in the fridge.  Don't just put this marinade on your chicken or pork and leave it on the kitchen counter to marinate.  Marinating on your kitchen counter allows bacteria to grow and can cause food borne illness. Avoid this.
Make sure the chicken or pork is completely covered in the marinade, or turn your meat a few times during the marinating process in order to make sure all surfaces have coverage and equal time in the marinade. 
If making a lot of meat, make sure to make more marinade.  Prepare about a half cup to one cup per pound of meat.
Don'ts:
Don't marinate your dishes in metal containers.  The acid in marinades can react to the metals chemically and change the flavor of the marinade.  I like to just marinate food in a ziplock bag. It fits easily in the fridge or freezer, if it is a freezer-safe bag.  Plus it allows you to easily squeeze the marinade and ensure the food is evenly covered.
Don't add additional salt to this recipe.  Too much salt in a marinade can draw out the moisture in the meat, resulting in drying out your meat.  It is better to just add salt to the dish when you are ready to eat, if you want it saltier.
As already mentioned, don't over marinate.  Chicken can get tough or mushy and over marinating pork can make it mealy.  For this recipe, stick to the specified time frame.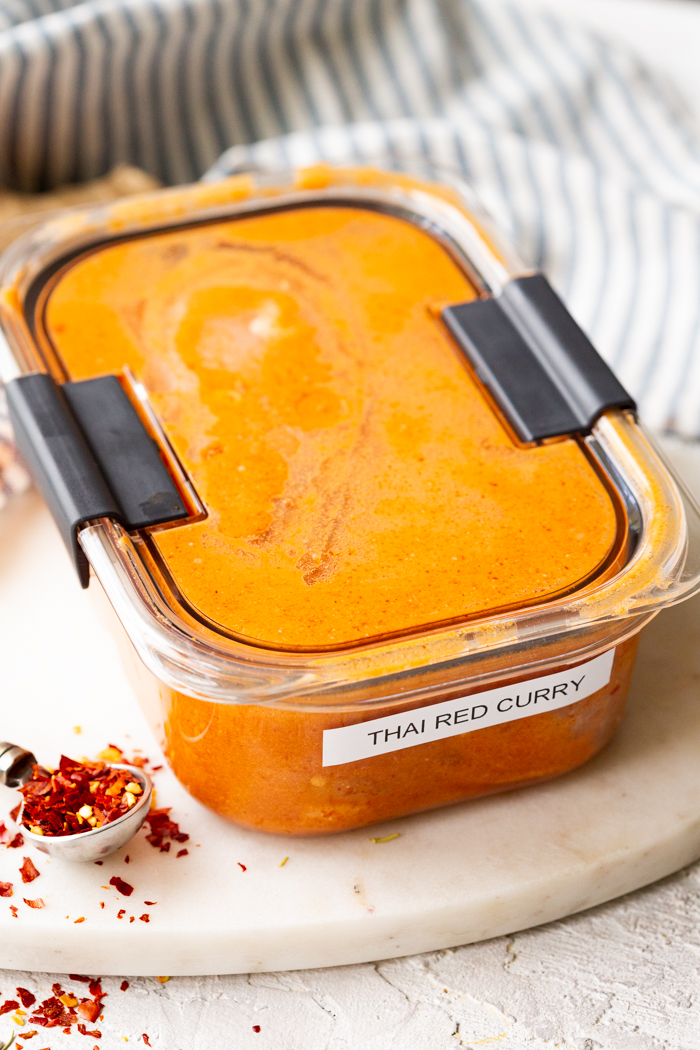 Cooking Methods For Marinated Meals:
For this marinade, I recommend using a crockpot, Instant Pot, or oven.  This isn't the type of marinade that you want to grill with.  
When grilling you want a marinade that contains a high smoke point oil.
High Smoke Point Oils:
Safflower

Soy

Peanut

Canola
Whether you use an Instant Pot, crockpot, or oven, to cook up your dish, you are going to love Thai red curry marinated chicken or pork.
Make It A Complete Meal:
Serve this dish with rice or rice noodles and accompany it with this delicious Asian Chopped Salad.  
Then provide a big finish to this meal with some Coconut Mango Rice Pudding (Dairy Free).  It will leave quite the lasting impression.
Add A Little Thai Flavor Into Your Life With Thai Red Curry Marinade!
Whether you are already a Thai cuisine enthusiast or not, you have got to try this Thai Red Curry Marinade.
So simple to make and so good to the taste, this marinade is a winner in my book.
After you become won over to delicious Thai food, here are some other Thai favorites of mine: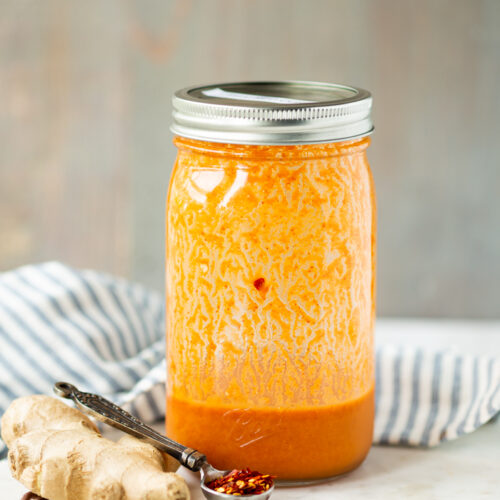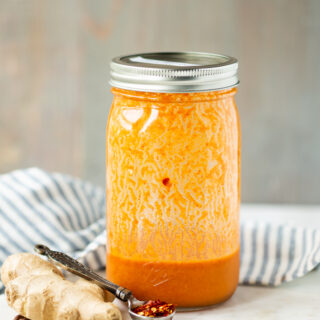 Thai Red Curry Marinade
This red curry marinade, with coconut milk, has the perfect level of heat and signature Thai flavor .
Print
Pin
Rate
Ingredients
1/2

cup

coconut milk

¼

cup

chicken stock

1 1/2

tbsp

Thai red Curry or to taste

1 1/2

tbsp

fish sauce

1

tsp

brown sugar

Pinch

of chilli flakes

¼

teaspoon

salt

¼

teaspoon

ground ginger
Instructions
Add all ingredients to a jar or bowl.

Shake or whisk together.

Pour over chicken or pork in a container or zip top bag.

Marinate for 4-12 hours depending on cut of meat.
Our recipe card software calculates these nutrition facts based on averages for the above ingredients, different brands, and quality of produce/meats may have different nutritional information, always calculate your own based on the specific products you use in order to achieve accurate macros for this recipe.
Want to use this recipe in a meal plan?
Try PrePear, my FREE Meal Planning App that allows you to save your recipes, plan meals, shop for groceries, and cook simply in one place. Join Here!
Pin to your chicken board: