This year I attended OBC or Online Blog Conference, and one of the sponsors LorAnn Oils generously sent me 2 oils and a bakery emulsion to try. I received these products free of charge, but all opinions are my own.
Rich, buttery, pumpkin toffee with a hint of spice, the crunch of pumpkin seeds, and the smooth perfection of chocolate, white chocolate that is. This Pumpkin Toffee is a must make treat for Fall!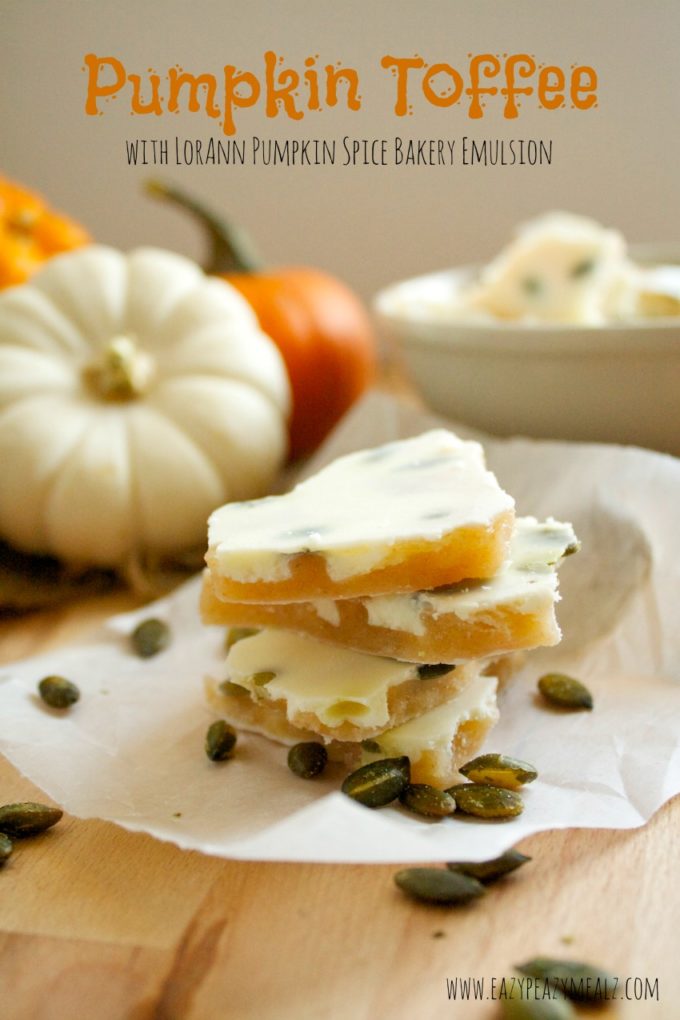 I have an amazing toffee recipe that has been handed down in my family, and is an art that not many of the family have mastered making. I have not mastered it, that is for sure. In fact, I have failed so many times at making it, that I have decided to leave it to the experts.
I leave that toffee to my Grandpa, and greedily stash some away each Christmas when he makes it so I can enjoy it all year. But I have been dreaming about Pumpkin Toffee.
When LorAnn sent us oils and emulsions, and I got a Pumpkin Spice emulsion, I knew I had to give toffee making a shot. So I opted to make a few changes to the family recipe and instead try something a little easier for the distracted home cook.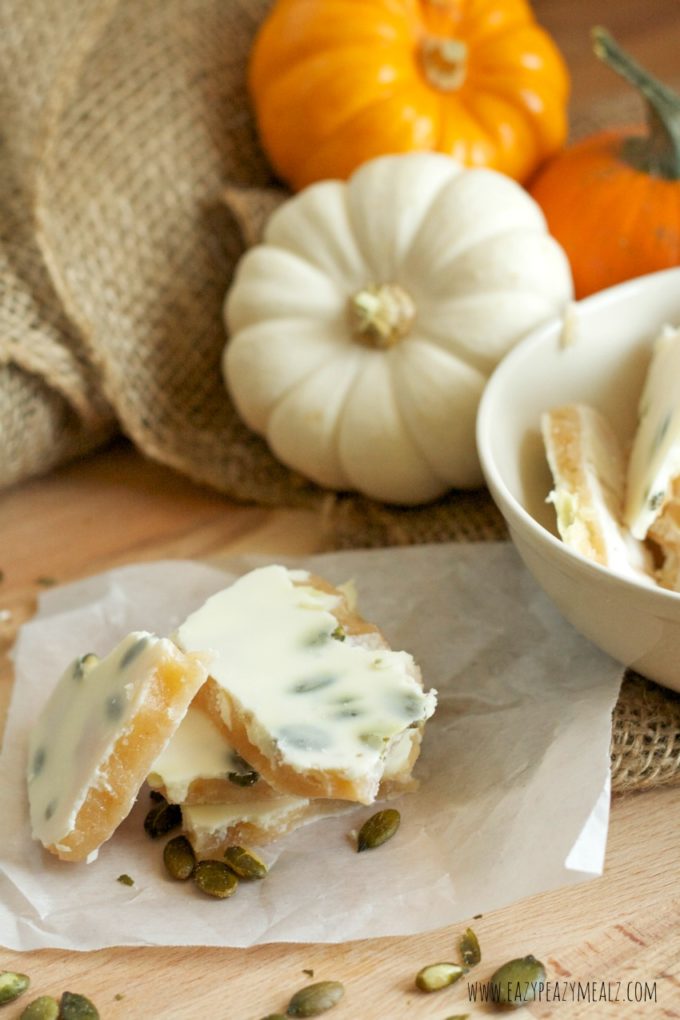 Traditionally a toffee will include nuts, or something, and I kept thinking how wonderful the nutty, salty, crunchy goodness that is pumpkin seeds would be instead of a different nut.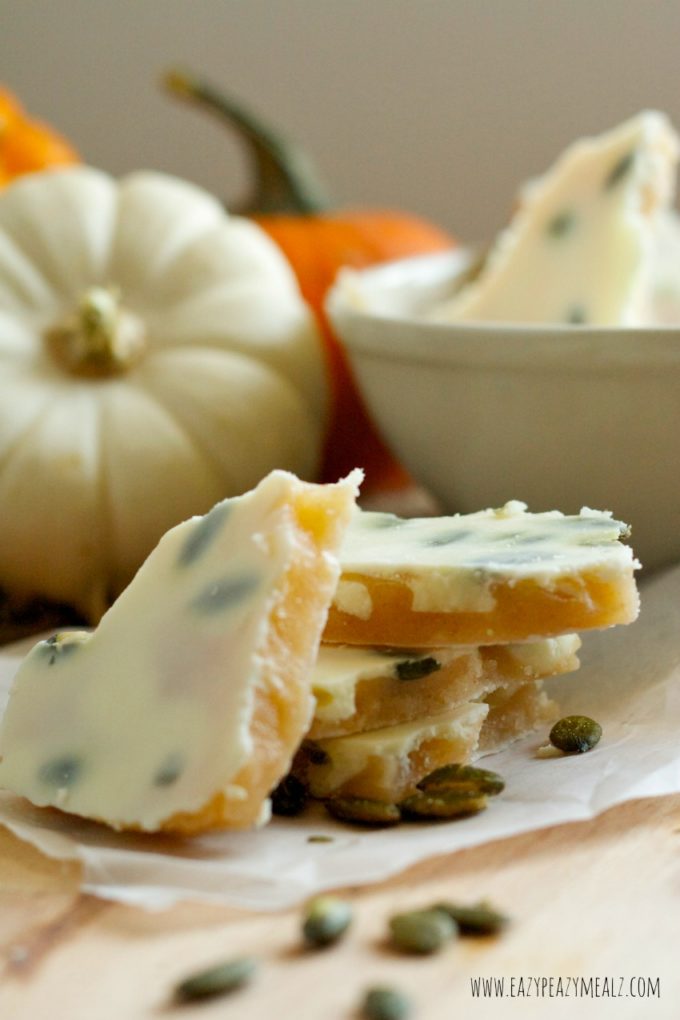 It was a great combination, and tasted just like Fall should. Earthy, sweet, spicy, and buttery! It made me want to start a fire, pull a scarf out twine about my neck, and wear long slipper socks around the house.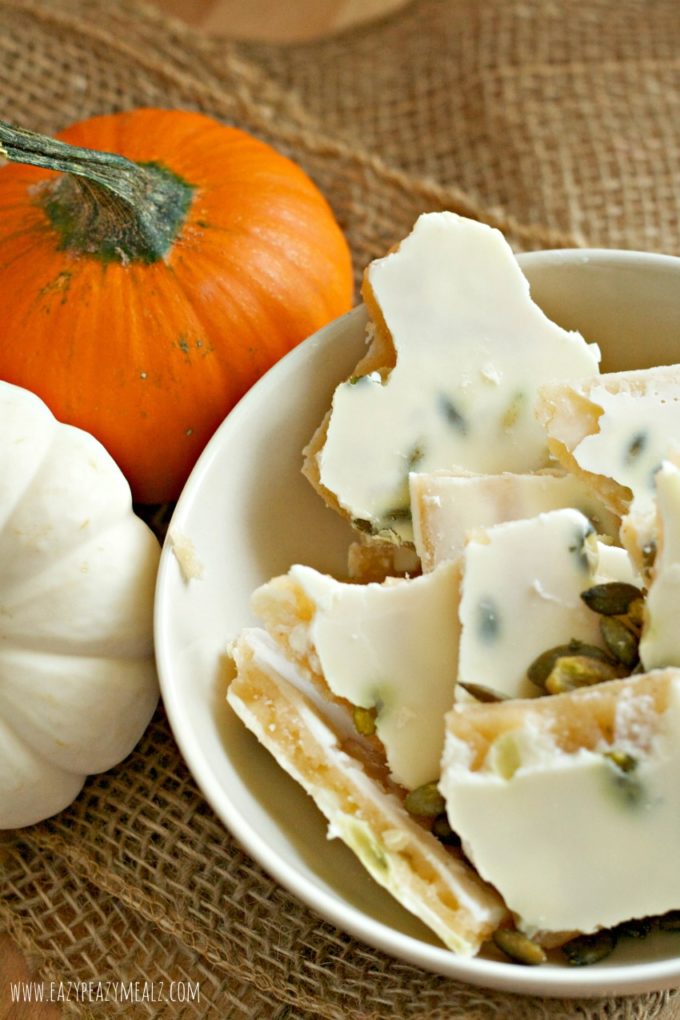 I have been sharing a lot of pumpkin recipes lately, from Pumpkin Baked Oatmeal Squares, to Pumpkin Pie Ice Cream, and more, and this is probably my favorite pumpkin recipe yet. The LorAnn oil made it amazingly flavorful without requiring very much. And my house smelled seriously amazing while it was cooking. 
I wanted to dive in, but since I had a candy thermometer sticking out of it, I knew it was much too hot for actual diving. And so I waited, though not very patiently for it to harden.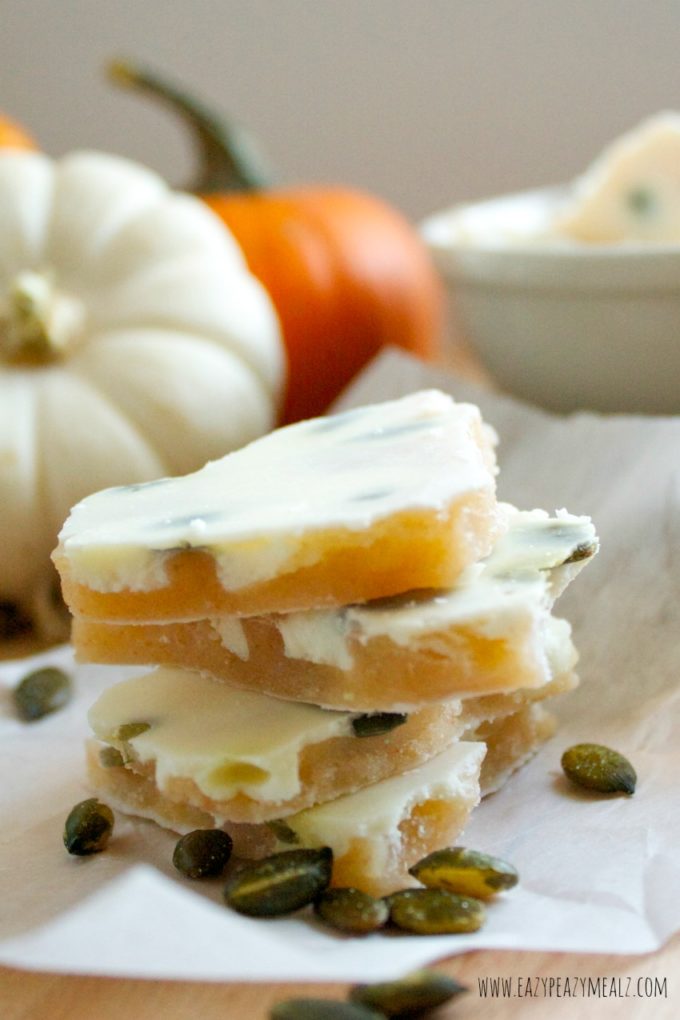 Can you blame me?

Ingredients
1 1/2 cups butter (3 cubes)
1 1/2 Tsp Pumpkin Spice Emulsion (LorAnn)
2 1/2 Tbs dark Karo syrup
4 Tbs Water
2 scant cups sugar
1 bag white chocolate chips
1 cup roasted pumpkin seeds (the little green ones)
Instructions
In a heavy sauce pan, over medium heat, melt your butter.
Add Pumpkin Spice Emulsion, Dark Karo Syrup and Water, one at a time, stirring after each addition.
Add sugar and stir.
Cook, allowing mixture to come to a slow boil until it reaches 280 degrees or soft crack stage. It should take 30-40 minutes.
Prepare a cookie sheet with parchment paper
Pour toffee mix over and let it spread across the paper
While still hot, place half the chocolate chips over the top, and using a spatula, spread the chocolate as it melts to get an even coating.
Sprinkle pumpkin seeds over the top of that.
Place two sheets of parchment or wax paper on top, and get another cookie sheet that is the same size. Place it over the toffee and flip it.
Then slide the toffee back into the original cookie sheet.
Add the other half of the white chocolate chips to this side, and once melted slightly spread with spatula.
Let cool and allow chocolate to harden, then break into pieces and enjoy!
Notes
If it is rainy, do not make toffee, wait a day after as the humidity in the air can interfere with the toffee turning out.
If cooking in a humid climate, consider running a dehumidifier in the kitchen while making your toffee
You can substitute other nuts or seeds for pumpkin, include them in the toffee itself, or leave them off completely if desired. Depending on the size, you may want to chop them.
7.6.4
364
http://www.eazypeazymealz.com/pumpkin-toffee/
Want more great posts using LorAnn Oils?
Strawberry Fudge from The Stylish Nest
Pumpkin Spice Latte French Macarons from Rickabamboo
Amaretto Cookies from The Blonde in the Apron
No Soda Root Beer Cupcakes and Frosting from Juggling Act Mama
Coffee Donuts from the First Year Blog
Pumpkin Spice Brownie Cookies from Flippin' Delicious
Pumpkin Spice Latte Cake from The Frugal Foodie Mama
Sink Freshening Tabs in a Snap from Christina, Plain and Simple
Marshmallow Cookies with Princess Cake Frosting from Mom's Busy Helper
White Chocolate Key Lime Shortbread from It Bakes Me Happy
Toasted Coconut Hot Chocolate from Delightful E Made
Pumpkin Spice Protein Smoothie from Nel's Nook
Cinnamon Spice Cake with Caramel Frosting from Hezzi-D's Book and Cooks
Almond Cake Cookies with Cinnamon Spice Glaze from Mom's Test Kitchen
Soft Pumpkin Spice Cookies from Love Bakes Good Cakes
Princess Sand Tarts from Diary of a Recipe Collector
Baked Pumpkin Donuts with Cinnamon Glaze from Deliciously Sprinkled
Pumpkin Cheesecake Mousse from Confessions of a Cooking Diva
Purple People Eater Popcorn Balls from Seven Alive
Green Apple High Hat Cupcakes from Pint Sized Baker
Pumpkin Pie Pudding Parfait from Fearlessly Creative Mamas
Mango Butter Cake from Clark's Condensed
‎Pistachio Lemon cake from Self Proclaimed Foodie
Apple Crumb Coffee Cake from Healthy Delicious
Chocolate Chip Horchata Zucchini Bread from Plate to Gate
Key Lime Cookies from Cooking with Curls
Key Lime Margarita Cookies from Lori's Culinary Adventures
Chocolate Irish Cream Bundt Cake from Lynsey Lou's
Earl Grey Shortbread Cookies from Never Skip Dessert
‎Maple Pumpkin Bread Pudding with Salted Maple Caramel Sauce from the Paisley Barn
Pumpkin Cinnamon Cream Puffs from That's my Home
Citrus Body Scrub from Melissa's Cuisine
Pumpkin Spiced Tres Leches Cake from Flavor Mosaic
Salted Caramel Meringue Cookies from The Bitter Side of Sweet
Pumpkin Toffee from Eazy Peazy Meals
Movie Theater Chocolate from KC Bakes
Lactose Free Bacarian Cream Pudding from Travel Parent
Red Velvet Muffins from I Love my Disorganized Life
Maple Bacon Fruit Dip from Renee's Kitchen Adventures
Maple Macadamia Nut Bread Pudding from Awesome on $20 a Day
Pumpkin Spice Caramel Corn Snacks from Grumpy's Honey Bunch
Cranberry Cheesecake Bites from Lady Behind the Curtain
Pumpkin French Macarons from Sweet and Savory by Shinee