Creamy, cheesy, bacon-y and delicious this Wild Rice and Chicken Soup is the stuff my soup dreams are made of.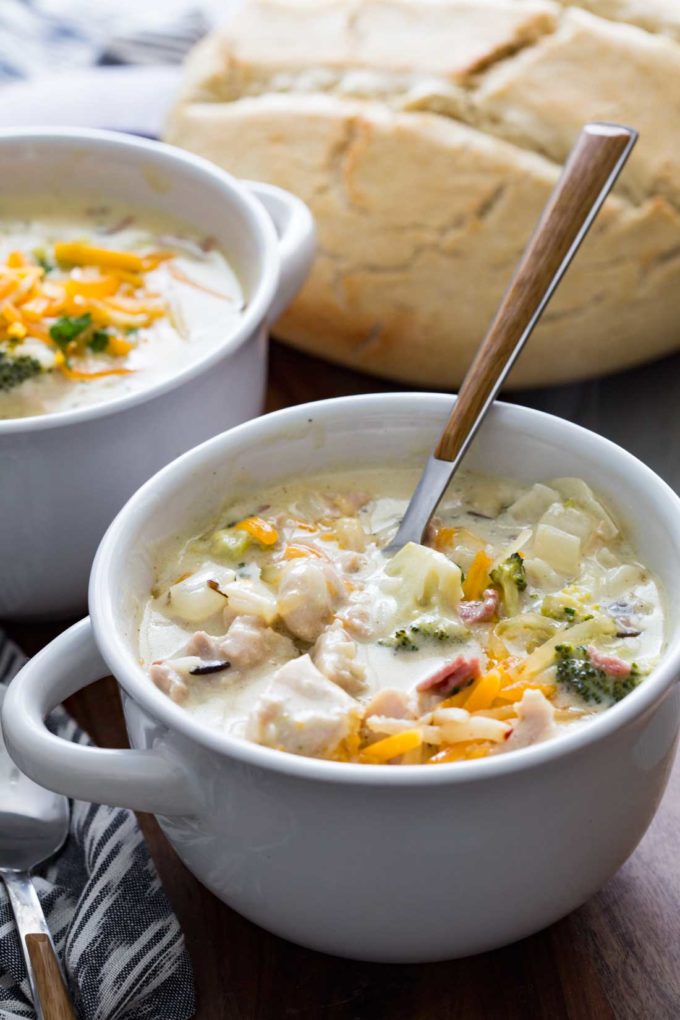 Slow Cooker Creamy Chicken Bacon Broccoli & Cheddar Wild Rice Soup is the perfect comfort food. It is cheesy. It is creamy. It has bacon. You get the classic chicken, broccoli, and rice combination, with a fresh twist on flavors, and a really smooth, creamy, tantalizing soup! You will be wishing for cooler weather so you can have an excuse to make this creamy soup.
I had the hardest time naming this soup. And I know it is a mouthful, but that is exactly what you are going to want, one mouthful after another. And it is no wonder why. The flavors are intense and layered. You get the creaminess of the heavy cream and cream cheese, with the saltiness of bacon. You get the textures with the broccoli, and wild rice. And the whole thing melds together in the slow cooker to give you absolute bliss. Plus this recipe is easy. You can throw most of the ingredients in the crock pot in the morning, and finish everything up 30 minutes before you are ready to serve.
I have a huge extended family. Huge. My parents both grew up in large families with several children, and then of course my parents had 10 kids of their own. Then I married a boy from a family of seven children. Basically we are rich in relatives. We have them coming out our ears.
And it is so much fun.
This past year there have been a lot of babies in the families, and so I have had the opportunity to take dinner to several new mamas and love on their little bundles of joy. I am not complaining one bit. I get all that newborn baby smell, and sweet tender cuddles, and don't have to be pregnant. All for the price of a meal and a visit. Sold!
Recently my cousin had their first baby, and I knew I wanted to take them dinner. I was pressed for time, as those things go, so I thought a big huge pot of creamy, delicious soup that I could cook in the slow cooker, and feed my family and theirs in one fell swoop would be the answer. But as a food blogger, you sort of feel like if you are going to take dinner to someone, it had better be amazing stuff.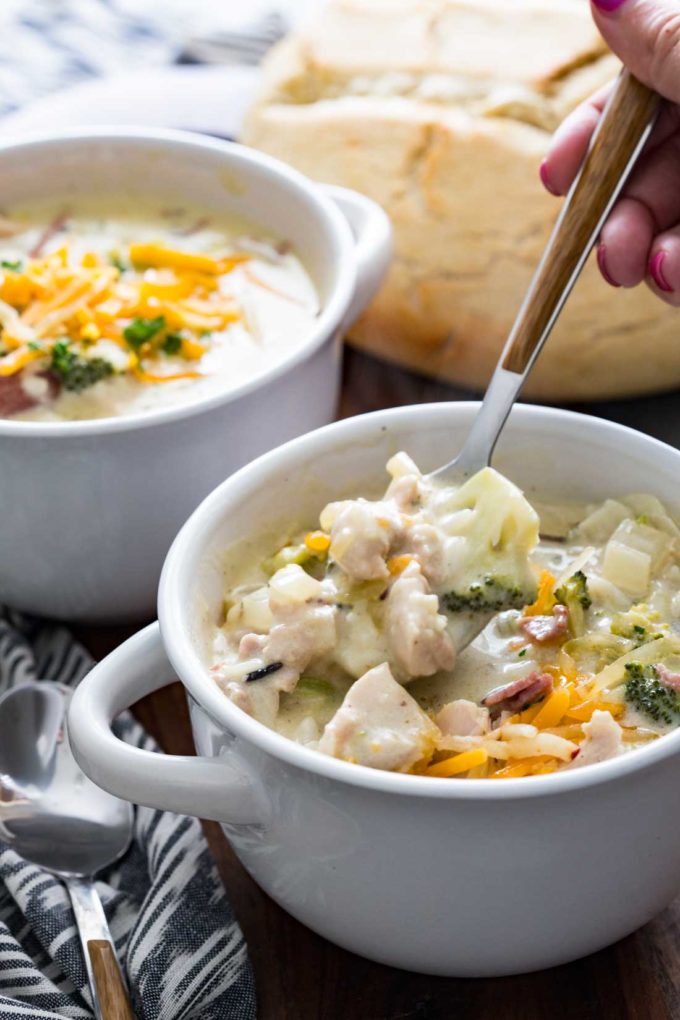 And this soup fits the bill! It is hearty, filling, and flavorful. It gets better the next day as the flavors meld. It offers salty bacon, creamy deliciousness, earthy wild rice, and so much more! Basically it is a lick-your-bowl-clean type of meal. Throw in some sort of bread like these great buttermilk biscuits, and you have a full on meal with very little effort.
Well, funny story, I knew I wanted to take some bread to them, so I opted to make a crock pot bread. They are quick and easy, and taste great….when you make them right. Only I didn't. In my rush to get everything done, I misread my OWN recipe and added 3 TABLESPOONS of salt to the bread. Of course I did not realize it, and brought it to them. It was only after I gave it to them and returned home and tried the second loaf I had made that I realized my error. I was so embarrassed. But the soup, I think it made up for the lousy bread.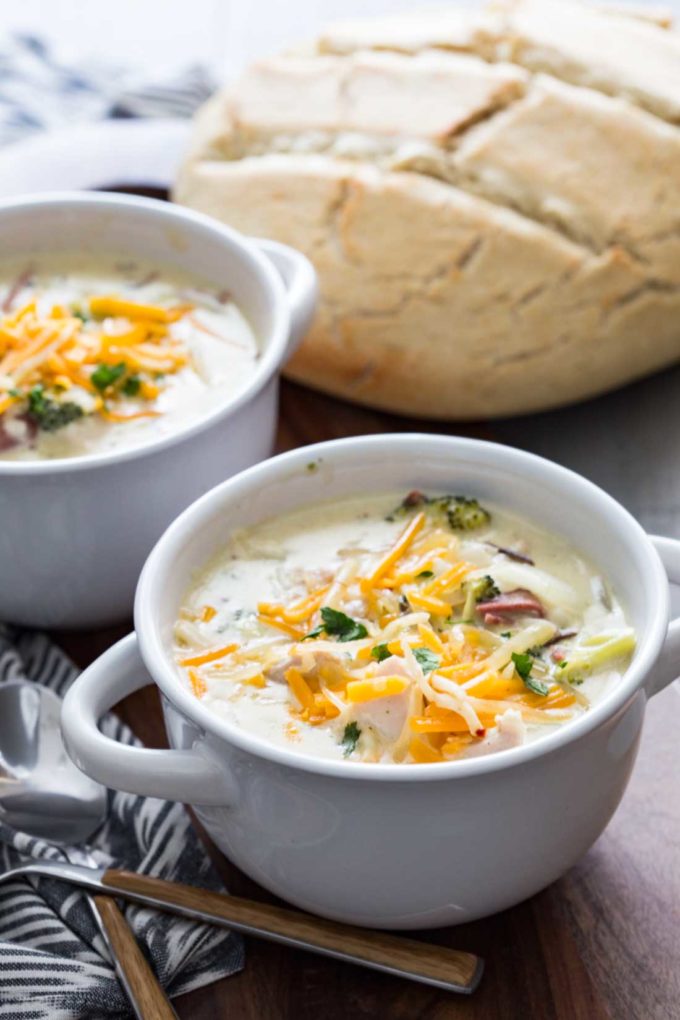 So if you want something that is like a warm hug from your grandma, and a real palette pleaser, this is the answer. Toss it in the crock pot and enjoy it at the end of a long day. You will not regret making it!
Yields 8
Slow Cooker Creamy Chicken Bacon Broccoli & Cheddar Wild Rice Soup
PPrep Time
PCook Time
PTotal Time
Ingredients
2 lbs chicken thighs, boneless, skinless, fat trimmed off
1 1/2 cups wild rice mix
1 large onion
2 Tbs minced garlic
32 ounces Chicken Stock
1 can Evaporated milk (12 ounces)
1 Tbs Parsley (chopped fine)
1 Tbs chicken bullion
1 tsp dried thyme
3 cup broccoli chopped

Add later:

1 lb bacon of choice
2 cups grated cheddar cheese
2 cup heavy whipping cream
1 cup chicken stock
2 Tbs cornstarch
8 ounces cream cheese
1 tsp garlic salt
1 tsp black pepper
Instructions
Add chicken to the bottom of the slow cooker.
Top with wild rice, onion, minced garlic, chicken stock, evaporated milk, parsley, bullion, thyme, and broccoli
Stir it up. Cover and cook on high for 3-4 hours
Remove chicken and chop, and return to pot.
Meanwhile, in a blender, mix together heavy whipping cream, cream cheese, garlic salt, corn starch, and chicken stock, and blend until mixed.
Add chicken and bacon into crock pot, followed by the sauce in the blender. Cook on HIGH for 15-20 minutes or until thickened.
Stir in cheese until it is melted.
Taste, season with salt and pepper to preference.
Garnish with additional cheese and bacon if desired
Notes
For a thinner soup, feel free to add additional chicken stock or half and half.
Adapted from http://www.carlsbadcravings.com/slow-cooker-cheesy-chicken-broccoli-wild-rice-soup-recipe/
7.6.4
841
https://www.eazypeazymealz.com/cheesy-creamy-wild-rice-chicken-bacon-soup/
Pin to your SOUP board:

Get EZPZ Updates In Your Inbox!