Day Trip to Cloud 9, FIJI
Looking for a way  to spend a relaxing day in Fiji? Try Cloud 9 Floating Platform, it located at the beautiful Ro Ro Reef amongst the Mamanuca Islands. And it is a fun place to rest, relax, enjoy a cocktail, and swim in the beautiful Fijian waters.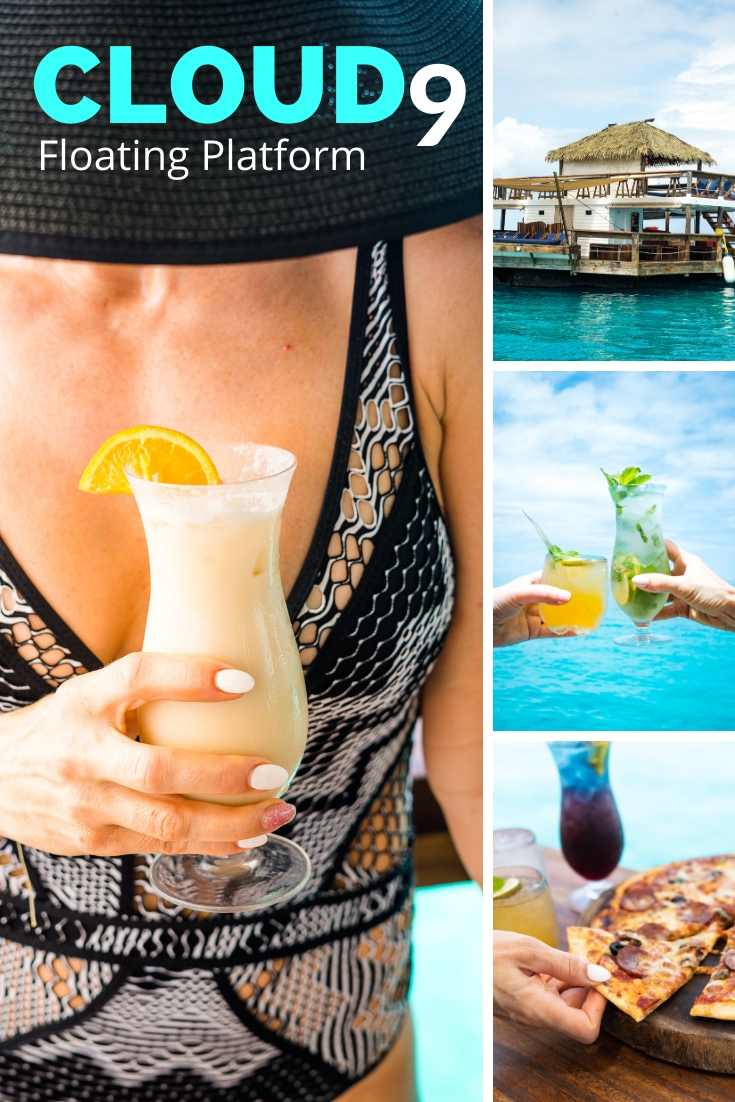 I was provided a complimentary visit to Cloud 9 to facilitate this visit, all opinions are my own. 
What is Cloud 9 Fiji?
Cloud 9 is a floating platform that boasts two levels, a full bar, wood fired pizza, and 360 degree views of gorgeous ocean. It is loaded with sun decks, benches, lounge chairs, day beds, tables and sun shades, and plenty of places to relax. 
It has 2 environmentally friendly marine toilets on board (one for male and one for females).  While this can mean a queue, they were kept very clean, and did not feel inconvenient. 
While on the platform, the goal is R&R, but there is plenty to keep you happy. You can jump from the decks into the water, snorkel (you can rent snorkel gear there for $15 FJD, but  keep in mind, the reef is a bit of a swim away from the platform). Or just sip your favorite cocktail (or get any cocktail on the menu alcohol free), and enjoy the wood fired pizza. Or just sit back and relax on one of the many day beds, or lounge chairs. 
I think it is worth noting: The pizza is delicious, and the recipes come from a true Italian chef, who trains the staff every 3 months to keep the standards high. I was pleasantly surprised by how delicious it was. 
We tried three different kinds: The Hawaiian, The Margherita, and The Pepperoni.
Cloud 9 also has a surround sound system throughout, and sometimes they even feature a live DJ, so there is music to groove to. 
In other words, if you are visiting Fiji, and looking for things to do in Fiji for a day trip, Cloud 9 is a great option!

THE DETAILS:
WHAT DOES IT COST? 
$229 FJD (includes $60 FJD credit)
Depending on  your currency, you are looking at about $115 USD and $30 USD in credit for drinks and food. Not a bad way to spend 6  hours. But keep in mind, you will want to bring additional money via a credit card, as you will likely spend your whole credit and want additional drinks and pizza.
How long does it take?
The duration of a trip to Cloud 9 is about 6 hours start to finish, that is pick up from a hotel, transport to the floating platform, time spent there, and then return.  You can go in the morning or afternoon. We went in the morning, and I worried I wouldn't love it as much being there so early, but it was perfect, and less crowded.
WHAT TO BRING WITH YOU:
Swim wear & towel
Camera – I loved having my GoPro
This is not a BYO establishment, so don't bring your own drinks or food. 

HOW LONG DOES IT TAKE TO GET OUT TO CLOUD 9 FROM PORT DENARAU?
Plan on about 45 minutes by speedboat. 
If you buy the Cloud 9 package, you will be transported from your hotel to Port Denarau, and you will go to the Cloud 9 kiosk. From there you will check in, and at about 9-9:15 be loaded onto a boat with the other passengers, and taken to Cloud 9. 
Tip: Sit near the back of the boat so you can be one of the first off and have your pick of the day beds, lounge areas, etc. 
We stayed in Port Denarau, so this was a very convenient option for us, but don't worry, if you aren't near Port Denarau, there are other ways to get to Cloud 9 as well. Simply ask your booking agent for details, but keep in mind:
It is located about 10 minutes from Namotu and Tavarua. 

About15 minutes from Musket Cove, Lomani, Funky Fish, Tropica, Castaway, Malolo and Plantation island Resort.

25 minutes from Mana island Resort, Beachcomber and Bounty island.

And 35 minutes from Tokoriki.

WHAT CAN YOU DO ON CLOUD 9?
This is the place to go to rest and relax, and soak up the natural beauty of the beautiful Fijian waters. But that doesn't mean there isn't other fun isn't to be had. Here is what you can do onboard:
Relax

Swim

Snorkel (for added fee for gear): Note- the reef is a long swim away, and there is not much to see directly around the platform. 

Jump from the decks into the ocean

Browse your phone (they have WIFI)

Eat

Drink

Want to do something else? If you plan ahead, the folks at Cloud 9 can help organize some activities for you like jet skiing or parasailing. 
Personally, I did a little of everything. I started with a nice drink, and ordered my pizza. Then I jumped from the side into the water to cool off in the beautiful ocean. Once my food came, I ate, then took a quick cat nap on the super comfy day bed. After that I read my book, walked around, took some photos, swam, snorkeled, and basically just enjoyed my day. 
The trip was about 5-6 hours in total, and 1.5-2 hours of that was in transport. So we spent about 3.5 hours on the Cloud 9 platform, which was just the perfect amount of time to enjoy all it had to offer and not get bored. 

The Pizzas
There are plenty of choices when it comes to pizza, from the classics to some fun ones like the vegetarian pizza, which has pumpkin on it! And they are delicious. The crust is thin, the cheese plentiful, and they don't skimp on toppings. Here is how it works:
You place your order at the bar.
The pizza chef will make the pizza with the recipes from the Italian chef.
The pizza is delivered to you wherever you happen to be on the floating platform.
Enjoy!
Honestly, I was surprised how good the pizza was. I had been told beforehand that no pizza in Fiji is very good, so not only was it a nice exception, but would be good, Fiji or not. In fact, I may have eaten a little too much. Hahha. It was hard to narrow down the choices, but every bite was delicious.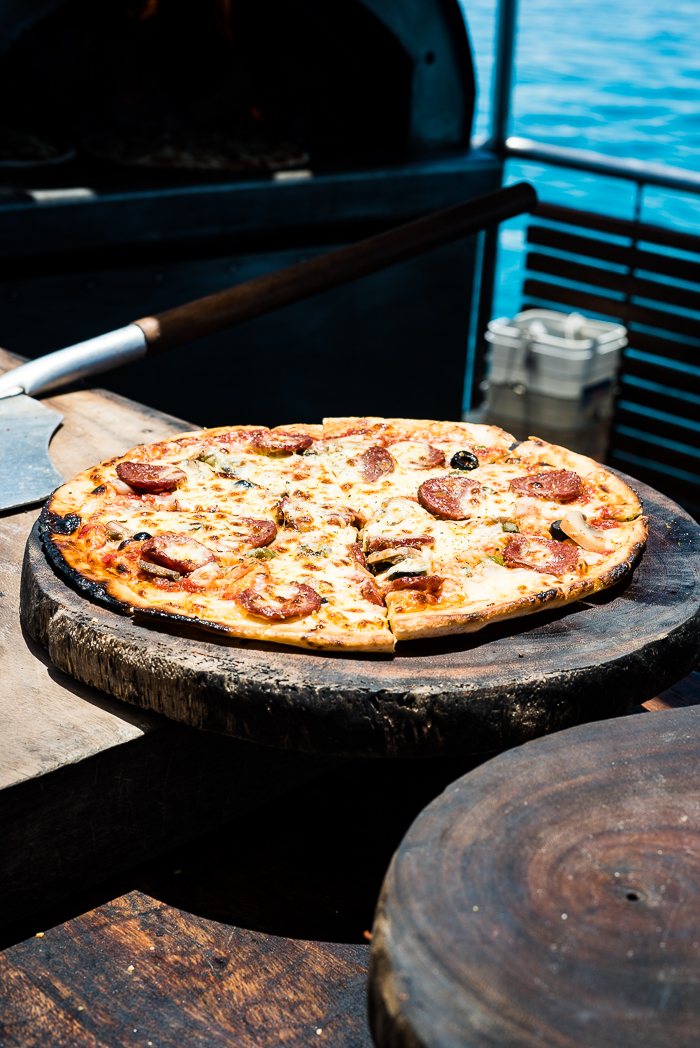 The Drinks
There are plenty of cocktails, mocktails, beers, ciders, and even fruit juices and soda available on Cloud 9 to keep everyone happy.
You can get any of the cocktails alcohol free, if you don't drink. And you can ask for drinks to be made as you like them.
The colorful drinks are so fun. But keep in mind, no straws. This is a floating platform, and they don't want the risk of something blowing into the ocean.

IS IT CROWDED?
Cloud 9 can accommodate up to 100 people at any one time. When we visited there were probably 60 people and it did not feel crowded at all. There were plenty of places to sit, the pizzas cooked quickly and we didn't have to wait long for the bar or the pizzas. 
I am sure during busier months it may be busier, so if you go, make your drink and pizza orders quickly, and consider sitting near the back of the speedboat transportation so you can be the first off and get your pick of day beds. 
HOW DO YOU PAY FOR THINGS ONBOARD?
This is a card only establishment. Cloud 9 does not accept Cash on board. 
Most of the tour packages come with a $60 credit to use on drinks and pizza, but since cocktails range from about $20-49 FJD, and pizzas are between $22-38 FJD (if my memory serves), you will likely spend more money on board than the credit.  So plan ahead, and bring a credit card. 
Which cards work? 
VISA

Mastercard 

American Express 
Also, note this is not somewhere you can bring your own drinks. So plan to purchase on the platform. When you arrive, you check in and open a tab. When you have run through the tab, you need to use a card to add more. 

CAN YOU BRING CHILDREN?
I am all about family travel, and love being able to take my kids places. I love the idea of being able to take my kids here, and know they would love jumping from the railings into the water, however, because it is essentially a floating bar, it is not really meant for kids. 
Minors are accepted on board. 
However, it is a bar, and people can smoke onboard as well. So my suggestion, if you want to bring your kids, book Cloud 9 as a private venue for your family vacation. 
Who Shouldn't Go to Cloud 9?
Wheelchair users.

People with heart problems
People with back problems.
The staff is happy to help accommodate special needs, and help those in a wheelchair from the boat to the platform. However, the toilets are not able to accommodate disabled patrons.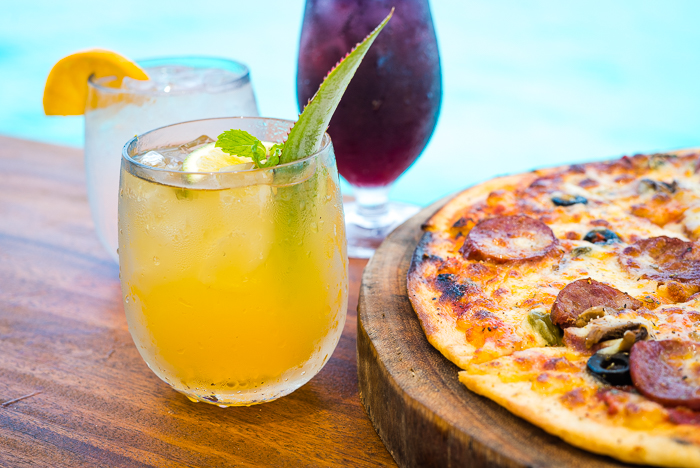 Tips For Enjoying Cloud 9
Cloud 9 was an excellent way for my friends and I to spend a day in Fiji. We found it was relaxing, fun, delicious, and a unique way to take advantage of the gorgeous water and ocean Fiji has to offer. My  favorite part, laying in the sun reading a good book while hearing the water lap against the side. So here are my top tips for making the most of a day trip to Cloud 9:
Sit near the back of the transportation boat so you can get first pick of where to sit/relax on the platform.
If you don't like the smell of smoking, or aren't a smoker yourself, be aware of who sits around you. This is a facility where people can smoke, and once you set up camp, and other do as well, you probably won't move. So check with your neighbors.
Wear shoes you can get in and out of the water in: Water shoes. The deck gets hot, and can be wet. You don't want to slide around (they have mats to prevent this), or burn your feet, so you probably don't want to take your shoes off, but you may want to jump in and enjoy the water. I found a pair of water sandals (chacos, tevas, etc.) work great!
If you aren't that into just having a drink and relaxing in the heat, bring something to do, or book an activity ahead of time. A book, magazine, headphones and phone, or swimwear are all great options. While you can rent snorkel gear onboard, the good snorkeling can be a ways a way from the platform.
Bring a credit card for additional drinks and pizza. Cash is not accepted.
Order pizza early if it is busy. It only took about 10-15 minutes from when we ordered to when we got our pizza, but it could take longer, so plan ahead.
Be flexible. Weather, private parties, etc. can make your plans change, so go willing to be flexible for the best time!
Just relax! That is the best part of Cloud 9, the atmosphere it creates for relaxing.
Enjoy! If you go, I would love to hear what you think, so leave a comment below.
Want to know how to visit Cloud 9 for free? Read this guide for How to Travel FREE.
Pin to your Vacation Plans board:

Other Trip Tips: