When it comes to various flavor profiles there are a few that stand out to me as a favorite combo. For example, citrus and berries. But probably one of my favorite, and something that is just plain hard to beat, is graham crackers and chocolate. There is a reason s'mores are such a classic dessert.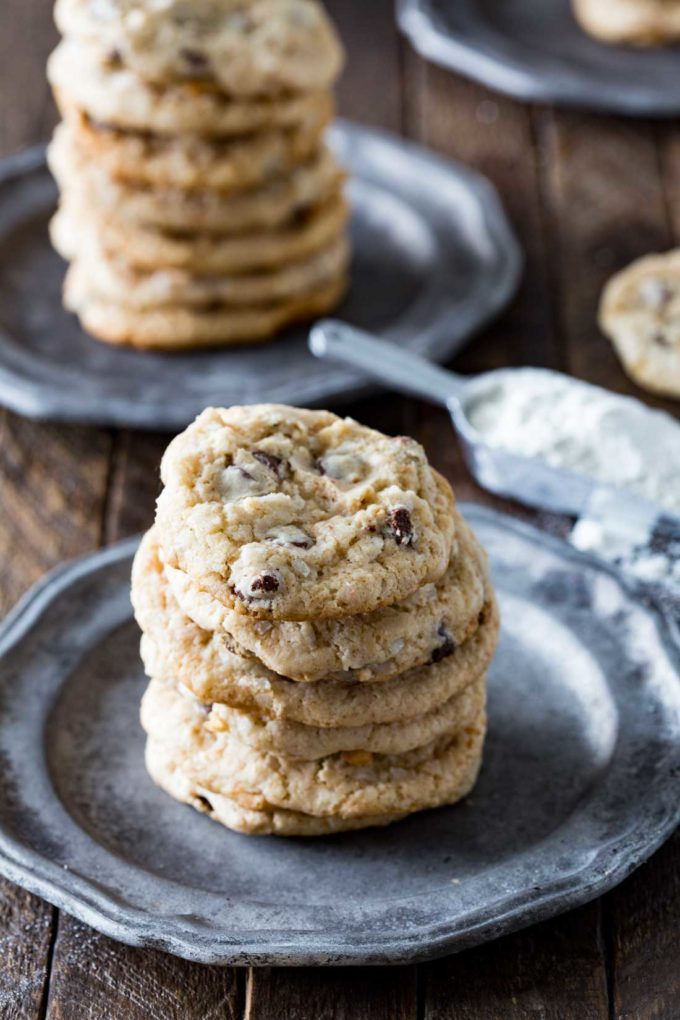 The recipe I am sharing with you today is kind of a chocolate chip cookie meets s'mores, and runs away together leaving the marshmallow behind kind of story. A love story per say. With a little drama, a lot of flavor, and a love triangle you will want to get wrapped up in. I am sure you are going to love it as much as I do.
Can we all agree that a classic chocolate chip cookie recipe is probably the most important recipe a human can master. At least a human with a sweet tooth! Or maybe moms. Let's go with anyone who breathes and eats.
Anyway, when it comes to chocolate chip cookies there are usually two schools of thought, there is the crispy crunchy school, and then there is the soft, chewy, and oh so deliciously gooey school. I fall into the later.
When it comes to my chocolate chip cookies, I like them super soft, super sweet, and with plenty of gooey, melty, delicious chocolate chips to bite into. I want them to be the ultimate thing you eat with milk.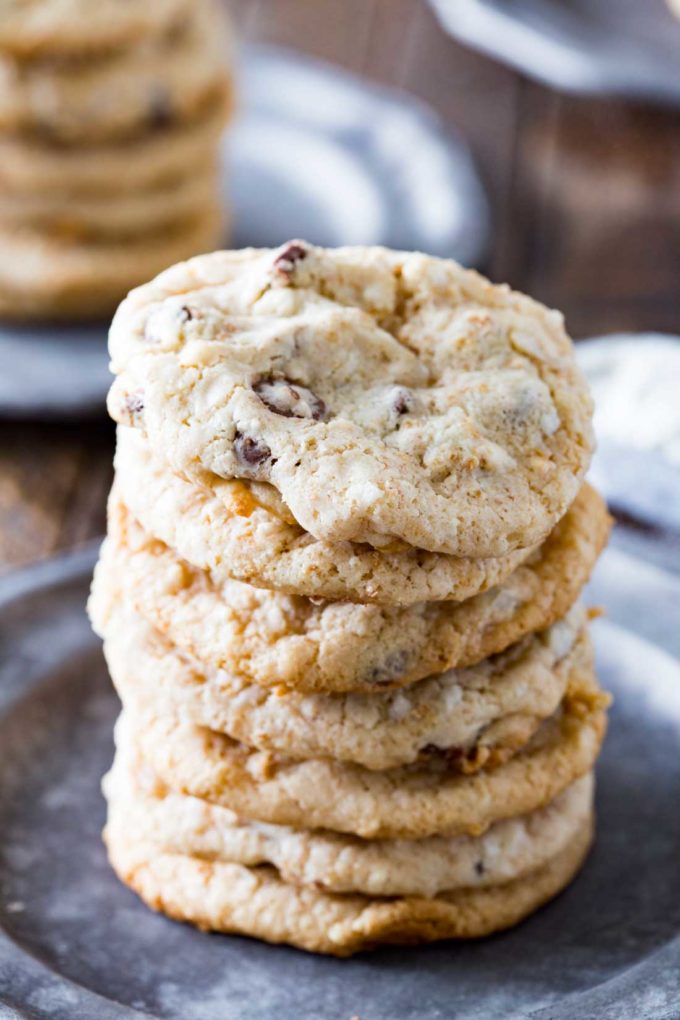 You guys, I thought I had found the perfect recipe. This chocolate chip cookie recipe speaks my love language loud and clear. But, my sister told me she thought it was too dry. She wanted a crispy outside, soft inside, and a little more moisture. I saw her point even though my heart remains loyal. For me it was perfect, but I took her opinion as a challenge to find or create an even better chocolate chip cookie.
I did not think it could be done. I was wrong.
I am pleased to introduce you to the graham cracker chocolate chip cookie! You read that right. I am not even sure words can do this cookie justice. It is sweet, it is tender, it is chock full of delicious chocolate chips, and it has a unique, and absolutely fantastic ingredient—graham crackers!
You basically grind the graham crackers up to make a flour, and it infuses every last morsel of the cookie with sweet, mouthwatering, delicious flavor. The cookies have that crisp outside that you get so much satisfaction biting into, but then you are met with a tender, soft, chewy inside. So not only is it flavor perfection, but it hits high notes for both the soft and crispy cookie schools of thought.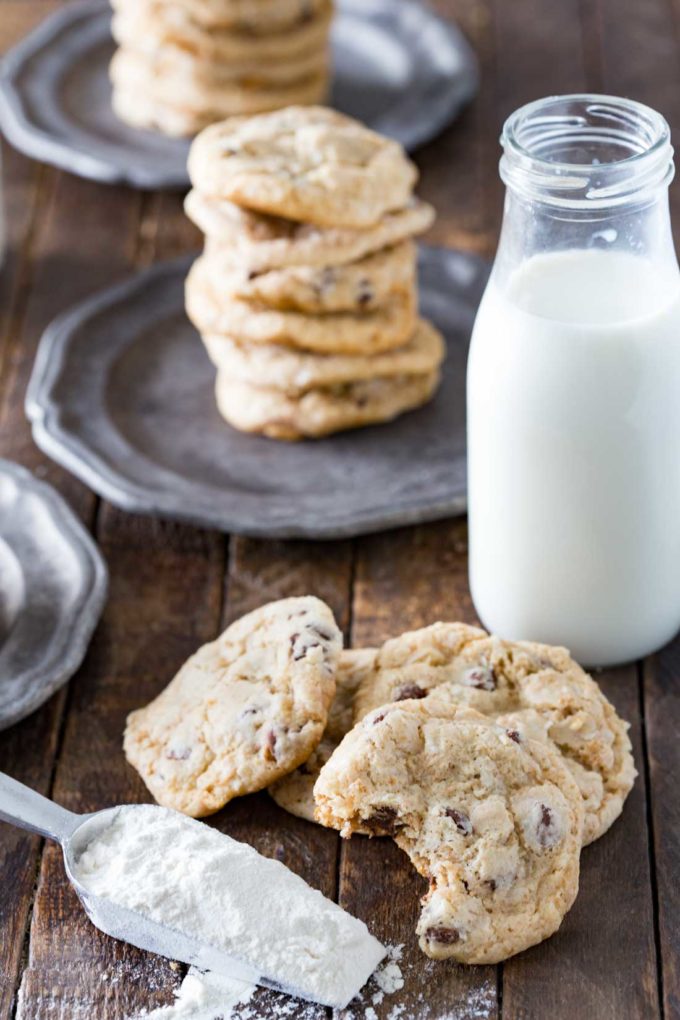 If you aren't drooling yet, get those salivation glands checked because these cookies are the absolute definition of "drool-worthy!"
Make them, eat them, love them! And pin them! Because sharing is caring.
Graham Cracker Chocolate Chip Cookies
Ingredients
1 1/2 cups graham crackers finely crashed (nine crackers)
1/2 cup flour
2 teaspoons baking powder
1-14 ounce can sweetened condensed milk
1/2 cup softened butter
1 teaspoon vanilla
2 cups milk chocolate chips
One cup flaked coconut
Instructions
Place graham crackers in a large plastic Ziploc bag, using a rolling pin crush crackers into find crumbs. In a medium mixing bowl mix together graham cracker crumbs, flour and baking powder. In a large mixing bowl beat sweetened condensed milk and butter until smooth. Add vanilla. Add crumb mixture and stir till smooth. Add chocolate chips and coconut. Drop by teaspoonfuls onto cookie sheet. Bake at 350° for 12 to 15 minutes. I find it helpful to refrigerate the dough for a few hours before baking.
Good luck not eating all the cookie dough, the best part is there are no eggs!
--Michelle
7.6.4
882
https://www.eazypeazymealz.com/graham-cracker-chocolate-chip-cookies/
Pin to your COOKIE board on Pinterest: