Greek Chicken Wedge Salad
Greek Chicken Wedge Salad offers a fun, lighter, and healthier new take on the classic, well-known wedge salad.   
This refreshing, easy to make Mediterranean inspired wedge salad has ditched the heavy bleu cheese dressing and added a healthier zesty dill dressing that will become a new favorite–or Tzatziki Ranch. 
This salad is great with a fresh fruit salad, and garlic bread.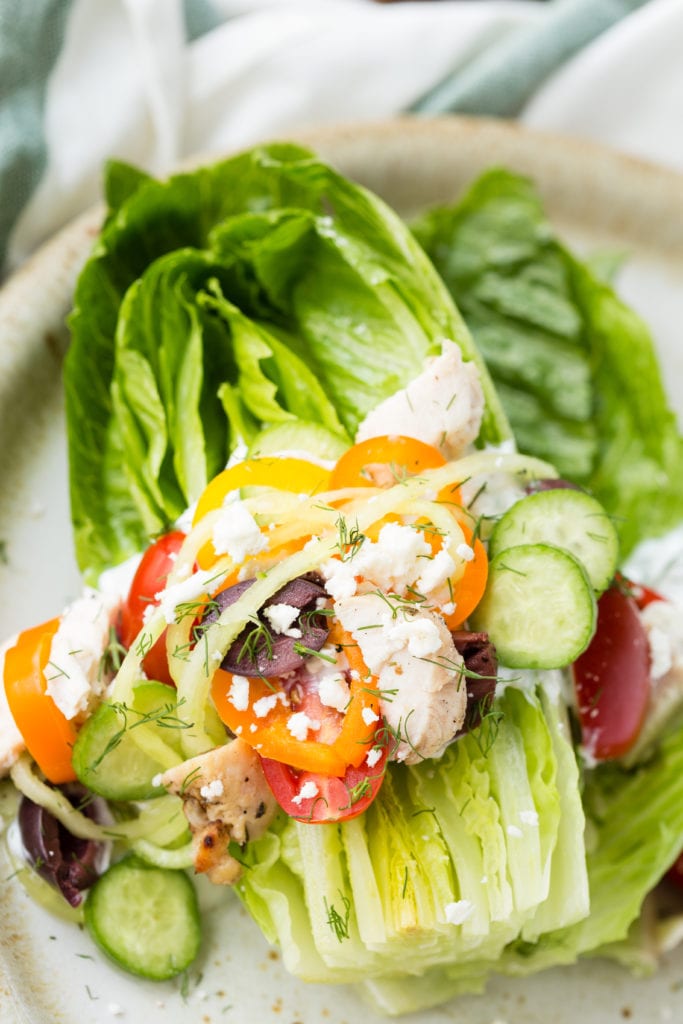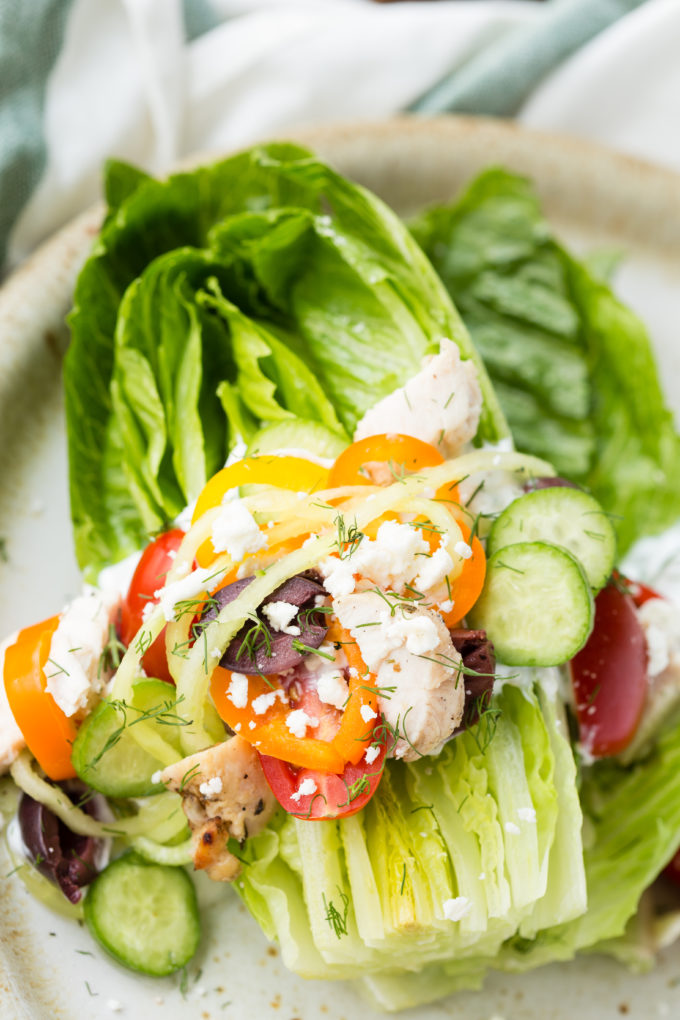 Greek Chicken Wedge salad is full of pizazz with it's Greek marinaded chicken, crispy romaine wedges, Kalamata olives, cucumbers, grape tomatoes, and mini sweet peppers.  T
aking some of the goodies from both the classic wedge salad and from a Greek salad and producing the best of both worlds.
What is so great about this salad is that not only is it healthier than a traditional wedge salad, it also provides protein from the chicken, producing a salad that can be a stand alone meal, not just an appetizer.  
I hate it when I spend time on a salad and still have the main dish ahead of me to prepare. That is definitely not the problem with this dish.
What Is The Point Of A Wedge Salad?
Let's face it, the wedge salad Is here to stay and for good reason too.  The unique cut of the crispy iceberg lettuce, provides this salad with a personal trademark, setting it a part from the rest.
Plus, with the streamline cut of chopping the iceberg lettuce into fourths minimizes preparation.
Also, aesthetically, the wedge of green lettuce with selected toppings makes this salad fun and different.  When you go to a restaurant and you see a waiter bring out a wedge salad, you know immediately what the person has ordered.
Pure genius, among all the green salads to be able to identify the type of salad without taking a bite is not something you can do with most salads.  The wedge salad has definitely made its mark and it is very fun to eat, as well.
What Is Great About A Wedge Salad:
Different appearance from other salads, setting it a part from the rest.

Easier lettuce prep.

Delicious.
Now, with this Greek Chicken Wedge Salad recipe, there is of course the signature chunk of lettuce, and the vegetable tomatoes, but from there, variations have been made.
This Greek Chicken Wedge Salad was inspired by the classic wedge salad and a Greek salad, providing a Mediterranean infused wedge salad that has more protein and is healthier too.  
In a traditional wedge salad, the dressing is a heavy, fattening bleu cheese dressing.  Instead of using that dressing for this dish, I stuck with a creamy dressing still, but one with a Greek yogurt base and dill flavor.
I have meshed the two categories of a Greek inspired salad and the classic wedge salad into something great!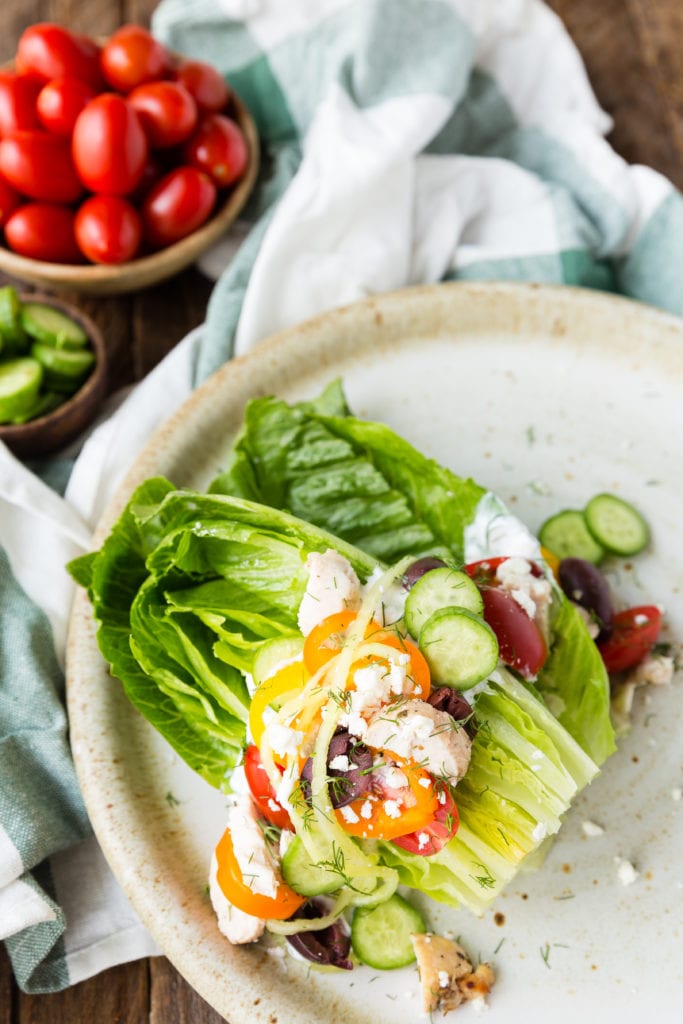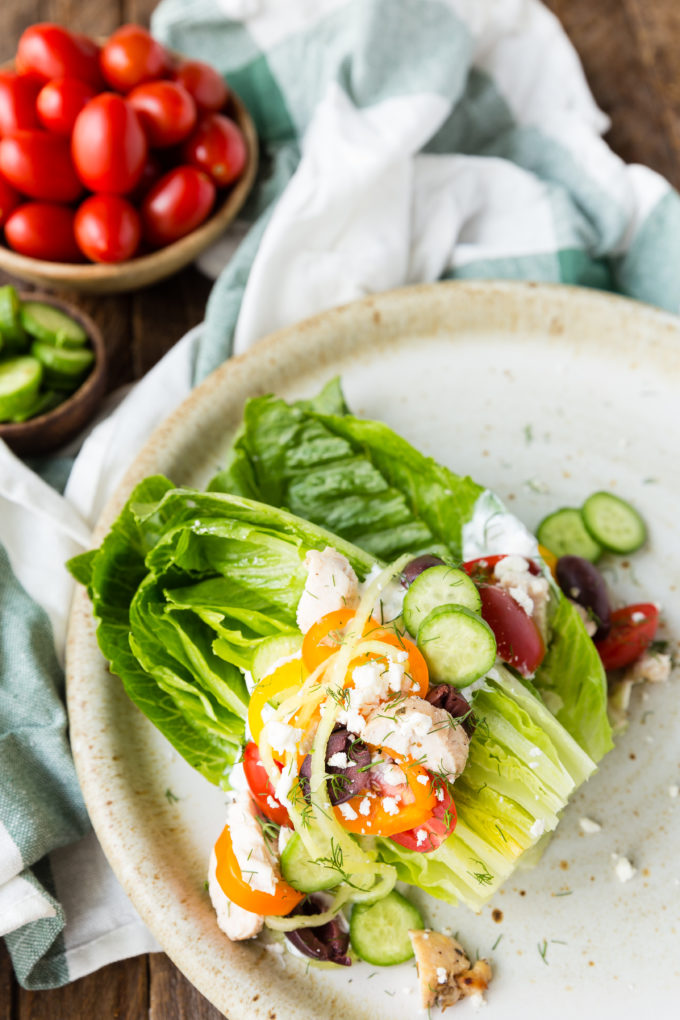 How Do You Eat A Wedge Salad?
Whether you are eating a classic wedge salad or this Greek Chicken Wedge Salad, how to eat it is the same.  
You can't just take your fork and dig in, like with other green salads.  The wedge of lettuce is too large.
Like with many dishes, you will need to cut the lettuce.  Simply hold down the lettuce with a fork, just like you would with a piece of meat. Then with your other hand, cut off a small, chewable size piece with the knife.
Obviously when cutting the wedge, cut from the lettuce portion that is closest to you, so it won't feel awkward.
Continue to repeat the process as you continue to dig in and enjoy the deliciousness in each and every bite.
Make sure when serving a wedge salad to friends you provide them with not just a fork, but a knife too.
How Do You Cut A Wedge For A Salad?
I love how in a wedge salad I don't have to worry about continually cutting up or tearing pieces of lettuce.  However, before cutting make sure to clean lettuce.
Do I Need To Wash A Head Of Iceberg Lettuce?
Absolutely!  Make sure you wash your head of lettuce before eating and preparing.  In this recipe, I use a romaine head of lettuce, which also needs to be washed.
These heads of lettuce have dirt on them and have not been pre-washed.
Other greens or green mixes that are pre cut may already be washed, but will of course specify on the packaging.  For example, spinach leaves often times will say on the packaging pre-washed.
If the packaging doesn't specify, then it has not been washed.
How Do You Clean Lettuce ?
Wash lettuce under cold water.  Make sure lettuce is completely washed, removing all dirt.  Then of course let lettuce dry before cutting.
Preparing the Lettuce for a Wedge Salad:
Wash lettuce well with cold water.

Dry lettuce with paper towels, getting rid of excess liquid.

Take the head of lettuce and remove outer leaves.
Cut head of lettuce into fourths.
Note: For this wedge salad recipe, I use baby romaine heads and due to their smaller size, I just cut them into halves.
Now there is some debate that if you cut the leaves with a plastic knife they won't brown as quickly.  While others say it makes no difference.
I say that you are going to use the lettuce immediately after cutting anyway so don't worry about it.  Just use the knife that works best for you.
Chopping the lettuce is done in literally seconds so just don't chop the romaine heads until you are ready to use them for your salad.
Note: Greek salads tend to be a chunkier blend of veggies.  For this salad, when you cut your cucumbers, cut them into spirals and Kalamata olives are halved.

How Many Carbs In An Outback Wedge Salad?
Okay so Outback definitely has some good salads and I sure love their Ranch dressing.
However, just like with a lot of salads, just because it has the word salad in the title does not always mean that the whole dish is healthy.  Sure, lettuce, tomatoes, who can go wrong with these?
However, then we add things like bacon, croutons, creamy, fattening dressing, before we know it our healthy salad isn't so healthy.
Don't get me wrong, I'm all for all the fixings, but if you are on a low cal or low carb diet, you can't always assume that just because a salad is loaded with vegetables it is only loaded with good stuff.
An Outback salad may have up to 27 grams of carbs in their  wedge salad with bleu cheese.
All things in moderation.  However, if you are eating a low carb diet, this one may have to be off the list.
The Greek yogurt used in the dressing for the Greek Chicken Wedge salad offers a lower carb option.  While it still has carbs, usually some Greek yogurt can be consumed on a low diet.
How Many Calories In A Lettuce Wedge Salad?
It all depends on the portion sizes of the higher calorie ingredients.  For example, some bleu cheese dressings can be 300 calories plus for about a 1/4 c serving.
Some wedge salads are 400 plus calories.  Now if this is your whole meal, no biggie.  However, usually the classic wedge salad is just an appetizer.
Fortunately, if you are worried about calorie content, this Greek Chicken Wedge salad is a better option.
Why Eat Greek Chicken Wedge Salad:
Can be eaten as a whole meal, making it a better calorie option.

Healthier dressing.

Refreshing flavor.

Easy to make.
If you are worried about getting the most out of your calories, want a complete meal, and a refreshing taste, this Greek Chicken Wedge Salad is a great choice!
Serving Suggestions:
As mentioned above, this Greek Chicken Wedge Salad is a complete dish.  Veggies, protein, a delicious dressing, this dish has it all.
Eat it inside, bring it to a picnic or potluck, it really can be eaten anywhere.
Plus, since it is a healthier dish, a nice fruity dessert would make a great ending to the meal.  
I recommend Lemon Cheesecake Bars.  The combination of lemon and cheesecake is to die for.  Plus the lemon taste is the perfect light flavor profile to end the light taste from the salad.
What Is For Dinner?
Add a refreshingly delicious dish to your dinner or lunch rotation.  Make Greek Chicken Wedge Salad.
Once you try this mouth watering dish, you will want to make it again and again.
Here are some other Greek inspired treasures to try.
All of these will sure be a hit in your home.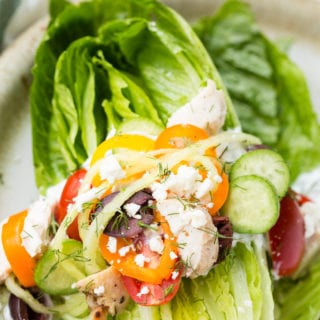 Greek Chicken Wedge Salad
Greek Chicken Wedge salad topped with chicken, tomatoes, olives, cucumber, sweet peppers and dill for garnish
Print
Pin
Rate
Ingredients
2

baby romaine heads

halved

1/4

cup

Greek Chicken

cubed

1/4

cup

Grape Tomatoes

halved

1/4

cup

Kalamata Olives

halved

1/4

cup

Cucumber

spirals and mini rings

1/4

cup

mini sweet peppers

rings

chopped dill
Dressing
1

cup

Plain Greek Yogurt

3

tsp

fresh dill

2

tsp

fresh mint

1

tsp

lemon zest

2

tsp

sugar

1

tbsp

red wine vinegar
Instructions
Plate your wedge

Top with dressing and equally dived your other toppings among the 4 wedges

Garnish with dill
Our recipe card software calculates these nutrition facts based on averages for the above ingredients, different brands, and quality of produce/meats may have different nutritional information, always calculate your own based on the specific products you use in order to achieve accurate macros for this recipe.
Want to use this recipe in a meal plan?
Try PrePear, my FREE Meal Planning App that allows you to save your recipes, plan meals, shop for groceries, and cook simply in one place. Join Here!