I received some complimentary products to facilitate this guide, and to provide a giveaway for my readers. All opinions are 100% my own.
As an avid home cook, I get asked frequently what my favorite cooking tools are. I cook all the time, and having the right tools certainly makes a difference. I remember the first time I chopped beef for beef and broccoli with knives that were actually good. Amazing.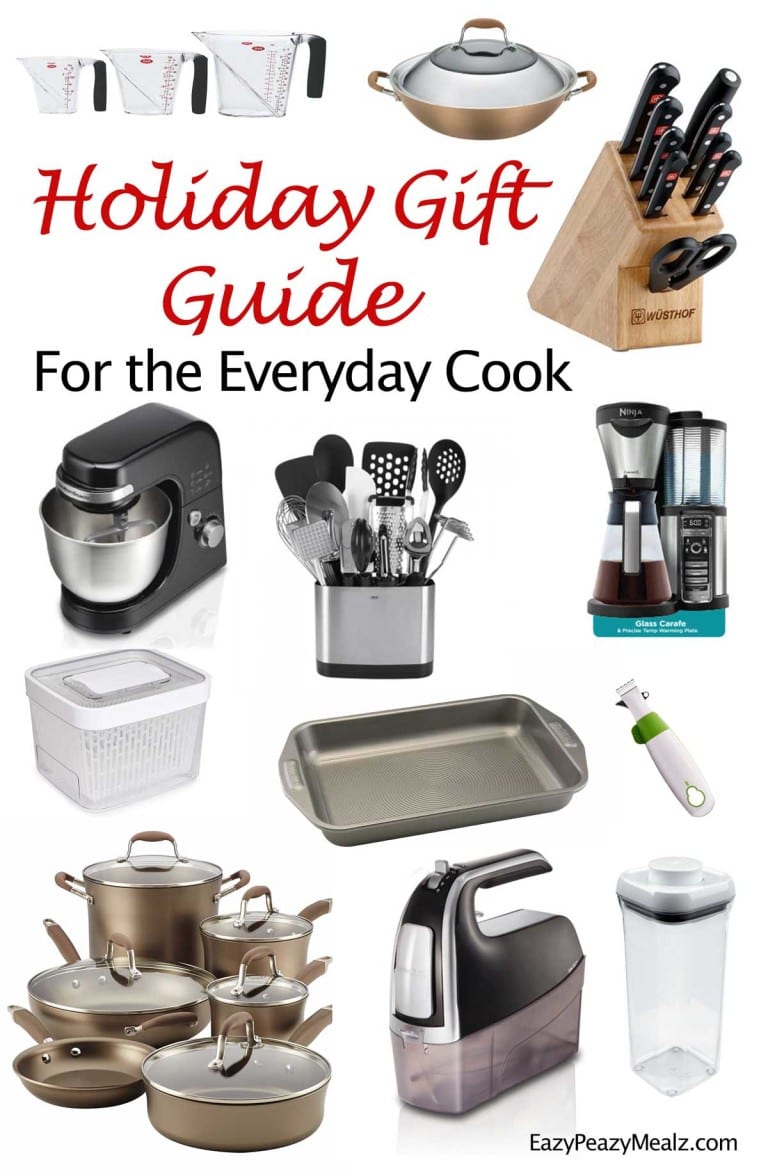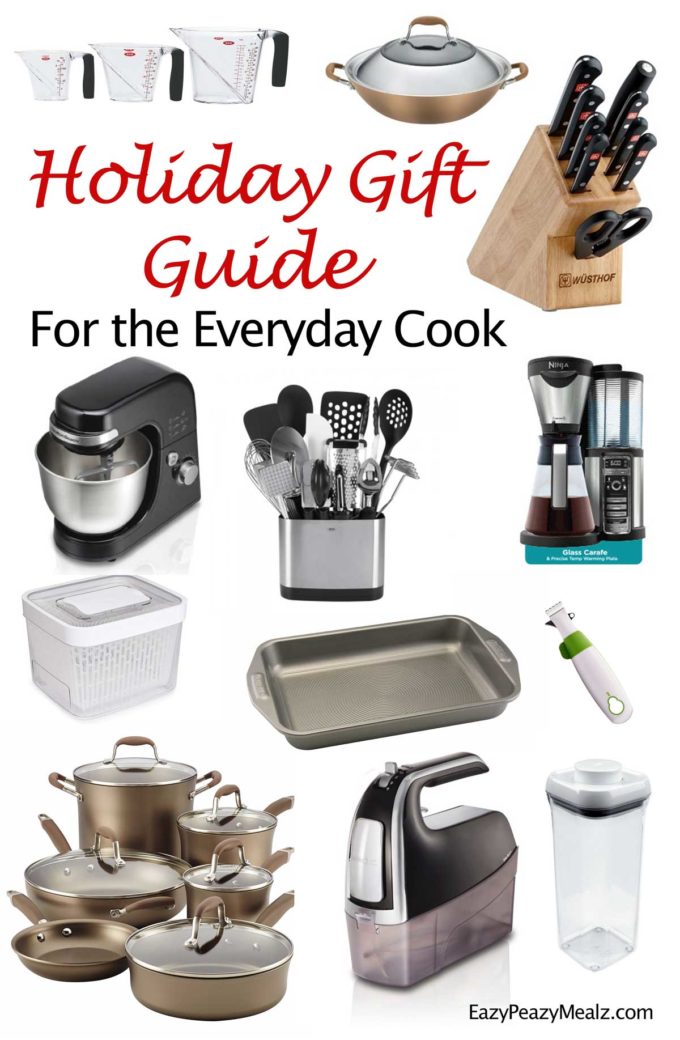 So today I thought I would share a few of my favorite things to use in the kitchen, all at different price points, so that if you are looking for a gift for the foodie in your life, you can find something they might love! And to make this even more fun, I will be giving away several of the items listed in this gift guide over the course of the month of December, here on the blog as well as on my social media channels, so keep an eye out!
There will be 5 different winners, so be sure to enter!

Honestly, there are so many great kitchen products, it is hard to narrow them down to choose my favorites. If you read my blog with any regularity you probably already know I highly recommend the Blendtec blender, and my Ninja food processor, so I opted not to include those in this guide. I decided to try and create a list of different options that hit different price points to help you find the best gifts for the cook in your life. I use every single product in this list, and love them for different reasons. I can't wait to share them with you!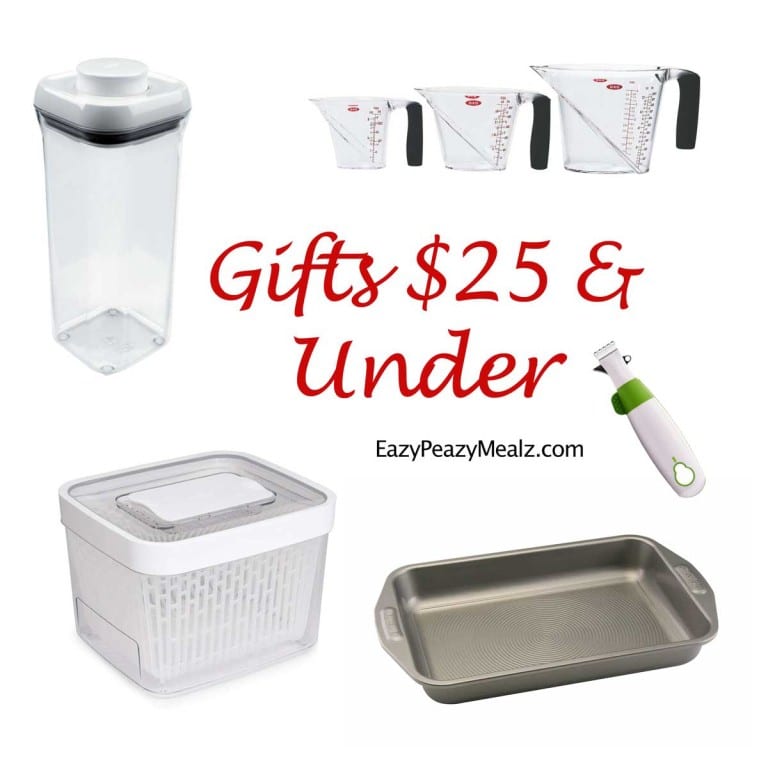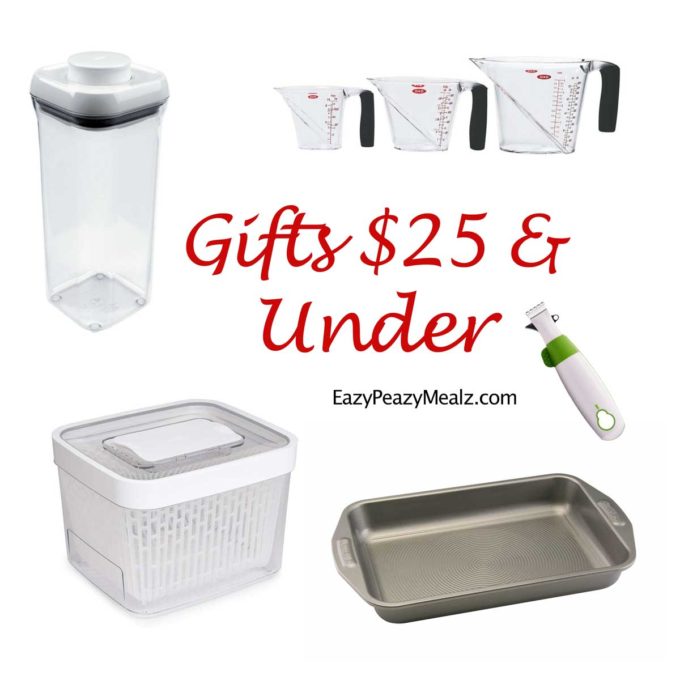 3 Piece Angled Measuring Cup Set: $19.99 for the set, or less if purchased individually
Ok, I know it seems silly to include measuring cups in this gift guide. However, I got a set of these at my wedding 12 years ago, and still use them EVERY DAY! They are the only measuring cups that have made the cut. They are OXO brand, and are angled, which allows for really accurate measuring from above while you are pouring. These cups come in 1-Cup, 2-Cup, and 4-Cup sizes, and have markings for the cups, ounces, and milliliters. Pretty much any recipe on my site that involves liquid measuring involves these cups.
Green Saver: $5.99-$24.99
This is another OXO product, and I can't help but share it because I personally love it so much. I first learned about these this year, and shared a post for them (Kumquat and Kale Power Salad). They are so cool if you love eating fresh produce. Basically, they help keep your produce good for longer. They offer an activated carbon filter that traps and absorbs ethylene gas, plus a removable basket that promotes proper airflow and vents for maintaining optimum humidity for different types of produce. You can get them in all different sizes. I got a large one for my Mom for her birthday this year because of how much I love it.
Crisp Cooking Zester: $12.99
I love all my Crisp Cooking tools. I was first introduced to them a little over a year ago, and now I find myself reaching for these cute, whimsical, and totally useful tools almost daily. The zester is my favorite. I use it every single week. I love it so much that I gave it to my children's teachers as Christmas gifts last year. You can find the post and recipe I used here, it is a great Wassil Punch.
Circulon 9×13 inch Rectangular Cake Pan*: $17.99 (*This is an affiliate link, if you purchase through this link it will not cost you anything more, but will provide me with a small commission.)
Do you have a baker in the family? This rectangular cake pan is my favorite because I am not the best baker in the world, so I love that it has uniform heating, and a quality nonstick surface. It has these raised circles that help with effortless cleanup. In other words, it always turns out right, and is easy to clean up.
POP Containers: Prices vary by size, 10-Piece Set $99.99
One thing I absolutely love is a clean and organized kitchen pantry. These Pop containers help to keep food fresh and your home organized. They are stackable, and come in many different heights and sizes, making them perfect for any kitchen. The lid offers an airtight seal, and the corners are great for pouring. Plus they are easy to clean. Basically, if you are looking for a gift for someone who likes things tidy and organized, this is the gift for them!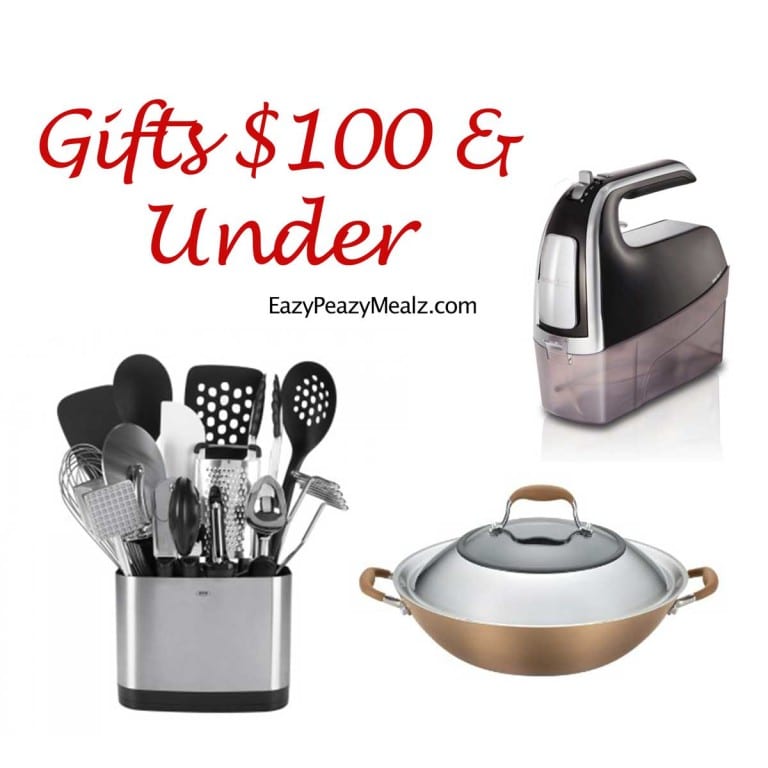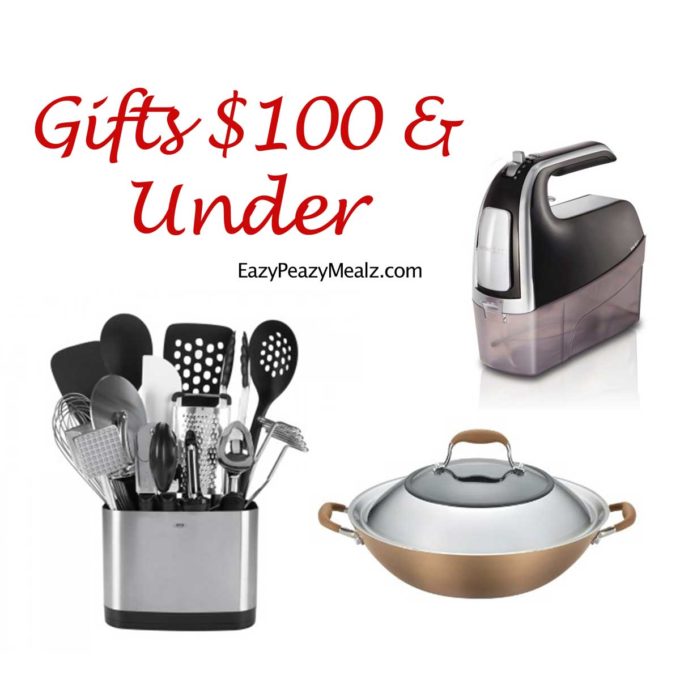 Hamilton Beach 6 Speed Hand Mixer with Pulse and Snap-on Case: $34.99
I actually just got this hand mixer, so I haven't used it long but I already love it. What do I love about it? Well, if you have ever used a hand mixer before you know one of the most annoying things in the world is not being able to find the attachment when you need it. This one has a snap on case that you store those attachments in, so you never have to hunt for them. It also has more attachments then the basic hand mixer. It has great power, offers options for better control and less mess, and comes in at an affordable price tag. I like it so much I will be giving one away to you guys, my readers, so watch for the giveaways! And consider making something like this Chocolate Covered Strawberry Poke Cake with it!
14-Inch Covered Wok Anolon: $79.99
You know how much I love Asian inspired cooking, and frequently share recipes for things you could cook in a wok! Things like sweet and sour chicken, or orange chicken. I LOVE my wok, and could not recommend it more highly. The wok's heavy-duty, hard-anodized construction provides even heat distribution for exceptional cooking performance. But what really makes it awesome is the lid. It helps bean sprouts, vegetables, and more cook and steam faster and more efficiently, by offering a glass piece at the center of the lid so you can see what is going on inside your pan without lifting it and letting heat escape. It is so cool. Again, I love it so much, I will be giving one to a lucky reader.
Everyday Kitchen Tool Kit: $99.99
This set is like my dream set. Basically it has everything you need for a kitchen, from tongs to peelers, mashers, scoopers, tenderizers, and more. And it is all housed in this pretty stainless steel holder. Basically it means your favorite cook could throw out all their mis-matched kitchen utensils and tools, and instead have this sleek, high end set! I told you, a dream.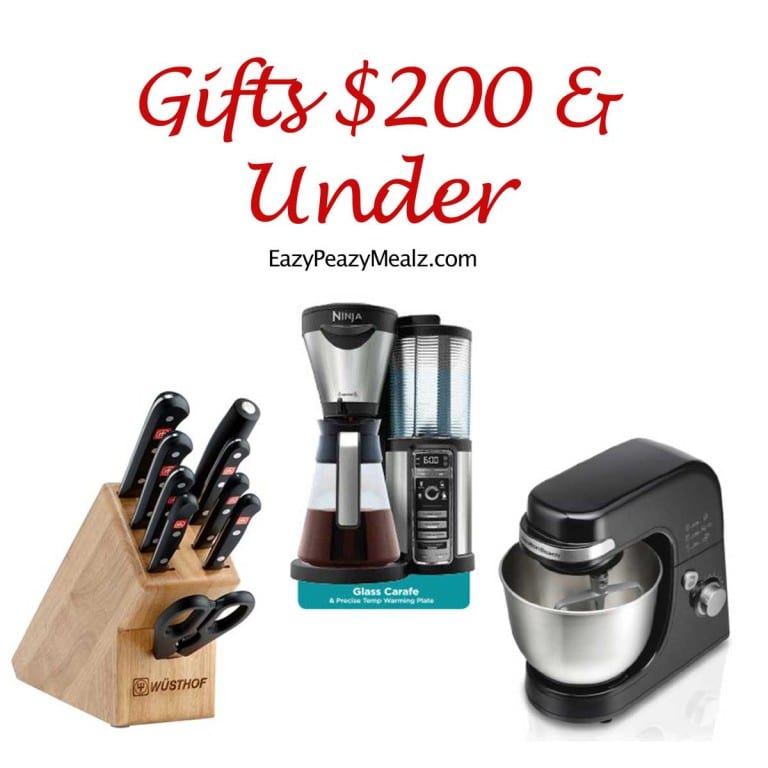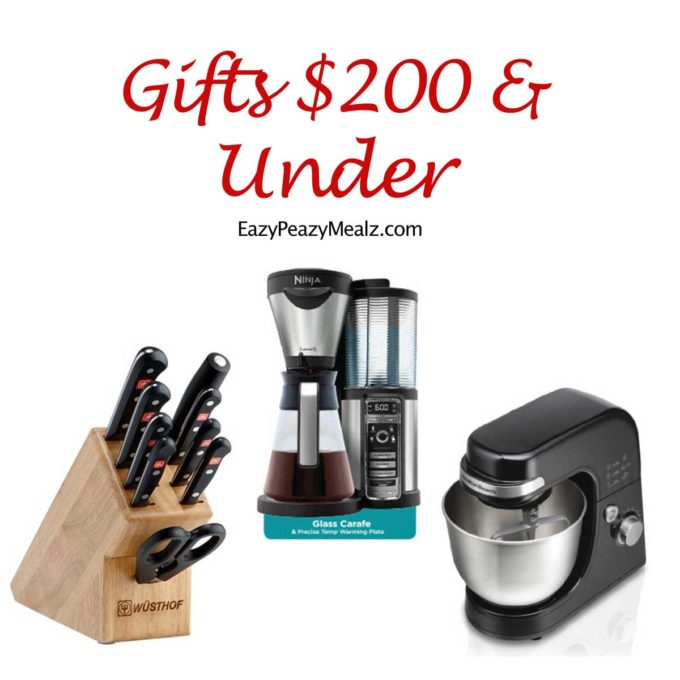 Hamilton Beach Stand Mixer: $109.99
Does your loved one want a new stand mixer? This mixer is a great, affordable, option. It offers the same mixing action as KitchenAid® stand mixers but at a way lower price. It has a powerful 300 Watt motor. Mixing action gives complete bowl coverage. It comes with all the attachments the home cook needs: dough hook, whisk and flat beater. Plus it has lots of other great features. I haven't had mine long, but I am thrilled to share this as a low cost stand mixer option, and will be giving one away to readers!
The Ninja Coffee Bar™ Brewer: $179.80
I saw this coffee brewer for the first time at a conference I went to. Every time I walked past their booth, I kept on going because it was always so crowded. I eventually found a time it wasn't as packed, and got to talk to the reps and find out what all the fuss was about. Basically this coffee machine uses the same Auto-IQ technology I told you guys about with this blender (Pumpkin cake roll) but for a coffee machine. You can use the settings to customize the richness, size, and style of coffee you want, right in your own home. You tell it if you want a cup, travel mug, half carafe, or full carage, whether you are brewing over ice, or concocting a specialty brew with a higher concentration of coffee. Like it's name, it is like having a coffee bar in your house. I personally don't drink coffee, but was very impressed with this awesome machine, and knew it would be great for my coffee-loving readers.
WÜSTHOF GOURMET 10-Piece Block Set: $199.99
If you don't know the difference good knives make in your ability to cook, and cook well, you should take note! Hacking and sawing at food takes the enjoyment out of the creation, so good knives are a must. I can't recommend WÜSTHOF highly enough. The Gourmet collection is a great affordable option for the everyday cook, and an excellent alternative to their more expensive forged collection. This comprehensive set includes: 2 1/4-inch Peeling Knife, 2 1/2-inch Paring Knife, 4 1/2-inch Utility Knife, 4 1/2-inch Serrated Utility Knife, 5-inch Spreader, 8-inch Bread Knife, 8-inch Cook's Knife, 9-inch Steel, Come-Apart Kitchen Shears, and 13-Slot Block.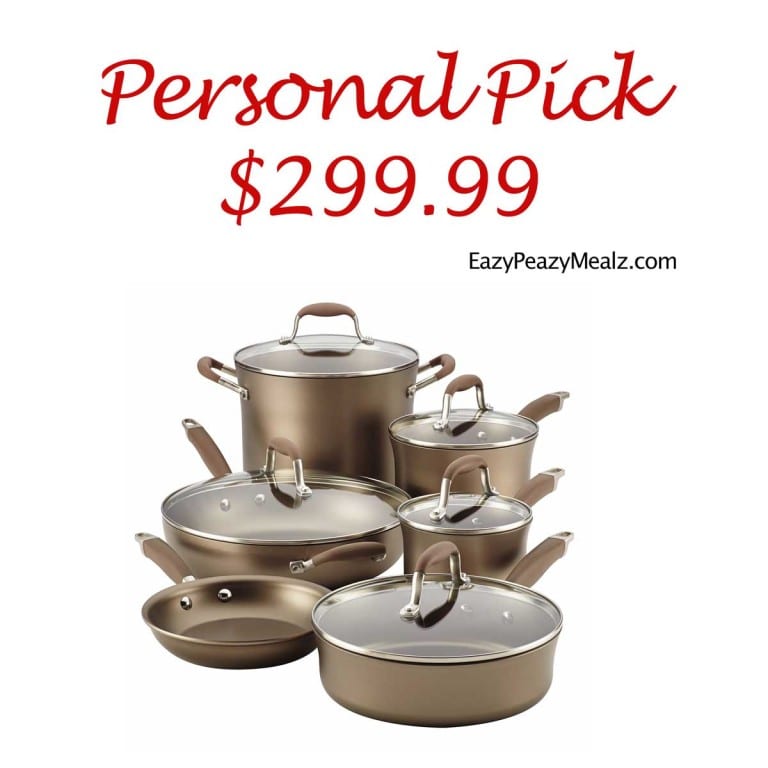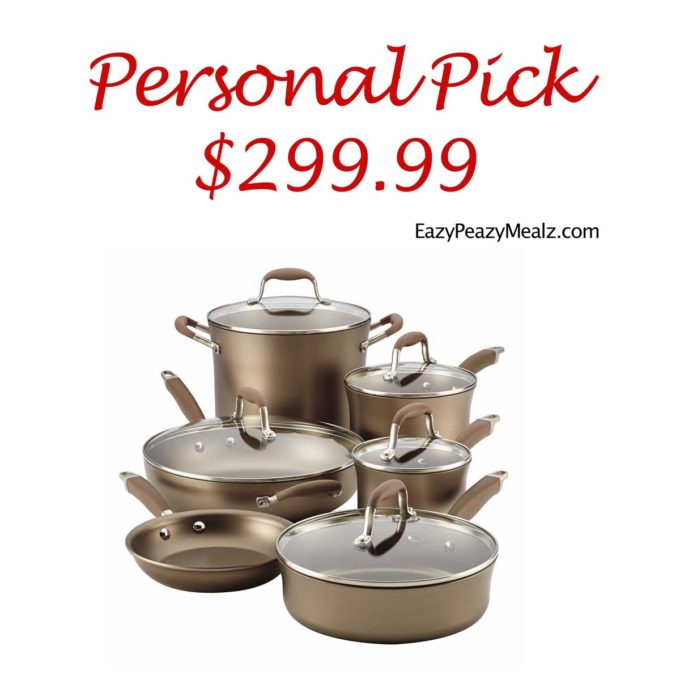 Anolon® Advanced Umber 12-Piece Set: $299.99
When we moved earlier this year I took stock of all my kitchen gear, and noticed that my pan collection was a big rag tag, at best. I threw out all the really cheap, crappy stuff, and went on the hunt for a great set of pans. I have a stainless set, and wanted something non-stick! I can't even tell you how thrilled I am with this gorgeous set from Anolon. It has an umber nonstick exterior, and is a heavy-guage, hard-anodized construction exterior. You get not only beautiful pans, but also even heat distribution and exceptional cooking performance. If you want to surprise your loved one with an absolutely awesome cooking inspired gift this year, this is my personal recommendation!
There you have it! My favorites, some of my top recommendations, and kitchen gifts sure to make the everyday cook happy!