Pad See Ew
Pad See Ew is a classic Thai take out food, it is street food, saucy noodles, crisp tender veggies, and so much flavor. It is right up there with Pad Thai, Drunken Noodles, etc.
This is a fun twist on the classic Pad See Ew, or Thai stir fry noodles. Instead of chinese broccoli and eggs I use whatever veggies I have on hand, and whatever protein. It is totally delicious, easy to customize, and full of flavor. Even though it is not totally traditional, you still get all that delicious dark soy sauciness, and the classic comfort you crave with these caramelized, delicious noodles. Plus lots of added vegetables.
And as an added bonus, we are talking all things soy, sustainability, and even (gasp) GMO's, as I just got back from the Best Food Facts 2022 Taste Tour, and have tons to share.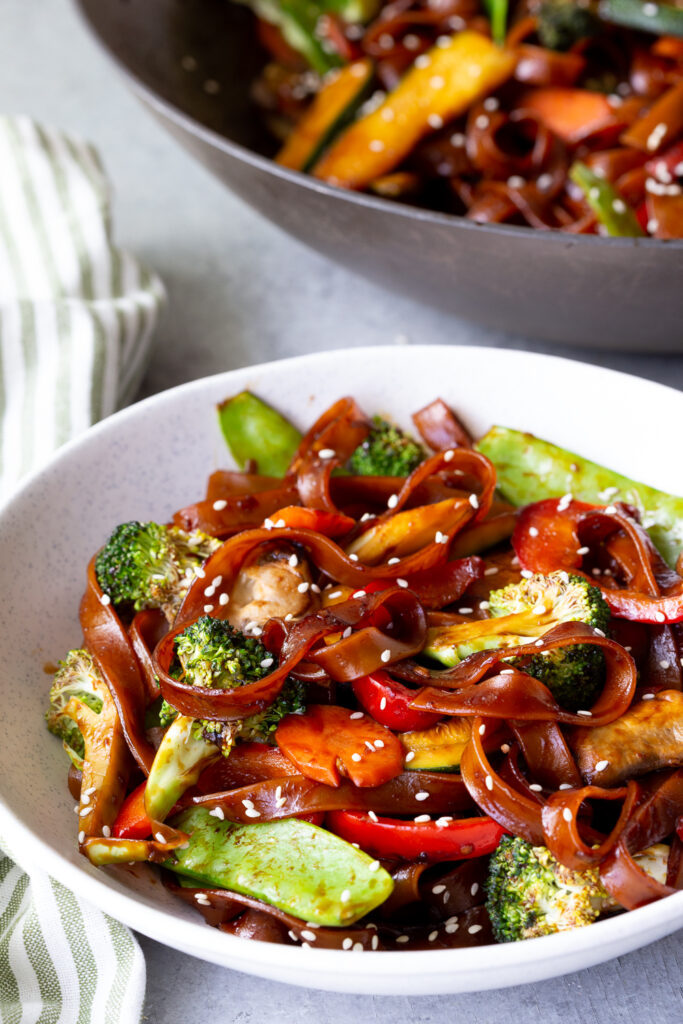 Soy and Sustainability
As mentioned, I recently had the opportunity to attend the Best Food Facts 2022 Taste Tour, and immerse myself in all things soy. I got to get in the dirt with the soy plants, talk to farmers, nutritionists, and more to learn about soy production, and my role as a consumer.
And I love soy! I love the flavor, the protein, the nutrition. And I love learning about what is true, and what is misconstrued about soy. I learned a ton on my trip, and can't wait to share some of it with you.
This recipe was inspired by that trip, as it is one of my favorite soy based recipes. Pad See Ew is traditionally a Thai stir fry noodle that is made with a dark soy sauce, and a little sugar. However, trust me when I say, a sauce with a few more ingredients takes this delicious dish up a notch!
I LOVE Pad See Ew, and have been playing with it for months trying to come up with the perfect sauce, sauciness, and combo of ingredients to give me a Thai stir fry noodle I can whip up in minutes and really love. I think you will love it too.
In the process of developing this recipe, I focused a lot on sustainability, as that is something the Best Food Facts 2022 Taste Tour really highlighted. Let's talk about that…
What does sustainability really mean? 
The Best Food Facts 2022 Taste Tour focused primarily on sustainability, and what that really means, especially when it comes to soy beans and you/me as the consumer. 
For each person involved in the production of soy, it can mean something different. 
For the farmers sustainability is simply a way of life, it means sustaining the soil so it will continue to perform for years to come. It means sustaining profits so they can continue to farm. It means creating products that can sustain their livestock. 
This involves a number of practices, from cover crops (crops planted in the fields between rotations of their row crops, such as radishes, rye, etc. These cover crops help the soil retain nutrients, often result in added plant matter aka nutrients, and decrease weeds). It might mean waterways, or no-till, light till practices. 
One of the things I learned is that profits are important, but the methods used to achieve high yield crops that are marketable vary significantly based on a number of factors. 
For example, the topography of the farmer's land may determine which practices they put in place such as till or no-till, cover crops, or not utilizing cover crops. 
While sustainability matters to each farmer, the practices of sustainability differ significantly, and individually. 
So how does sustainability impact YOU as the consumer? 
The sustainability practices used by farmers, processors, etc. are greatly impacted by market conditions and what we, the consumers, are willing to pay for? 
What will the market bear? If we want farmers to hand weed, for example, rather than using an herbicide, are we actually willing to pay the necessary higher prices that would entail in order for the farmer to employ enough people to use this method? 
And what role can we play beyond that?
That is where this recipe comes in. For me, the simplest answer is to reduce waste. While the average consumer does not get any direct say in the practices the farmers and processors in sustainability, we do have a lot of say in our own use of these products. 
Learning to plan, and not waste food products, is a simple way to contribute to sustainability in individual homes. 
This recipe is perfect for that because it is a base recipe that is super easy to customize, produces awesome results, and tastes great. The noodles and sauce are a must, but then you can play with the rest. You can add those odds and ends veggies in your crisper, and not waste them. You can use whatever protein you have on hand: eggs, chicken, shrimp, tofu, or none at all.
I almost always have what I need for this sauce on hand, and the rest is easy to customize based on what I've got.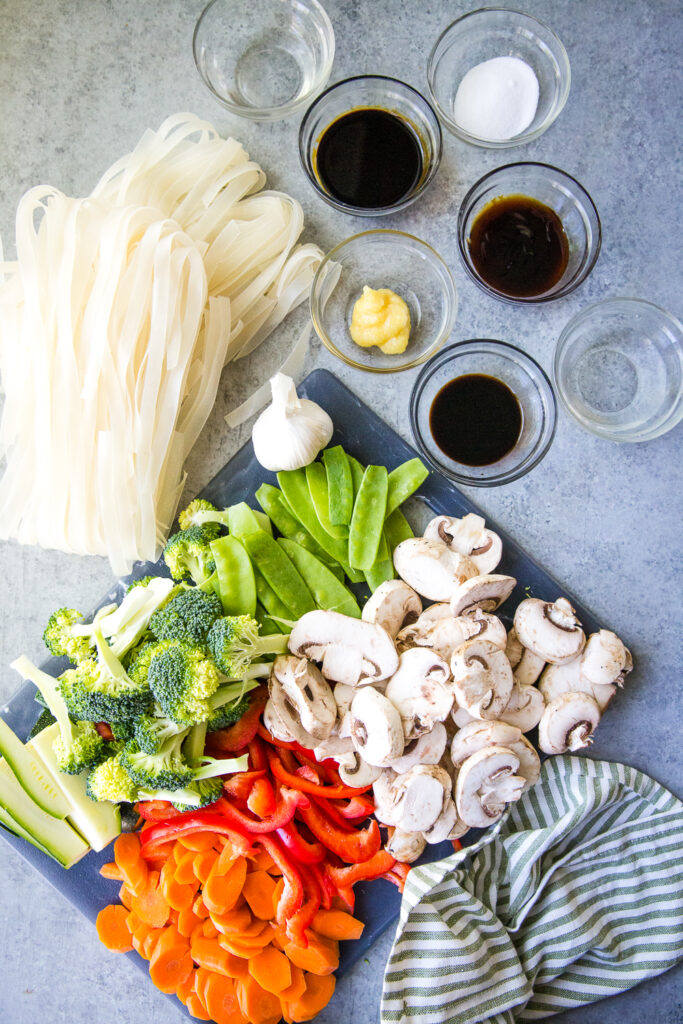 What You Need to Make Pad See Ew
While the veggies in the photo are bright and beautiful, they are easy to customize and change up based on what you've got on hand. The real trick to making pad see ew is the sauce, and the method for caramelizing the noodles so you get the most delicious flavor. Here's what you need:
Dark soy sauce – This is going to add tons of flavor. If you can't find dark soy, order it on Amazon, or substitute regular soy sauce and a little extra oyster or hoison sauce.
Ordinary or light soy sauce – This is going to add a little extra salty flavor, and help with beautiful color.
Oyster sauce – You do not want to skip this one, it adds tons of flavor, in a pinch you can use Hoison.
Vinegar – I love a little splash of vinegar because it helps cut through some of the sweetness from the oyster sauce and the sugar, and adds balance. Don't skip this ingredient.
Ginger – Oh the depth of flavor this adds. I like to add it to the sauce because I use a packaged ginger paste, as I find it easier than grating or mincing ginger root. But you can add it to the stir fry instead if you want.
Sugar – For sweetness, trust me, you want it and it isn't much.
Pad See Ew Noodles – Pad See Ew is traditionally made with Sen Yai, wide, thin fresh rice noodles. You aren't going to find those easily in the States, so let's just get what you can. At my Asian grocery store I can find Pad See Ew noodles, which are wide rice noodles. And at a regular grocery store, you can usually find a wide, flat, rice noodle, often called rice noodle linguine or rice noodle fettuccine. Use those. The ones labeled for pad thai work great too. Dry, rice noodles, that you boil are what you are after. Get the widest, flattest ones you can find.
Veggies– This is where things can be fun, you can use traditional chinese broccoli and some garlic and call it a day, OR you can load it up with all the veggies, which is my personal preference. I use carrots, mushrooms, red bell peppers, broccoli, garlic, and snow peas. But use what you like and what you have.
GMO's in Soy
One of the questions I get asked a lot when I have talked about my love of soy products in that of GMOs.
What is the deal with GMO's??
I was woefully under educated in this area, but luckily for me, another important topic of discussion during the Best Foods Facts 2022 Taste Tour was that of Genetic modifications when it comes to food, and their role in sustainability. We even visited the World Food Prize Hall of Laureates to learn about how modifications and food science has helped with world hunger, and starving populations. It was fascinating.
GMO's are a critical part of the sustainability picture. It allows farmers to grow crops in less than ideal conditions. For example, drought resistant plants, herbicide resistant plants, and plants with better nutrition markers. 
It is fascinating to me, as a consumer, the misinformation about GMO's, and how time and cross pollination result in modifications to seed anyway, and using a lab to create these modifications faster, and in more specific ways can be extremely beneficial to both price and availability of plants. 
It allows farmers to use more economic and efficient methods for weed control. It also means being able to increase nutrition, such as adding vitamin A to rice.
There are no significant nutritional differences in GMO versus Non-GMO plants. And the costs are often significantly lower, and the yields higher.
Visit BestFoodFacts.org to learn more from experts who know far more about this than I do!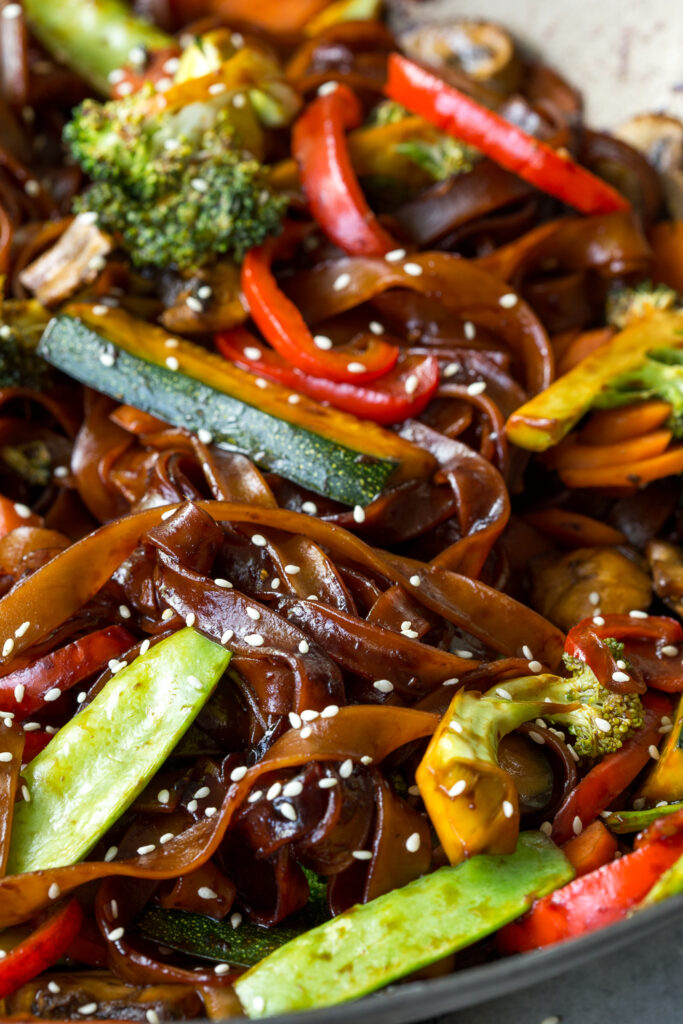 How to Make Pad See Ew
Pad See Ew is essentially a stir fry, which means you are going to cook in a wok, with high heat, in stages, and it moves quickly. I have toyed with this recipe over and over to get it perfect so you get saucy noodles with caramelization, crisp tender veggies, and the best flavors. What I have found is you want to:
Cook protein and vegetables first, then remove
Then combine half the sauce, and add noodles and toss to caramelize (for just 15-30 seconds)
Add the rest of the sauce, vegetables and protein back in.
When you order this from a restaurant, the stir fry is cooked at really high heat on big gas stoves, most home cooks can't achieve the same, so instead of trying to, we are going to get that amazing flavor in Pad See Ew noodles by cooking them separately. The good news is it takes only seconds.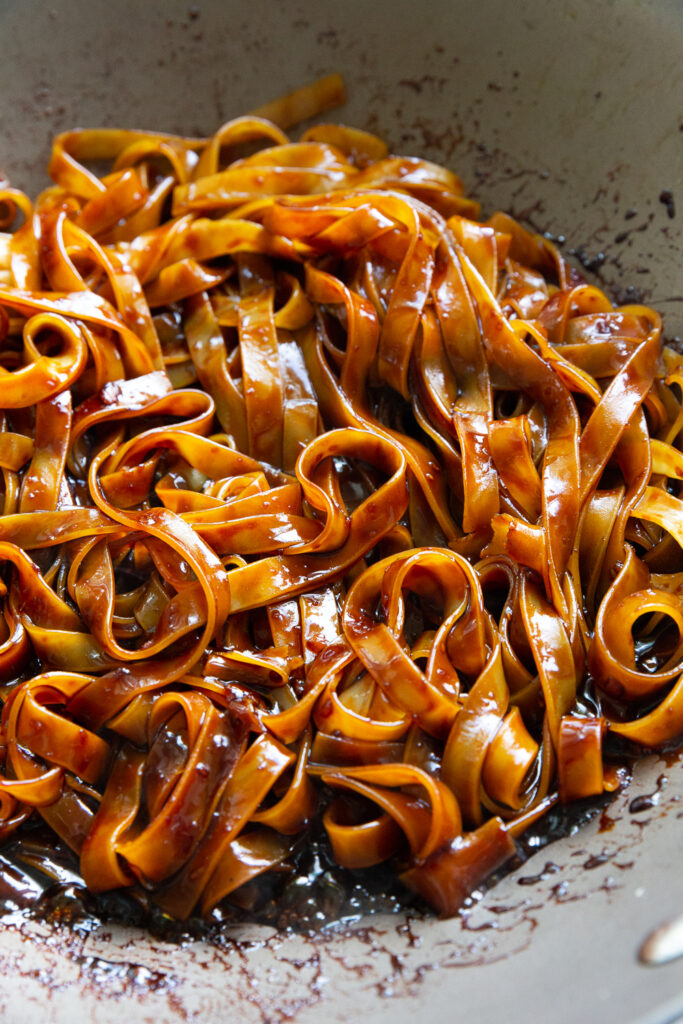 Step One: Prep Everything and Have it Ready to Go.
Stir fry moves fast, and you do not want to mess it up, burn something, or overcook because you weren't prepared. So the first step for this recipe is the mis en plus. Which basically means, cut up your veggies, prep your sauce ingredients, and have your noodles ready. That way when you start cooking, you have everything on hand and ready to go.
Step Two: Cook Rice Noodles
The rice noodles should be cooked in boiling water separate from the stir fry, then you toss them with the sauce and caramelize them, not cook them. So, you want this to be done because once you start the stir fry part it takes only minutes.
I use thick rice noodles made specifically for Pad See Ew. And I get them at the Asian Market. I know, here at Eazy Peazy Mealz we try to only use ingredients you can get at a normal grocery store, but for this I make them exception because it is my favorite food. However, the wide rice noodles, like fettuccini rice noodles you can get at almost any grocer in the Asian section are a great substitute.
Just cook them al dente according to the package directions. This usually means cooking 3-5 minutes in boiling water, then draining.
Step Three: Stir Fry Veggies and Protein
Making a great Pad See Ew at home requires you to do things in stages, which can be annoying to take stuff out of the pan, but it is so worth it. Start with stir frying the veggies and protein. How long you cook for depends on the protein you choose to use.
For this recipe I am going without an added protein, because my daughter is vegetarian. But it is so easy to add in some chicken or some shrimp or tofu to make it feel more satiating for your family.
So if you are adding protein, cook it first until it is mostly done, then add your veggies and stir fry for 3-5 minutes (depending on the veggies you use), then remove them from the pan. If using broccoli and snow peas, do not add them in until the last minute, or until after the noodles are added, as they require very little time to cook.
Step Four: Make the Sauce and Caramelize Noodles
The best pad see ew is loaded with flavor from the sauce. And the right sauce is not as basic as soy sauce and sugar, with a few extra ingredients like oyster sauce and vinegar take it up a huge notch! I can't wait for you to try it.
For this step you simply mix the sauce together, then take half of it and use it to coat and caramelize the noodles. That little caramelization is what makes this dish sooooooo good. Like takes it to wow level. So after you remove the veggies and protein, add the sauce, and then the cooked noodles, keep the heat up high, and toss the noodles to coat, then let sit for 15-30 seconds to let the sauce caramelize on the noodles.
Step Five: Combine it All, Garnish, and Serve
Once your noodles start to caramelize, add the veggies and protein back into the wok, along with the remaining sauce, toss to combine, turn the heat off and put the lid on for about 2 minutes to allow the broccoli and snow peas to steam. Then garnish with sesame seeds, and green onion (optional), and serve.
Serve With
This recipe is great on its own and is a complete meal. But it is also really yummy served with the following:
Tips and Tricks
Making this recipe is Eazy Peazy. But here are a few tips to ensure perfect results every time:
Have Everything Ready When You Start Cooking: As with all stir fries, once you start cooking, it moves very fast! So have everything prepared and ready to throw into the wok because there's not time to be scrambling around the kitchen!
Mix Your Sauce Ahead of Time: I love having the sauce all mixed up ahead of time so it goes faster and is easier. You can even make it days in advance and keep it in the fridge.
Remove Veggies and Protein Before Caramelizing Noodles: The noodles will caramelize better if there are fewer items in the pan, so simply put all the veggies on a plate and caramelize the noodles separately before adding the veggies back in to get better results.
Cook on a High Heat: This is Thai street food, and should be cooked in a wok on high heats. If you do not have a wok, use a large skillet so you can give everything plenty of room.
Serve Immediately: This is best served fresh and hot. The longer things sit the less saucy it will be, the mushier the veggies, and the tougher the noodles.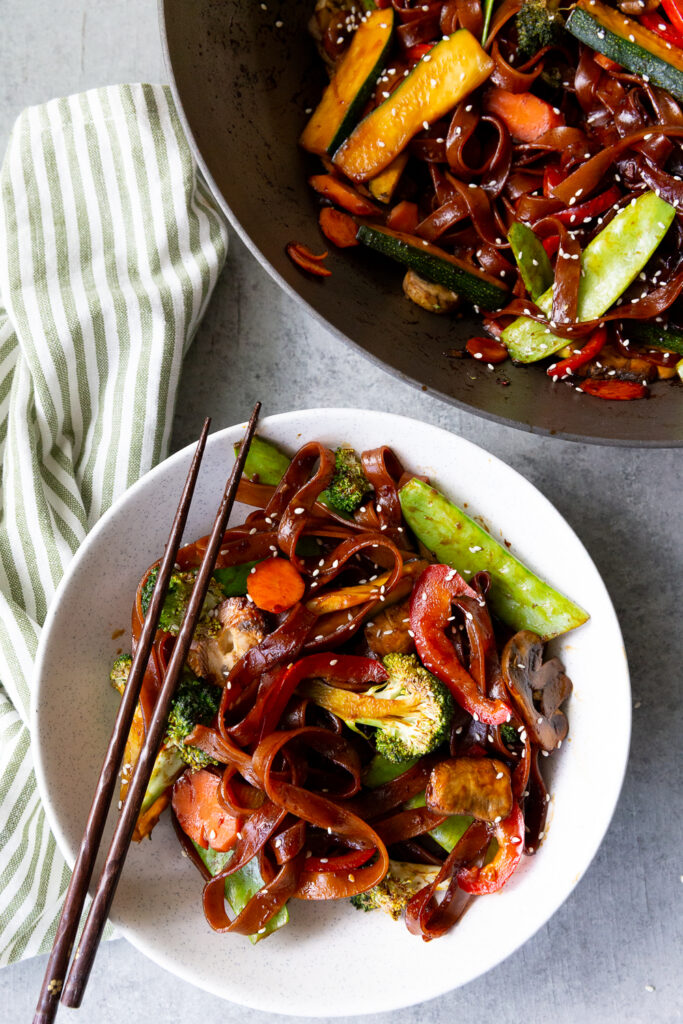 Make Ahead and Storage
This recipe is best served fresh. While it can be reheated with a little extra water to make it saucier, it is such a quick and easy recipe, there is no reason to make it ahead.
To speed things up you can make the sauce ahead and store in the fridge for a week or two in an airtight container. And feel free to pre-cut the vegetables. But otherwise, it whips up in under 15 minutes, so time isn't an issue here.
To store: Place in an airtight container, and reheat in a wok by adding water to help rehydrate everything and make it saucy again.
Other Great Recipes:
WANT MORE EZPZ? Subscribe to my newsletter and follow along on Facebook, Pinterest and Instagram for all of the latest updates.
Sponsored by Best Food Facts and United Soybean Board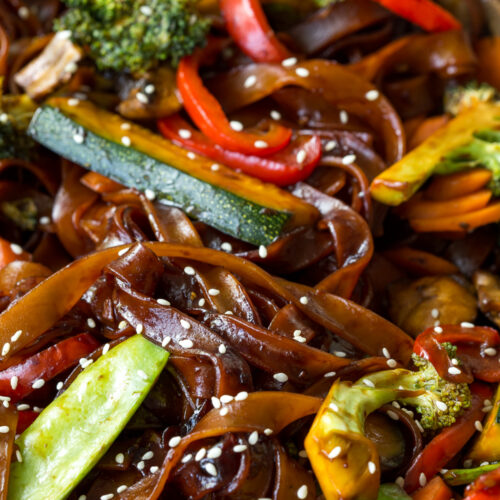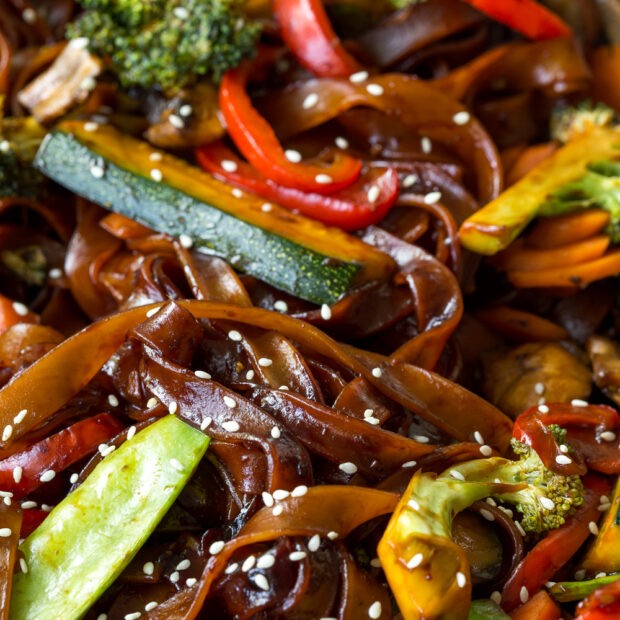 Pad See Ew
A thai stir fry with wide rice noodles, a delicious dark soy sauce, a ton of vegetables, and the protein of your choice. The perfect meal for using up odds and ends veggies, and absolutely delicious.
Print
Pin
Rate
Ingredients
Noodles
14

oz

dried wide rice noodles

pad see ew noodles or pad thai noodles

1/4

cup

tbsp dark soy sauce

1/4

cup

tbsp oyster sauce

1

Tablespoon

soy sauce

1

Tablespoon

white vinegar

1

Tablespoon

white granulated sugar

1 1/2

Tablespoons

ginger paste or grated fresh ginger root

1/4

cup

water
Stir fry
2

tbsp

vegetable oil

3

cloves

garlic

minced

2

cups

protein of choice

chicken, prawns/shrimp, or tofu

3-5

cups

vegetables

carrots, zucchini red bell pepper, mushrooms, broccoli, snow peas
Instructions
Chop vegetables, and set aside, keeping broccoli and snow peas separate.

Noodles – Cook or boil according to package directions and drain, set aside. Try to cook after you have everything else ready, or time accordingly so they do not have to sit long.

Mix sauce ingredients together in a bowl or large measuring cup, and set aside.

Heat 1 Tablespoon of oil in a wok over high heat, or a large skillet.

Cook garlic and protein until protein is done, by first sauteeing garlic for 15-20 seconds, then add in chicken/shrimp, etc, and cook until mostly cooked through.

Remove from pan to a plate, and set aside.

Next, to same wok or skillet add an additional tablespoon of oil, then add carrots, mushrooms, and zucchini and stir fry for 2-3 minutes, add in bell peppers, and stir fry another 2 minutes. Then remove from pan.

Scrape wok clean, and pour in half the sauce, and return to high heat. Add in cooked noodles, and toss it all together. Cook noodles about 2 minutes until starting to caramelize.

After noodles start to caramelize, add vegetables and protein back in with remaining half of the sauce, as well as the broccoli and snow peas, toss to coat. Put lid on and cook 1 -2 minutes until broccoli is crisp tender.

Remove lid, add up to 1/2 a cup of water to achieve desired sauciness.

Garnish with sesame seeds and green onion if desired, and serve hot!
Notes
1. Noodles – Pad See Ew made with wide, flat rice noodles. You can use pad thai noodles from a regular grocery store, or look for pad see ew specific noodles at an Asian market.
2. Dark soy sauce can be difficult to find, so order online or get at an asian market. It has a stronger flavor than regular or light soy sauce, and makes a lot of the flavor in the sauce. So if subbing for regular soy sauce, add extra oyster sauce to help the flavor be stronger.
3. Protein – You can substitute any kind of protein you want, simply adjust the cooking time. Chicken takes longer to cook than prawns, and you do not want to overcook. So plan accordingly, or leave out.
4. To make a smaller portion simply cut recipe in half, this recipe serves 6.
Our recipe card software calculates these nutrition facts based on averages for the above ingredients, different brands, and quality of produce/meats may have different nutritional information, always calculate your own based on the specific products you use in order to achieve accurate macros for this recipe.
Want to use this recipe in a meal plan?
Try PrePear, my FREE Meal Planning App that allows you to save your recipes, plan meals, shop for groceries, and cook simply in one place. Join Here!
Pin to your Dinner board on Pinterest: