Peanut Butter Frosting
Rich, creamy, and extremely easy to make Peanut Butter frosting is the perfect consistency with a fabulous peanut butter taste.
This is the kind of frosting you will have trouble not eating with a spoon, and it is amazing on Chocolate Cupcakes as well as Buttermilk Pancakes! You can't go wrong eating this tasty frosting.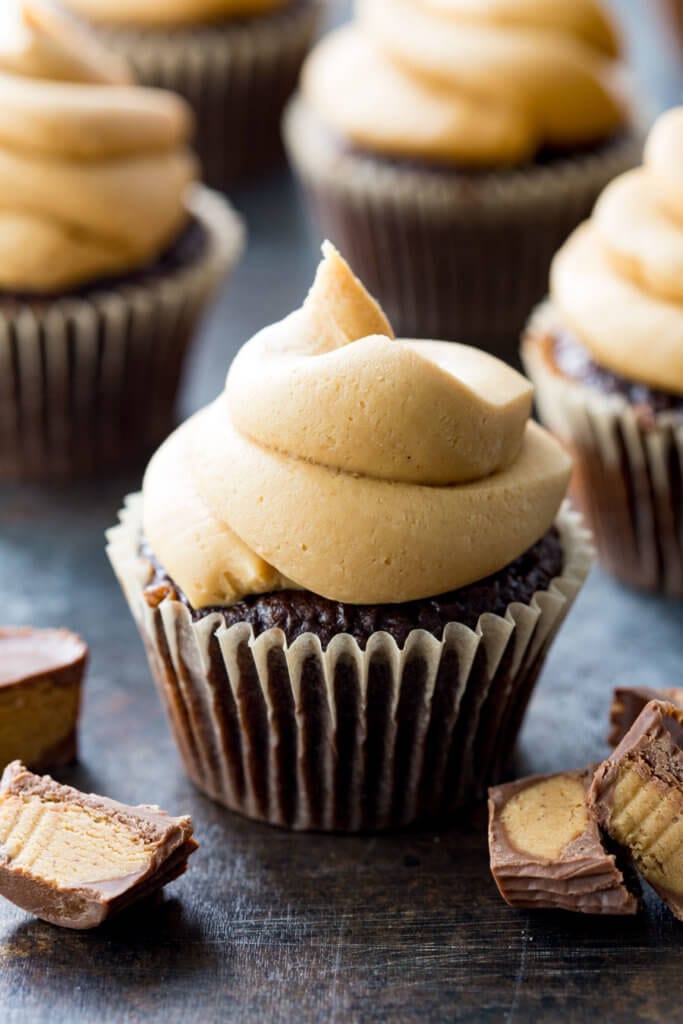 For the Peanut Butter Lovers
If you love peanut butter even half as much as I do, then you will definitely want to make this Peanut Butter frosting recipe.
I have this awesome friend who owns a cupcake shop, and she has these peanut butter cup cupcakes that are seriously good. I LOVE them. The frosting tastes like a light whipped peanut butter.
Anyway, I kept trying to make my own peanut butter frosting, and I had a really hard time getting the right balance so that it tasted like peanut butter, but had the powdered sugar and other ingredients in it to help keep it fluffier and lighter than just scooping on a big old dollop of peanut butter.
After a lot of trial and error, and a lot of empty jars of peanut butter, which I totally used my fingers to clean out so I did not waste any of that tasty goodness, I finally found the combination that made me happy for my Peanut Butter Icing. I get the frosting consistency with the peanut butter taste.
What is the Difference between Peanut Butter Frosting and Peanut Butter Icing?
Icing and frosting are similar in that they are both sweet toppings used to decorate cakes, cookies, and other baked goods. However, there are some key differences between the two. Icing is a thin, sweet glaze that is typically made from powdered sugar, water, and flavorings such as vanilla or almond extract. It is often used to create a smooth, glossy finish on cakes and cookies, and can be used to write or pipe decorative designs. Frosting, on the other hand, is thicker and more spreadable than icing. It is typically made from butter, sugar, and milk or cream, and is used to coat the top and sides of cakes and cupcakes. Frosting is often used to create textured or decorative effects, such as swirls, peaks, or flowers.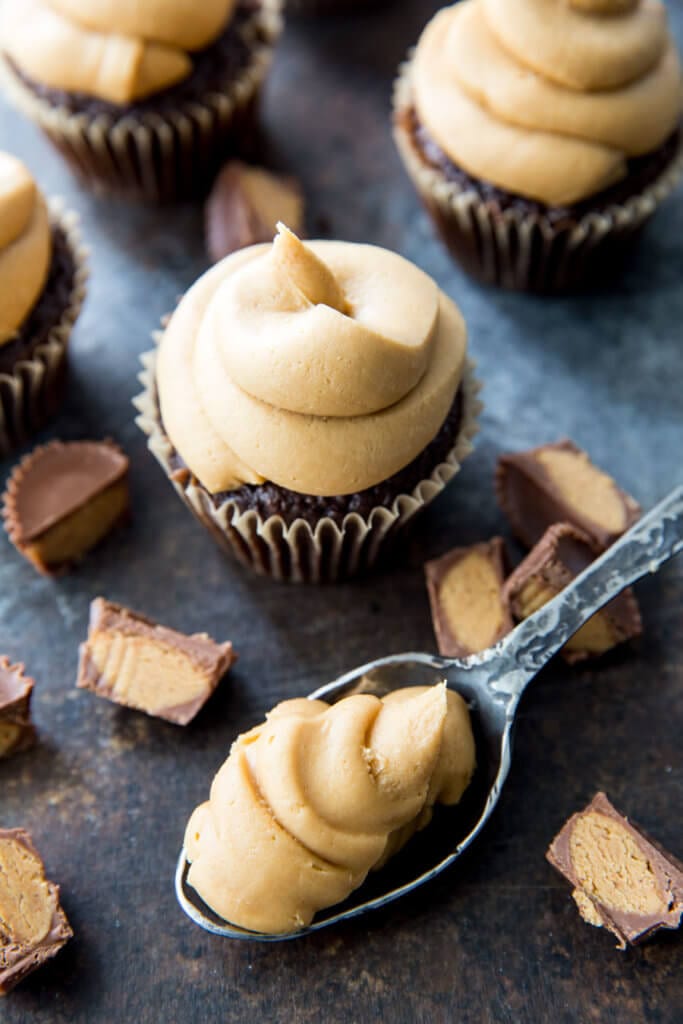 Tips for Great Peanut Butter Frosting
Here are a few tips for making a delicious peanut butter frosting:
Use creamy peanut butter rather than chunky peanut butter for a smoother texture.
Beat the peanut butter and butter together until they are well combined and smooth. This will help to incorporate air into the frosting, making it light and fluffy.
Gradually add powdered sugar to the peanut butter mixture, beating well after each addition. This will help to create a thick, spreadable frosting.
If the frosting is too thick, add a little milk or cream to thin it out. If it's too thin, add more powdered sugar to thicken it.
Finally, add a pinch of salt to balance out the sweetness of the frosting. This will make it taste even more delicious!
How to use Peanut Butter Frosting
Peanut butter frosting is a type of frosting that is made from peanut butter, sugar, and other ingredients such as butter, cream, or vanilla extract. It is commonly used to frost cakes, cupcakes, and other baked goods. It is also often used as a filling for cookies, sandwiches, and pastries. Peanut butter frosting has a rich, nutty flavor that pairs well with chocolate and other sweet flavors. It is a popular choice for making peanut butter and chocolate desserts, such as peanut butter cupcakes or chocolate peanut butter pie.
Here are some ideas for using peanut butter frosting in your baking and desserts:
Frosting cakes and cupcakes
Filling cookies, sandwiches, and pastries
Swirling into ice cream or frozen yogurt
Dipping fruit or pretzels into the frosting
Mixing into smoothies or milkshakes
Using as a topping for oatmeal or yogurt
Adding to coffee or hot chocolate
Using as a filling for chocolate truffles or other candies
Using as a topping for cheesecake or other creamy desserts
Peanut butter frosting is a versatile and delicious ingredient that can be used in many different ways. I suggest using it as a filling for chocolate cake or cupcakes.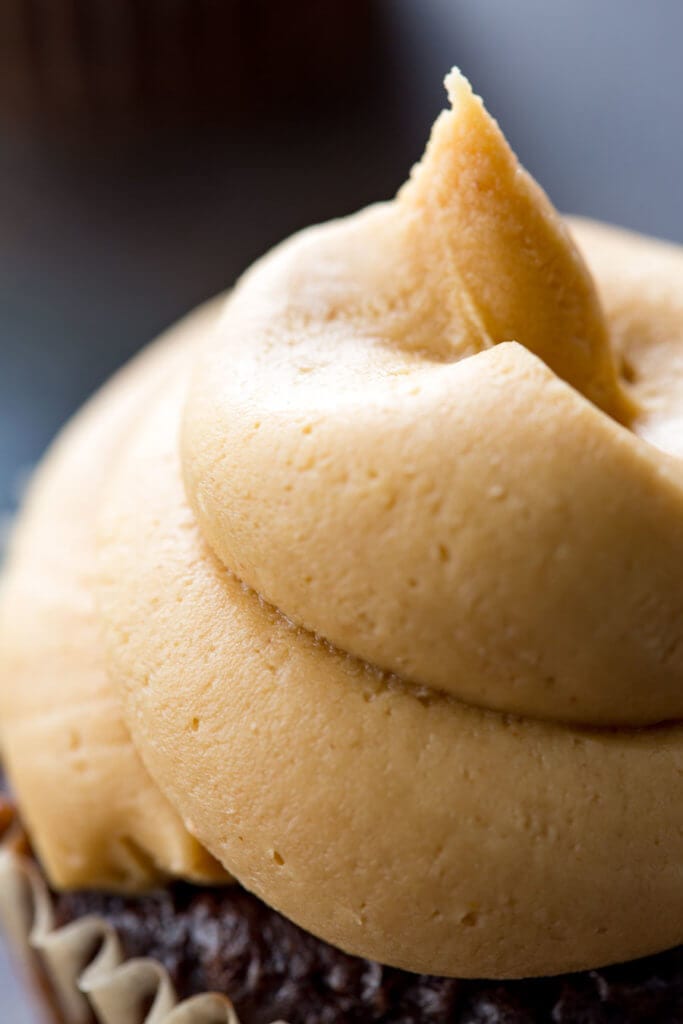 These pictures are not doing it justice, so whip up a batch for yourself Peanut Butter Icing, and be sure to try it! SOOOOOO good.  You can eat it with a spoon if you want, I won't judge. But I love it on chocolate cupcakes, or even peanut butter banana bread.
Other peanut butter recipes you may enjoy: