Fun swirls of color make these Tie Dye Sugar Cookies a festive twist on a classic cookie recipe, and a great way to spend an afternoon baking with kids.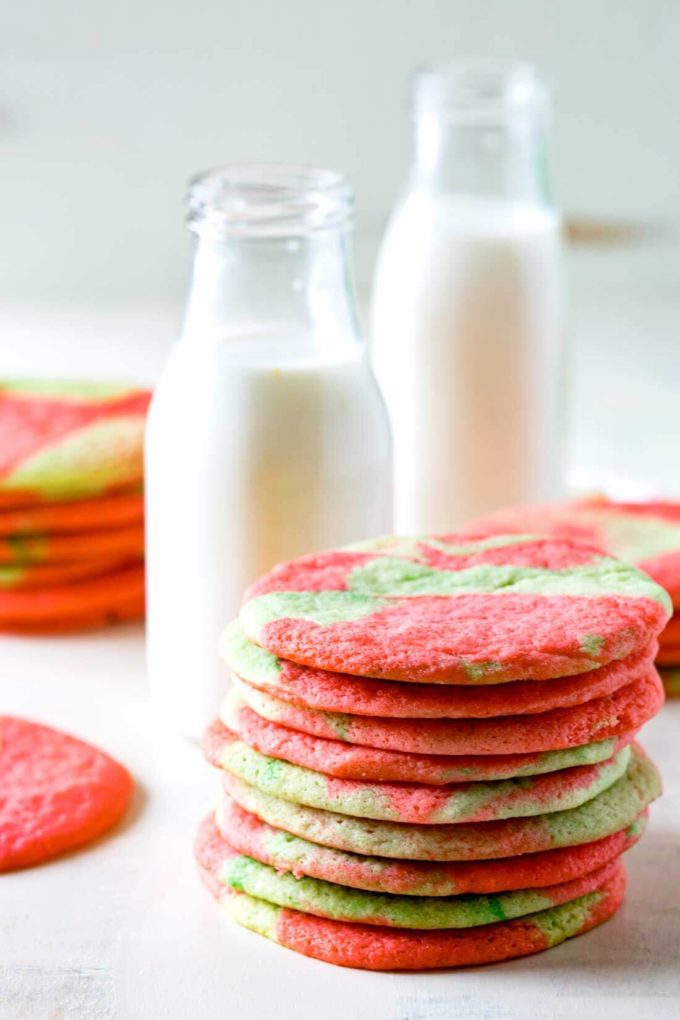 You guys, today's "Christmas Cookie" recipe is a little different from what you would normally expect.
Who else is sick of the same old, same old when it comes to Christmas Cookies? Okay, truthfully, I am not. I love chocolate, peppermint, gingerbread, sprinkles, and the whole jam filled thumbprint thing! But I also love the idea of changing things up with Christmas baking and doing something fun! Or at least different.
My friend Michelle, who made the Easy Dinner Rolls I shared at Thanksgiving told me about the idea for these cookies. She said her kids love making them, and her daughter, who happens to be my daughter's age, really got a kick out of them. I loved the idea, and wanted to try something fun with my daughter. See, she is getting older, and doesn't like hugs anymore (insert sobbing mom here), but she does love to cook with me in the kitchen, so I wanted a cookie recipe we could make together.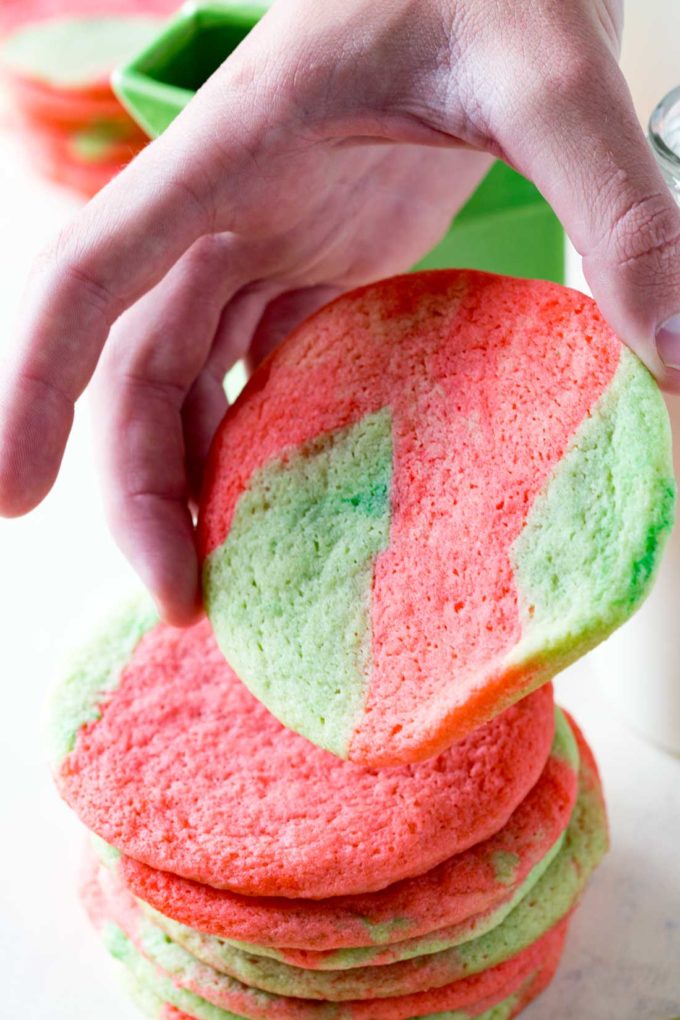 What could be more fun than Tie Dye?
Tie Dye may not seem very Christmas themed, but trust me, it can be, and it can also be a blast. Not to mention, these cookies can be made, and enjoyed all year round. No need to wait for Christmas. At Christmas, throw in some great red and green colors to make them Christmas-y, and a whole lot of fun for the little ones. And the rest of the year, choose different colors!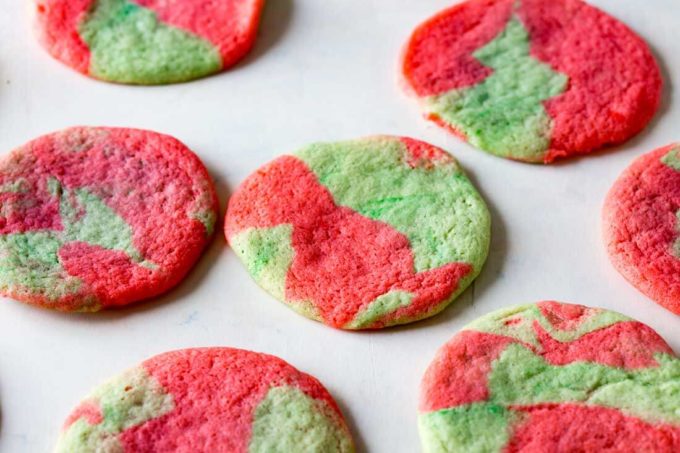 The fun thing about these cookies is that you are basically making one dough, dying it a couple colors, then rolling it together. It is like playing with playdough, only instead of a ticked off mom when the colors get mixed and are impossible to separate again, you get a tasty, fun, and really cool looking treat.
My kids go crazy for this kind of stuff, and since the holidays for me are about spending time with my little ones, and making family memories, these cookies are absolutely perfect. They may not be traditional Christmas cookies, but once you make them, they will become a tradition for you!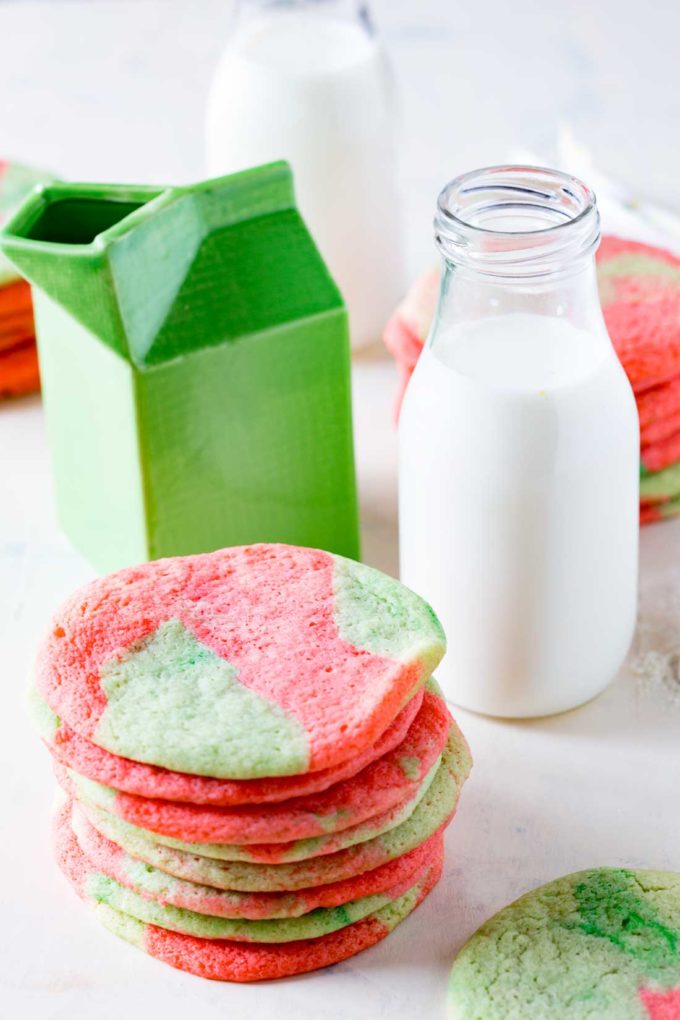 Ingredients
1 1/4 cup sugar
One stick (1C.) butter flavored Crisco shortening
2 eggs
1/4 cup light corn syrup
1 tablespoon vanilla
3 cups flour
3/4 teaspoon baking powder
1/2 teaspoon baking soda
1/2 teaspoon salt
Instructions
Combine sugar and butter flavored Crisco in a large bowl beat at medium speed until well blended. Add eggs, corn syrup and vanilla and blend until fluffy. Combine flour, baking powder, baking soda, and salt. Add gradually to creamed mixture at low speed. Mix until well blended. Divide dough in half. Mix in food coloring. To get a good red you'll need to use a powdered dye or an oil based one. Break each color into small pieces and make a checker board pattern alternating colors. Squish together and roll flat with a rolling pin. Cut with a cookie cutter or a cup. Bake at 375° for 5 to 9 minutes depending on the size of your cookies.
7.6.4
881
https://www.eazypeazymealz.com/tie-dye-sugar-cookies/
Pin to your COOKIE board on Pinterest: