This post is sponsored by the California Avocado Commission, all opinions are my own.
Breakfast Stuffed Avocados: A tasty breakfast or brunch option, filled with flavor and protein. California avocados filled with scrambled eggs, bacon, and potatoes are a yummy way to pack in nourishment, a helping of healthiness, and a meal that will leave you full for hours to come. After tasting the Breakfast Stuffed Avocados, you will never want put eggs without avocado on a plate again.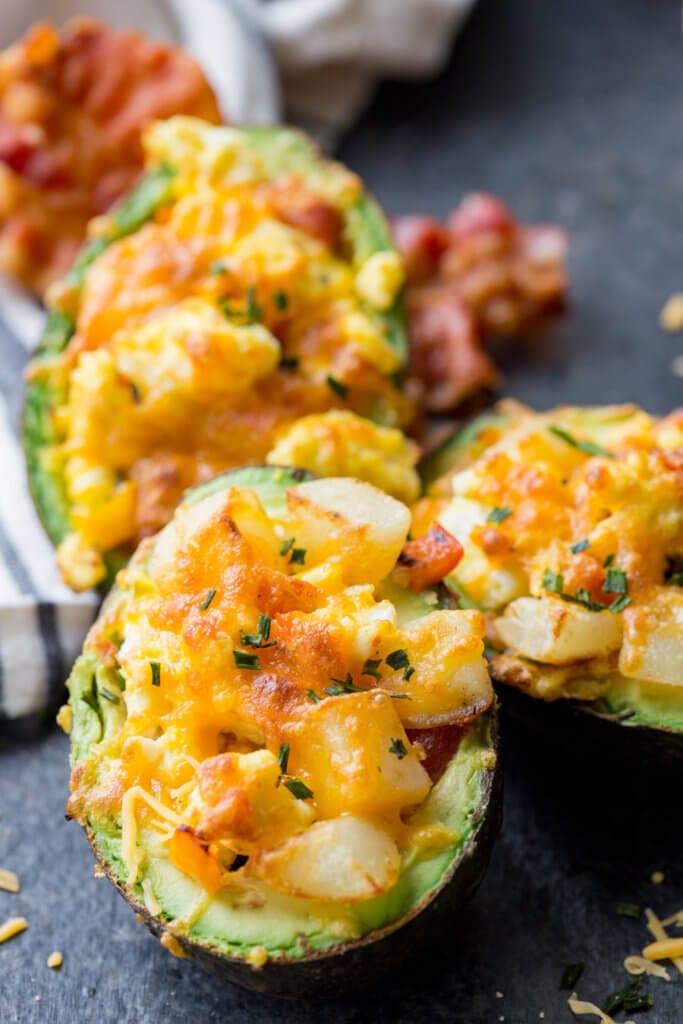 California Avocados, Not Just for Guacamole
Avocados are all the craze right now and why wouldn't they be? Avocados can do even more than just make delicious guacamole. For example, California avocados can be used in salads, used as healthy fat substitute for oil, like in this Texas Sheet Cake recipe,  made into avocado fries, used in hummus, used to make chocolate mouse, and the list goes on and on.   You can also just add them to anything to make it taste better like I did with this baked chicken bowl.  But just wait until you try these Breakfast Stuffed Avocados.
California avocados can be utilized in so many ways, making avocados a cooking ingredient necessity. Not to mention all the health benefits that avocados have associated with them.
Plus, if you have some left over avocados and looking for more ways to utilize this great ingredient, it is suggested that avocados are good for helping with dry hair or itchy scalps. It really is amazing all the avocado capabilities.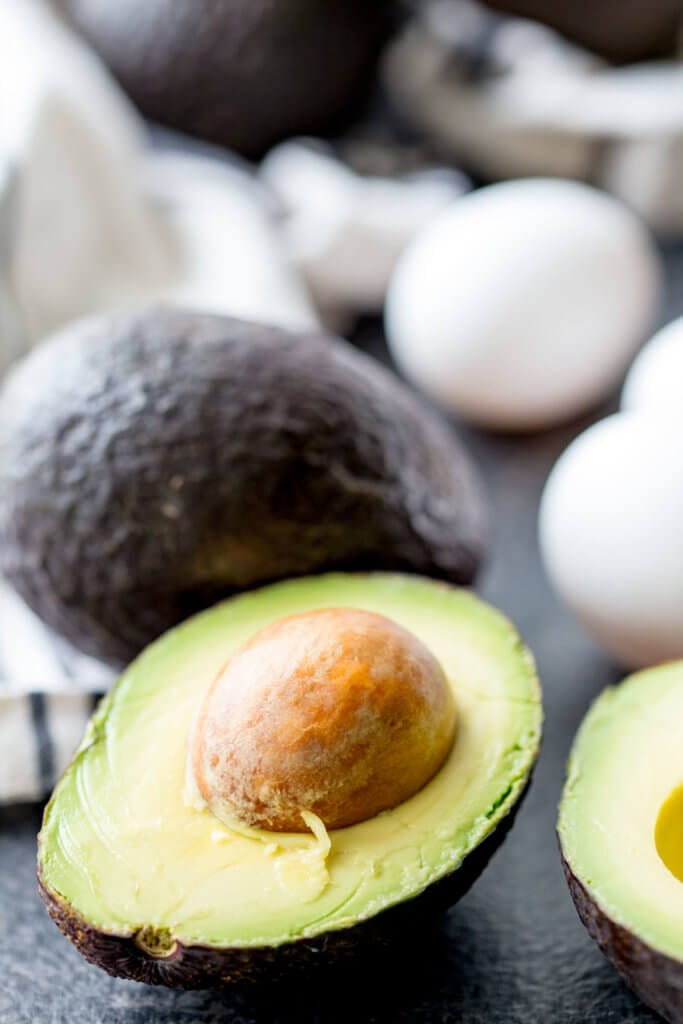 California Avocado Benefits
I didn't always realize all that avocados had to offer. While I have always loved avocados, I painted them in only one light. A fun fruit used to make guacamole, or add to Mexican food. For the longest time I only ate California avocados when mashed up as a condiment with my tortilla chips or placed in my burritos. I had no idea all that I was missing out on, including these Breakfast Stuffed Avocados.
I loved the flavor and added dimension California avocados provided to Mexican dishes, but that was my extent for using avocados. I thought they were delicious and added flavor and color to my dinner, but I never realized that California avocados could be used beyond the scope of tacos, chips, and burritos. Obviously, I was gravely mistaken.
Avocados a Super Food? Absolutely
I also didn't realize that this delicious ingredient had so many health benefits. Avocados are rich in Omega-3 Fatty Acids, potassium, and a plethora of vitamins. Some of the said benefits are that avocados are good for your heart, can prevent a spike in blood sugar levels, help prevent deterioration in eyes due to aging, decrease chances of getting some cancers, and eaten as a great diet food used to curb appetite. I could go on and on about all the benefits of this amazing food.   No wonder avocados are known as a super food.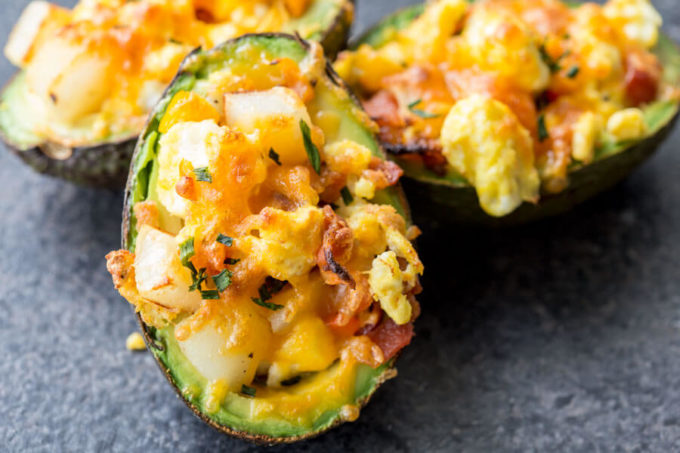 Breakfast Stuffed Avocados Have it All
With all of the nutrients provided in an avocado, no wonder it makes a great companion to any breakfast or brunch dish. Breakfast is said to be the most important meal of the day, so it's crucial to eat something that starts your day off right. The Breakfast Stuffed Avocados are the answer to your breakfast or brunch quandaries.
First the dish starts off brilliantly with a California Avocado. Right there it is already packed with protein, health benefits, and taste. Then it is filled with scrambled eggs, which are also a hearty meal choice, and then mixed with some potatoes and bacon for added flavor. Sprinkle with a little bit of cheese, and with a snap of your fingers, out of the oven comes  flavorful and filling Breakfast Stuffed Avocados loaded with nutrients.
5 Great and Unexpected Ways to Use California Avocados:
Use California avocados in smoothies. Avocados add a great texture to smoothies and provide additional protein to this flavorful, frozen drink.
Use California avocados as a fat substitute in cakes and puddings. Instead of butter, replace this ingredient with an avocado. Result is a delicious dessert with a healthy ingredient substitute to butter.
Use California avocados for a more vegan friendly dish. In addition to a butter substitute, avocados can be used as a substitution for eggs, sour cream and mayo.
Use California avocados as a face mask. Avocados are said to help minimize wrinkles on your skin.
Use California avocados as a spread for toast. Great for a quick and filling snack.
You are going to love the Breakfast Stuffed Avocados. This dish not only utilizes this amazing super food, but this meal is tasty, the preparation is fast, and the heartiness of this dish makes you feel fueled and ready to go for the day. Next time you are making out your grocery list, get what you need to put Breakfast Stuffed Avocados on the menu.
Convenient tools that can be used to make Breakfast Stuffed Avocados even easier:
I like to cook my bacon is the oven so that I can prepare my potatoes and eggs while the bacon is cooking.  I put a
on a baking sheet then add the bacon and throw it all in the oven.
Cooking the potatoes is a quality frying pan will ensure even cooking.  I like the
because they are durable, have efficient heating for even cooking, and are oven safe up to 400 degrees.
I like to use an
that will split, pit, and slice my avocado all with one handy tool.
Here are some other California Avocado Recipes:
Rachael Yerkes
Yields 8 stuffed avocados
Breakfast Stuffed Avocado
Breakfast stuffed avocados: California avocados stuffed with eggs, bacon, cheese, and potatoes.
10 minPrep Time
10 minCook Time
20 minTotal Time
Ingredients
4 California avocados, halved and pitted
4 eggs
salt and pepper
1/3 cup cooked and crumbled bacon
1 cup cooked breakfast potatoes (cubes)
1/3 cup cheddar cheese shreds
Instructions
Preheat oven to broil on high
Halve and pit avocados with an Avocado Slicer , and using a kitchen spoon, scoop some of the avocado out to create a larger space in the avocado skin.
Scramble 4 eggs, adding some salt and pepper to season, and cook in a small skillet until just under done. A little runny is okay.
In a medium sized bowl, mix eggs together with cooked bacon and cooked potatoes
Fill the avocados with a scoop of the eggs and bacon mixture, distributing it evenly between avocados.
Top with a sprinkle of cheese.
Broil 1-2 minutes until cheese is melted, keeping a close eye so as not to burn it.
Remove from oven, season further if desired, and eat and enjoy!
7.6.4
970
https://www.eazypeazymealz.com/breakfast-stuffed-avocado/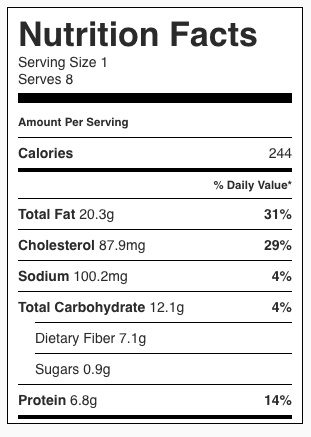 Pin to your Breakfast board on Pinterest:

Get EZPZ Updates In Your Inbox!