Easy Hamburger Casserole recipe is the go-to meal of the week. Chances are you've got all these ingredients already! In under 30 minutes you'll have your favorite hamburger in casserole form.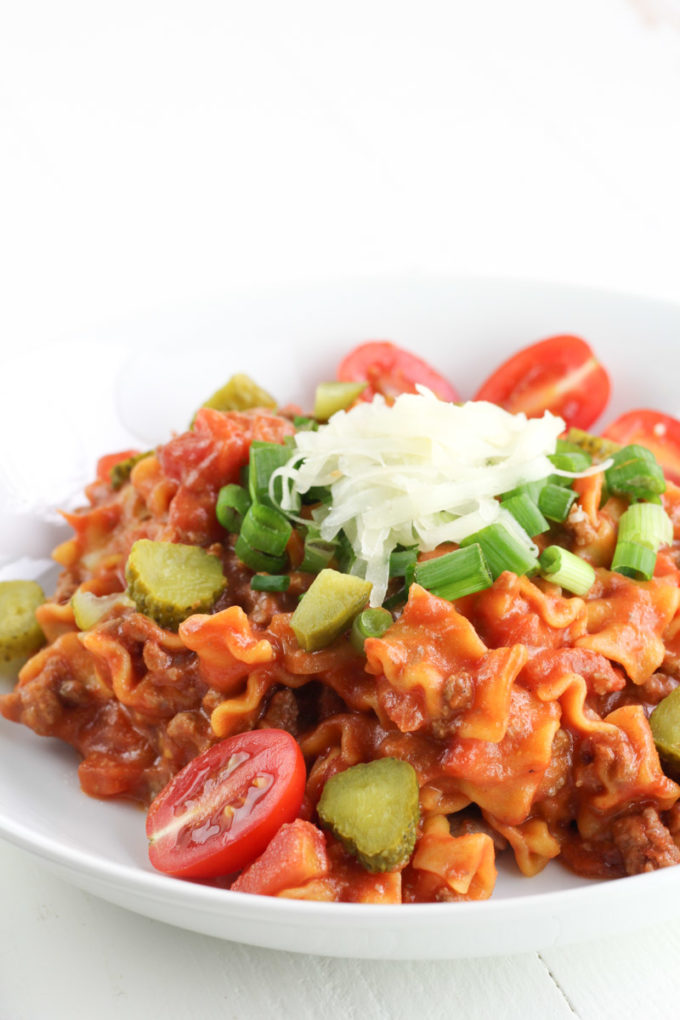 Easy Hamburger Casserole
©Eazy Peazy Mealz by EazyPeazyMealz.com
Pin it to your Weeknight Meals board to SAVE it for later!
Follow Eazy Peazy Mealz on Pinterest for more great tips, ideas and recipes!
Hey everyone! I'm a new face at Eazy Peazy Mealz, and I'm very excited to be able to share some delicious food with you all!
My name is Lindsay and I write over at Veggie Balance for a living. I am also the author of Gluten-Free Party Food Cookbook. While you may not be gluten-free dedicated like I am, there is something we all have in common: We love easy meals. Tons of ingredients and complicated instructions are the bane of my existence. Some might say this would be a perfect fit to join the EZPZ Mealz family for the next couple months, and I happen to agree!
Today I am sharing the simplest, most delicious, face-plant worthy dish on the planet. This Easy Hamburger Casserole is the bee's knees, guys. You probably already have the ingredients sitting in your pantry! *drops the microphone moment*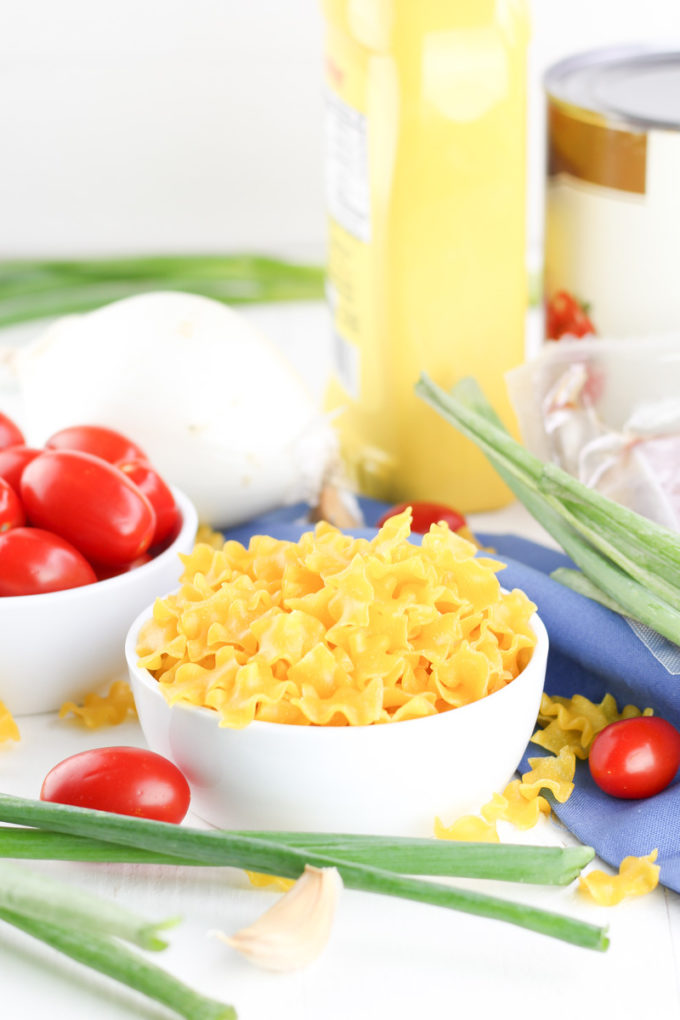 Now that we've established that I hate complicated meals, there is one more thing you need to know about me: I'm lazy. I hate complicated dishes and more importantly, I hate washing dirty dishes.
I've come to realize I'm not the only one with these tendencies of laziness. After posting a Parmesan Chicken Casserole a while back, the response convinced me – I AM NOT ALONE!
Hello my amazing, lovely and also sort of lazy cookers. I like you. ☺
This Easy Hamburger Casserole fits the bill for our problems. Minimal chopping, two pans, and Voila! We have a HUGE pan filled with yumminess.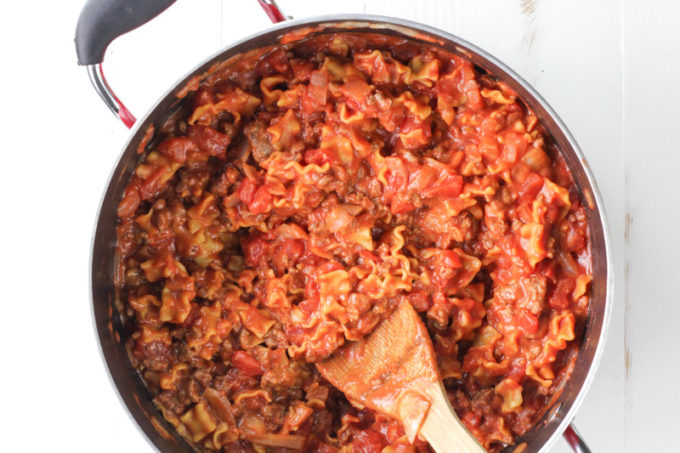 Now comes the fun part: Topping with your absolute favorite toppings. We have several options:
More mustard. Something about that tangy condiment just brings hamburger heaven upon you. (EZPZ Mealz favorite mustard can be found here) 

Chopped Pickles

Quick Pickled Onions – Friends, I probably shouldn't swoon over something so simple as onions, but these quick pickled onions–Oh my word! They just take a burger to the NEXT level, and they do the same thing for this Easy Hamburger Casserole.

Shredded Cheddar Cheese

Chopped Tomatoes

WHATEVER YOUR HEART DESIRES
This hamburger casserole is so versatile you will be able to add whatever great ingredients you love on your burger and it will be burger in casserole form.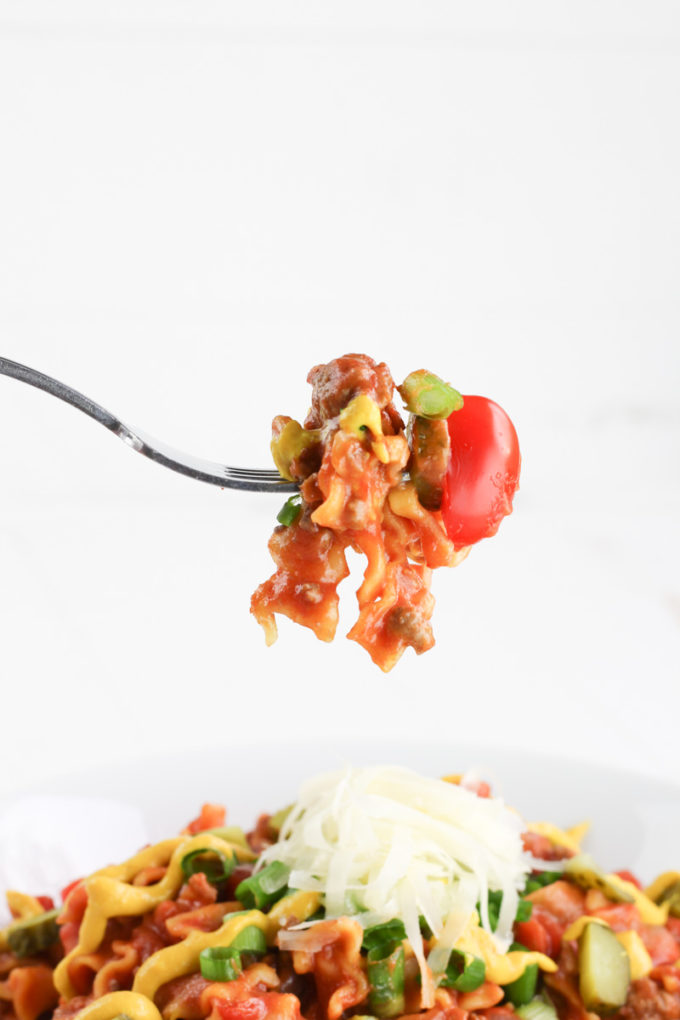 Have I convinced you it's the best dish on the planet? Well, at least for now; my dish obsessions do tend to change quite often. But this one has been a weekly occurrence in our household for a couple months now.
I hope I did some justice in explaining this dish and added a family favorite to your table with this Easy Hamburger Casserole.
Ready. Set. Face-plant.

Ingredients
1 pound ground beef
1 Tablespoon olive oil
2 small white onions, chopped
1 Tablespoon minced garlic
8 ounces tomato paste
1 can (15 oz) diced tomatoes
3-4 cups corn pasta, cooked and drained (any small pasta variety will work: Lasagna Cuts, Fusilli or Macaroni)
1/4 cup cheddar cheese, shredded
2-4 Tablespoons yellow mustard
Salt and Pepper
Instructions
In a large saucepan on medium heat, Brown onion, garlic and ground beef.
Drain grease from beef.
Add tomato paste, diced tomatoes, and cooked pasta, stir until mixed and heated through.
Stir in mustard, cheese, salt and pepper.
Serve immediately with favorite hamburger toppings!
7.6.4
735
https://www.eazypeazymealz.com/easy-hamburger-casserole/
You might also love these easy midweek meal recipes:
Don't forget to pin for later:
Easy Hamburger Casserole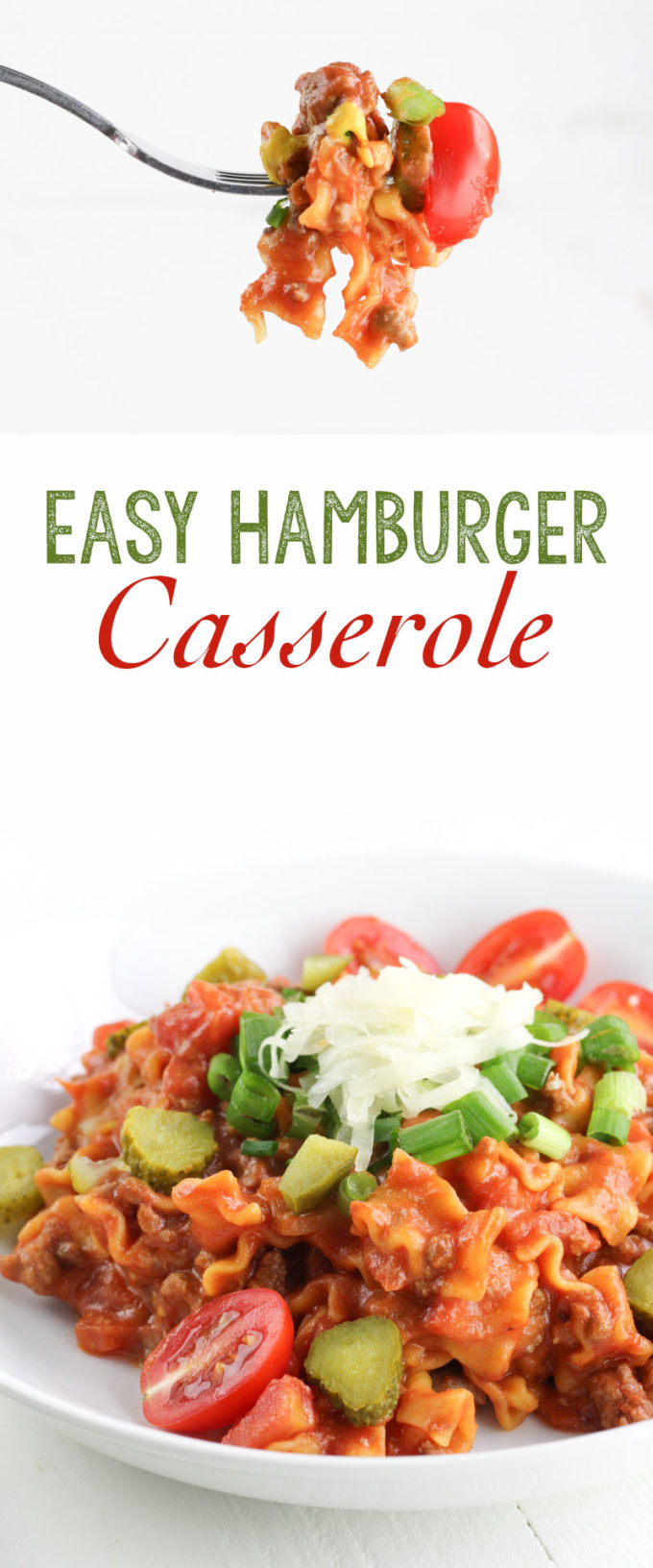 Get EZPZ Updates In Your Inbox!