This post is sponsored by Horizon Organic, all opinions are my own.
Kids Build Their Own Organic Lunch Routine:
Take the hassle out of lunch prep with a routine that allows kids to make their own lunches by selecting from a variety of organic ingredients that are mom approved–like Horizon Organic.
As a mom, one of my roles is teaching my children to become independent and self-sufficient.
But I am not about to throw them into the deep end without some resources or tools to help them swim.
In an effort to help my kids take on more responsibilities, and become a little more independent when it comes to lunches for school, I created a lunch routine that has been amazing for our family!  I can't wait to share it with you.
We also have an after school snack routine, and I will occasionally pre-fill these lunchboxes for them, and me or use these lunchbox ideas!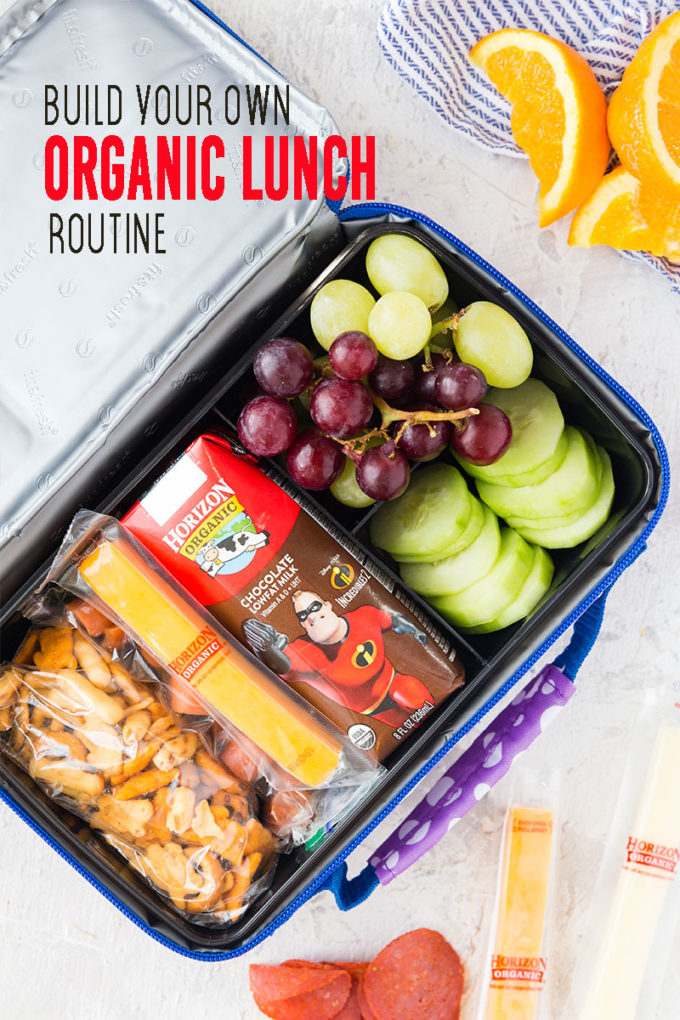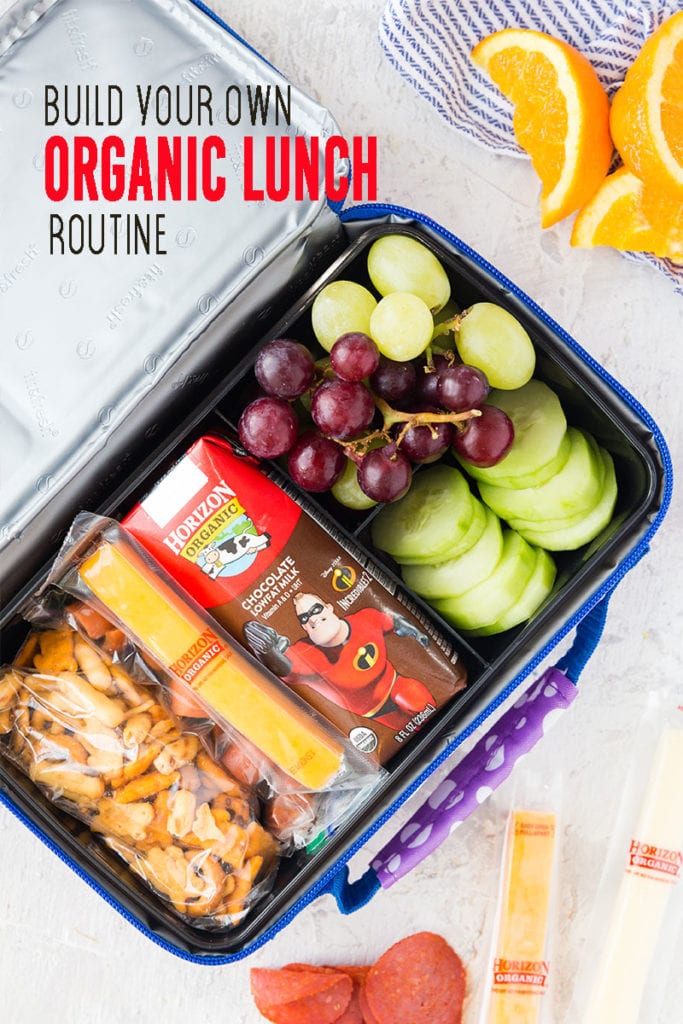 Here is the basics of how it works: The kids are responsible for packing an organic lunch they will eat. But, I make it easy for them by pre-filling 5 bins with delicious, nutritious, organic food options like Horizon Organic cheese sticks and milk boxes. They then have to select one item from each bin to go into their lunch!
Bin 1: Dairy– Horizon Organic Milk boxes, cheese sticks, etc.
Bin 2: Protein – Organic deli meats, organic sausage and kielbasa bites, organic hard boiled eggs, pepperonis, nuts, seeds, etc.
Bin 3: Organic Fruits– Whatever is in season, washed and chopped, or portioned
Bin 4: Organic Vegetables– Washed, chopped, and portioned organic vegetables that are in season
Bin 5: Organic Grains – Organic crackers, homemade organic muffins, bread, etc.
Optional: Treat Bin!
Because the kids have to select at least one item from each bin, I know they are going to get a well-balanced, nutritious lunch.
I fill those bins, and pick quality organic ingredients like Horizon Organic.
I get a lot of control over what they consume, but, because they get to pick what that item is, they take ownership.
This routine makes lunches easy, and reduces waste because kids have choices, while also insuring a nutritious lunch.

Why Organic?
At my house, school starts EARLY, and it's the rare day when my kids are going to sit down and give their breakfast all the attention they should.
By lunch, they need some serious fuel. And it needs to be more than good for them, it has to taste great too if it is going to end up inside them.
All of us need to take care of our bodies, but kids are a special case. Their brains and bodies are still forming.
They need antibiotics when they're sick, not added to their food so that they have them all the time and germs become resistant to them.
They need to grow naturally, not have their growth accelerated by added growth hormones.
And they deserve to inherit a world where the land and water can sustain them and their children in the future.
Horizon Organic makes a number of awesome organic products that are easy to incorporate into lunches.
You can find a list of products here. The best solution is to simply give your kids plenty of options and see what they like best.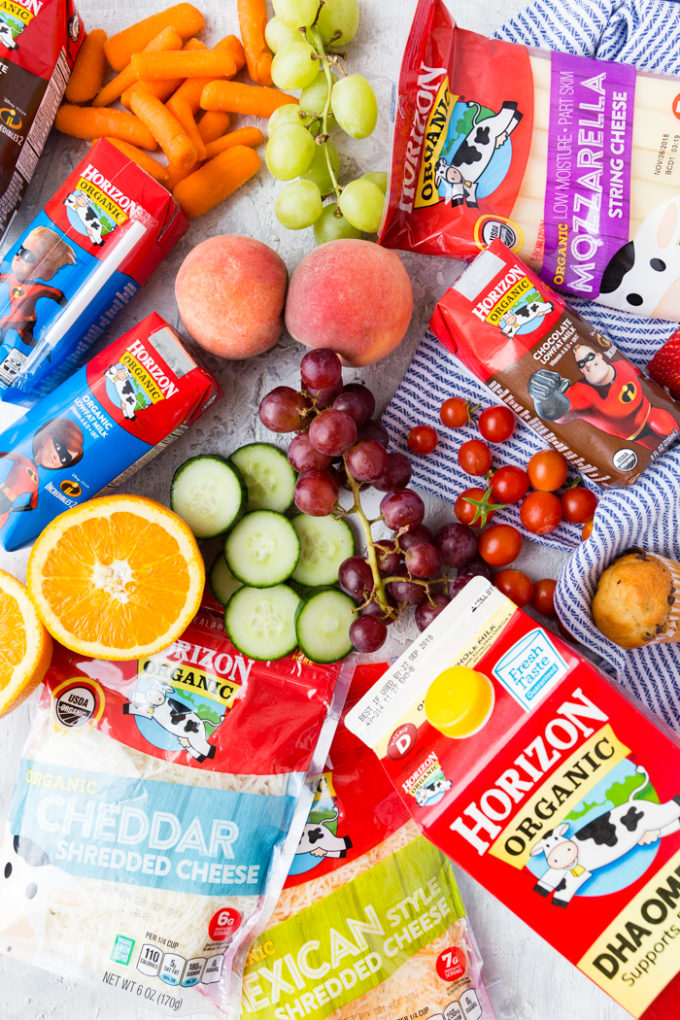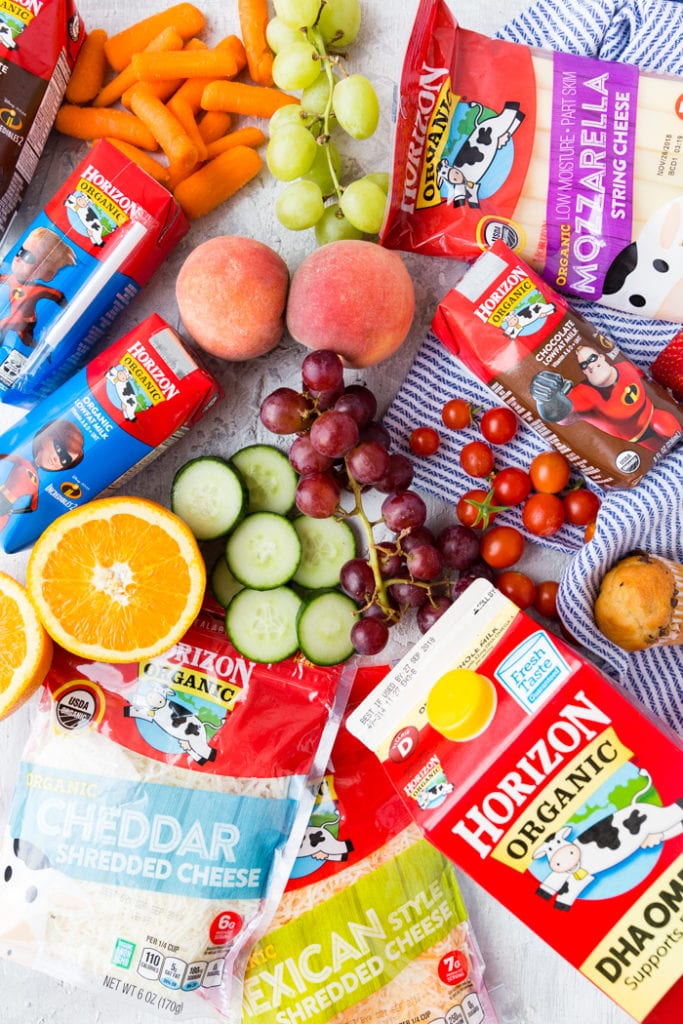 How do I incorporate organic foods into my kid's lunchbox?
Offer variety: This is why the bin system has worked so well for our family. The choices and variety mean they can switch things up or have the same lunch every day, whatever THEY choose. And by offering a wide variety of organic foods to them, I know their nutritional needs will be met! Win-Win!
Make food fun: Kids like foods in packages with cartoon characters, right? Yes! And Horizon Organic understands that and incorporates fun characters in their packaging. Whether it is fun packaging, fun sizes, or fun shapes, making kid food fun, or bringing an element of fun into their lunches will encourage them to eat better.
Food needs to taste great: There is this weird idea that organic food might be good for you, but that it doesn't taste good. And that is incorrect. Horizon Organic recognizes kids mostly just like food that tastes good. When you give kids tasty dishes prepared with organic ingredients, they're going to eat well and enjoy it. Even if there are no characters. Select your variety and options carefully to insure they are hit quality, tasty organic foods.
Food should be convenient. Organic foods don't have to be difficult, hard to find, or require tons of time. This is not sustainable for busy moms with kids in school. This is why I love Horizon Organic foods, they offer single serve, deliciously, convenient products perfect for lunches. Fill your bins with these convenient lunchbox options.

Can somebody please tell me what organic really means?
In a nutshell, part of getting kids to eat organic is educating them on why organic matters, but how can you do that without understanding what organic really means? So let's chat about it…
For a product to be labeled "organic" it has to meet very specific guidelines.
No antibiotics: Organic meat and dairy products come from animals that haven't been treated with antibiotics.
No toxic or persistent pesticides: With organic products, no pesticides that are harmful to human health were used on the land or in the food.
No growth hormones: Animals whose meat or milk is labeled organic can't have been given growth hormones at any point.
Non-GMO: GMO stands for "genetically modified organisms." Non-GMO means there are no GMOs in the food chain. The animals themselves weren't genetically modified, and neither was their food.
Healthy living conditions: Organic products come from animals kept in healthy living conditions, so that the food they produce is as nature intended.
In a nutshell, organic foods are grown or processed without synthetic fertilizers or pesticides and the animals are raised in healthier living conditions.
This means none of that stuff is being passed through the food to your child! That is awesome.
What goes into a good lunch?
Kids' growing bodies need nutritious, organic food. They need protein, enzymes, vitamins and minerals, healthy carbohydrates, and they need all of it to be free of chemical additives, pesticides, hormones, and antibiotics.
The trick is to provide it in a way that they're excited to eat it.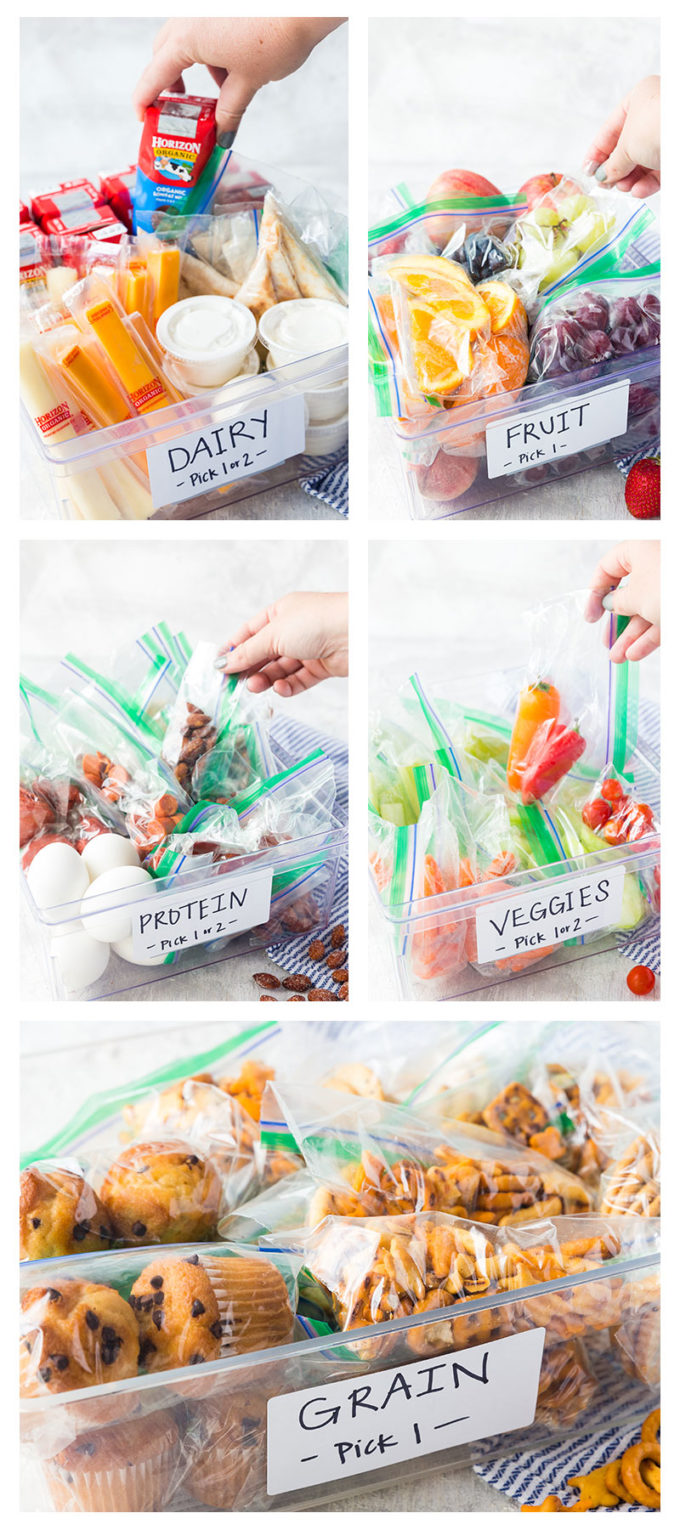 Lunch Ideas
Here are a few ideas of our favorite options to fill your bins with:
Bin 1: Organic Dairy
Horizon Organic Milk boxes, in different flavors.
Horizon Organic Cheese Sticks
Quesadilla triangles made from Horizon Organic Cheddar Cheese
Horizon Organic sour cream for dipping (mix in a little organic ranch seasoning for a great veggie dip)
Horizon Organic Cottage cheese (great served with fresh fruit and seeds)
Bin 2: Organic Protein
Organic deli meats
Horizon Organic hard boiled eggs
Uncured organic pepperoni slices
Nuts- if you aren't at a nut-free school
Seeds, etc.
Bin 3: Organic Fruits
Whatever is in season, washed and chopped, or portioned
Our favorites:

Apples
Berries
Peaches
Nectarines
Grapes
Bin 4: Organic Vegetables
Washed, chopped, and portioned organic vegetables that are in season
Our favorites:

Sweet bell peppers
Cucumbers
Cherry tomatoes
Sugar snap peas
Carrots
Bin 5: Organic Grains
Organic Crackers
Homemade Organic Muffins
Organic Whole Grain Bread
Organic Rice Cakes
Optional: Treat Bin!
Use the store locator here to find Horizon Organics  products near you. And check Horizon Organic out on Facebook, Instagram, Twitter, and Pinterest to find more fun ideas for nutritious, easy, organic lunch ideas for back to school.
Other Lunchbox Solutions: