Oven Baked Steak Fries: Crispy, crave-worthy, delicious steak fries that are baked, not fried. They have a nice crispy outer layer and the inside is melt in your mouth soft and delicious. This method is super easy, and produces great fries every time!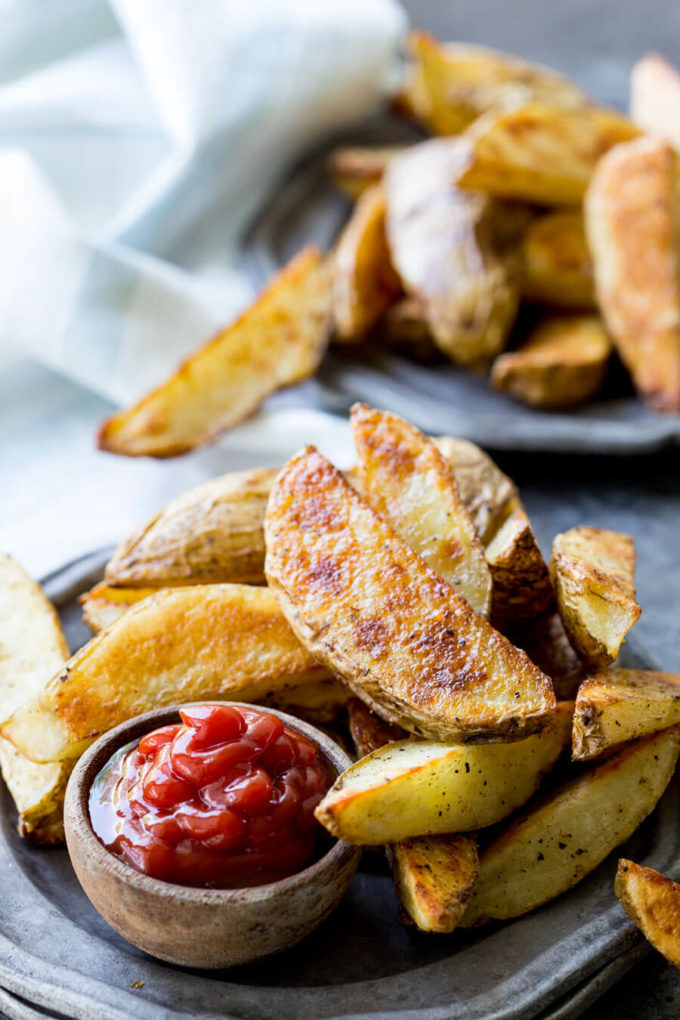 When I was growing up my dad would make fries. And they were my favorite.
He would clean and chop up potatoes, and cook them up in oil with some seasonings. We would dip them in ketchup and fry sauce.  And we loved them. I still love fries. I try to avoid them because of the whole white potatoes not being that great for you, and the extra carbs, and oil, and fat, etc. but sometimes I really just want fries! I'm human. I admit it.
But if I am going to eat fries, I want them to be good. I want thick cut, steak fries, with a nice crispy outside, and that pillowy soft, melt in your mouth, almost mashed potato like inside. And that is what these are.
I decided to make fries, but I wanted them to be baked instead of fried. Not fried, fries. I realize how silly that is, and how it kind of defeats the purpose. But they are really…really…good. Especially with dip!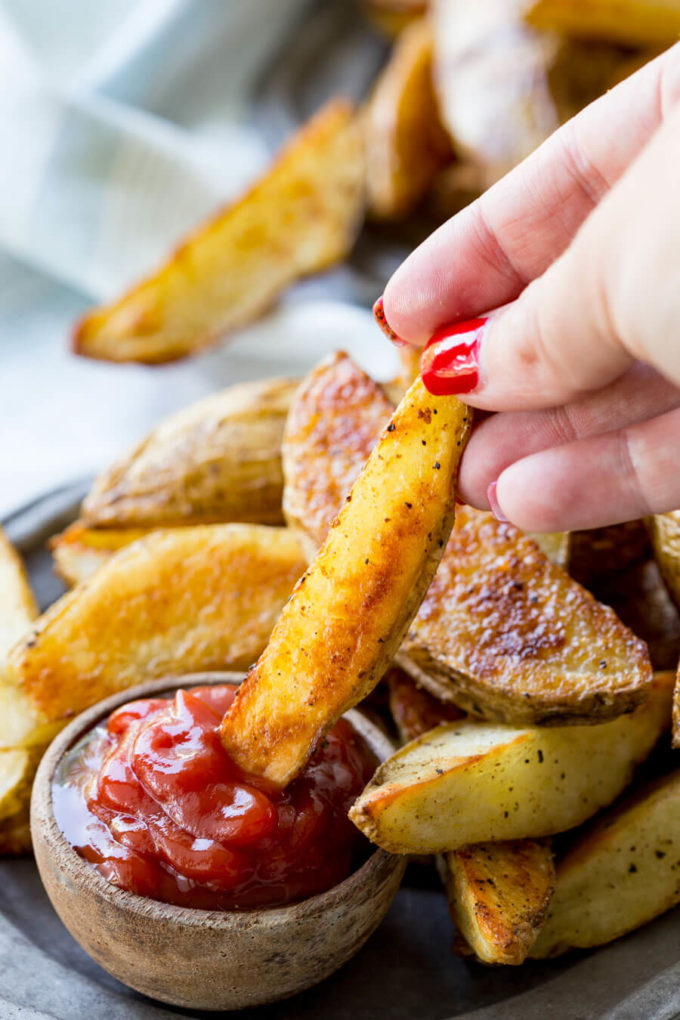 These aren't oil free, as I do toss them in olive oil with seasoning. But if you want to lighten up on the oil, you can just spray them with a cooking spray. I find the oil helps them to get that crispy outside. I buy coconut oil cooking spray off Amazon and at Trader Joe's, and it seems to work really well, but any cooking spray will do. I would season them after spraying them, because it helps the seasoning stick, and then bake them.
So let's talk about the seasoning for a second: I was making them with a friend over, and she was super skeptical as to whether or not it would be enough seasoning. It is. I use Lawry's Seasoned Salt: Find it here.
The high heat gives them a nice crispy crust on the outside, with a soft middle. And that subtle salt really brings out a lot of flavor. Of course, feel free to add more salt if you want. Either way, crispy, soft, and oh so tasty. Yum! Just the way I like them. Enjoy!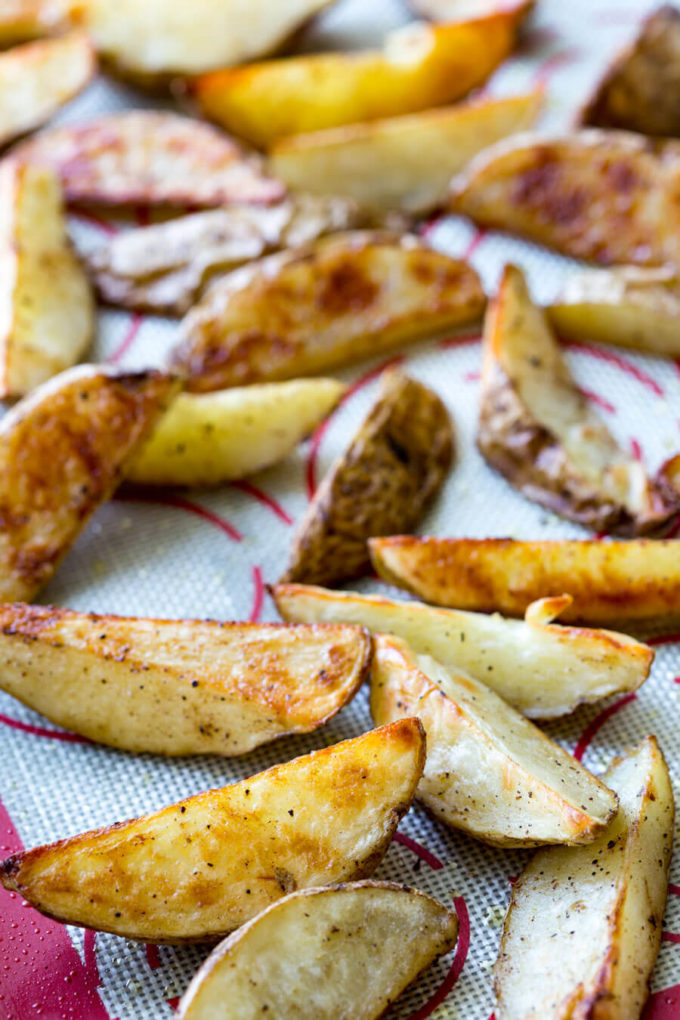 Tips for making Oven Baked Steak Fries:
Do not rinse your potatoes. Cut them up and toss and season right away. If you rinse off that starchy outside they won't get crispy.
Cook on a silicone baking mat like the one pictured above for easier clean up. Find one here: Silicone Baking Mat
Use a high quality olive oil, or a coconut oil cooking spray to help them get that nice crispy exterior.
Add the oil, then the Lawry's Seasoned Salt, so that the salt will stick to the exterior of the potatoes.
Flip after 30 minutes. They need about 40 total, so don't flip them half way, flip them 3/4 the way through to get the crispy outside. Adjust time as needed if your fries are bigger. You want that nice browned exterior.
Eat right away, and dip them in something delicious.

Make these fries to accompany:
Yields 4
Oven Baked Steak Fries
10 minPrep Time
45 minCook Time
55 minTotal Time
Ingredients
4-6 large baking potatoes
2-3 Tbs olive oil
1 tsp seasoning salt
1/2 tsp pepper
Instructions
Preheat oven to 400 degrees
Cut potatoes into wedges
Mix seasoning with olive oil and toss with the potatoes
Place on a baking sheet spread out so that they aren't touching
Bake for 40 minutes to an hour until they brown up
After 30 minutes, flip the potatoes over, and keep baking so they brown evenly
Serve hot with favorite dipping sauce.
7.6.4
328
https://www.eazypeazymealz.com/oven-baked-steak-fries/
Pin to your sides board on Pinterest:
Get EZPZ Updates In Your Inbox!