Peach Lemonade
The most refreshing drink of your summer, and with just a few simple ingredients, this peach lemonade is a must make. The peaches add a sweet mellowness to a classic homemade lemonade, and amp up the summer vibe. It is quick, easy to make, uses only a few ingredients, and is the kind of summer drink that is perfect for sipping, spicing up with some alcohol, or even freezing into popsicles. This refreshing peach lemonade is a family favorite for a reason.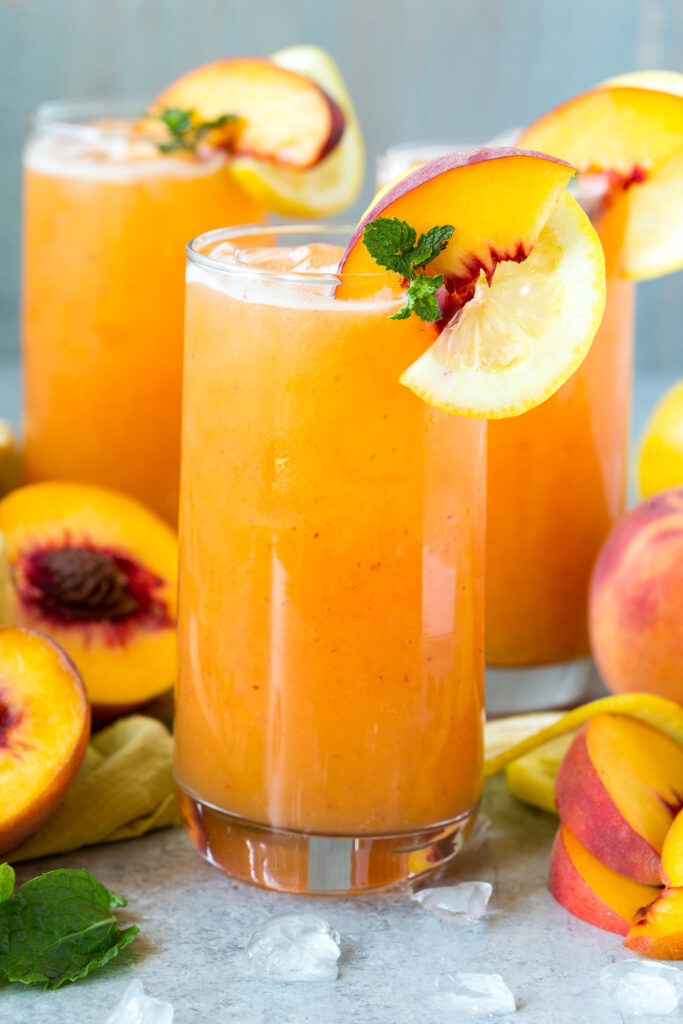 With just 5 ingredients you will get this fruity, fabulous lemonade that is the perfect pairing for summer BBQs, potlucks, and picnics, not to mention bridal and baby showers. It is gorgeous, and easy to customize. I love serving it over a ton of ice for that frosty refresher, or with soda water to make it a sparkling lemonade, and when I am feeling extra sassy, a splash of vodka turns it into a delicious summer cocktail.
Peaches are a must for summer, and whether it is Peach Pie or Peach Burrata Salad or this Easy Peach BBQ Sauce, peaches make everything a little more delicious. And this easy lemonade is no exception.
What You'll Love About This Recipe
There is a lot to love about this peachy, sweet and sour, combination of refreshment, but here are my top three reasons you should run, not walk, and make it right away:
Fresh and Fruity: This is one of those recipes that uses only real, delicious ingredients. Fresh peaches, fresh lemons, water, mint, and sugar. So simple. But if you can't find fresh, you can substitute frozen peaches. I say keep it "ezpz" and use what you've got.
Only a few Ingredients: If you have peaches and lemons you are already mostly there. Sugar and water, something we all seem to have at all times, am I right? So, chances are you are half way there to this easy drink.
Delicious: While there are a lot of great beverages out there, when it comes to something perfect for summer, this one is a real thirst quencher. Perfect for pool daus and picnics, this peach lemonade is just straight up tasty.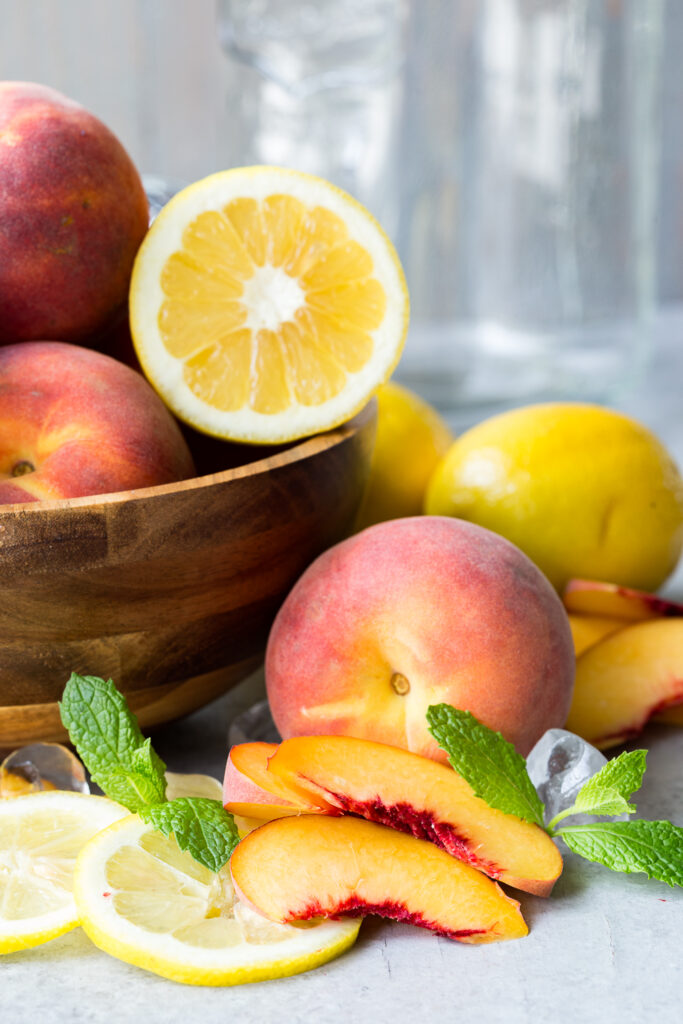 What You Need to Make This Easy Summer Drink
This recipe is simple as can be, here is what you need:
Lemonade: I prefer using a homemade lemonade that is made with 3 ingredients: water, sugar, and lemon juice. But if you are in a rush, or don't feel like making your own lemonade, use your favorite kind. Sugar-free lemonade works fine.
Peaches: Fresh or frozen. Fresh is best, trust me. But when I need a little slice of summer in the winter or fall, and fresh peaches aren't in abundance, I love using frozen peach slices to make this recipe.
Mint: The mint is optional, but I have found it is a great addition that actually gives the peach flavor more zing!
How to Make Peach Lemonade from Scratch
Making this easy summer drink is as simple as 1…2…3…
Lemonade: Make the Homemade Lemonade or prepare the lemonade of your choice.
Peaches: Wash, pit, and slice peaches, and blend them up. With mint.
Combo: Mix it together (strain if you want it thinner), and serve over ice!

Adaptations and Changes
One of the reasons I love this recipe for peach lemonade so much is that it can be adapted or changed to fit your preferences and what you have on hand. Here are a few of my favorite ways to mix things up:
Sparkling water– Replace the water in the lemonade with sparkling water for a fun sparkling beverage.
Vodka or Rum– Add in about 1 cup of the alcohol of your choice for this recipe. 1/2 cup of alcohol for every 4 cups of water, but feel free to adjust that to your taste preference.
Green Tea– Mixing in some green tea makes this a wonderful peach tea lemonade, I like adding equal amounts of lemonade and tea. Or you can simply replace the water in the lemonade part with the tea. Making it a peach tea similar to this Mango Black Tea Lemonade.
Other Fruits- Peaches and berries go really well together, so if you do not have enough peaches, or want to mix in another fruit, feel free to do so. Mango is another great addition. Have you tried peach mango? It is an amazing flavor combo.
Herbs: I love a little mint with this recipe, but feel free to switch that for basil, or rosemary or another aromatic for an herby, peachy drink. It pairs really well with this One-Skillet Pork Tenderloin and Peaches Recipe
Spices: Peaches are so good with a few spices, like cinnamon, vanilla, or ginger. Add it to your simple syrup while you make it, and boom, instant flavor change!
Sugar-free lemonade: Instead of a traditional simple syrup, use a sugar-free sweetener when making the lemonade. The syrup won't be thick or syrupy, but it will work for flavor and as long as the sugar substitute completely dissolves, it will still make for great lemonade.
FAQ's When Making Peach Lemonade
What is the peach lemonade ratio?
For this peach lemonade recipe I use: 4 cups of fresh peaches and 1 1/2 cups fresh lemon juice + 8 cups water and 1 1/2 cups sugar. However, adjust the ratio to taste. I also do not strain out the peach pulp, which gives it a more peachy flavor, so if you want to reduce the peach flavor, that can be adjusted and you can strain through a fine mesh seive. To increase the peach flavor you can cut the amount of water down or use less lemonade.
How to serve the peach lemonade recipe?
My absolute favorite way to serve this easy lemonade is to pour it over a tall glass of ice, and garnish the glass with a fresh peach slice and sprig of mint. I love adding ice to glass instead of the pitcher as it keeps it from diluting your lemonade as it melts. However, the world is yours, and you can serve it as you see fit. I love adding chunks of fresh fruit and torn mint leaves. Or try blending it with ice to turn it into a peach lemonade slush for those extra hot days.
How much alcohol should I add?
If you want to make this peach lemonade into a super simple, but tasty, cocktail, add around 1 cup of alcohol to your serving pitcher. However, adjust this to taste and preference. Pro Tip: Lemon vodka makes a nice addition.
Can you freeze peach lemonade?
Yes! Lemonade freezes super well. I love freezing any leftovers into popsicle molds, but if I am trying to make it ahead, I will also freeze the blended mint & peaches, lemon juice, and simple syrup into a concentrate, then when I am ready to serve, thaw and add the remaining 7 cups of water.
Can you make peach lemonade ahead?
Yes! You can prepare the different parts of it several days in advance and keep it stored in the refrigerator. Or, make the whole thing and freeze, or freeze the concentrate as mentioned above. If you make it all ahead, it will store in the fridge for 5-7 days, but should be stirred before serving.
How long is it good for?
This depends on the peaches, but I have found it can be left out at room temp for about 2 hours before it needs to be refrigerated, and should not be refrigerated longer than 5-7 days before you use it. Honestly, it is so refreshing it will never last that long.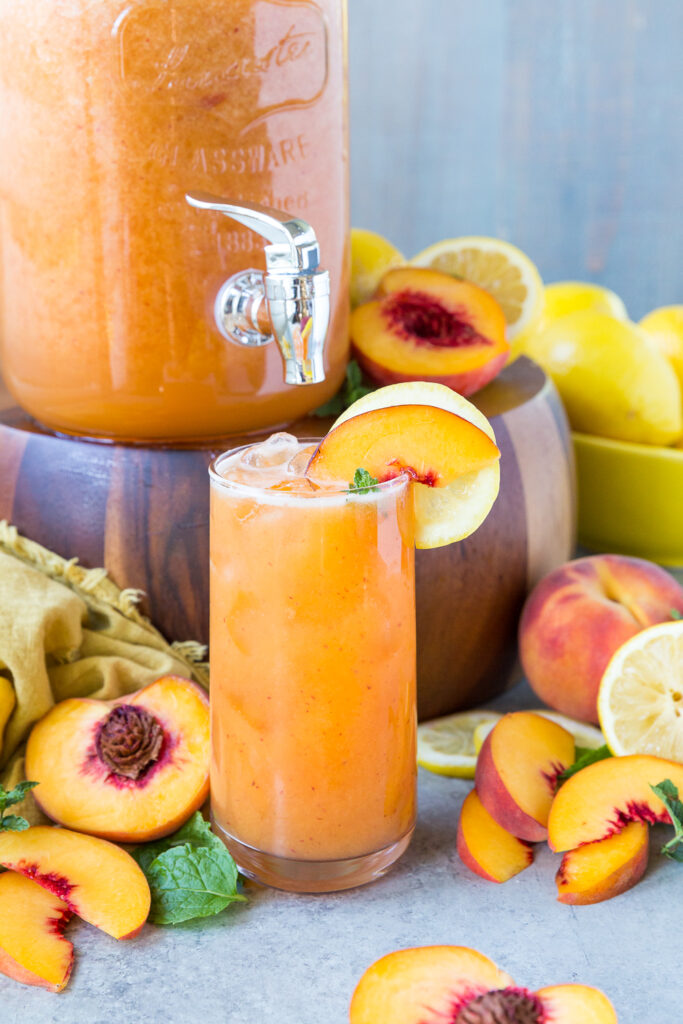 Tips and Tricks
Add Flavor: You can do a few things to get a more intense flavor with this refreshing drink! Leave some lemon pulp in when making the base, or peach pulp too. This gives it more color, texture, and peach flavor. Plus you get those fun red and pink specks, making it just so pretty.
Use Seconds: Peaches are so delicious in the summer, and I can't get enough of them. This lemonade is the perfect way to use up the "seconds" peaches from the farm stand, or the ones that have gotten a little too ripe, or that maybe a kid took a bite out of and left.
Strain: For a thinner lemonade be sure to strain the peaches after blending or you'll end up with thicker peach nectar rather than peach juice, and a thicker lemonade. I personally love the bold peach flavor, but it can make it a little too sweet. So if you want that bold flavor, but don't want as much sweetness, add a little extra fresh lemon juice to balance it out. Adding a little extra water can also help cut down the thickness and sweetness.
Use leftovers: to make refreshing popsicles – pour the lemonade into popsicle molds, optionally with a few fresh berries, and freeze for up to 2 months. Voila!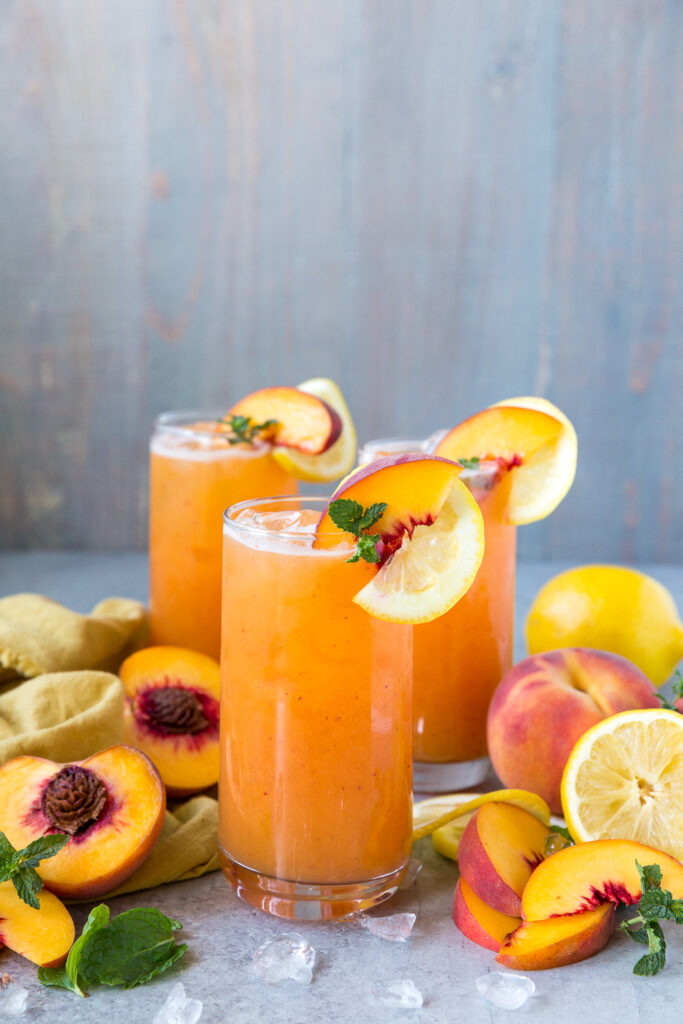 Other Great Recipes
WP Recipe Maker #52341

remove

Peach Lemonade

Sweet and refreshing, this easy peach lemonade is the perfect summer lemonade recipe, and will be the anthem of your summer.

Course: Beverage

Cuisine: American

Keyword: easy lemonade, lemonade, peach lemonade, peach lemonade recipe

Prep Time: 5m

Cook Time: 10m

Total Time: 15m

Servings: 6

Author: Rachael

– 1 recipe Homemade Lemonade

or 8 cups of your favorite lemoande

– 4-5 peaches

– 1 Tbs fresh mint + more for garnish

1) Prepare lemonade according to the directions for homemade lemonade, then set aside or chill.

2) Wash and slice the fresh peaches and remove the pit. Reserve ¼ of the peach slices for the pitcher and garnish

3) Take the remaining peaches, and add to a blender with 1 cup of the prepared lemonade mixture and 1 Tbs fresh mint. Blend until smooth. Pour the mixture into a pitcher, for thinner lemonade, pour through a fine strainer or sieve.

4) Finish: Add the lemonade to the pitcher and stir to combine. Add fresh peach slices and lemon slices to make pretty. Garnish glasses with fresh mint and peach slices.

5) You can add ice to the pitcher or pour the lemonade over cups of ice to avoid having it dilute.

 
Pin to your Beverage board on Pinterest to keep for later: