Chili Garlic Marinade
Chili Garlic Marinade: A tasty marinade that is packed with mouth watering Asian infused flavor.
This Chili Garlic Marinade is not only delicious, but is made with only 6 simple ingredients. 
Prepped in just a couple of short minutes, this Chili Garlic Marinade is a great recipe to have on hand when you want to add a wealth of flavor to your protein without spending a wealth of time in the preparation phase.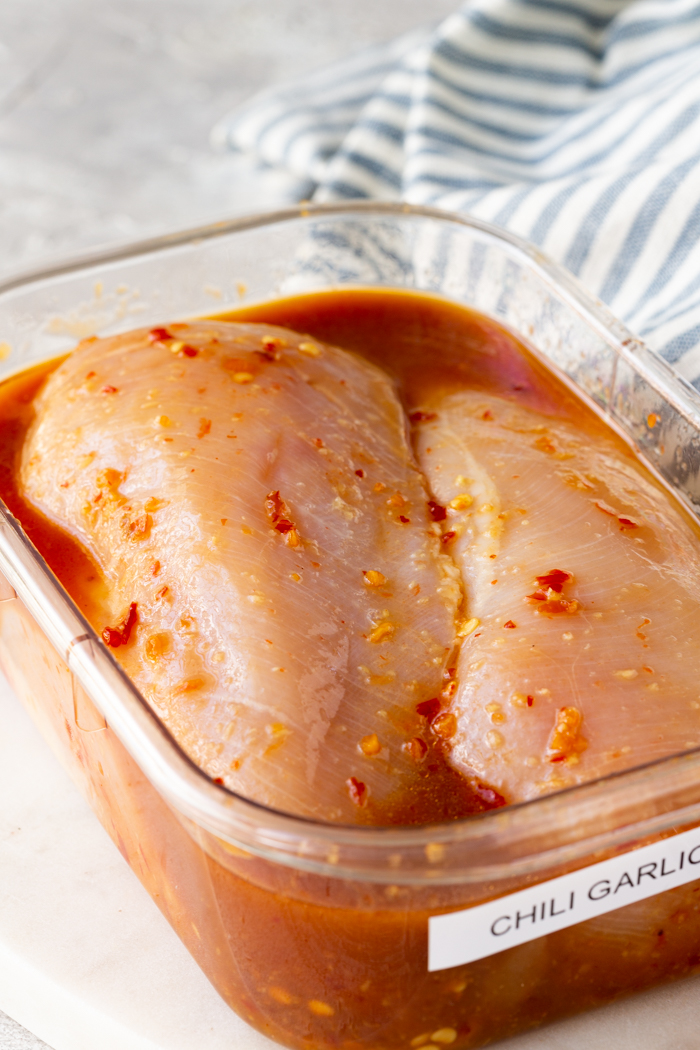 I am obsessed with prepping a bunch of marinades ahead so I always have something quick, flavorful, and fun to make for dinner. A few of our favorite marinades include:
And obviously we also love this Chili Garlic Marinade. Chili Garlic Marinade is the perfect sauce that will add a punch of flavor to any pork or chicken meal. Don't hesitate to add this killer marinade into your meal rotation. 
Chili Garlic Marinade is something you will want to make again and again. It is versatile, delicious, and easy. 
I just love this simple Asian inspired marinade.  It partners well with both pork and chicken and it saves me from spending tons of money eating out.  Dining in can be a great experience when the food is so good, yet the prep is not time consuming.  
Why This Marinade Is So Great!
There are a lot of marinades out there, but this one really stands out for me.  It has the perfect balance of flavor.  
I love the use of the sesame oil, giving it a rich Asian inspired taste, accompanied with the balance of fresh ginger, Asian chili-garlic sauce, the acidity of the rice wine vinegar, the saltiness of soy sauce and the complimentary sweetness of honey, resulting in the perfect harmony of flavor in each and every bite. 
I just have to say the result is a marinade that is a favorite.
Plus, not only is this marinade so delicious, it is so easy to make, which also makes this a winner in my book.  Measure the ingredients, mince some ginger, and add all the ingredients together and mix. It's that easy.
After you see how easy this marinade is to make, there really will be no more excuses to buy a store bought marinade.  
Plus, just think of the bragging rights when you can tell family and friends that the marinade is homemade. 
They don't need to know that it only takes 1-2 minutes to make, which let's be honest is shorter than the time it takes to peruse the grocery store aisle to pick a marinade.
Plus I love that this marinade goes great with both pork and chicken.  Two great options for this tasty treasure. Yay!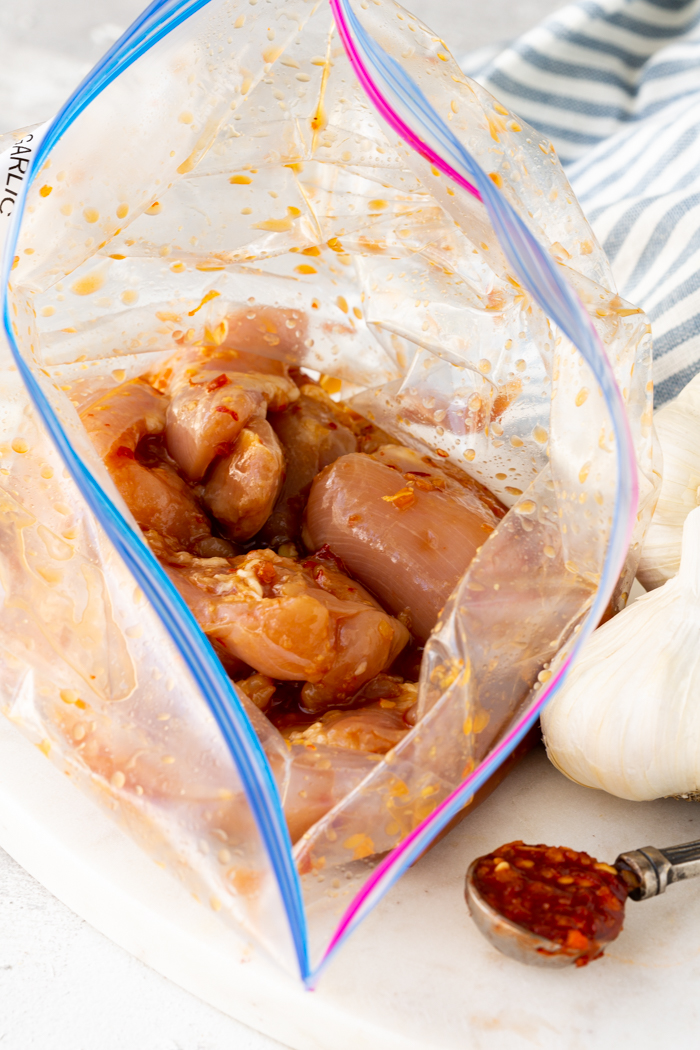 3 Reasons This Marinade Is The Best:
Quick and Easy to Make

Phenomenal Flavor

Goes Great with Both Pork and Chicken
Seriously, you can't go wrong with a marinade like this!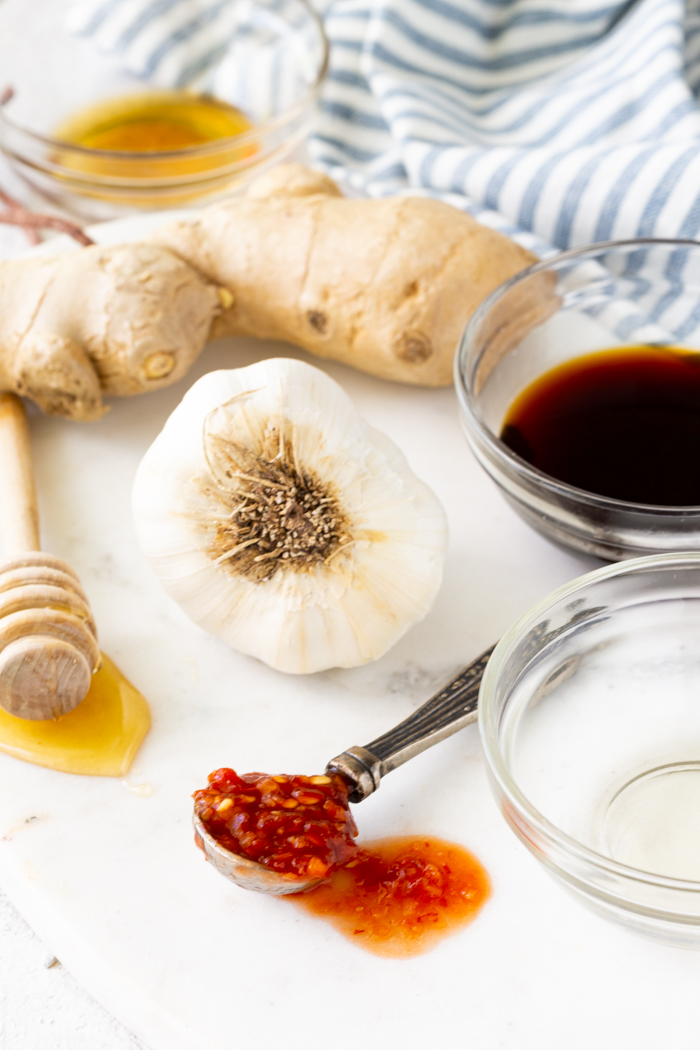 What You Need For This Marinade:
Only 6 simple ingredients and you have yourself the perfect special sauce.  
Ingredients Needed For Chili Garlic Sauce Marinade:
Soy Sauce

Minced Fresh Ginger

Asian Chili-Garlic Sauce

Asian Sesame Oil

Honey

Rice Wine Vinegar
Note: I highly recommend that you don't substitute the out the sesame oil for another oil.  This is one of those times where not all oils are created equally. The sesame oil adds a depth of flavor to the marinade.
With just these 6 simple ingredients, you will have an Asian inspired marinade that will elevate your dish.  I just love when something simple can produce something great.
How Long Should You Marinate Pork?
Ok, now that you know how to make the marinade and why it is so great, let's talk about how to use it. There is actually a time frame to consider when marinating your meat.  
Can You Marinate Pork Too Long?  Yes you can.
I know you would think marinating would be one of those situations where if you marinate for longer the flavor will be better and the meat more tender, but that is not always the case.
The trick is to marinate for a time frame that brings out the best flavor without destroying the integrity of the pork.
Secret:  Did you know marinating your pork has nothing to do with tenderizing the meat?  I know mind blowing.  
With pork it is just about adding flavor.  If you marinate your pork for too long it can become mealy, which you don't want.
So, how long should you marinate the pork? 
For this recipe, depending on the cut, 4-12 hours.  I tested the recipe and to really have the marinade's flavor come through you need 4-12 hours.  Definitely do not do more than 12 hours though.
Note:  If a recipe does not specify a time frame, like this one does, a good guideline for marinating pork is typically 30 minutes to 12 hours.
The thinner, more tender cuts need less time. If it has a bone in it, marinate longer.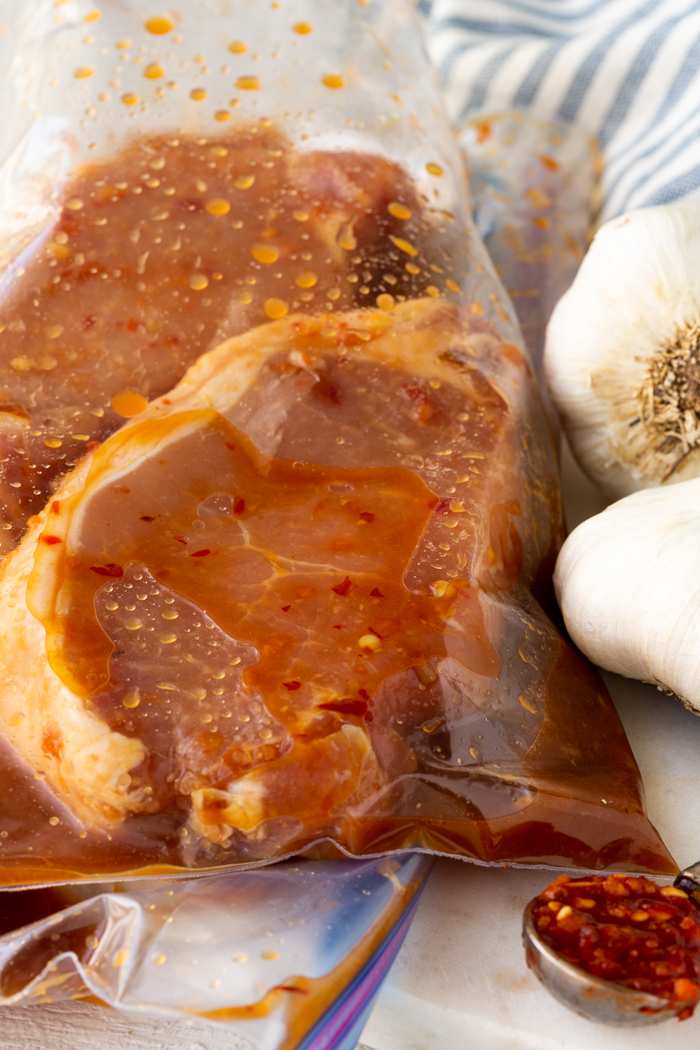 How Long Should You Marinate Chicken?
Fortunately I have taken the guess work out for you and have tested this marinade on chicken and pork.  
Both proteins should be marinated for 4-12 hours for the best results.  Just like with pork, you don't want to over marinate, so pay attention to the cut of the meat.
Can You Marinate Chicken Too Long?
Marinating does tenderize the chicken, but over marinating will not make your chicken become more tender.  It will become tougher.  Especially if you have an acid in your marinade like citrus or vinegar. 
This isn't just the case with this marinade.  This is a general guideline. So, just follow the marinating guidelines I've tested and you will be fine.
Marinate for 45 minutes to 3 hours when using this for chicken. 
Side note though, if a recipe does not specify, for most marinades 30 minutes -2 hours seems to typically be the most optimal time for chicken, just like with pork.
However for this recipe, a little longer marinating time is required to really taste the flavor, so make sure to plan accordingly.
A lot of times I will just whip up the marinade in the morning because it literally only takes a couple minutes and then I will start marinating the desired protein, so the meat will be ready to cook at dinner time.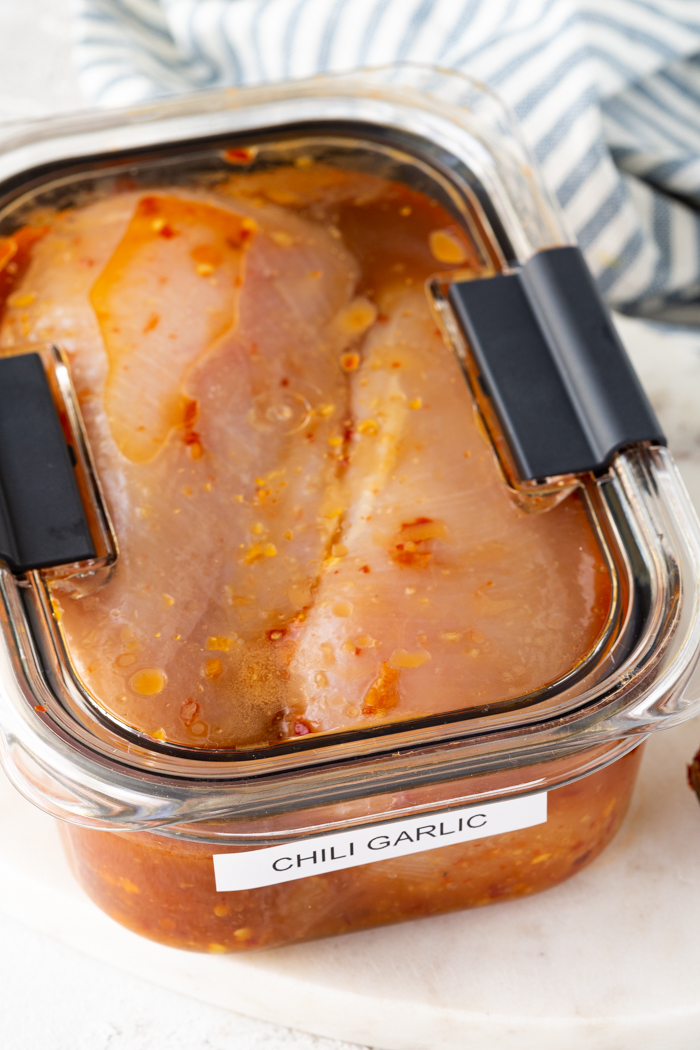 Can You Marinate Frozen Chicken? 
Good New!  Yes.
So if you want to have a freezer meal situation, which is actually one of my favorite situations, meals already to go, it's like a present in your freezer waiting for you, then yes go ahead and marinate the chicken in the freezer.
However, remember how I just told you how long to marinate your chicken in this Chili Garlic Marinade for?  Well that no longer applies for marinated frozen chicken.
Important tip here friends.  When frozen, while the chicken is defrosting it is actually marinating as well.  So don't add additional marinating time onto the chicken because then your chicken will in actuality have been marinating for too long, affecting the quality of the meat.
So add the marinade to already frozen chicken and let it defrost in the marinade. Or, add marinade to fresh chicken, freeze, and cut the marinading time in half when defrosting.
Now say you don't want to have a freezer meal, you just want to freeze the marinade.
Can You Freeze Marinades? 
Absolutely!
If you want to make this Chili Garlic Marinade ahead of time and save it for later in the freezer you absolutely can.  Just throw it in a plastic container, or freezer bag and put it in the freezer for later. It's as easy as that.
So whether you want to have a full meal prepped ahead of time or want just the marinade made ahead of time, you can do either with this Chili Garlic Marinade.  
Meals prepped ahead of time just make me happy, so go ahead and do that if that works for you.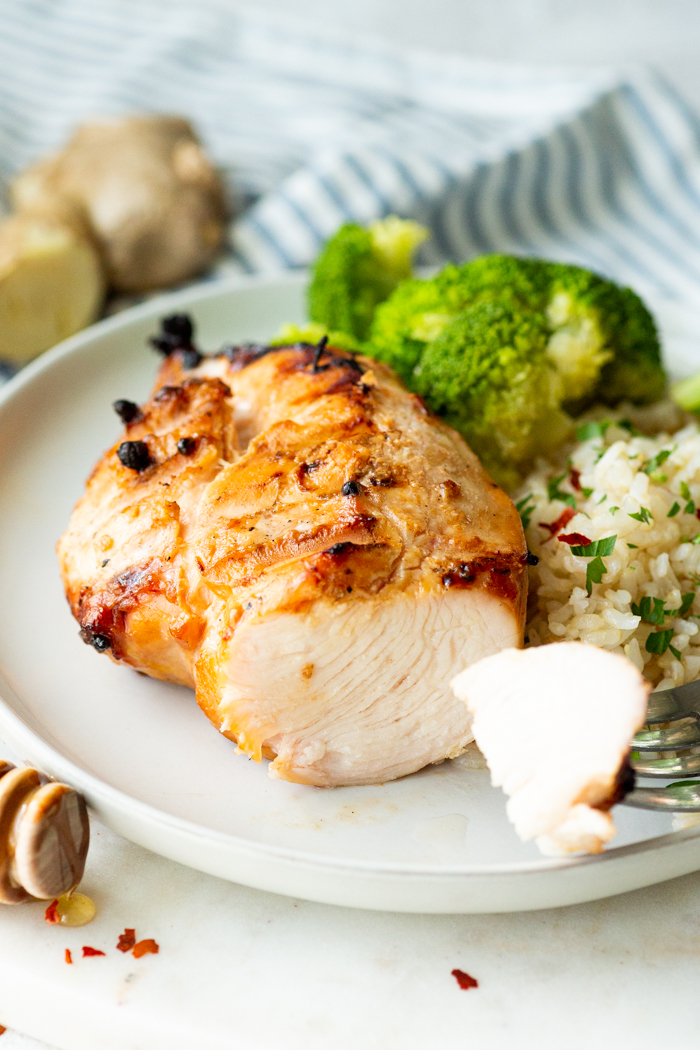 Can Marinade Be Used As A Sauce?
This Chili Garlic Marinade would make a great dipping sauce.  I'm seeing some chicken or veggie lettuce wraps maybe in your future, dressed up with this Chili Garlic Marinade as a dipping sauce.  Mmm sounds good.
I must caution you though.  You can't just make this marinade or any marinade for that matter and put it on raw meat and then think, "Oh I have too much, let's just use the excess dripping for a sauce."  
Sauce that has come in contact with raw meat is now contaminated with bacteria.  Sorry.
Good news though is you can make this marinade and set aside some of the marinade for a sauce before using the rest of the batch for marinating your protein.
That is a great idea and is definitely getting the most out of your marinade.
Marinating Tips:
I love this Marinade!  It is so delicious and easy to make.  Here are just some tips to get the most out of this marinade or any marinade for that matter.
Marinating Tips:
Make sure the protein is evenly covered with the marinade to ensure even flavor.

Always marinate in the refrigerator.  Marinating at room temperature allows dangerous bacteria to grow.

If you want to marinate vegetables in this marinade, marinate vegetables for 15-30 minutes.
And remember, as mentioned before, make sure to follow suggested marinating times for this recipe.  You don't want to marinate for too short and miss out on the flavor or marinate for too long and get a tough or mushy mess.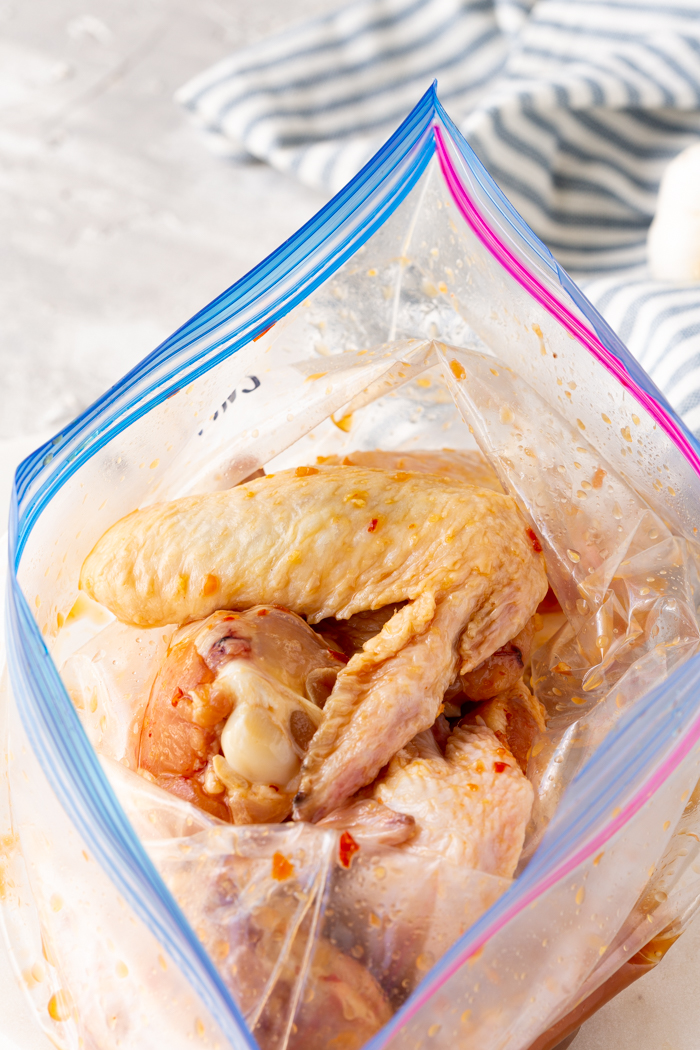 Marinating Do's and Don'ts:
Do:
Adjust the amount of Chili Garlic Marinade that you make based on the amount of protein you are making.  Prepare about a half cup to one cup of marinade per pound of meat.

Always marinate in the fridge or freezer.  As mentioned before, do not marinate at room temp.

Turn meat a few times to make sure every bit gets covered or as already mentioned just make sure all areas of the meat are completely covered when marinating.
Don't:
Don't marinate in metal containers.  It can affect the taste. Just use a plastic or glass container or a zip lock baggie.  They fit easily in the fridge and are inexpensive.

Don't add salt to this recipe.  Too much salt can dry out the meat.  This marinade will be plenty salty with the soy sauce, but if you want additional salt, add it when you sit down to eat.

Don't over marinate fish either.  If you want to marinate fish with this marinade, only do it for 15 mins to an hour.
Follow these tips and pay attention to the do's and don'ts and your dish will come out perfectly!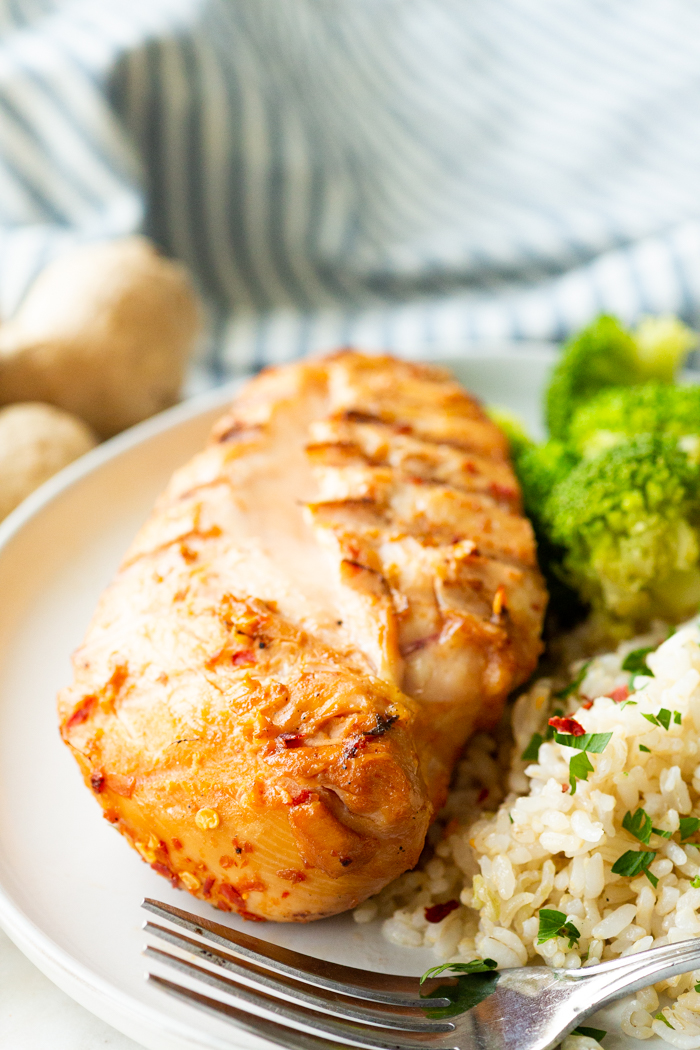 Cooking Methods For Marinated Meals:
There are a few ways to cook marinated meat.
For this marinade, I like stir fry because it lends itself nicely to the Asian inspired flavor.  You can of course always cook marinated chicken or pork in the oven too.
Cooking Methods For Marinated Dishes:
Grill – Grill on a high heat of 450-500 degrees until internal temperature of chicken is 165 degrees, or pork is 145 degrees F. 

Stir Fry – Chop chicken into small pieces, and cook in a wok, on a medium-high heat, for 6-7 minutes until cooked through. 

Bake- Depending on the cut of meat, bake at 350-425 for about 20 minutes. 
You of course choose what works best for you.  However, when grilling it is best to grill marinated dishes that contain high smoke point oils like peanut, canola, safflower, and soy oils.

Make It A Complete Meal:
Given that this Chili Garlic Marinade has an Asian inspired taste, I like to serve marinated pork or chicken with either rice noodles, or white or brown rice.
Then I think it is fun and definitely tasty to accompany this dish with a tasty egg roll like Pineapple Fried Rice Stuffed Egg Rolls or Baked or Fried Shrimp and Veggie Egg Rolls, making this dinner a delicious feast.
And of course dinner would not be complete without a killer ending, like dessert.  Finish this meal off with Simple Chocolate Banana Brownie Cake. Delicious!
Don't Hesitate To Make This Perfect Marinade!
Don't miss out on this amazing Chili Garlic Marinade.  It really is so easy and flavorful that it will become a staple in your home.
Looking for some other great Asian inspired dishes?  Make sure to try these as well.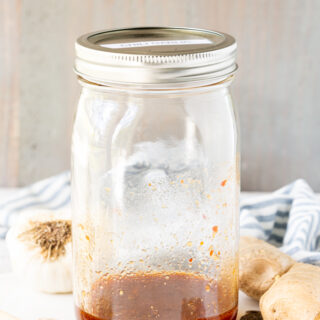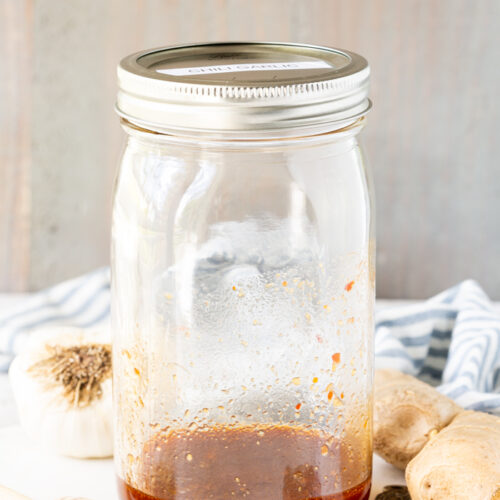 Chili Garlic Marinade
This Chili Garlic Marinade is excellent on chicken or pork. It offers a taste of Asia with soy sauce, ginger, chili-garlic sauce, and sesame oil. The acid is a rice wine vinegar, and it is slightly sweetened with honey. Simple, flavorful, awesome on grilled or baked meats.
Print
Pin
Rate
Ingredients
3

tablespoons

soy sauce

1/2

tablespoon

fresh ginger

grated or minced

1

tablespoon

Asian chili-garlic sauce

1/2

tablespoon

sesame oil

1

Tbs

honey

½

Tbs

rice wine vinegar
Instructions
Add all ingredients to a jar or bowl.

Shake or whisk together.

Pour over chicken or pork in a container or zip top bag.

Marinate for 4-12 hours depending on cut of meat.
Nutrition
Calories:
45
kcal
|
Carbohydrates:
6
g
|
Protein:
1
g
|
Fat:
2
g
|
Saturated Fat:
1
g
|
Sodium:
963
mg
|
Potassium:
29
mg
|
Fiber:
1
g
|
Sugar:
5
g
|
Calcium:
3
mg
|
Iron:
0.3
mg
Our recipe card software calculates these nutrition facts based on averages for the above ingredients, different brands, and quality of produce/meats may have different nutritional information, always calculate your own based on the specific products you use in order to achieve accurate macros for this recipe.
Want to use this recipe in a meal plan?
Try PrePear, my FREE Meal Planning App that allows you to save your recipes, plan meals, shop for groceries, and cook simply in one place. Join Here!
Pin to your marinade board on Pinterest: